Jodhpuri Pulav Easy Recipe
As an Amazon Associate and member of other affiliate programs, I earn from qualifying purchases.
Jodhpuri Pulav is a royal and rich preparation from Jodhpuri cuisine. It is prepared with a selection of nuts and vegetables, cooked in yogurt and other whole spices. It is a complete meal in itself.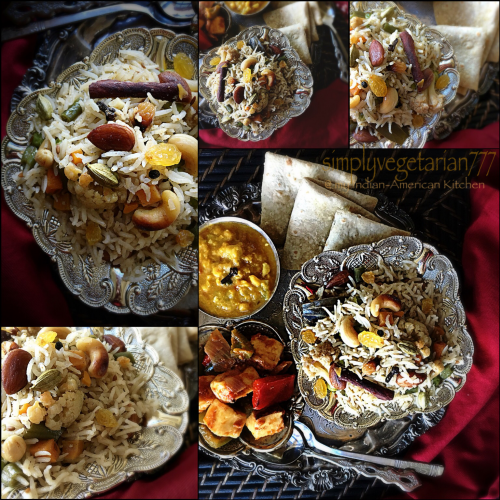 Jodhpuri Pulav
I have been super lazy lately and haven't prepared any savories or sweets for the most festive festival DIWALI! I literally have always loved this festival, since the first day of my childhood that I could remember….but that too couldn't nudge or budge me at all! Nah! Not yet!
Who knows, I might make something the last minute 😁. Have grounded those cashews for decandent KAJU KATLI! 😉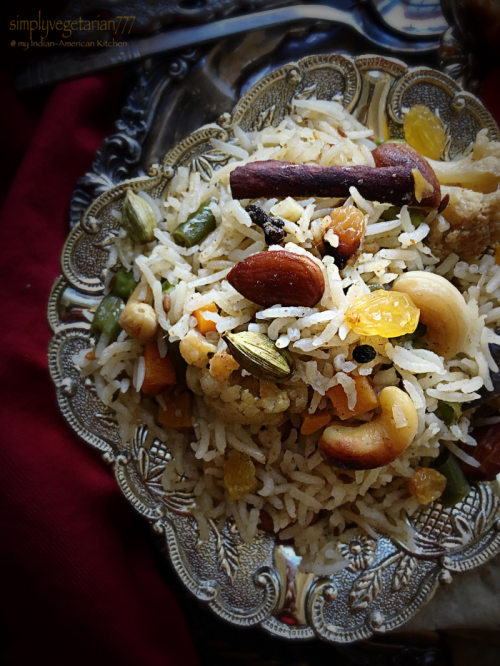 I love pulavs of any kind so I was looking to try a new recipe,….. something more Royal and rich to set the festive mood right! Marwadi and Rajasthani cuisine was on my mind, so when I stumbled upon Jodhpuri Pulav, I read quite a lot of recipes online to match the key notes. They all used dry fruits, basmati rice, raisins, yogurt and some basic whole spices. My addition was- loaded vegetables to make it a complete meal in itself!
I am pairing this Royal and Decandent Jodhpuri Pulav with Kadhai Paneer and Tadka Lauki Chana Dal along with Chapatis  to serve my family and friends for Diwali Dinner!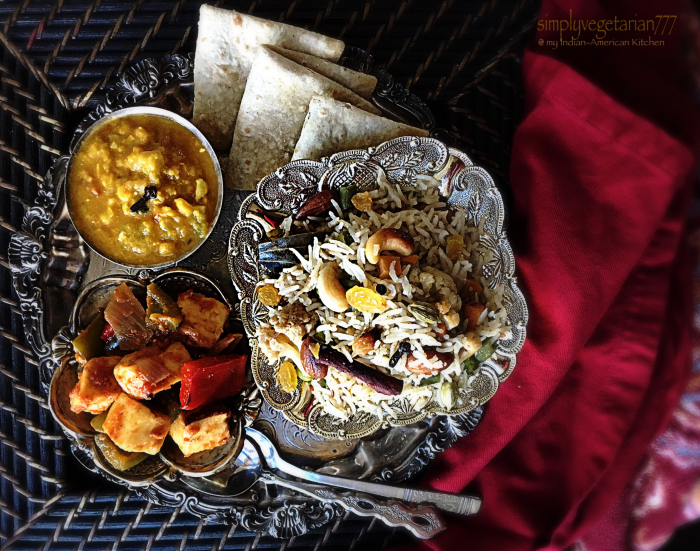 This is how I made it!
Kitchen Equipments Required
Chopping board, knife, heavy bottom big sauce pan with lid and a stirring spoon, a bowl to soak the rice, 1-2 extra bowls, fork.
Ingredients 
Basmati Rice – 1&1/2 cups, washed and soaked for 15 minutes.
Mixed Vegetables – 1&1/2 cups (including peas, green beans, cauliflower and carrots). I used frozen.
Ginger – 1 tsp, finely grated
Garlic – 1 big pod, finely chopped
Onions – 1/2 cup, thinly sliced
Yogurt – 1/2 cup
Water – 2&1/2 cups
Nuts
Cashews – 15
Almonds – 15
Raisins – 25
Oil & Spices
Ghee – 1/2 tbsp + 1/2 tbsp
Cumin seeds – 1 tsp
Fennel seeds – 1/2 tsp
Bay leaf – 1 large
Cinnamon stick – 1 small piece
Black pepper corns – 4
Cloves, whole – 4
Garam Masala – 1/2 tsp
Salt to taste
Method
Take the heavy bottom pan and heat 1/2 tbsp ghee in it. Lower the flame and sauté cashews, almonds and raisins till they become slightly golden. Do it on the lowest flame and don't burn them. They brown pretty quickly so attend them attentively. Take them out in a bowl. Set aside.
In the same pan, add 1/2 tbsp more of ghee. Add all the spices besides Garam masala and salt. Sauté them on lower flame for few seconds till cumin seeds splutter a bit.
Now add the ginger, garlic and onions to the pan. Sauté on medium flame for 4-5 minutes till onions turn slightly golden. Now add the mix vegetables and sauté for 2 more minutes.
Drain the soaked rice and add to the pan. Toss and sauté for 1 more minute.
Add cashews, raisins, almonds, yogurt, water, Garam masala and salt. Stir well with stirring spoon. Bring it to a boil. Lower the flame to simmer. Cover and cook till all the liquid is absorbed.
Let it stand without opening or touching for 5-7 minutes.
Open the lid and fork it gently to separate the rice grains.
Serve it warm!
Have a safe and happy Diwali Folks! Wishing health, wealth and prosperity from my Indian-American Kitchen to yours!!
Sonal