Kaju Masala / Spicy Cashewnuts with Chat Masala Recipe
As an Amazon Associate and member of other affiliate programs, I earn from qualifying purchases.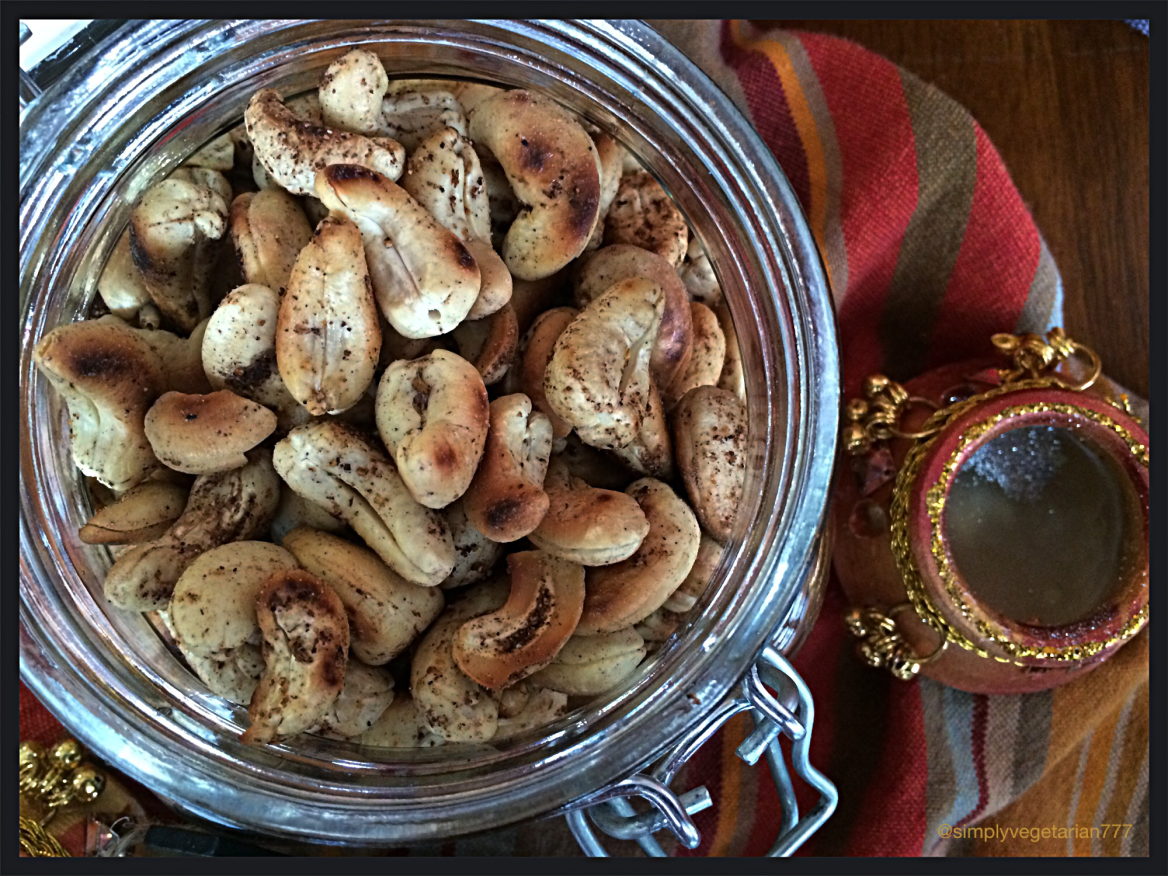 With Diwali approaching, the Indian households get busy with food preparations of some sweet snacks and some savory ones. It is a huge festival, celebrated among the Hindu communities in India and abroad.
A Festival of Lights! Lights of happiness, joy, health, wealth and prosperity. A time to forget the bitterness and embrace the peace. A time to socialize and share sweets and savories with family and friends.

During Diwali, there is a huge market of Dry fruits like cashews, almonds, pistachios, walnuts, pine nuts, dried figs, dried apricots in Northern India.
I have always seen Masala Kaju at home since childhood. They used to be fried and super spicy. I tried making these at home for the festival this time. Also, made them healthier by pan roasting them in only 1 tsp of ghee/oil and adjusting the masala/spice to personal taste. Isn't that wonderful?
Kitchen Equipments Required : Heavy bottom or Hard Anodized pan, spatula.
Ingredients :
Whole Cashews : 400 gms or 14 oz
Ghee : 1 tsp
Chaat masala : 1 tsp to 1&1/2 tsp
Chaat masala recipe :
Cumin pdr, roasted and crushed : 1 tsp
Coriander pdr, roasted and crushed : 1 tsp
Black pepper : 1/4 tsp
Dry mango pdr / amchur : 1/2 tsp
Pink rock salt / kala namak : 1/2 tsp
Method :
Heat the ghee/oil in the heavy bottom pan or hard anodized pan. Reduce the heat to low.

Add whole Cashews to it. Roast them on low flame while stirring continuously since this delicate but burns quickly. Roast them to golden.

Once slightly pinkish golden, add the Chat masala to the cashews and stir well. Switch off the stove.

Cool it to the room temperature and they are good to eat. For storing, you have to cool it completely and then store in an air tight container. I prefer storing in glass than the plastic.
Enjoy this simple and classic savory this Diwali which you can still indulge in without feeling much guilty!
Taking it to Fiesta Friday hosted by Angie and co-hosted by Chef Juliana and Hilda. Hope you ladies will like it.