Kaju Matar Makhane ki Sabzi
As an Amazon Associate and member of other affiliate programs, I earn from qualifying purchases.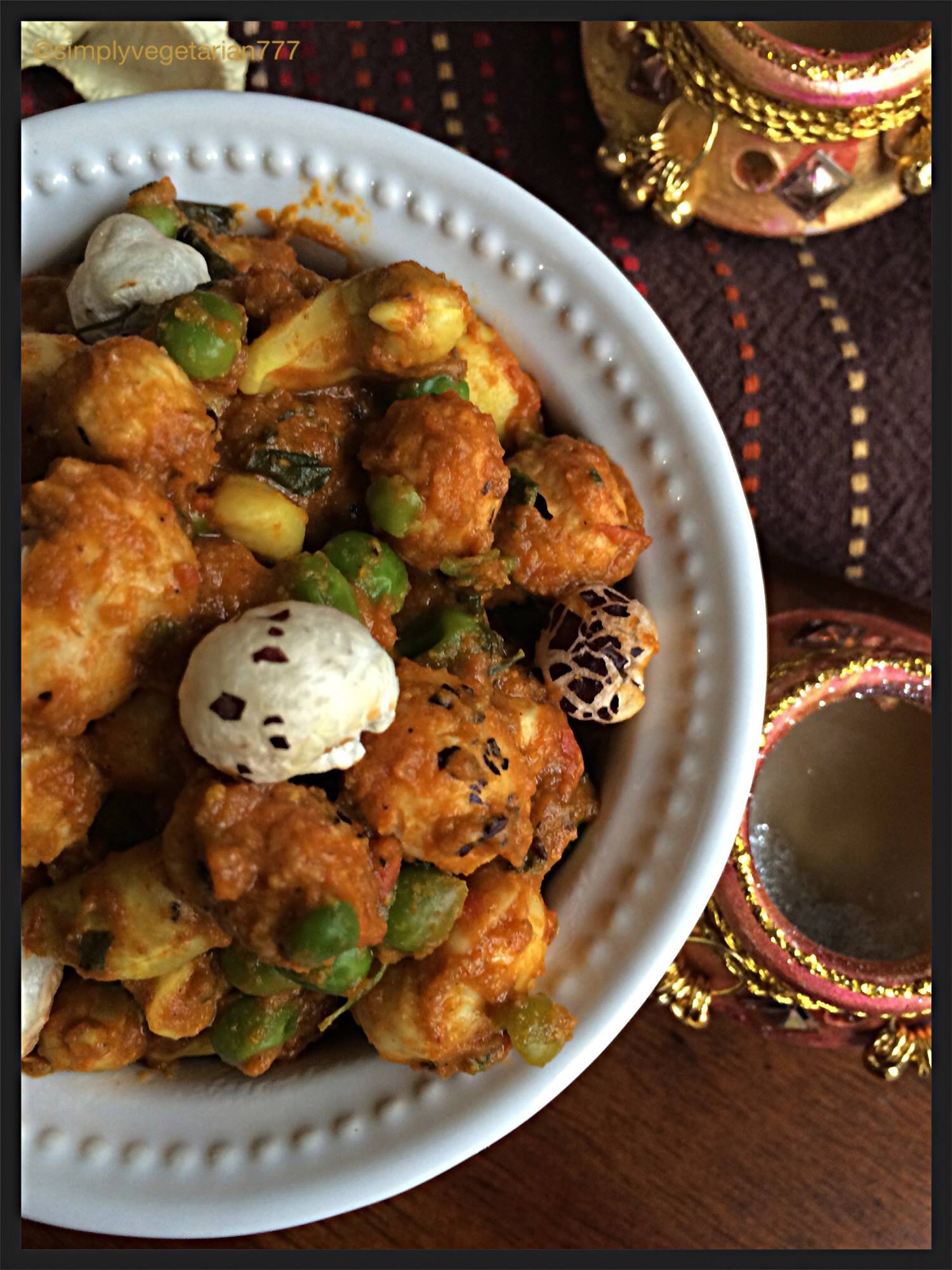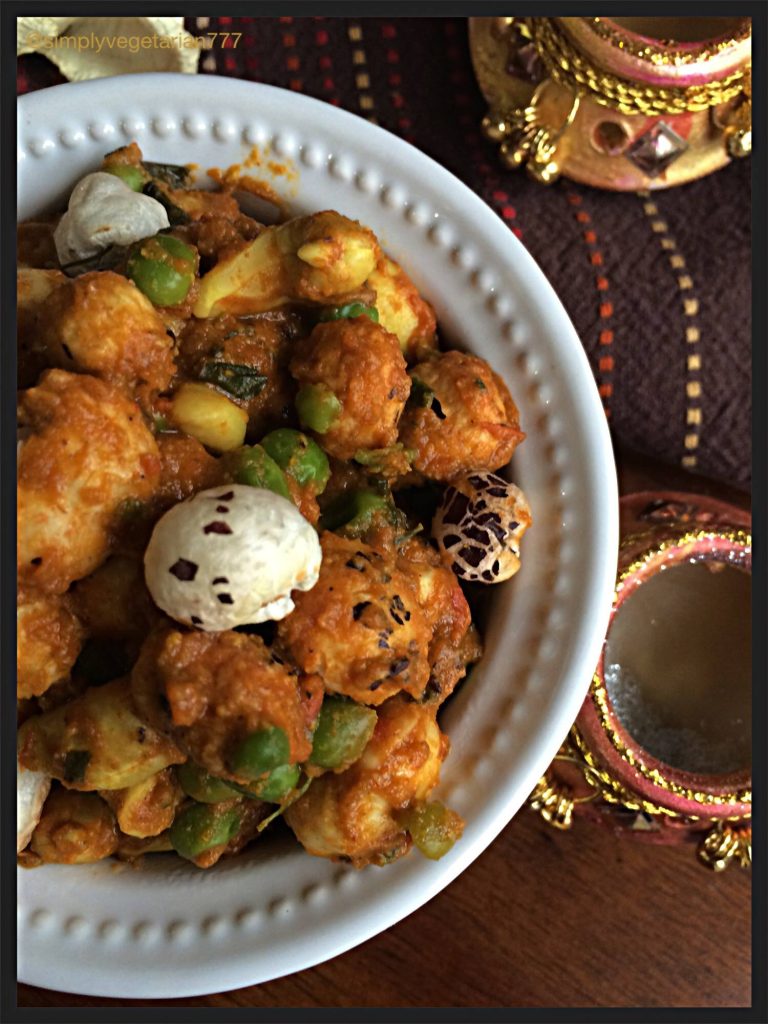 An absolute treat to make on Diwali and treat your family and friends. Kaju Matar Makhana is a delicate curry made in Uttar Pradesh. My mom made it sometimes but not that often. Some dishes are saved for festivals and "khaas" occasions, right? I am bringing another family recipe to try in this season of lights and happiness.
Kaju is cashews, Matar is peas and Makana is Puffed Foxnuts from Lotus stem.
It is rich, subtly sweet and just amazing to indulge. I am not sure about the origin of this dish but it definitely is more of Awadhi and Mughlai origin. I am sure it will be a regular feature in your home, once you make it.
Here is how I made it!
Kaju Matar Makhane ki Sabzi
Servings: 4-6
Difficulty: easy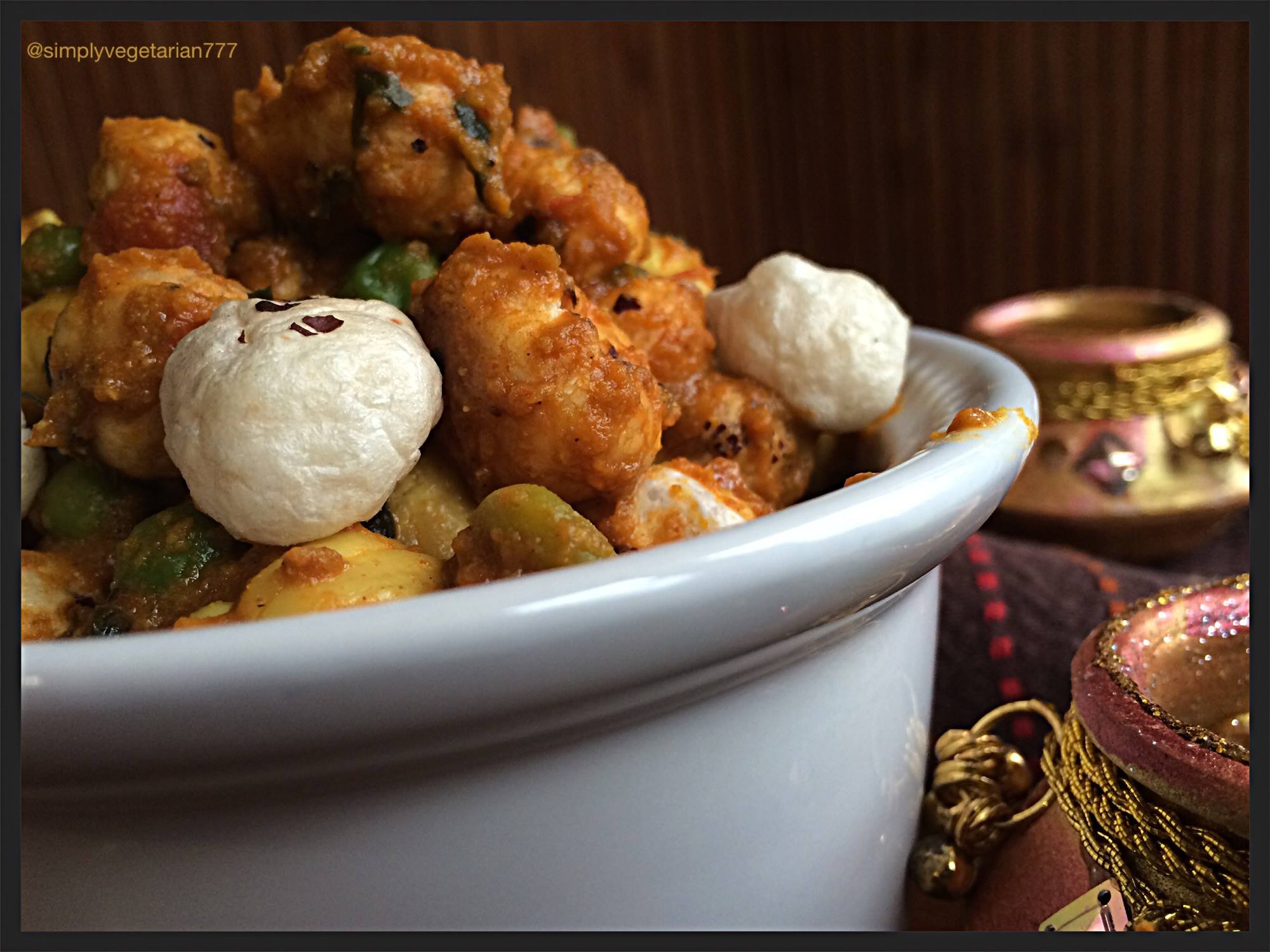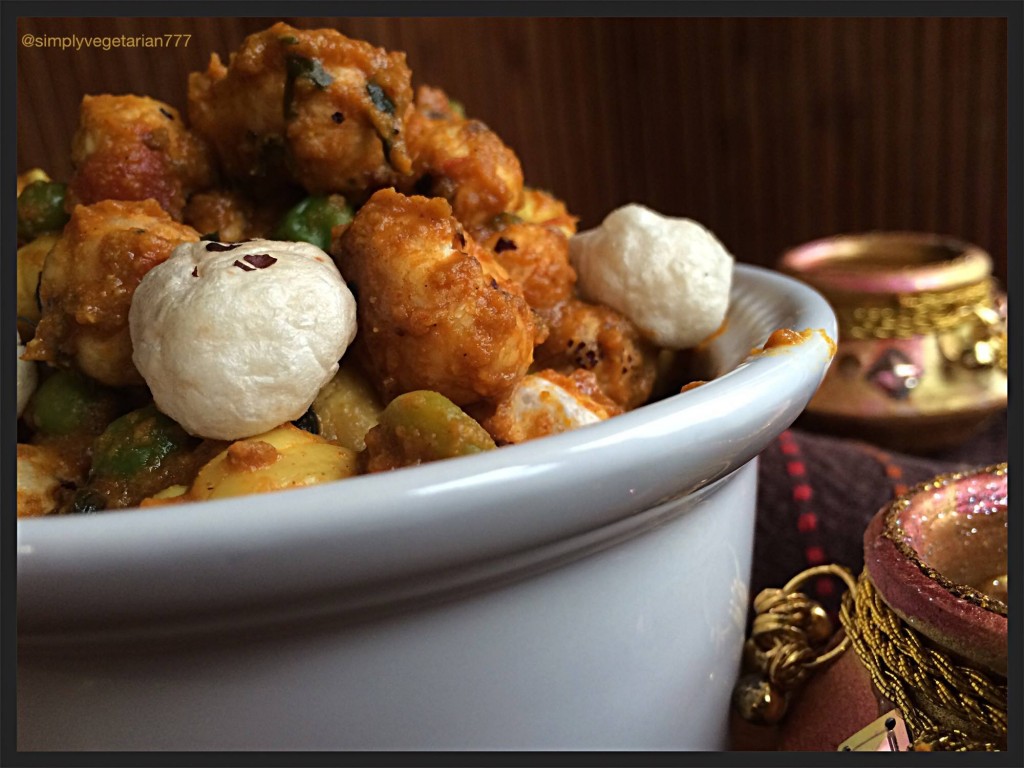 Kitchen Equipments Required
Chopping board, knife, heavy bottom pan with lid and stirring spoon, 2 small plates
Ingredients
Phool Makhana or Foxnuts : 2 cups
Peas : 1 cup
Cashews : 1/2 cup
Oil : 1/2 tbsp
Tomatoes : 1 cup puréed
Ginger : 1 small piece
Milk powder : 3 tbsp or use fresh khoya/mawa
Oil & Spices 
Oil : 1/2 tbsp + 1 tsp + 1 tsp
Turmeric : 1/4 tsp
Coriander powder : 3 tsp
Cumin powder : 1 tsp
Garam masala : 3/4 tsp to 1 tsp
Red chili powder : 1/4 tsp or to taste
Kasuri Methi : 1 tsp crushed
Sugar : 1/2 tsp, optional
Salt to taste : 1/2 tsp plus.
Water : 1 cup or more to required consistency.
Method
1. Roast the Makhanas in 1 tsp of oil, till crisp and golden on low flame. Take them off on a plate.
2. Now roast cashews in 1 tsp oil in the same pan till sightly pink. Take them off on a plate.
2. Heat 1/2 tsp oil in the same pan. Add tomato purée and ginger. Saute for 2 minutes and then add all the spices besides garam masala, salt, Kasuri methi and sugar. Cook till water is evaporated on low flame.
3. Now add milk powder. Stir and cover and cook for 2 minutes on low medium flame.
4. Add peas and cashews. Stir together. Add water and stir again.
5. Add garam masala, salt, sugar and Kasuri methi. Stir and cook on low flame for 5 minutes, covered.
6. Add roasted Makhanas to the gravy before serving or else they will absorb all the gravy. Mix them well in the curry and then serve.
Serving Suggestion – This curry goes well with poori, parantha, roti, naan and cumin rice.
A very Happy Diwali to all of you! Stay healthy. Stay happy. Stay blessed.
Try making this for your next party or the festival approaching soon! Another curry from my Indian American Kitchen to yours!
Sonal