Kamal Kakdi & Masoor Shami Kebabs – Diabetes Friendly Thursdays
As an Amazon Associate and member of other affiliate programs, I earn from qualifying purchases.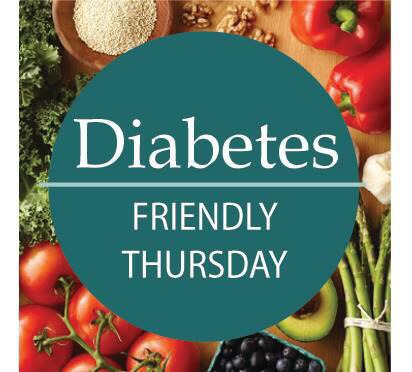 Creating Recipes with a Cause!
I am a proud DFT blogger. To learn about DFT, read this link. To view more DFT recipes, Click here!
The Proud DFT team is bringing the "Kebab & Tikki Factory" this week! For more recipes, read till the end of the post.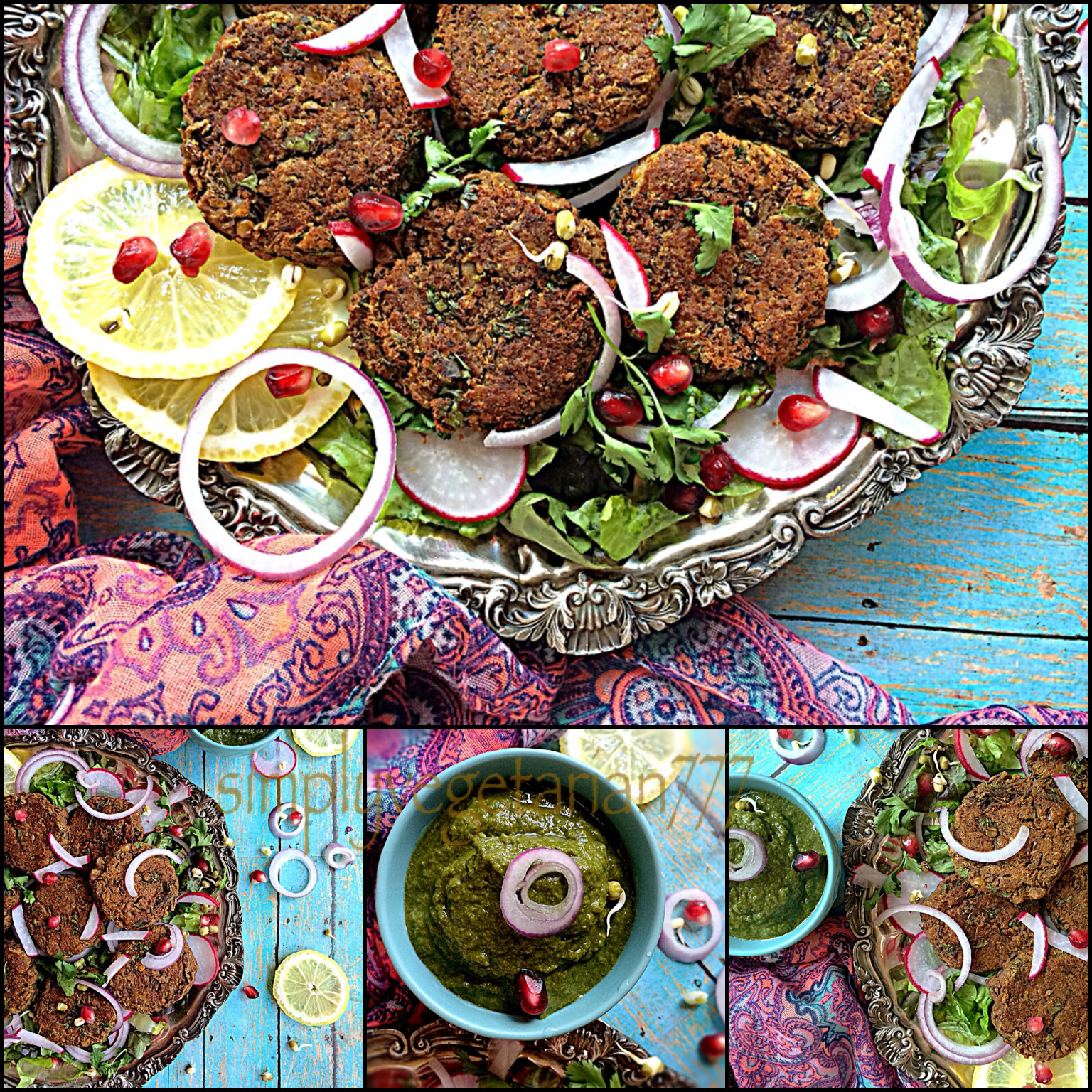 Kamal Kakdi = Lotus Stems


Masoor = Black Lentils


Kebab = Pieces of Meat or Vegetables grilled or roasted on skewers on fire. It is quintessentially a middle eatern and Mediterranean dish, which traveled to South Asian and Central Asian counties with the wide spread of Moghul and Ottoman Empire.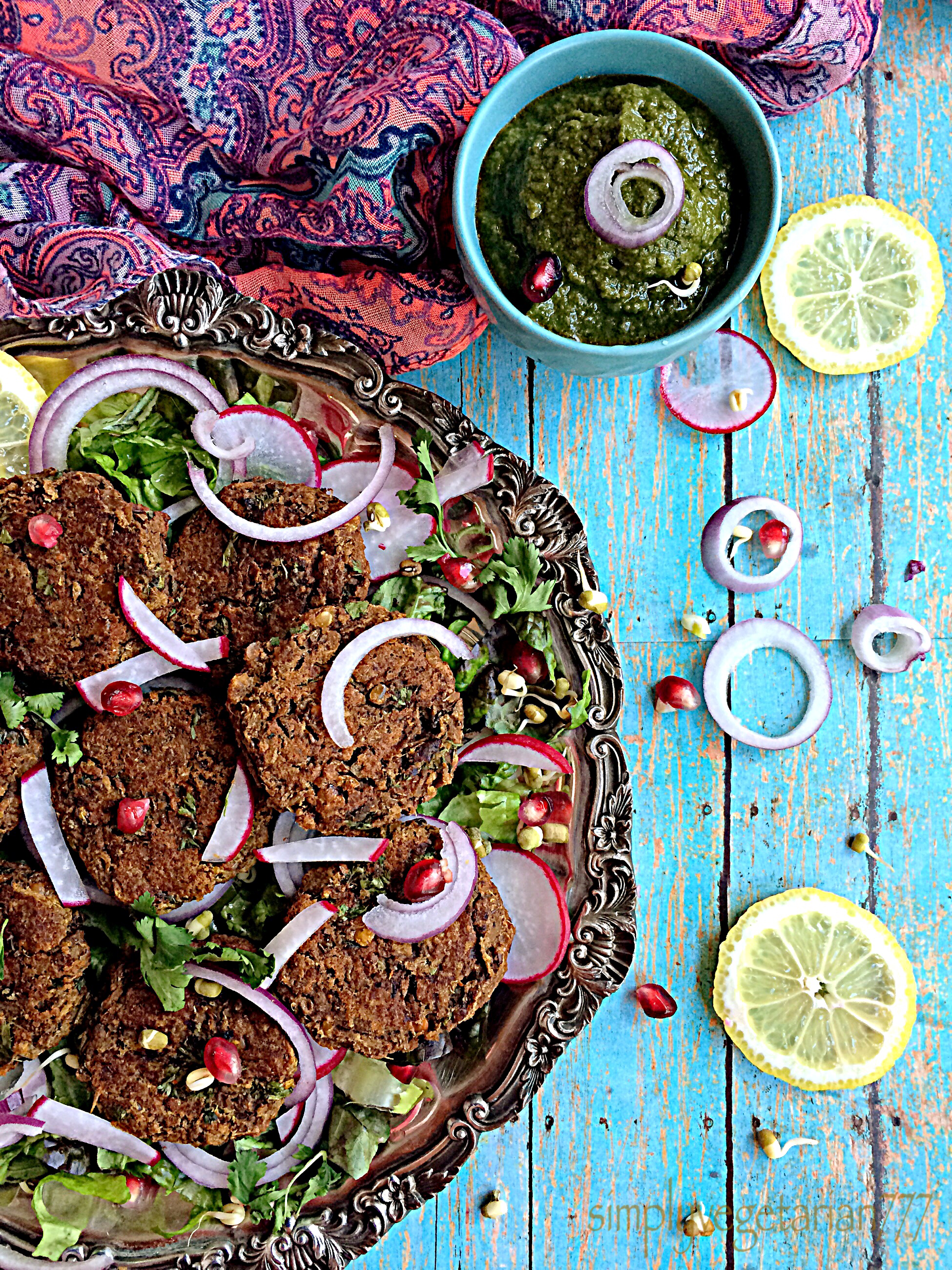 These kebabs make the ideal food for Diabetes Friendly Menu. The combination of lentils and lotus stems is a killer combination high in protein, fiber and minerals and with net carb exchange program. The calories from carbs are well maintained, only if eaten in controlled portions.
For the benefits of main ingredients on diabetes, used in the dish, please refer to the Foot Notes!
Kamal Kakdi & Masoor Shami Kebabs
Servings: 3-4
Difficulty: Medium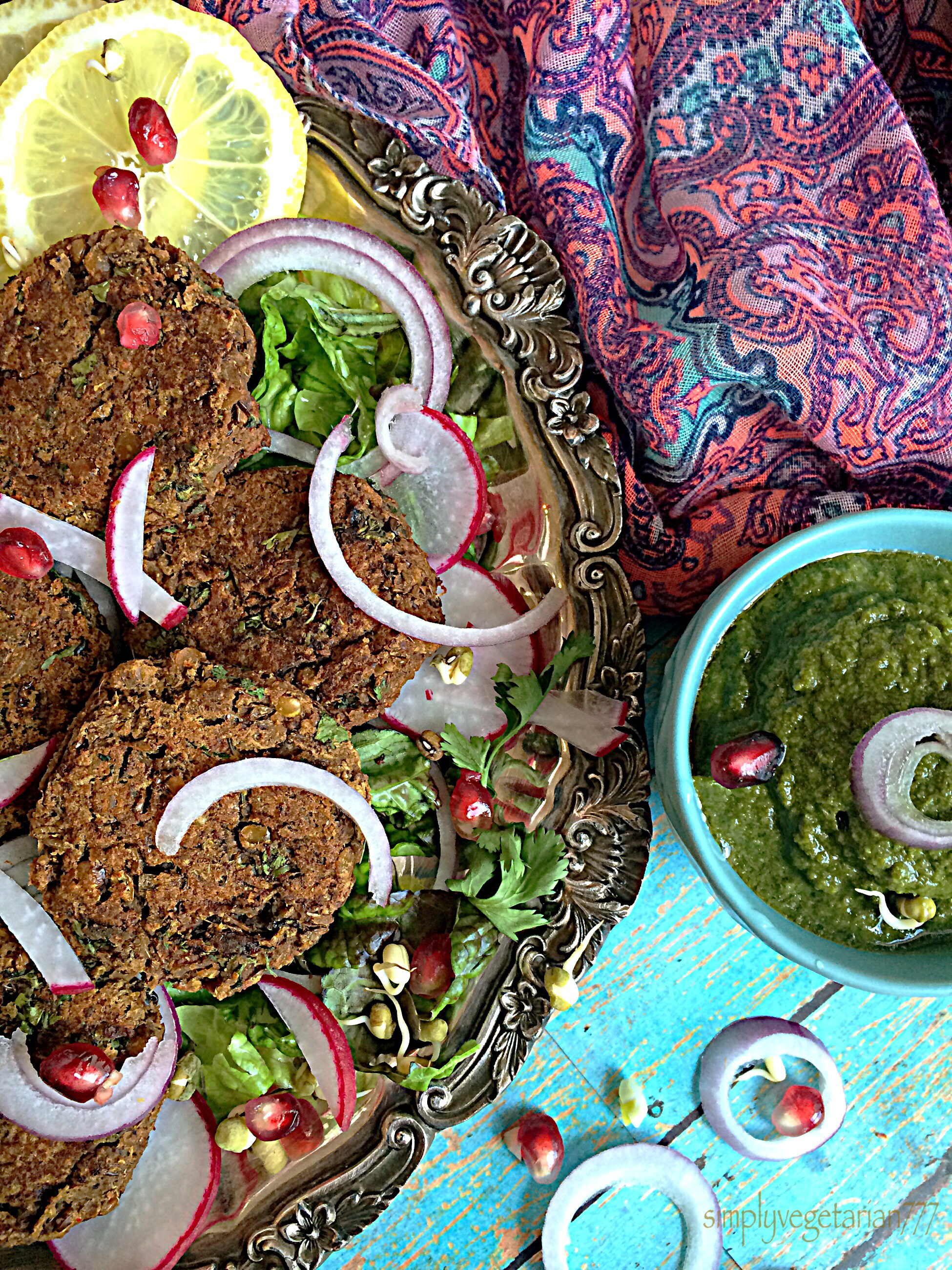 Kitchen Equipments Required
Pressure cooker or sauce pan with lid, chopping board, knife, a bowl to mix, a small sauté pan, stirring spoon, heavy bottom pan or griddle (nonstick or hard anodized preferred), flipping spatula, grinder, potato masher.
Ingredients
Lotus stem – 1 cup. I used frozen but you may use fresh. See method to prep the fresh lotus stems.
Sabut Masoor or Black Lentils – 1/2 cup, cooked till soft. You may pressure cook it or sauce pan cook it.
Onions – 3 tbsp, chopped fine.
Ginger – 1/2 tsp
Garlic – 1/2 tsp
Coriander/Cilantro leaves – 2 tbsp, chopped fine.
Green chili – 1 small, chopped fine.
Lemon juice – 1 tsp
Red chili powder – 1/4 tsp
Garam Masala – 1 tsp
Salt – to taste
Oil – 1tsp + 1/2 tbsp

Method
Prepping the Kamal Kakdi or Lotus Root
If using fresh, wash, peel, wash again thoroughly since it has lot of mud. Cut these into thin slices. Pressure cook it with very little water. After 1st whistle, pressure cook on simmer for 10 minutes till really soft and mushy. Drain the water.
If using frozen lotus stem, then pressure cook it similarly as mentioned above. Drain the water and set aside.
Prepping the onions
Take the small sauté pan. Heat 1 tsp oil in it. Add onions, ginge and garlic to it. Lower the flame. Sauté and cook the onions till they turn golden brown. It will take around 5-7 minutes. Add to the grinder and make paste with 1 tsp water. Set aside.
Prepping the kebabs mix
1. Take the mixing bowl. Add boiled lotus stems and boiled masoor/lentils (no water) to the bowl.
2. Take the potato masher and mash these together till they become a pulp with no big pieces.
3. Now add onion paste & other ingredients as mentioned above. Mix well to make a dough-ish consistency. If it is too loose, then add a crumbled slice of multigrain or whole wheat bread. Bring together in dough.
Making Kebabs
1. Heat 1/2 tbsp oil in a heavy bottom non stick or hard anodized pan. Reduce the heat.
2. Wet your hands. Pinch around 2 tbsp of doughish batter, shape in flat patties. Place this in the hot pan. Finish the batter likewise. The mixture should give around 8 to 10 patties depending upon the size you are making.
3. Cook these on lower medium flame for 5 minutes. Take the flipping spatula and gently flip to another side. These are very delicate so handle carefully. Cook on the other side for another 5-6 minutes till they are set and firm from outside.
4. The shame kebabs are ready. You may serve these on the bed of fresh salad of lettuce, onions, Raddish, cilantro leaves, lemon slices, sprouts and pomogrenate seeds. Serve along the side of Green cilantro chutney. A great combination. These are perfect as mini sliders too. Sandwich between small whole wheat or multigrain buns or dinner rolls and a full meal is ready.
Note – The texture of these kebabs is really wonderful and true to its original texture. The shami kebabs are supposed to be crispy from outside with melt in the mouth inside. It's just amazing.
—————————————————-
Foot Notes
With high dietary fibers, lotus root reduces digestion of carbohydrates in body and thus slows down process of sugar absorption in body. This makes lotus root a good diabetic food. Research has also found that lotus root extract is anti-diabetic in nature and can be used in treatment of diabetes. Lotus root with its antioxidant and anti-inflammatory property help fight symptoms of diabetes. For nutritional analysis, please check here! It is rich in vitamins, omega 3 fatty acids, iron, potassium, phosphorus, manganese etc.

Lotus Stems or Kamal Kakdi are widely used in South Asian cuisine and also in East Asian cuisine. They are the root stems of the beautiful lotus flower and are edible. Since they grow in the pond they, need to be thoroughly cleaned before consuming.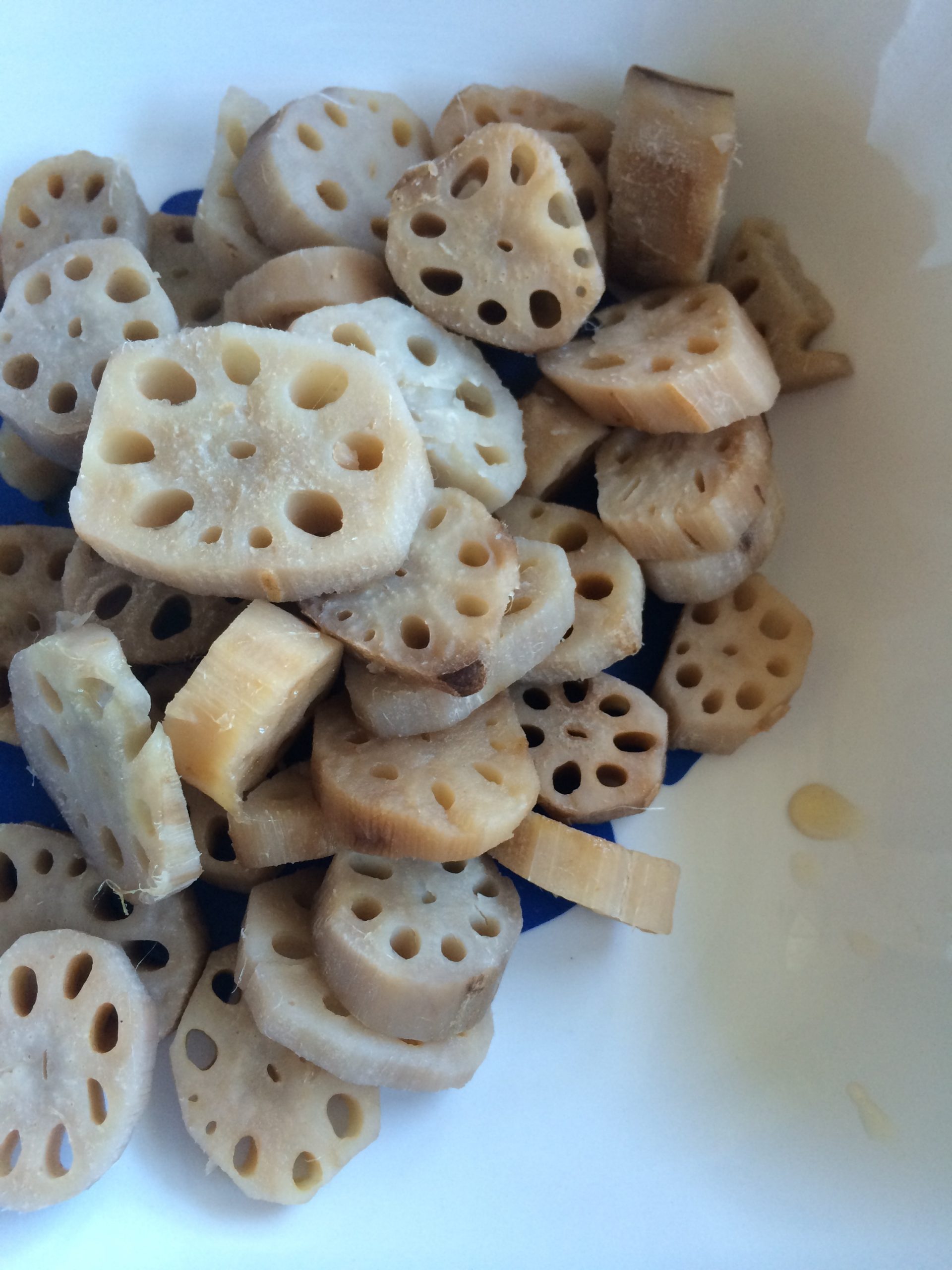 Chopped lotus stems!
Lentils are rich source of soluble fiber, which helps in stabilizing the blood sugar levels and provide slow steady source of energy to the body. They lead the pack of dry legumes when it comes to the nutritional benefits on the human body. They are heart heathy, relives of stomach problems, rich in iron, protein and fiber. To know more about Lentils' benefits, please check here!
—————————————————–
Discalimer
I am not a nutritionist or dietician. My knowledge and information is based on my research and reading from different resources. Please consult your doctor or dietician before making any changes to your diet.
——————————————————
Other Kebabs and Tikkis from this week DFT !