Karela Kachri (Bitter-Gourd Roundels ) – Diabetes Friendly Thursdays
As an Amazon Associate and member of other affiliate programs, I earn from qualifying purchases.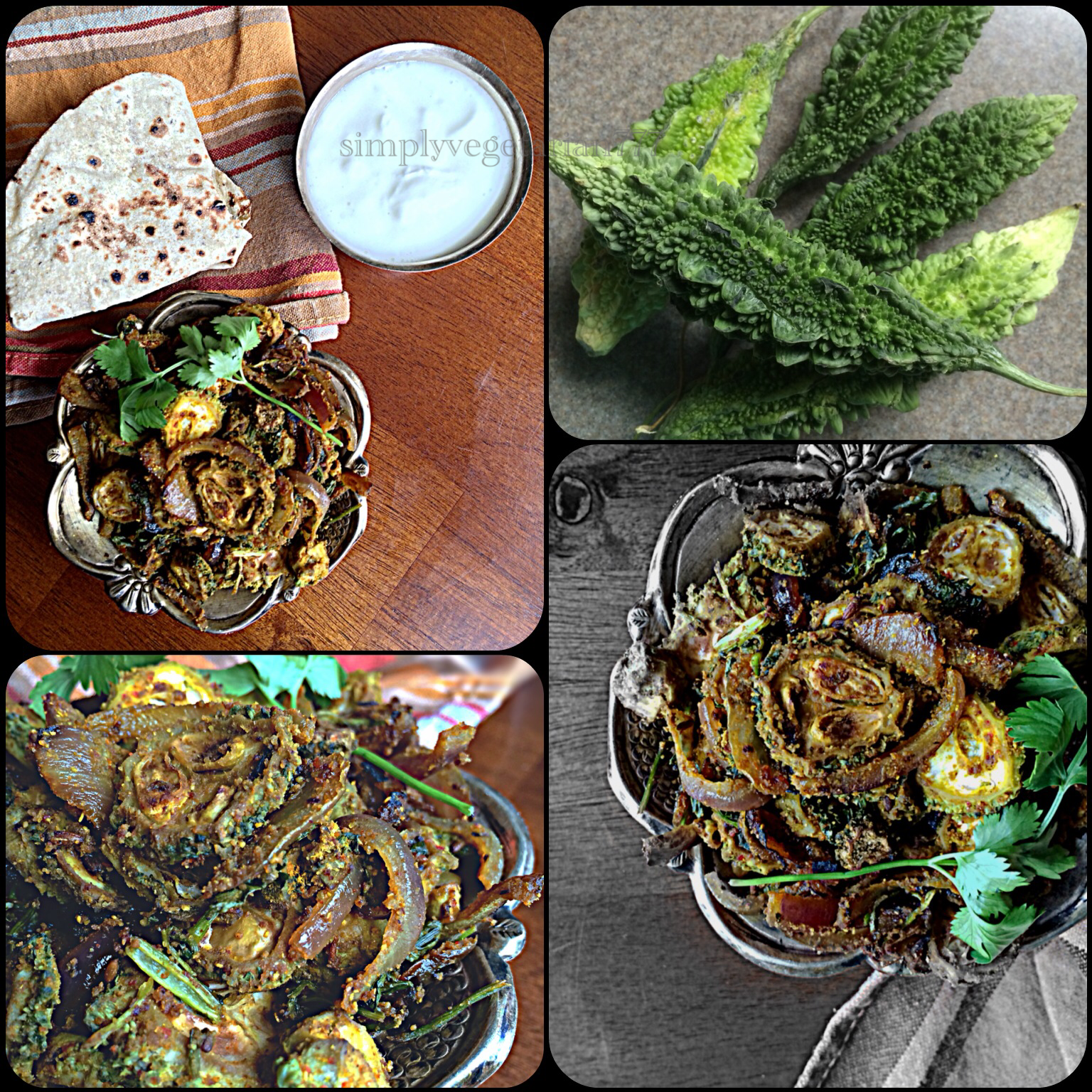 Diabetes Friendly Thursday is an initiative taken by me to collect, create and improvise the recipes beneficial for Diabetics. I take immense pleasure and pride in this venture.
An estimated 371 million people, corresponding to 8.3% of the world's adult population, had diabetes in 2012. The number is expected to grow to 552 million by 2030.
Please Read here about Diabetes, symptoms and it's maintenance.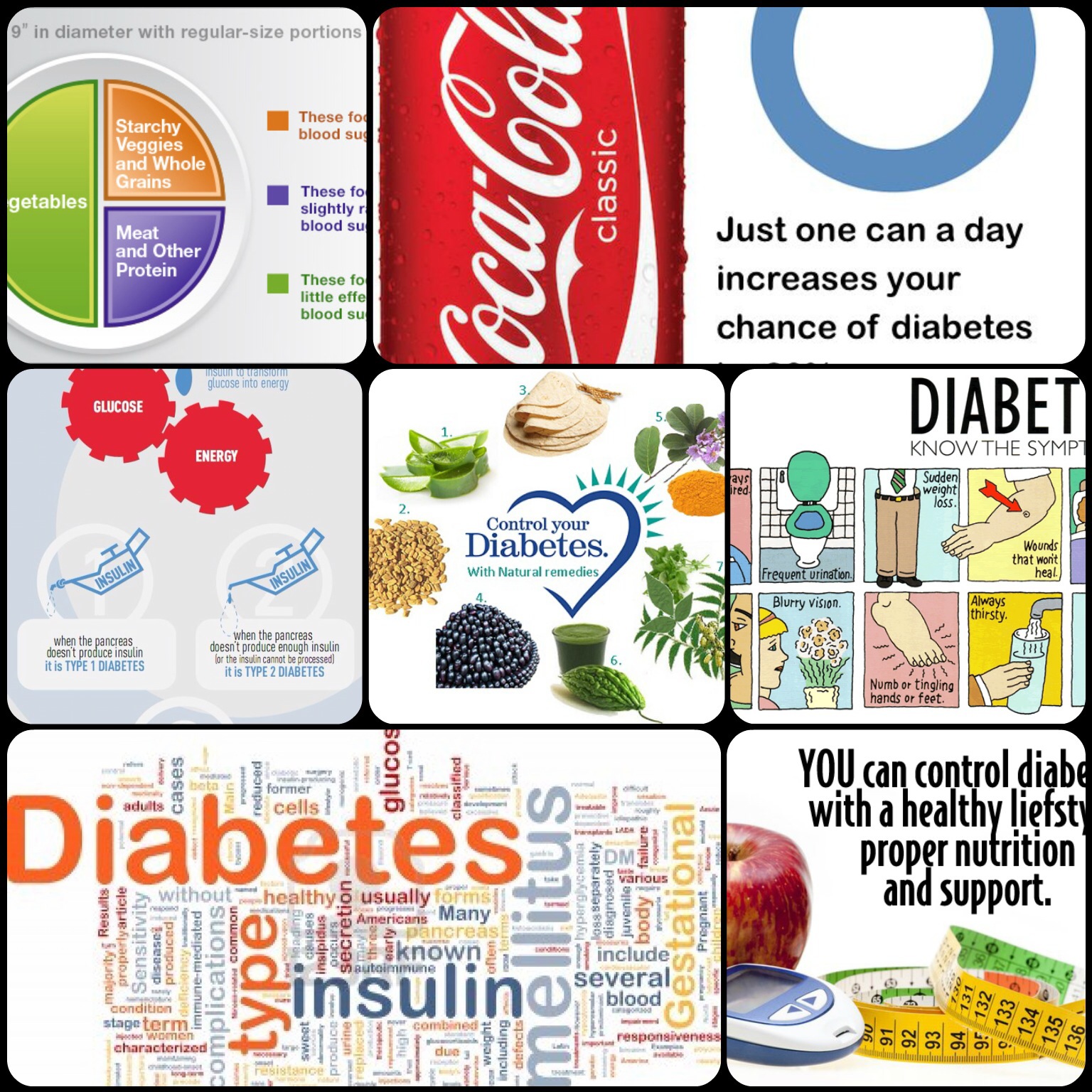 Bitter Melon / Karela / Bitter Gourd
Source – www.diabetes.co.uk
Disclaimer – I am not a doctor or a nutritionist. All the information gathered is studied through and compiled together. Please consult your doctor and dietician for more specifications.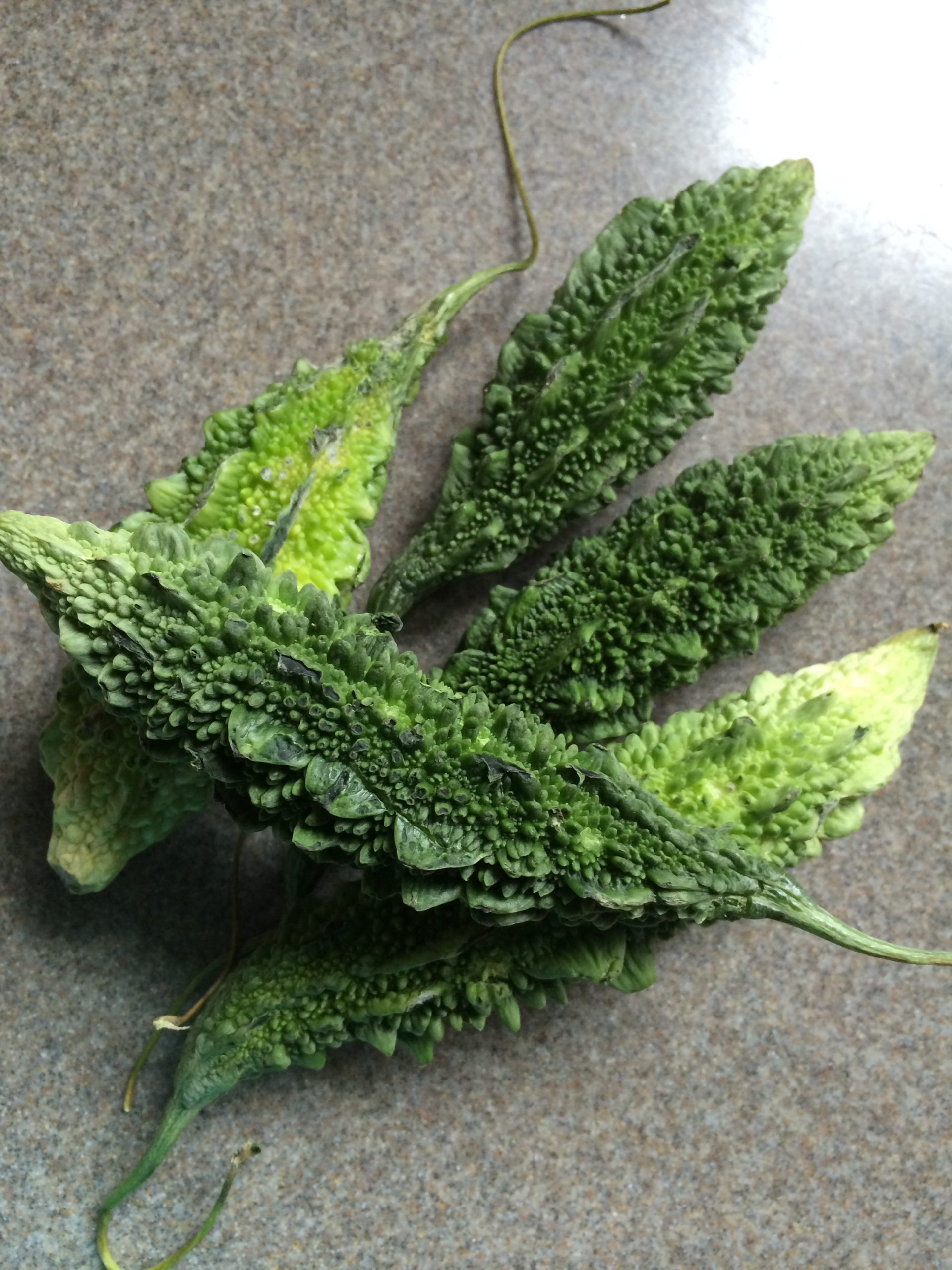 Image – simplyvegetarian777
Bitter melon, also known as bitter gourd or karela (in India), is a unique vegetable-fruit that can be used as food or medicine. The fruit contains at least three active substances with anti-diabetic properties, including charantin, which has been confirmed to have a blood glucose-lowering effect, vicine and an insulin-like compound known as polypeptide-p.
These substances either work individually or together to help reduce blood sugar levels.
It is also known that bitter melon contains a lectin that reduces blood glucose concentrations by acting on peripheral tissues and suppressing appetite – similar to the effects of insulin in the brain.
This lectin is thought to be a major factor behind the hypoglycemic effect that develops after eating bitter melon.
Ways to consume Karela / Bitter melon
1. Karela / Bitter Melon Tablets.
2. Consume it whole in your cooking.
3. Karela and Cinnamon for reducing fasting levels.
4. Bitter Melon Juice. Grate the outer skin, add little water, squeeze and sieve it.
Precautions
1. Limit yourself to no more than two ounces of bitter melon (or more than two melons) a day, as excessive consumption can cause mild abdominal pain or diarrhea.
<
p style="margin:1em 0;padding:0;">2. If you are considering using bitter melon for glycemic control, you should consult your doctor or healthcare professional first to check that it is safe for use alongside your prescribed diabetes medication, as there is the risk that taking bitter melon together with these drugs and/or insulin could cause hypoglycemia (extremely low blood sugar).
Recipe
If you are not a Karela fan, believe me that you will eat it with much pleasure. My husband who "hates" karela otherwise, took 2nd helping!
Karela Kachri
Servings: 3
Difficulty: easy
Kitchen Equipments Required
Cutting board, knife, heavy bottom pan with lid, stirring spoon, oven and baking tray (read the foot notes).
Ingredients
Karela / Bitter melon – 6, medium size
Onions – 1 cup, thinly sliced
Oil – 1/2 + 1&1/2 tsp (2 tsp on total)
Cumin seeds – 1 tsp
Asafetida / hing – a pinch
Coriander powder – 1 tbsp
Fennel powder – 1/2 tsp
Turmeric – 1/2 tsp
Red chili powder – 1/2 tsp
Salt – to taste
Amchur / Dry mango powder – 1/2 tsp
Cilantro leaves – 2 tbsp, finely chopped
Method
1. Wash the Karela (bitter melon). Remove the stem. Wipe it dry with kitchen towel. Cut the karelas in thin discs. Toss these discs in 1/2 tsp oil. Spread them out on baking tray. Grill or broil them in the oven till dry and slightly brown. Grill the kachris under your observation. Do not burn these. It takes approximately 2-4 minutes, depending upon the quality of karela and the type of oven. This step will cut down the extra oil which is traditionally required in frying these first. Set these aside.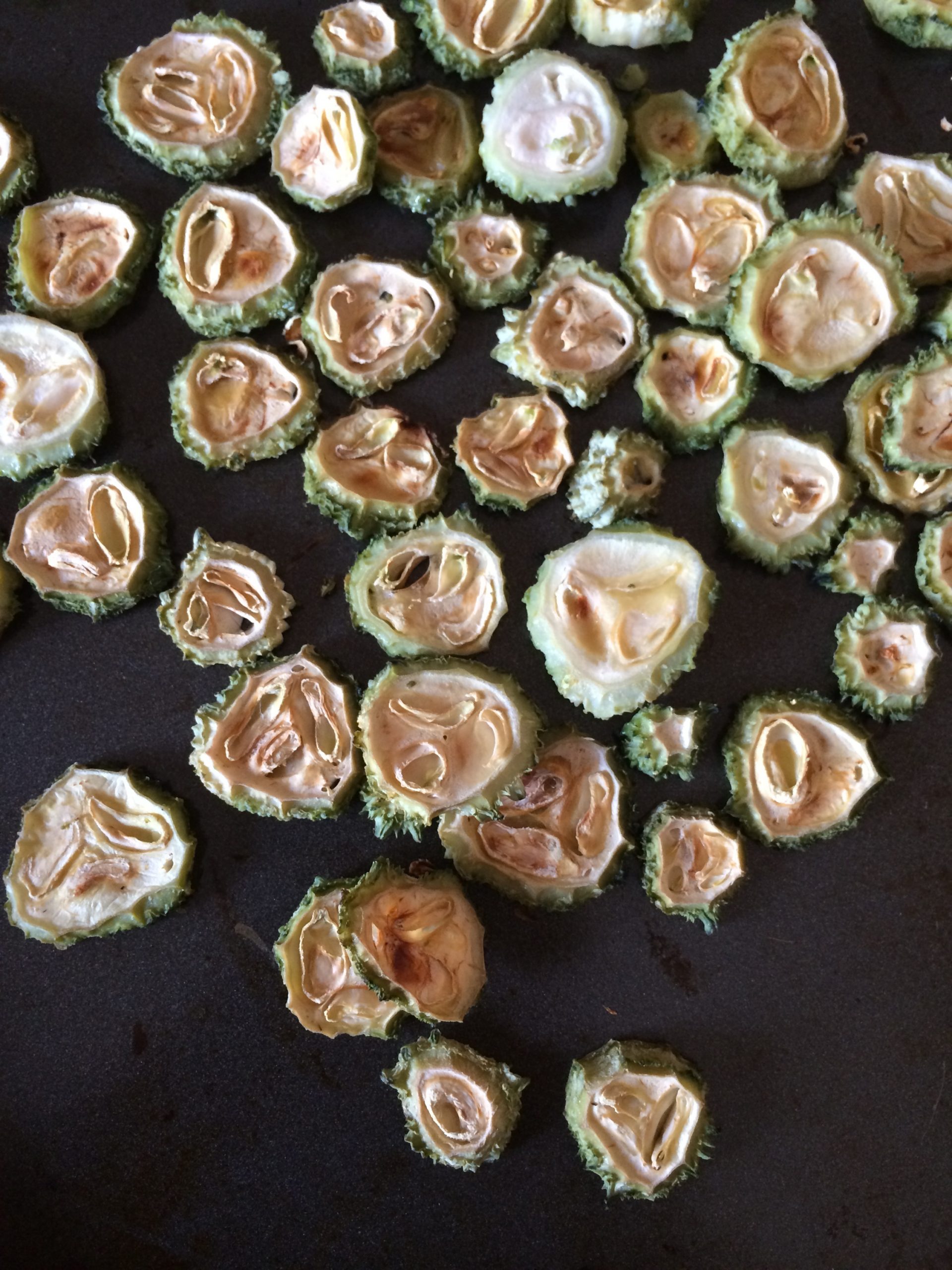 2. Heat 1&1/2 tsp of oil in the heavy bottom pan. I use hard anodized pans for my cooking. You may use non stick pan. It is a good investment for diabetic friendly cooking.
3. Once the oil is hot, lower the flame to medium. Add asafetida and cumin seeds. Once the cumin seeds crackle, add sliced onions. Sauté the onions on medium flame for 5-7 minutes, till they are reddish gold.
4. Now add the oven crisped Karela kachris to the pan. Sauté for a minute.
5. Add all the spices to the pan. Toss well to coat eve
nly. Sprinkle the pan with 1&1/2 tbsp of water. Cover with lid. Cook on lower medium flame for 8 to 10 minutes. Stir ocassionally for even cooking. Add chopped cilantro leaves in the end and stir.
7. The karela Kachri is ready in minimal oil and full of flavors, cooked just right.
Serving Suggestion
Make it a complete meal by combining it with 1/2 cup of low fat yogurt and 2 thin multi grain rotis/chapatis. 2 karelas/bitter melons in number is what is recommended for diabetic consumption for 1 serving. Approximately, 1/3 cup (1/2 normal size Indian katori) cooked karela Kachri is advised.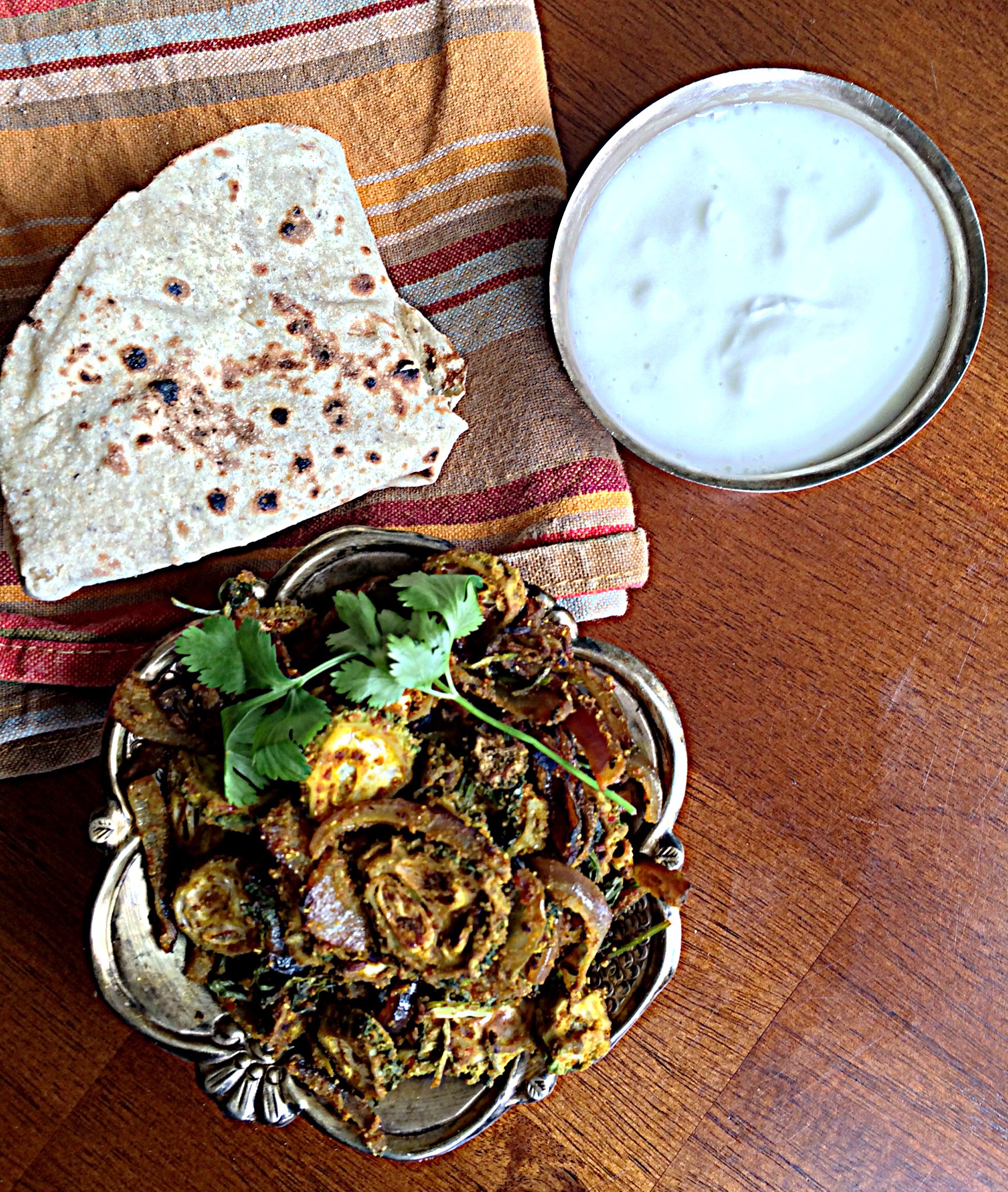 Do give me a feedback if you try it.
Notes
You may sundry the Karela kachris and store in air tight container.
You may pan fry the karela kachris on lowest heat.
Sonal