Kathal ki Sabzi / Jackfruit Stir fry
As an Amazon Associate and member of other affiliate programs, I earn from qualifying purchases.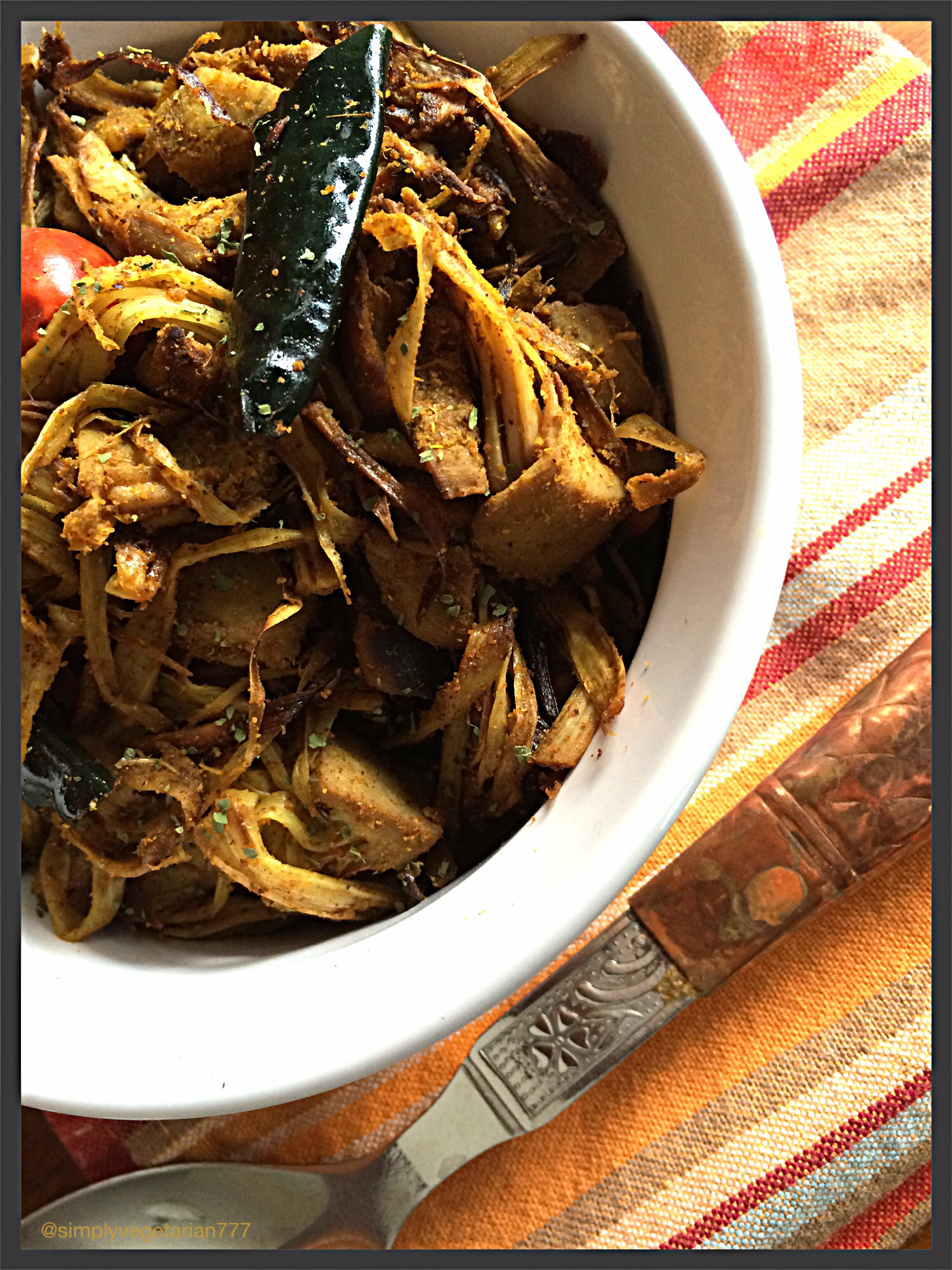 My mother in law makes the best Kathal ki Sabzi / Jackfruit stirfry. Actually my mum never made it. The first time I ever had it was when I got married. There are quite a good number of recipes that I owe to mum-in-law and this is one amongst those.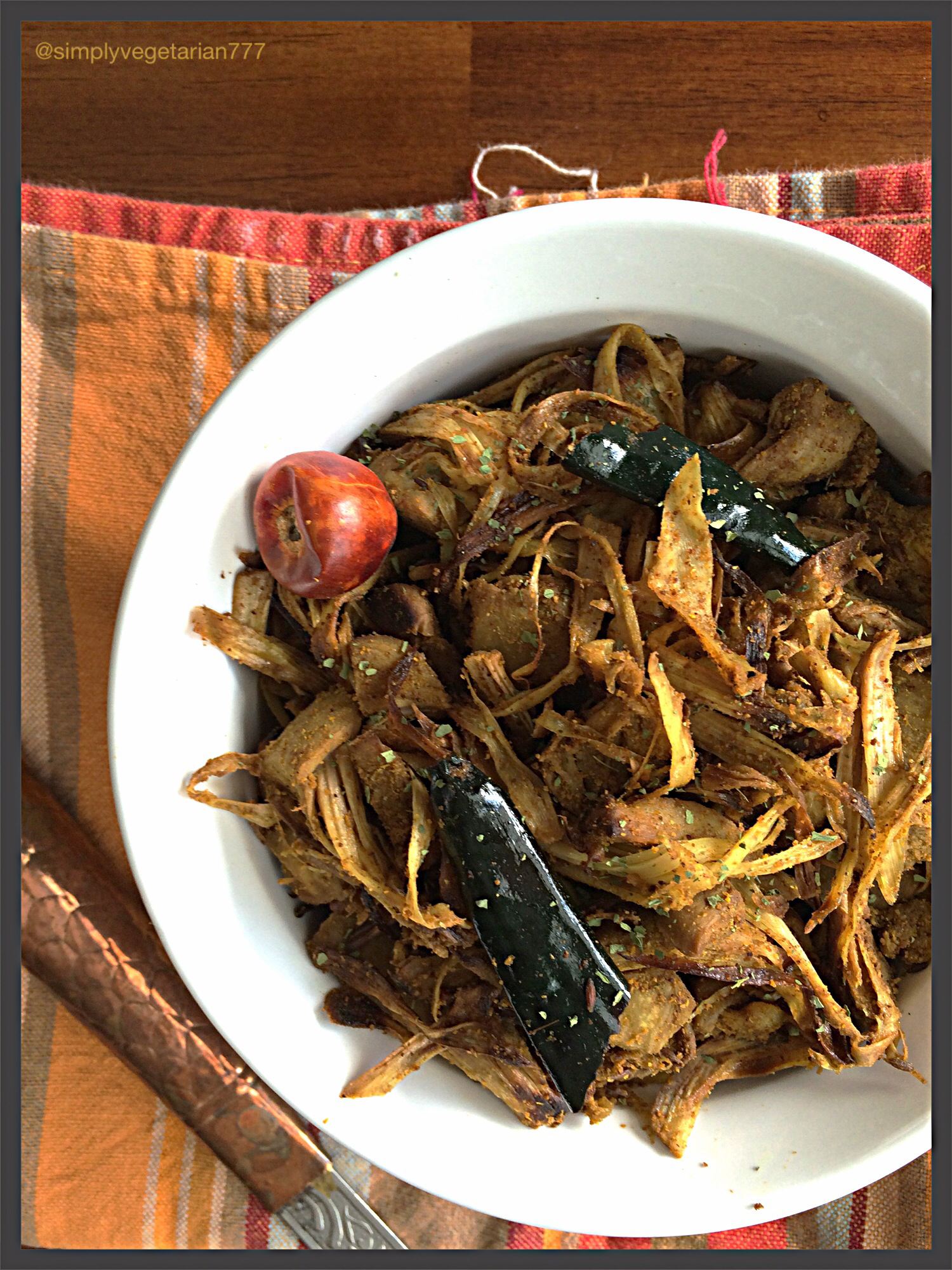 People use jackfruit as a Stirfry, in a curry, make pudding out of it, etc. A fruit which has all of its part being used in one form or the other in Indian cuisine.
Health Benefits of Jackfruit : click for source
Jackfruit is a tropical green colored fruit with sweet flesh and thorny outside and smells like banana when young. It has huge health benefits.
1. Provides immunity since it is rich in Vit C.
2. Instant source of energy since rich in carbohydrates.
3. Rich in antioxidants, phytonutrients and flavonoid that make it highly beneficial to protect from cancer.
4. It maintains Blood pressure , since it is rich in potassium.
5. Aids in digestion since it is fiber rich.
6. Improves eye health since it is rich in Vitamin A.
7. It improves the skin health and slows down ageing.
8. Helps the patients with anaemia and asthma.
9.Improves bone health.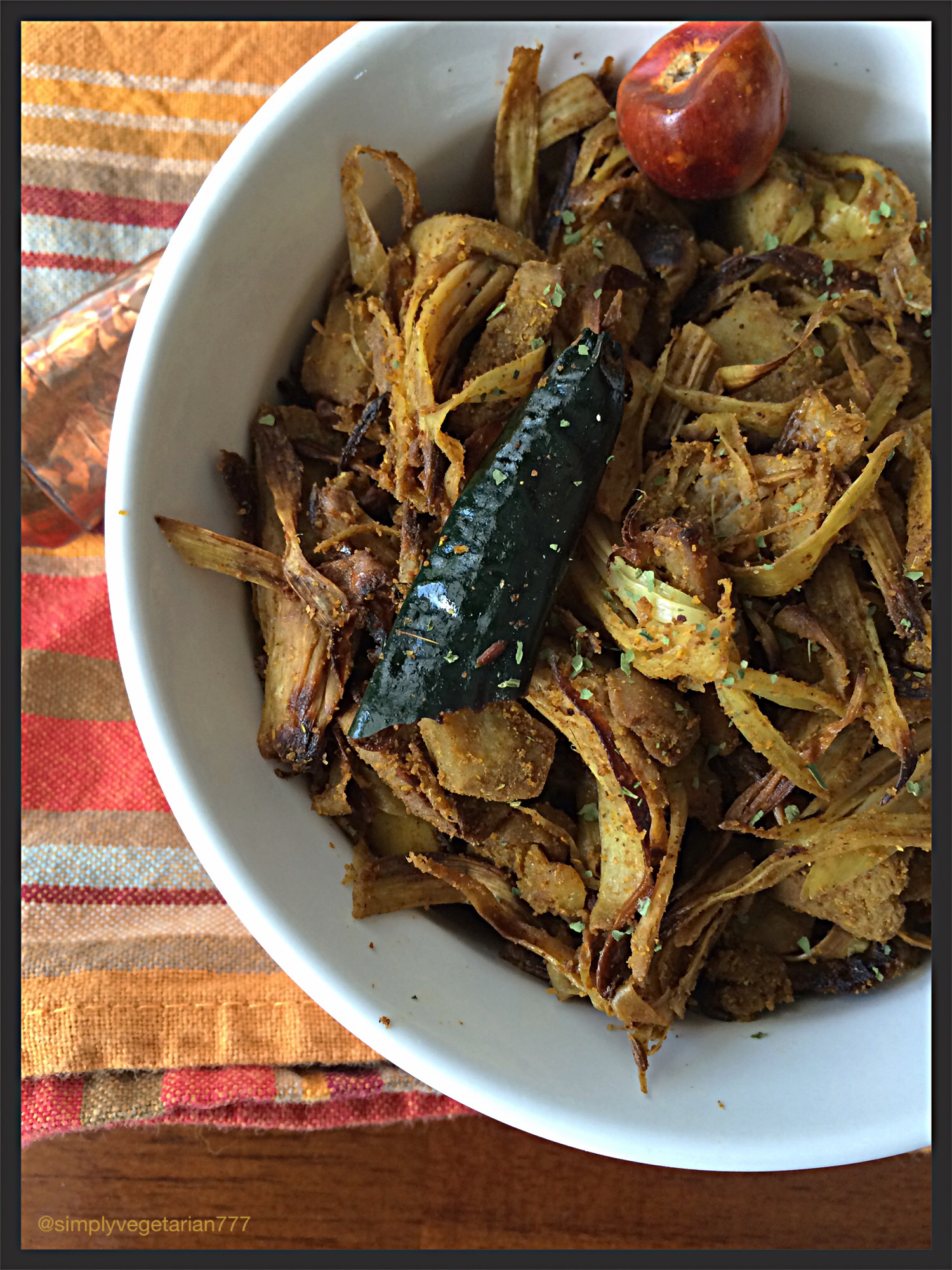 Here is how I made it ! But before that, let me tell you that jackfruit has 3 segments in it. There are edible seeds which are surrounded with yellow flesh which is sweet and that flesh is often used to make dessert when used from young jackfruit where as seeds are used in the curry or stir fry since these are milky and edible. Surrounding the seeds is fibrous flesh which we use to make the stir fry, including the solid flesh around it. See in the pictograph as given below.
Serves : 4
Ingredients :
Jackfruit / Kathal : 500 gms
Oil : 1&1/2 tbsp
Methi dana / Fenugreek seeds : 1 tsp
Red chili whole and dry : 2
Hing / Asafetida : a pinch
Cumin seeds : 1 tsp
Coriander powder : 1&1/2 tbsp
Turmeric : 1/2 tsp
Red chili powder : 1/4 tsp or more to taste
Salt to taste
Method :
Prepping the Jackfruit or Kathal : Refer to this pictogram for reference.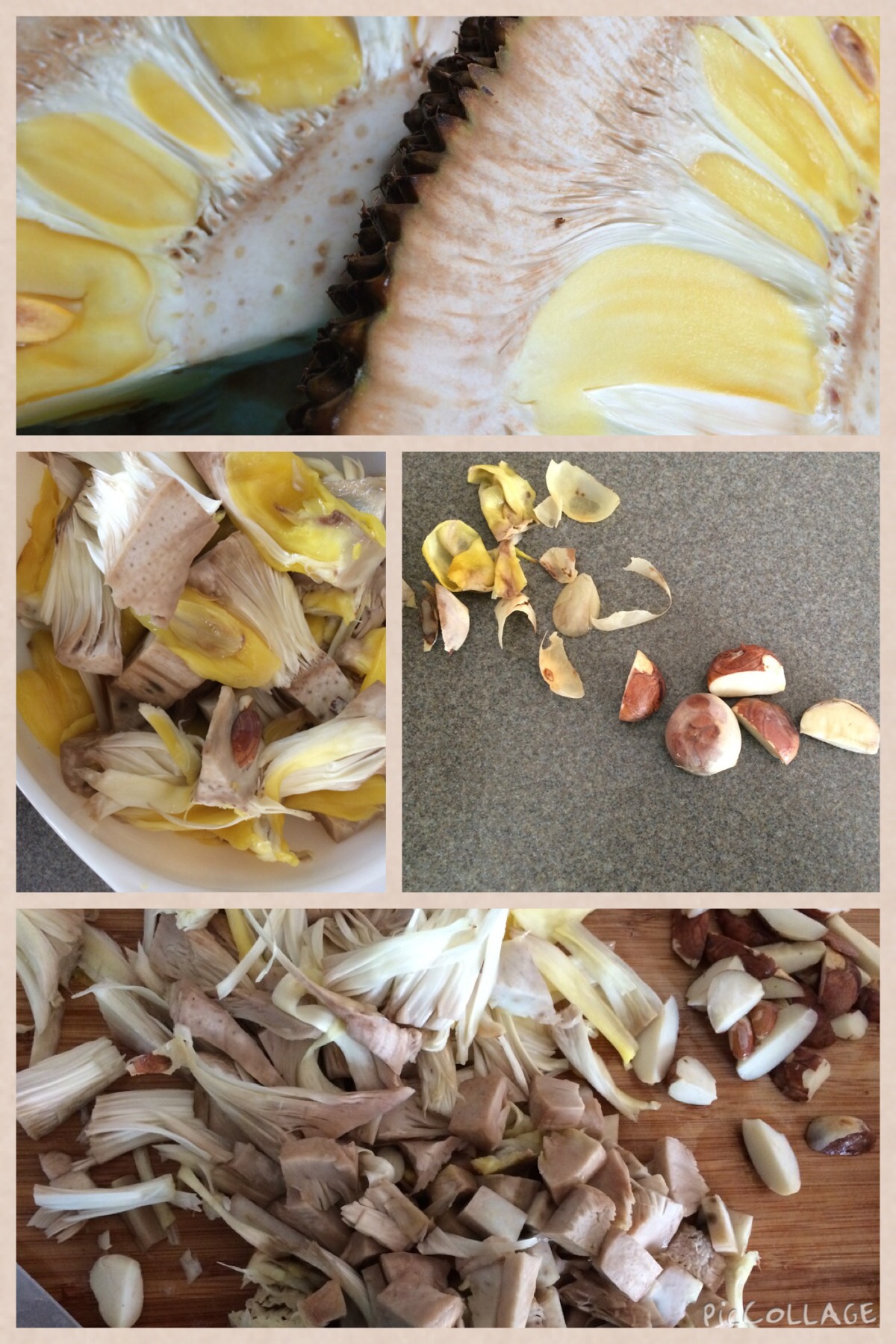 Always use young jackfruit and if possible, get it cut from your vegetable vendor.

Wash and cut the jackfruit in smaller pieces. Pressure cook or steam them in little water, for one whole whistle and then switch off the flame. Remove the weight or whistle of the cooker immediately since we don't want an over steamed kathal.

Take it out in a colander / sieve to drain out excess water.

When it comes to the room temperature, remove the skin / peel from the top carefully with a knife.

You will have to carefully remove the yellow meaty seeds and peel the yellow portion off the seeds under. Taste the yellow portion, if it is sweet then don't use it. If it's not sweet then use this portion too.

Peel the skin off the seeds also. Refer to the pictograph above.

Chop the peeled seeds, the other portion of the kathal in long cuts and thread the fibrous portion. Refer to the pictograph above. I know it is a little work but totally worth it :).

Jackfruit / Kathal is ready to be used. You may use the canned young jackfruit too. Just wash it thoroughly and then steam or microwave it a bit to tenderize.
Making the Dry Stir fry
Heat oil in heavy bottom pan or hard anodized pan.

Once oil is hot, lower the flame down and add hing, methi dana, cumin seeds and dry red chillies to it. Sauté for few seconds till methi dana turns little golden and cumin starts spluttering.

Add all the other spices ton the pan. Stir and sauté for couple of more seconds. Keep the flame on low always.

Now add the boiled, cleaned and chopped Kathal to the pan. Toss it well in the spices. Cook uncovered for 12-15 minutes or more on the lowest flame to make it crispy. Stir often to avoid burning and even crisping of the entire dish.

Enjoy it warm with roti or best served with crispy flakey Paranthas !
Do try this. It's totally worth taking all the pain or just skip to the canned one. A rustic stirfry with so much flavor.
Sonal