Matar Paneer (Peas and Indian Cottage Cheese) in Onion and Cream Curry
As an Amazon Associate and member of other affiliate programs, I earn from qualifying purchases.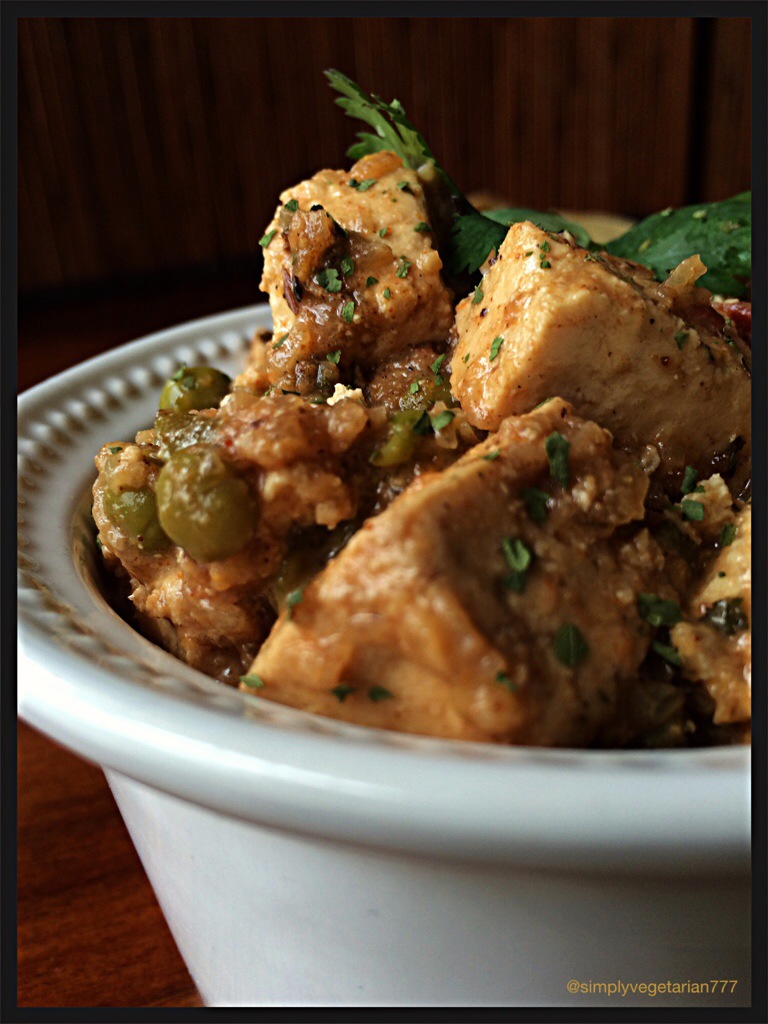 I make Matar Paneer in various ways. The most typical way that people prepare this dish is in more tomato-ey curry. I will get on that one soon too. The flavors of this curry are so subtle and supporting of the dish.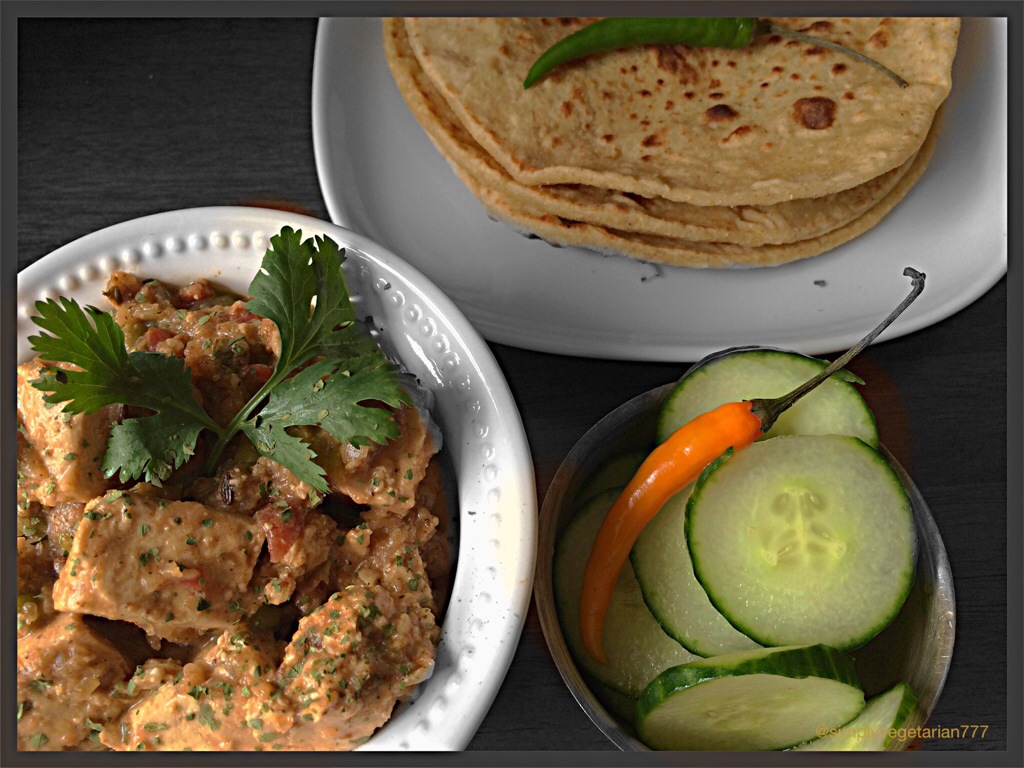 I served the curry with paranthas and chilled cucumbers. Do you see green and orange chili? Yes I eat these raw with my food :). I still have to work on a post on paranthas. Soon, I promise.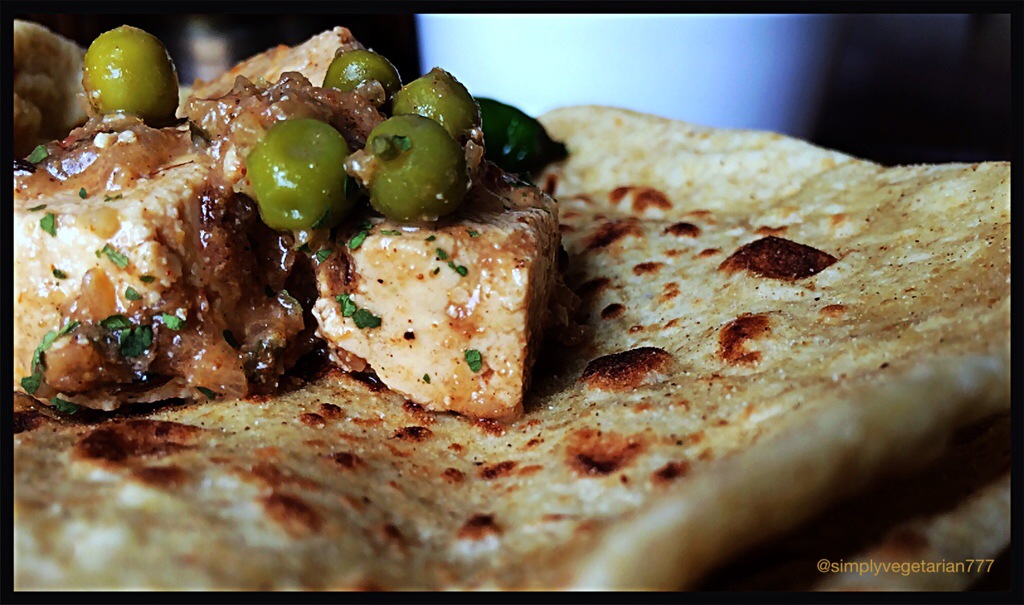 Paranthas are shallow fried flat breads which need no leavening or baking soda or powder. Just knead, roll, cook and eat. Melt in the mouth hot paranthas are best accompaniment to any curry made at home. Better than naan, seriously.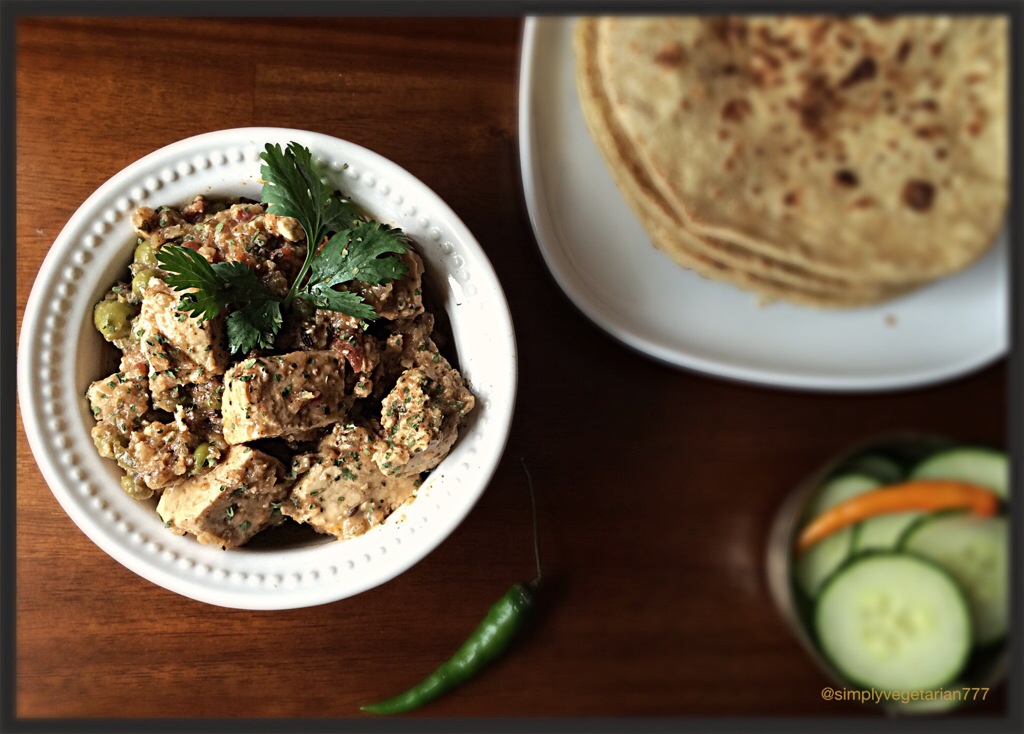 Serves : 4-6
Kitchen Equipments Required : pressure cooker or a big saucepan with lid, chopping board, food processor or grater, knife, ladle or spatula.
Ingredients :
Oil : 1 tbsp
Onions : 2 medium, processed in food processor or grated fine.
Tomato : 1 small, processed in food processor into pulp or chopped fine.
Green chili : 1, minced with onions in the food processor.
Ginger : 1 small piece, minced with onions in the food processor.
Garlic : 2 pods, minced with onions in the food processor.
Green Peas : 1 cup
Paneer, Indian cottage cheese : 400 gms, almost 2&1/2 cups cubed. You may use store bought or use home made fresh.
Kasuri Methi : 1 tsp, optional. Adds to the aroma of the dish.
Cream or half n half : 1/4 cup. You may use heavy or light cream.
Coriander leaves to garnish, optional.
Water : 1&1/2 cups.
Spices :
Cumin seeds : 1/2 tsp
Red chili powder : 1/4 to 1/2 tsp, as per taste.
Garam Masala : 1 to 2 tsp, as per taste. You may use home made or tore bought. MTR and Shaan are 2 good brands.
Salt to taste
Method :
Mince the onion, ginger, garlic and green chili in the food processor (not a liquid paste). If you do not have the food processor, use a grater and grate them fine. Also process or grate the tomato separately.

Heat oil in the pressure cooker or a heavy bottom sauce pan. Add cumin seeds and reduce the flame to medium. Once the seeds crackle, add the onion mix to the oil. Sauté the mix on lower medium flame for 7-8 minutes till the onions turn slightly red.

Now add the processed or grated tomato to the mix. Stir well. Add all the spices and Kasuri methi and sauté with the tomatoes till it becomes one with the onion paste, say for 4-5 minutes.

Add peas and paneer to the mix along with the water. Mix well. Adjust the salt and other spices. Do the spoon lick test ;).

Put the lid of the pressure cooker on and cook for 1&1/2 whistle. Take it off the flame and let the pressure release on its own. If you are using a saucepan, then cook similarly, put the lid on and cook on lower medium flame for good 15-20 minutes with 2 cups of water instead of 1&1/2 cups of water. Stir occasionally with a gentle hand while it is cooking to avoid burning at the bottom.

When it is cooked and the pressure is released from the cooker. Open and add cream to it. Stir with a ladle and adjust the salt accordingly.
Enjoy with hot paranthas or rice.
A quick snippet to take you through the process on my YouTube channel. Do subscribe it if you would like more updates. I am still working on improving it. The recipe could be found there under comments.
Let me know if you try it :).
Happy weekend!
Sonal