Mathura ki lassi – Thick Yogurt Drink
As an Amazon Associate and member of other affiliate programs, I earn from qualifying purchases.
Mathura ki lassi – Thick Yogurt Drink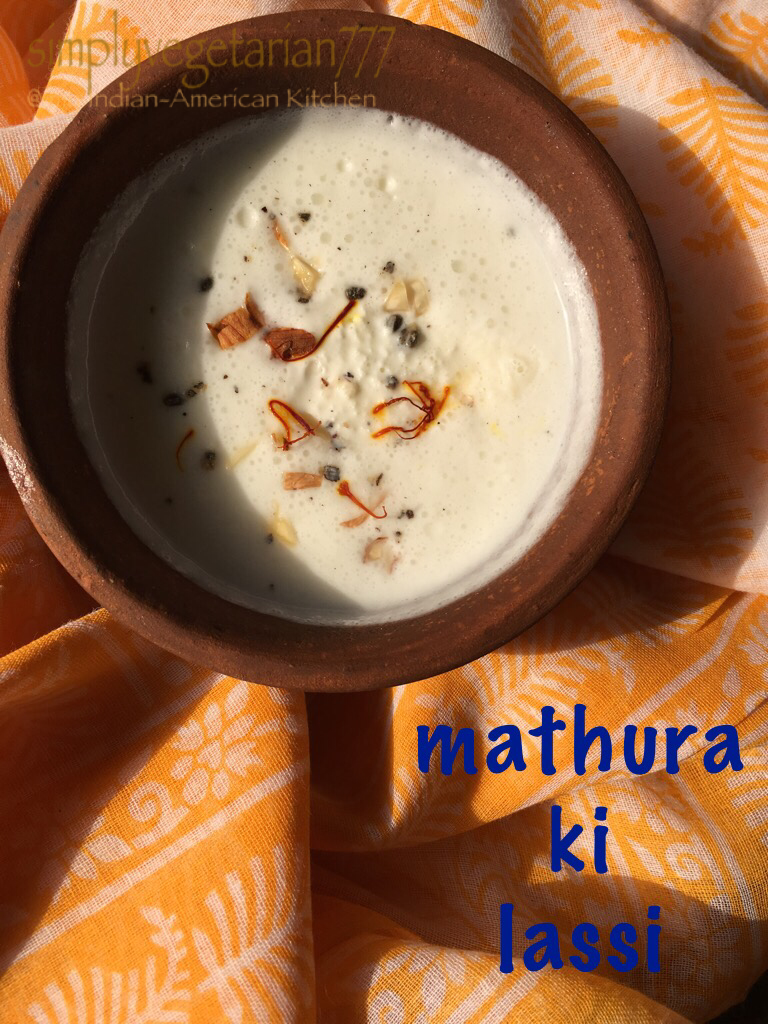 Mathura ki Lassi – Thick Yogurt Drink needs no introduction. If you are visiting Mathura – Vrindavan in India for Banke Bihari Darshan, A chilled Kulhad (small clay pot) of Mathura ki Lassi is a must have drink, which you should include in your foodie's "to-try" list.
Mathura is famous as a pilgrimage, the birth place of Lord Krishna. Whoever is aware of the leelas of the naughty young Kanha, they know that he was famous as a Makhan-Chor, which means the one who steals the butter. There are numerous stories depicting the incidents of him stealing Makhan (Butter) and Dahi (Yogurt). He would steal the freshly churned butter from the homes of the village dwellers and feast with his friends over it. Many a times, he would break the Matkis (clay pots) of the Gopis (the girls of his community) to get the freshly set Yogurt, directly pouring in his mouth and his friends'. The Gopis would complain to his mother Yashoda and she would punish him for his mischiefs. One time, she got so fed up that she tied him up with a rope for the whole day.
I am a huge fan of Lord Krishna, for his Complete Avatar of Bhagwaan Vishnu. There are number of trips to Mathura and Vrindavan, etched in my mind from my childhood. My Baba (grandfather) would take us for the day trips to Mathura and we made sure to always demand a Kulhad of Lassi there.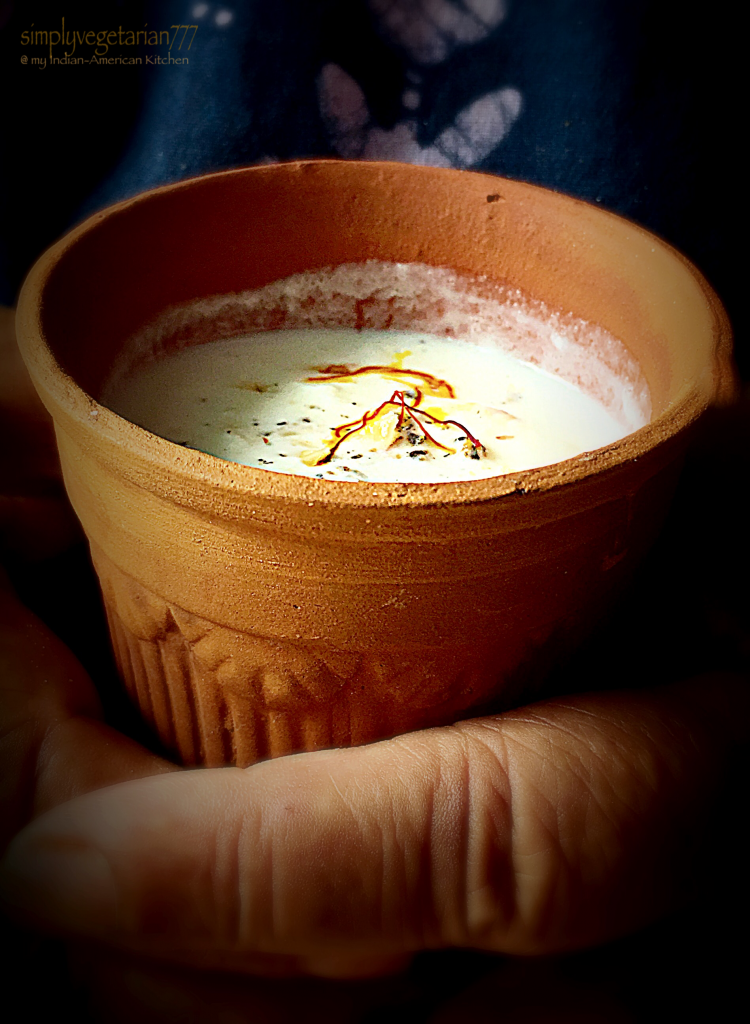 Do you see the soft warm hands of my mother holding a beautiful clay glass of home made Mathura ki Lassi – Thick Yogurt Drink? The pleasures of visiting mum's house!
Warning – Mathura ki Lassi – Thick Yogurt Drink is a heavy and sedating drink that induces food errr drink coma. It is made with full fat yogurt and is always topped with the malai (cream) of the full fat freshly set Yogurt. Don't go skinny on this or it will be a regular lassi.
If you are wondering about my repetitive mention of clay pots, mugs, glasses etc, then I must tell you that – this is the way to go about it. Clay Utensils are heavily used in India, especially during summers since it keeps the food/drink inside cold. It is used as a seasonal cooler. Not only that, the clay pots and mugs add that rustic clay aroma and flavor to the dish. Love serving kheer, sharbet, even chai in Kulhad.
I am thrilled about blogging from India, even if for the short period of time. It has given me a different kind of high and mood. Though finding a right time to shoot and click is still a challenge but I think I will figure it out soon.
Some other Summer Drinks from the blog are – Lychee Mint Soda , Berry Coolade and more.
This is how I made it.
Mathura ki lassi - Thick Yogurt Drink
World Famous Mathura ki Lassi, made with freshly set full fat yogurt, delicately flavored with cardmom powder. Chilled and served in Clay pots called Kulhad.
Ingredients
Yogurt

plain and full fat with the yogurt cream on the top - 2 cups

Sugar

powdered - 4 to 5 tbsp or to taste

Cardamom

green / Chhoti Elaichi - 4

Saffron / kesar - few strands

Almonds - 2 to 3

sliced thin
Instructions
Prepping for the Lassi
Take the freshly set yogurt and delicately remove the top layer of creamy yogurt and set aside.

Take the cardamom pods and crush them to fine powder and remove the cover.
Making Mathura ki Lassi
Take the blender and add 2 cups of thick freshly set yogurt, cardamom powder (leave a pinch aside for garnish) and powdered sugar to it. Blend it on high for 1 minute.

Pour the lassi in the Kulhad. Add a thin layer of Yogurt cream on the top.

Garnish with saffron strands/kesar, almond slices and cardamom powder.

Cover and refrigerate lassi for an hour or 2.

Serve chilled.
Notes
You may use refrigerated chilled yogurt to make lassi and save the refrigerating time.
The saffron strands and other garnish are optional.
Disclaimer – This recipe is a take from the memories of the flavor and richness from my childhood and I claim no authenticity to it. Even in Mathura, every vendor has their own recipe. The main ingredient is full fat yogurt with no water added and topped with the thick yogurt cream.
Mathura Ki Lassi – Thick Yogurt Drink is such a quick fix to beat the heat and enjoy the local delicacy in its purest form. It is a very famous Yogurt drink from the northern state of India – Uttar Pradesh.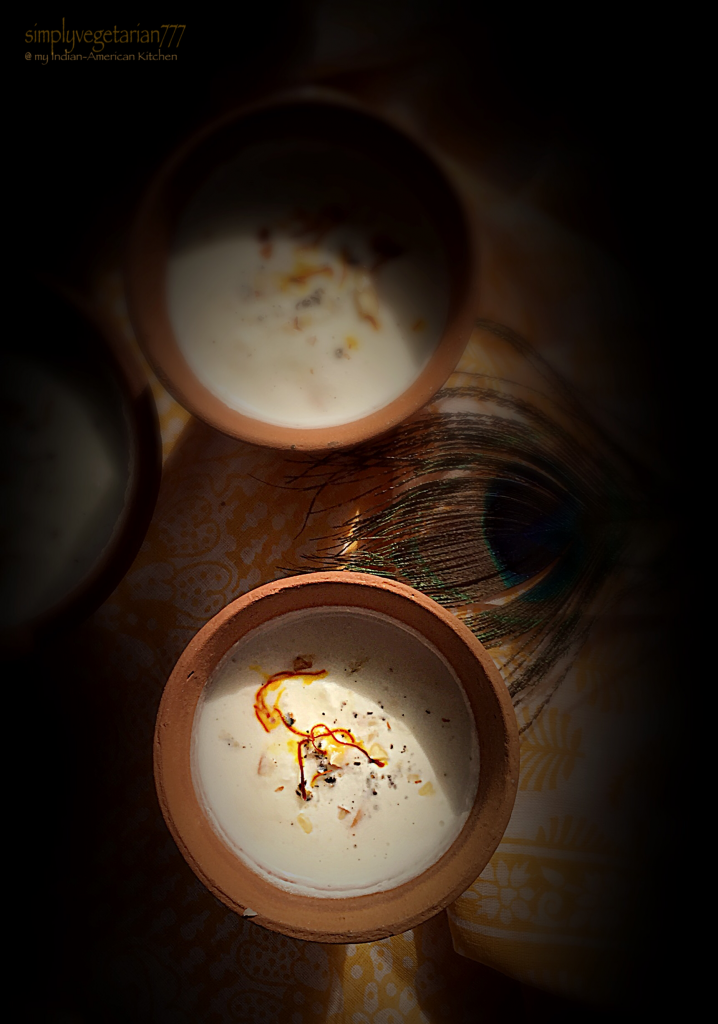 Make it this week and enjoy the summer with family and friends.
As I always say, Eat Drink Happy! Stay Happy!
Sonal