Meatless Monday : A simple stir fry with Broccoli, Mushrooms & Zucchini and less of Rice!
As an Amazon Associate and member of other affiliate programs, I earn from qualifying purchases.
Finally I am back to Meatless Monday and with a healthy recipe. More of Veges and less of rice! Yes :). Yummy, healthy and wholesome! I love my stirfries and that too burning spicy. You may reduce the heat to suit your taste.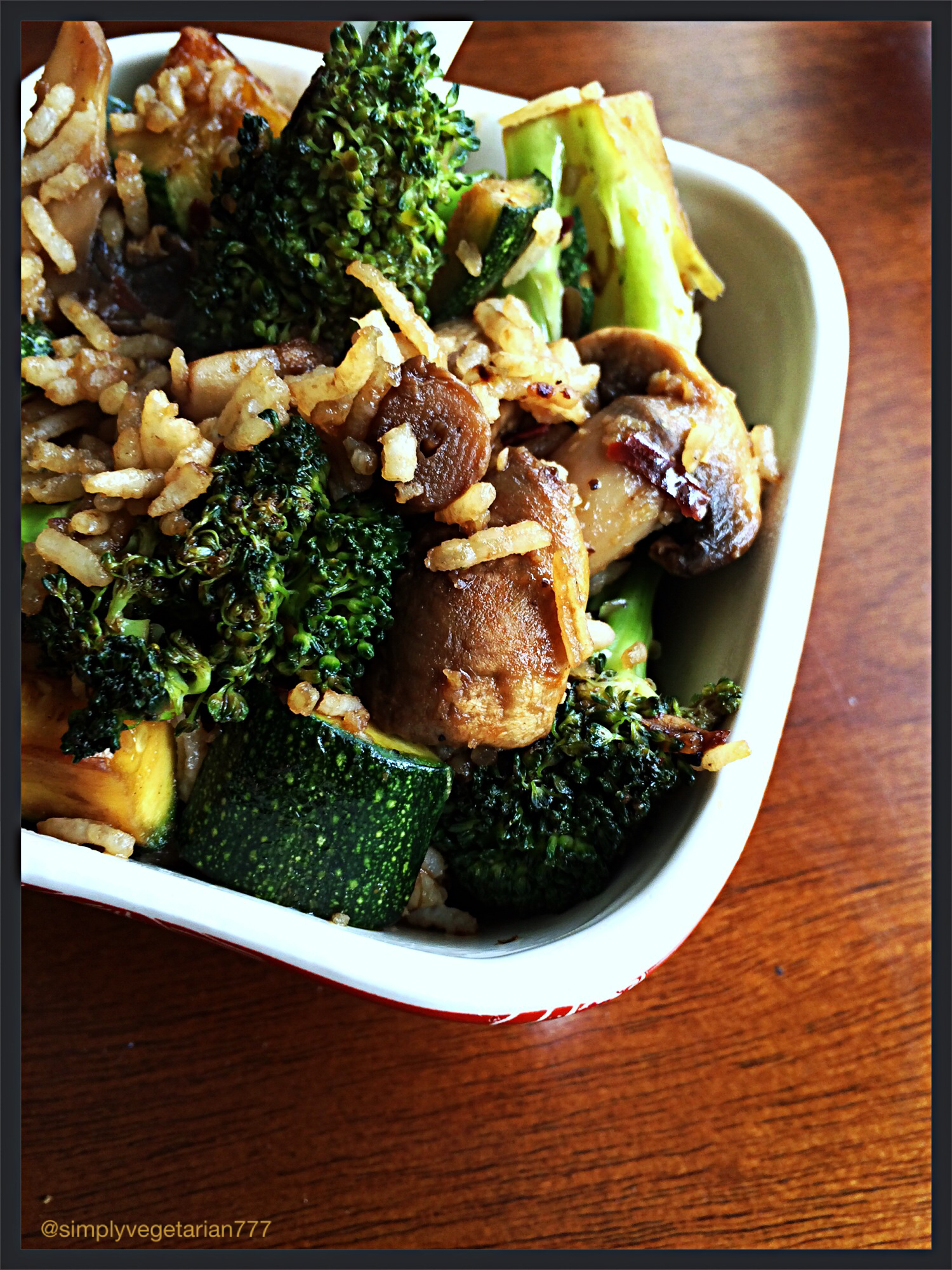 Today, I am going to post a recipe without any measurements. Just a bit of this and a bit of that…stir..wallykazam..all done :).
Ready?
Serves : 1
Kitchen Equipments Required : cutting board, knife, non stick / hard anodized pan, spatula/spoon.
Ingredients :
Oil spray or oil : 1 tsp
Broccoli : handful, blanched or boiled slightly
Zucchini : 2 small
Mushrooms : handful and sliced
Garlic powder or freshly grated garlic.
Red chili flakes
Salt n black pepper to taste
Soy sauce : a good amount. Use dark or light. I used dark.
Chili sauce or paste : to taste
Rice : 1/3 cup cooked, preferably a day old.
Method :
Spray the pan with oil lightly or add 1 tsp oil and heat.

Add garlic powder and chili flakes and stir for few seconds.

Add zucchini and cook for 4-5 minutes. Now add broccoli and mushrooms together. Stir for anothwr 2-3 minutes.

Add soy sauce, chili paste/sauce, salt and pepper to taste. Mix.

Add boiled rice. Toss everything well. Cook for 2 more minutes and all done.

Plate and Eat!
Can it get easier than that? A healthy, spicy and yumm stir fry right there :).
Sonal
4.