Meatless Monday : Lemon Quinoa
As an Amazon Associate and member of other affiliate programs, I earn from qualifying purchases.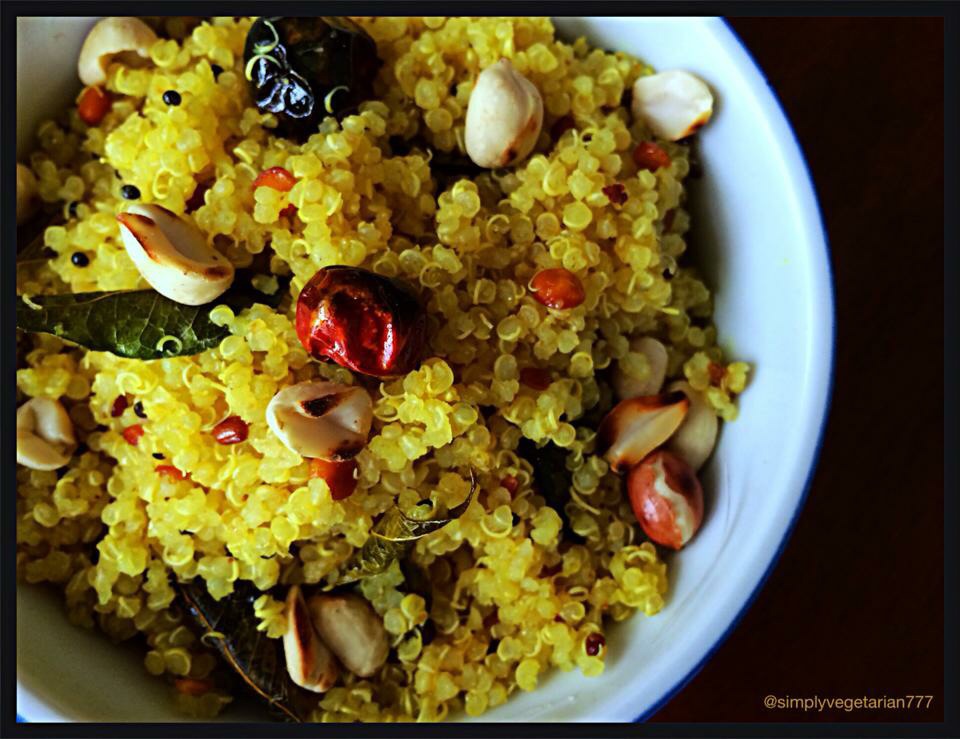 I was so inspired by Anjana of Happy and Harried, when she guest blogged the Lemon Rice at my space, that I wanted to try them immediately but with my own twist. So here i went all bold and beautiful with gorgeous Quinoa.
The best thing about this seed is that it is bland and nutty at the same time and picks up any flavor immediately. For the longest time, I wanted to try this dish which was already cooked in my head. You know what I mean! So I followed Anjana's recipe to the core and subbed the rice with cooked Quinoa. Oh my God, it blended so well. I am going to experiment the same base with more whole grains like millet, barley and cracked wheat. I just love the lemon flavor in summers. Such a light and refreshing flavor.
Here is how I made it! Copy – pasting the recipe as is and illung the rice bowl
With quinoa bowl ;).
Quinoa – 1&1/2 cup, cooked
Oil – 1/2 tbsp
Mustard seeds – 1/2 tsp
Urad dal – 1 tsp
Chana dal – 1 tsp
Whole red chilies – 2
Curry leaves – a few
Grated ginger – 1/2 tsp
Asafoetida (Hing) – a pinch
Turmeric powder – 1/4 tsp
Cumin powder – 1/4 tsp
Lemon – 1, large
Salt – as per taste
Peanuts – a few, dry roasted (optional)
Method :
Quinoa : if you have cold cooked quinoa, then microwave it till it's nicely warmed.
Heat oil in a pan. Add the mustard seeds, urad dal, chana dal, red chilies and curry leaves. The mustard seeds will start to sputter and the lentils will turn a lovely light golden color.
Now add the ginger, asafoetida, turmeric powder and cumin powder and mix well.
Add the juice of one lemon and salt to taste (remember to account for the amount of quinoa to be used). Remove from heat once the lemon juice is just heated.
Gently fold in the warm quinoa so that the lemon mixture coats the quinoa evenly. Garnish with roasted peanuts.
That's it! Just pick up your spoon and dig in :).
Happy Monday,
Sonal