Meatless Monday : Mushroom Tikka Masala
As an Amazon Associate and member of other affiliate programs, I earn from qualifying purchases.

Meatless Monday is getting more and more powerful and I am so happy to be connected with this movement. There is a growth in the consumption of fruits and Veges all over USA and guess what Iran has joined the campaign too. Impressive ! It has reached beyond boundaries, cultures and religion and making its own cult!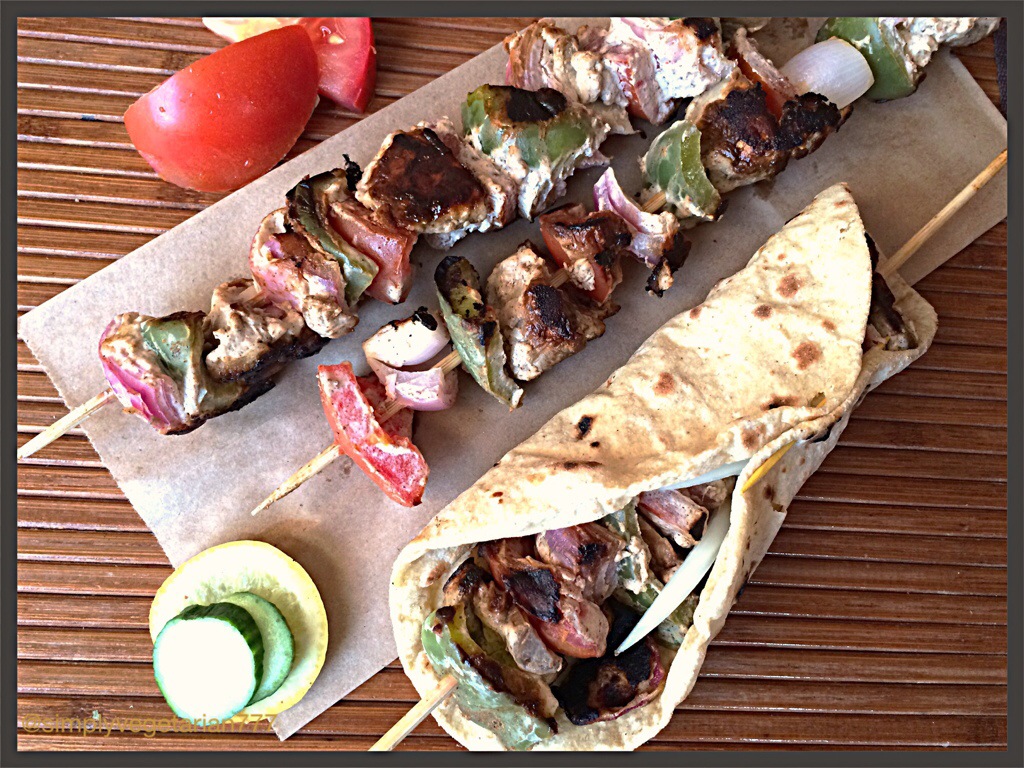 Recently, received an email that Mushroom Council is conducting a Mushroom Makeover Challenge, where you have to recreate a recipe with mushroom as the main ingredient, which is originally a meat recipe. Now that's a challenge and a bloody good challenge. It came at the right time of the Memorial Day weekend when the whole nation is grilling.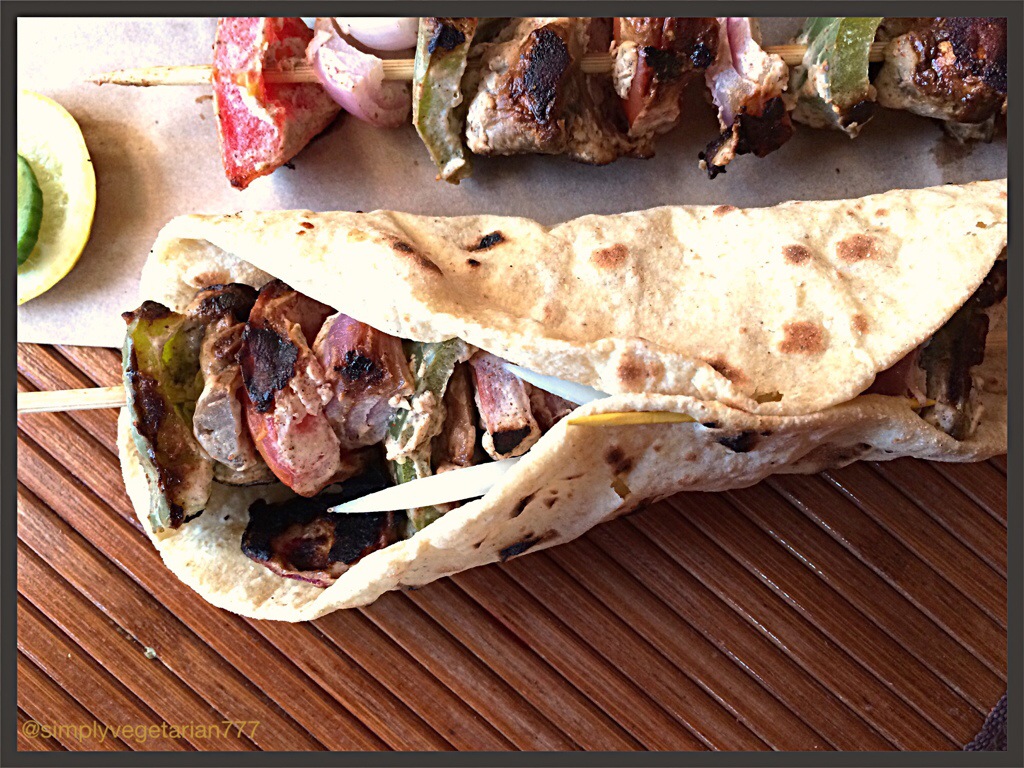 The instant idea was to recreate chicken tikka masala with mushrooms. people who love Indian cuisine are not unaware of this popular and lip smackingly delicious dish. Pieces of meat skewered with vegetables like onion, tomato and bell pepper, marinated in a beautiful yogurt marinade and spices and then grilled! Yes, Mushroom was a perfect answer to replace chicken in this dish. My carnivore friends will be surprised to know that mushroom replaces the chicken so well and my husband didn't even miss his meat in that skewer.
Let's get to the recipe now!
Mushroom Tikka Masala
Servings: 4-6
Difficulty: easy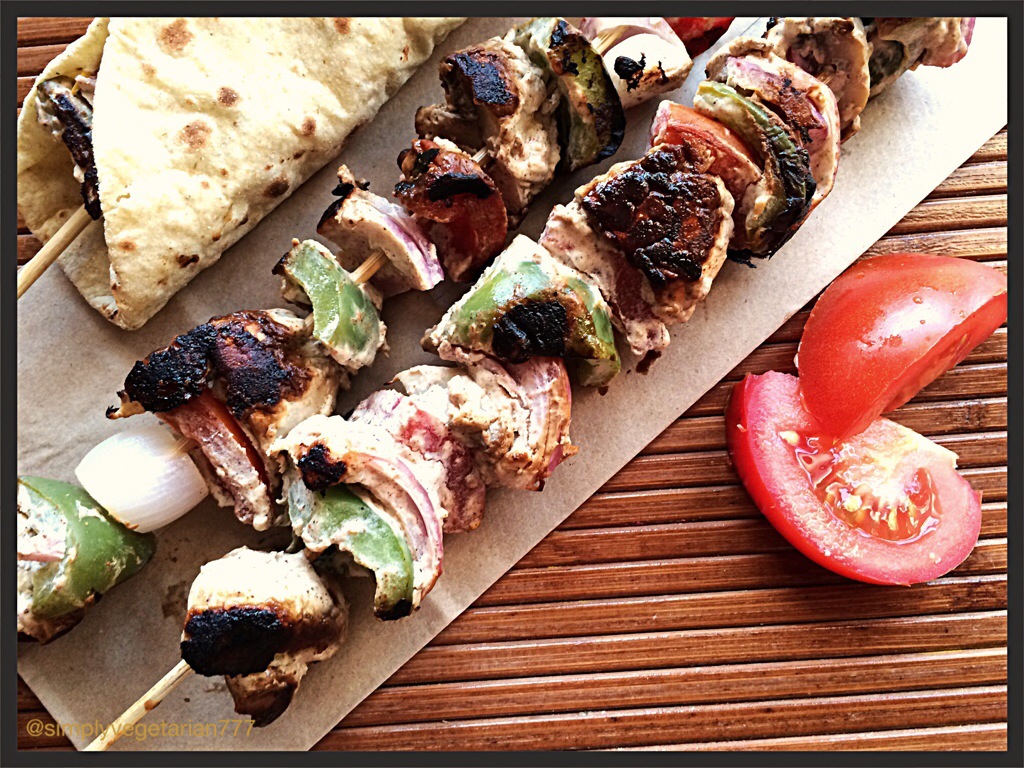 Kitchen Equipments Required : 6-8 bamboo skewers, grill or flat pan or electric grill, foil, a bowl to marinade, plastic wrap, fork or whisk.
Ingredients :
Button Mushrooms : 20 small or 10 big and halved, washed and cleaned of any dirt with a wet towel.
Onion : 20 pieces, as big as the size of mushrooms.
Green bell pepper / capsicum : 20 pieces, as big as the size of mushrooms.
Tomato, firm : 20 pieces, as big as the size of mushrooms. Remove the pulp.
Yogurt, plain : 1cup. Use Greek or thick hung yogurt.
Ginger : 1 tbsp, freshly grated
Garlic : 1 tbsp, freshly grated
Lemon juice : 1 tbsp, freshly grated
Chickpea flour/ Besan : 1&1/2 tbsp
Garam Masala : 1 tbsp or to taste
Salt : 3/4 tsp
Fancy paprika (non spicy) or Kashmiri red pepper powder : 1 tsp for color.
Oil : 1 tbsp, to brush the skewers lightly while grilling.
For side : lemon slices, julienned onions and some tomatoes slices.
Method :
1. Soak your bamboo skewers in water for 2 hours.
2. Take a bowl. Add yogurt and chickpea flour and mix well with a fork or a whisk. Add garlic, ginger, lemon juice, salt, garam masala, red pepper powder. Mix well with the fork. Your basic marinade is ready.
3. Add washed and cleaned mushrooms, bell peppers, onions and tomato pieces to the marinade. Mix them with a light hand so that every piece is coated well. Cover with a plastic wrap and refrigerate for 2 hours.
4. Now take the marinade out and met rest at room temperature for 10 minutes. Start skewering the bamboo with vegetable pieces. Start with mushrooms gently as they are tender, and then bell pepper, onion and tomato. Repeat it to fill the skewer and skewer all the vegetables likewise on bamboo.
5. Heat the grill or pan to high. I used electric grill. Brush the grill with oil. Now place the skewers on the grill.
6. Once the skewers are placed, I often cover them with foil to steam cook them first for 8 odd minutes, so that the yogurt and chickpea flour gets cooked initially.
7. Now remove the foil. Cook them for 3 to 4 minutes each side, flipping them. Beautiful charring makes them look more desirable. They are ready!
Serving suggestion :
1.You may enjoy them as is.
2. Stuff your pita bread, flat bread, big sandwich bread/roll, thin naan, chapati/roti, with mushroom tikka masala and add some shredded cabbage, onions, cucumber and tomato slices, a dash of lemon and tzatziki.
3. Serve them over the bed of any kind of pilaf or rice.
4. You may serve these as main course or grill them in smaller cocktail skewers and serve as appetizers.

Let me know what you think of this recipe!
Sonal