Meatless Monday : Whole Wheat and Oats Bread
As an Amazon Associate and member of other affiliate programs, I earn from qualifying purchases.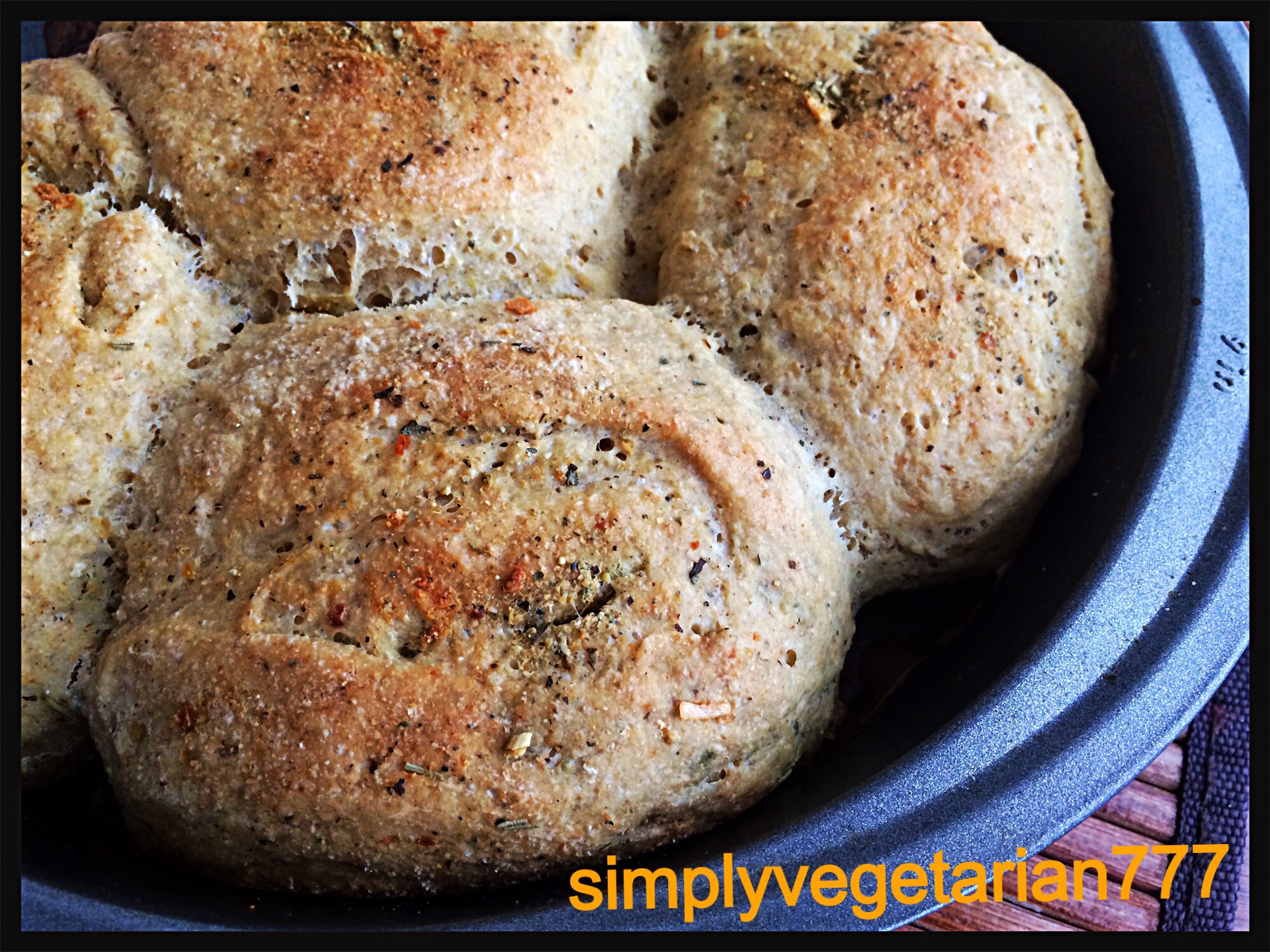 I think I have decoded the formula for a perfectly fine and soft bread which can be adapted to various flavors later! It's been not that long but quite some time that I have been using yeast now. Pizza bases and few buns have been all that I have been doing so far! This time I was in the mood to play with my dough. Yes and I played well :).
The pizza bases were fab which were first pre baked in oven and then were thrown on back yard grill for some evening dinner with some simple toppings.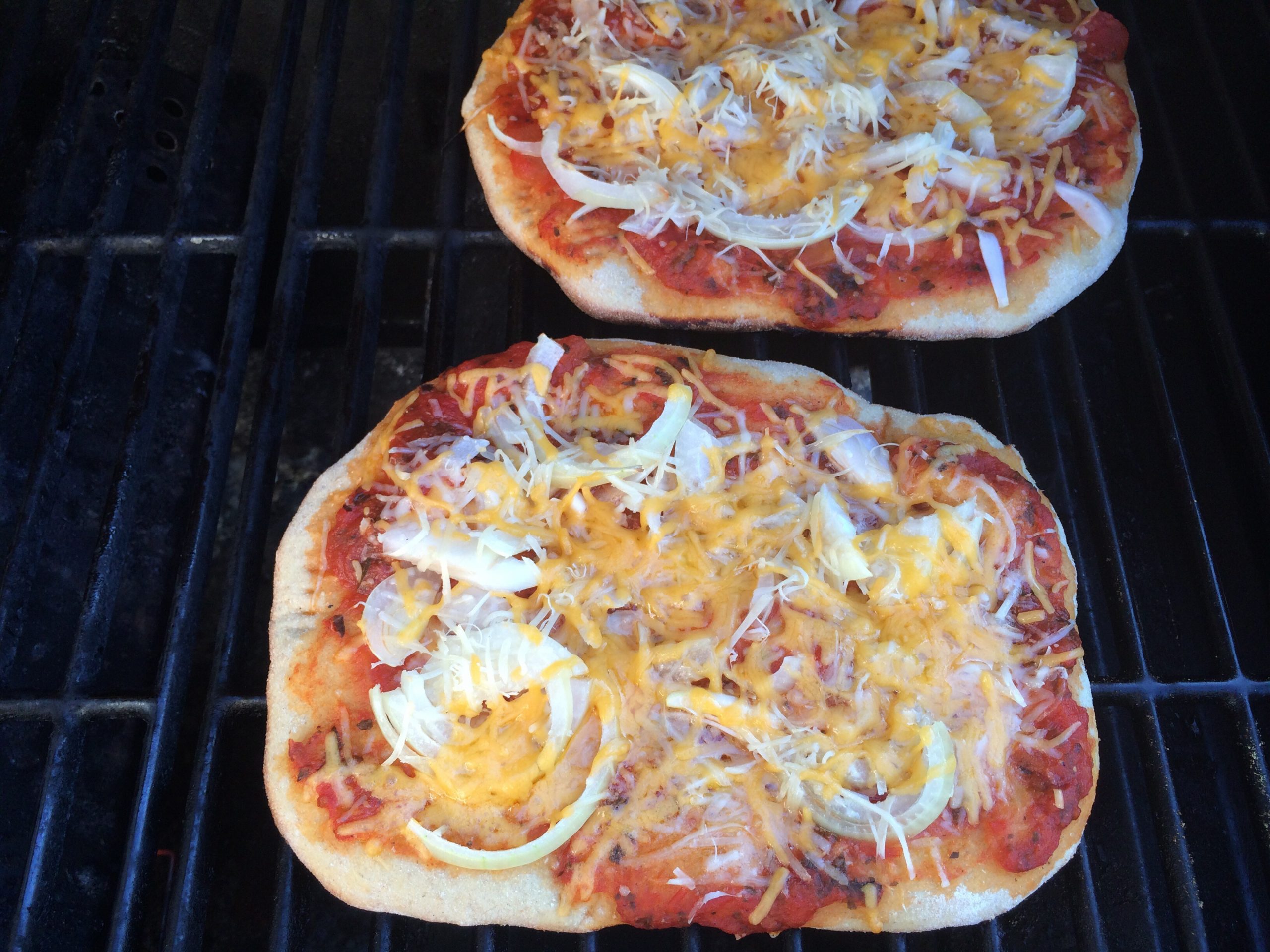 The rest of the dough….hmm that gave me some play time! After 1st proofing, first I thought I will bake some pull apart rolls but then the dough was not mould-able or roll-able, since it was quite loose and that my dear friend was the reason for a fine textured soft bread :). Believe me, I was so proud of myself that I did a happy jig ;).
Oh oh! Are you still wondering as to
What I actually did to my dough before setting it for 2nd time proof ? Well chucked that idea of pull apart rolls. I then rolled the dough into making a bread loaf ! I shaped the dough in thin baguette form. Applied some olive oil on top and added some garlic powder, dried onion flakes and some Italian herbs. I thought I was ready. But then last minute change of plan! I cut the log into 4-5 big pieces. Took a circular cake pan. Greased it. Proofed the bun shaped loaves in that pan, which still looked like pull aparts…….yes crazy me…and then finally baked! They baked to the glory of gorgeousness.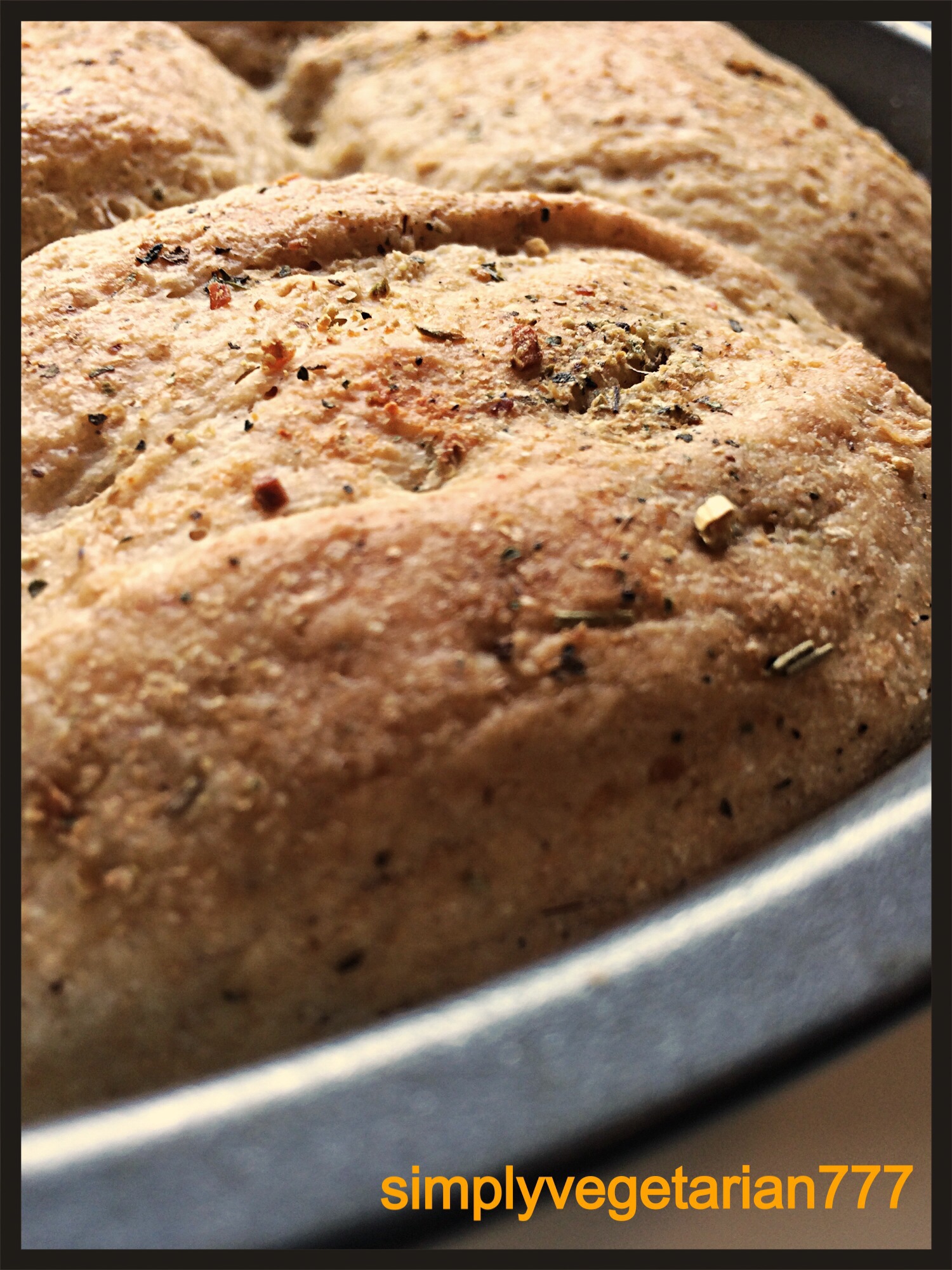 Today I will pen down my experimental recipe which I can swear by for myself at least (Tag : I am no expert!).
Whole Wheat and Oats Bread
Servings: 4-6
Difficulty: easy
Ingredients :
Whole wheat Flour : 1 cup + 1/4 cup for rolling and kneading
Refined Flour : 1 cup
Oats Flour : 1/2 cup
Yeast : 7 gms or 1 tsp full or 1 sachet. I used Instant yeast.
Egg : 1 big, beaten
Warm Milk : 1/2 cup
Warm Water : 3/4 cup + 1/4 cup
Salt : 1 tsp
Sugar : 1&1/2 tsp
Olive oil : 2 tbsp, you may use any cooking oil.
Milk : 2-3 tbsp
Method :
Take a big bowl. Add 1 cup whole wheat flour, 1 cup refined flour, 1/2 cup oats flour, sugar, salt and yeast together in the bowl. Mix well.
Add egg and mix.
Add 1/2 cup warm milk and 3/4 cup warm water. I actually used all of 1 cup water.
Mix with your hands. It will be a very sticky and very loose batter kind of dough.
Keep the 2 tbsp of oil and 1/4 cup extra flour handy nearby in 2 bowls.
Add 1 tbsp of flour to the dough. Dip your fingers in oil. Start collecting the dough together. Repeat the process till you have a pliable but yet very very soft dough which is not firm at all. It will be loose blob!
Now pour all the leftover oil in your hands and slowly knead by stretching from center and pulling the sides back to the center. Press and repeat for 5-7 minutes from different corners. This will capture more air in the dough.
Oil another bowl lightly. Keep that blob of a dough in the oiled bowl and cover tightly either with wet muslin or cling wrap.
Keep in warm place and let it rise for 1&1/2 hrs. I keep it in my oven with light on.
By the end of 1&1/2 hrs, it will be more than double the quantity. Take it out and punch it down gently. No kneading now.
Now you can do 2 things :
1. Pizza Base : You can roll them in different size or shape pizza bases and bake directly without further proofing at 400*F for 5-7 minutes. Don't forget to fork the base before baking. I normally bake the pizza base. Cool them down to room temperature. Then if I am not using these the same day, I cling wrap them in Plastic and store in the fridge for some quick after school snack for the kids.
2. Breads or Buns : Shape the dough in either individual small buns OR small loaves and let them rise again in a slightly greased baking sheet for another 1&1/2 hrs. Cover them with wet muslin or cheese cloth. After they have doubled in size, take them out and brush them generously with milk from all the exposed sides. Bake in preheated oven at 350*f for 25-30 minutes till golden at top.
Take them out. Let them cool to room temperature before slicing.
My 2 cents to the understanding of achieving a soft bread texture are :
1. The dough developed was not tight and was pretty loose, almost flowing.
2. The time given for proofing really matters.

>
Enjoy them with :
1.Olive oil +salt+black pepper+ Italian herbs of your choice.
2. Cream cheese and pesto.
3. Butter and Jelly
4. Make small sliders and make sandwiches.
Storage :
If you don't wish to eat it right away, then bring them to the room temperature but while they are still slightly warm, cover them with foil without cutting. Once you cut them, they will dry up. Or just store in air tight container and in the refrigerator.