Meatless Mondays : Potato Corn and Cheese Cutlets, Baked
As an Amazon Associate and member of other affiliate programs, I earn from qualifying purchases.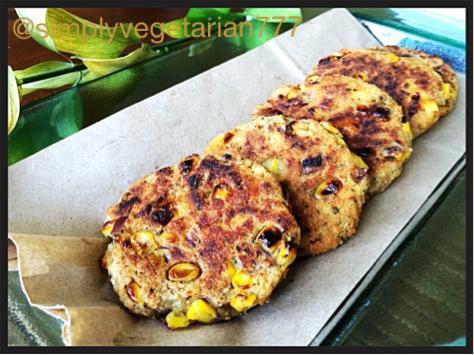 When I say baked, I want to put it down this time that baked is an acquired taste. If you compare the baked to the deep fried version, you will be unjust to both! Having said that, I do fry at home :). Actually was all set to fry these when Amit asked me to bake these and I was happily surprised :). Cranked the oven up and the cutlets sat happily under the heat whiles toasting themselves tan ;).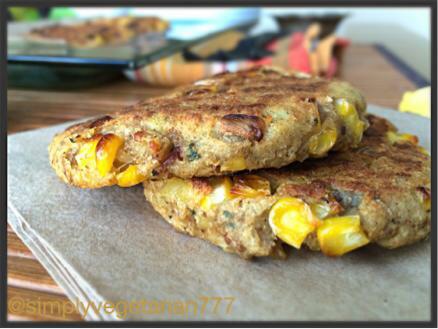 They were not crispy as fried but nice crunch to the outer shell and soft melt in the mouth inside with gooey cheese in the middle. Since I have started baking the savory goodies, I have started to enjoy the flavors and textures more. The deep fried goodies feel like an adrenalin high party for the mouth but flavors are lost. All I can feel is crunch and sips of oil! I wonder now, how we ate all that we did when younger. May be, that is what is called metabolism.
Oh I am not condemning the fried food at all! I believe in complete moderation. Again, what I believe what is "right", may not be right for you. So that's not an issue here. Just an opinion and opinions can differ :). Trying to teach my daughters to make healthier choices since childhood as better habits are hard to form when you grow up. It's a task!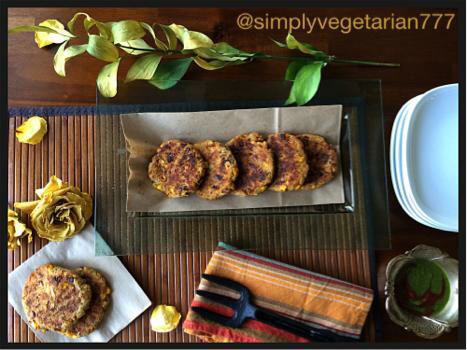 Enough mumbling and muttering! Here is the gorgeous fun recipe to snack on or to entertain. Sharing a secret , you can shape them as per your desire. Even a mini tater tot shape would be a hit!
Yields : 12 big or 16-18 small
Kitchen Equipments : mixing bowl, oven, baking sheet, parchment or butter paper, masher or grater, flat spatula to flip, a bowl filled with cold water.
Ingredients :
Potatoes : 2 cups boiled and grated or mashed fine.
Corn Kernels : 1 cup, if frozen the thaw them first. If using fresh then microwave them for 3-4 minutes with 2 tbsp water.
Cheddar Cheese : 1/2 cup. You may use any easy to melt cheese. My vegan friends can skip this part and add cashew bits and raisins instead.
Bread crumbs : 1/2 to 1 cup. It depends upon the quality of potato. Some need a little amount to bind and some need a good amount to bind. I make mine at home by collecting top and bottom slices of the bread and air dry them.
Onion : 1/2 cup, finely chopped
Ginger : 1 tsp freshly grated
Garlic : 1 tsp freshly grated
Cilantro : 1 tsp if using dry or 2 tbsp if using fresh, finely chopped.
Garam Masala : 1/2 to 1 tsp as per taste.
Red chili powder : 1/8 – 1/4 tsp as per taste. If you want then you can skip it.
Method :
1. Preheat the oven at 475*f and line a baking sheet with parchment or butter paper.
Put all the ingredients together in a bowl besides cheese and bread crumbs. Now start adding bread crumbs 1/4 cup at a time, binding all the ingredients together and pulling in kind of dough.

Take palm full of dough in your hand. Flatten it. Put a tsp full of cheese in the center.

Now bring the sides to the center and close the Patty tight. Dip your hands in cold water and shape the patty firmly. The pressing will release more starch and cold water will seal it making it more smooth.

Finish the whole potato dough like wise. Bake for 15- 20 odd minutes. Flipping it mid way. Rotate the tray once for even baking. For nice color, I broil/grill the patties for 15-30 seconds each side. Please note that every oven is different so the time given is an estimate. Do keep an eye on food. While broiling or grilling, don't leave the sight at all!
Enjoy them warm with ketchup and Green Cilantro Chutney. Or make a sandwich or burger by putting in between bread slices or buns!
Here is another tip : you can freeze them without baking. Here is how. Line a baking sheet with plastic wrap. Shape the patties and lay them on the lined sheet. Once done. Cover them again with a plastic sheet. Freeze them till they are done. Take them out carefully and then store them in either ziplock or freezer ready box. Take them out and bake as desired.