Methi Mushroom Curry (no oil, no onion-garlic curry) – Diabetes Friendly Thursdays
As an Amazon Associate and member of other affiliate programs, I earn from qualifying purchases.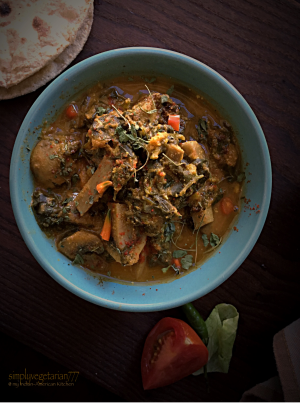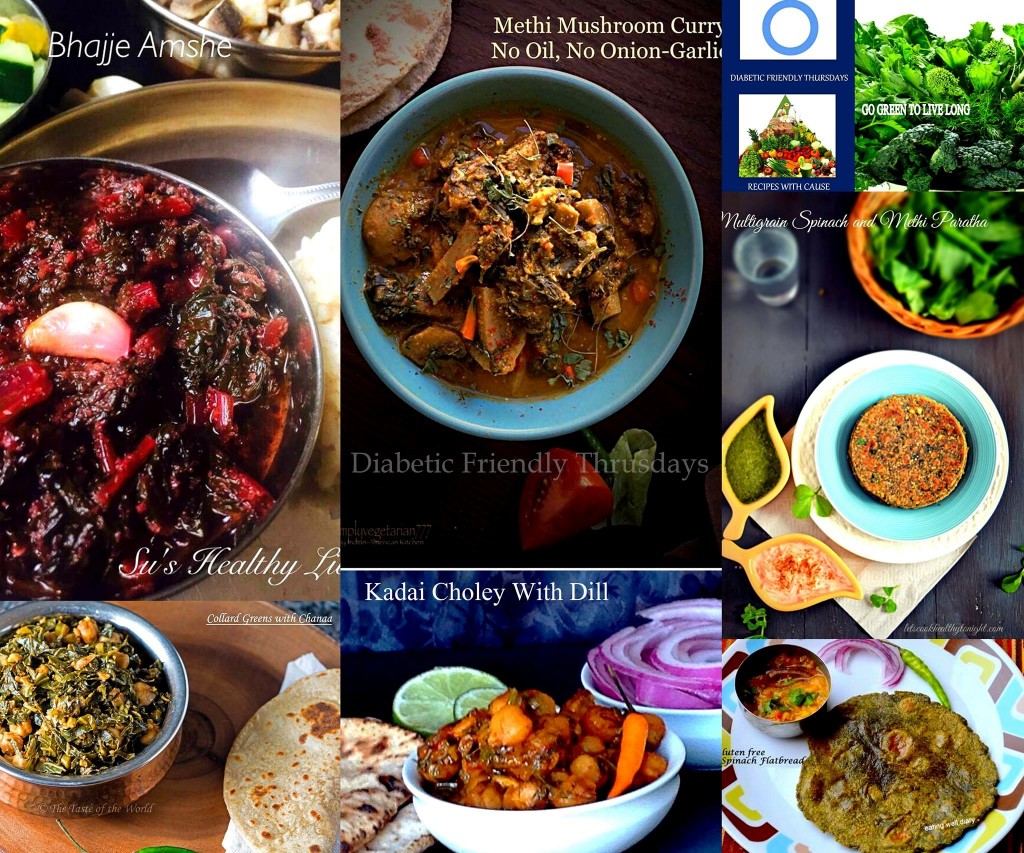 Creating Recipes with a Cause! I am a proud DFT blogger. To learn about DFT, Read here !! view more DFT recipes, Click here!
Methi Mushroom Curry – No oil, No Onion-Garlic Curry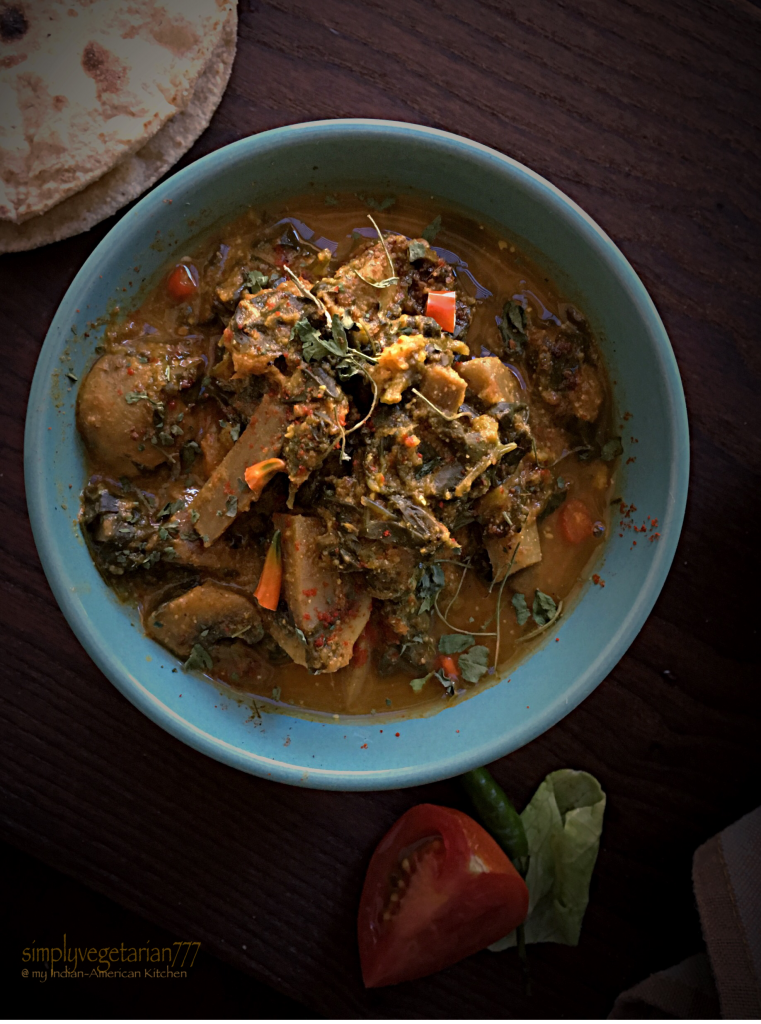 Enjoy the winters with Team DFT with Greens Overload! Bringing some hearty dishes with seasonal greens.
Since the winters have started, various kinds of greens are in full swing like mustard leaves, methi/fenugreek leaves, spinach, amaranth leaves, Bathua etc. Therefore, we decided why not focus this month on the dishes which are greens-heavy.
This curry is so basic and simple, yet so nutritious and enriching. The base of the curry is made with tomatoes and blanched almonds. Light and nutrition sense mushrooms, mineral and fiber rich methi or fenugreek leaves, make it an ideal curry for diabetics. Simmered in non stick/hard anodized pan, made without oil, onion or garlic, this is a light and nutritious curry which doesn't disappoint in taste.   Onions are carb-heavy so eliminating onions is a good thought. Whereas Almonds are also car heavy but more nutritiously rich.
For the benefits of main ingredients on diabetes, used in the dish, please refer to the Foot Notes!
This is how I made it!
Methi Mushroom Curry
Servings: 4-6
Difficulty: easy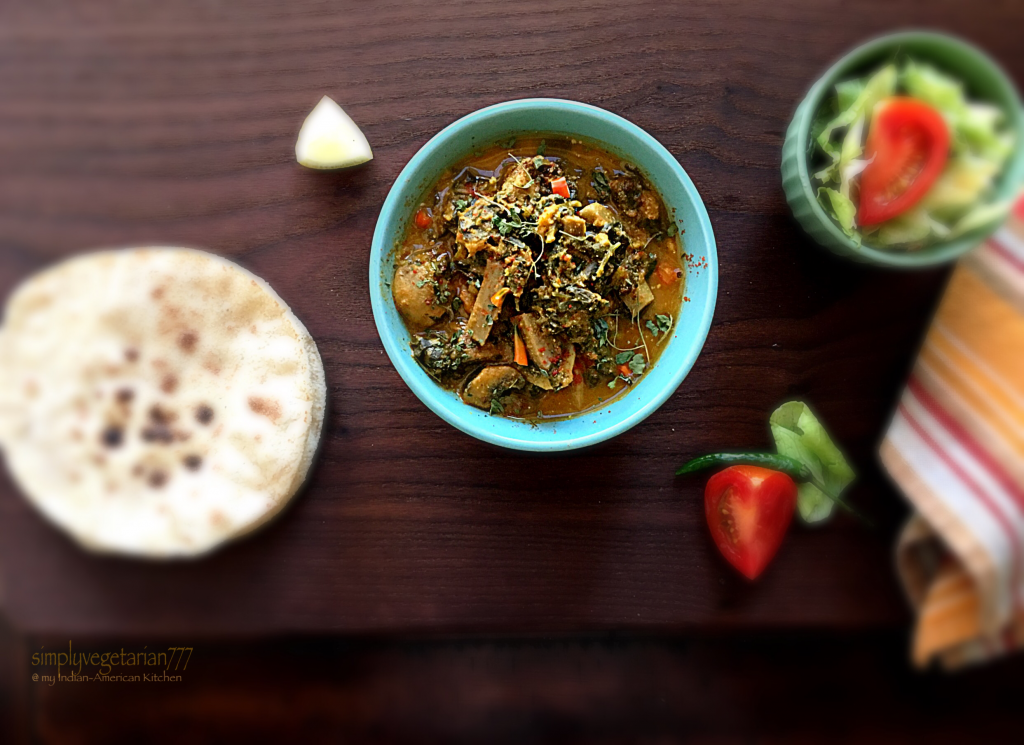 Kitchen Equipments Required 
Chopping board, knife, non stick or hard anodized sauce pan with lid, stirring spoon, blender:
Ingredients 
Mushrooms, button – 2&1/2 cups, cleaned & quartered. To know how to clean the mushrooms effectively, Click here!
Methi leaves – 2 cups, washed, cleaned, picked from stems and chopped roughly.
Almonds – 15, soaked in warm water for 1 hr and peeled. You may use 2 tbsp almond meal instead.
Tomatoes – 1 large, chopped roughly
Ginger – 1 small piece
Green Chili – 1 small
Yogurt, thick – 2 tbsp
Water – 1/2 cup
Spices
Turmeric – 1/4 tsp
Cumin powder – 1/2 tsp
Red Chili Powder – 1/4 tsp
Garam Masala – 1/2 tsp
Salt to taste
Method
Take the blender and add tomatoes, blanched and peeled almonds, ginger and green chili. Blend it all till you make a fine purée.
Take the heavy bottom hard anodized or non stick sauce pan. Add the purée to it. Stir, add spices and cover with lid. Cook on medium flame till the water is evaporated.
Open the lid, add quartered mushrooms and chopped methi leaves to the sauce pan. Add 1/2 cup or more water as the consistency is desired. Stir well. Cover and Cook on medium heat for another 10-12 minutes till the curry comes together.
Beat the thick yogurt well. Switch off the flame and add the yogurt to the curry. Stir with spoon. Adjust the garam masala and salt if required.
It will still be a little runny curry.
Serving Suggestion
Serve 3/4 cup of curry with 1/2 cup of cooked brown rice or cooked quinoa. You may serve it with 2 small whole wheat chapatis also. Serve a 1/2 cup of green leaf salad alongside. Do not put any dressing, just salt and lemon juice. Green chillies are extremely good for diabetics. You may add a green chili on the side.
————————————–———-
Foot Notes
Methi Leaves – Fenugreek or methi leaves are very rich in vitamins and minerals and they get easily absorbed by the body.  Galactomannan, a natural soluble fibre present in fenugreek slows down the rate of sugar absorption into blood. It also contains amino acid, 4-hydroxy isoleucine, responsible for inducing the production of insulin.
Some major ingredients include calcium, potassium, phosphorus, iron and dietary fiber in its naturally occurring form as in other vegetables. The availability of vitamin K is as good as spinach. The protein rich fenugreek leaves can be treated as a wonder herb.
Mushrooms – These are low GI food or almost zero GI food, and doesn't increase the sugar levels in the blood. On the contrary, it helps in maintaining the blood pressure because of its potassium levels and almost no sodium levels. They are cholesterol free & almost fat free, which helps in lowering the risk of heart diseases which are veg relevant in diabetics. They are ideal for weight control.
Almonds – One of the studies, published in the journal, Metabolism, showed that consuming an ounce of almonds straight before eating a high-starch meal brought a 30 per cent reduction in post-meal glucose levels for patients with type 2 diabetes.  One study found that replacing 20% of dietary calories with almonds led to improved markers of insulin sensitivity and lower cholesterol levels. To know more about Almonds' health benefits on Diabetes, click here!
Tomatoes – Tomatoes are not only Low GI but high in fiber. American Diabetes Association puts this humble fruit, in its list of top 10 Super Foods for Diabetics. It is also rich in nutrients like vitamin C, iron, vitamin E. Go on and include some tomatoes on daily basis in your diet, no matter which form – purée, chopped, blanched or raw.
————————————————
Disclaimer

I am not a nutritionist or dietician. My knowledge and information is based on my research and reading from different resources. Please consult your doctor or dietician before making any changes to your diet.
————————————————
Other Winter Green DFT recipes from the Team!
Click on the individual links for the recipes.
Apsara's Perfect Gluten Free Spinach Rotis
Swati's Multi Grain Spinach & Methi Roti
Suchitra's Aamshe Bhajje – an amaranth & coconut based curry!
Sarika's Collard Greens & Chana Curry