Missi Roti
As an Amazon Associate and member of other affiliate programs, I earn from qualifying purchases.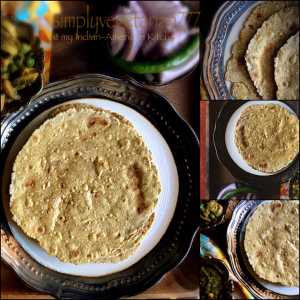 I had blogged Besani Roti few days ago! When I posted it on the social media, many people asked me if this is the same Missi Roti, that the restaurants serve. I was surprised to see people calling Besani as Missi Roti!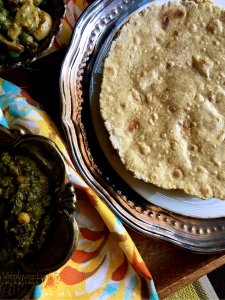 Technically, they both fall in the same "Missi" category since they both are made from chickpea flour but the difference is that the Besani Roti is made from Chickpea flour (Mediterranean chickpea) where as Missi Roti is made from Kaala Chana which is Indian chickpea. This stands true atleast in the part I grew up and my Dadi (grandmother) always ate the Missi Roti as Missi Roti and not the Besani for Missi. Did I confuse you?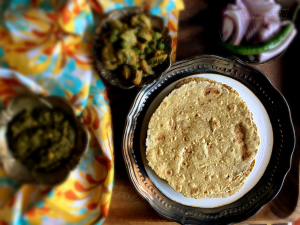 After the whole question and answer on the social media about this Roti, I had decided to post the real Missi Roti, which my friends is this – made from Kaala Chana Besan!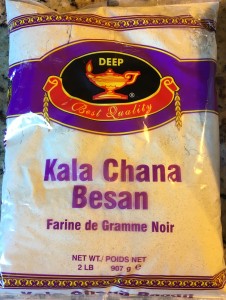 It is super simple to make and much lighter as compared to the Besani. Back home, mom would get the Missi atta from the Atta Chakki (The shop where they grind fresh flour on demand), where it was a premix of small part of whole wheat flour mixed with Kaale Chane ka atta! Small towns in India still operate like that! 🙂 That is a blessing for sure!
This is how I made it!
Missi Roti
Servings: 3
Difficulty: easy
Kitchen Equipments Required 
Mixing bowl, rolling board, rolling pin, a plate with dry flour,    a flat spatula, griddle / tawa, flat pan to cook roti.
Ingredients
Missi Atta / Kala Chana Besan – 3/4 cup
Whole wheat flour – 1/4 cup plus more to roll
Salt – a pinch
Water – to knead the dough.
Method
Take the big mixing bowl. Add besan, whole wheat flour and salt. Mix it all together.
Make a hole in the middle of the mixture. Add little water. Start mixing and bring the flour mixture together in a dough. Make sure that you add 2-3 tbsp water at a time. Besan is gluten free so it doesn't require lot of water to bind. If you add too much water at a time, it will become runny and become batter instead of dough. A little bit of wheat flour is added to bind the dough.
Grease your hands lightly with oil and gather the dough finally. It will be slightly sticky.
Divide the dough into 6-8 equal balls.
Heat the griddle or tawa.
Take one dough ball. Roll it in the dry whole wheat flour in a plate.
Place it on the rolling board or clean kitchen counter. Roll it out into a 4&1/2 inch round with gentle pressure. If you will apply too much pressure while rolling the dough, it will stick to the board or counter. You may roll it on butter or parchment paper also, for easy removal. If required, apply more dry flour.
Reduce the heat of the griddle to medium. Carefully lift the rolled out dough and place it on the hot tawa.
Cook it for 2 minutes on medium flame and then gently flip it with flat spatula. Now cook it from the other side for another 2 minutes on medium flame.
Flip it one more time and press it with flat spatula and cook further for 1 more minute.
Apply some butter or ghee and serve hot. I served these rotis with Dal Palak Saag and Oil free Mushroom Matar Makhani .
Notes – Two things to remember with the Missi Roti is that the dough has to be made fresh and should not be kept for later use. And the other is that these rotis are made fresh and should not be stored for days. They taste best, when eaten warm.
Enjoy this simple and humble Missi Roti from my Indian American Kitchen to yours!
Enjoy!
Sonal