MTR Oats Idli Instant Breakfast Mix
As an Amazon Associate and member of other affiliate programs, I earn from qualifying purchases.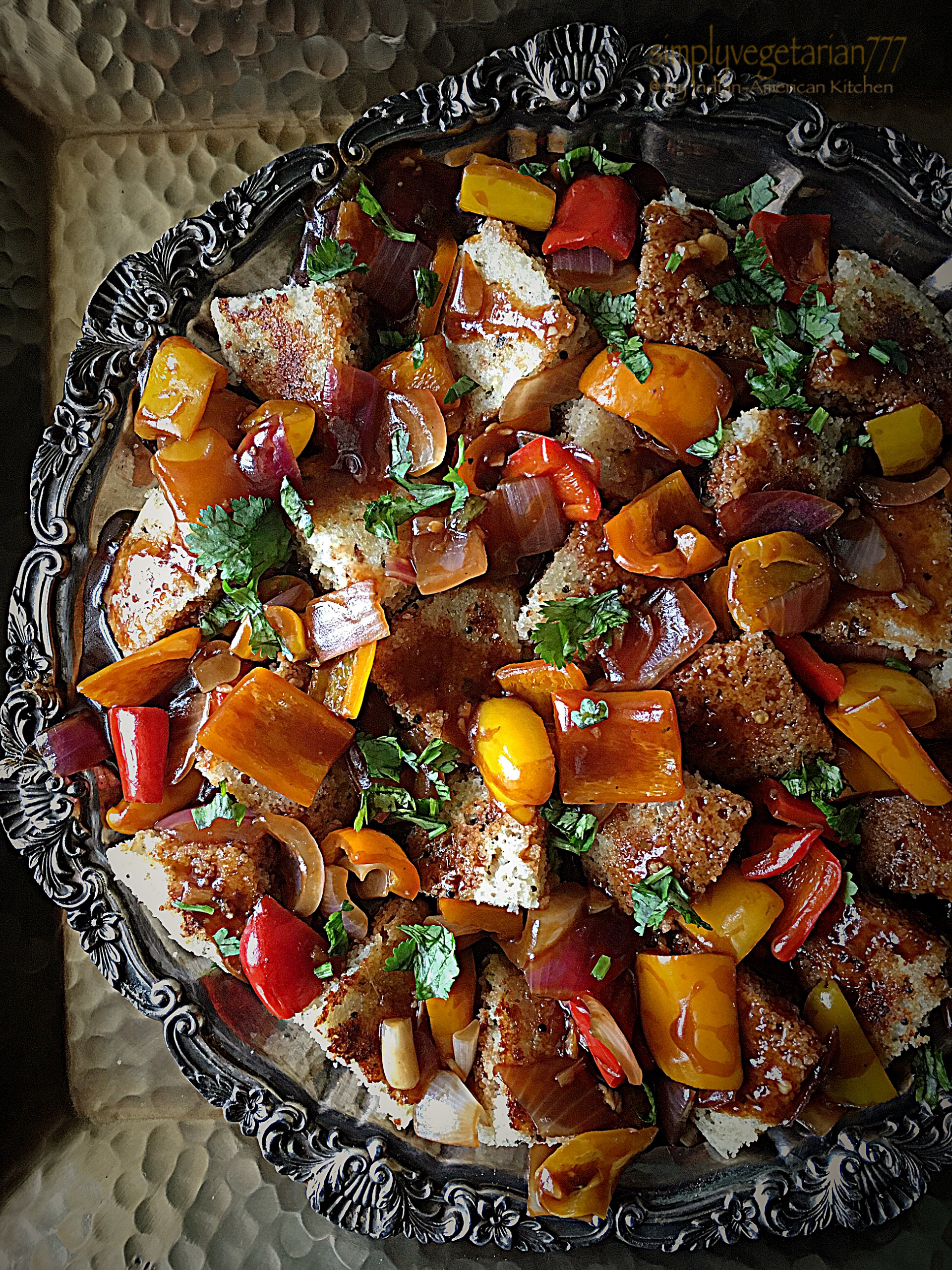 Disclaimer 1 – This is a sponsored post from MTR, where the product is tested and reviewed in the kitchen of simplyvegetarian777. We agreed to do this project with MTR, after studying the brand and ingredients used in creating their line of Instant Breakfast Mixes. We take a lot of pride in this alliance with MTR and confirm to the readers that their Instant Breakfast Mix line is free from harmful additives and is simple + easy to make.
Disclaimer 2 – You are in luck with MTR Instant Breakfast Mix Series, since you are getting a tried and tested first hand review from simplyvegetarian777 kitchen + added simple creative recipe using the product. We are featuring MTR Oats Idli Instant Breakfast Mix review and Idli Manchurian to bring more meaning to your single purchase of MTR Oats Idli. MTR is one of the leading companies of India that is making speedy mark in the international market. The variety and quality of the products is splendid. I can vouch for the brand personally since I am a loyal consumer of its spice blends and Instant Breakfast Mixes. I have been living in USA for last 15 years and have moved between 6 different states since then. I have always found MTR products sitting neatly, on the shelves of Indian Grocery Stores here! That says a lot about the company's logistics and accountability for its consumers.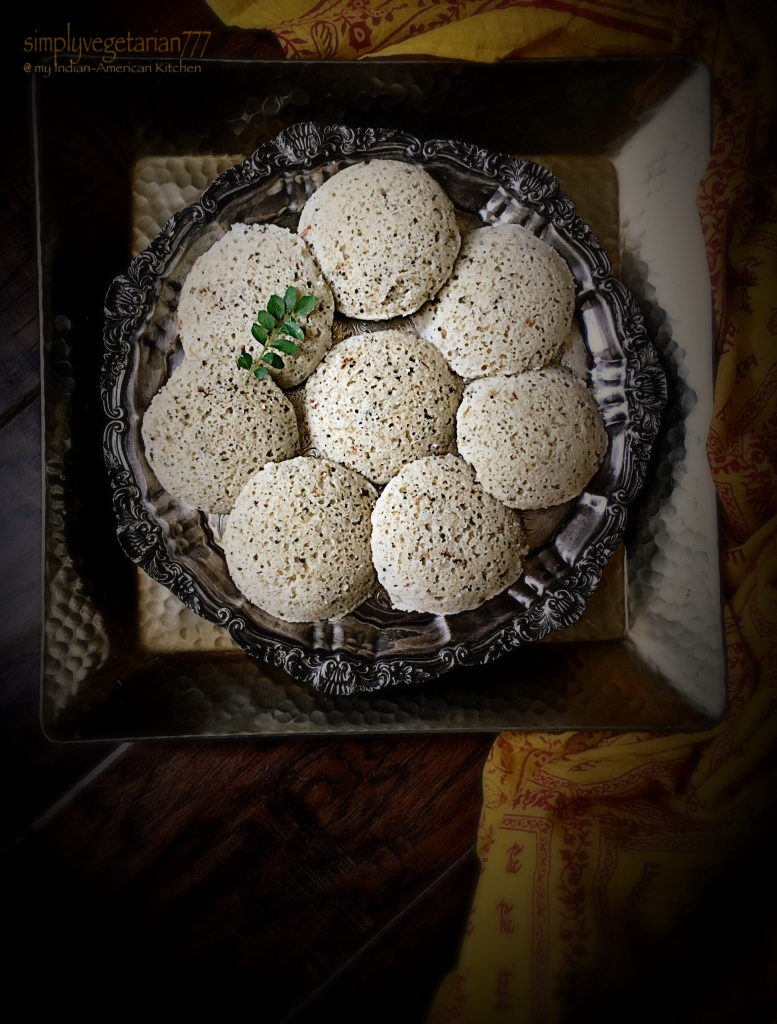 We talked about Idli and its history in our earlier post MTR Rava Idli , read here. Idli is a steamed cake made with Rice and Urad dal. The Dal & Rice is washed, soaked, ground to fine paste and then fermented. The fermented batter is then steamed to make Idlis. Oats Idli is a contemporary variation of Idli and is gaining popularity with pace, because of the health benefits of oats. It is loaded with complex carbohydrates and contain soluble fibre – keeps you active longer.
It is scientifically proven that oats are better because they support heart health and help maintain the sugar levels in blood. Oats is a complete grain with good levels of protein, fiber, vitamin B1 and other trace minerals. It keeps you full for longer period of time.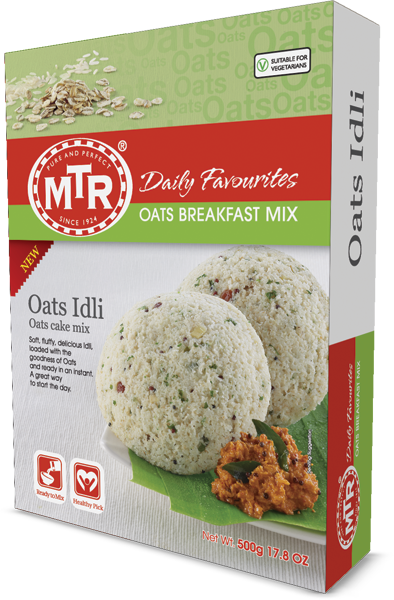 There could not have been a better time to test, try and blog Oats Idli. Schools have re-opened in many states of USA this month which means the mothers are going crazy with the planning of lunch box menu and weeknight meal menu. That leaves no energy to entertain any special demands for weekends. Everybody including me, wants instant fix for some meals, if not all.
MTR Instant Breakfast Mixes come so handy during such times, not only for Sunday breakfast and brunch but also for weeknight meals and school + work lunch boxes. MTR is your true friend who will never disappoint you. If you have MTR Instant Breakfast Mixes in your kitchen pantry, your family will always have hot and fresh food on table and that too in no time. Isn't that brilliant?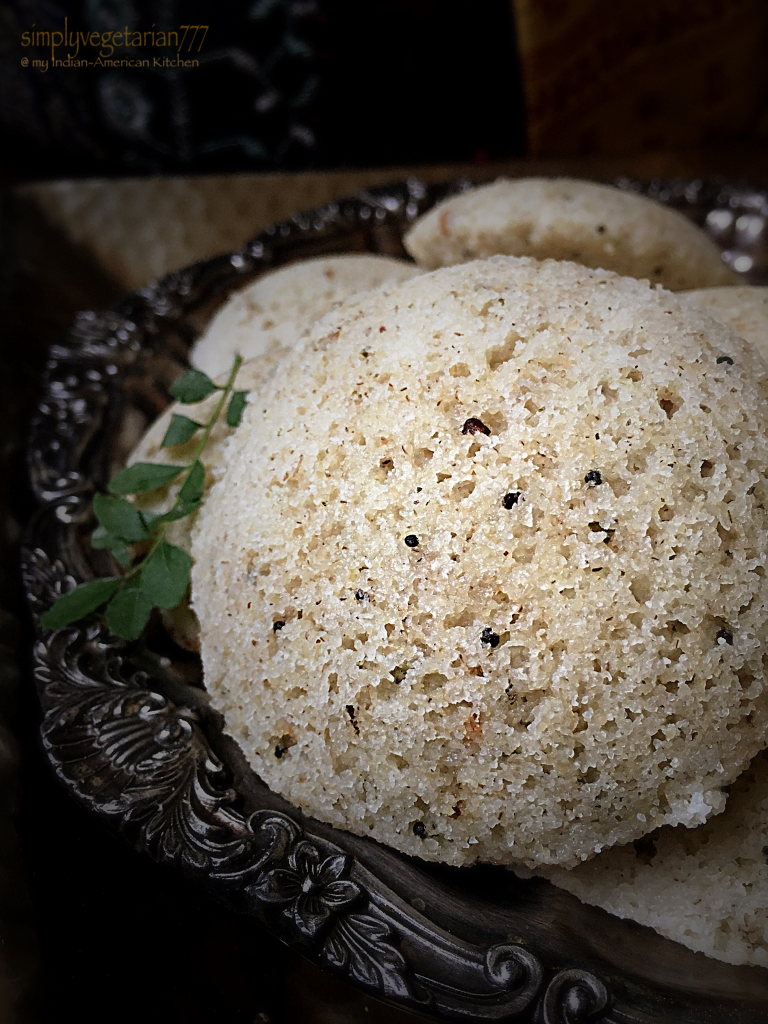 When I saw the MTR Foods – Oats idli, I was super excited. Oats is a great choice since it keeps us full for longer time besides being nutritious, therefore Oats Idli are perfect for breakfast and also lunch boxes. Will you believe it if I told you that there are practically only 2 steps to make these idlis? I opened the packet and mixed 1 cup of MTR Oats Idli Mix with 1 cup of sour curd/yogurt and set aside for 3 minutes. Then I spooned the batter into the greased Idli moulds and steamed them for 12 minutes and voila – super soft and delicate idlis were ready. YES, JUST 2 EASY STEPS!
Please note that – 1 cup of MTR Oats Idli mixed with 1 cup of curd will yield about 8 regular size idlis.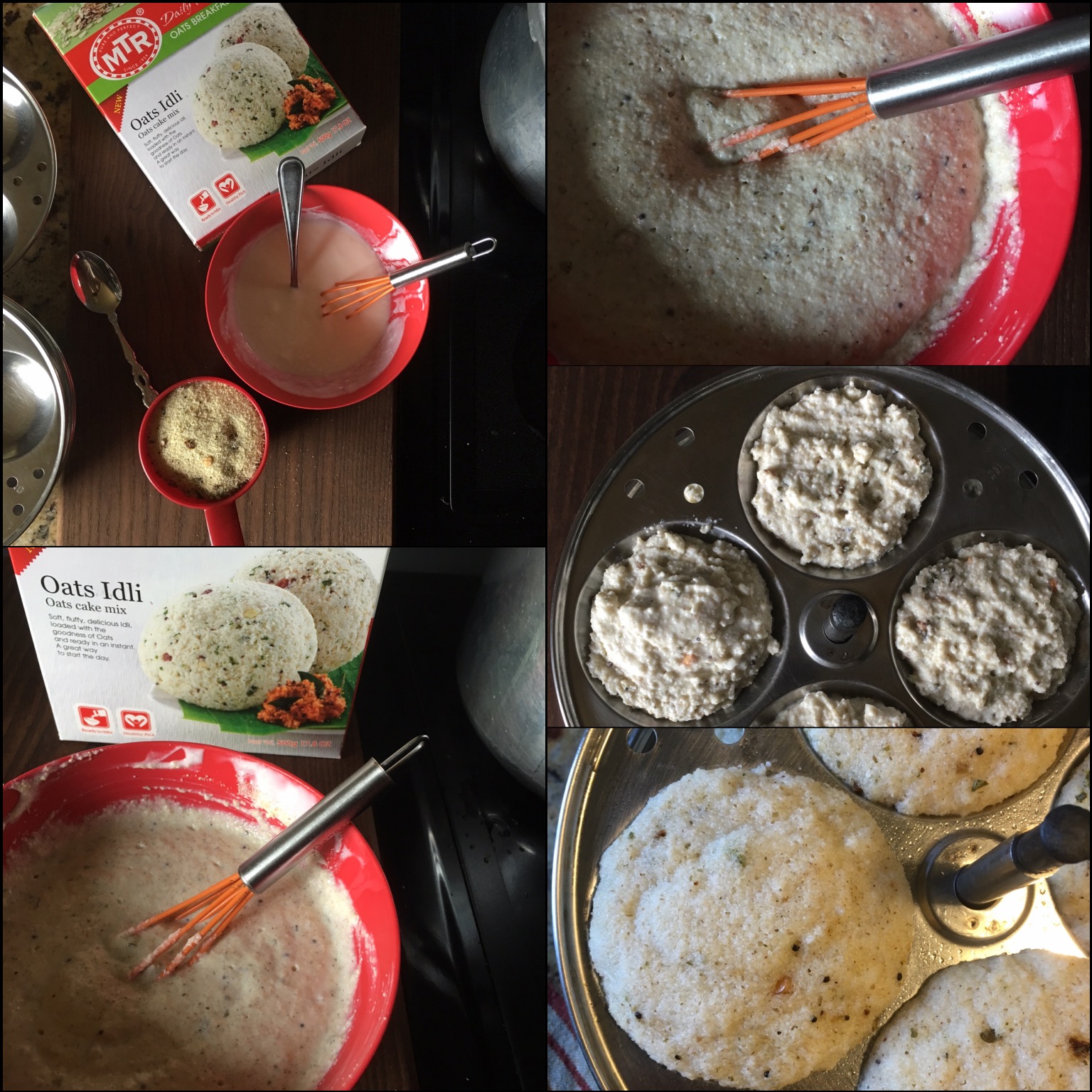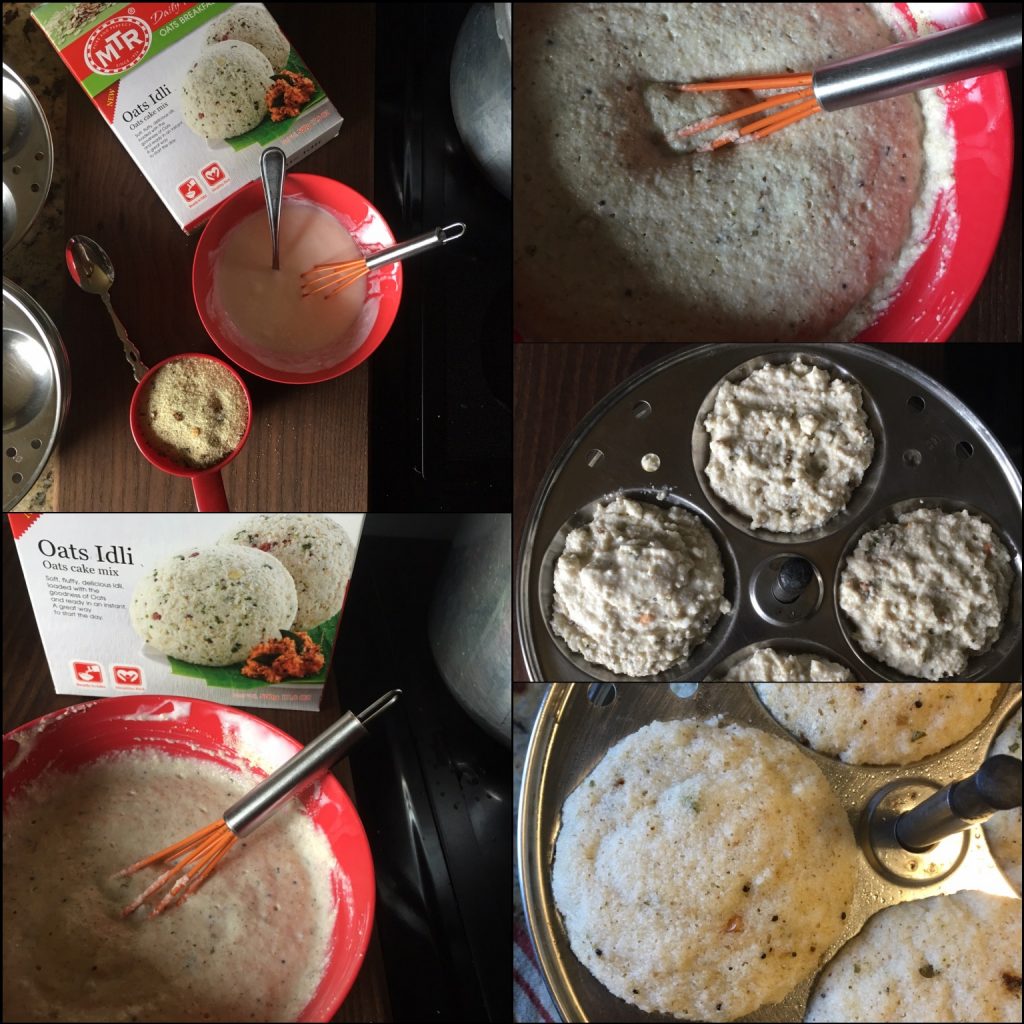 Do yourself a favor people and ALWAYS have a packet of MTR Oats Idli Instant Breakfast Mix in your kitchen pantry. It is just brilliant and so handy. You will thank me for the advice. I served it with some chutney for adults and ketchup for the kids.
What are you waiting for? Go and grab a pack of MTR Oats Idli Instant Breakfast Mix from your closest Indian Grocery Store, today only. It is widely available at the Indian Grocery Stores in U.S.A.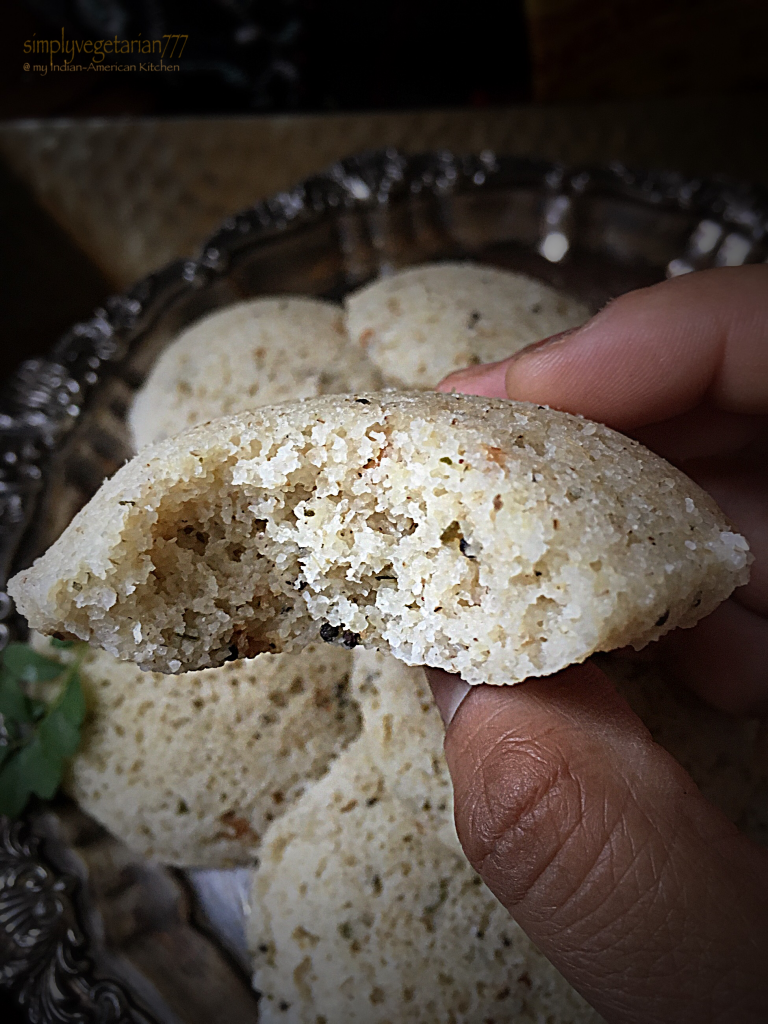 Announcement – Keep a track of the MTR Instant Breakfast Mix series on simplyvegetarian777. We willl disclose a GIVE-AWAY for two lucky winners in U.S.A, who follow our blog, in September. Till then keep discovering new Instant Breakfast Mixes on simplyvegetarian777, where we will test and try these and share the honest results with you, making your and our life simpler.
---
MTR Oats Idli Manchurian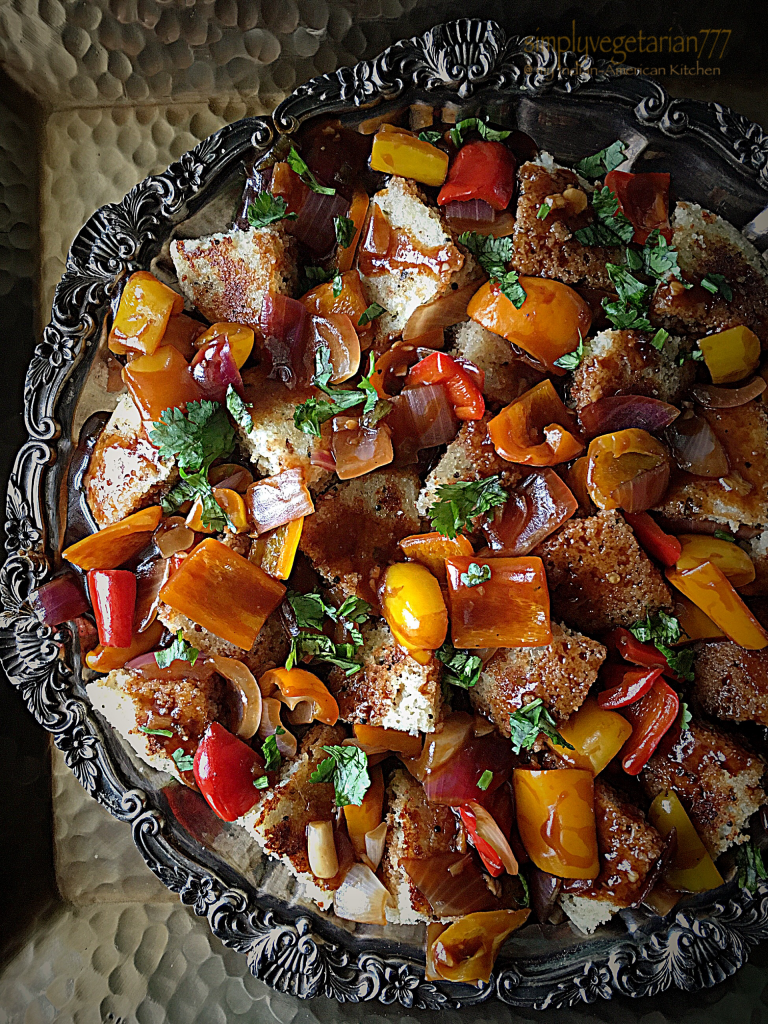 Any Indo-Chinese food lovers out there? I can actually see many heads nodding amongst the readers. Indians, well most of us love our Indo-Chinese food, no matter where we live in the world. I and my friends are always up for a good Indo-Chinese meal any time of the week.
Well if you are an ardent lover of the cuisine, then you surely are in for a grand treat today. Yes you read it right, I am bringing the legendary Manchurian combined with Idli this time. A fantastic combination of the trio South-Indian-Chinese cuisine here. I am so excited to bring this to you since I know that many of you will be trying it in your kitchen soon.
I promise that you will make it again and again. The Idli Manchurian is that delectable. Make it to entertain a gathering of hungry friends, pack it in the lunch boxes, take it for get togethers and you will be the rock star. I took this for one of my get togethers and people couldn't stop eating it.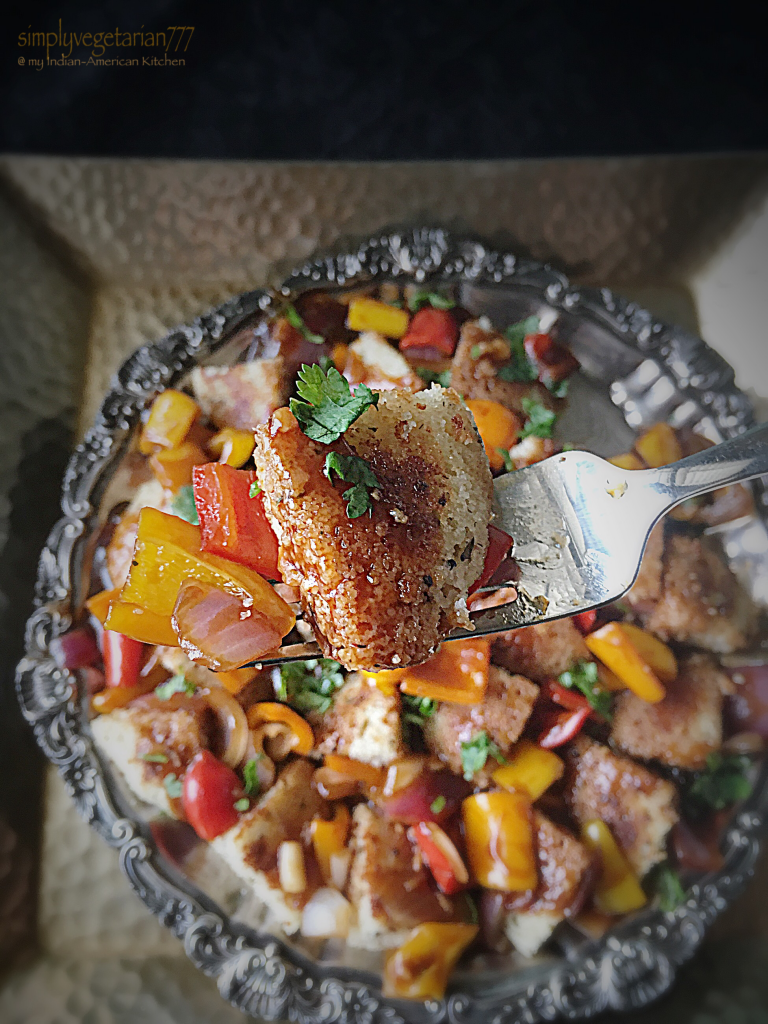 Here is how I made it!
MTR Oats Idli Manchurian
A popular Indo-Chinese appetizer made with MTR Oats idli and tempered with Manchurian sauce.
Ingredients
Ingredients
MTR Oats Idli – 6 pcs

Quick Manchurian Sauce

Oil – 1 tsp
Ingredients for making Quick Manchurian Sauce
Onion

red – ½ cup, chopped in square pieces

Bell peppers / Capsicum

colored – 1 cup, chopped in square pieces as big as onion pieces

Ginger – 1 small piece

chopped fine

Garlic – 1 pod

chopped fine

Green Chili – 1 small

chopped fine

Coriander / Cilantro leaves – ½ tsp

for garnish

Oil & Spices

Oil – 2 tsp

Soy sauce

dark – ½ tbsp

Tomato Ketchup – 1 tbsp

Corn starch / Corn flour – ½ tbsp.

Salt – 1 pinch or to taste

Black pepper – 1 pinch or to taste

Sugar – 1 tsp

Water – ¾ cup
Instructions
Preparing the Idlis for Manchurian
Quarter the 6 idlis into 4 pieces each. You will have 24 idli pieces.

Take a big non stick pan and heat 1 tsp oil in it. Reduce the flame to medium and add idli pieces to the pan. Make sure that the pieces are not over lapping each other. Roast the pieces on medium heat for about 2 minutes each side. They will be slightly golden brown. Take them off the heat and set aside.
Preparing the Quick Manchurian Sauce
Take a bowl and add soy sauce, tomato ketchup, corn starch and water to it. Whisk it all to make a slurry with no lumps. Set aside.

Heat 2 tsp of oil in the same pan. Add ginger, garlic and green chili and saute for few seconds.

Now add chopped onion and bell pepper / capsicum pieces to the pan and cook them on high heat for about 2-3 minutes. Add salt, black pepper and sugar to the pan and give it a good toss.

Add the soy sauce slurry to the pan and mix well. Let it cook on medium heat for about 3-5 minutes till the sauce thickens.
Serving Idli Manchurian
Take the serving plate. Add the roasted idli pieces to it. Pour the hot Manchurian sauce on top if it evenly. Garnish with cilantro/coriander leaves. Serve hot.
---
Here is some exciting news for my super-busy friends!
There are times when you are striving to meet a deadline, rushing to honor an appointment or just busy and do not have the luxury of stepping into the kitchen to fix yourself a healthy meal. Guys, MTR Foods has recently launched their Breakfast in a Cup range! You may pick up any one from the Upma, Poha or Khatta Meetha Poha. Just add hot water, and voila in 3 minutes, you have a piping hot healthy meal! So now, there are no excuses for missing a meal!
As I always say – Eat Happy! Stay Happy!
Sonal