Mung Dal Savory Crepes / Mung Chillas : oil free
As an Amazon Associate and member of other affiliate programs, I earn from qualifying purchases.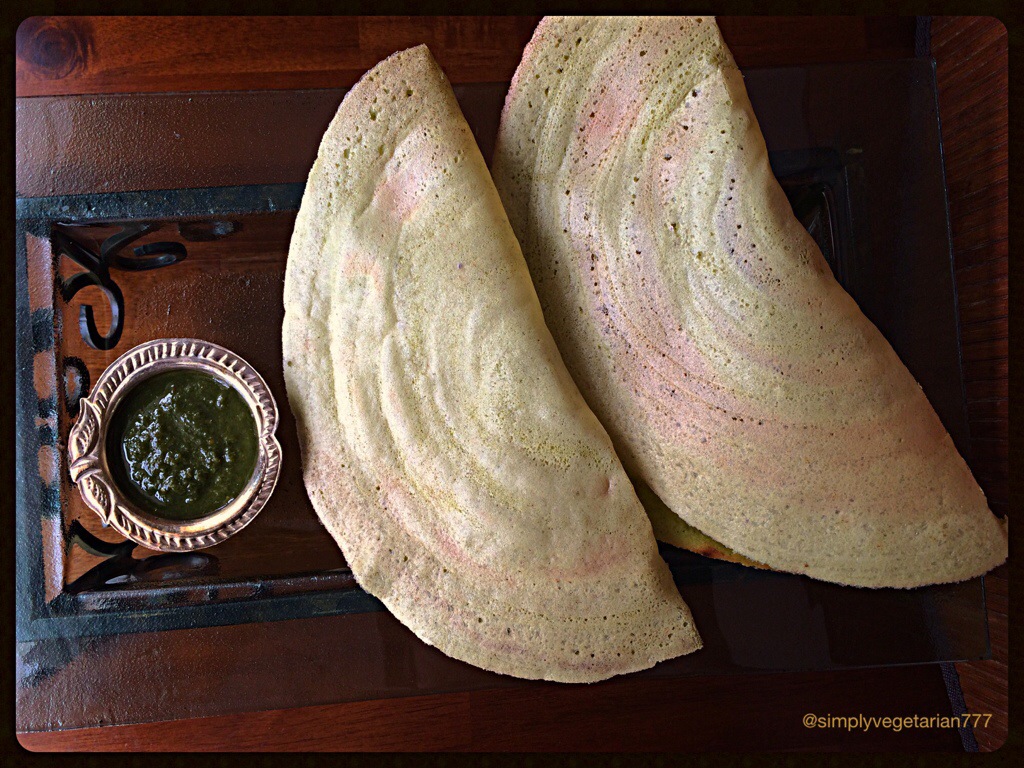 Mung is a magic bean and everybody knows that it is high in fiber and protein and low in GI. Believe it or not but there are more than 2-3 ways to use the Mung Dal. It comes in split, de-husked and whole. Also, it can be sprouted beautifully. Amazing right ?
To share the good news, I finally made my first video. It is very amateurish but the good part is I did it :). And soon will bore you more with my amateurish videos but useful ones. The force behind was to make sure that the idea if cooking a dish is well projected. Amal is one blogger who I admire for her videos. Short and crisp!
I will post the video towards the end! Here is the recipe.
Ingredients :
Mung dal, yellow de husked : 1 cup
Green chili : 1/2 tsp
Cilantro leaves : 1 tbsp, washed and chopped
Ginger : a small piece
Salt : to taste. I put a little more than 1/2 tsp
Cumin powder : 1/2 tsp
Garam masala : 1/2 tsp
Water : approximately 1/4 cup
Method :
Wash and soak the mung dal in just enough water that it is covered till 2″ up for 3-4 hrs.

Now grind the mung dal with its water, ginger, cilantro and green chili. Make a batter which is not very thin or thick. Almost pancake consistency. Add water as required while grinding. I used 1/4 cup of water.

The batter will look like this. You can use it immediately or store in refrigerator for later use. Always bring it to the room temperature when ready to use.

For next few steps, I am posting the video. Here are the steps.
a. Heat a non stick or hard anodized flat pan or griddle. Take 1/4 cup of batter in ladle which is heat proof and spread in circular motion, working from inside towards outside.
b. You may use oil spray but I made them oil free. Once the base starts browning, flip it over.
c. Pan roast it for few seconds. You don't have to brown it. Also, you can make them thick or thin. Practice will make your Crepes thinner.
Few things to remember :
1. The pan should be hot not warm or else the batter will not spread smoothly.
2. Keep a wet paper towel in a water bowl by your side. After each crepe, wipe the pan clean with wet towel so that you can pour the second crepe out or else it will stick.
3. Don't struggle with spreading. Spread as much as you can easily do!
Enjoy them with Green Cilantro chutney!
Now the video 😀 !
http://magis.to/IkceIEcJEDc6Dg1pYw
Sending it to the Cook with Pulses Event @ simply sensational blog ! Do check out more entries to see what's happening or better participate :).