Mung Rice Spinach Mash or Spinach Khichadi : 30 Minutes and Under Meals / Vegan and Vegetarian
As an Amazon Associate and member of other affiliate programs, I earn from qualifying purchases.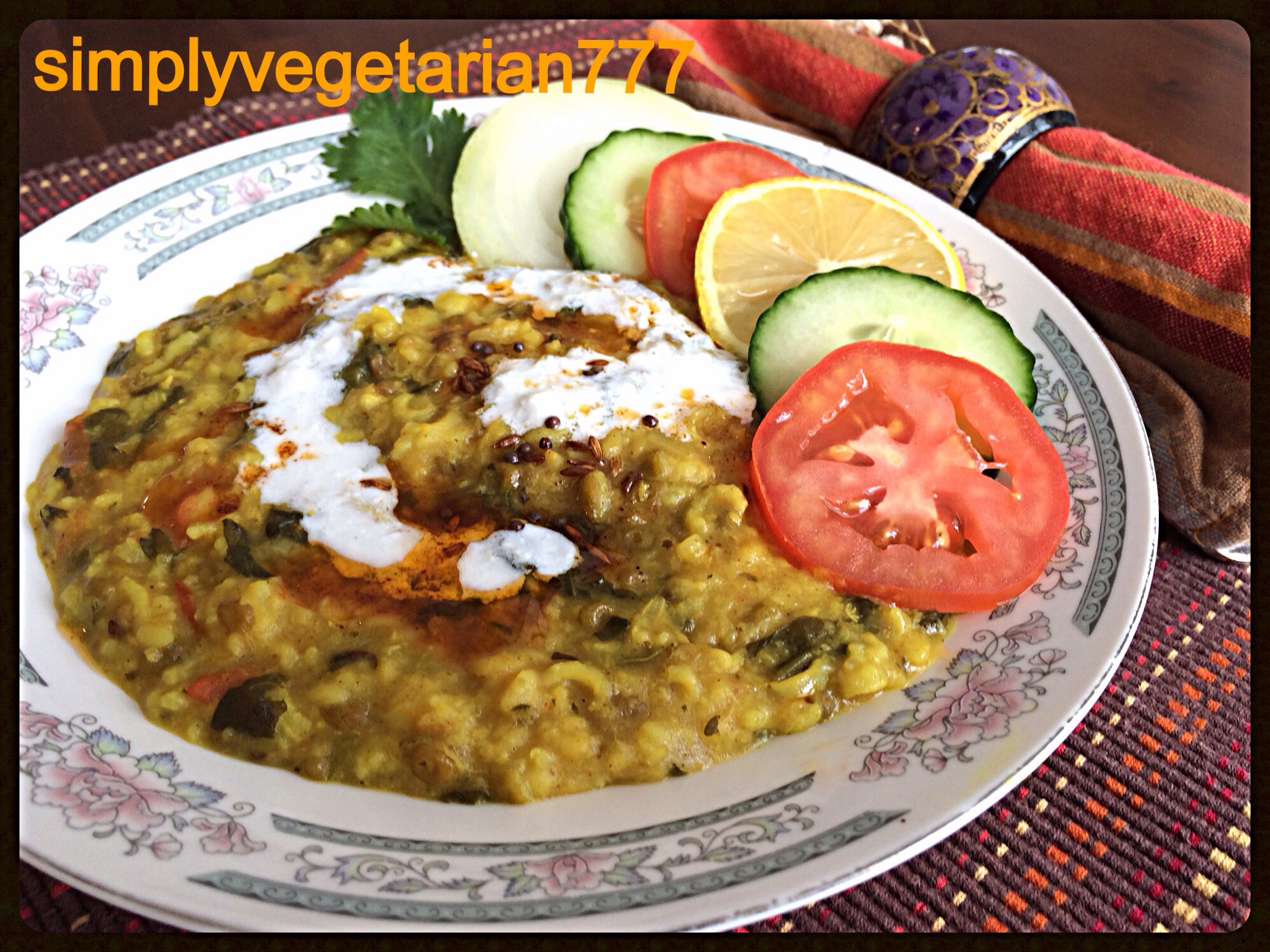 I don't remember how many times have I started my post with it's very cold here but the fact is it is very cold here. I have actually heard people say that it is the worse winter in last 30 years. Can you believe it?
Well in a weather like this, we all crave for comfort food. Mine are filled with a list of rice and noodles, hot and hitting the comforting spot! Not to say that the comfort foods come in one pot meal and should be quick. I mean what is a comforting food if it takes forever.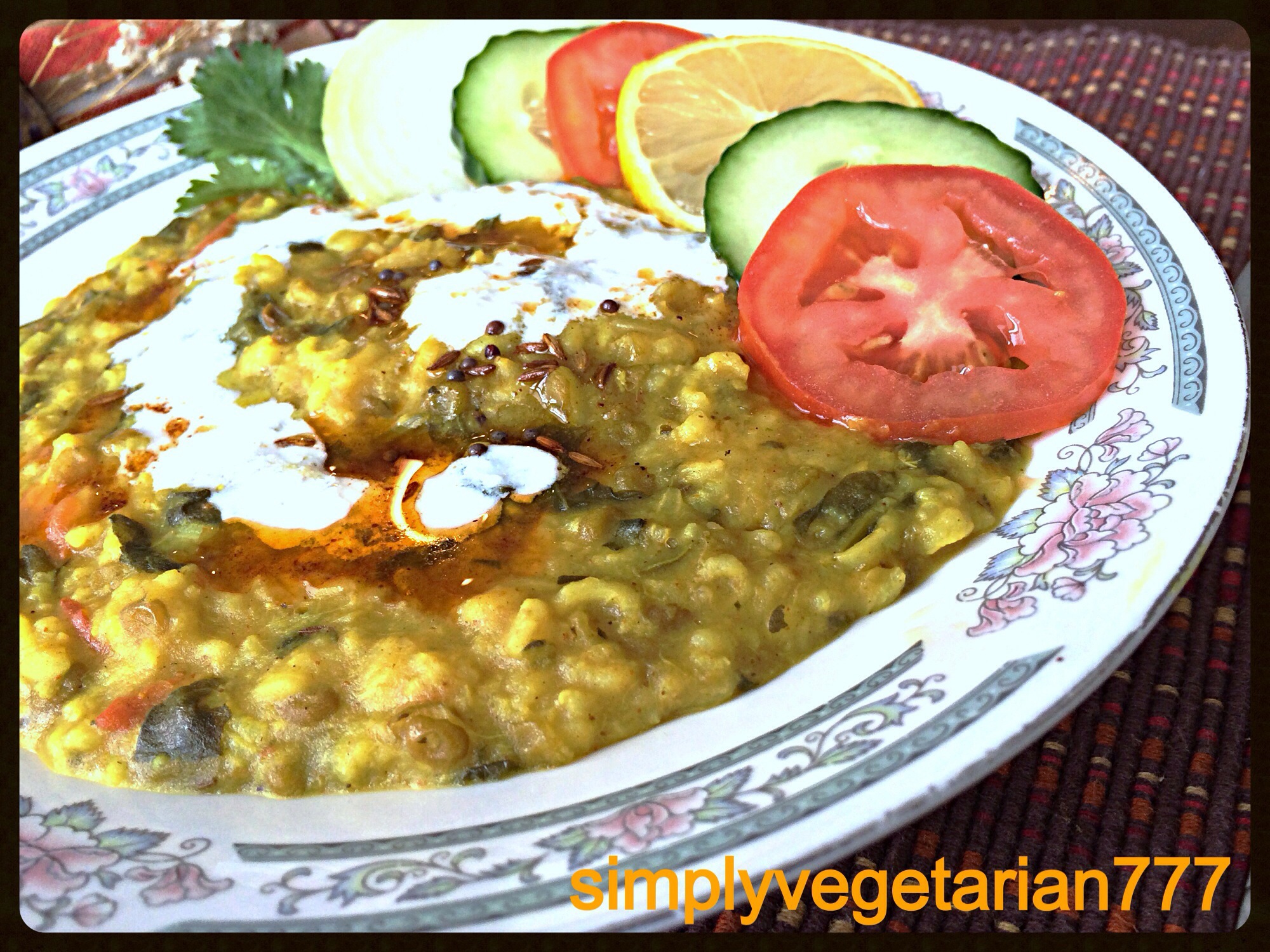 Khichdi is an all time favorite for me. Actually, it is often cooked in most of the Indian households when people want to eat something quick, healthy and comforting. Khichdi is made with rice and dried beans, often split mung, whole mung, red lentils, Chana etc. Sometimes it is made with vegetables and sometimes just plain, often accompanied with yogurt, spicy pickle, papadoms and tempered with oil spiked with red chili powder. I am little crazy…always trying to sneak in greens in one form or the other in my dishes :). Did I call myself crazy right now? Oh ya….I am a mother and I have a right to be crazy.
You can make these delicious one pot meals in saucepans and slow cookers without any doubt. But if you want them a weeknight quick meal which is complete with proteins, carbs, fibers and other good minerals and vitamins, then Pressure Cooker is the answer my dear 🙂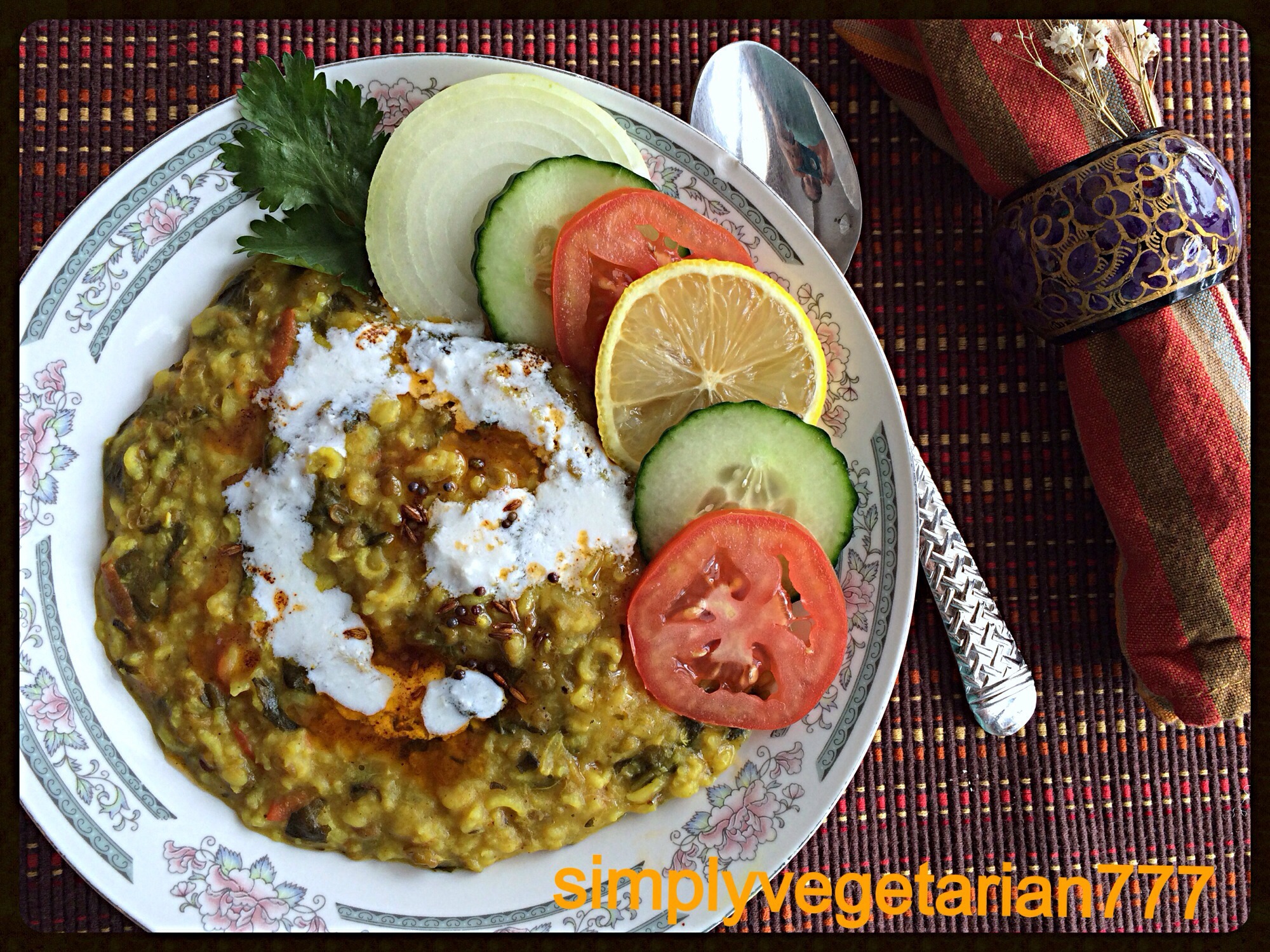 Let's get rolling people. I am telling you that few varieties of mung and other dried beans form Asian grocery stores or international stores are totally worth storing in your pantry. These are just full of goodness. Next time, anybody asks you that how do you get your protein being a vegetarian or vegan…give it right back…Beans…darling Beans..lol….wicked ;).
Ingredients :
Serves : 4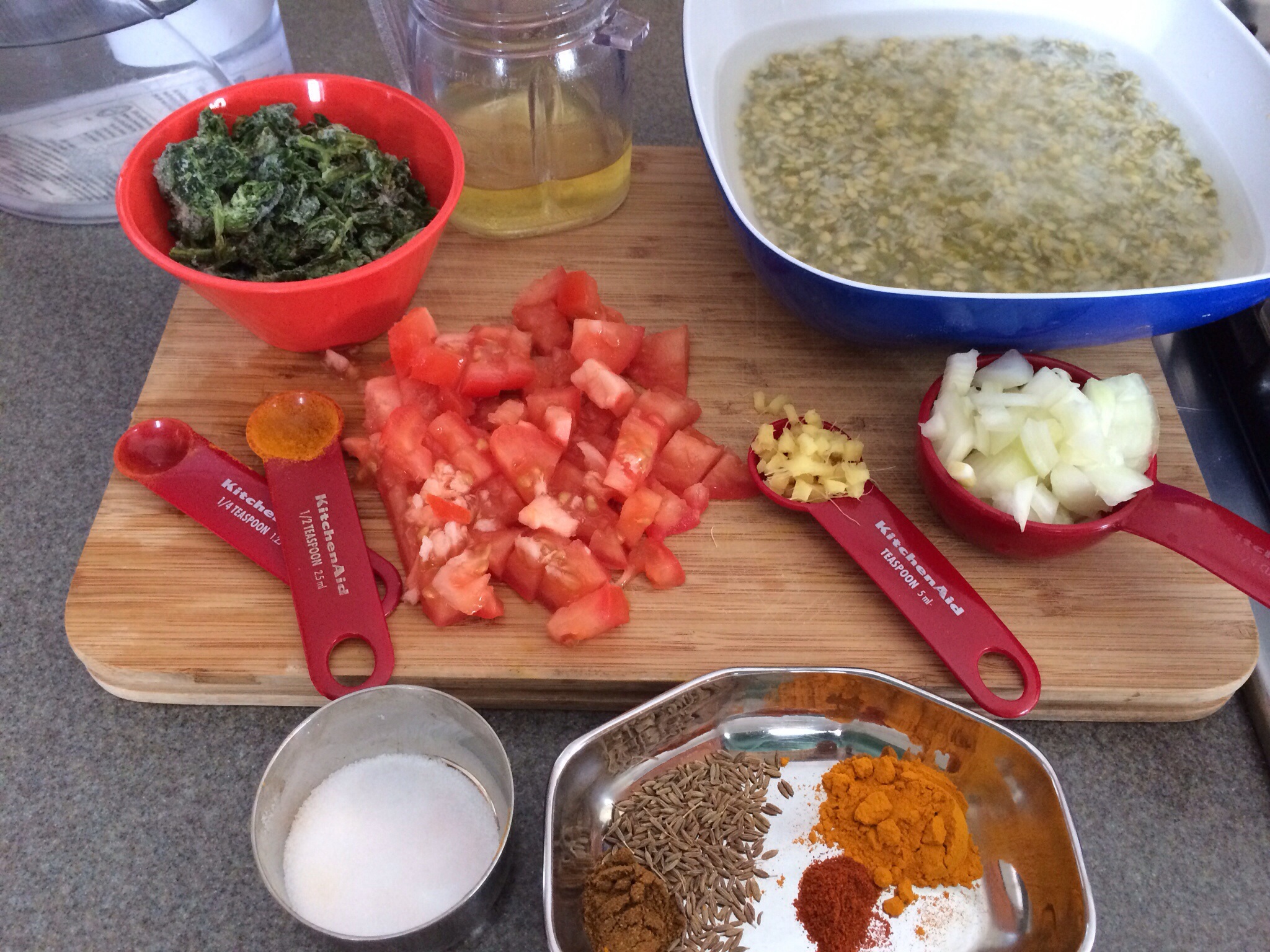 Mung Split (it's green in color) : 1/2 cup. You may use yellow mung, red lentils if you want.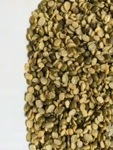 Rice : 1/2 cup. Use any variety available…basmati, long grain, short grain…anything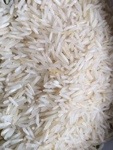 Ginger : 1 tsp chopped fine
Onion : 1/4 cup chopped fine
Tomato : 1 medium or 1/3 cup
Spinach : 1/2 cup if frozen OR 1 cup if fresh
*Water : 5 cups for pressure cooker
Oil : 1/2 tbsp
Cumin seeds : 1/2 tsp
Turmeric : 1/2 tsp
Red Chili powder : 1/4 tsp or more as per taste
*Garam Masala : 1/2 tsp to 1 tsp. I used 1 tsp since I like the heat.
Note :
* Water : If using a pressure cooker, 5 cups is good. If using a saucepan or slow cooker, double the water and add salt in the last when the mash looks cooked…or else you will end up with too salty dish if added in the beginning.
* Garam Masala : You may use Readymade or may use curry powder or use this recipe to keep it at home, handy and aromatic.
Coriander seeds : 1 tbsp
Cumin seeds : 1 tbsp
Cinnamon stick : 1 inch piece
Cloves : 1/2 tbsp
Black pepper corns : 1/2 tbsp
Dry red chili : 1-2 as per the heat required
Bay leaf dried : 1 big
Method : dry roast all of them together on low flame till you can smell aroma, say for 2-3 minutes. They will be slightly browned. Don't burn and blacken them. Cool them and grind them fine in a coffee grinder. Store in air tight container. Goes long way. Use as desired.
Method :
Take Mung and rice in a bowl. Wash them in fresh water 3 times till they seem clear. Soak them in 1 cup water till you do the rest do the prep.
Heat oil in pressure cooker. Add cumin seeds. Once they crackle, lower the flame and add ginger and onions. Sauté for 2-3 minutes.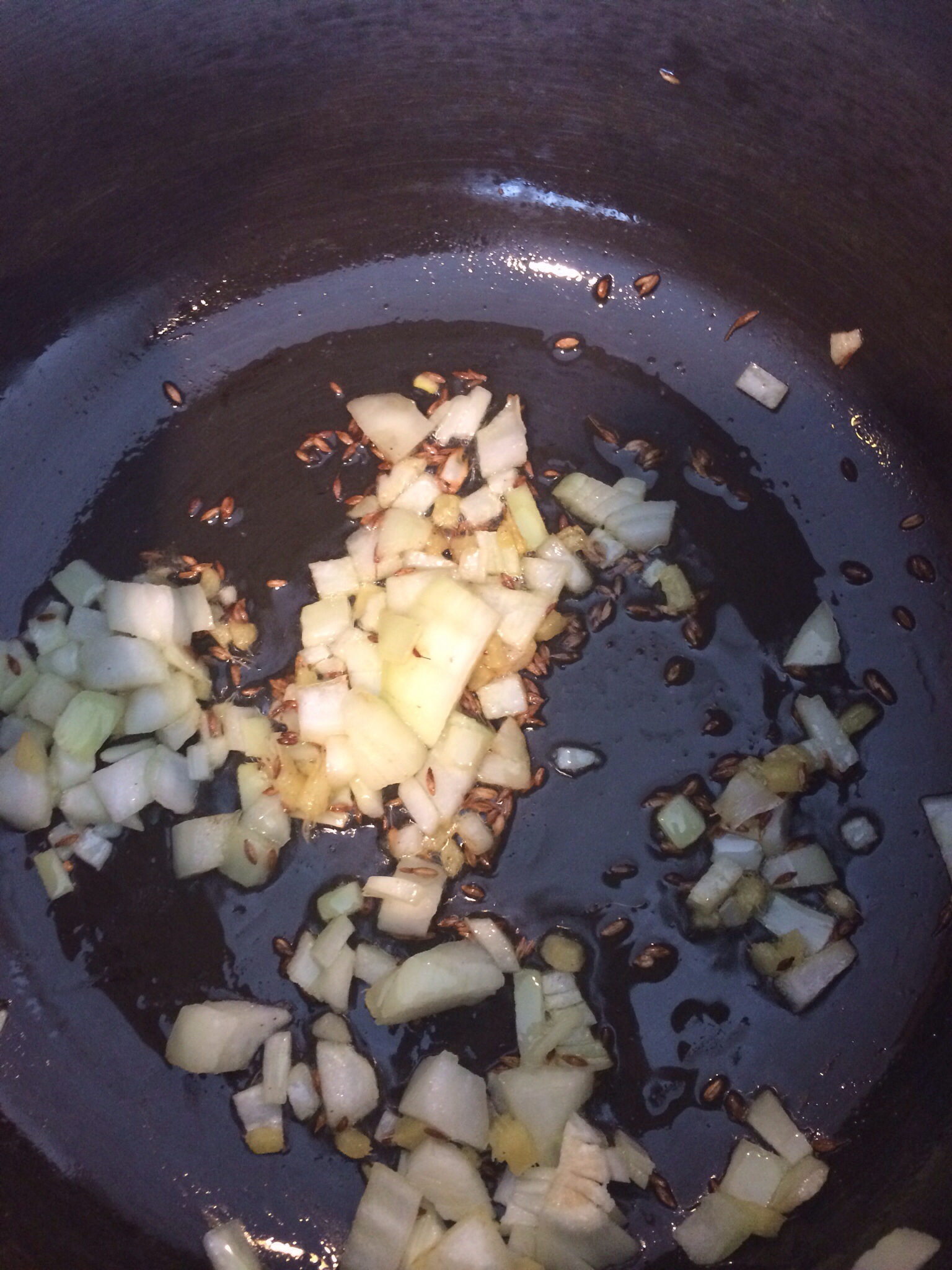 Add tomatoes and spinach and all the spices besides salt. Mix well.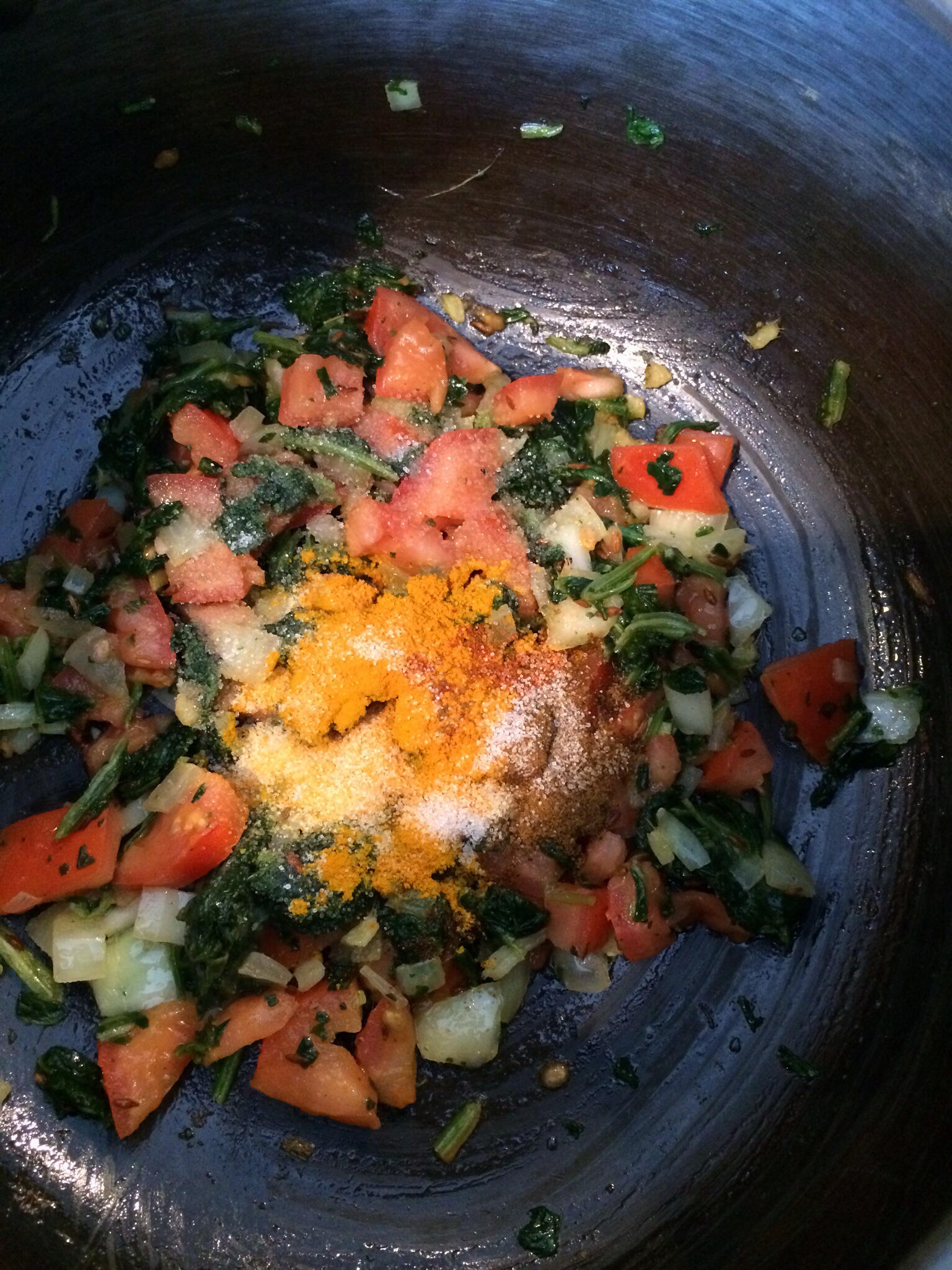 Take the bowl of soaked beans and rice, strain the water carefully. Add the rice and beans to the pressure cooker and mix well.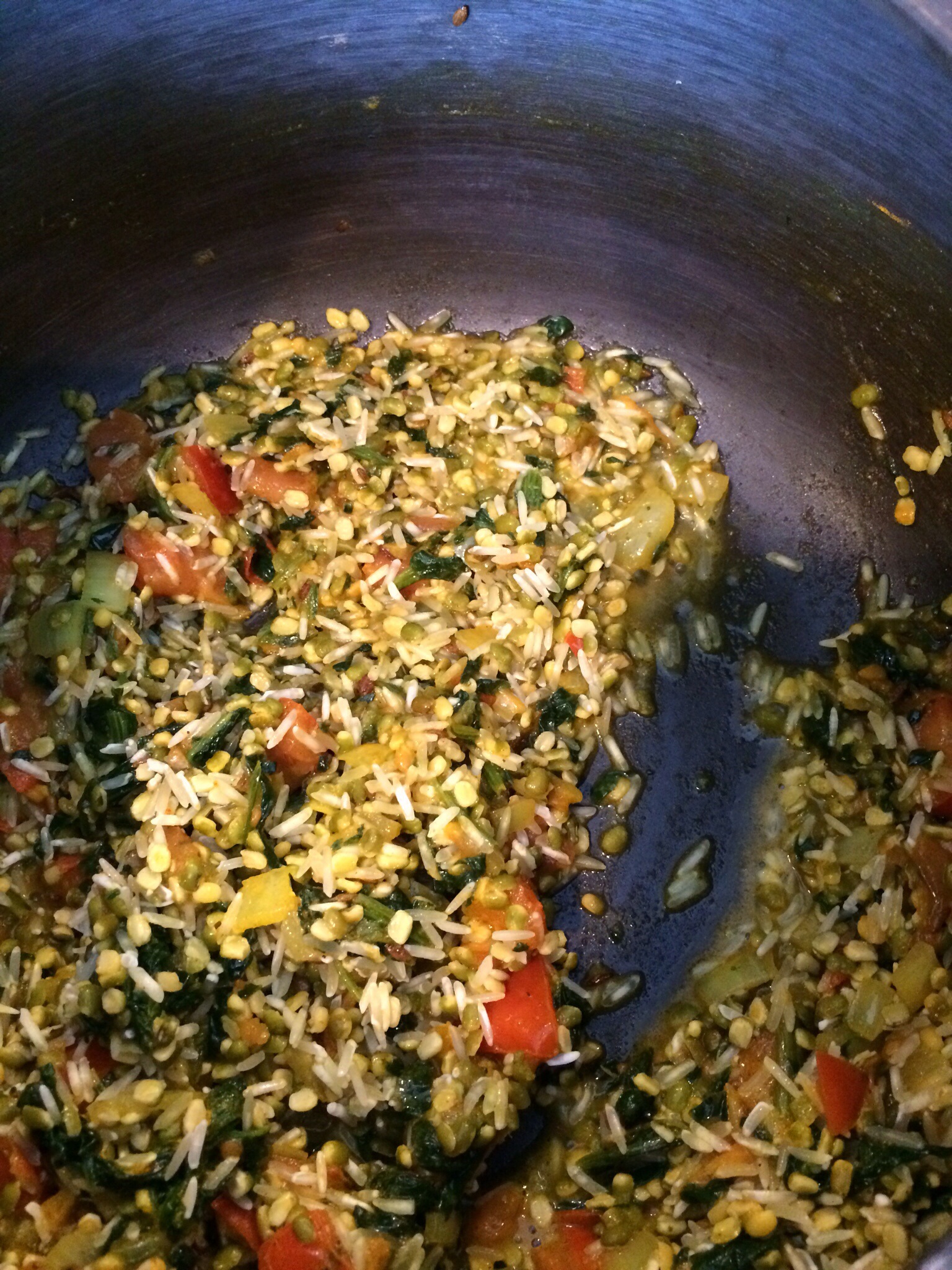 Add water and salt to taste.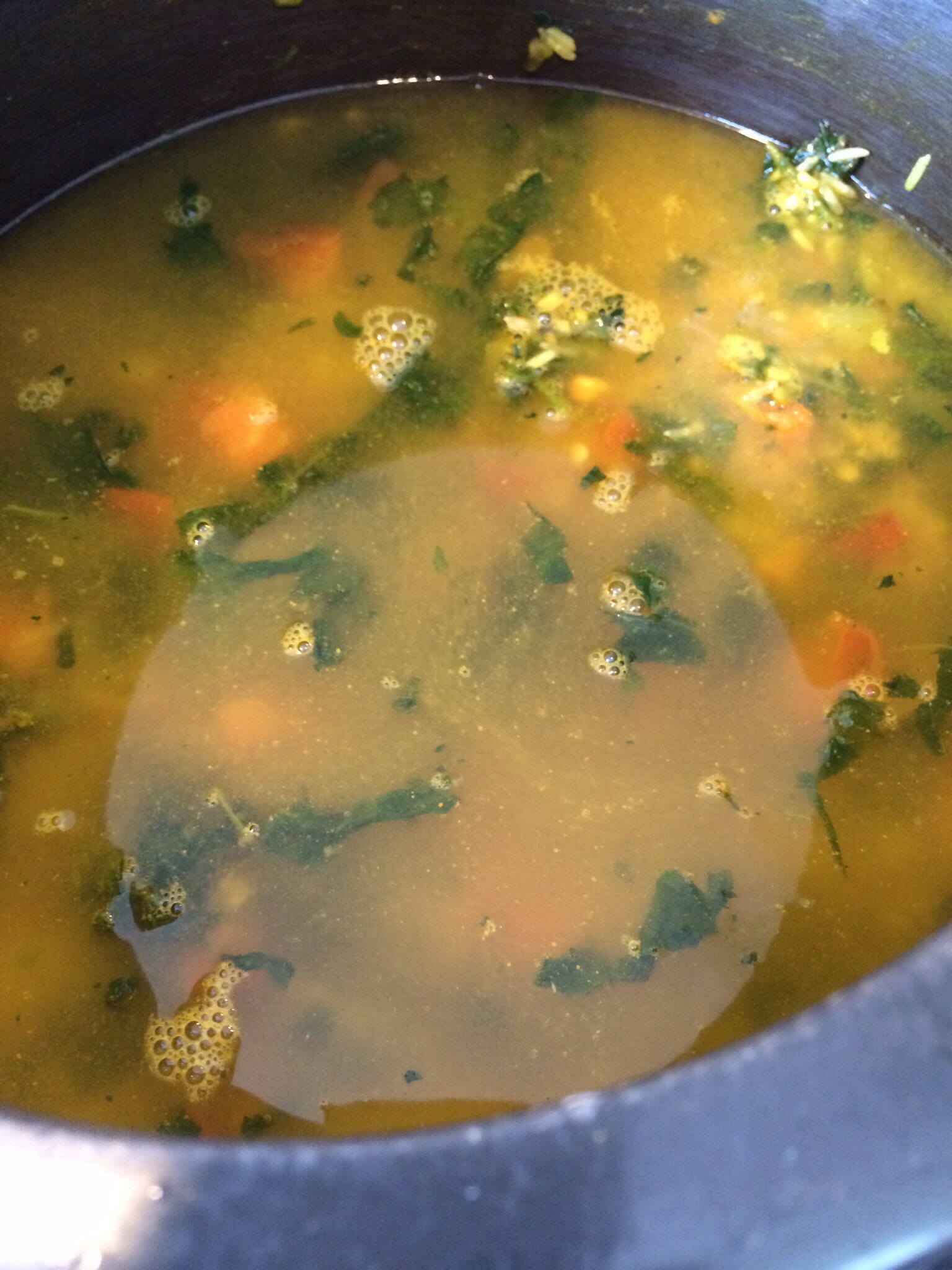 Put the lid on. Turn the stove to high flame. Wait for 2 whistles. After 2 whistles, lower the flame to simmer and simmer for 8-10 minutes more.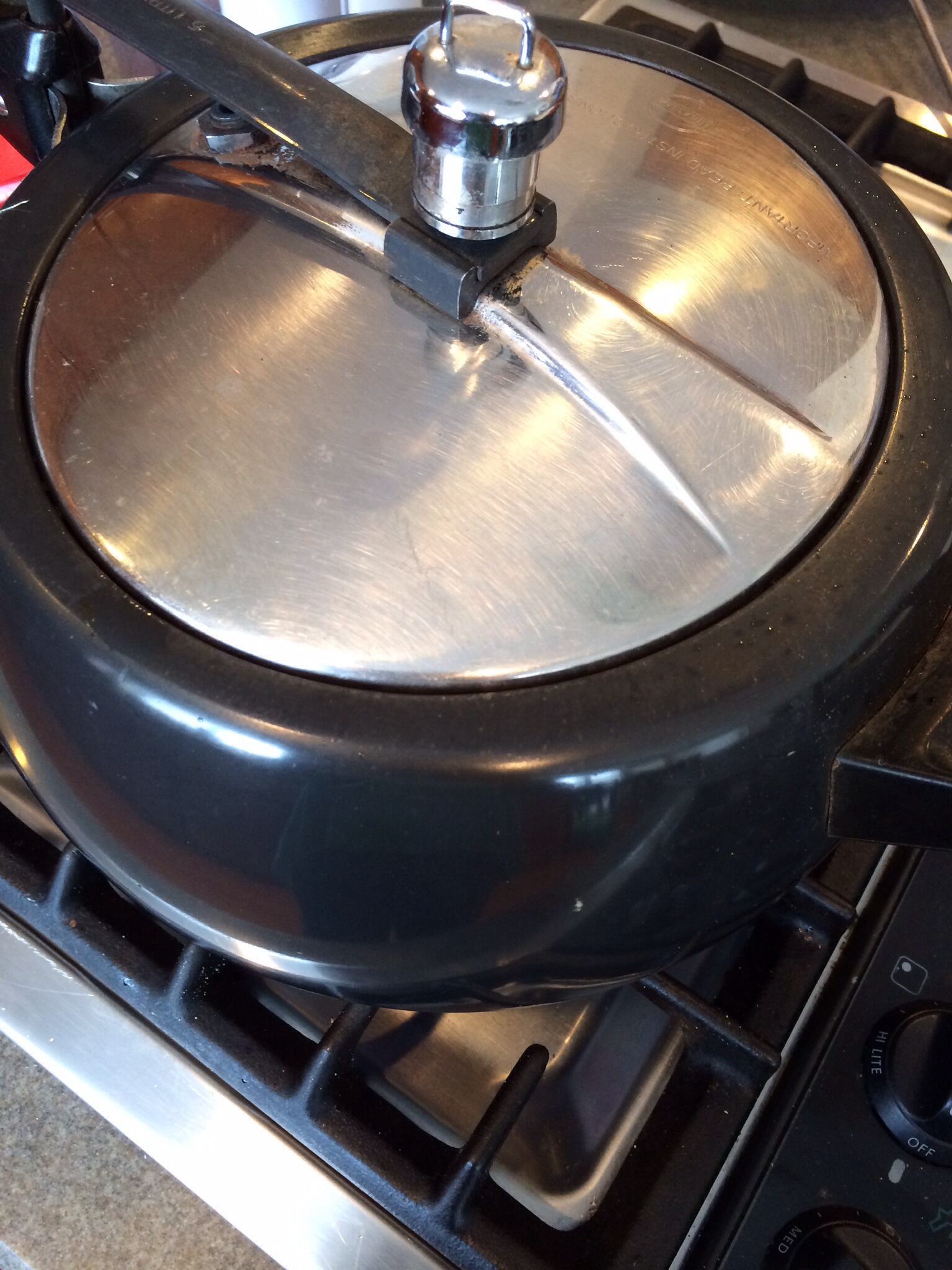 It's done…..that's it! Wait till the steam escapes on its own. Remove the weight and the lid. Pour it in your bowl. Enjoy! I have actually added a tbsp of plain yogurt on top which is traditionally eaten with this dish. Also I have added the tempering of oil, cumin + mustard seeds and red chilli powder for that extra oomph. Added some bright salad on the side. Drizzled some lemon juice and Bahm…that's it!
In case, you are looking for tempering, here is how:
Heat 1 tbsp of oil or ghee in a small pan. Add 1/4 tsp of mustard seeds and 1/4 tsp of cumin seeds to it. When it starts crackling and jumping. Take it off the flame. Add 1/4 tsp red chili powder and the tempering is ready. This kind of tempering can be used in any bean preparations to jazz it up a notch.