Mushroom Palak Makhani – Meatless Monday!
As an Amazon Associate and member of other affiliate programs, I earn from qualifying purchases.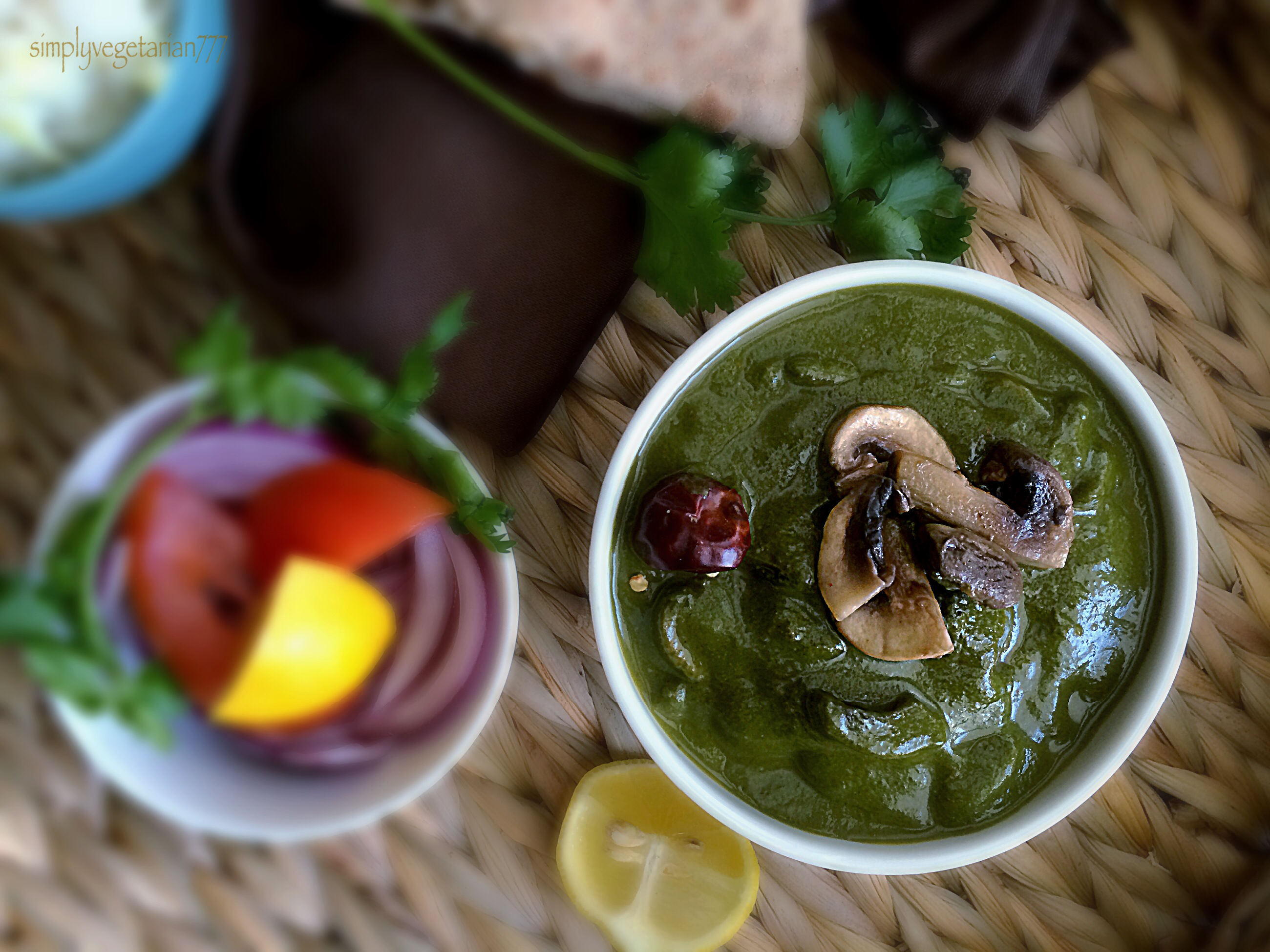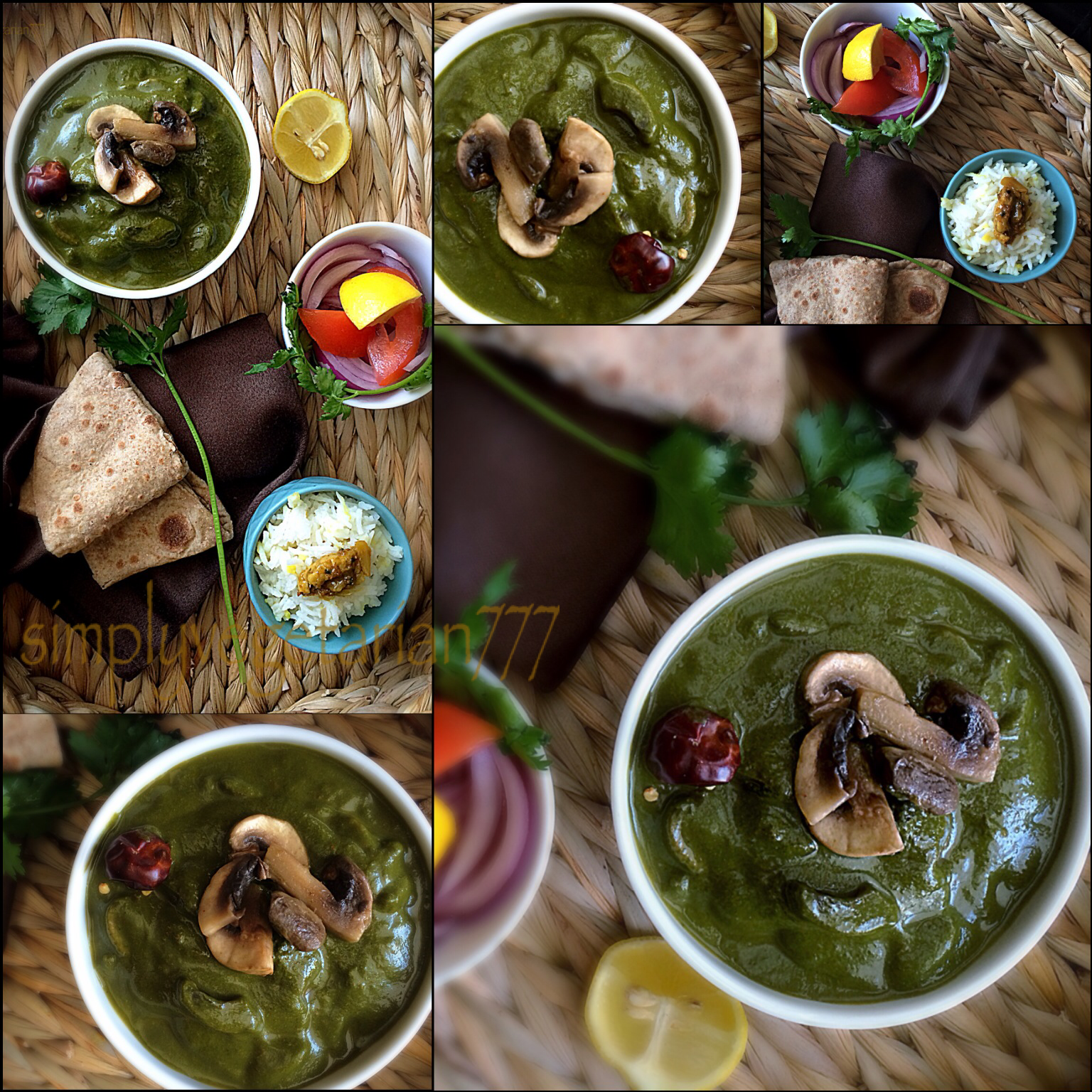 I have realized that when I am on the refrigerator cleaning spree, the waste of the ingredients land in my pan, only to make the delicious-est of the recipes. Does that happen with you? Random ingredients coming together in a marriage to create a community?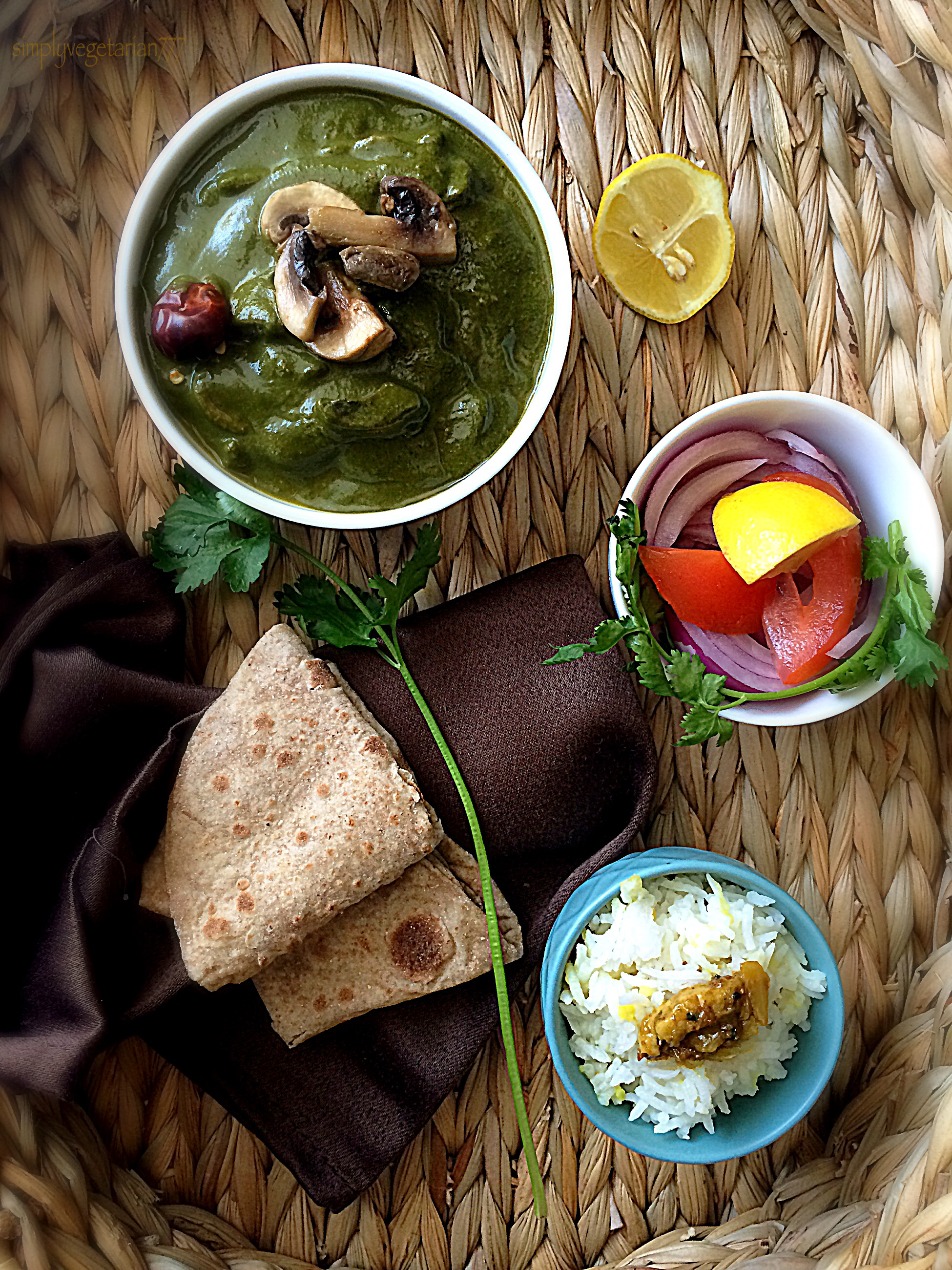 A food for thought or a thought for food! Whichever works best in the given scenario.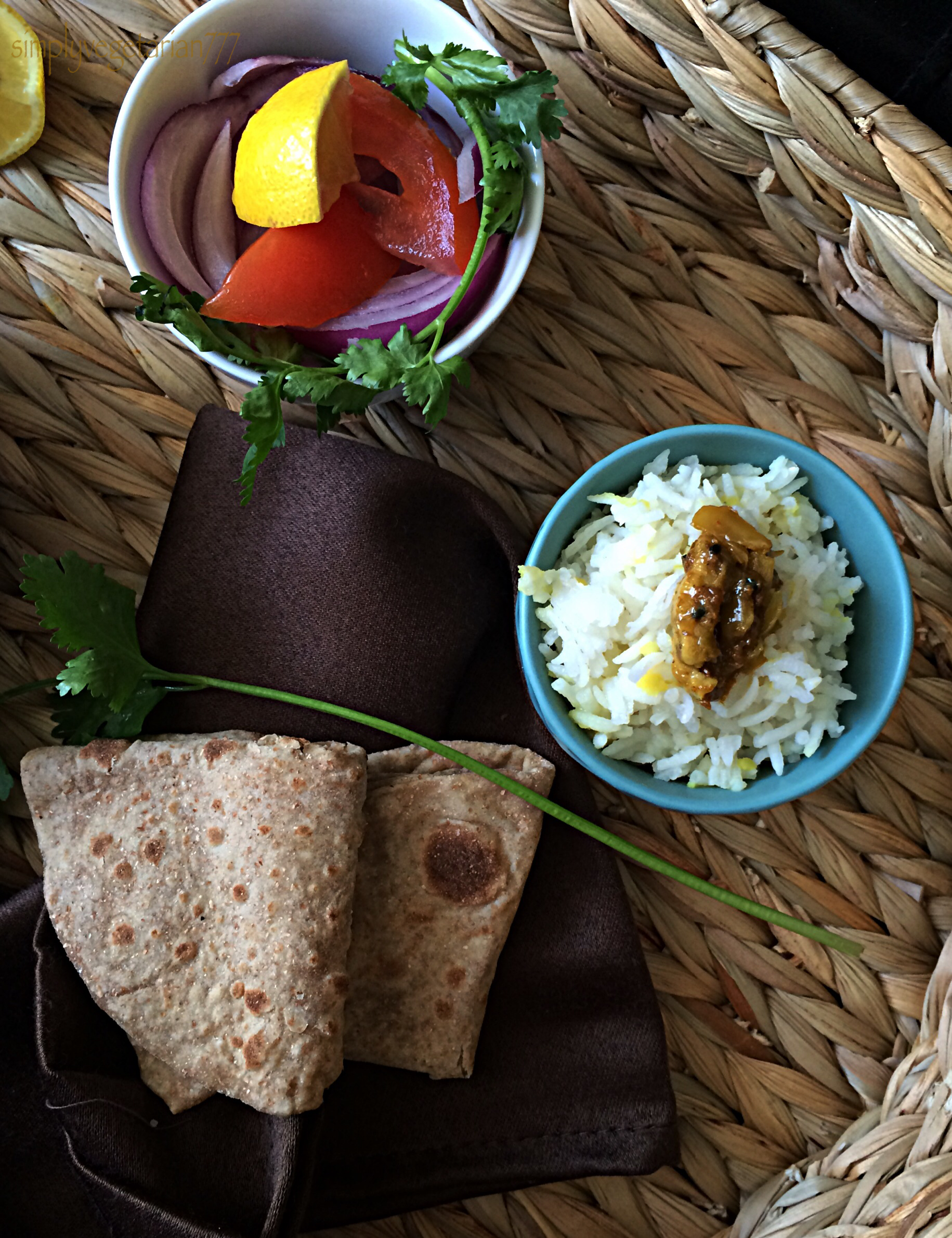 No meal is complete for me, without a simple salad, some rice and roti on the side.
This Monday is extra special Meatless Monday (well it's meatless everyday in my kitchen anyways), since mushrooms are a perfect substitute for any meat and when combined with silk-kind, richer and healthier spinach gravy, it is just heavenly.
The secret behind the creamy texture is cashews. A simple and enriched dish!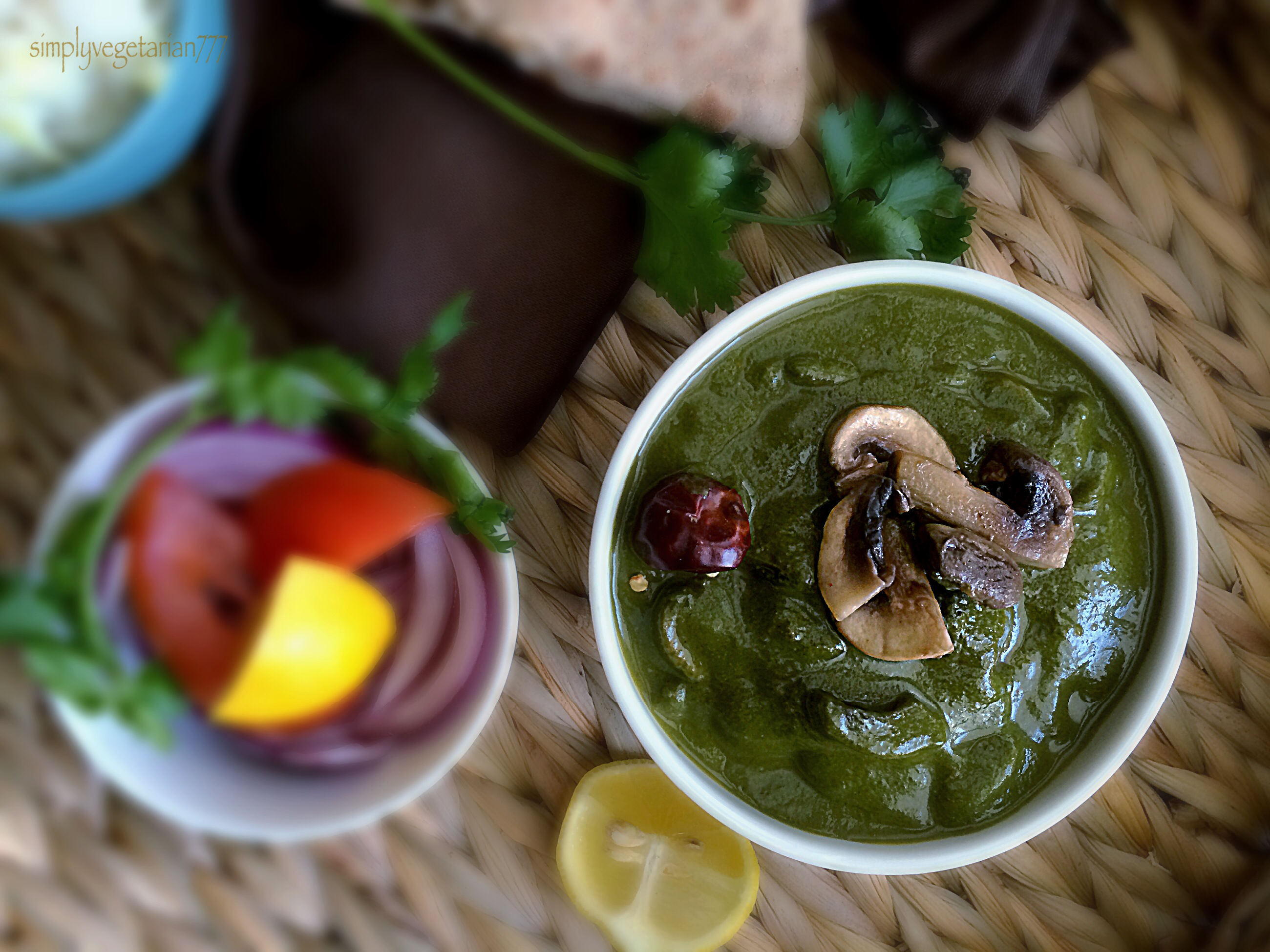 Cashews are not only good for heart health and diabetics, but for weight watchers too, if taken in controlled portions, may be 10-12 a day, where as a handful of the nuts a day is a normal portion size. Spinach doesn't need a special introduction. Does it? It is rated as one of the super foods which is almost carb negligent and rich in minerals and other nutrients. Mushrooms, a fungi in origin, is another nutrition dense mine in minerals and vitamins.
This is how I made it!
Mushroom Palak Makhani
Servings: 4
Difficulty: easy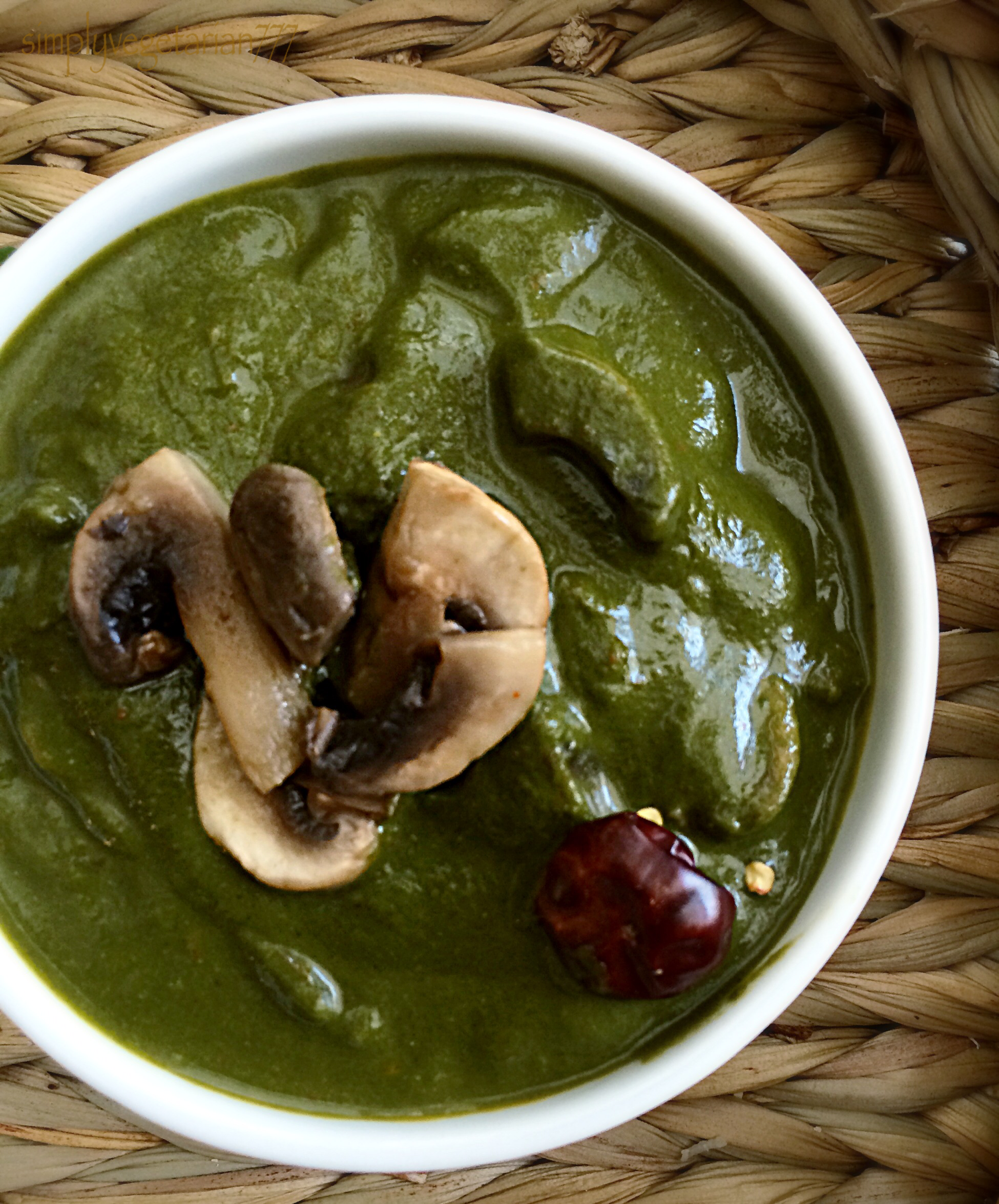 Kitchen Equipments Required
Chopping board, knife, heavy bottom non stick or hard anodized pan with lid, stirring spoon, a small pan.
Ingredients
Button Mushrooms – 350 gms or 2&1/2 cups, chopped coarsely
Spinach / Palak – 150 gms or 2 cups, packed and coarsely chopped
Onion – 1/4 cup, chopped roughly
Tomato – 1 medium, chopped roughly
Garlic – 2 small cloves, chopped roughly
Ginger – 1 small piece, chopped roughly
Green chili – 1 small, chopped roughly
Cashews – 12
Oil – 1/2 tbsp
Oil / Butter – 1&1/2 tsp
Cumin seeds – 1/2 tsp
Red chili powder – 1/4 tsp
Salt to taste
Garam masala – 1/2 tsp
Lemon juice – 1 tsp
Method
1. Heat oil in the pan and add cumin seeds. Once these crackle, add cashew nuts and lower the flame. Roast them till slightly pink on low flame. Then add green chilli, garlic, ginger and onions. Sauté them till onions turn slightly pinkish golden, approximately 5 minutes on low flame.
2. Add tomatoes and cook on medium heat for 3-4 minutes more till tomatoes are all mushy and mix well with onions.
3. Now add washed and coarsely chopped spinach and cook for 2 more minutes. Switch off the flame. Let it cool for 5-7 minutes.
4. Take the blender and add the cooked vegetables in it. Blend it till you get smooth purée.
5. Add it back to the same pan with 1 cup of water, salt, red chili powder and garam masala to the pan. Bring it to a boil and cook for 2 minutes on medium heat. Adjust water as desired.
6. Heat 1&1/2 tsp butter in another pan. Toss mushroom in it with a pinch of salt and garam masala and cook for 2-3 minutes. It will leave some water and that's okay.
7. Add this to the spinach curry and cook for a minute more incorporating it all together.
Mushroom Palak Makhani is ready.
Notes
1. You can make it onion and Garlic free by skipping both the ingredients and add tomatoes and ginger to the pan and following the instructions from there on.
2. If you don't like mushrooms, add veg koftas, potatoes, soy chunks, or any other vegetable of your choice.

Serving Suggestions – Serve it with Rotis or Naan or even Cumin Rice!
I loved cooking this curry and feeding my family thereafter in my Indian American Kitchen. Hope you will too 🙂
Sonal