Mustard Leaves and Spinach Mash with Corn Flat Bread / Sarson Da Saag n Makki di Roti
As an Amazon Associate and member of other affiliate programs, I earn from qualifying purchases.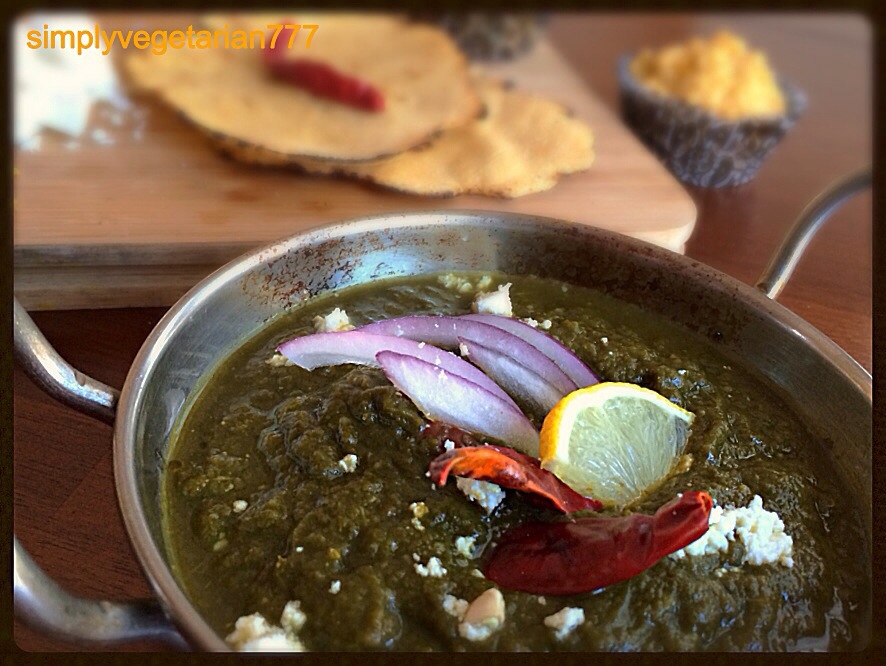 Yum yum yum….and more…chomp chomp chomp…and more…lick your fingers… 😉
Feeling the food with hands and dipping your flatbreads in luscious greens and curries and then enjoying each and every bite….chew slowly..close your eyes…feel the textures and flavors…..ooooh…journey to the other world.. I am telling you :). Breads and curries are to be enjoyed with your bare hands…no fork..no knife and no spoon….I know, some of you may feel…yuck with the idea…but just like any other cusine have an etiquette to be eaten in a particular way….most of the Indian subcontinent and middle eastern dishes are enjoyed with your bare naked hands and nothing else… The touch therapy with food :D…does it make sense?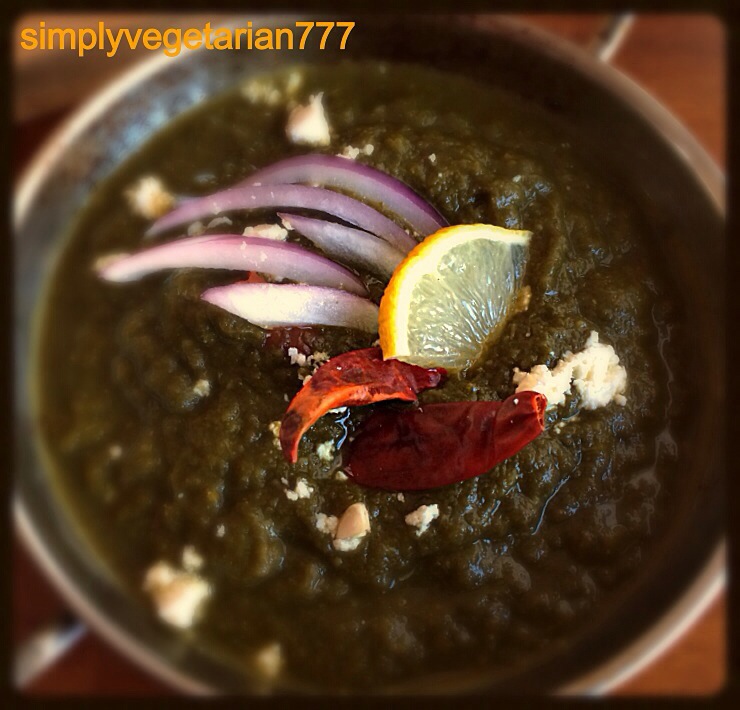 Sarson da Saag which is actually a mustard leaves and spinach mash with coarse corn flour as a binding agent, called aalan is a simple, tasty and nutritious dish from the northern state of India, Punjab. Yes, I have been mentioning this state often lately in my Indian cuisine. May be because I have part genes of punjabi and that was the way my mom made food…also, may be because most of the restaurants worldwide serve Punjabi Mughlai cuisine which is more known and familiar to the majority. I don't mean to offend anybody here if they disagree. This is just an opinion :). The preparation is simple and can be made in saucepan or in slow cooker. Traditionally, this dish takes hours but I am done in 1/2 an hr. I bet the traditional tastes more ensemble and intense but this is a quick fix and no compromise in taste. The difference is that I dint cook it on slow for hours. You may do so for the whole day in slow cooker, if you want :).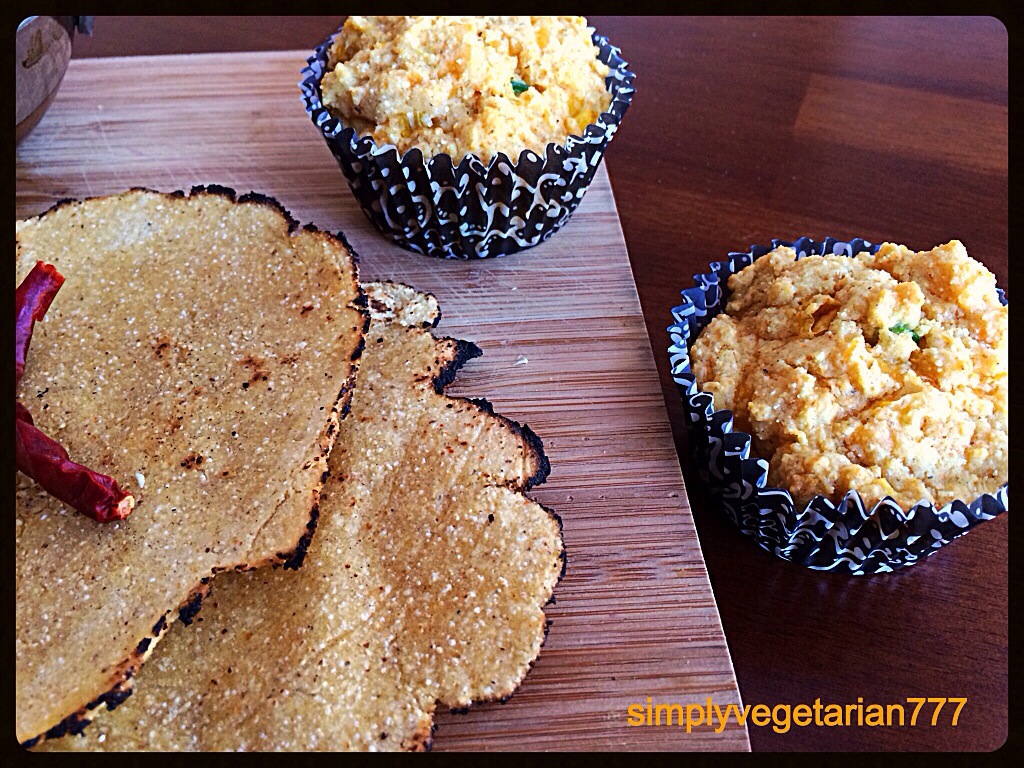 This dish is enjoyed with Makki di Roti. Makki di Roti is a flatbread made kith yellow corn flour or meal..which is slightly coarse…. It is not corn starch. Makki or corn flour has no gluten for binding so this flour is made into dough and used fresh. Traditionally, the women will make flatbreads or rotis in hands and then put it on griddle but I have used parchment or baking paper for rolling and non sticking. Now you must be thinking as to what's with the "corn muffins".. I mean these are not traditional…now there the simpkyvegetarian777 twist comes in ;)… That's my take… These muffins are made with corn..they are savory with some spice and hence I thought that they will be a great match with the mash.
I so wanted to break this post in 3 parts and then link with each other…but that wouldn't have been fair. So I apologize for this long post in advance. Just bear with me and I promise you won't regret it. I had this in my archives since late December but the confusion on its composition kept delaying it . For Jalapeño n Cheddar Corn muffins, click here.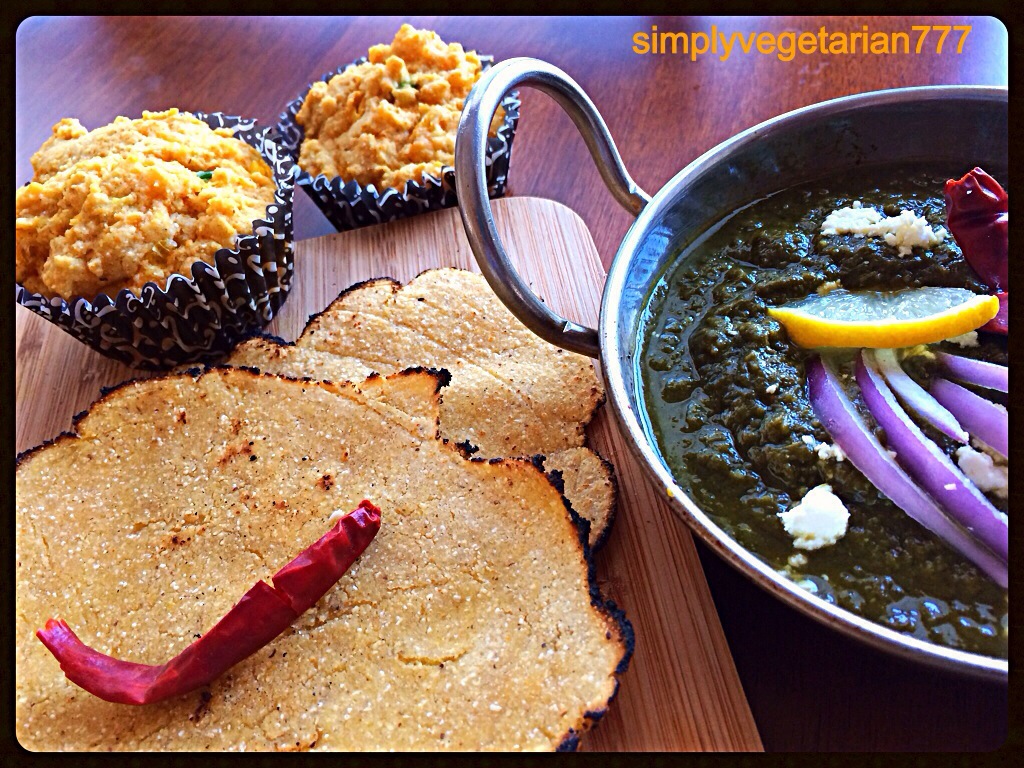 Without much more blabbering, here is the recipe for 3 different dishes which together make one post.
Sarson da Saag or Mustard and Spinach Mash : a popular dish in Indian restaurant buffets in USA and outside India.
Serves : 6-8
Ingredients :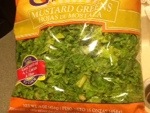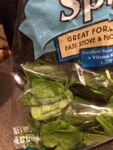 Mustard Leaves : 450 gms or 16oz, washed, trimmed and chopped
Spinach : 250 gms or 9 oz, washed, trimmed and chopped
Tomato : 1 big chopped roughly
Onion : 1/4 cup chopped roughly
Ginger : 1 big piece
Garlic : 1 clove, optional
Green chili : 1-2
Ol : 1 tbsp
Asafetida : a pinch
Cumin seeds : 1 tsp
Red dry chillies : 2 broken, optional
Turmeric : 1/2 tsp
Salt to taste
Butter : 1 tbsp
Water : 1-2 cups
Corn meal : 3 tbsp dissolved in 1/2 cup water.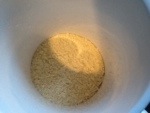 Crumbled paneer or feta on top for garnish and extra punch : 1 tbsp, optional.
Method :
Boil mustard, spinach, onion, tomato, ginger, garlic and chilies either in a pressure cooker or in microwave till it is tender with 1/2 cup water. One whistle in pressure cooker or 10 minutes in microwave.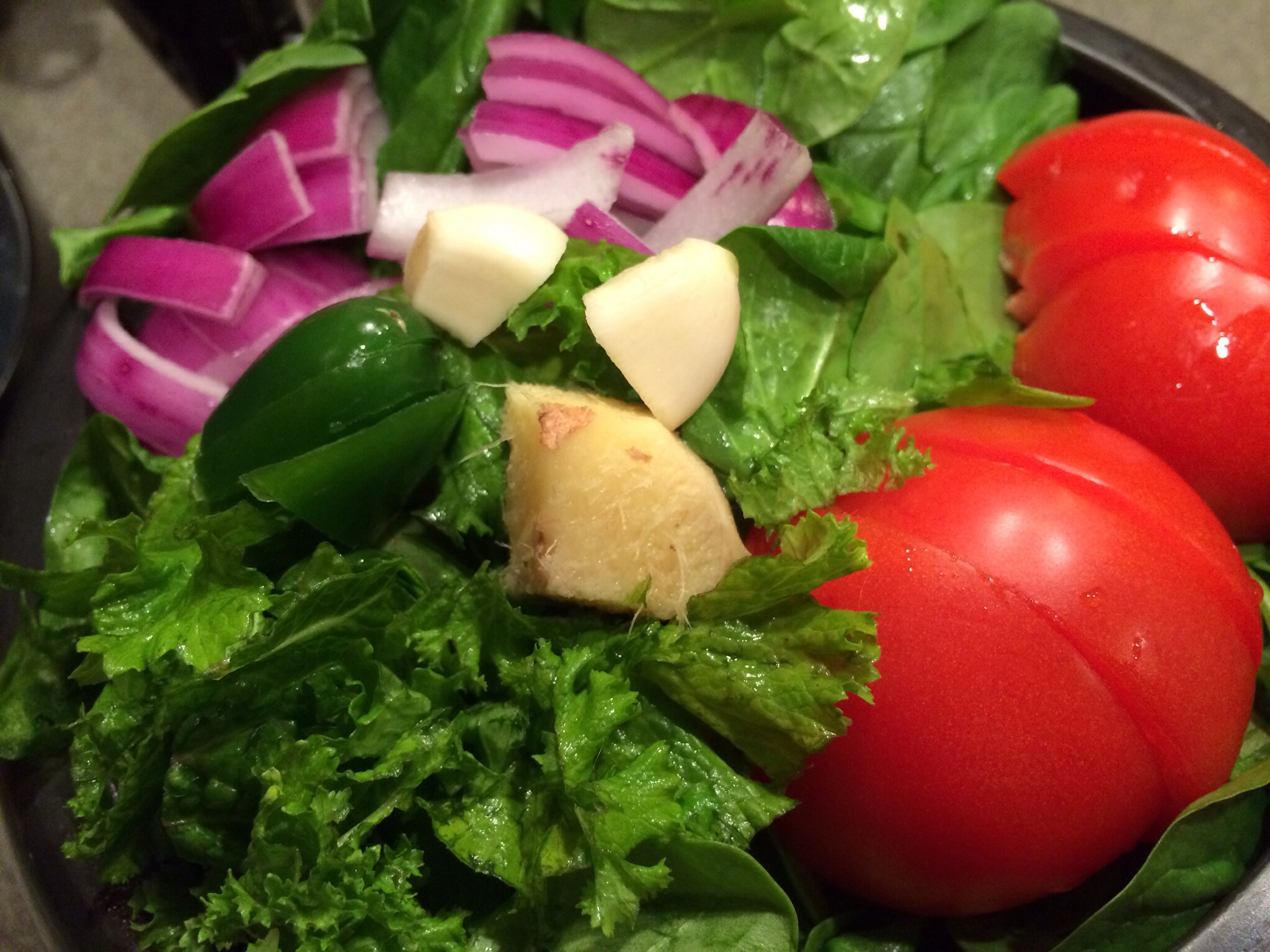 Once it is done, it will look like this.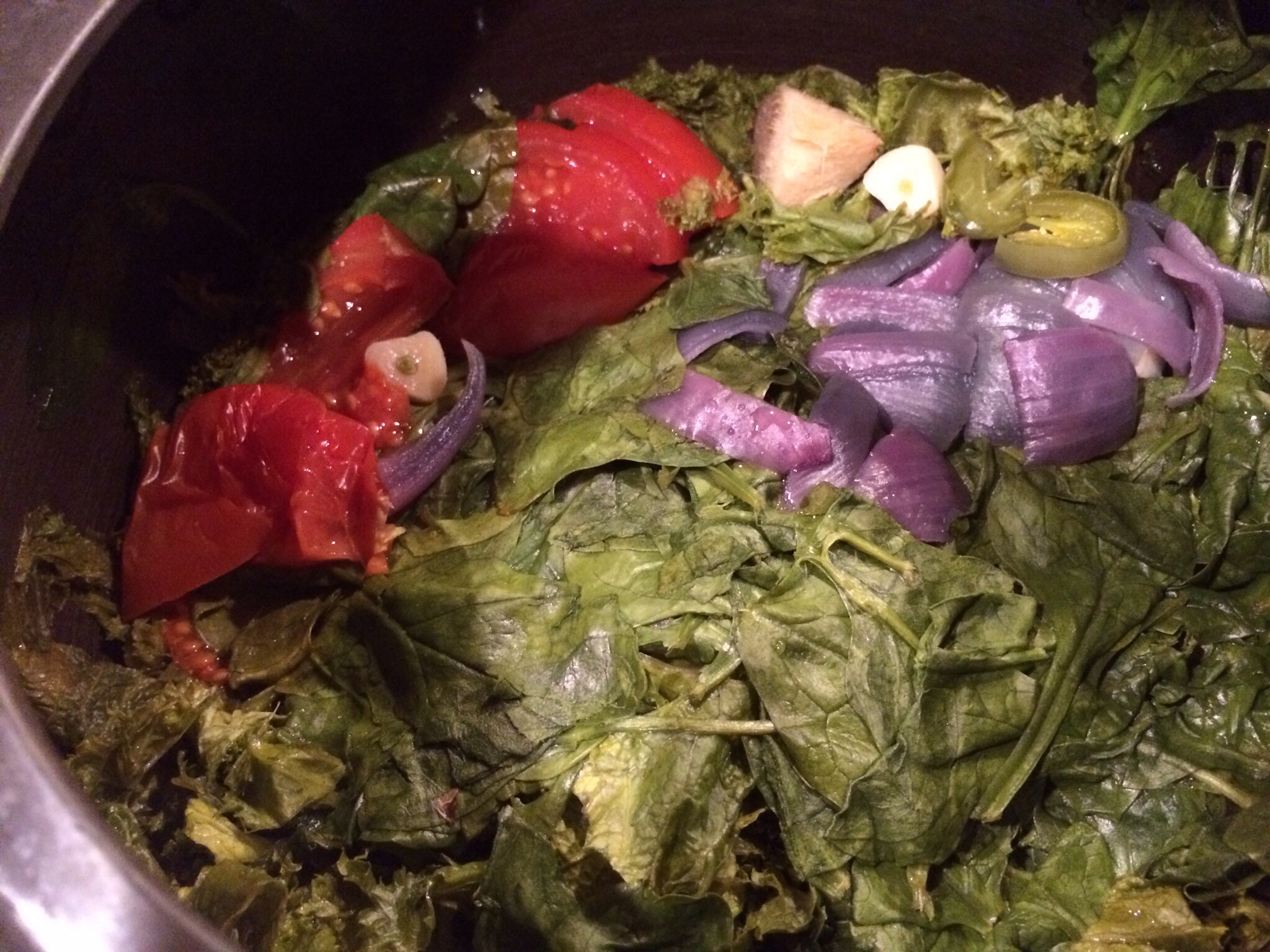 Once cold, grind it in a purée in a blender, like a thick paste.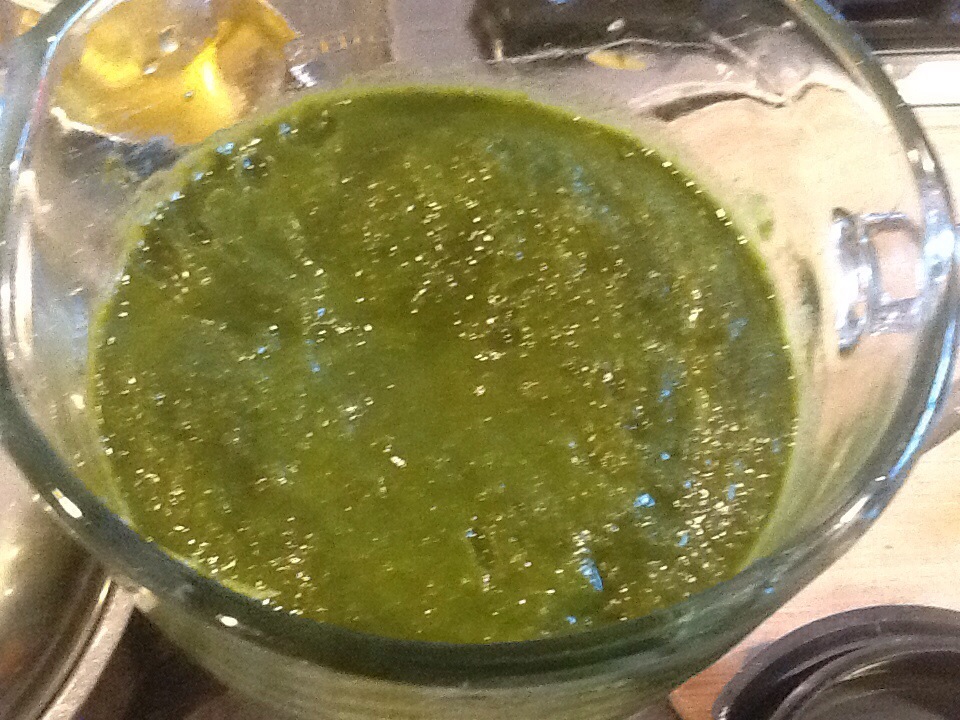 Heat oil in a deep saucepan. Add cumin seeds, asafetida. Once the cumin seeds crackle, lower the flame and add dry red chillies and turmeric. Sauté for few seconds on low flame.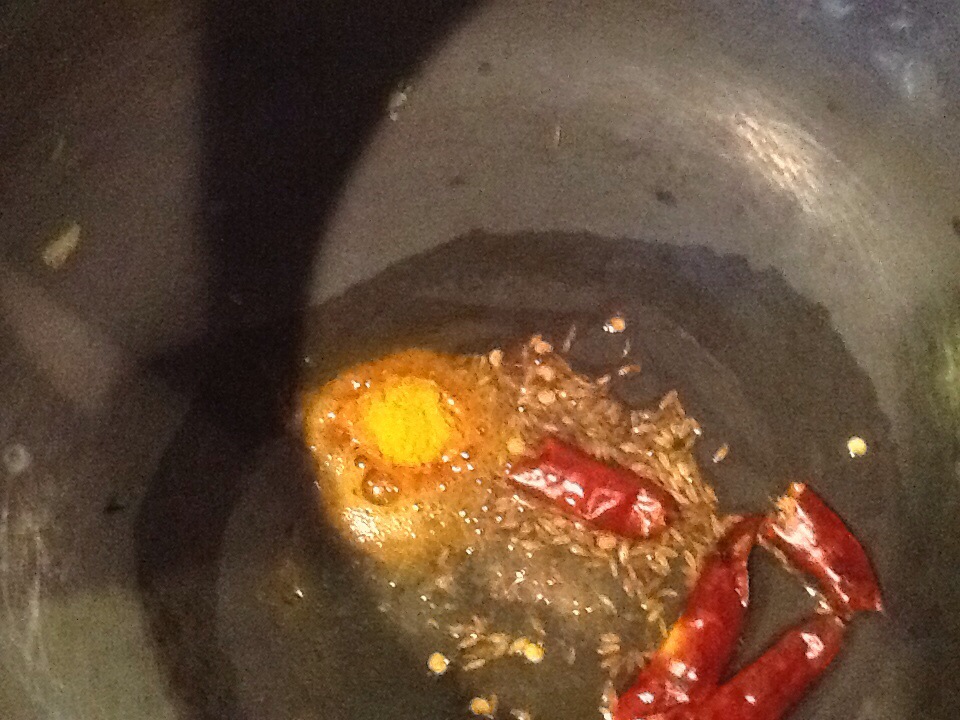 Keep the flame low when dealing with the thick green purée since it is dense and splutters a lot…so be cautious. Now add the green purée to the tempered oil. Add the corn flour paste or aalan to it and mix well.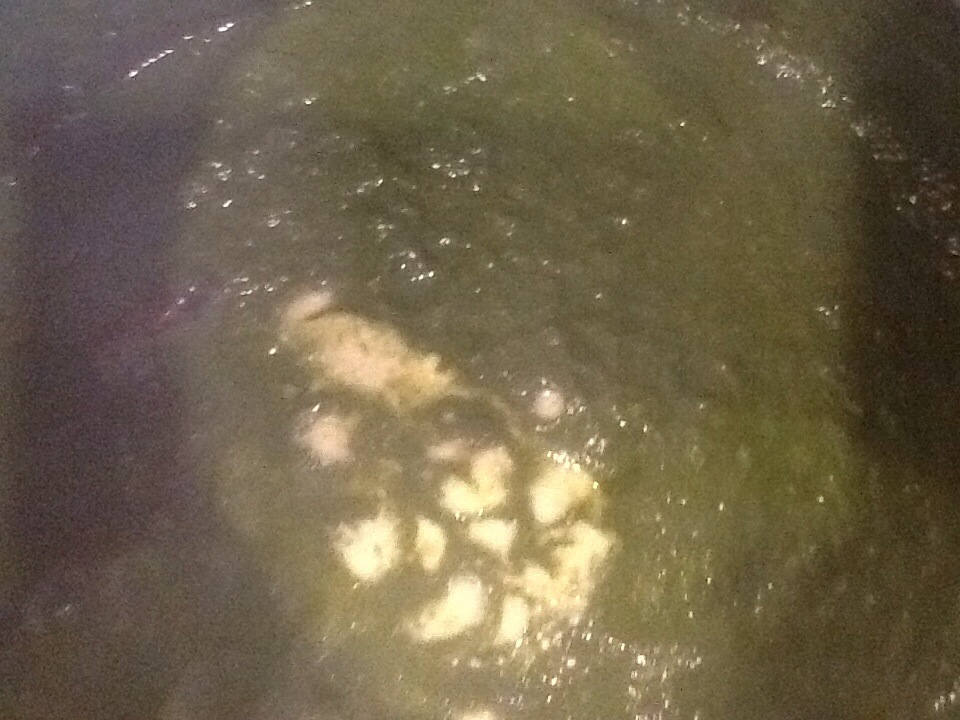 Once it is mixed, add butter. I add only 1 tbsp but if you like more then you may add to your liking. There is no doubt that more butter makes it more lip smacking ;). I am much miser and wiser with the use of butter n oil ;),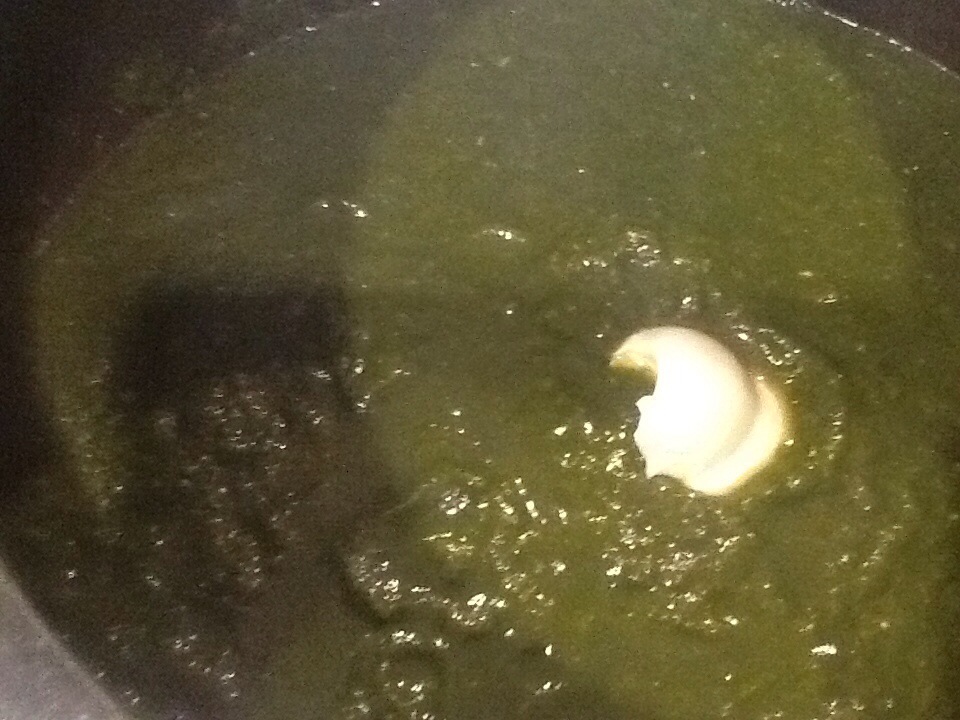 Add water. Cover and cook for 1/2 an hour. Even 20 minutes is enough since the greens are cooked anyways…but I normally do 1/2 an hour atleast or more if I have patience and time. Keep stirring ocassionally. Cook on simmer..higher flame may char it..not good.
Ladle it out. Add some crumbled paneer or feta and enjoy with cairn flat breads. Which are easy and quick to make.
Makki di Roti or Corn Flat Breads
Kitchen Equipment Needed: rolling pin, griddle, rolling board or clean surface, 2 square 8X8 inches pieces of parchment or baking paper.
Ingredients :
Yellow Corn Flour or meal..slightly coarse. : 1 cup
Salt to taste
Red chili pepper powder : 1/8 tsp
Water to knead the dough
Method :
Add all the dry ingredients. Add little water at a time to make a dough..or bring the dry Fluor together. If it is hard for you to control, then you may add 2-3 tbsp of whole wheat flour to combine.
Heat the griddle meanwhile and keep the flame towards medium.
Pinch a portion of dough, size of ping long ball. Roll it gently. Put a piece of parchment paper on the surface. Center the dough ball and cover it with another piece of parchment paper. Press it. Roll it gently with rolling pin.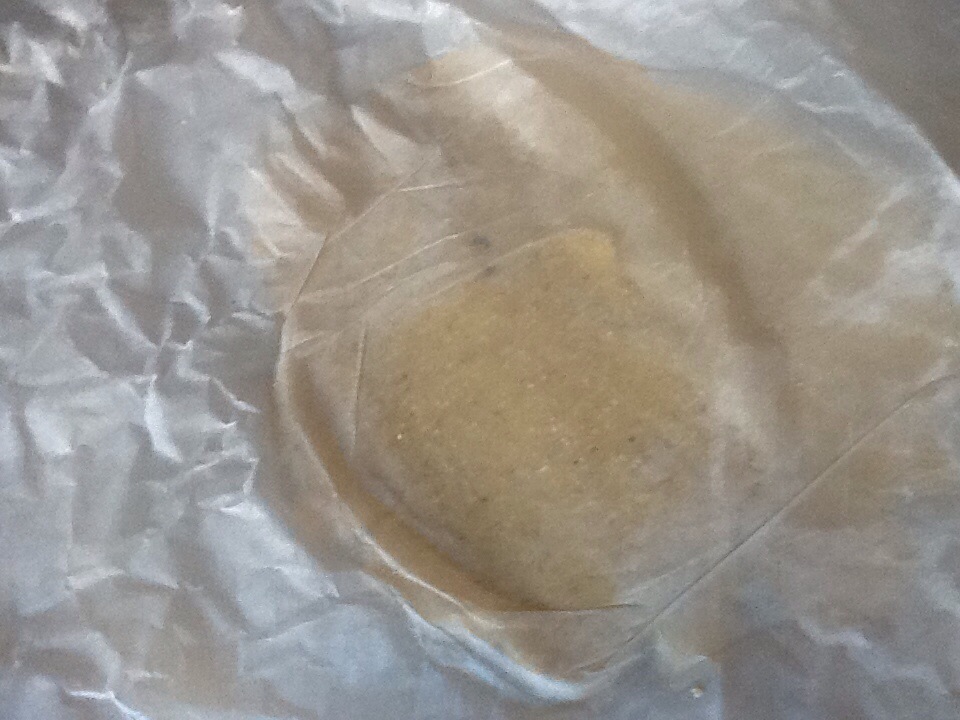 This is how it will look.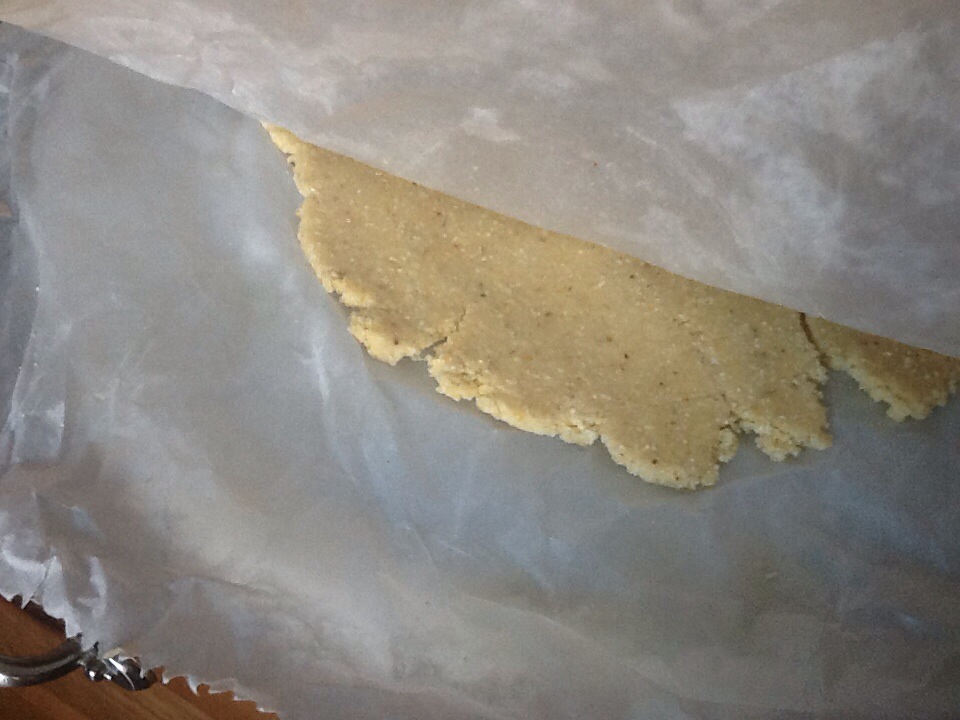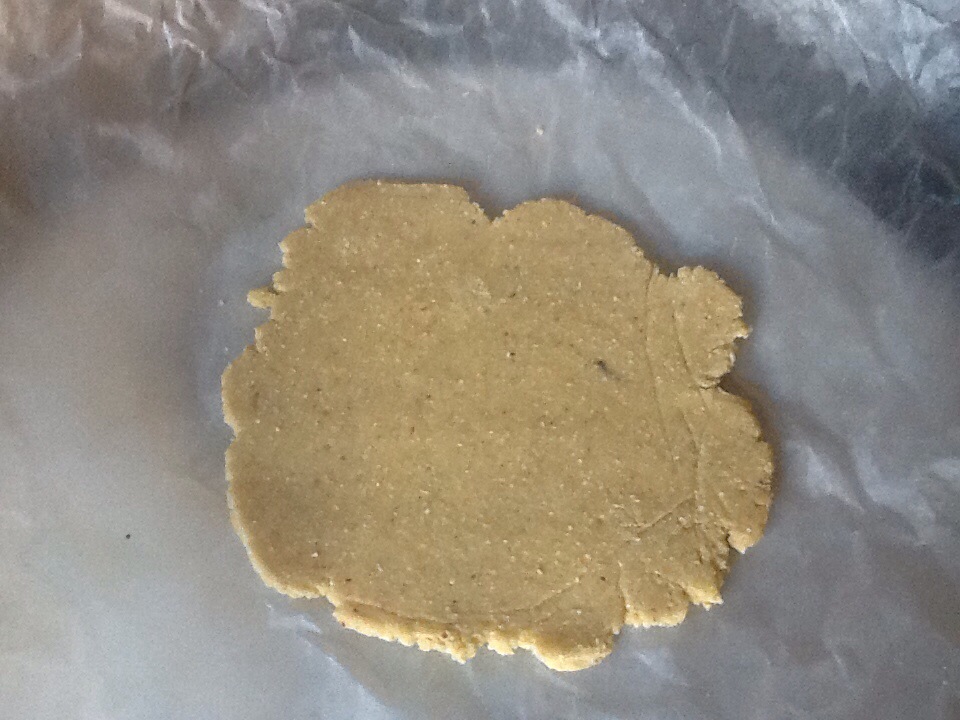 Gently pick up the rolled bread and lay it on hot griddle. After 35-40 seconds, once it starts getting slightly red on the bottom, flip it. Now use a kitchen towel or flat ladle and press the flatbread down for even cooking. This bread is done on low to medium flame so that it doesn't stay raw inside.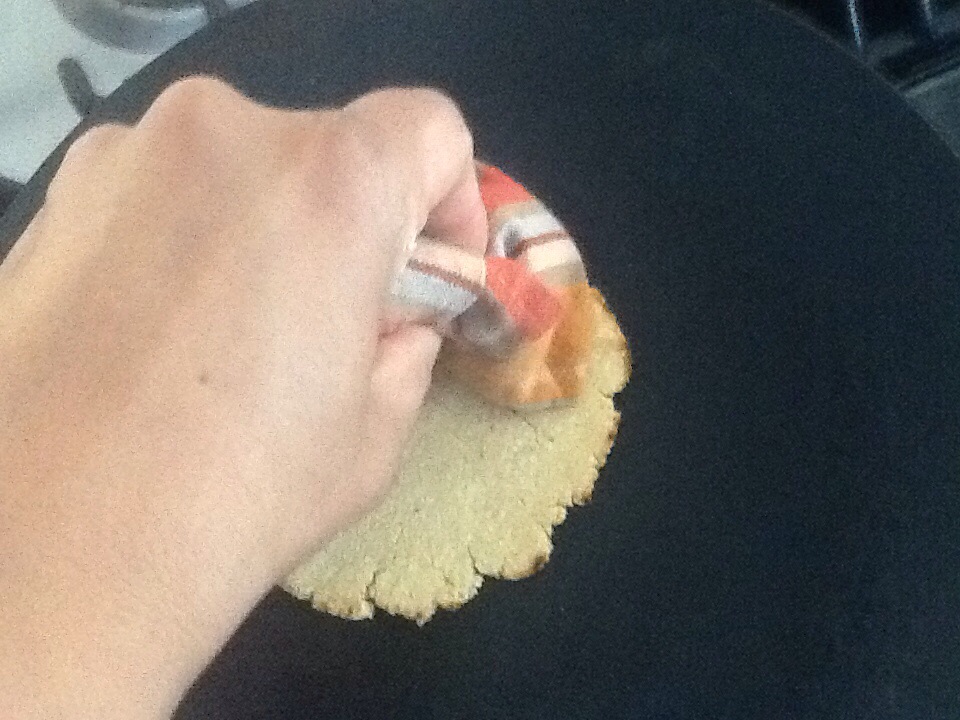 Now flip it one more time had repeat the pressing for 20 seconds or so. The flat bread it ready. Apply some butter or ghee on top of hot roti, if you want. This flat bread is crispy and not soft.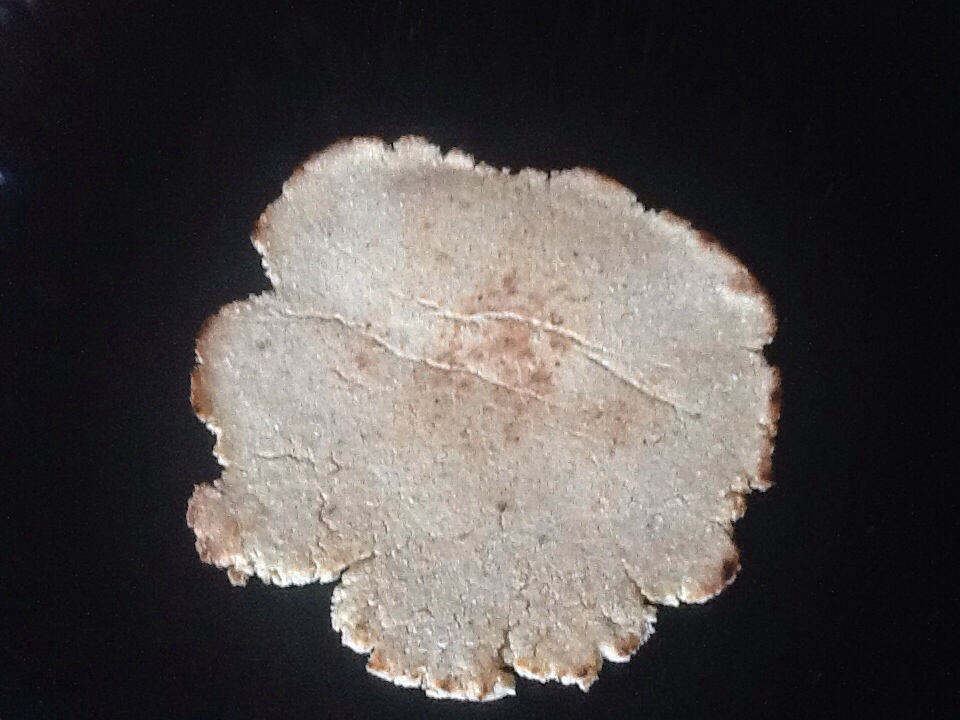 Enjoy the meal with some fresh salad of turnips and radish on the side. Enjoy this meal on a winter day.