Oats Poha, a savory Oats dish cooked with peas and corn and tempered with Indian spices.
As an Amazon Associate and member of other affiliate programs, I earn from qualifying purchases.
Poha is flattened rice which cooks fast and is normally eaten as breakfast or snack in savory form. But then I adapted the name for Oats since I am using quick cooking Oats here.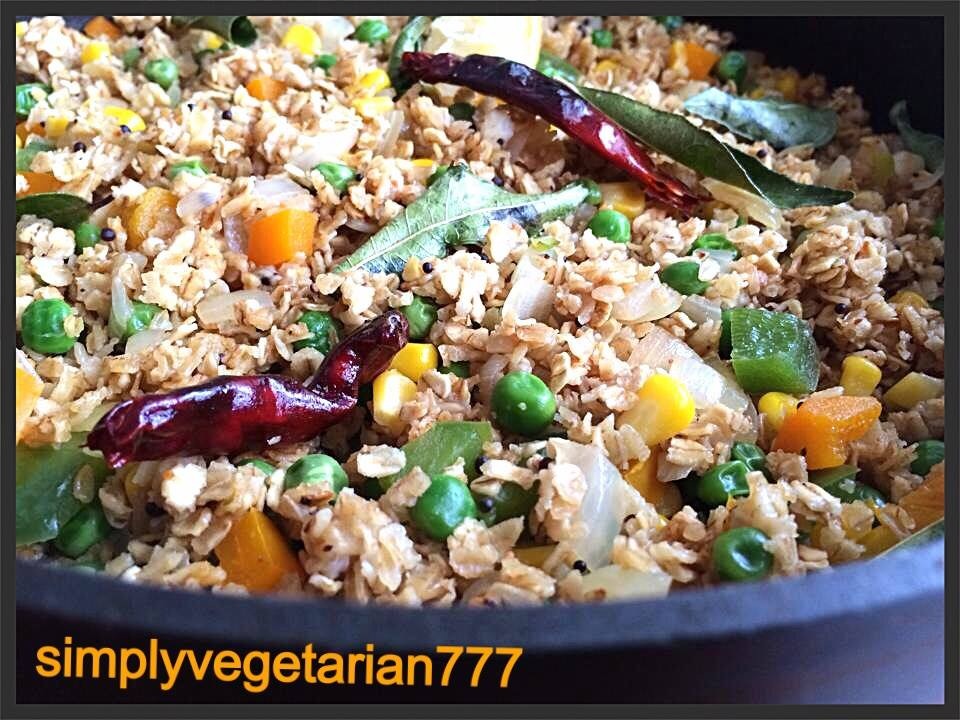 Studies have revealed that starting the day with a nutritious, fiber rich meal such as oats can help with maintaining a healthy weight. They are known for lowering cholesterol and maintaining blood pressure. They are good for diabetics as well.
While I like oats but am not too happy with the sugar levels involved in the regular prep of my kind of porridge. So, to give sugar a back seat, I made the savory version with oats, using them as rice or any other grain in combination with vegetables. If you like Pilafs and Quinoa and other whole grains then you certainly will like it !
The best part of this dish is that it can be eaten as breakfast, brunch, packed lunch or a light dinner.
Now that holds your interest, right ? 🙂 .
Get rolling and gather ingredients :).
Serves : 3-4
Ingredients :
Oil : 1 tbsp
Oats, quick cooking kinds : 2 cups.
Onion : 3/4 cup chopped
Bell peppers : 1/2 cup chopped
Peas : 1/2 cup
Corn : 1/2 cup
Curry leaves: few, optional
Red Chili whole, dry : 1-2
Black Mustard seeds : 1/2 tsp
Garam Masala or Curry Masala : 1-2 tsp as per the heat required
Salt to taste
Method :
Dry roast the quick cooking oats on medium flame for 5-7 minutes till they became aromatic.
Heat oil in pan. Add mustard seeds and dry red chili. Once mustard seeds crackle, add onions, bell peppers and sauté for 2-3 minutes.
Now add peas and corn. Add curry leaves, garam masala/curry powder along with salt. Add 2 tbsp water. Cover and cook for 2 more minutes.
Now add roasted oats and mix well. Add 1/4 cup water. Cover and let steam for 5-7 minutes on lowest flame for the oats to loose the crunch but still stay separated. Keep stirring in between. I will recommend using a non stick or hard anodized pan.
Once done, squeeze some lemon juice and enjoy! If you want then you can add some chopped cilantro leaves.
A perfectly balanced and healthy meal is ready in no time :). Enjoy!