Oats Ragi Moong Cheela (Savory Crepes)
As an Amazon Associate and member of other affiliate programs, I earn from qualifying purchases.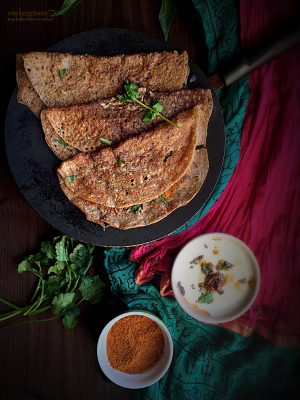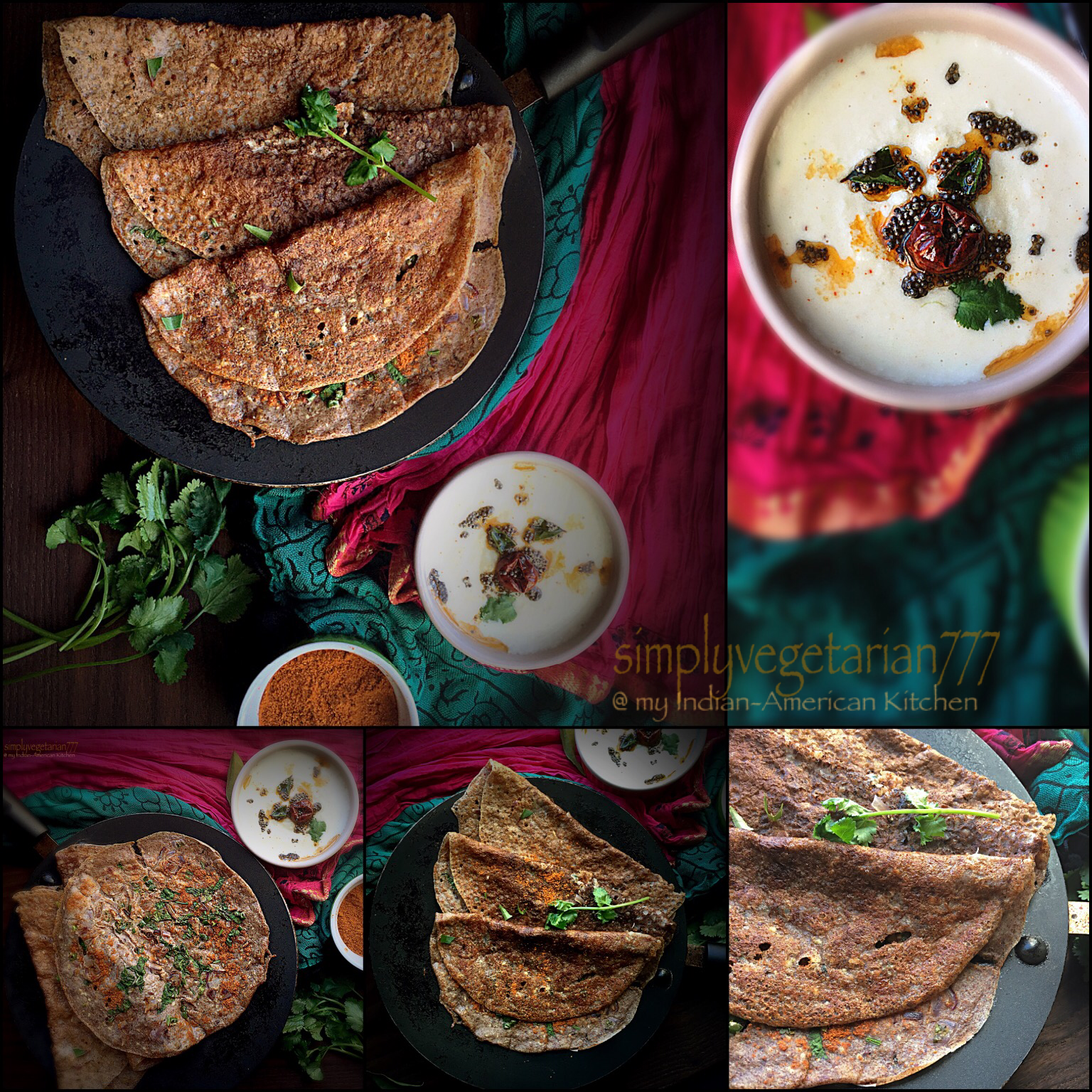 I love cheelas of any sorts. They are close cousins of Dosas from the south, the main difference being that most of the dosas are fermented and cheelas are not. They are quick and almost instant.  Not only that, they are high on nutrition and often are a complete meal.
My mother often made Besan ka Cheela. It was the quickest thing to put on the plate, ever. Sometimes, she would serve them plain and sometimes will put a filling of paneer and matar in the middle and make a roll or a wrap.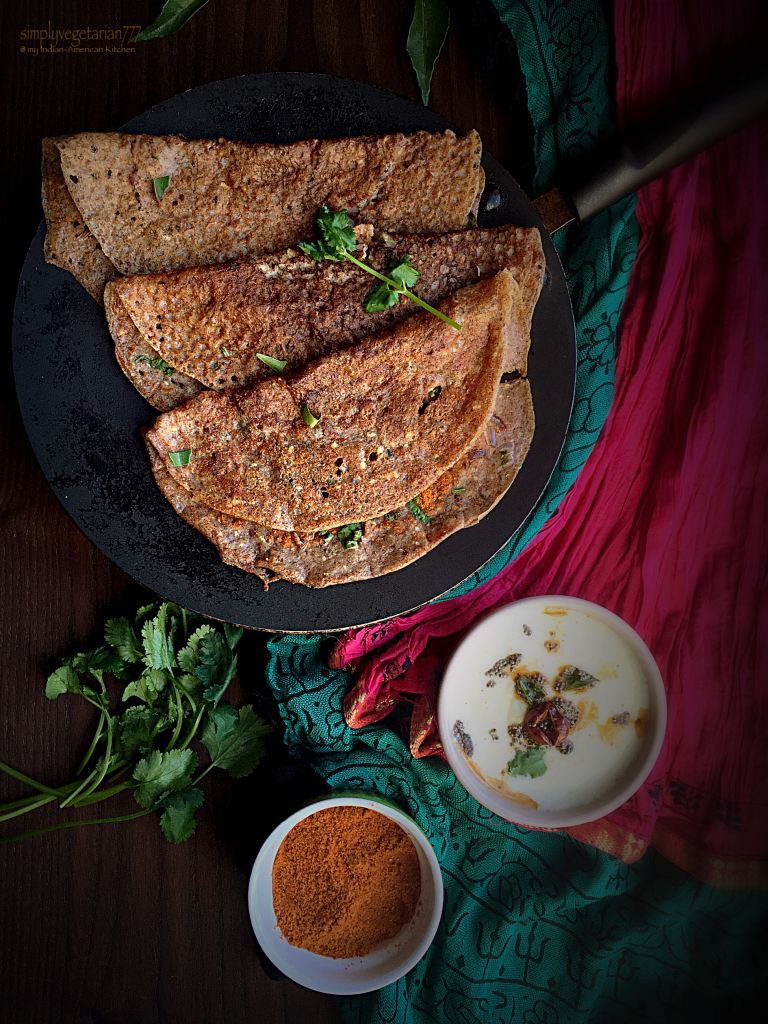 For those of you, who are wondering what the H the cheela is, then my dear friends, its another name is India is Pooda or Poodla, as many would refer. If I want to compare it in shape and method (not the ingrediets), then it is a savory crepe and chutney would be a sauce to accompany that crepe. I love making these readings and similarities between different cuisines and that helps me understand the food better. What do you think about that? Does anybody else do that out there?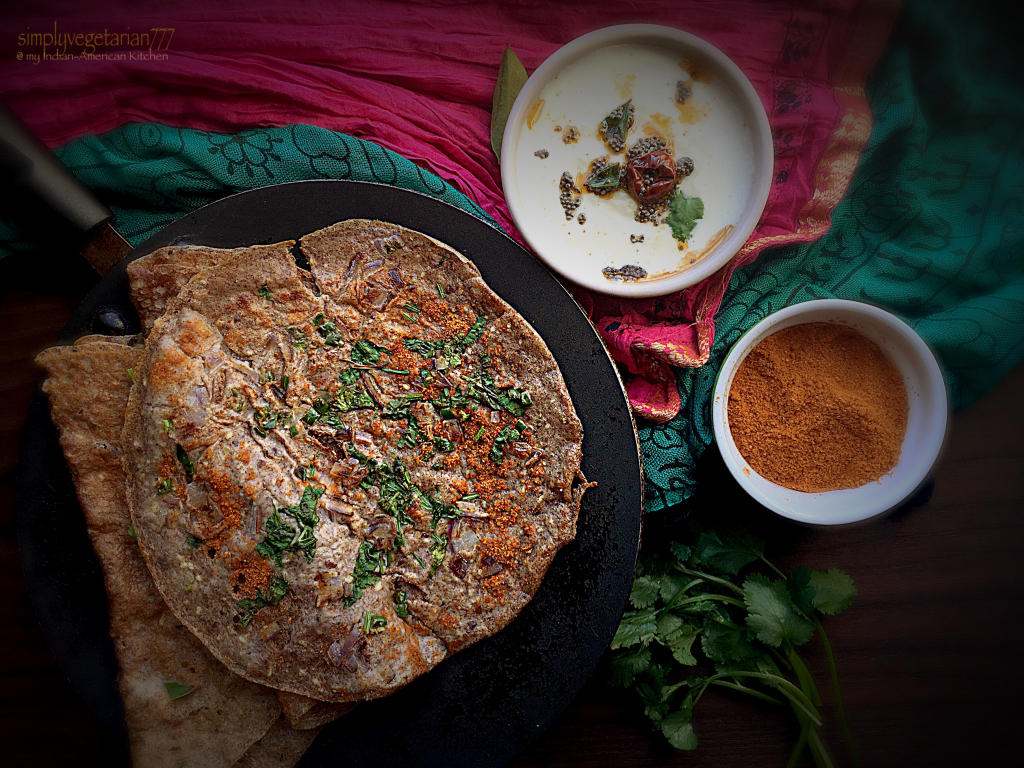 These Cheelas are super filling and absolutely delicious in very bite. It is can be a Gluten Free meal, if you pick gluten free oats. Where Oats are adding the filling factor, good heart health, anti-oxidants, glucose control to the dish; Moong is bringing the good protein, fiber, bunch of vitamins and minerals, good heart health, bone health, good digestion to the dish. Ragi is Finger millet and is staple in many households in Southern India. It is rich in Calcium, a coolant, great for weight loss, gluten free, good in fiber, good for bone health, good for diabetics, a good source of natural iron for anaemics and also good for heart health. This recipe is sure a keeper.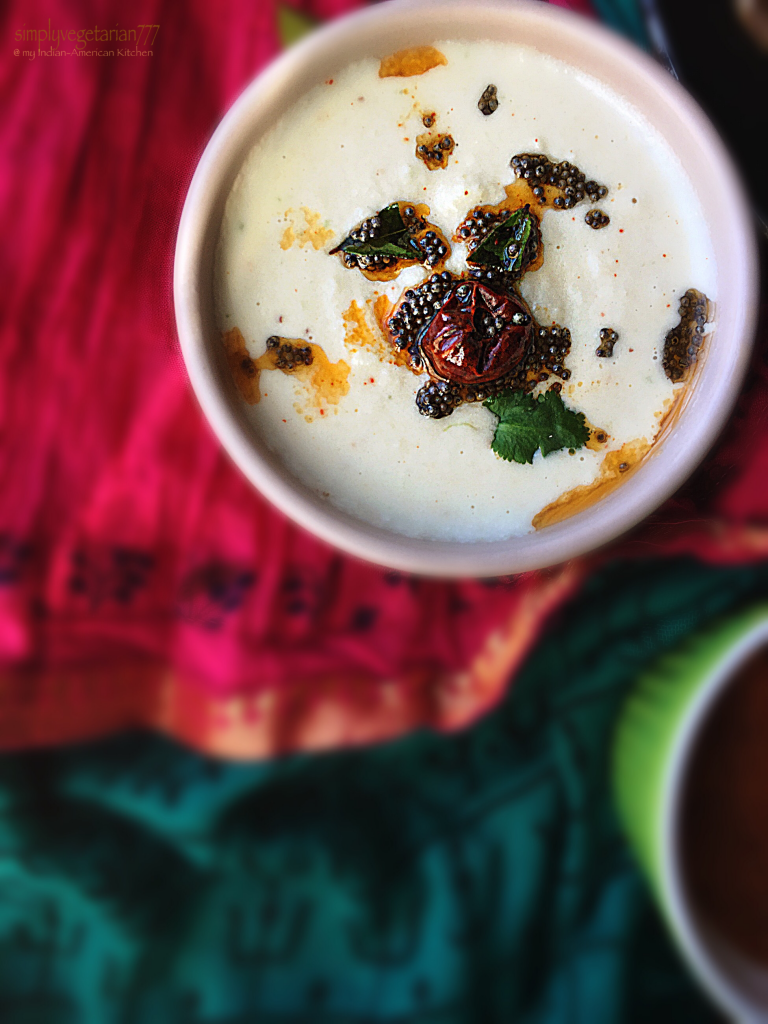 When served with coconut and Dalia Chutney, it is a delicious meal combined. I simply love this chutney. My mother used to make this chutney often along with the dosa. I could eat it in a bowl, just like that :).
I am sure that the readily available ingredients and easy recipe, will surley make you try this recipe in your kitchen. It is Diabetic friendly, great for weight watchers, easy to store and filled with so much nutritional value. It can be a great lunch box meal, just make these thicker and softer like uthapams.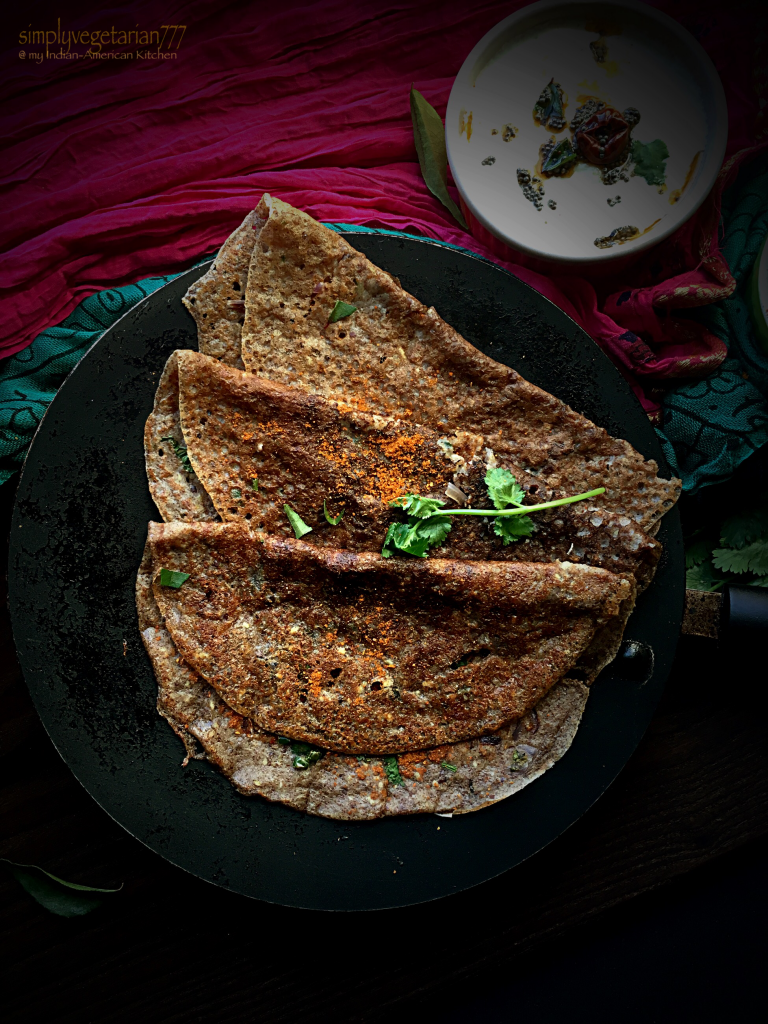 Let's get on to the recipe with Yummly.
Taking these Cheelas or Crepes to share with the crowd of Throwback Thursdays and Fiesta Friday ! I hope the folks there are eager to try something from the Indian Continent :).
Oats Ragi Moong Cheela (Savory Crepes)
A protein, minerals, vitamins and anti-oxidants rich satisfying meal, that can be easily prepared and eaten as a snack or full meal. A fabulous recipe for weight watchers as well as diabetics.
Ingredients
For the Oats Ragi Moong Cheela
Oats

quick cooking - 1 cup

Ragi flour - 1/2 cup

Moong Dal

dhuli (yellow color one) - 1/2 cup

Water - 4 to 5 cups

GInger - 1 big piece

Green Chili - 1

Salt & Red pepper powder - to taste
For Garnish (optional)
Sambhar powder

Finely chopped onions, finely chopped Green chili, finely chopped Cilantro / Coriander leaves
For the Coconut Dalia Chutney
Coconut flakes

dry & unsweetened - 1/4 cup

Daliya Dal - 1/4 cup. You may use Roasted Chana or Bhuna Chana used for snacking.

Water - 1/2 cup

Ginger - 1 small piece

Green Chili - 1

Salt to taste.
Tempering for the Chutney
Oil - 1&1/2 tsp

Mustard seeds - 1/2 tsp

Hing/Asafetida - a small pinch

Red chili powder - a small pinch

Red Chili whole - 1 small

Green Curry leaves - 2 to 3
Instructions
Kitchen Equipments Required
A blender, 1 medium bowl, 1 large bowl, 1 small bowl with water in it and wet kitchen towel, 1 small bowl with little oil and a kitchen napkin, flat non stick griddle or tawa, flat spatula, a small pan to make the tempering, spoon, big steel ladle or 1/4 cup measuring cup.
Making the Cheela/Crepe Batter
Wash and soak the moong in warm water for 10 minutes.

Take the blender and add soaked moong, oats, ragi flour, ginger, green chili, salt and red chili powder to it. Add 4 cups of water to the blender. Blend till you have a smooth batter. Little grainy is also fine. It adds to the texture.

Take it out in a big bowl. Check for salt, if needed more. Set aside for 5 minutes.
Making the Cheela/Crepe
Stir the batter well with the ladle. If it is too thick for you, add more water to desired consistency. WE are looking for a batter of easy spreading consistency. It should not be thick or pouring either.

Heat the non stick gridle or tawa to medium high temperature. Dip the kitchen napkin in oil and lightly grease the tawa.

Now pour 1/4 cup of the batter on the hot tawa. Spread it out in circular motions with the help of the steel ladle. Make at least 4 to 5 inch circle. Do not spread it too thin.

Garnish with sambhar powder, finely chopped onion, finely chopped green chili and coriander leaves, while the top of the cheela is still wet.

Let it cook from the bottom on medium high heat till it is browned evenly and slightly crisp, for about 3 minutes.

Now flip it gently with a flat spatula and cook form the other side for about a minute on medium heat.

Finish the batter likewise. But before making each cheela or crepe, wipe the griddle or tawa with a wet kitchen towel for a smooth spreadable surface.
Making the Coconut & Dalia Chutney
Take the blender. Add all the ingredients as mentioned under Chutney to it. Puree it all till smooth. Chutney is ready. You may eat it as is or add tempering for the enhanced taste.
Making the Tempering for Chutney
Heat oil in the small sauce pan. When the oil is hot, add hing, dry red chilli and mustard seeds to the pan. Once the seeds start crackling, switch off the gas and add red chili powder and green curry leaves to the pan. Add this tempering on top of the chutney.
Serving Suggetion
Serve hot comforting cheelas along side the yummy coconut dalia chutney. I added a bit of sambhar powder alongside, for the additional kick.
Notes
You may use Green split Moong instead.
You may use Moong Dal flour instead.
You may add spinach in the batter to make it fiber rich.
You may store this batter in a closed container, in the refrigerator easily for a week.
Nutrition
I had a great time creating this recipe and then feeding to my family in my Indian American Kitchen. The family enjoyed it very much including my kids and their visiting friends. I am sure that you will love these too.
Sonal