Onion Soup, Vegetarian, Soups with SS begins
As an Amazon Associate and member of other affiliate programs, I earn from qualifying purchases.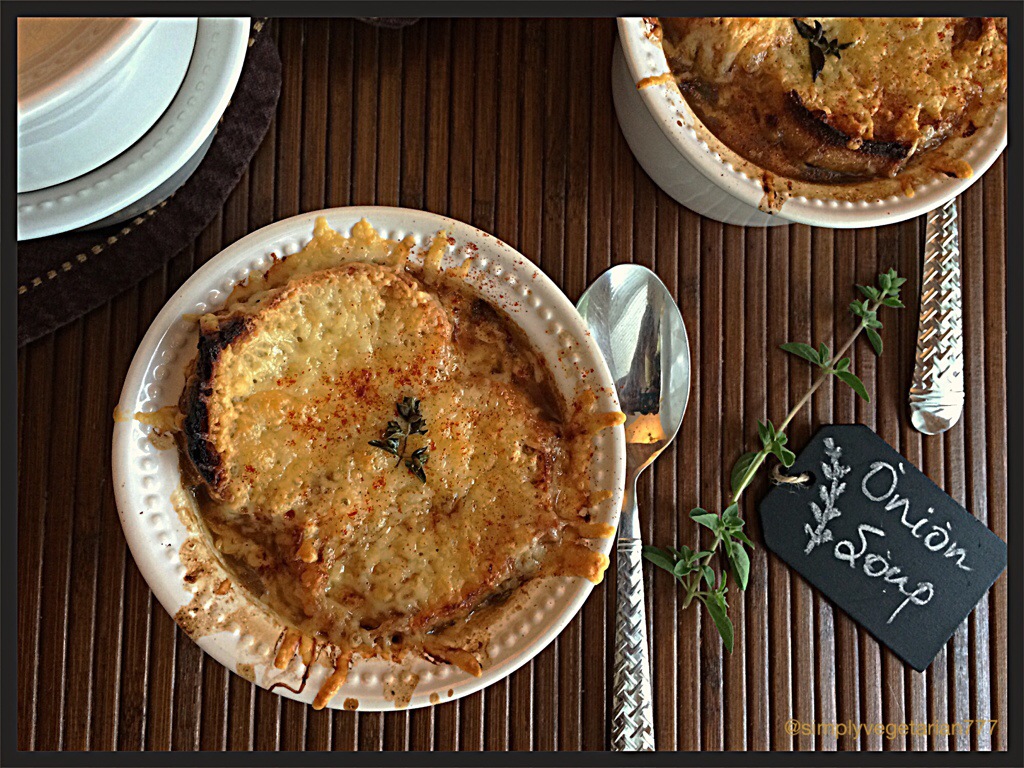 I have loved French onion soup for the longest time. Hardly did I know earlier that it is made with beef broth and sherry is another important ingredient. I used to order and just devour the whole bowl. Later when I thought of cooking it myself, realized that it is far from vegetarian. But no harm done. I am a vegetarian by choice with a survivor instinct. I don't harp on past either.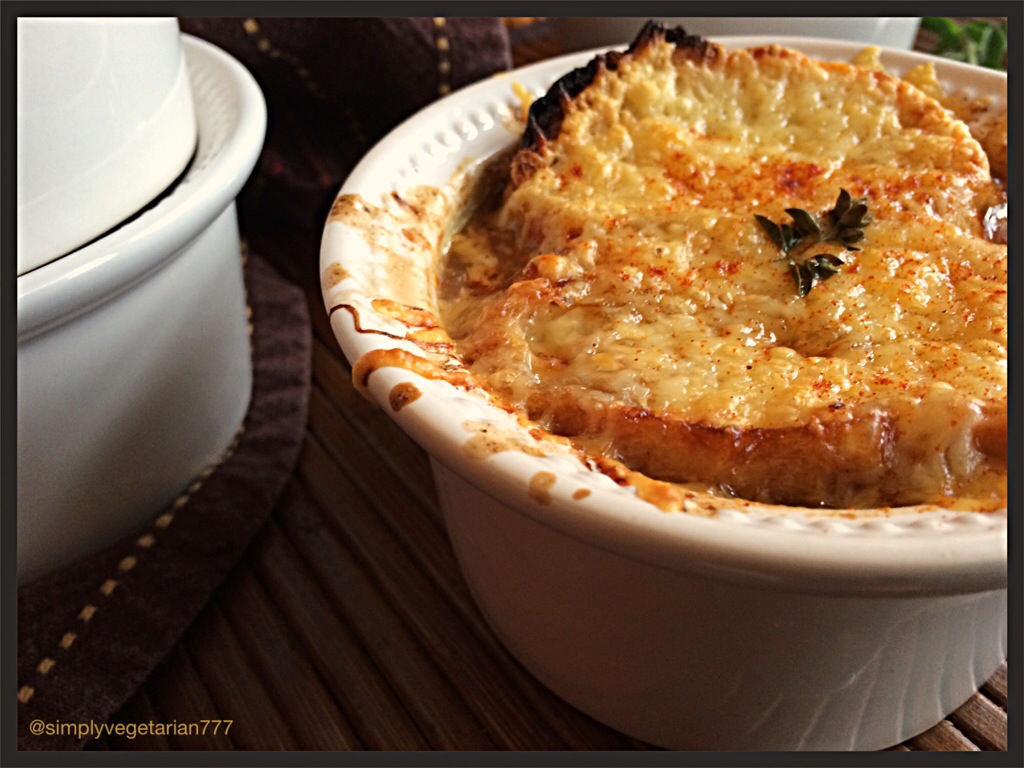 So in the light of my co-hosted event Soups with SS, I took out my Kitchen Equipments, read through some vegetarian onion soup recipes online and came up with mine. It is simplyvegetarian777 signature Onion Soup ;). And one heck of a soup.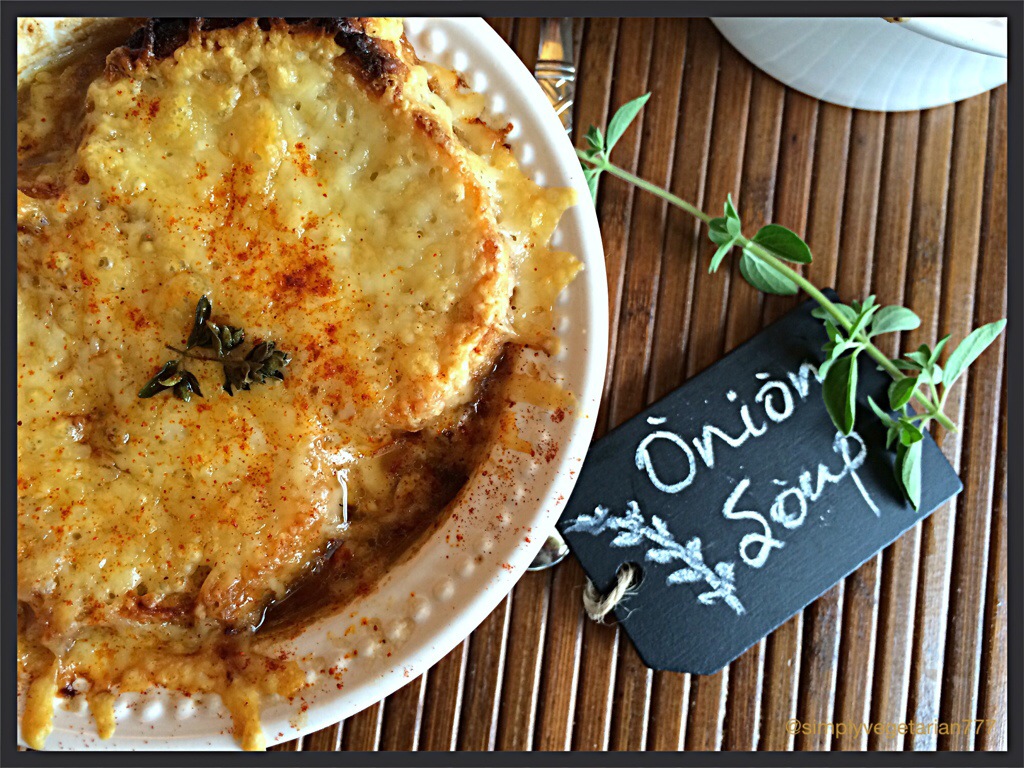 It was actually a perfect day to enjoy soup. It's been raining and thundering since morning. Soup always is comforting during the times like this. Cheesy, salty and oh so delish! One small bowl and I was full. It's a complete meal since it is topped with French baguette and then some cheese.
Are you ready for the recipe? Let's rock it then :).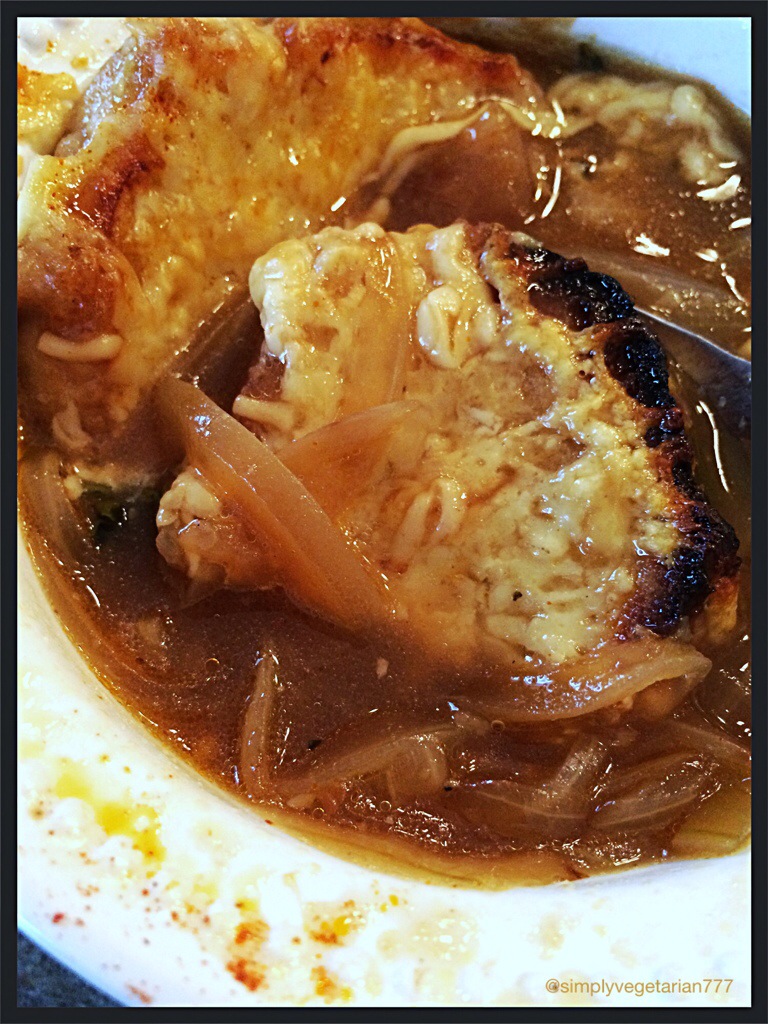 Onion Soup, vegetarian and alcohol free
Servings: 2-3
Difficulty: easy
Kitchen Equipments Required :
heavy bottom pan, spatula, chopping board, knife and grater, baking tray, 2 oven safe bowls or ramekins.
Ingredients :
Onions, preferably white : 2 big or 2&1/2 cups, halved and sliced very thin .
Garlic : 1 tsp, minced fine
Butter : 1 tbsp
Sugar : 1/2 tsp, optional. I add it since it caramelized onions beautifully.
Bay leaf, dried : 1
Thyme : 3-4 sprigs fresh or 1/4 tsp dried.
Distilled vinegar : 1 tbsp
Cornflour or APF : 1&1/2 tbsp
Salt and black pepper : to taste
Water : 4 cups
French baguette sliced or cut into croutons size for better eating.
Gruyere cheese or any melting salty cheese.
Method :
1. Take the heavy bottom pan and add butter to it. As the butter melts, add garlic and sauté for few seconds. Now add sugar, bay leaf, thyme and onions to the pan along with Distilled vinegar.
2. Cook it once flame for almost 18-20 minutes till the onions are soft and browned well. Stir often and keep scraping the bottom of the pan. You want the beautiful caramel color of the onions and not the burnt flavor.
3. Once the onions are browned well, add Cornflour and mix well. Cook for few seconds on low flame.
4. Add water, salt and black pepper. Stir well. Keep salt a little low since onions are already high in sodium and also the soup is topped with salty cheese later on. Cook on medium for another 10-15minutes till it thickens a bit and then switch off the gas stove. Remove the bay leaf at this point if you want.
5. Now take a baking tray. Place the bowls on the baking tray. Ladle the soup in the bowls till the top. Place te French baguette slices or (unbaked) croutons. Cover the top of the bread with shredded cheese.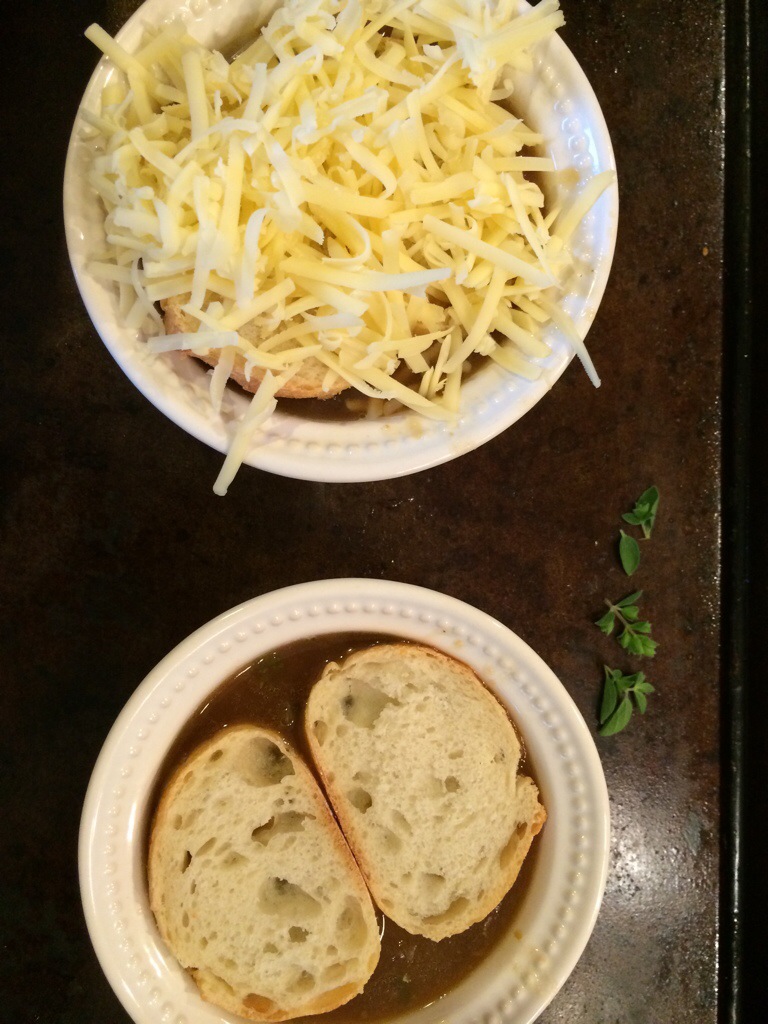 6. Now broil or grill in the oven till the cheese starts bubbling up and turns slightly brown. Keep an eye while broiling. Remove it, once done.
6. Serve it hot. Be careful as not to burn your mouth. The soup is extremely hot along with cheese.

Do let me know if you try it :). Looking forward to many more soup recipes.
Linking it to simplyvegetarian777 announcement and Cooking with SJ announcement for the Soups with SS event !