Palak Paneer or Saag Paneer with Mung, cooked in 1 tsp oil ! Healthy and Tasty! Vegan Options mentioned.
As an Amazon Associate and member of other affiliate programs, I earn from qualifying purchases.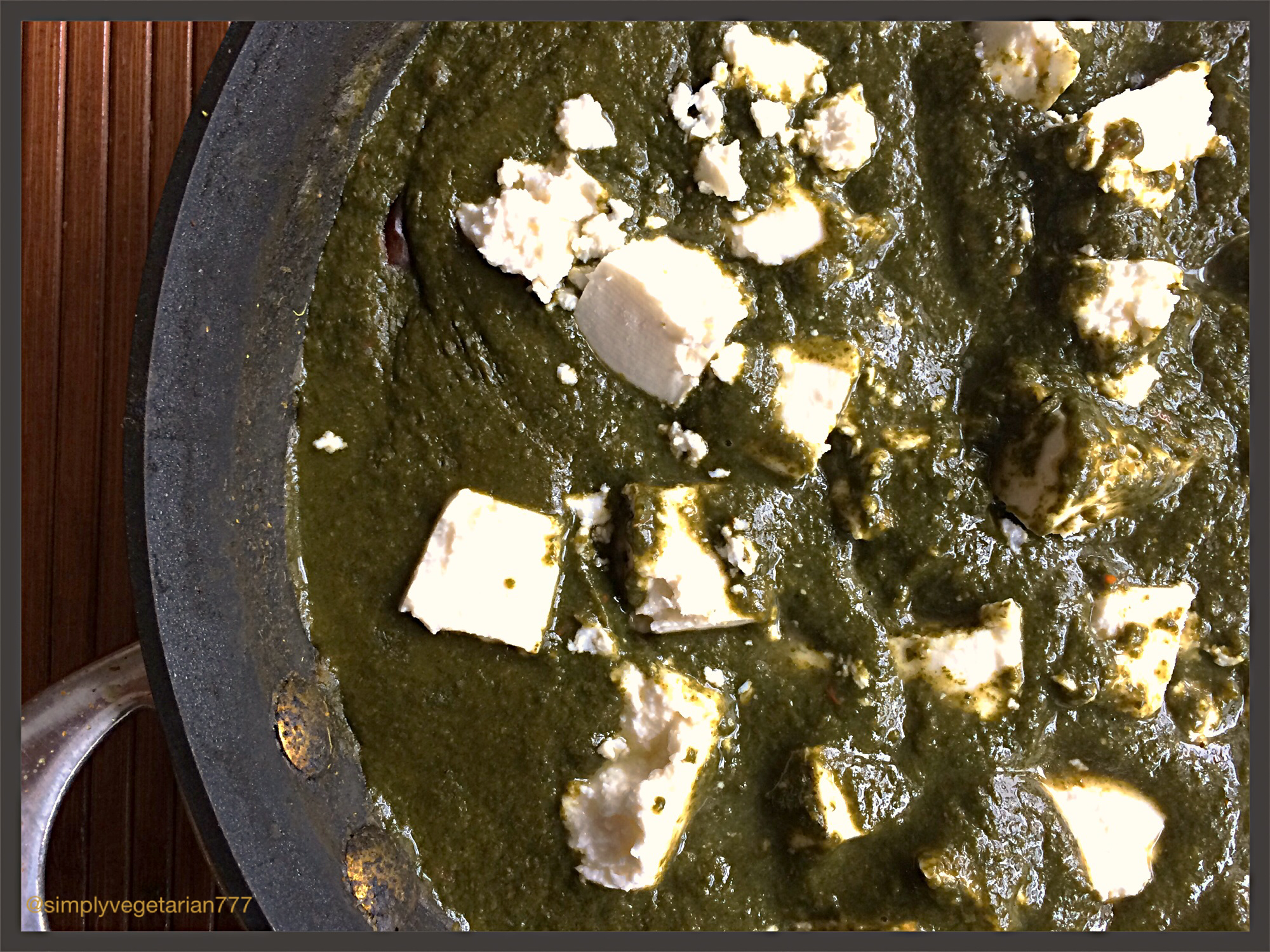 I have seen so many people just drooling over Saag Paneer or Palak Paneer. Saag is Green leaves and Palak is spinach. Saag can be from mustard leaves, Raddish, fenugreek, spinach and I have used kale too.
When I have my American friends come over for meal, their first request most often is "Saag Paneer". The restaurants' prep is thick and creamy where as I prepare this dish very simple. That's why we call it Ghar ka Khana as in Home cooked meal. The home cooked food is definitely healthier and nutritious.
I cook Palak Paneer in various ways, just like I cook pasta in various ways ;).
This time I am not going to post a particular recipe since I already have 2 recipes for the dish on my blog! One is the normal way and the other with Red lentils used while cooking. This time I used mung dal batter to thicken it for texture and flavor.
You can find the regular recipe here . My one of the first ever posts on the blog! You can see the growth of my blog from this post from then to now ;). This one is without cream too. You can certainly add cream to this dish towards the end. This is from June or July 2013.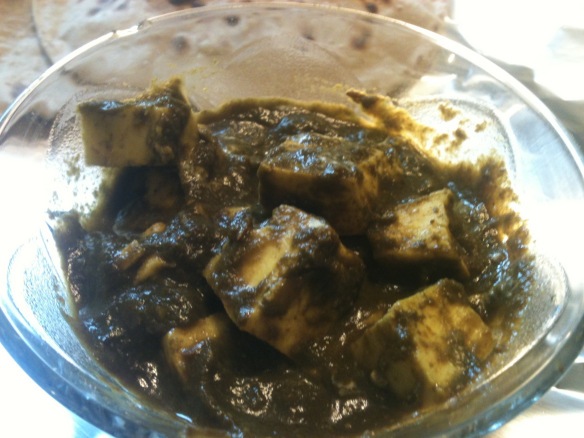 The second recipe that I guest blogged for Pavithra of eat live and burp. Now I have added the recipe to my blog after a good wait for my other readers. Fair enough? Well, here is that other gorgeous recipe for Palak Paneer made with Red Masoor Lentils.
Find Palak Paneer here . This was November 2013.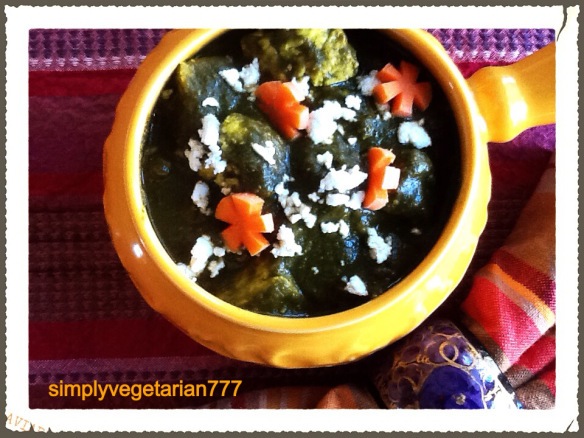 August 2014, and here I stand with another twist on the same recipe and yet again with no cream added and tasty as hell..err heaven!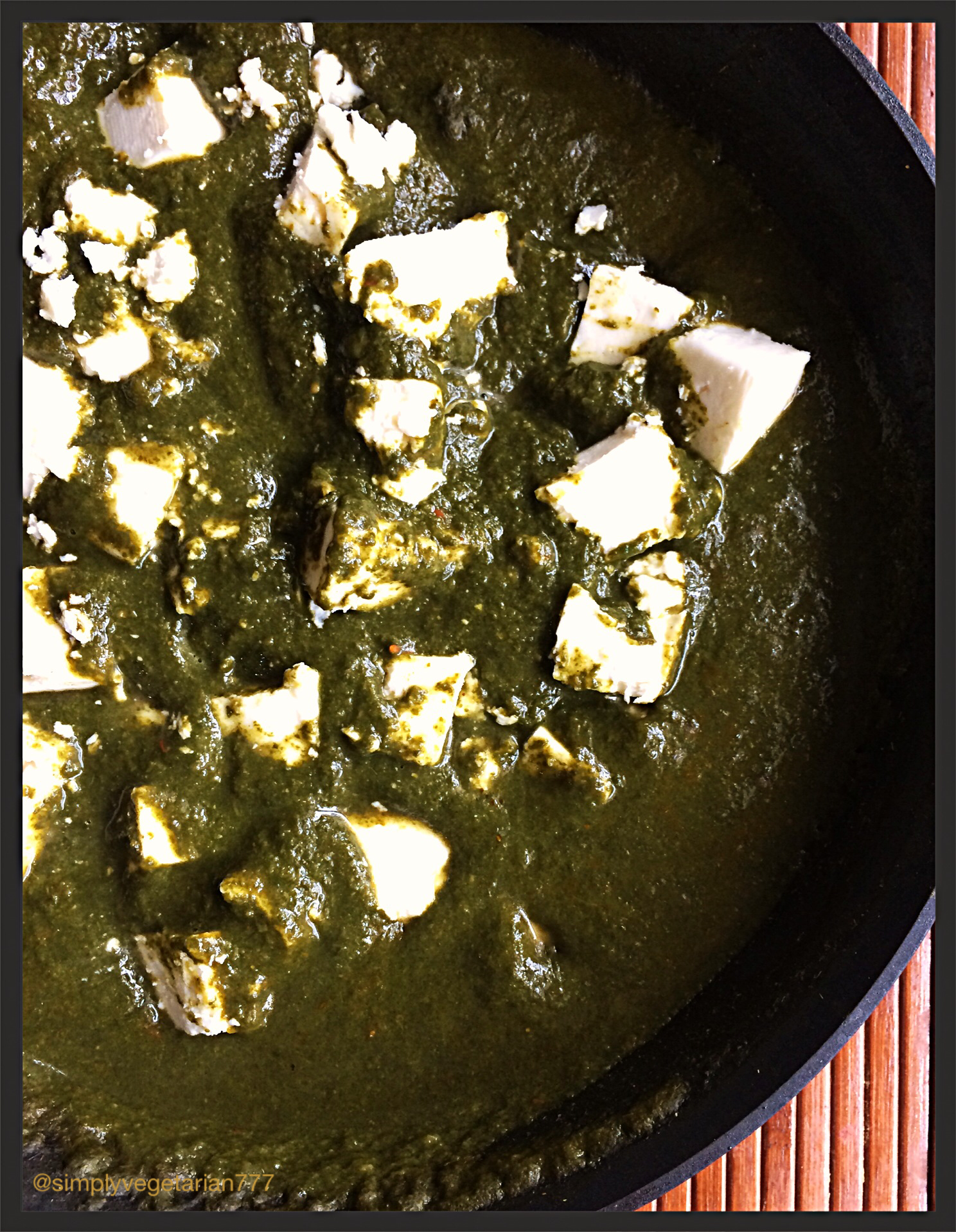 I normally soak yellow mung split dal and then grind it to paste to make savory pancakes. Mung is so healthy and we probably all know about it. I have a box of ground mung paste in my fridge to make pancakes or baked poppers. So this time when I took out the spinach purée which was already blanched and puréed, I thought why not add mung batter to it for thickening ! So here is what I did !
Ingredients and Method :
Spinach : 1&1/2 cup after cooking, washed, boiled and puréed. I use a big bag of spinach. 9 to 11 oz bag or approximately 270-300 gms fresh.
Tomato (1 medium) and 3 tbsp onion, a big piece of ginger.
Mung dal batter : 2 tbsp (see the notes below)
Oil : 1 tsp
Turmeric : 1/4 tsp
Red chili powder : 1/4 tsp or to taste
Coriander powder : 1 tsp
Water : 1&1/4 cups or more.
Salt to taste
Paneer ( Indian cottage cheese) : 1 cup cubed. See the notes below.
How to ?
1. Take a microwave safe bowl. Add chopped tomato, onion and ginger to it. Steam covered for 3-4 minutes. Take it out and blend into a purée in a blender or processor.
Heat oil in a nonstick or hard anodized pan. Add turmeric, red chili powder and coriander powder. Sauté for a while. Add tomato, onion and ginger purée. Mix well and cook for 2 minutes on medium flame.

Add spinach purée. Stir and add salt to taste. Add water.

Cover and cook on medium lower flame for 10-12 minutes. Stir often. Be careful since purées splutter a lot so keep your face back.

Add cubed paneer or firm set and cubed ricotta, mock chicken, extra firm cubed tofu or veg meatballs to it. Cover and let cook for few more minutes.
Serve and enjoy a healthy and tasty palak paneer, right in your kitchen.
Notes :
To make mung batter and make crepes out of it, check out the complete method and detail here : Mung Dal Crepes.


You may add spinach purée or beets purée or carrots purée to the batter to enrich more. I added spinach purée this time.

.

You may use Chana Dal, Red Lentils also. Just cook spinach with the dals first and then purée, if you are not using it from the batter.

You may use, firmly set ricotta, tofu or mock chicken or veg meatballs to add later. You may even add boiled chickpeas to the dish in place of any paneer or tofu and call it Saag chana.
Have fun cooking this weekend.
It's fiesta friday again at Angie's and I thought of bringing one dish which is loved by many and can be cooked in different ways, healthy and nutritious. I am up for any discussion people. Please be kind to Margy, she is co-hosting it alone this time while Angie is off on the road again ;).
Have fun people! Eat, Laugh and Mingle !
Sonal