Pista Kalakand / Pistachio Cottage Cheese Milk Cake
As an Amazon Associate and member of other affiliate programs, I earn from qualifying purchases.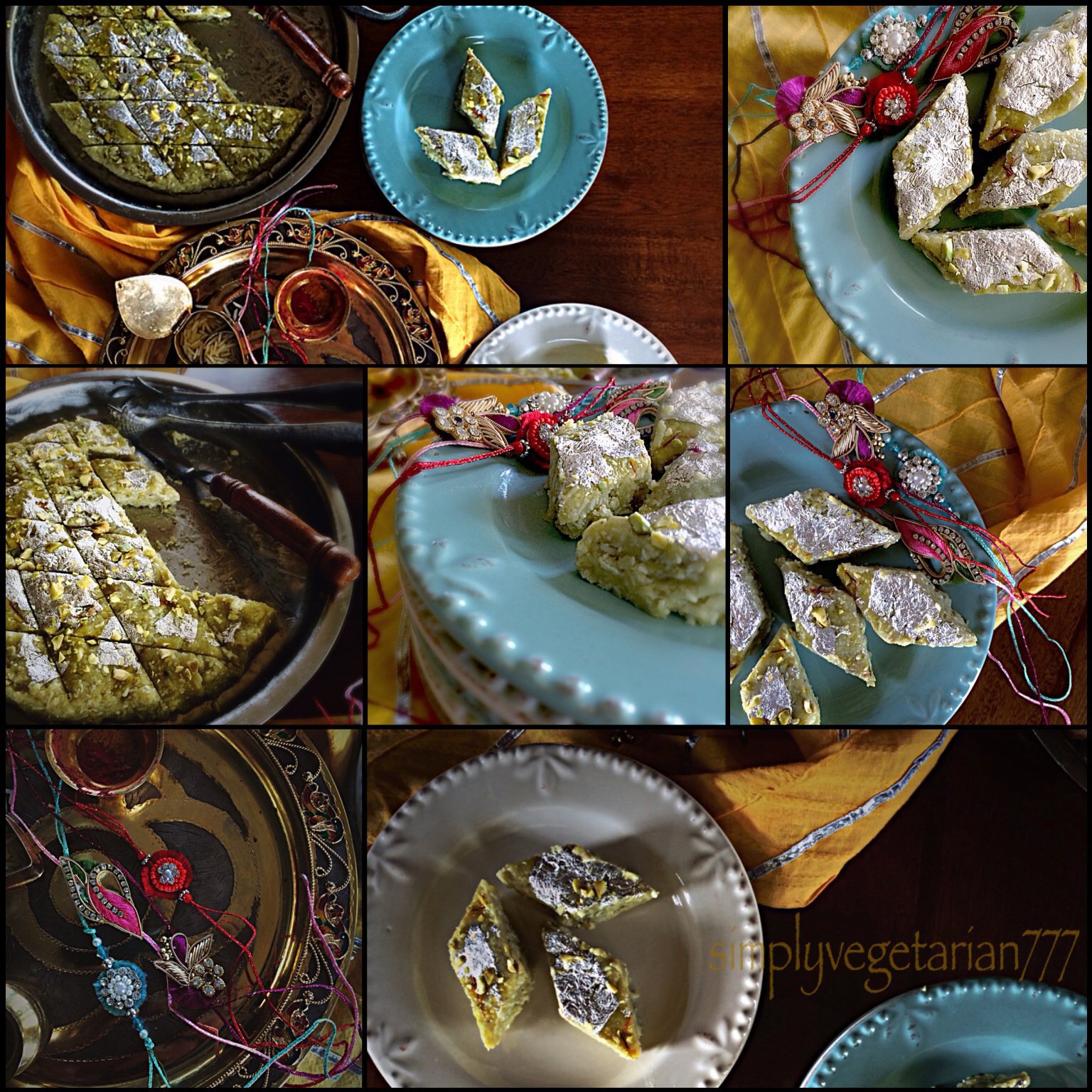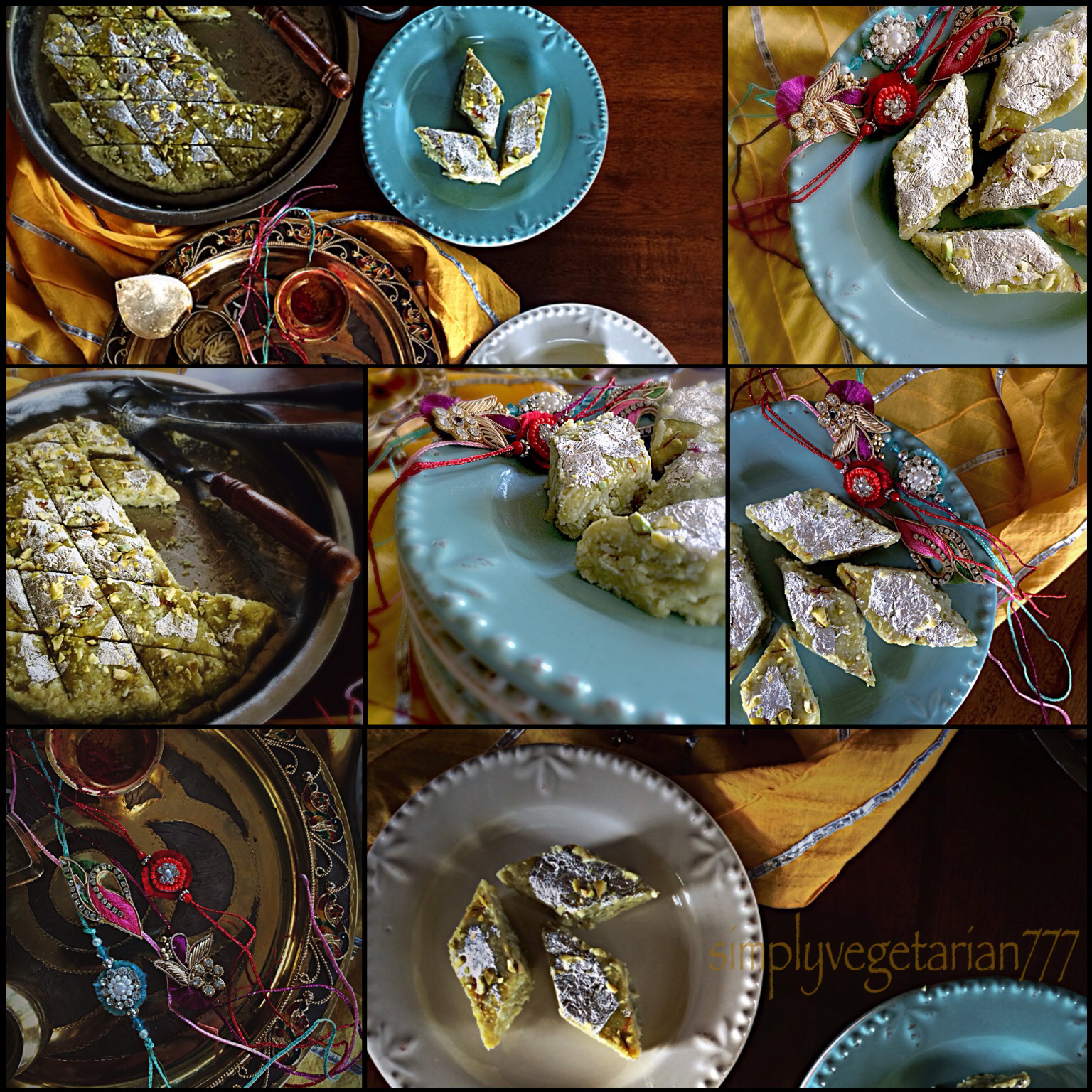 Pista Kalakand is an Indian milk cake, delicately flavored with pistachios. It makes a perfect mithai or sweet or dessert to celebrate any festival in India. It brings the desired mood to celebrate Holi or Diwali or even Rakshabandhan.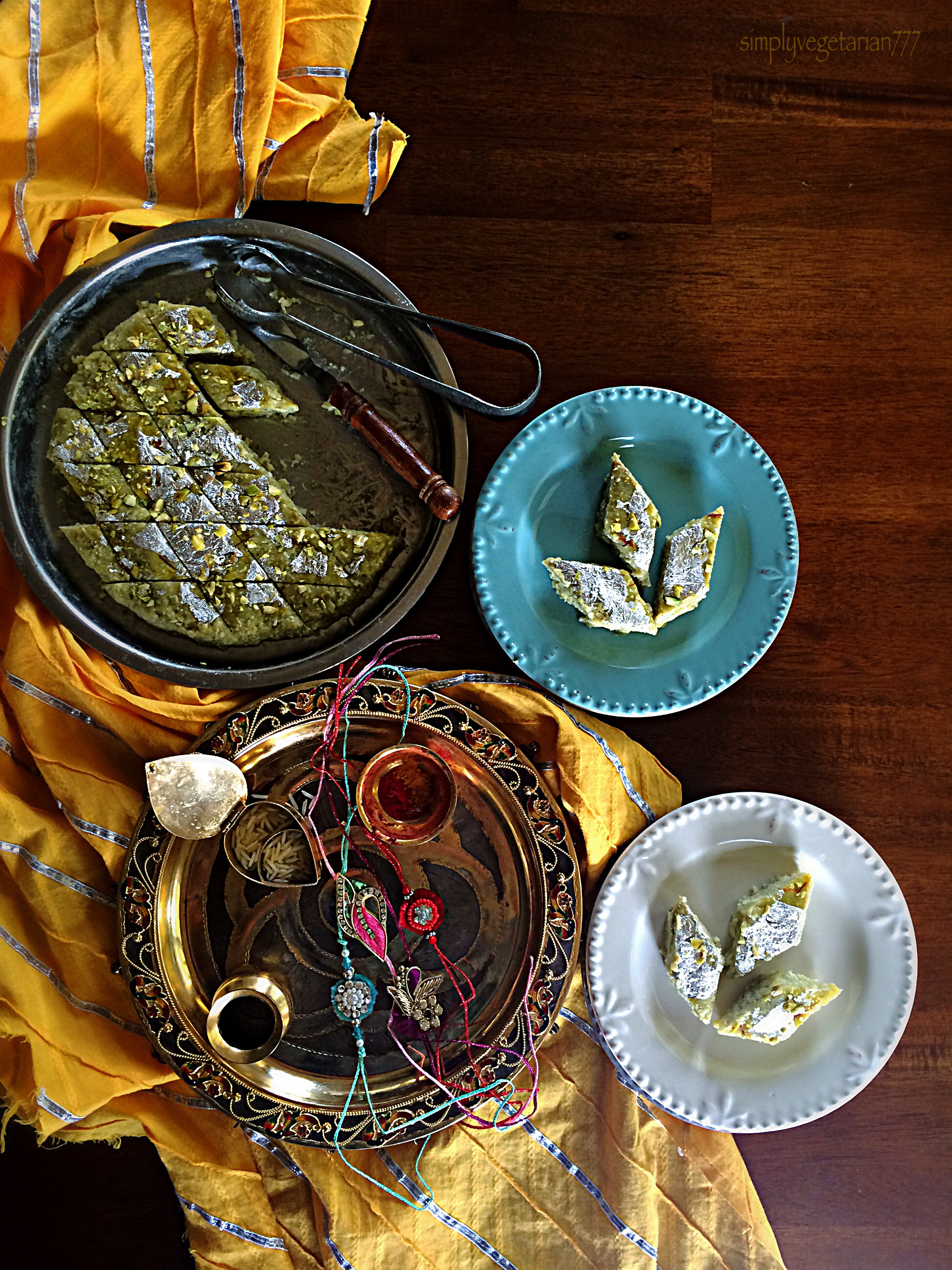 Pista Kalakand
Love this time of the year. India hits the sequence of festivals starting now, the onset of shravan/monsoon season. Teej! Rakshabandhan! Onam! Janmashtami! And then a series of others, till November end. Exciting, colorful, delicious, and busy days ahead. Not to mention, festivals lead to some emotional roller coaster rides, remembering home, family and family members….miles across.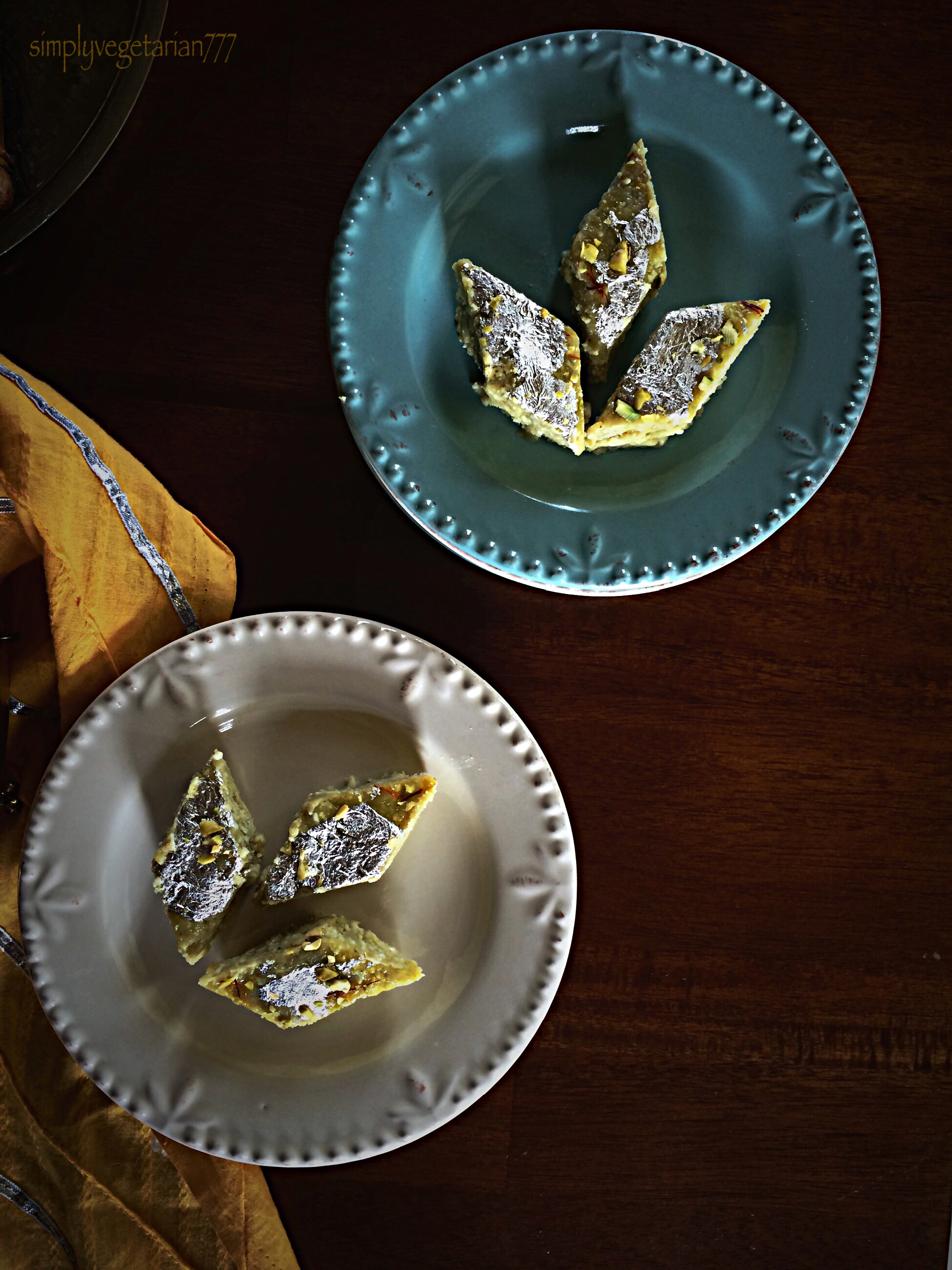 To celebrate the onset of festivals and happy days, I decided to make something that reflects a part of my childhood and added a flavor of my own.
While visiting Delhi at my Nani's house (maternal grandmother) from Bulandahahr (my home town), we used to cross a small town called Dadri. At one point, it would always be a bottle-neck traffic jam. Coincidentally, at that point there was a sweet shop and it made the most delicious milk cake…yes kalakand is also known as milk cake in some parts of the country. While stuck in traffic jam, we would buy some and feast on it. Many a times, it was a special bundle packed for gifting purpose to the relatives as well.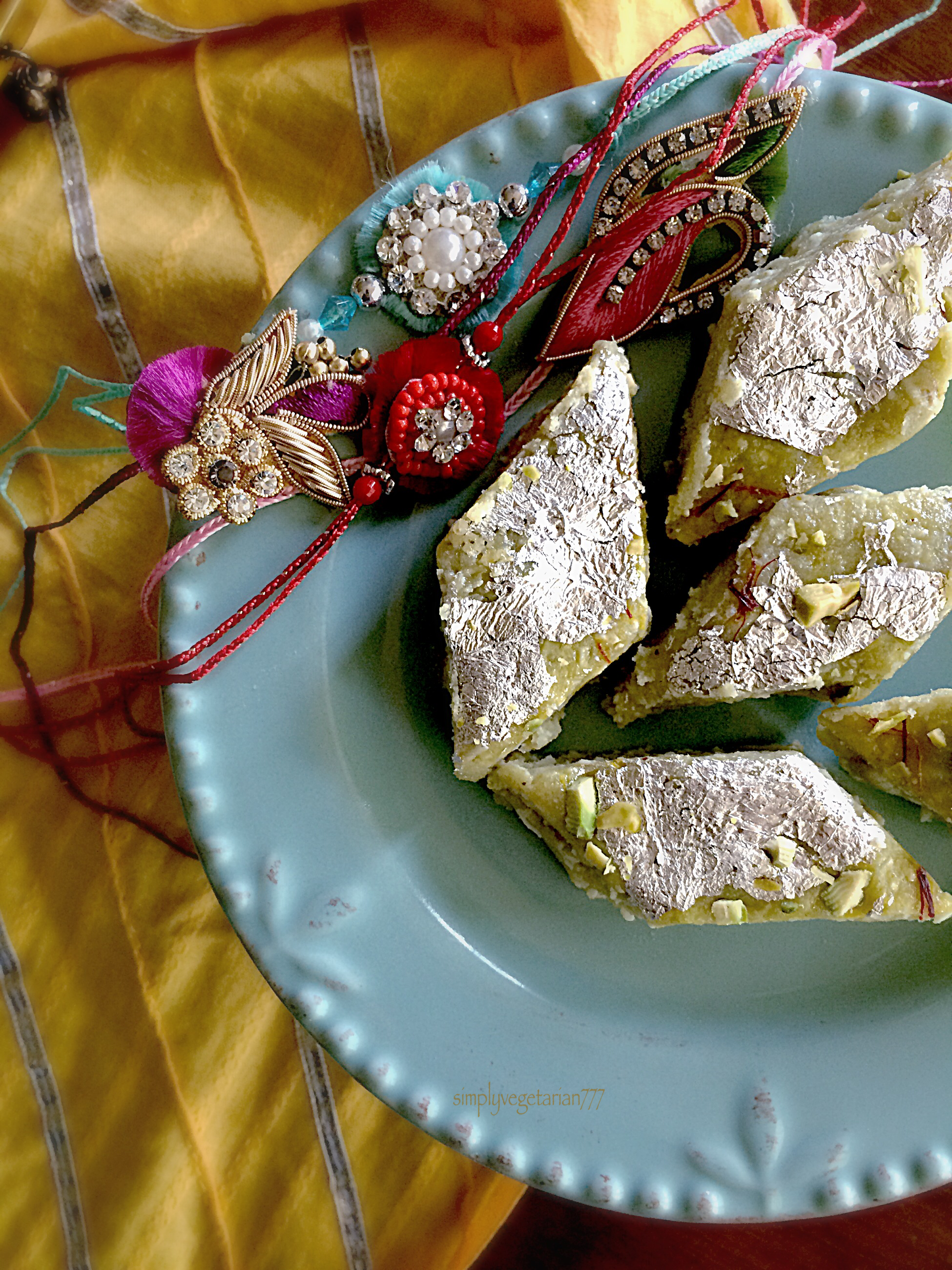 The traffic jam horns, the sweaty afternoons, the yelling street side vendors…who knew, would make golden memories one day. Adding pista is my addition to it's adulterated yet delicious version.
I prepared this keeping Rakshabandhan in mind. I am sure my brothers and sister would love it since they all are paneer fan! My kids loved it. Miss you guys more on the festivals!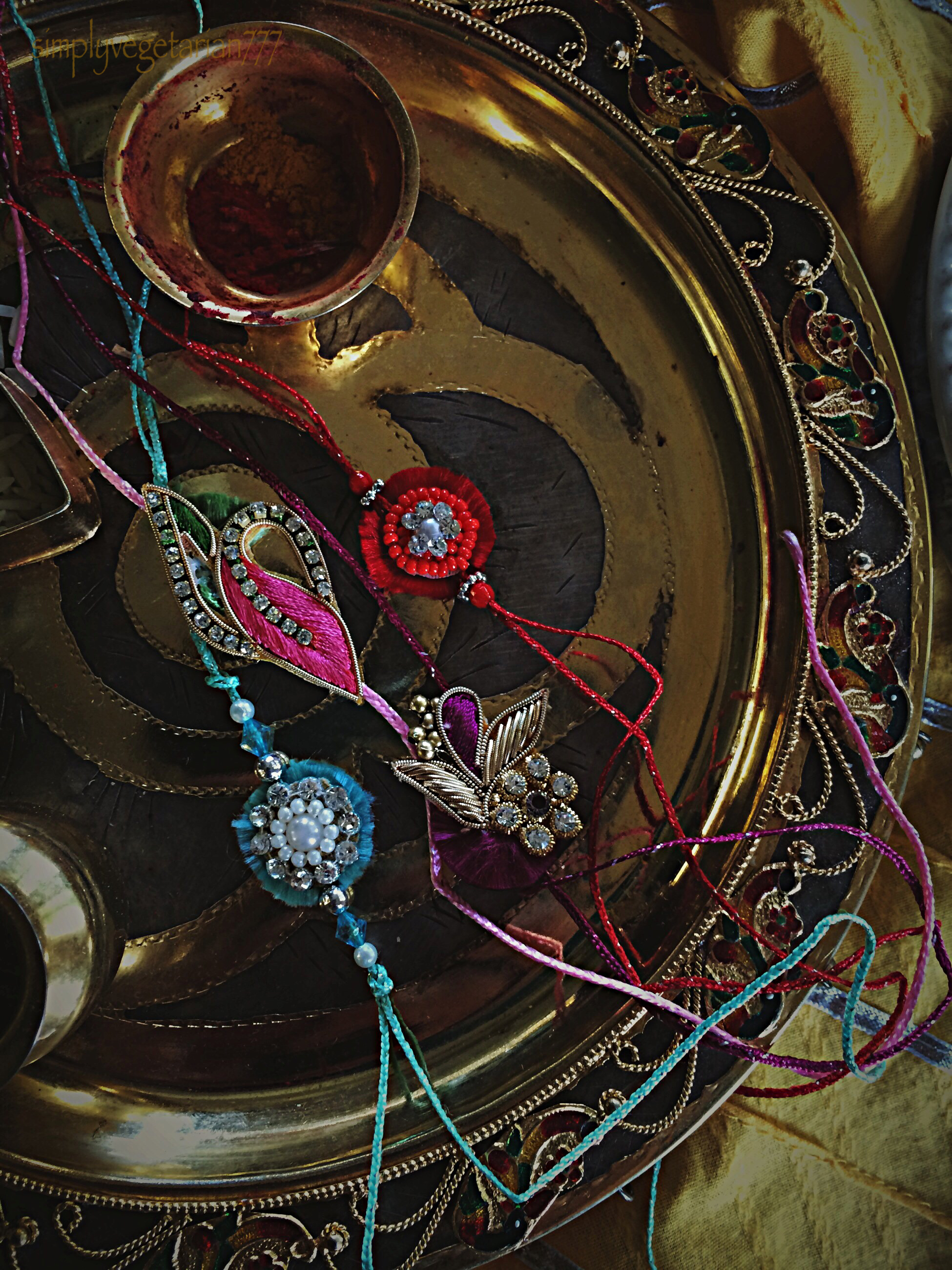 This is a part of my bi-monthly Culinary Blog hoppers Series! Do check out more deliciousness from other talented bloggers towards the end.

This is how I made it!
Pista Kalakand
Servings: 16-20 small pieces
Difficulty: easy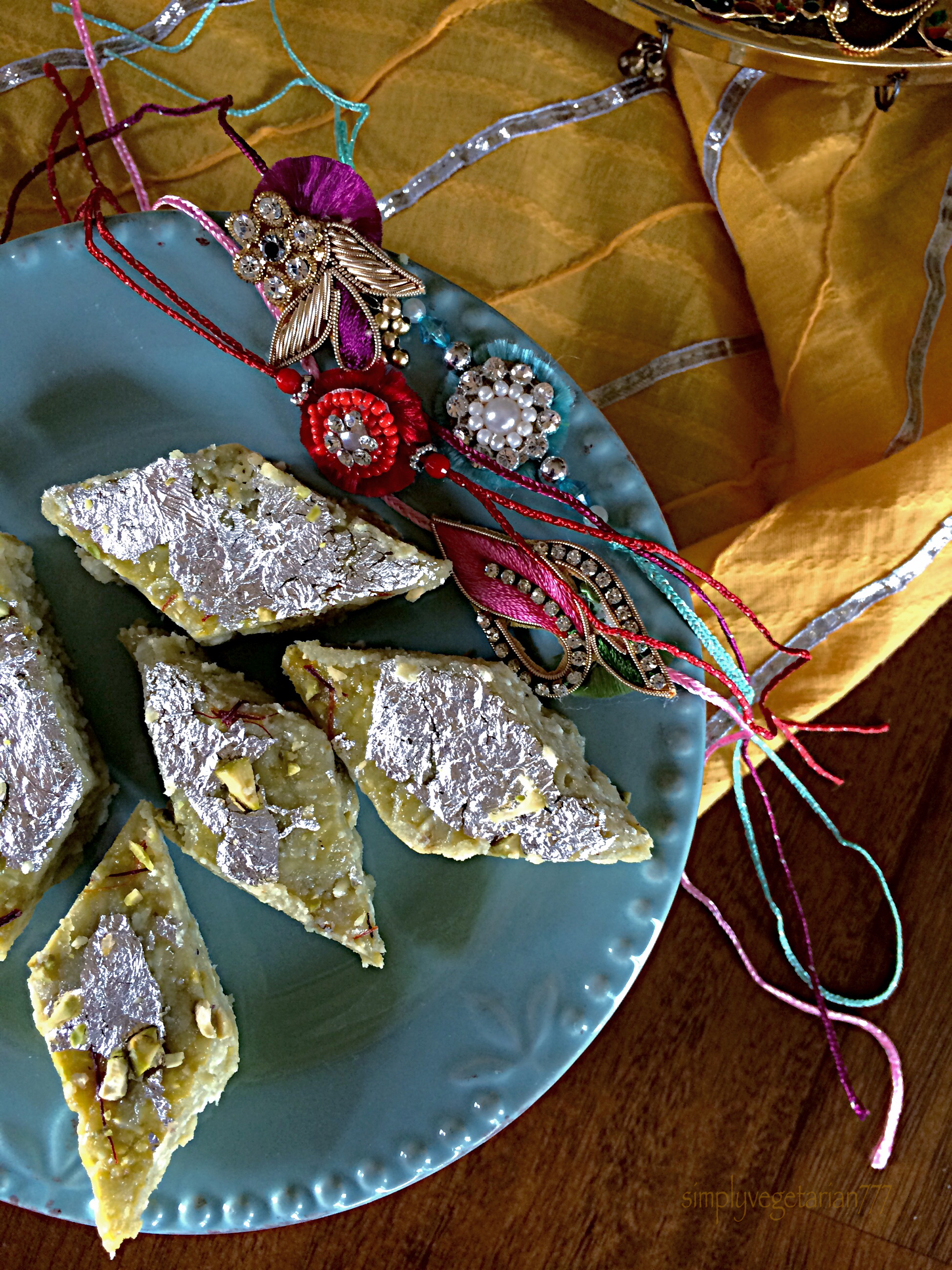 Kitchen Equipments Required
Blender, Heavy bottom pan or Kadhai, a stirring spoon, a bowl to soak the pistachios, chopping board and knife, a small bowl to soak saffron, a  6 inch diameter plate for setting the kalakand.
Ingredients
Pistachios / Pista – 50 gms
Paneer – 100 gms. Use fresh paneer (home made) or market bought. If using market bought, grate or crumble it fine. Paneer recipe. You may use ricotta cheese too.
Milk Powder – 100 gms
Ghee – 2 tbsp + some more for greasing
Milk – 1/2 cup
Cardamom powder – 1/8 tsp
Sugar – 2/3 cup. I keep my desserts moderately sweet. You may increase the sugar to 3/4 cup if you prefer more sweet.
Saffron – a small pinch soaked in 1 tsp milk.
Pistachio for garnish
Silver edible leaf for decoration, optional.
Method
1. Soak the pistachios in water for 2 hrs. After soaking, remove their greyish brown layer. Refer to the picture below.
2. Add the soaked and cleaned pistachio to the blender. Add 2 tbsp of water and make a fine paste. Use more water if required, but add little at a time.
3. Heat ghee in the heavy bottom pan. Lower the heat and add the pistachio paste. Sauté and cook it on lower medium flame, stirring continuously, till pistachio pasteeaves the side and start collecting in the center. It takes about 5-7 minutes. Continuous stirring and scraping from bottom and sides is necessary. Keep an eye on the flame and adjust accordingly. We donot want to brown the paste.
4. Add milk powder, paneer and milk to the pan. Mix it well with the stirring spoon, so that it looks like one body. Bring it to a boil. Lower the heat to medium and cook it further while stirring continuously, till it thickens and starts collecting onwards the center. It takes about 10 odd minutes.
5. Now add sugar and cardamom powder. When you will add sugar, it will expand more since sugar melts with heat. Lower the heat and cook further for another 5-7 minutes till it becomes thicker and not too dense.
6. Grease the plate. Pour the milk cake out on the plate. Grease your fingers with ghee. Slide the mix evenly to 3/4th to 1 inch thickness.
7. Spread the saffron milk evenly on top. Apply the silver leaf and sprinkle with pistachio slivers. Press it down gently with fingers.
8. Set it in the fridge for 2-3 hrs before cutting. You may set it at the room temperature as well for 4-5 hrs.
9. Cut into diamond or square shapes and serve. I love it's light pastel green hue…so confronting and soothing.
Notes
1. You may store it in the fridge for 1 week in air tight container.
2. I do not support artificial food coloring so didn't add any green food color. If you like more prominent green color, add 1-2 drops of green food color, with pistachio paste.
3. There are many kalakand or milk cake recipes available. This is my take.
4. If you don't want it to set like a fudge, make pedas out of it. Grease your hands. Pinch small lemon size pieces and roll into balls. Garnish with some saffron milk, silver leaf and crushed pistachios. Set aside for cooling.

Make this kalakand this festive season and enjoy with your family and friends!
Have a great festive season people!
Sonal!
Other Wonderful Desserts from Culinary Blog Hoppers!
Parwal ki Mithai by Shailja

Shenga Holige by Jayashree

Doodh Puli by Piyali

Lab e Shireen by Shubha
Indian festival sweets collection from Marudhu's Kitchen