Pizza Bread Discs – Meatless Monday
As an Amazon Associate and member of other affiliate programs, I earn from qualifying purchases.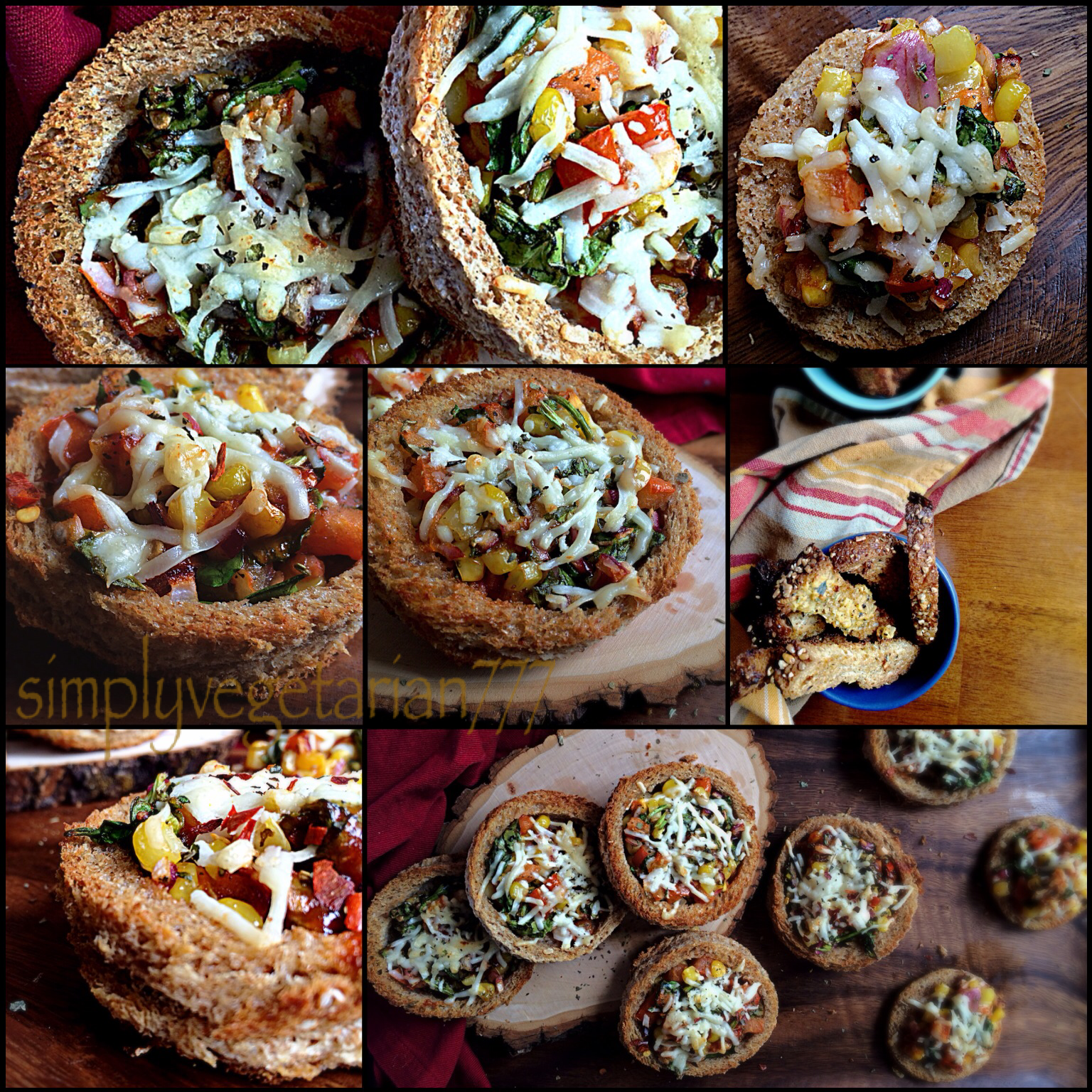 Pizza time is a family indulgence time at my corner.
I say Pizza! Family says Cheese!
I often make Bread Pizza for snacking. This time, when kids asked for the bread pizza, I got into the mood to do something fun with it. Had seen corn cheese bread discs somewhere, so thought of creating those with pizza filling. The kids were so excited and gobbled these down in no time.
So let's make these gorgeous, crunchy and scrumptious pizza discs in no time. Read till the end. I have given 2 short recipes to use leftover bread pieces. Don't like to waste and I have enough bread crumbs 😜.
Pizza Bread Discs
Servings: 4
Difficulty: easy
Chopping board, knife, 2 cookie cutters fitting to bread size or use bowls or lid, baking tray, oven, small plate, bowl.
Ingredients
Bread slices – 8
Onion – 2 tbsp, finely chopped
Bell peppers – 2 tbsp, finely chopped
Tomato – 2 tbsp, finely chopped
Spinach – 2 tbsp, finely chopped
Corn kernels (thawed/boiled) – 2 tbsp
Pasta sauce – 2 tbsp. you may use ketchup either.
Cheese, shredded – 3 to 4 tbsp. Take any available.
Italian Herb mix – 1/4 tsp
Salt n pepper to taste
Corn starch – 2 tsp dissolved in 2 tbsp water, kept in plate.
Method
Refer to the pictogram given below.
1. Preheat the oven at 425*F / 210*C.
2. Take a bowl and add all the finely chopped vegetables, pasta sauce, salt, pepper and Italian herbs to it. Set aside.
3. Take 2 slices of bread. Cut them into 2 discs of equal size. Take 1 disc and punch a smaller disc in the middle using a slightly smaller cookie cutter. It will resemble a ring. Use 2 different size katoris or bowls in case you don't have cookie cutters. Refer picture 1.
4. Dip the ring in the corn starch mixture lightly. Stack it on the top of the disc. It will create a space in te middle resembling an edges disc. Refer pic 2 & 3.
5. Pile these discs' center with vegetable filing. Top with shredded cheese. Refer to pic 4 & 5.
6. Bake these for 10-12 minutes. Grill or Broil for 10-15 seconds to attain more golden color. Crunchy and Scrumptious Pizza Bread Discs are ready to be gobbled down.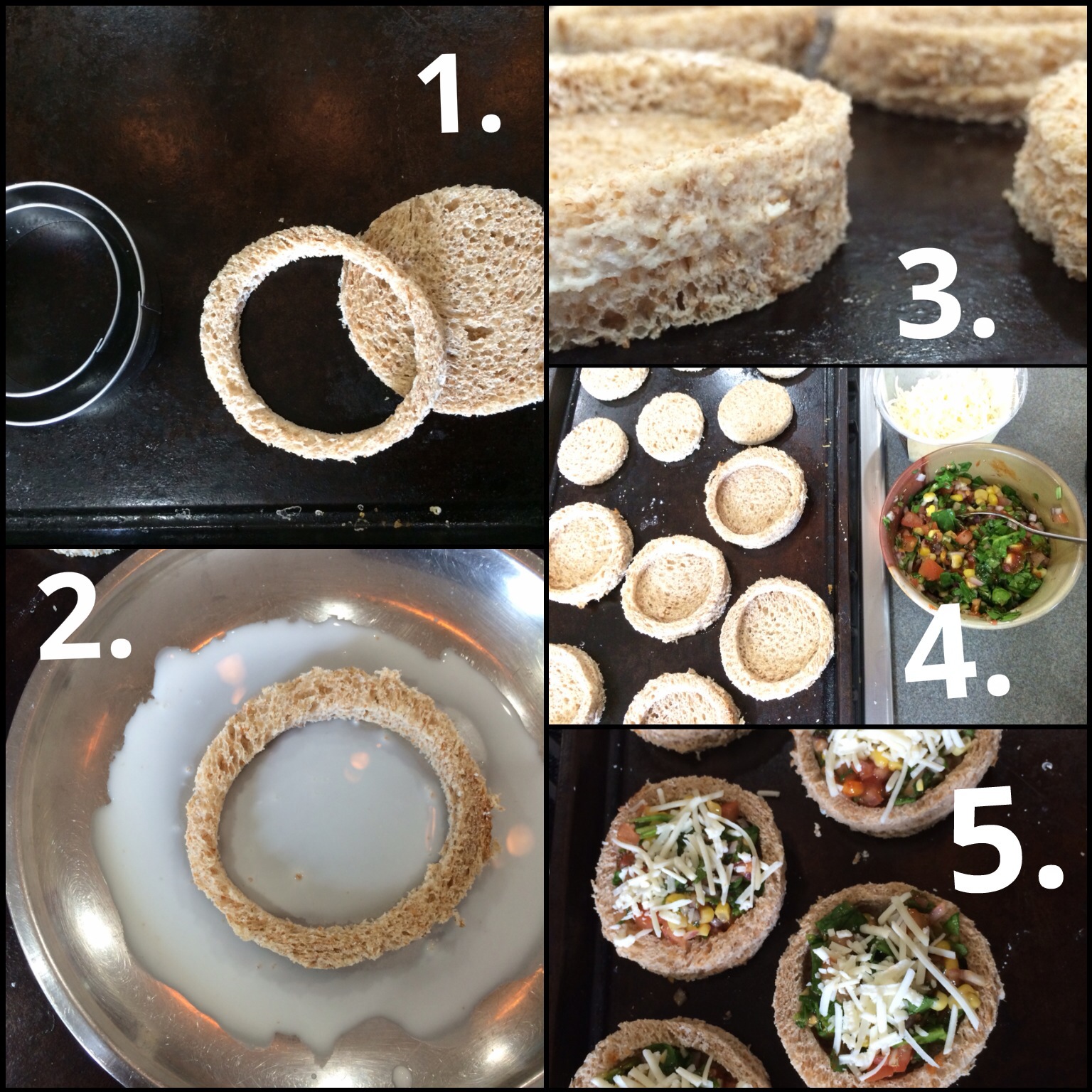 Enjoy with family and friends!
2 recipes to use leftover bread discs and sides !
1. Bread Canapies
Use these to create round bread pizza with similar filling as given below.
Cut the sides of te left over bread and make sticks. Toss them in melted butter, some grated garlic and herbs. Bake these on 400*F for 7-8 minutes till crisp.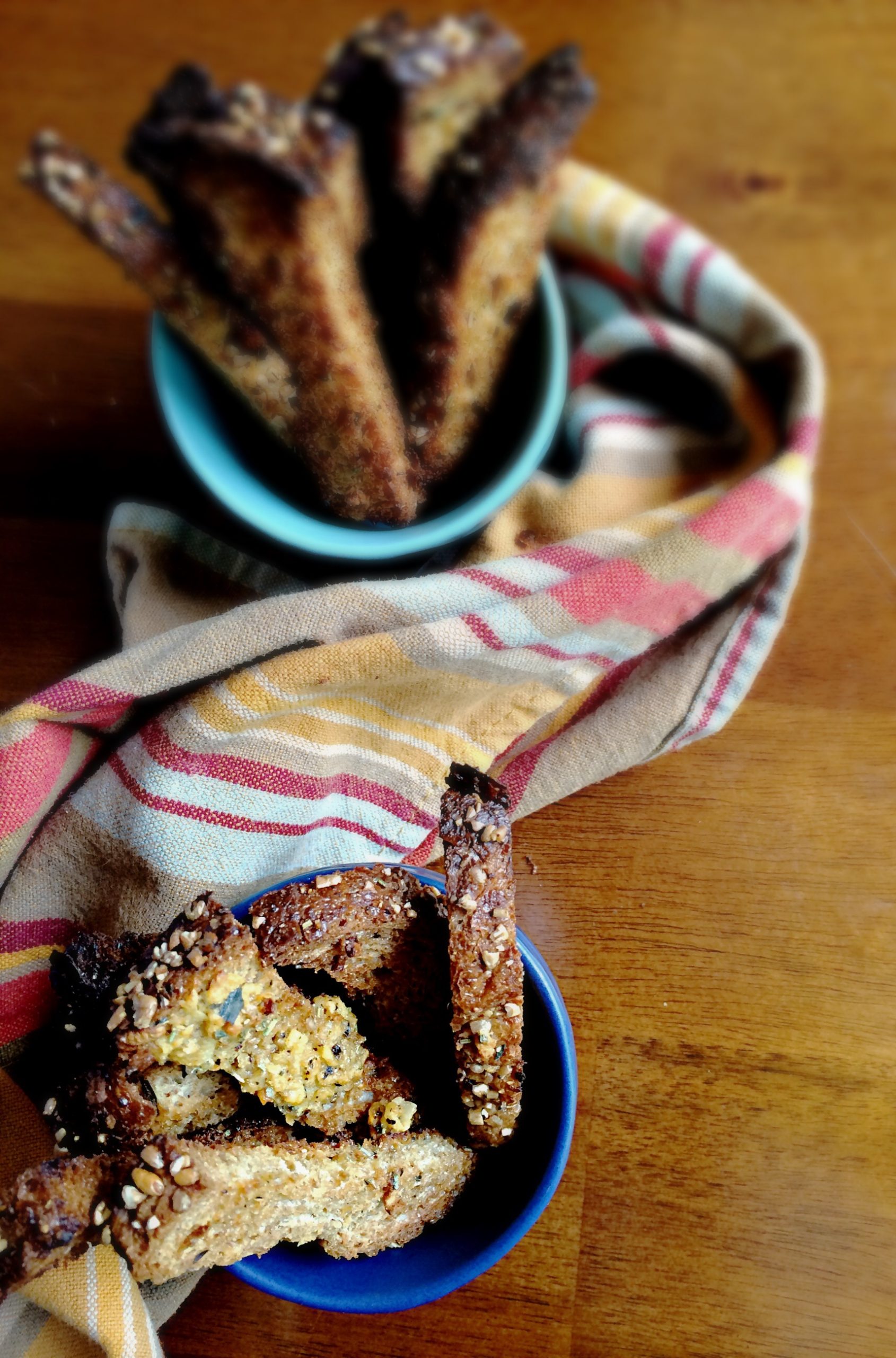 Sonal