Potato and Peas Pockets (Baked) : Happy Birthday KFB
As an Amazon Associate and member of other affiliate programs, I earn from qualifying purchases.
Wishing KFB a very happy birthday for completing one year successfully.
When Sarani Tarafder of Back to Basics, Cocoa Wind contacted me to participate in this wonderful and absolutely eye drooling virtual birthday party of KFB, I was ecstatic. Thanks Sarani for calling out for me :). KFB stands for Kolkata Food blog and is a group of some wonderful bloggers who connect and share and create food and events. The KFB event of the month is their birthday celebration, where they are calling all the foodies and bloggers from all around the globe to submit their yummy appetizers and/or desserts. It is a virtual party. Sounds like so much fun :). Check out their FB page, to see more fun recipes to add to your collections.
I am going to the party with my Baked Peas and Potato Pockets, which are a healthier take on fried bread Rolls :). I am sure they are going to be such a party pleaser since they are "healthier" and oh so delicious and very cute. A perfect finger food.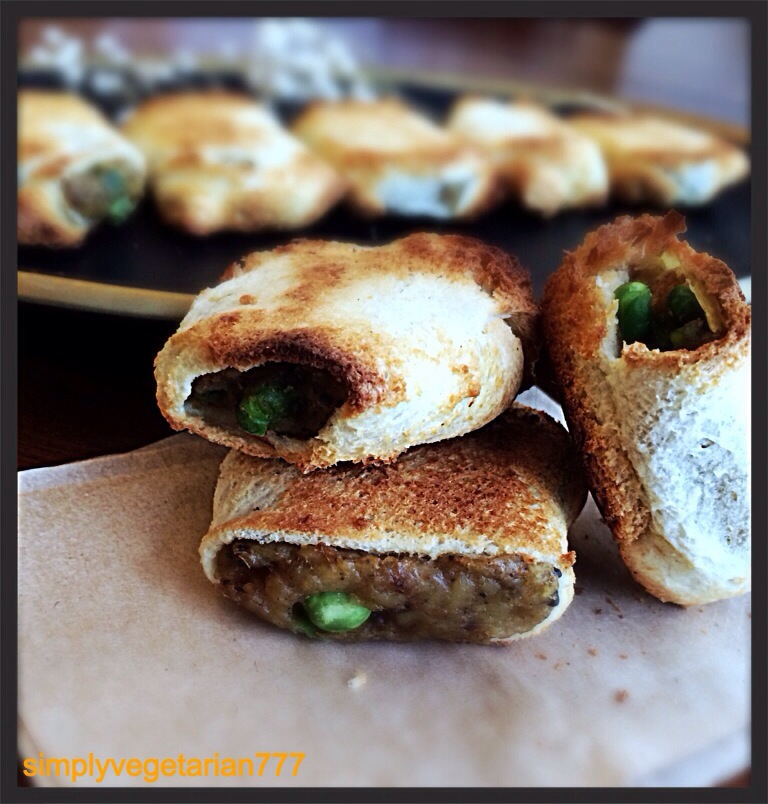 I know you want it…fresh out of the oven, hot and yummy!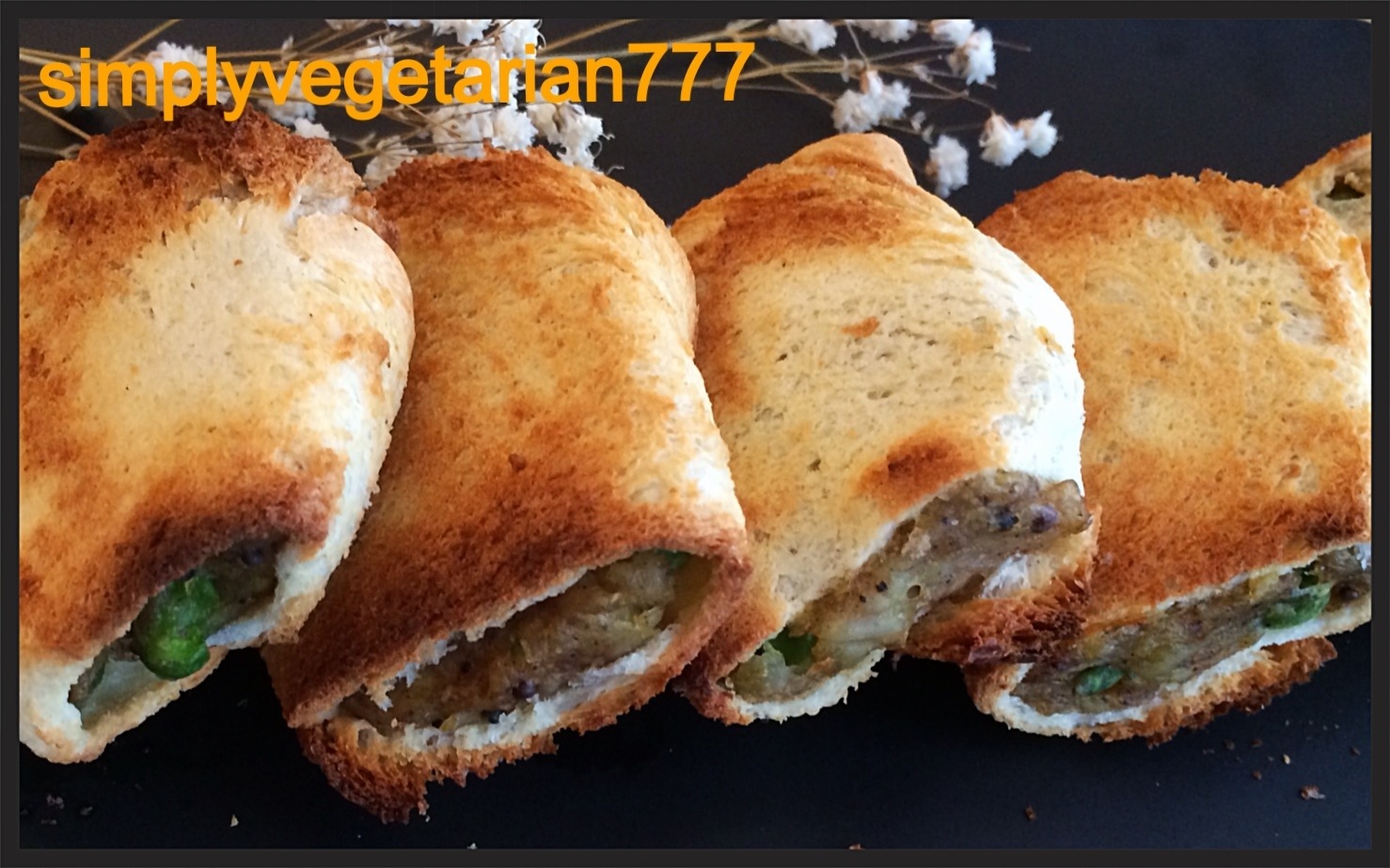 Ingredients :
Yields : 10 pockets
Serves : 5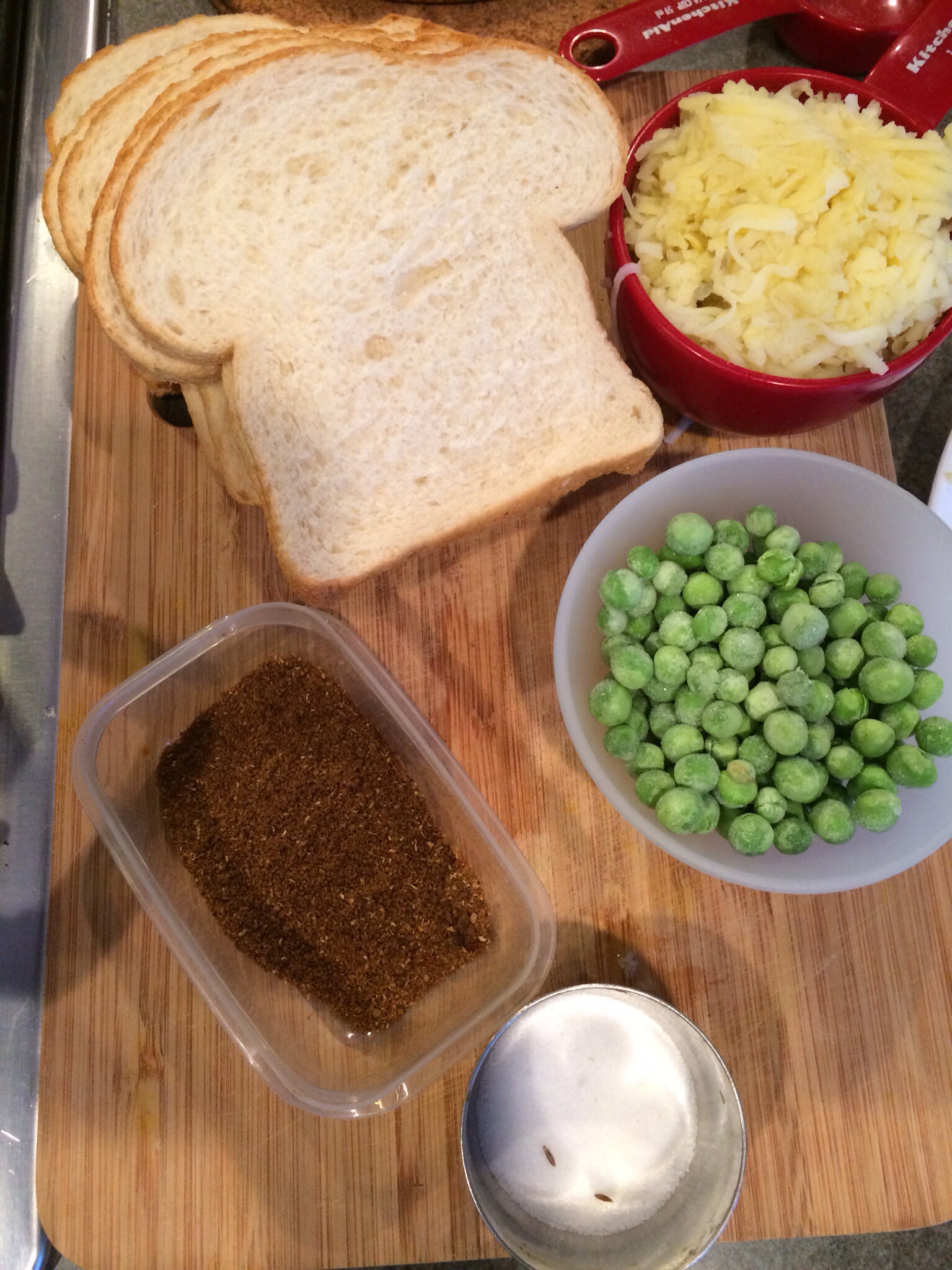 Oil : 1/2 tbsp
Black mustard seeds : 1/4 tsp, optional
Potatoes : 1 cup or 1 big, boiled and grated
Peas : 1/2 cup. If using frozen, thaw and microwave for 2 minutes. If using fresh, boil till soft.
Bread slices : 5. You may use white or wheat or whole grain or multigrain.
Garam Masala : 1/2 to 1 tsp, as per taste. I used 1 tsp and loved the heat.
Salt : to taste
Notes :
You may substitute the Garam Masala with Italian spice mix or Cajun Spice mix as well.
Potatoes and Peas can be substituted with Corn kernels, jalapeño and Cheddar stuffing as well.
Method :
Preheat the oven at 450F or 225C. Line a cookie or baking sheet with foil.
Heat oil in a pan. Add mustard seeds. Once they crackle, add Garam Masala and salt to taste. Stir for 10-15 seconds on low flame.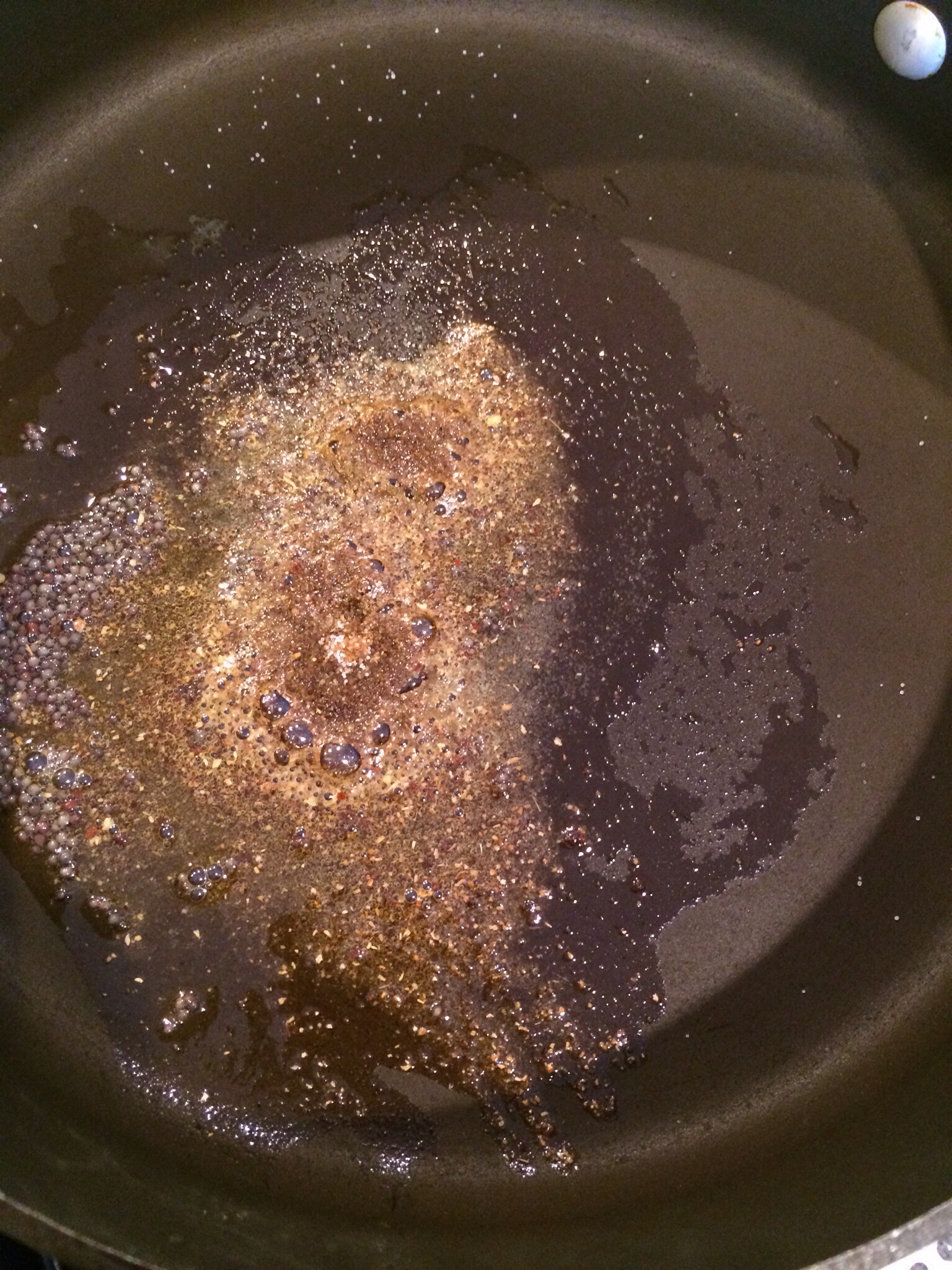 Add grated potatoes and peas. Mix well with the spices. Cook for 2 minutes. Your stuffing is ready.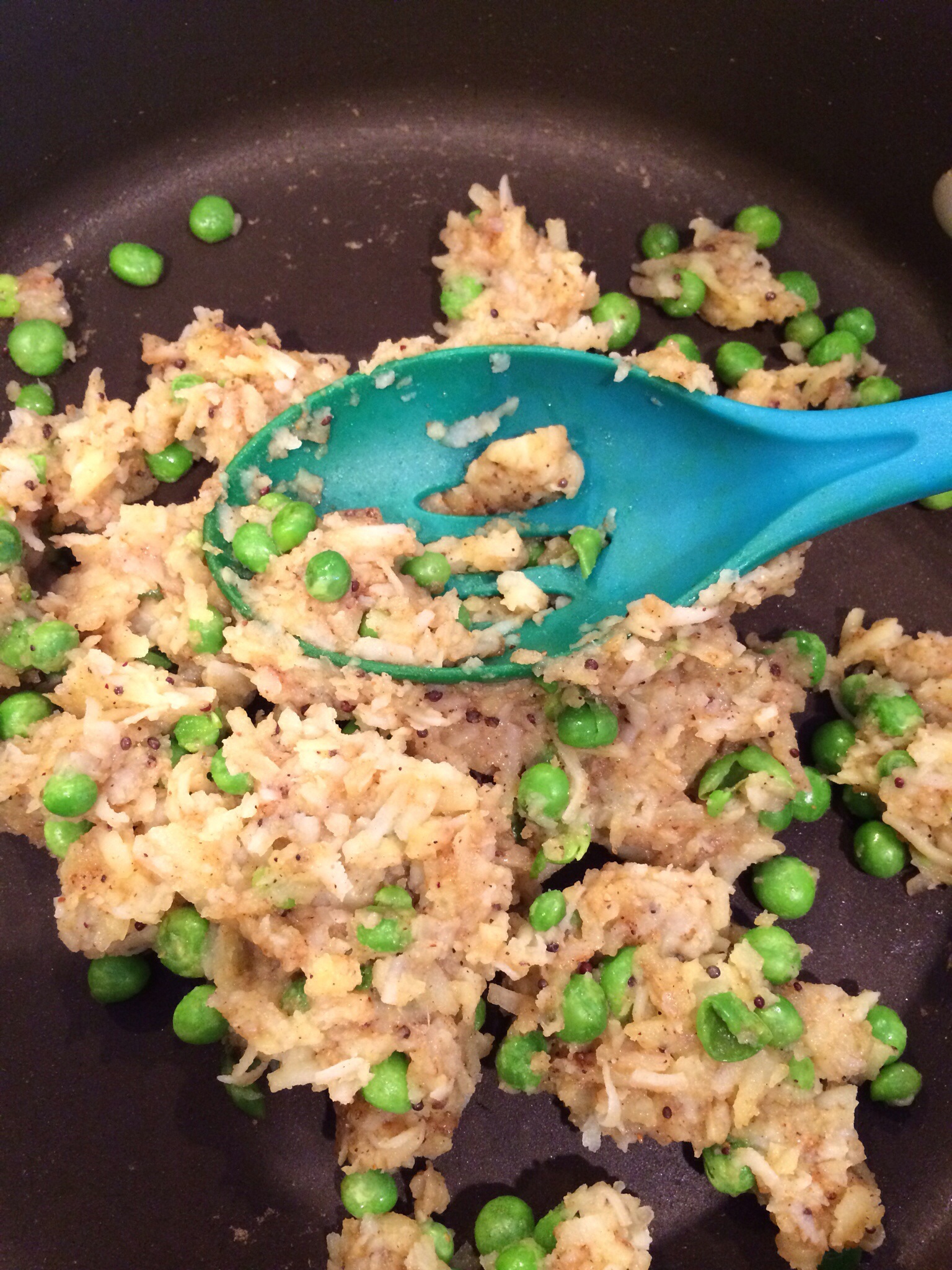 Now take a cutting board or use a clean counter. Put a bread slice on the board. Flatten it out with Rolling pin.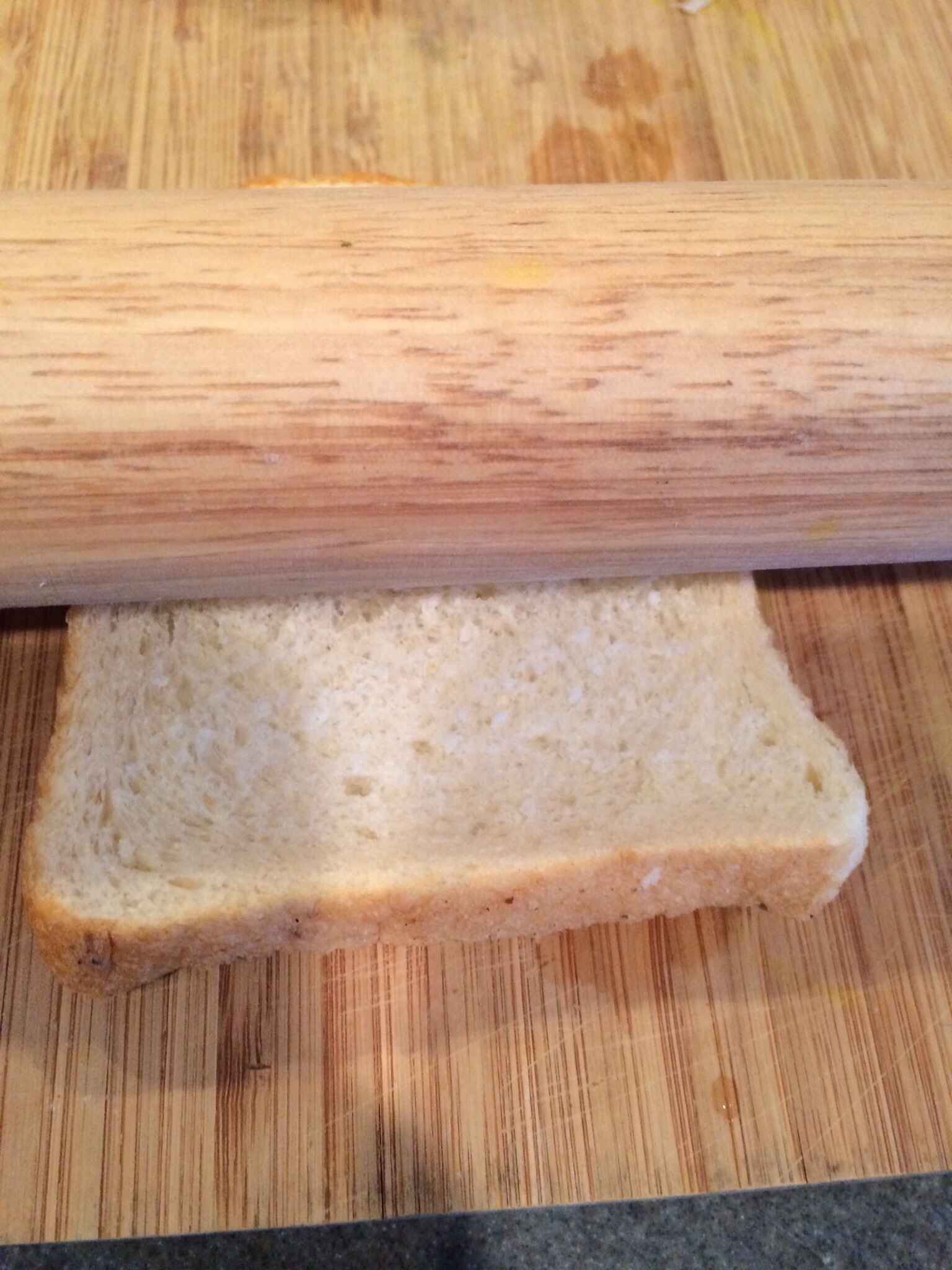 Cut the flattened slice with a knife into 2 triangles. Dampen the slices lightly with wet hands. Do not drench with water. Make sure the crusty sides are nicely wet. Add 1 Tbsp of filling in the center of each triangle.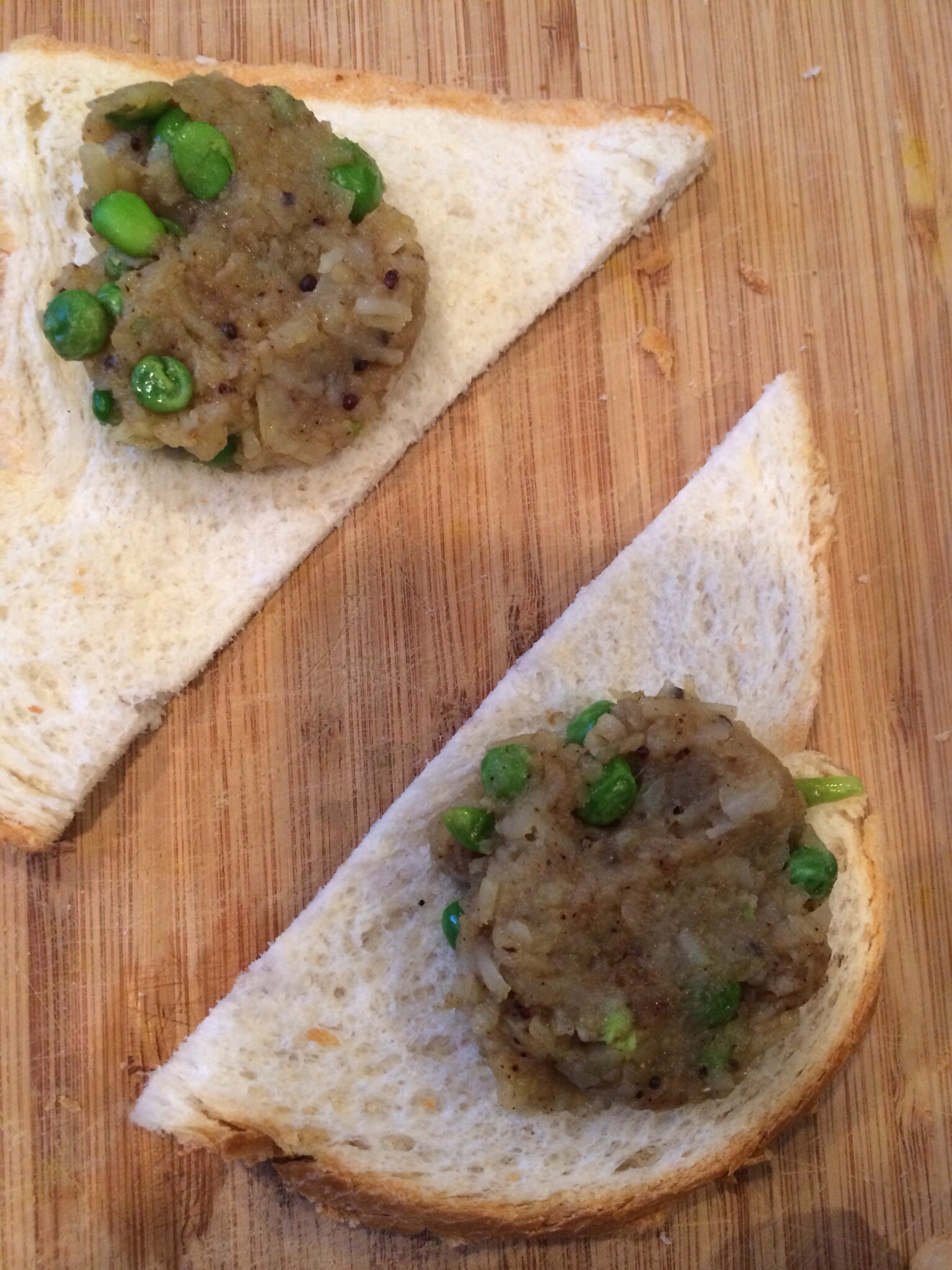 Now start packing it up. Bring one long arm of the triangle on top of the filling. Now bring the other long arm on top. Covering it from 2 sides. Now bring the tip of the triangle down and press covering it from 3 sides. If required, use slightly damp hands to press them and set them. Little tear, if happens, doesn't matter. Try not to tear though. Be gentle.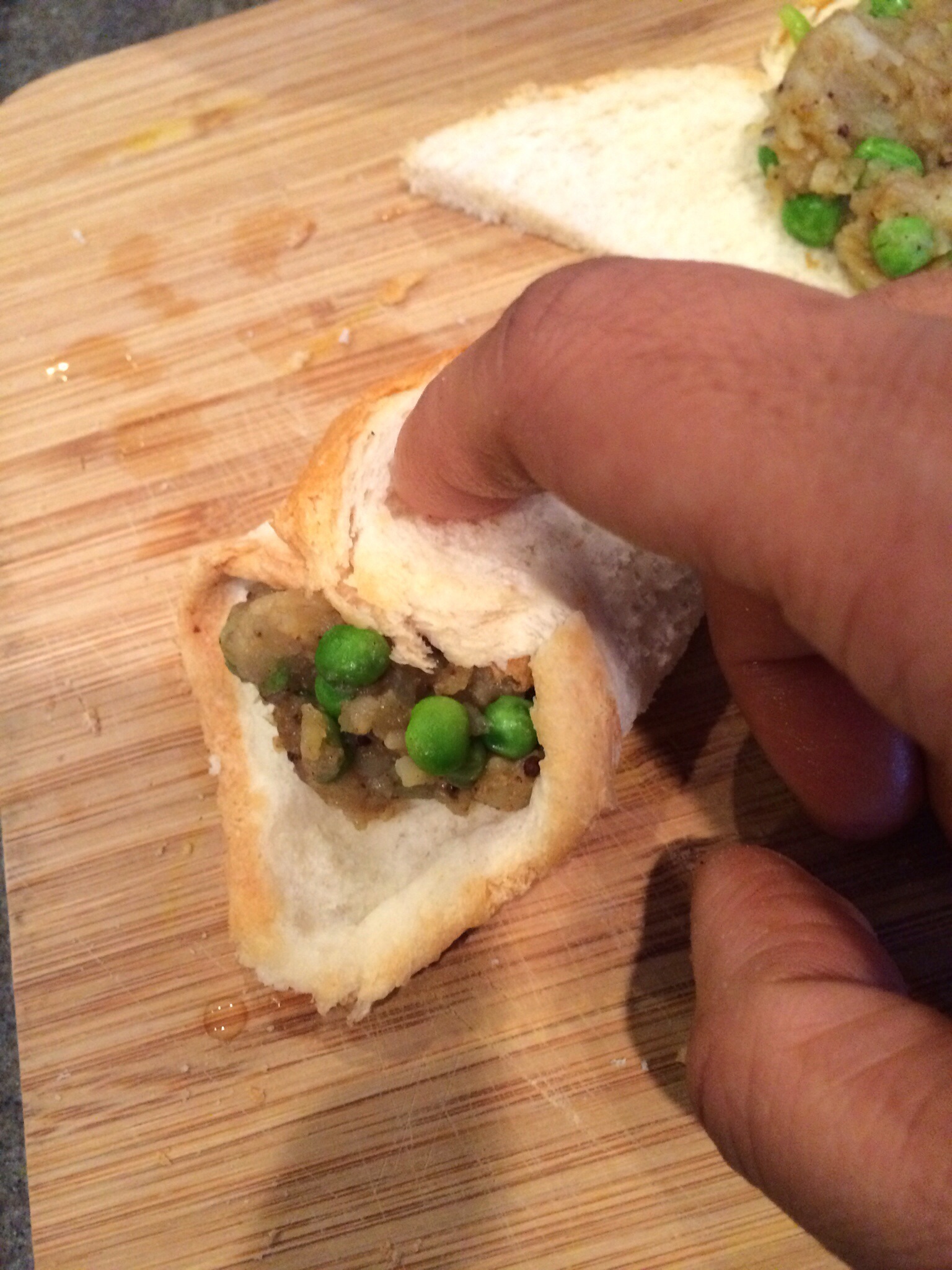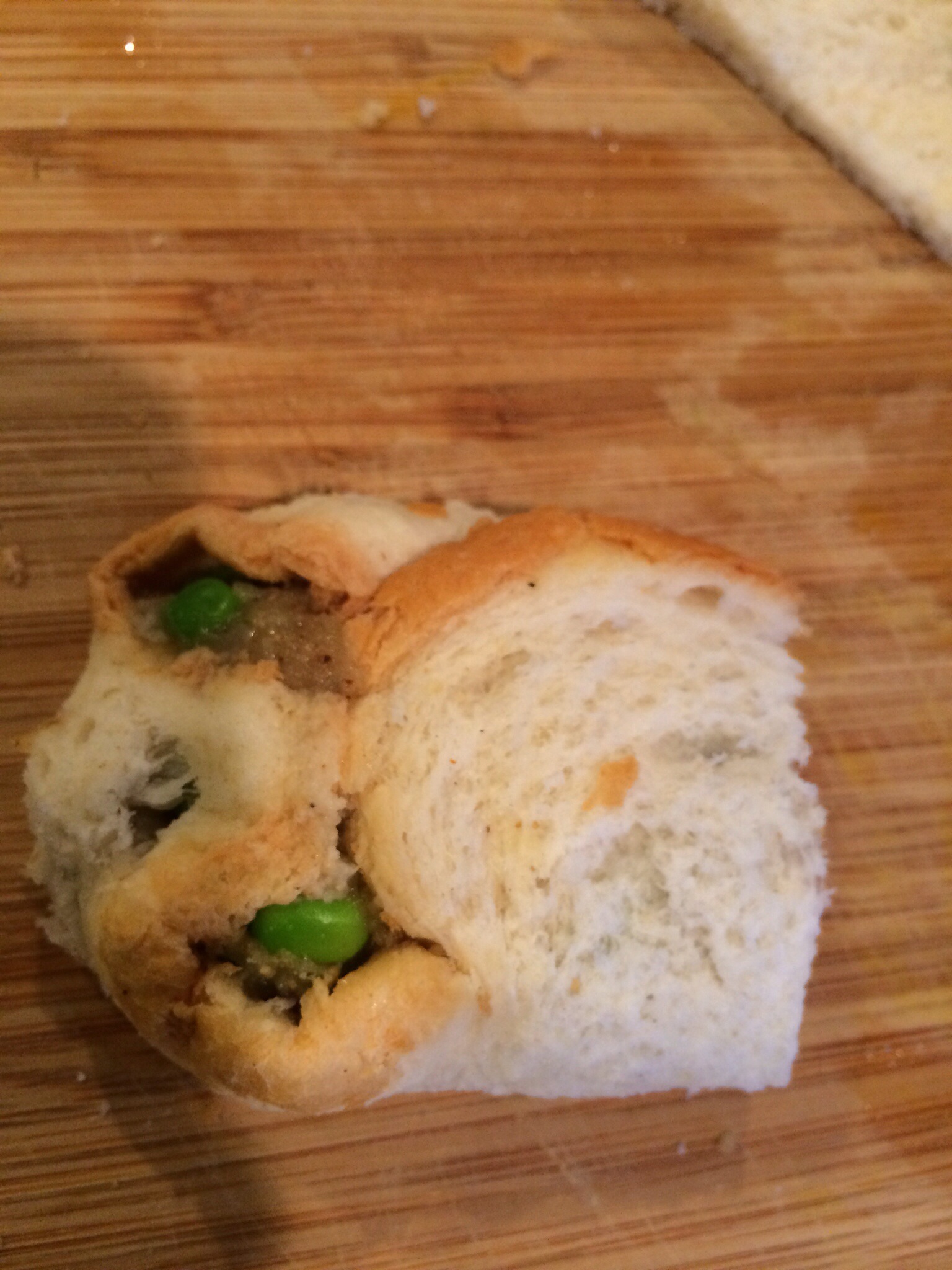 Place this finished pocket on the baking tray, seam side down. Finish all the remaining filling and bread slices to make these cute pockets.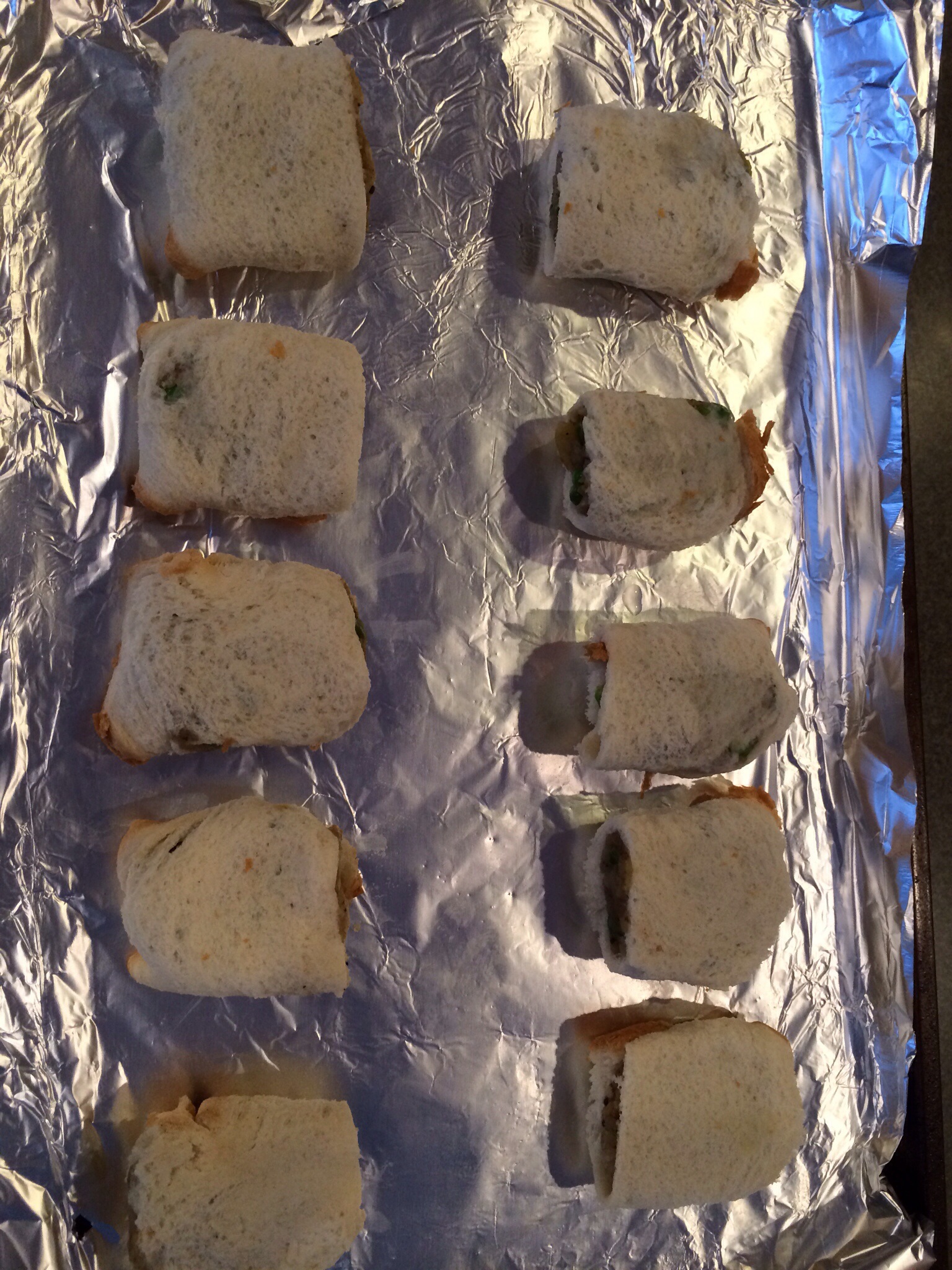 Bake at 450F or 225C for 8-10 minutes, on the top rack or adjust the racks accordingly in the oven. Flip the pockets at the interval of 4-5 minutes for even browning. If you want darker color, broil on high for 1/2 minute each side. Please please please do not leave them from your sight for a single second or else they will burn. The deliciousness is ready. I bet my party people will love the no oil crunch of these oh-so-cute pockets ;).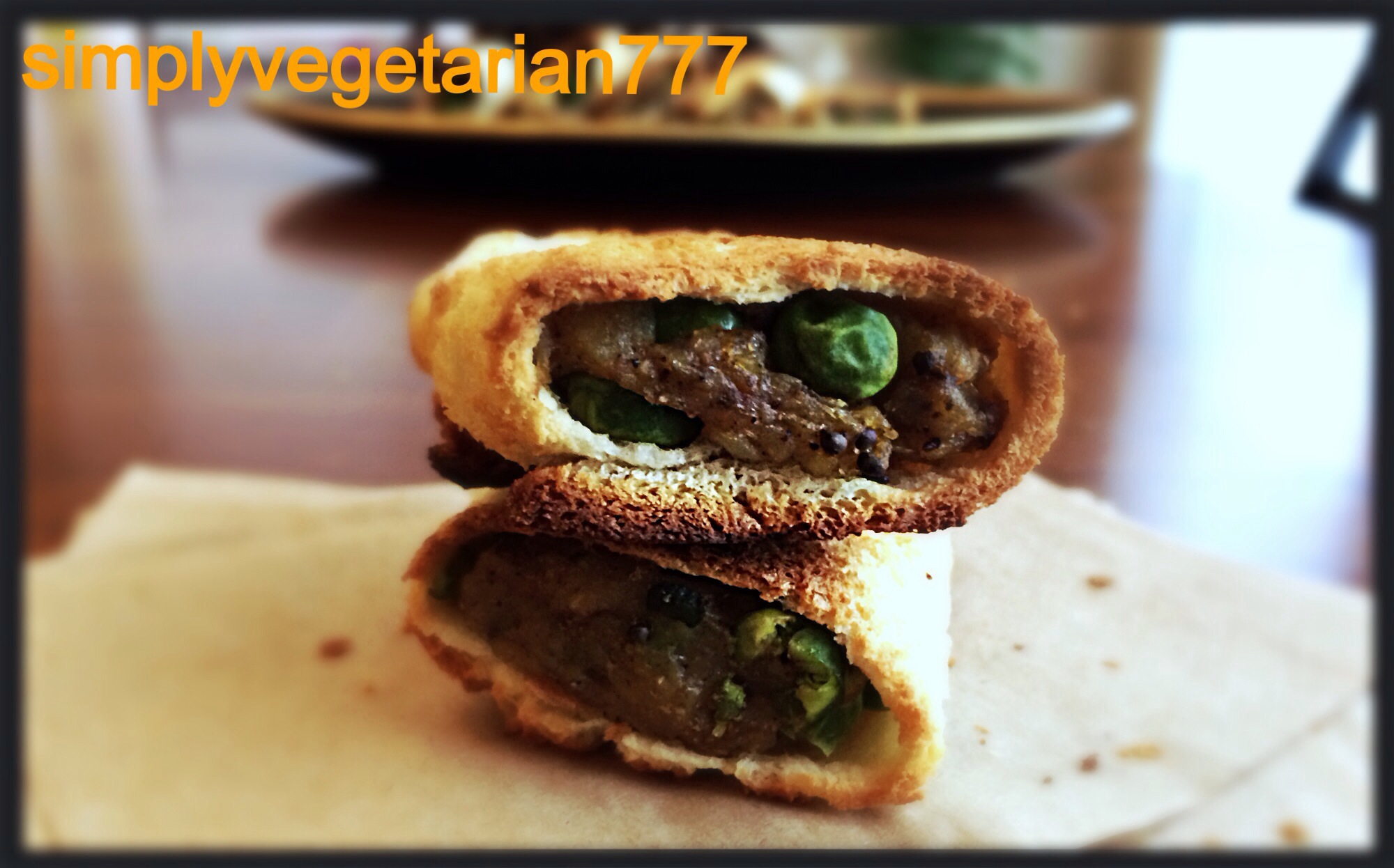 Proudly Displaying the KFB Birthday Badge.