Potato Hasselbacks
As an Amazon Associate and member of other affiliate programs, I earn from qualifying purchases.
Potato Hasselbacks are the Swedish Invention, discovered by the chefs at Restaurant Hasselbacken in Sweden.
It is a fancier but not complicated, version of a single potato, sliced into very thin wedges but left joined at the bottom, baked until the layers fan out crisp and golden.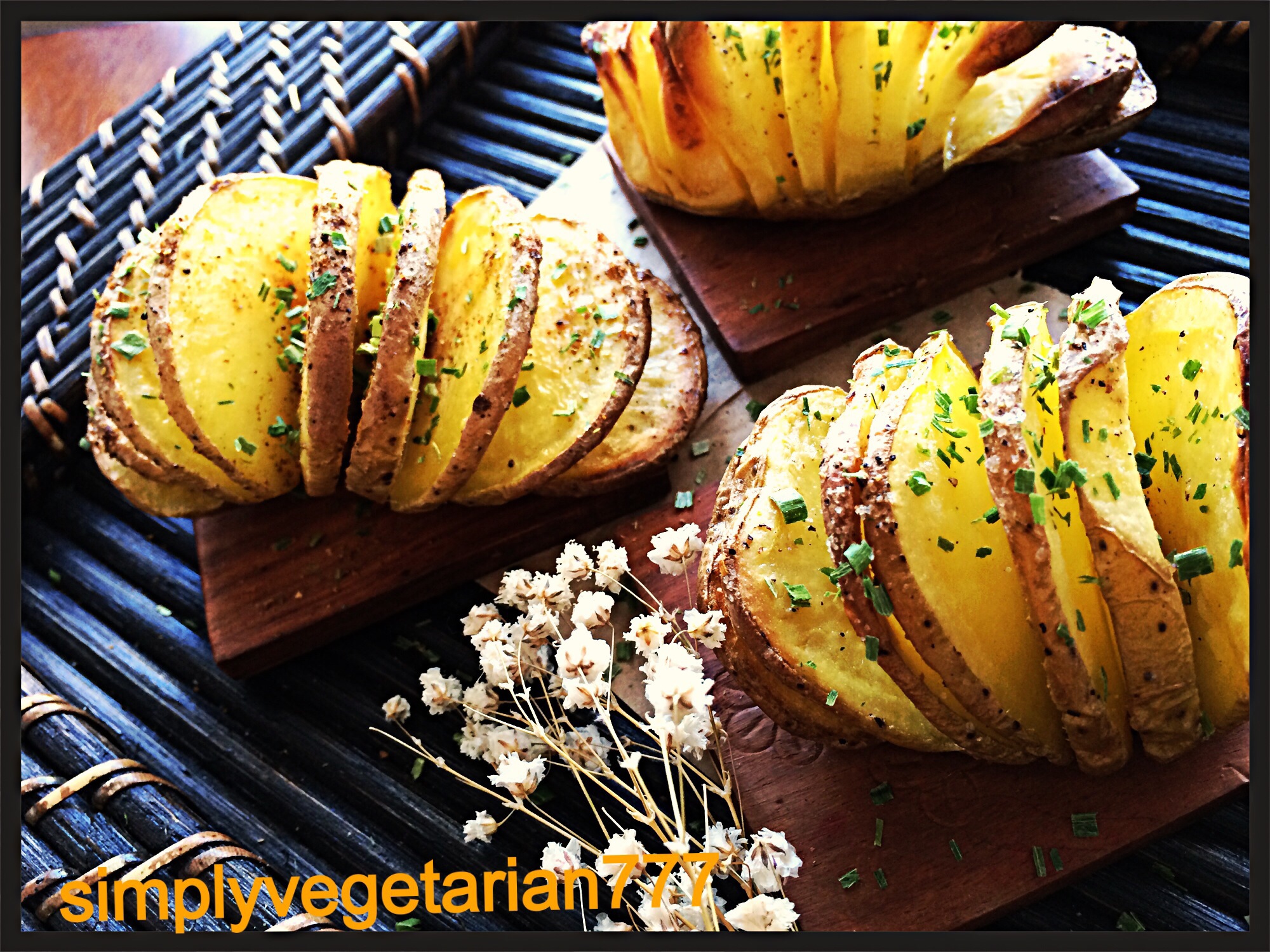 Lately, there has been a huge buzz about these beauties and seems like everybody is trying their hands at it. Inspired by the buzz, I painted my hands too with the hasselbacks :). It took time to bake but wasn't complicated at all!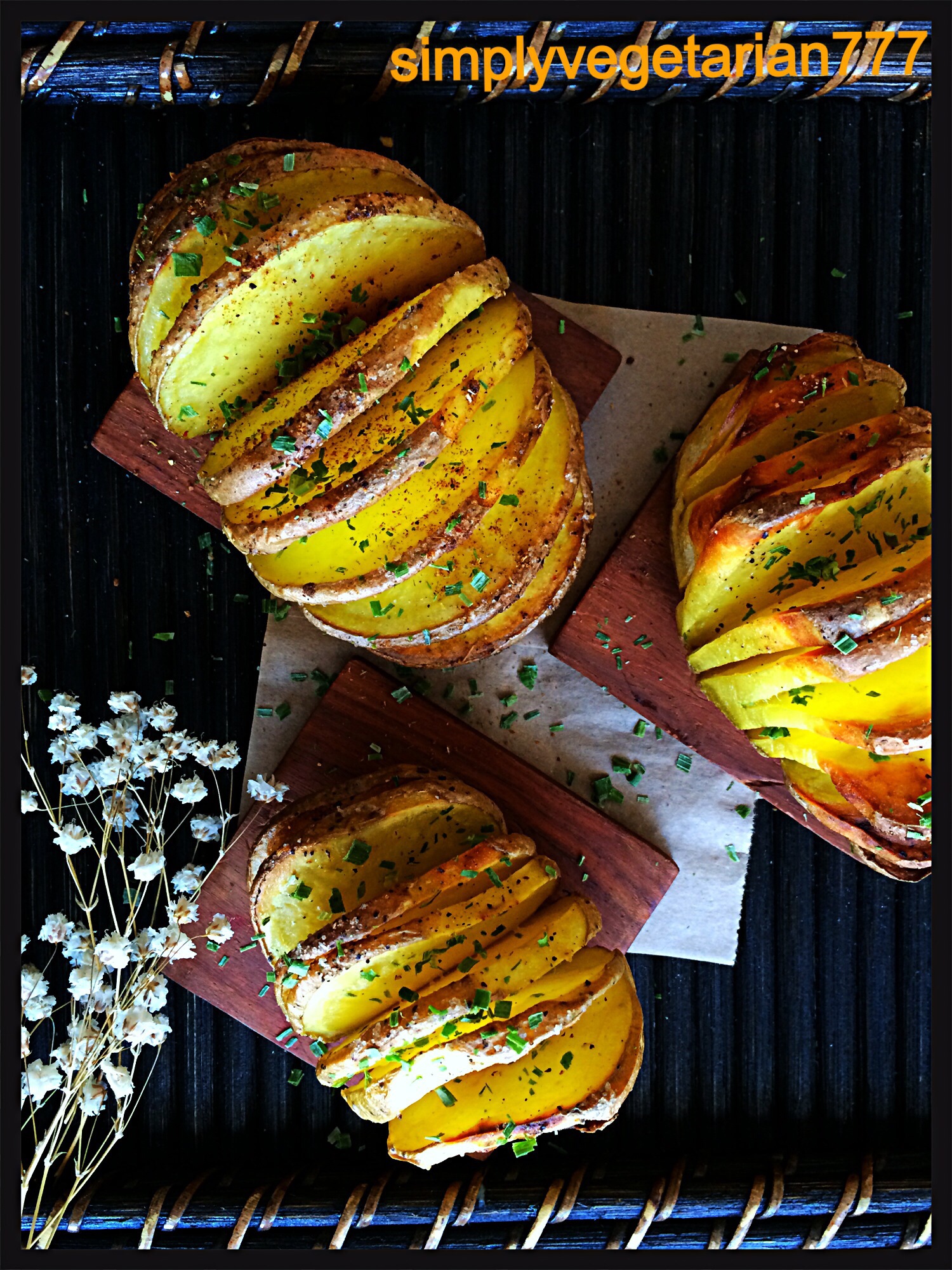 These Hasselbacks are being taken to Angie's Fiesta Fridayto share some laughs and bonding. Nothing better than to bond over some potato crisps and when they dress fancy, they work like the charm of an old wine ;). Is it just me who thinks like that? Well! Ah well!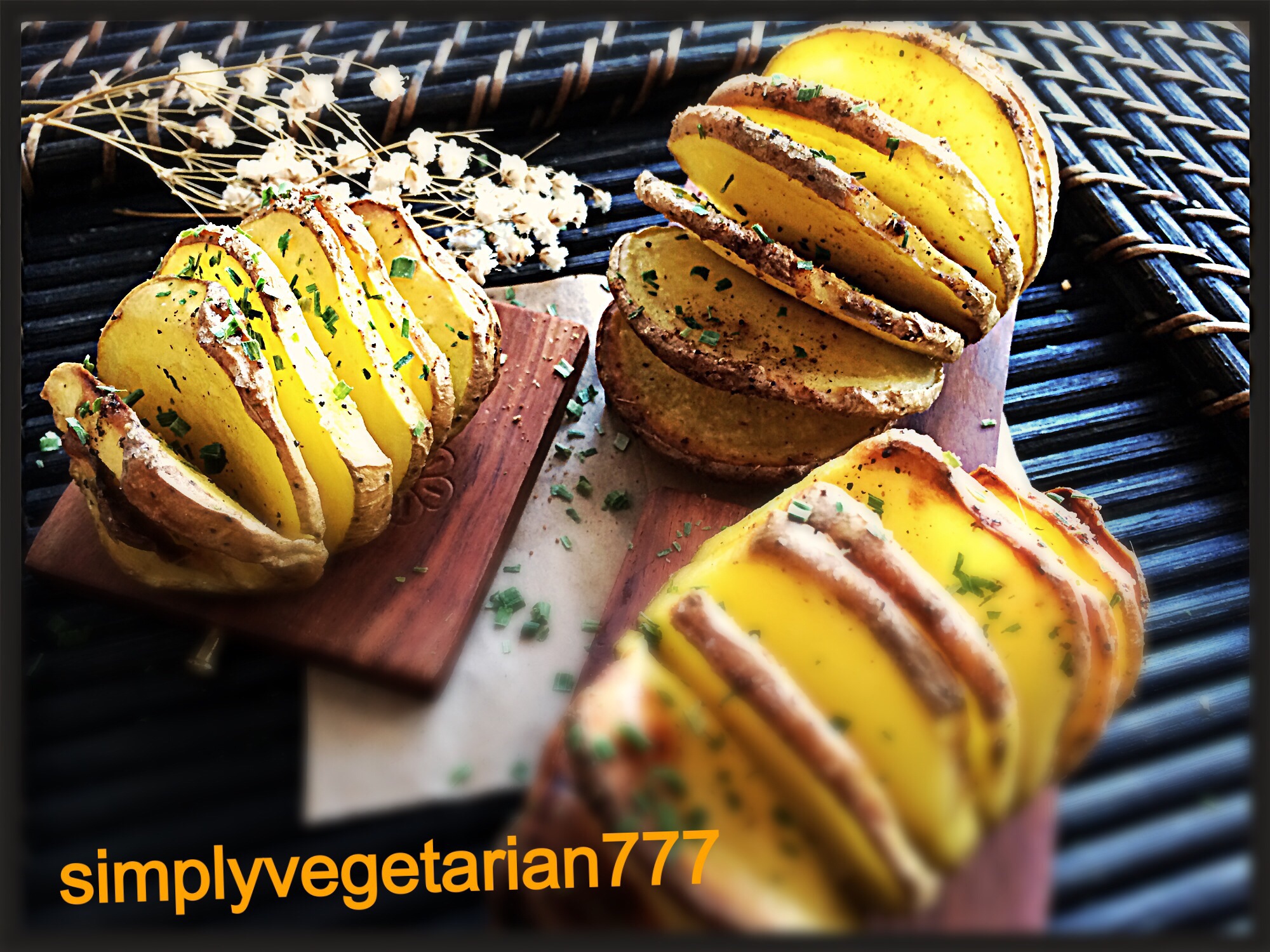 I seasoned my hasselbacks with some Indian curry spice "garam masala" but the beauty of this recipe is that you can season them with the spice rub of your choice. Make them Italian. Dress them Mexican. Call them Cajun Hasselbacks or just let your imagination go wild. My next list for seasoning these is Buffalo Hasselbacks! Can you imagine that flavor of hot buffalo sauce over the crisp Hasselbacks? Awesome, right?
Potato Hasselbacks
Servings: 2-4
Difficulty: easy
Kitchen Equipments Required : Oven, Foil, Baking Tray, knife
Ingredients :
Potatoes : 3 medium. I prefer to use Yukon Golden or New Potato. Russet, Red and other varieties can be used too.
Butter : 3-4 tbsp, melted or at room temperature
Salt to taste
Garam Masala : 1/4 tsp. You may use Italian seasoning or any other of your choice.
Chives : to sprinkle. I used dried chives. This is optional but good for eye appeal.
Method :
1. Preheat the oven at 425*F. Adjust the baking rack towards the middle shelf.
2. Wash and Dry the potatoes. Now comes the cutting, which is not tricky but requires caution.
Cutting : Place the potato on a flat surface. Take the knife and carefully cut the potato into very thin wedges, say 1/8th of an inch or finer. Make sure that the knife does not cut through the whole potato. The bottom needs to be intact. Repeat the process carefully with other 2 potatoes.
3. In a bowl, mix melted butter, salt and spice mix. Apply half of the butter mix on the potatoes, covering all the sides including bottom.
4. Wrap the potatoes in foil, loosely. Set these potatoes to bake in the oven for 45 minutes.
5. Take them out of the oven after 45 minutes. Keep the oven on. Now carefully unwrap each potato. They will look partially cooked. With knife or fork or pastry brush, nudge the wedges of each potato apart but with gentle hand, fanning them out! Don't apply pressure at all. The potato will fan out beautifully.
6. Now apply rest of the butter mixture to the potatoes gently with a pastry brush. Put them back in the oven and bake for another 45-50 minutes till you see the edges turning gold and crisp.
7. Take them out. Sprinkle with dried chives and serve :).
Tip : For more depth to the taste, squeeze a bit of lemon before serving.

>
Note : The time given above is approximate. It depends upon the type of potato and size of potato being used. I would suggest to keep an eye for 30-45 minutes intervals.
;