Rasgulla and Rasmalai : Some tips and notes for Interested people in USA
As an Amazon Associate and member of other affiliate programs, I earn from qualifying purchases.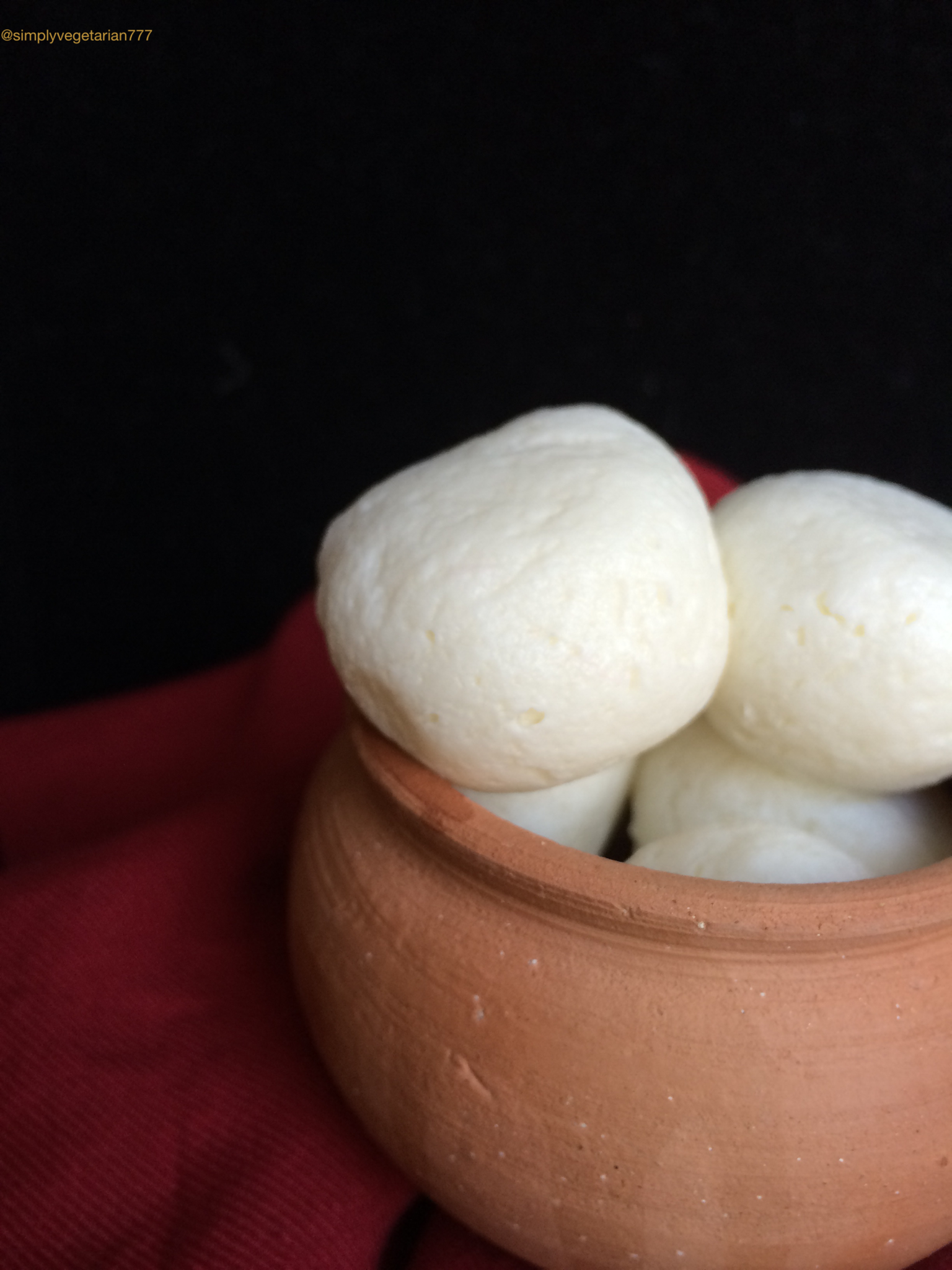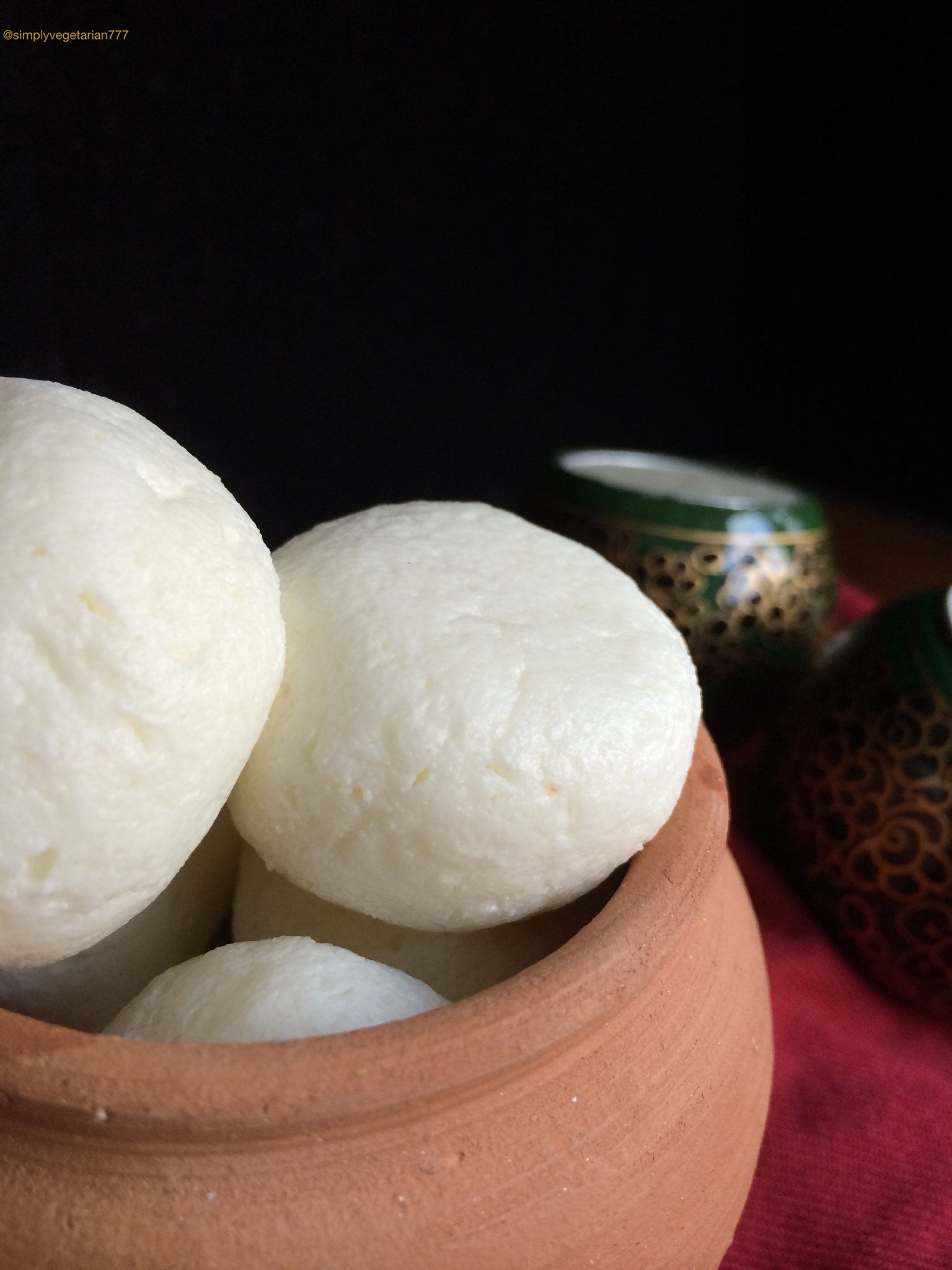 My latest Attempt pic : 10/20/14.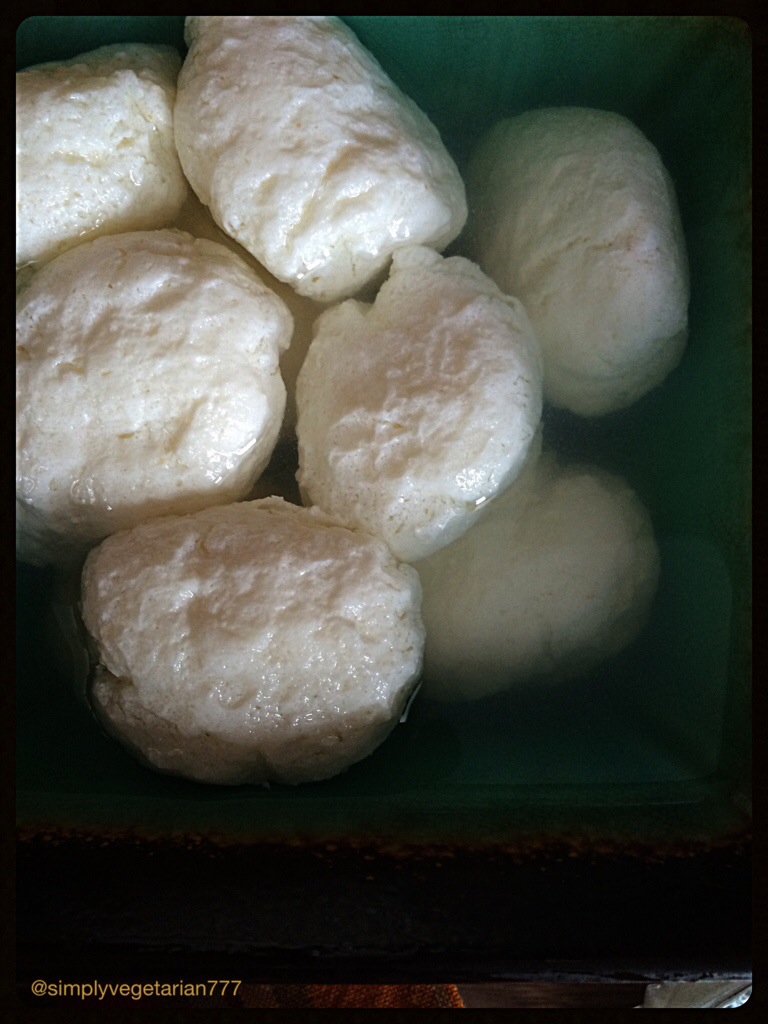 My first attempt Pic : 8/4/14
Rasgullas are white Indian cottage cheese paneer balls soaked in sugar syrup. An absolutely divine sweet! If I call it the Sweet of Gods, then I am not exaggerating. These are heavenly. If done right, nothing better than these beauties. Lightly sweetened in sugar syrup, flavored with rose water, plain and no other added flavor! That's God's Food for me. Squeeze and in the mouth in one complete bite. Chew it savoring each and every single swoosh of rose flavored syrup and it's pure heaven ! Don't forget to close your eyes when you enjoy this sweet.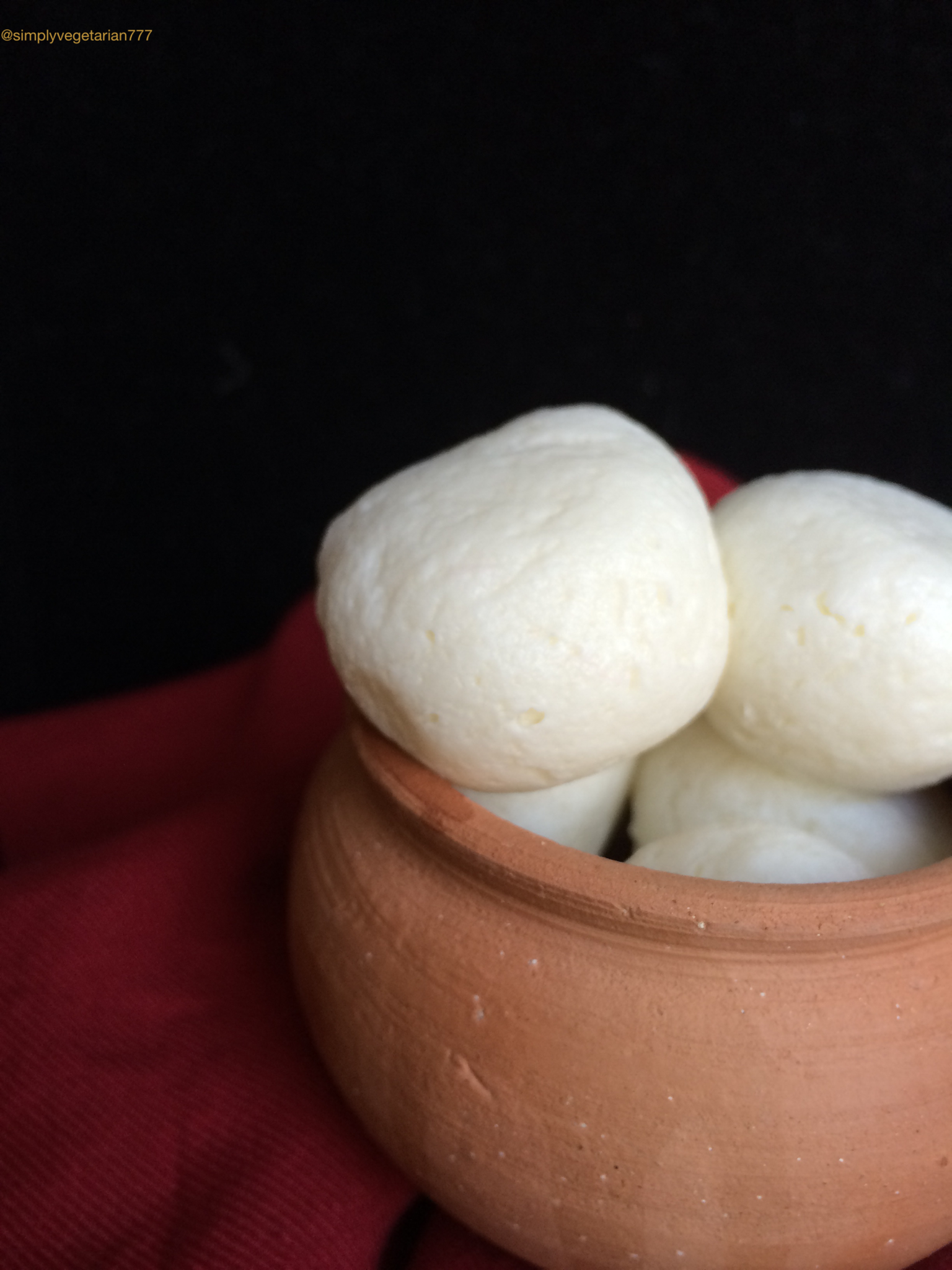 Rasmalai is an offspring of Rasgulla, more full bodied ;).. Lol! But delicious as hell errr heaven! Made the similar way as rasgulla but dunked in thickened and sweetened milk. Sounds interesting? I just lurveeeee Rasmalai . It can be made in plain thickened milk or milk flavored with kesar (saffron) and topped with the goodies :). I like kesar version. I am going to surprise you with an easy recipe of getting that danedaar and khurchi hui malai for the Rasmalai. That means the grainy texture in thickened milk without thickening it actually. Shortcut?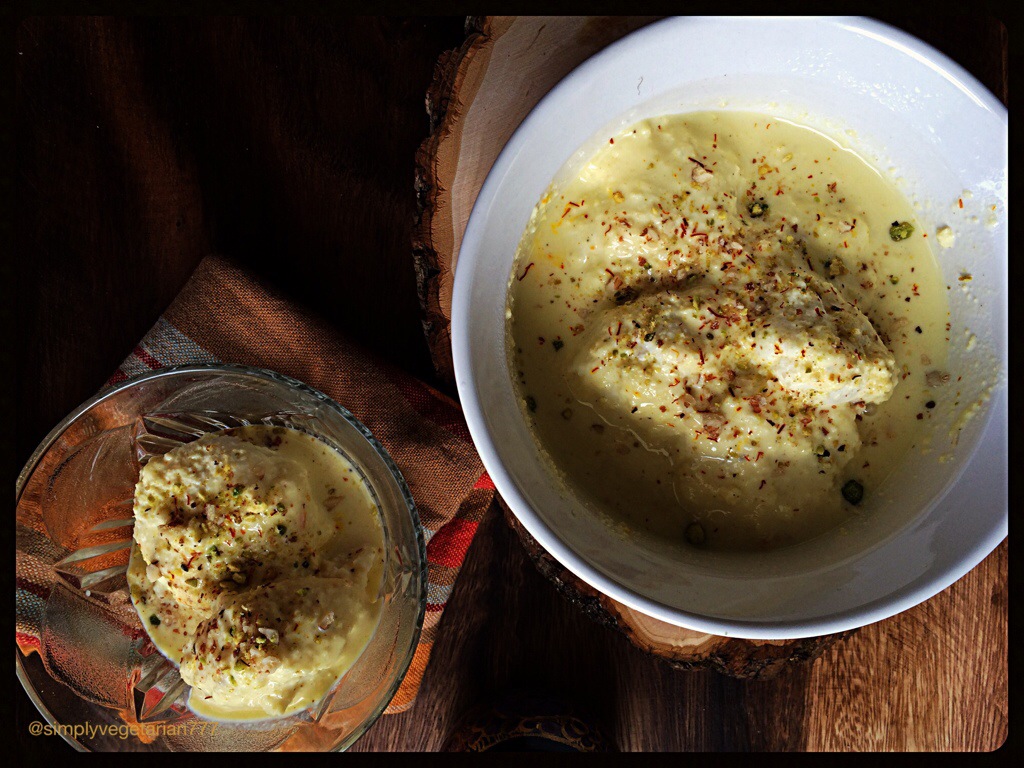 This is going to be a very long and difficult post for me! Just bear with me and ask questions if you don't get any on my notes and tips. This is not my recipe but adapted from Shailja, Nisha and Garima. I am just adding my notes for the readers who live in USA and would like to try making it at home. So let's start the ride!
Rasgulla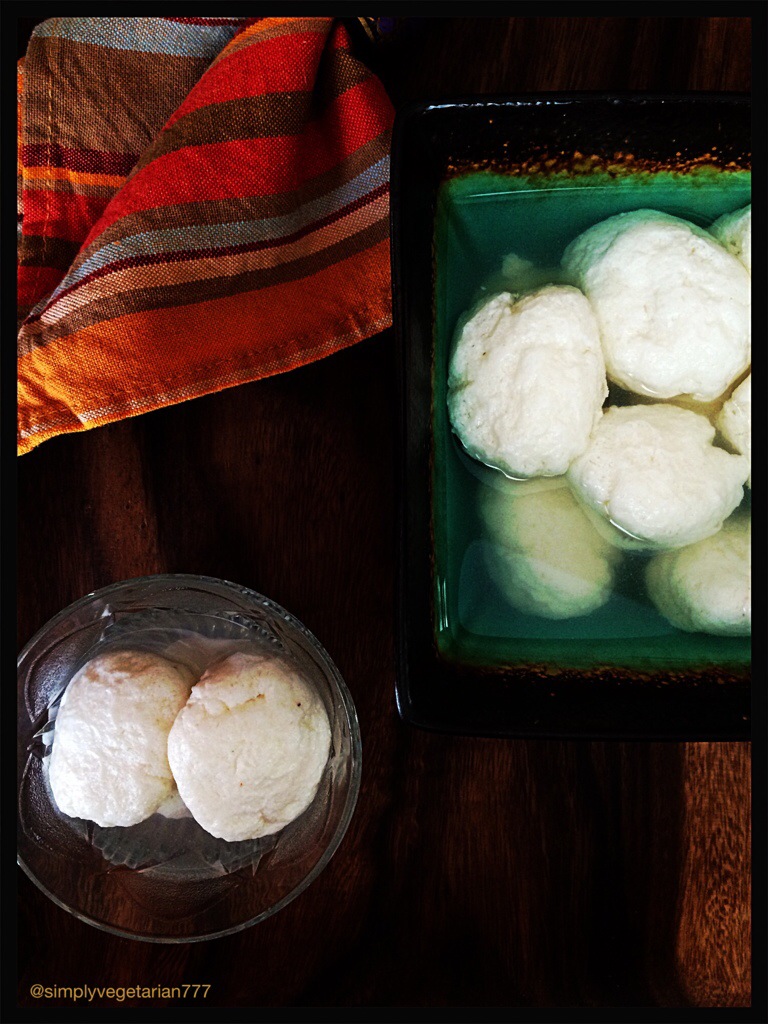 Here are the Recipes, I adapted and finally made flawless Rasgullas.
Nisha Sarda's Rasgullas; Shailja's Rasgullas and Garima's Rasgulla
For the Rasgullas you need
For the Rasgullas you need
2% skimmed milk : 1/2 Gallon or 1.89L. Use organic or hormone free brand.
Lemon Juice : 5 to 6 tbsp fresh
To Make Chenna
(Here is a step wise guide to making paneer/chhena at home)
Bring the milk to boil, add 5-6 tbsp lemon juice gradually so that the milk mass and whey separate completely. Add 10-15 ice cubes. Rest for a minute.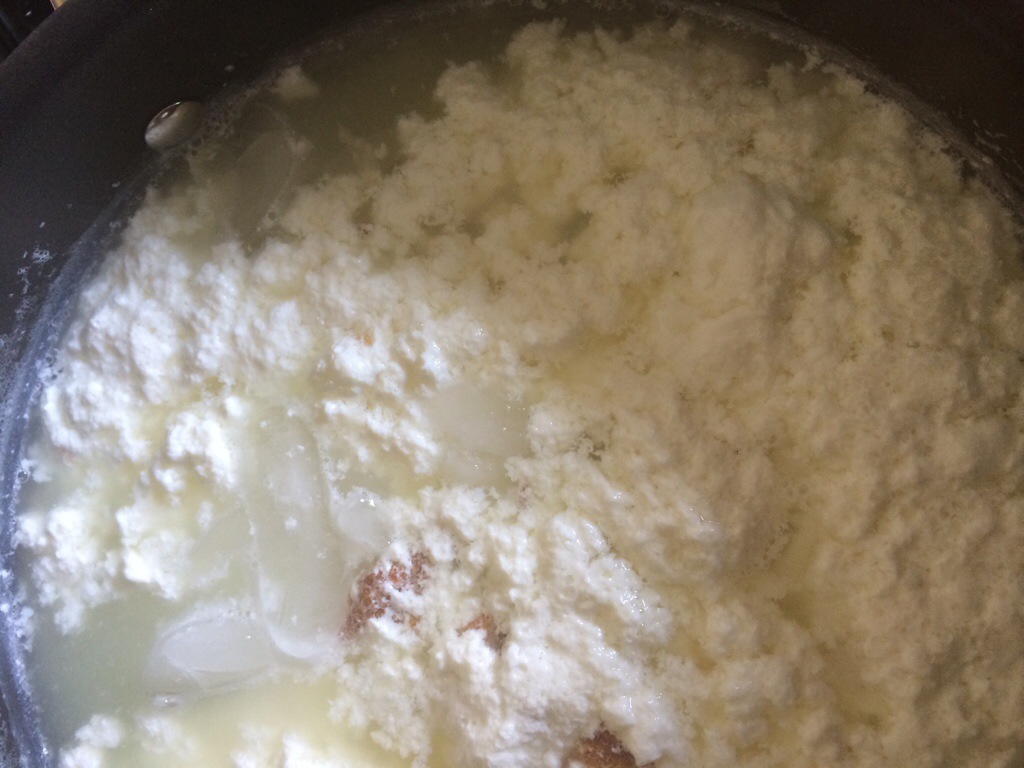 Ice cubes added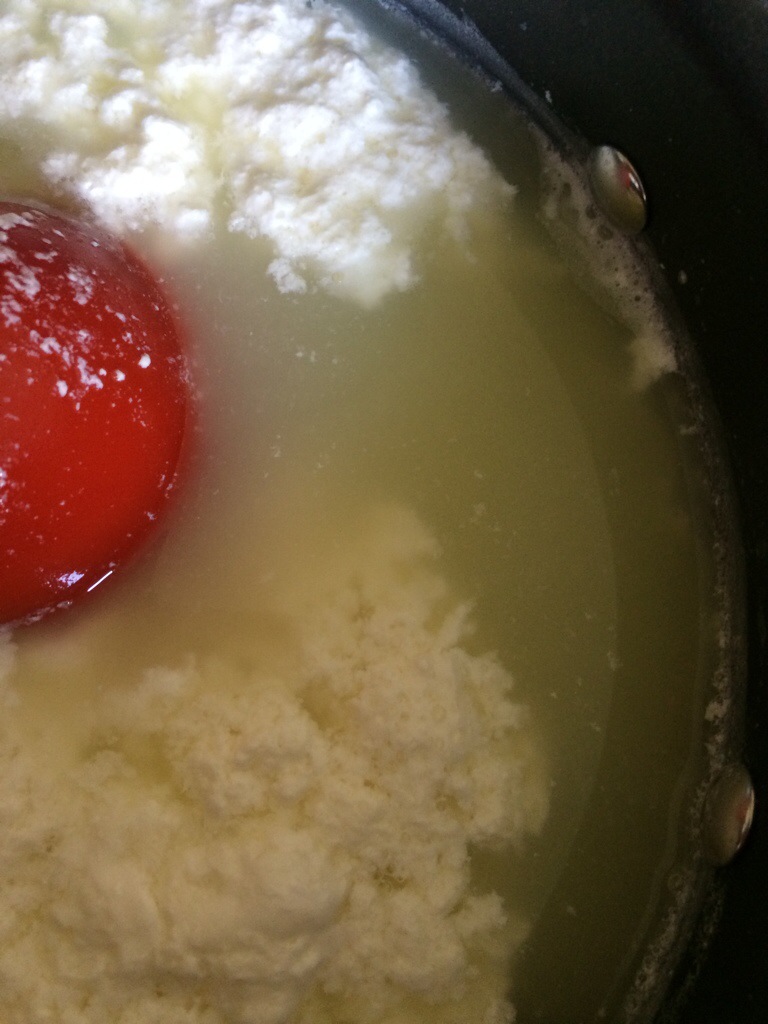 Whey separated !
Strain in a colander lined with muslin/cheesecloth. Wash thoroughly with fresh water to remove the lemony sourness. Drain the water by squeezing. Knot the muslin cloth and put it in a colander or sieve in sink and put a big jar of water or any heavy object to squeeze the water out completely.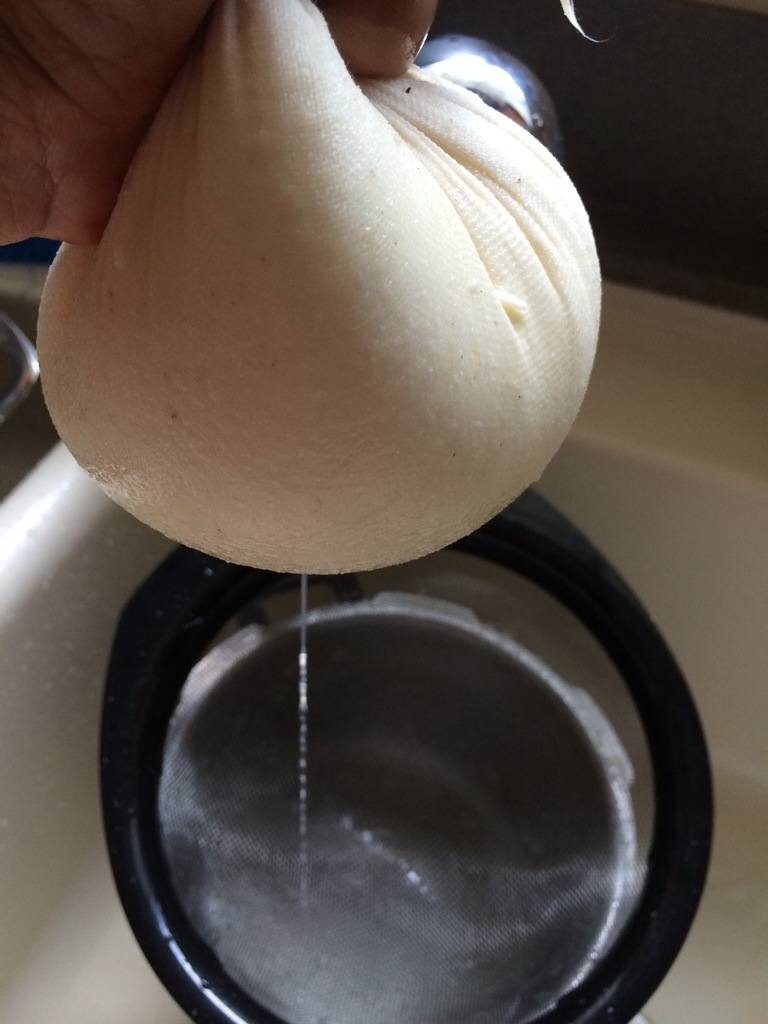 After about 10-15 minutes, remove the Chhena from muslin cloth. This is how Chhena / Paneer will look after pressing. It should be crumbly after pressing out all the water from it . Do try to achieve more dry texture.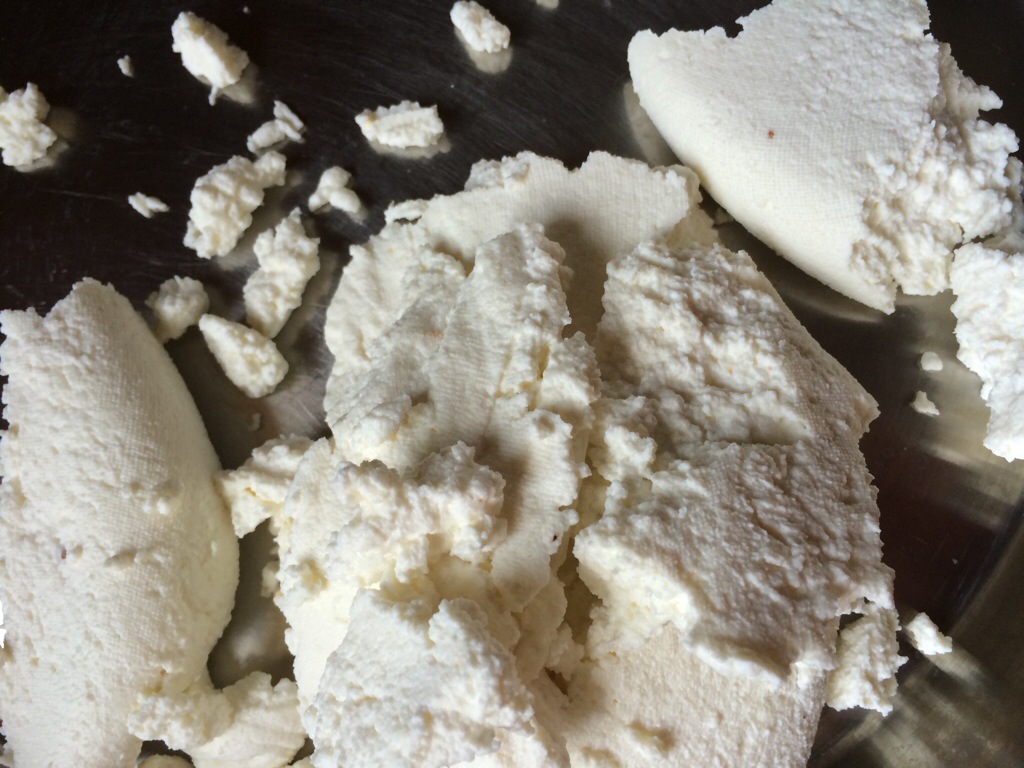 2 Options :
1. Rub the chenna with fingers and heels of the palm till the chenna gives out some fat/ ghee/chiknaayee. By now the chenna is like a dough ball that comes together easily, neither too hard nor too soft.
Here is the video on how to knead the Chhena! It will give you a good idea on kneading with fingers and heel of the palm!
http://magis.to/eS0rQEZCAF06IXwBDmEwCXt5
2. Take the food processor and add the Chhena to it. Pulse it for 5-7 minutes till it comes together in a dough. It's not a tough dough but pinchable.
Take pinches off the dough and make small balls, you should get about 15-20 balls. Gently roll them between your hands, leaving no cracks.
Remember, they are going to double up on boiling so size them accordingly.
Prepping the Sugar Syrup and Boiling the Rasgullas!
Prepare the Light Sugar Syrup simultaneously.
This is what you need to do for the Light Sugar Syrup to boil the rasgullas ! Boil 1 cup Sugar in 5 cups Water on a deep big pan. Once it is on rolling boil, drop the rasgulla balls gently in the boiling syrup water and boil covered for 12- 15 minutes on medium flame. These swell up more than double their size so the pan needs to be really big. Don't over crows the pan. If necessary then boil in 2 batches.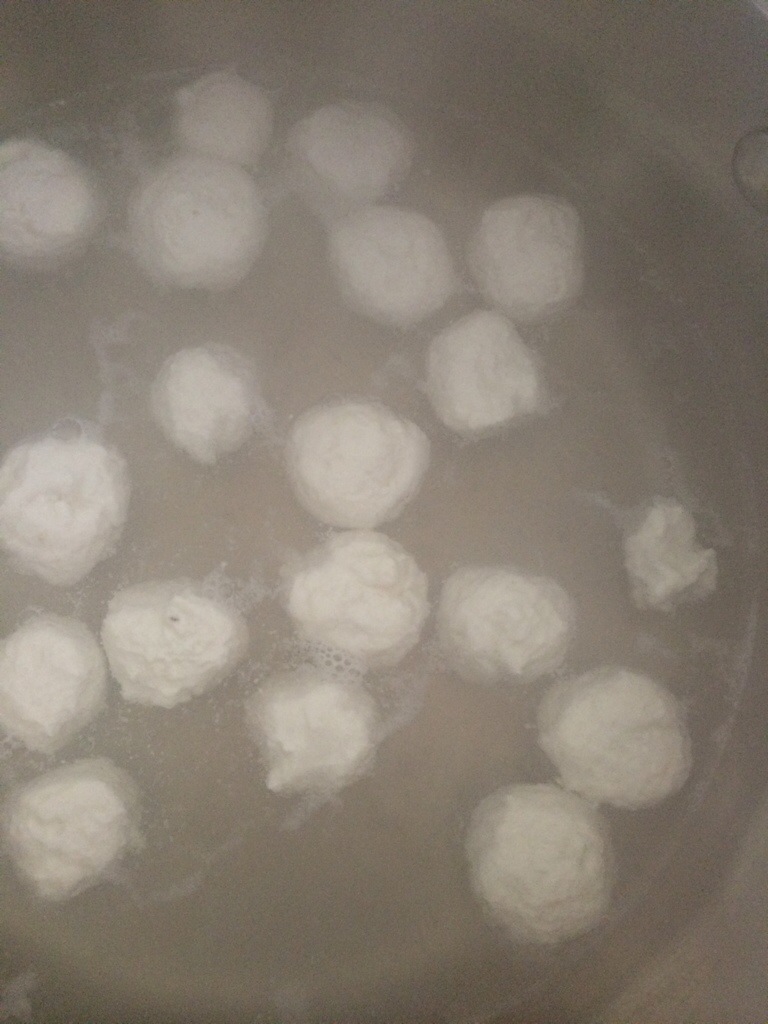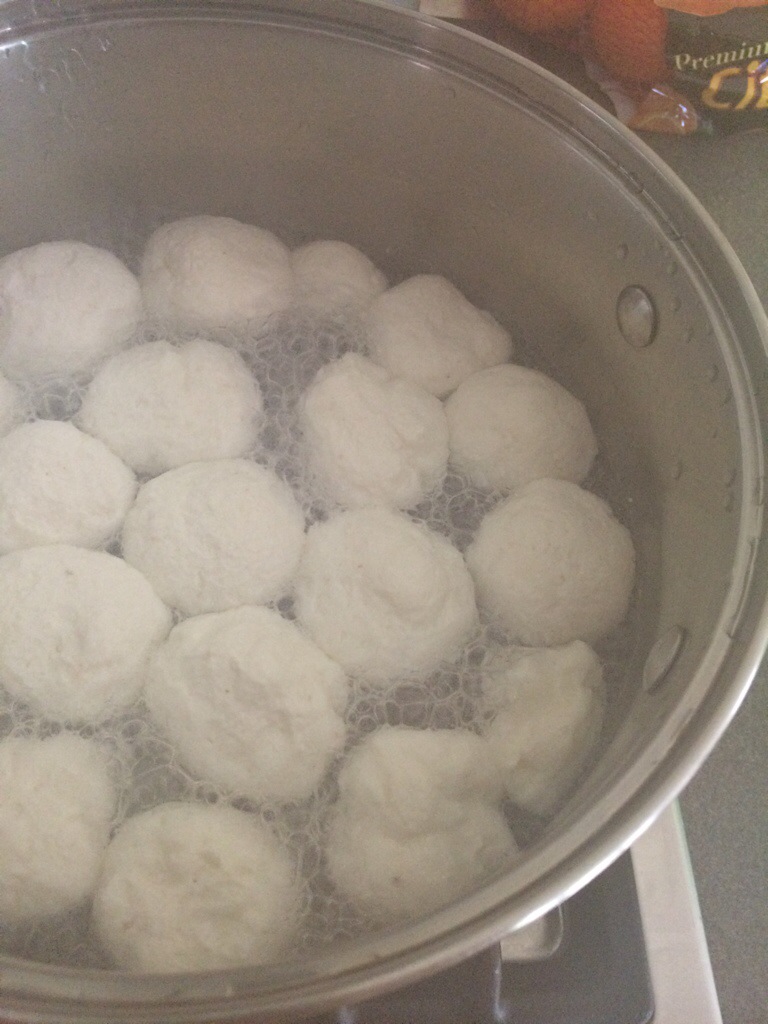 Doneness Test and Resting rasgullas in water bath!
Drop one in plain drinking water. If it sinks, it is done. If it flaots, boil for a couple of minutes and check again.
Switch off the gas. Transfer gently to a big bowl full of clean drinking water. There should be enough water for the paneer balls else they might lose their shape.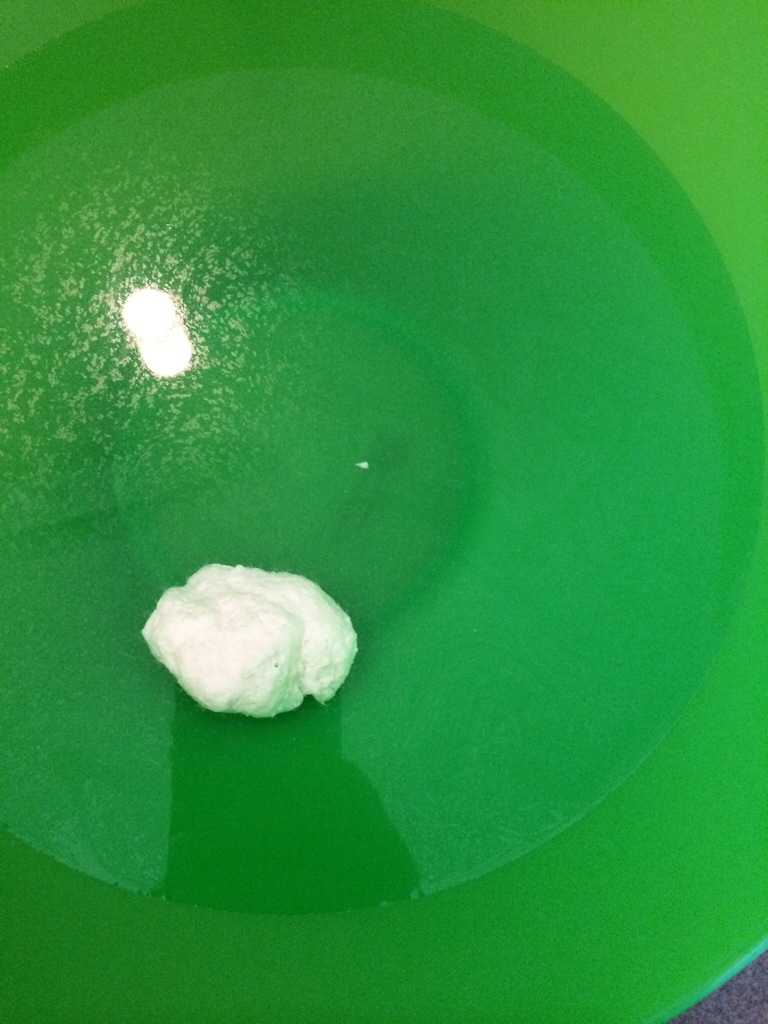 The Cooked Cheese ball settled at the bottom of the cold water. It is done!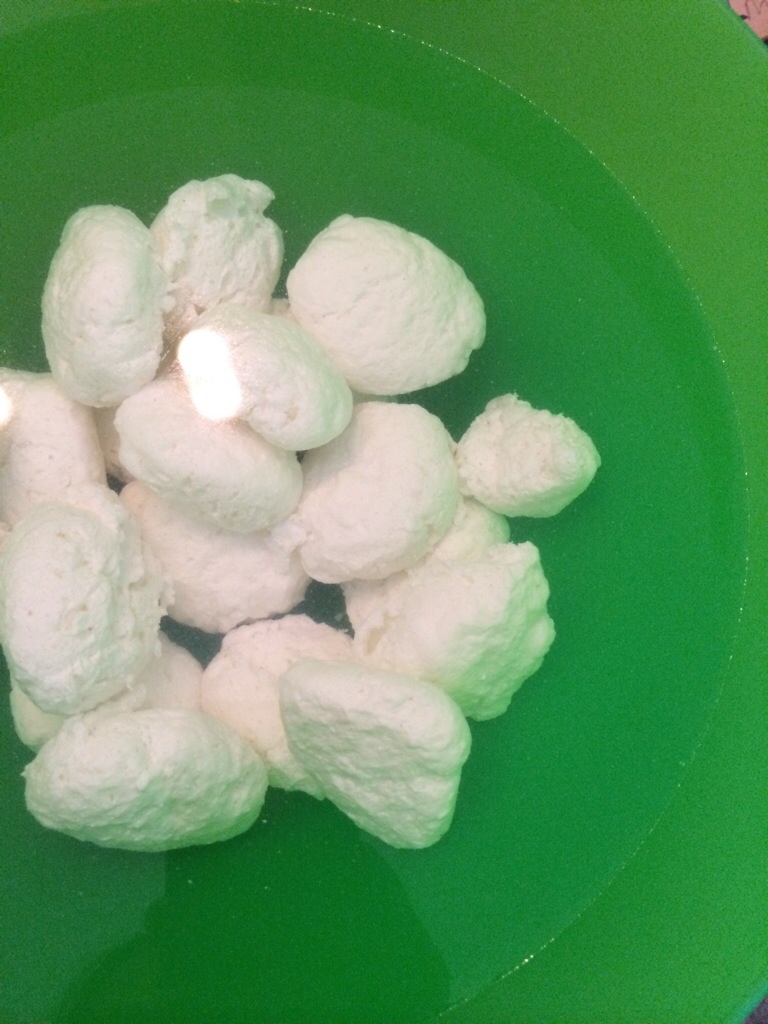 The cooked Cheese Balls resting in the water which is at room temperature.
For adding to the Light sugar syrup after boiling the rasgullas later after the first boil.
1/2 cup Sugar
1/2 cup Water
Now the final Sugar Bath for Rasgullas
Add 1/2 cup sugar and 1/2 a cup of water to the same light sugar syrup in which the rasgullas were boiled and give it a boil so that the sugar melts. Switch off the gas. Let the sugar syrup cool down to room temperature.
Remove the rasgullas from the plain water, squeeze gently and drop into the sugar syrup. Add 1/2 tsp of rose water for that heavenly flavor and aroma.
Kesariya Rasmalai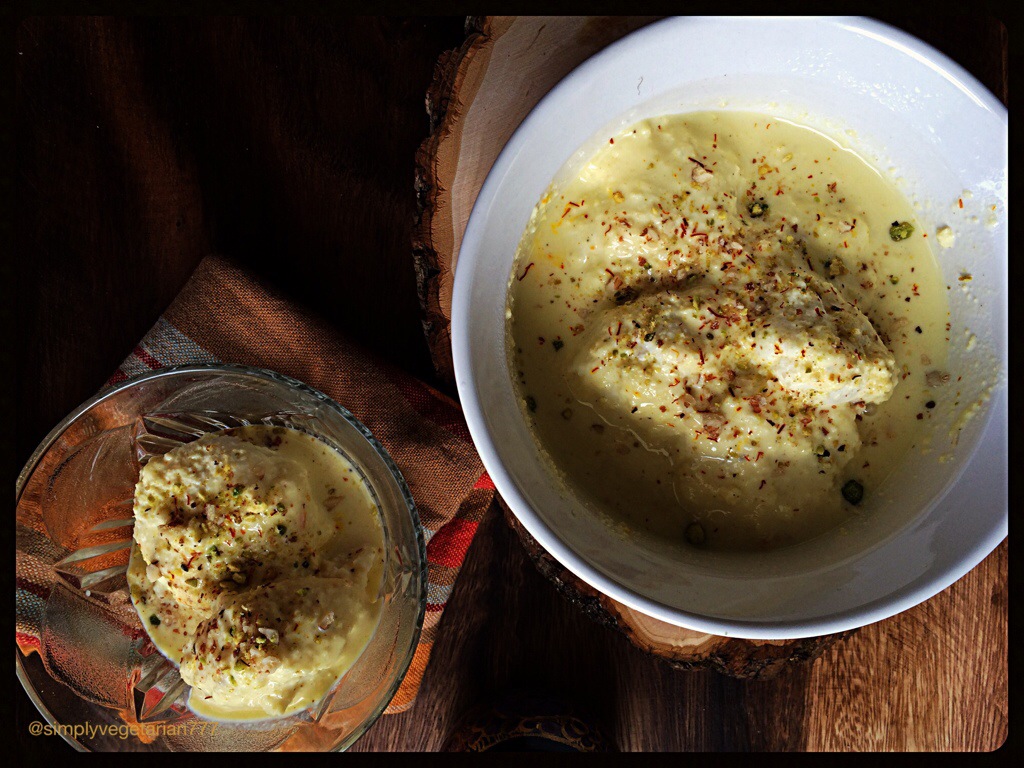 I prepared the Rasgullas with the above recipe and it gave me around 18-20 Rasgullas. I followed the recipe as is till the first Sugar syrup boiling, cooking in it for 10-12 minutes and then resting them in room temperature water. I divided half of them for Rasgullas and half for the Rasmalais. This cream recipe is good for 8-10 Rasmalais.

My recipe clicks in after this! I was making rasgullas so thought of making some Rasmalai with the same base.
Danedar Khurchan wali Rabdi/Malai/cream for Rasmalai! Danedar and Khurchan means, grainy and scraped! Just Divine!
Ingredients :
Milk skim : 3 cups
Milk powder : 4 tbsp
Sugar : 2 tbsp
Cardamom powder : a fat pinch
Saffron : a fat pinch
Chopped almonds and pistachio for garnish!
Method :
Boil the milk in a heavy bottom pan with cardamom and saffron.

Once it comes to a boil, add 4 tbsp of milk powder to the boiling milk, 1 tbsp at a time. Add it in a sprinkling manner. This way, the milk granules will be trapped in small particles giving it a grainy and scraped texture. Magic with no effort :). Isn't it? It won't give the cream any raw texture since it is dry milk and not flour.

Boil on low and reduce the milk to half. Add sugar. Mix and boil on low for 5 more minutes.

Cool it down!

Squeeze the cottage cheese balls gently from the plain water and put them in a flattish bowl.

Add the cooled (room temperature) cream/ malai on top of the cheese balls.

Cover and refrigerate for 3 to 4 hrs before serving.
Enjoy making these at home.
Sonal