Rice Crispie Monsters – Glutenfree Halloween Treats
As an Amazon Associate and member of other affiliate programs, I earn from qualifying purchases.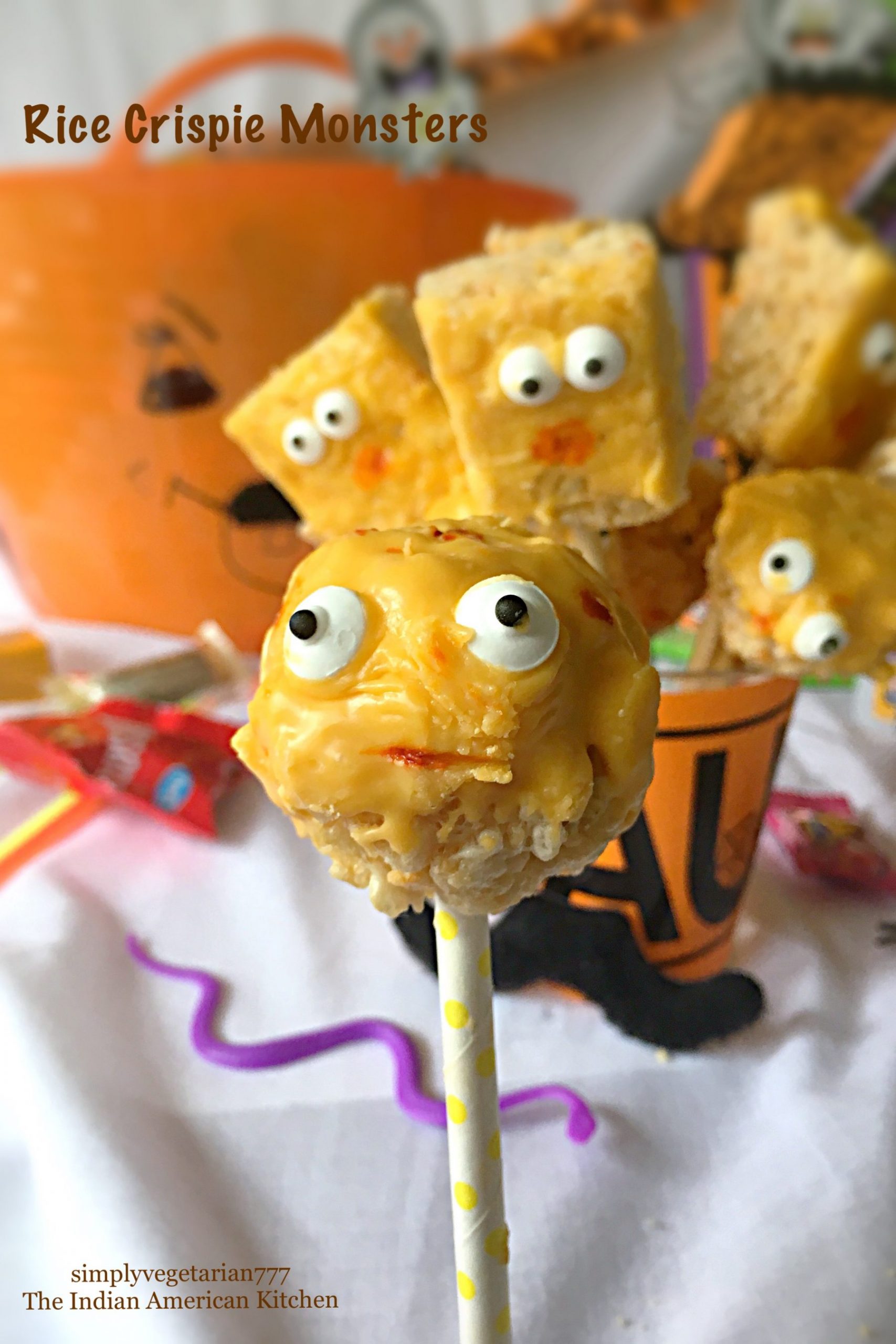 Rice Crispie Monsters – Glutenfree Halloween Treats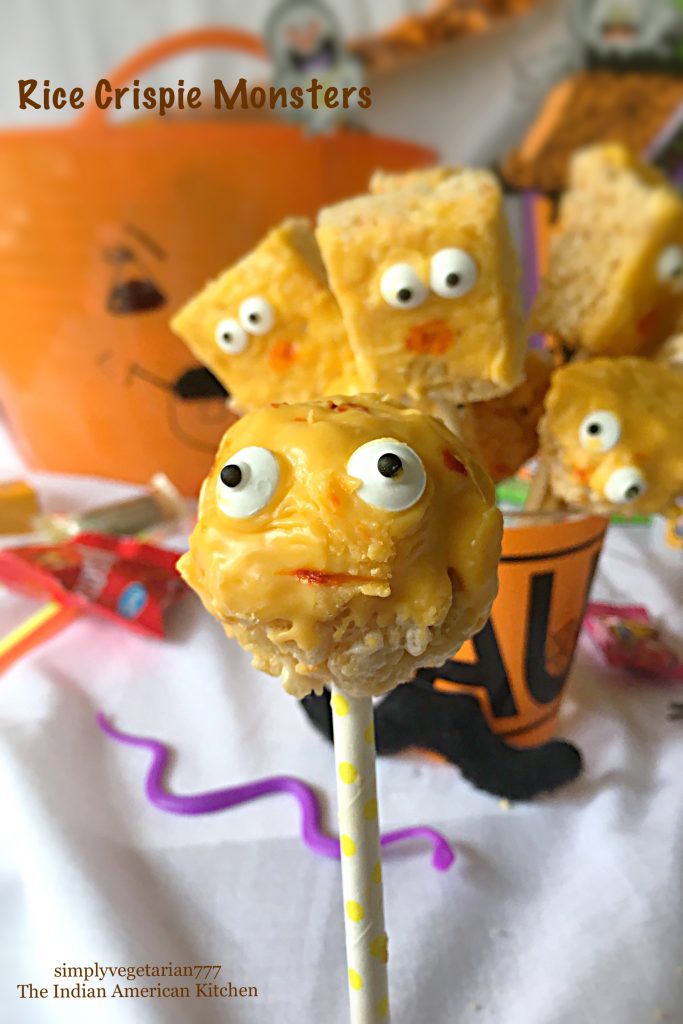 Do you see these ⇑Rice Crispie Monsters ? Give me an honest feedback now. What do you think about these guys? Are they creepy enough or kinda cute? I wanted these to look creepy but I guess these are somewhere in between creepy and cute, that is cute enough not to scare the little ones and creepy enough to keep the Halloween spirit alive.
I thought of making this Halloween little better by including some home made glutenfree Halloween treats. The bonus is that my basic recipe of RICE CRISPIES is Vegan as well, made with Vegan Marshamallows and Rice crispies cereal that are glutenfree.
These Rice crispies are so so so easy to make that you will actually never buy the rice crispies from the market again. To top that these are vegan and glutenfree. There are no allergens and I have used natural food dyes /colors.
Dandies is a Vegan Marshmallow brand that is easily available at Whole Foods.
I used Color Garden's Natural Food Colors that are 100% Plant Based. Isn't that wonderful? It is an investment but totally worth it. The best part is that these colors have no bitter or after taste.
I used Nestle's White chocolate chips as a base to make orange sauce and this color blended so well without over powering either in color or taste. I am so convinced with these brands. [It is not  a sponsored post by either brand, but solely my review and opinion].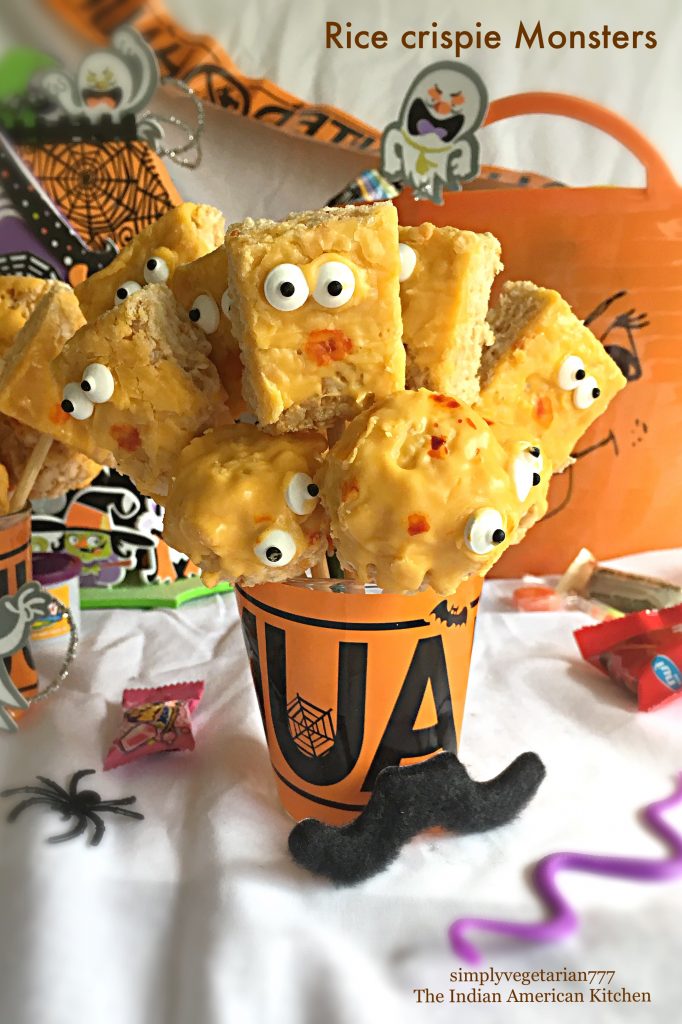 These Rice Crispie Monsters are super cool. My little M's Neighborhood friends at the bus stop simply loved it. I actually asked them for the honest opinion and it was 2 thumbs up from everybody. The kids said that these are the best kind of Rice Crispies they have ever tasted.
This recipe can make 2 kinds of Monsters – Round Ball shaped and Squares. I am going to pen down both the methods below. Pick and choose any or make both.
The whole process has 5 steps –
Melting the Marshmallows on low heat.
Adding Rice Crispies to the Melted marshmallows and then shaping or setting the monsters.
Making Orange Chocolate Sauce and Dipping or spreading it on the monsters.
Placing the Candy eyes and color as required.
Packaging if used as a return gift for the kids' party.
Few other Halloween Recipes to check are – Halloween Chocolate Bark and  Halloween Orange Sherbet Punch by Ruchi's kitchen. Or you can make my Eggless Chocolate Brownies and decorate them like monsters as per instructions given below for Square Head Monsters.
Here is how to make these Rice Crispie Monsters.
Rice Crispie Monsters - Glutenfree Halloween Treats
Easy and Quick Halloween Treat made with Rice Crispies and Vegan Marshmallows.
Ingredients
Butter - 3 tbsp

Vegan Marshmallows - 10 ounce / 283 grms bag

Dandies all natural Vanilla Marshmallows

Rice Crispies Cereal - 4 cups

Candy eyes - 1 packet

easily available in the baking aisle of any store

Small popsicle sticks or small bamboo skewers with sharp tips removed or plastic candy sticks - 25-30
Orange Sauce
White Chocolate Chips - 1 cup

Milk - 1 tsp

Orange Color

organic & natural - 6 to 8 drops, depending upon how deep color you want
Instructions
Line a small rectangular baking sheet or any plate with parchment paper. Set Aside.
Melting the Butter & Marshmallows
Take a deep or large non stick or ceramic base pan. Add butter to the pan and melt it on the low heat, making sure that it doesn't brown or burn.

Add Marshmallows to the melted butter and stir till marshmallows melt in the pan. Conduct the whole process on medium low heat. We don't want to burn these marshmallows.

Switch off the heat and Take the pan off the cooking range/gas stove.
Adding Rice Crispies and Shaping the Monsters
Now add 4 cups of Rice Crispie Cereal to the marshmallow cream. Mix it well with a wooden spatula.

Now if you want to make Round Head Monsters, then grease your hand and divide the whole thing into 25-30 portions. Roll these tight into balls. Insert a candy stick on one side. Place them head side down to cool on a baking sheet or a plate lined with parchment paper.

Now if you plan to make the Square Head Monsters which is the easier way to get these done in no time, then take the whole marshmallow rice crispie thing and spread it out on a baking sheet lined with parchment paper. Use your hands or a heavy spatula to spread it out into a 1&1/2 inches thick layer. How I did was - I covered the rice crispies mess with another parchment paper and rolled it out with a rolling pin. Let it set till it cools down.
Making Orange Sauce and Dipping / Spreading it on the Monsters.
Take a microwave safe bowl and heat 1 cup white chocolate chips + 1 tsp milk for 30 seconds. Take it out and stir it well with a fork till the sauce is smooth. If you are making Round Head Monsters then use a small deep bowl so that dipping is easy. If you plan to make Square Heads, then any kind of bowl is good.
Making Round Head Monsters
Pick one monster at a time from its stick and dip it till half way, head side down, in the orange chocolate sauce. Take 5-6 heavy cups and put these round head monsters in these cups, head side up. These will drip so make sure that your working counter is layered with old newspapers etc, so the clean up is easy later on. Place a set of Eye Candies on these monsters. Let them set till chocolate Orange sauce hardens up. Take 2 drops of orange food color in a small bowl. Use a party pick, dip its tip in the color and draw mouth & other characteristics, as desired.
Making Square Head Monsters
Take this Orange Chocolate Sauce and spread it evenly, over the flat rice crispie bark. Divide the whole thing into imaginary 2 inches squares and place a set of candy eyes on hot chocolate spread in each imaginary square. Let it cool down.

Once the chocolate is cooled, take a sharp knife and cut the Rice Crispies into 2 inches squares.

Place them on the candy sticks.

Take 2 drops of orange food color in a small bowl. Use a party pick and dip its tip in the color. Draw mouth and other characteristics as desired.

The Square Head Monsters are ready.
Packaging & Storing
Make sure that these monsters are well set and cooled before you package and store.

Get a bag of 40 small plastic goody bags from Dollar Store or the store of your choice. Package each Monster in 1 single bag. Tie it at the neck of the monster with a string.

These will store well for 2-3 days but not more than that.

Enjoy making these Rice Crispie Monsters this Halloween.
This is a great recipe when you are hosting a kids' Halloween party at home or at invited at one. It is done under 30 minutes with very few ingredients that are easily available. I hope you try it.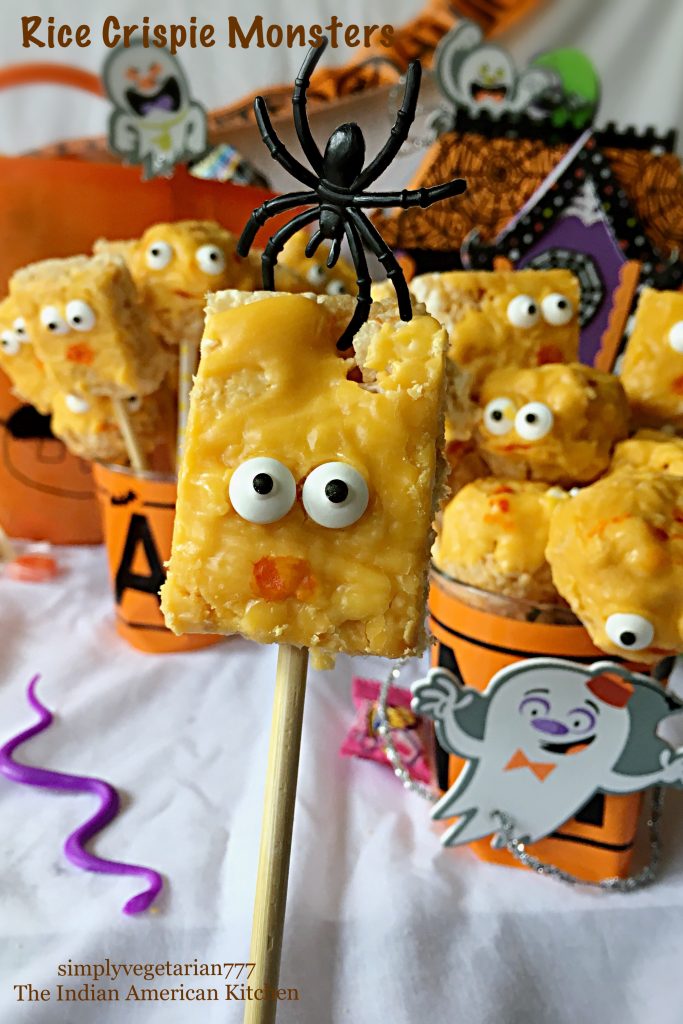 Some products you might consider ordering from amazon to make these delights are –
Color Garden Food Color – 100% Plant Based
Halloween Decorating Kit for Kids
Can't make these now? PIN THESE RICE CRISPIE MONSTERS FOR LATER!!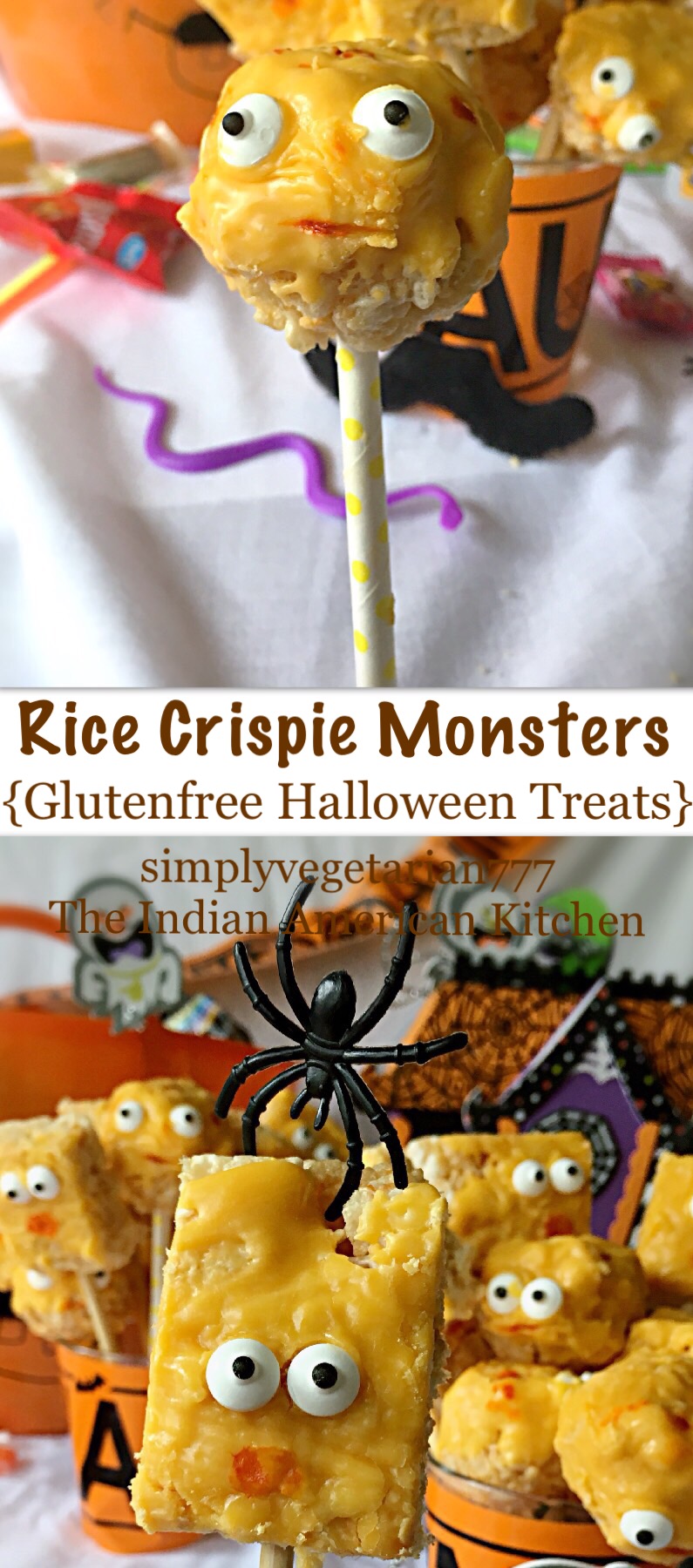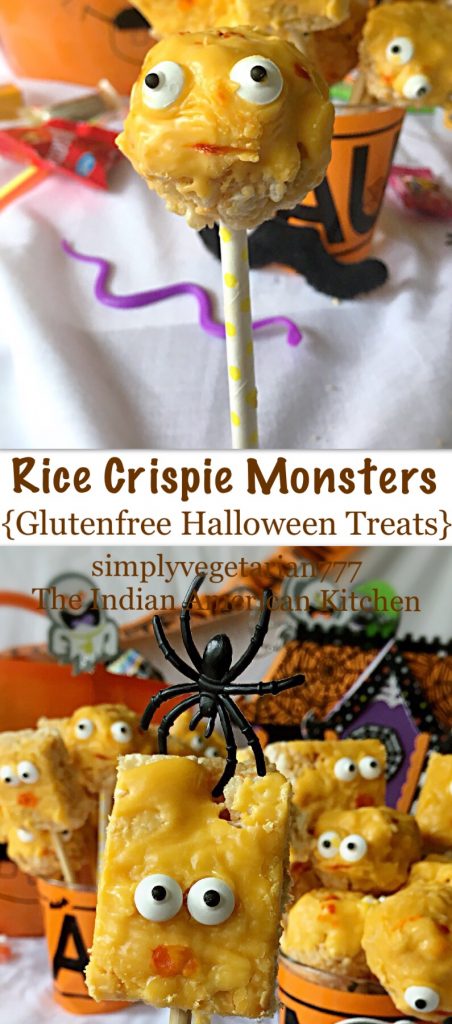 I hope you make these super simple, spooky and deliciously amazing Rice Crispie Monsters this Halloween. And if you do, please send me the feedback.
In my Kitchen, you will always EAT HAPPY & STAY HAPPY!
Sonal