Eggless Double Chocolate Brownie – Fudgy & Chewy
As an Amazon Associate and member of other affiliate programs, I earn from qualifying purchases.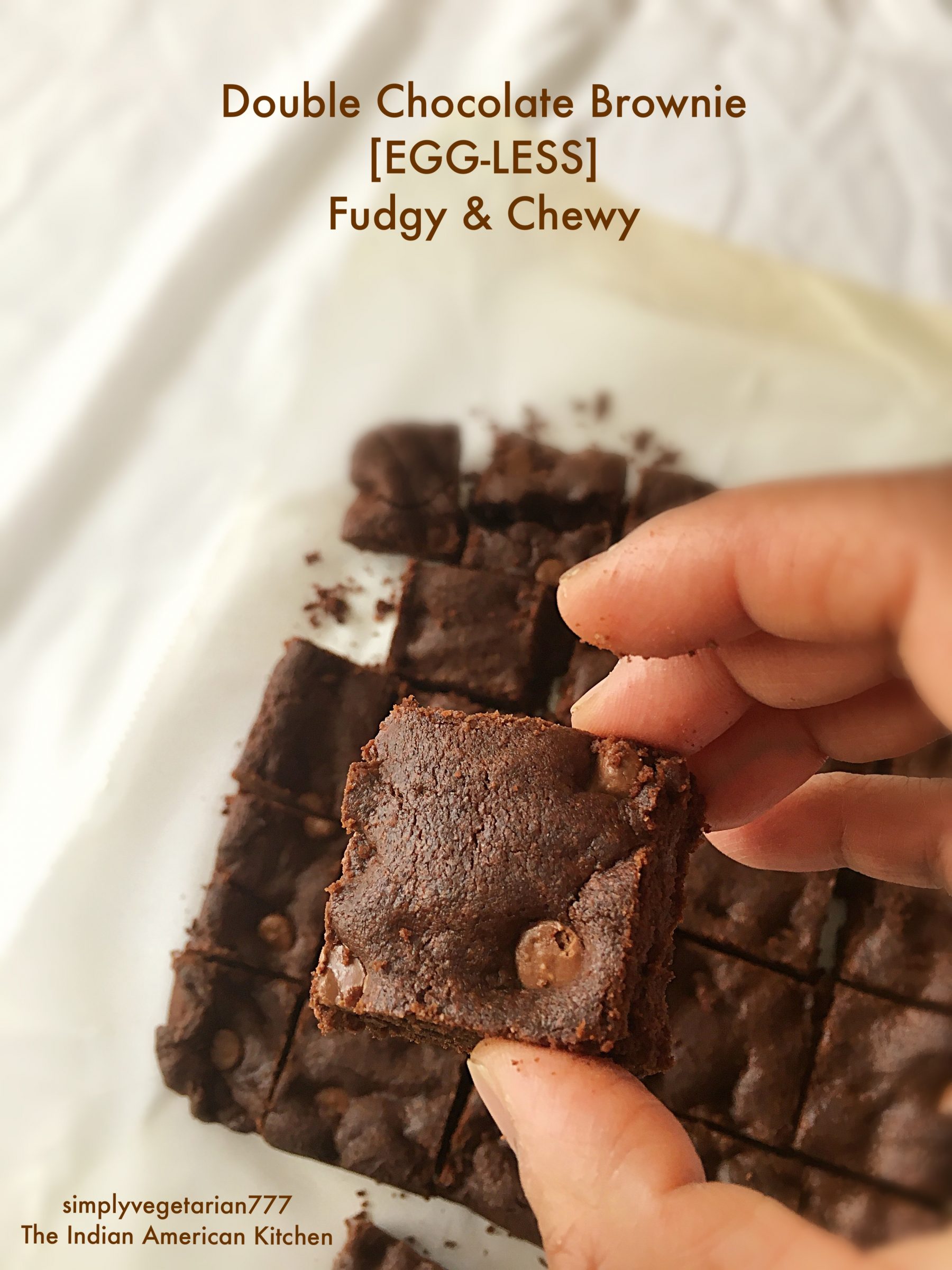 Eggless Double Chocolate Brownie – Fudgy & Chewy
Yes you read it right! It is the EGGLESS DOUBLE CHOCOLATE BROWNIE ! Double Bonanza, isn't it? CHOCOLATE – that too double the chocolate and then Egg-free also. I know, all the chocolate lovers are drooling big time right now.
It is that perfect brownie that is moist and soft inside and have a crunchy, almost cookie like bite on the top.
You know I love brownie for the fact that it can have so many textures at the same time, in it and can satisfy so many cravings instantly, in one bite. I am sounding very ambitious here but all the brownie maniacs will agree with me on this part.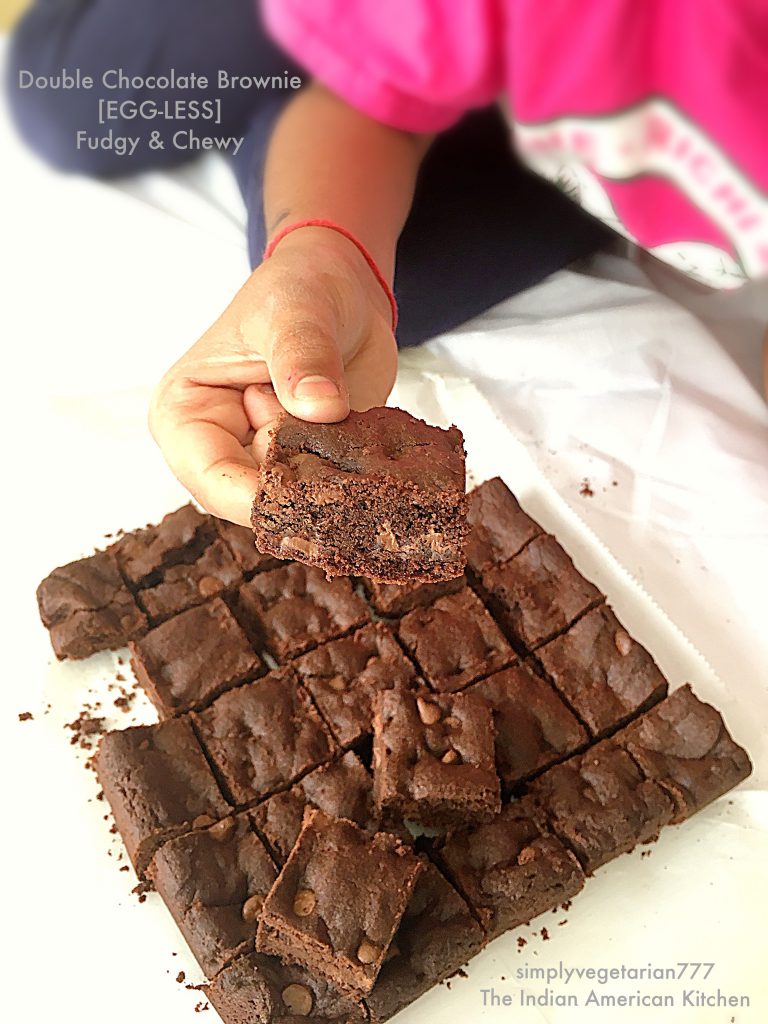 This ⇑is my little Myraa (M)♥. She couldn't wait to grab some brownie in her hand and I bribed her that if she wanted a piece right now, then she has to model for me first. The ways we blogger mothers find to get our work done, is hilarious sometimes.
I baked these yummies on Friday. To share the truth, I actually look forward to baking on Fridays. You want to know why? Here is a little story about it, then! Interested story readers can read the short story and recipe go getters can skip and scroll down to the recipe underneath.
SO, here is the story! There are lots of kids in my neighborhood and most of them are 1st-3rd graders who are full of energy and one among them is my little munchkin M. This bunch of cuties is so high on life that they paint the whole neighborhood with rainbow colors with their zeal.
One Friday, I took a batch of my eggless marble cake to the bus stop when it was time for the pick up. As the kids rolled out of the bus giggling and goofing, my M spotted the box in my hands. She took it away from my hands and opened it between her friends.
The cake was swiped clean with few crumbs here and there and that batch of kiddos was so amazingly happy(er) after the treat. Since then, it has kind of become a ritual of me taking a batch of baked goodies and them polishing it off between grins and after school play plans.
They actually start asking me on Thursdays about the "treat-to-be" on coming Friday. That makes me one happy girl.
Here is how to make the delicious Brownie, that the kids noshed upon happily!
Eggless Double Chocolate Brownie - Fudgy & Chewy
Learn how to make delicious eggless fudgy and chewy brownies with easy recipe and readily available ingredients.
Ingredients
All purpose flour - 1 cup

Cocoa powder

unsweetened - 1/4 cup

Baking Soda - 1/2 tsp

Salt - 1/4 tsp

Butter

unsalted - 1 stick or 1/2 cup (at room temperature)

Brown Sugar - 1/3 cup

packed

Granulated Sugar - 1/4 cup

Vanilla Extract - 1 tsp

Milk - 1&1/2 tbsp

Chocolate chips

small - 1 cup
Instructions
Preheat the oven at 375*F / 190*C.

Line a 7 inches square baking pan with butter or parchment paper. You may use a 6 inches oven safe Pyrex dish also. The baking time may vary a little bit with pyrex.

Take a medium size mixing bowl. Sift all purpose flour, coco powder, baking soda and salt in it. MIx with a fork and set aside.

Take a large mixing bowl. Add butter, brown sugar and granulated sugar to it.

Take the electric beater and beat this mixture for about 2 minutes till butter and sugars are mixed and it becomes soft and slightly fluffy.

Add vanilla extract + flour mix + milk to the butter mix. Mix with a fork till all the flour is mixed well in the butter. Your brownie batter is ready. It is tighter than the cake batter.

Now add 1 cup chocolate chips to the batter. Save 2 tbsp for later.

Transfer this batter to the lined baking pan. Spread it out evenly with either a spreading spatula or with your finger tips of the hand.

Sprinkle the remaining 2 tbsp of chocolate chips on top. Press these down a little bit.

Bake the brownie for 25-30 minutes. Start checking at 23 minutes for done-ness, with the wooden party pick inserted in the middle to check if it is fully baked.

Once the toothpick comes out clean, switch off the oven. Take the brownie out.

Let it sit in the pan for 5 minutes.

Carefully take it out with parchment paper and let it cool down.

Once cooled, cut in desired shape and size. Eat fresh or store for later.
Storage
These can be stored at the room temperature in an air tight container for upto 5 days. Finish with in this time or it will dry.
This is perfect to bake for your vegetarian friends who do not consume eggs. Or bake it for a family who has kids allergic to eggs. Or just bake it for yourself when you run out of eggs. I made my neighbors and friends taste it. They couldn't figure out that there were no eggs in it. 2 thumbs up for the recipe!
Take it as a perfect hostess gift, bookmark this recipe for upcoming holiday season, treat your game night folks with these or just bake it for some self indulgence. I promise there will be no regrets.
This recipe is so easy that even your kids can bake it under your supervision. It is a perfect Kids friendly baking recipe.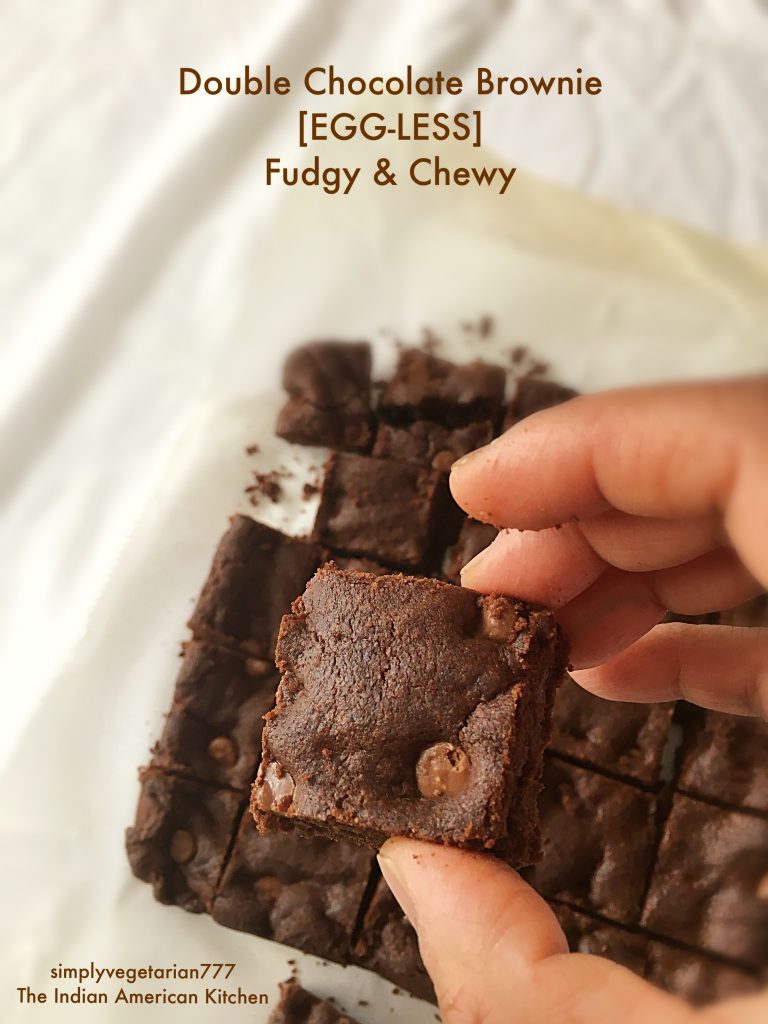 Some Eggless Bakes from my blog are –  Marble Cake,  Vanilla Cake,  Chocolate Cake,  Thumbprint cookies, and many more.
You can order the following ingredients and baking supplies from amazon. It will help me earn a small commission to run the blog.
Can't Bake it now? PIN IT FOR LATER!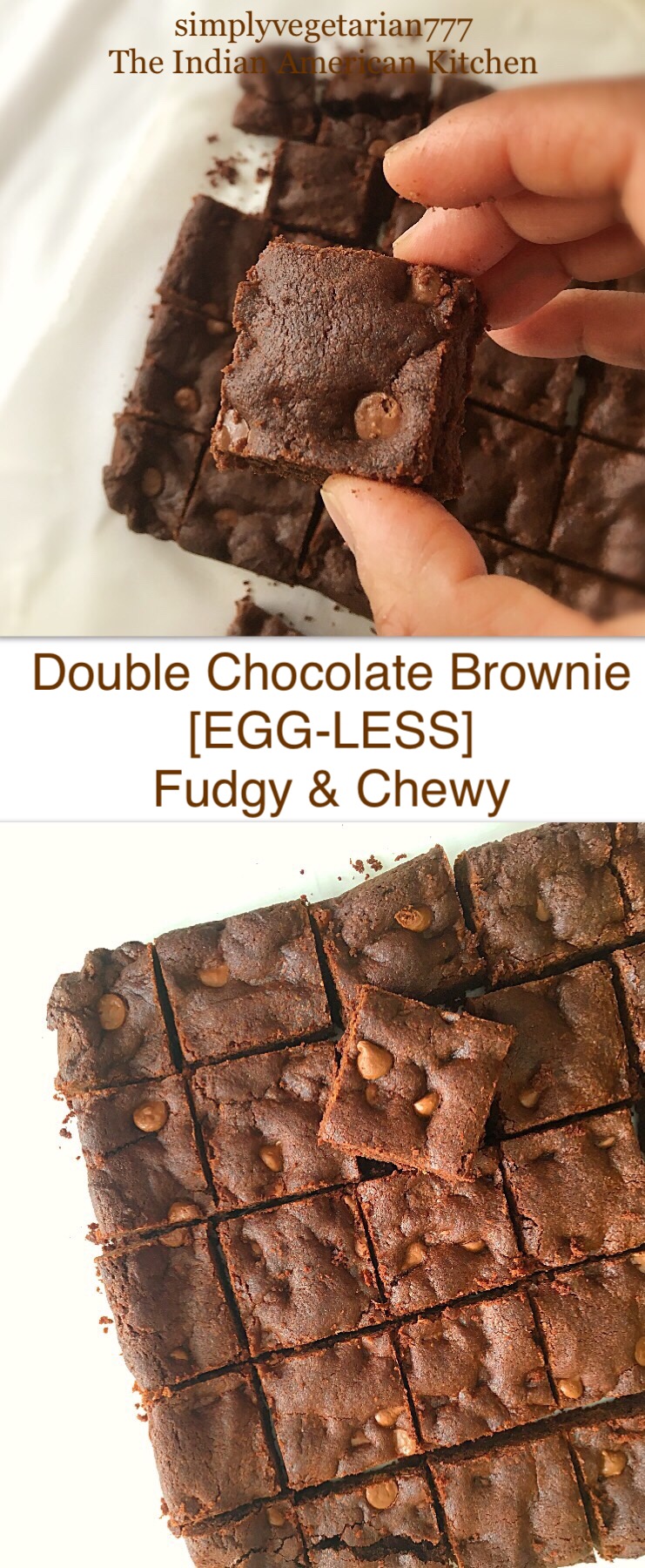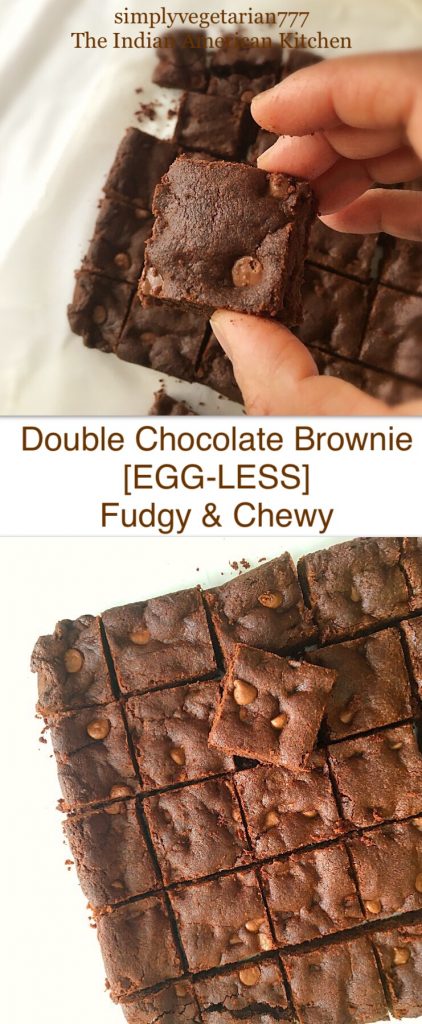 In my kitchen, always EAT HAPPY & STAY HAPPY!
If you try these delicious fudgy Eggless Double Chocolate Brownies, then do give me a feedback.
Sonal