Salad Series : Mini Tortilla Salad Rolls(Oven grilled and lightly breaded Zucchini and Squash wrapped with Greens and Radish Salad in a Mini Corn Tortilla and Drizzled with Light Dressing)
As an Amazon Associate and member of other affiliate programs, I earn from qualifying purchases.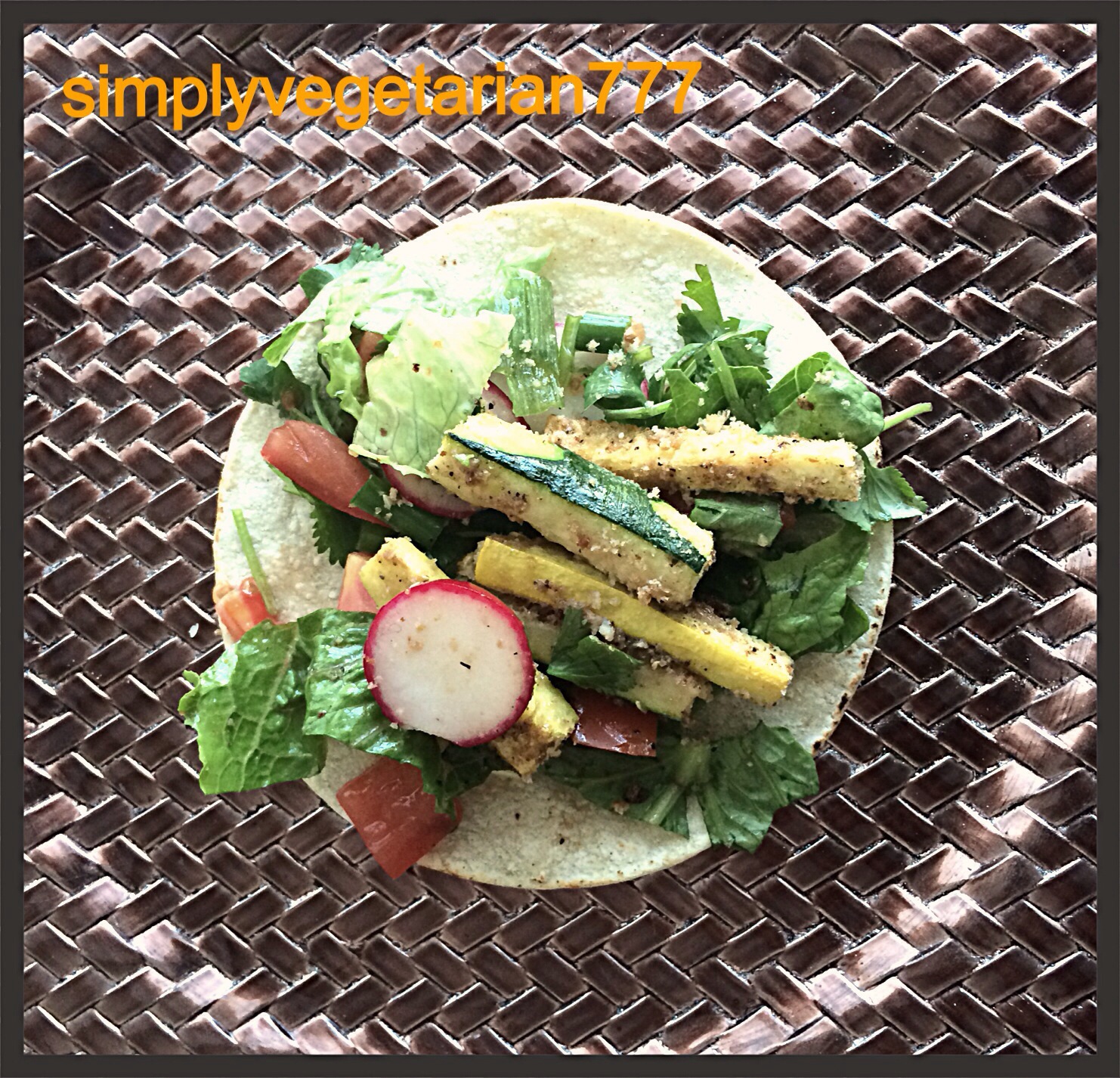 Quite a long name for a dish, but it actually has different components to make it more interesting in taste. Lately, my Facebook page is swamped with dishes and most of them are from vegetarian times, vegan living and some other vegetarian bloggers. In my attempt to create some flavorful and yet simple light meals for health benefits and lunch menus, I always get caught up with greens. Yes! It is the color if the season :). Add a little protein, a small portion of carbs and loads of raw and happy greens. Doesn't that sound Fantastic? My oldest daughter says a word "yumblatz".. Lol… I always tell her to not say it since it sounds funky and junky but the "old times sake" youth (lol) in me loves it…. So a mother denies it but the free spirit adores it ;).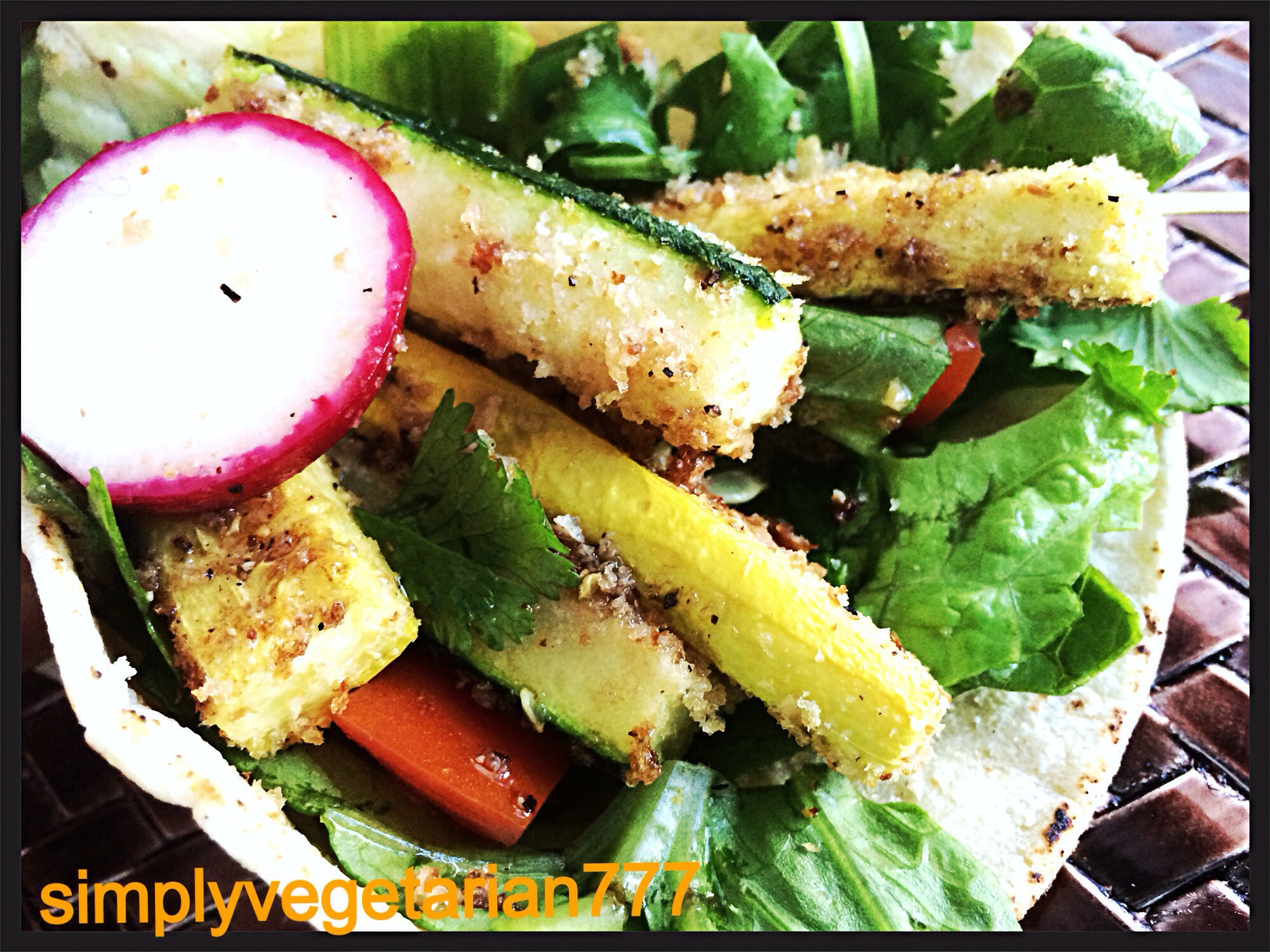 Believe me, it is a very simple salad though it has few components but totally doable and can be taken for lunch at work, picnics etc, but yes tortillas packed separately.
Yield : 6 Tortilla Salad Rolls.
Serves : 3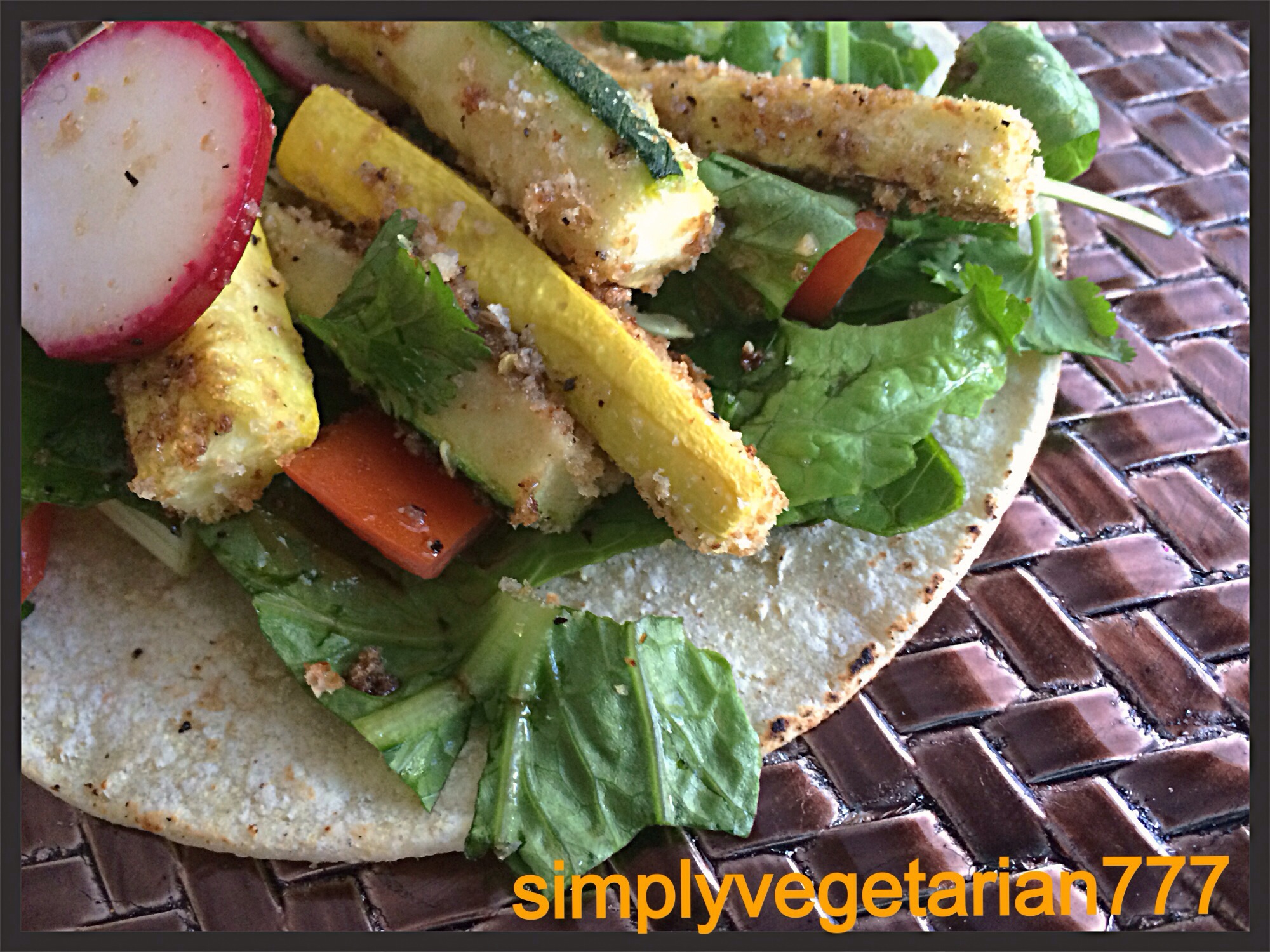 Here is what you have 4 Components :
Lightly Breaded and oven Grilled Zucchini and Squash for that X factor 😉
Ingredients :
15-16 zucchini sticks, around 3-4 inches long and 1 inch thick.
15-16 yellow squash sticks, around 3-4 inches long and 1 inch thick.
1/8 cup Whole wheat bread crumbs
Salt n pepper to taste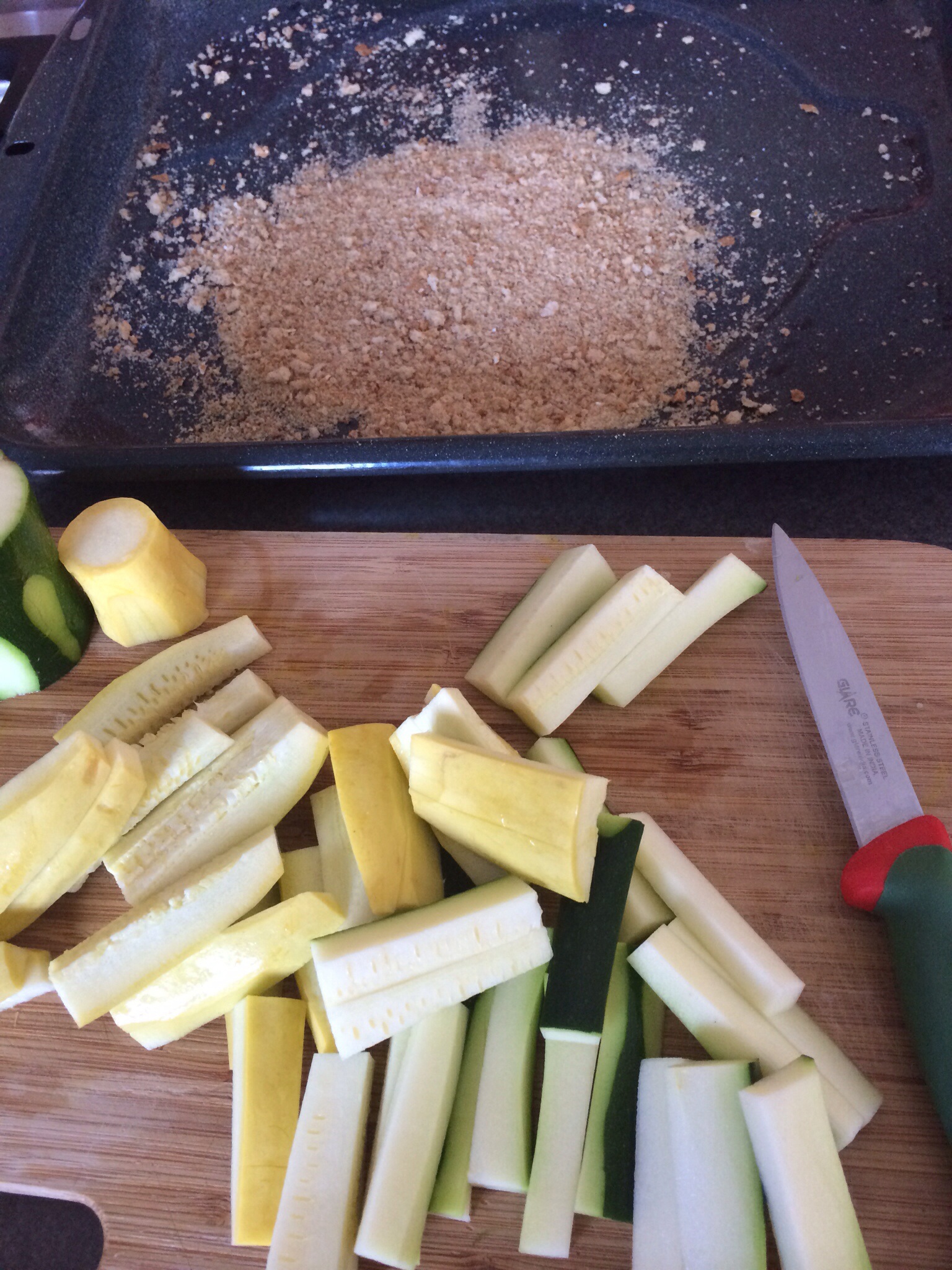 Method :
Pre Heat the oven at 450f or 225c.
Spread the bread crumbs on a cookie sheet. Add salt n pepper to taste and mix well. Spread it out.
Now place the zucchini and squash sticks on the spread bread crumbs and mix well so that they lightly get coated.
Place these sticks on another baking sheet. Spray them lightly with oil spray if you want.
Bake these for 10-12 minutes in the oven till bread crumbs turn slightly brown or red.
They are ready.
Note : if you dint want to oven grill them. Then stir fry these sticks with 1 tsp oil on high flame for 1-2 minutes in a wok. Add salt n pepper to taste.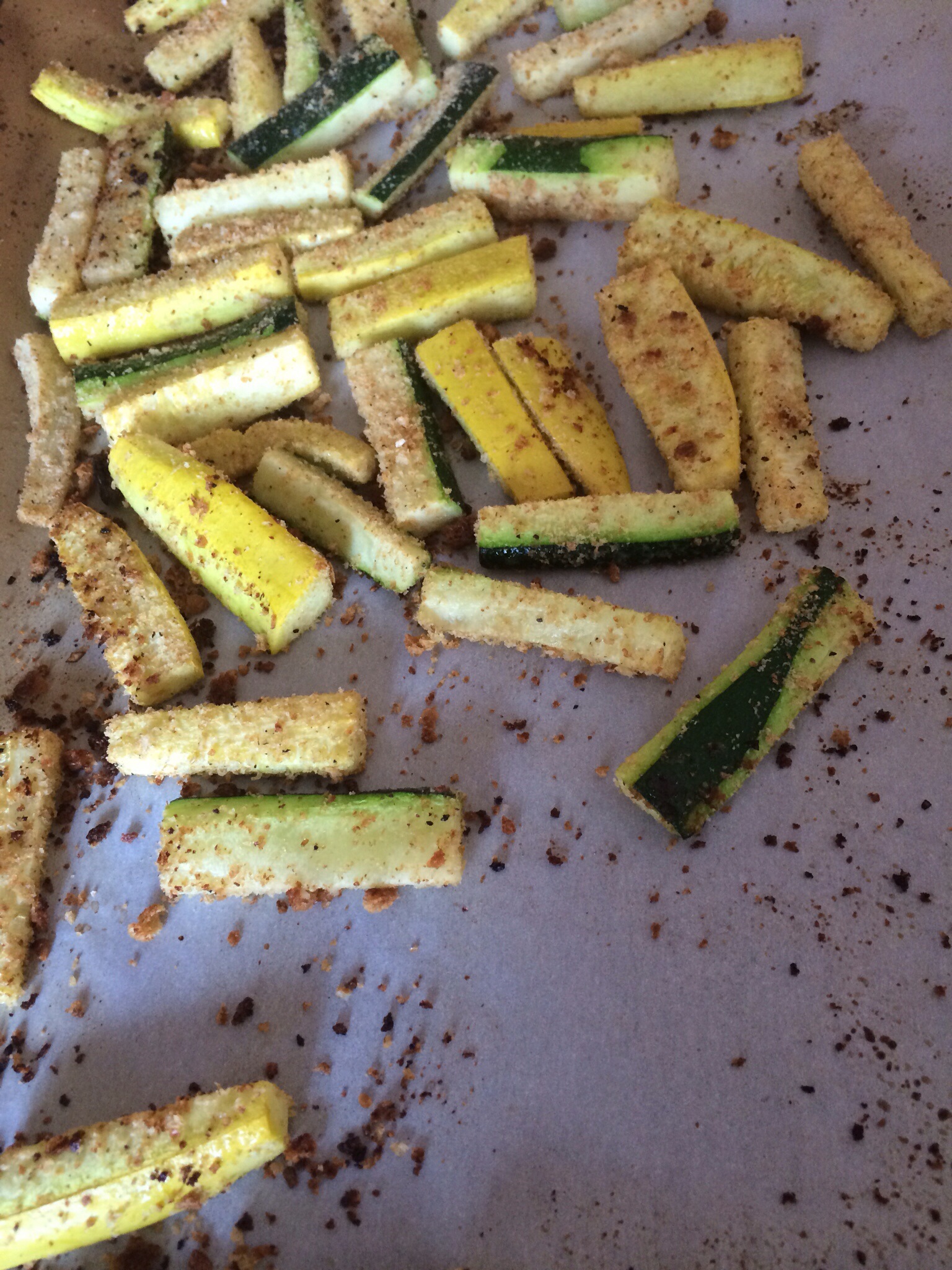 2. Greens and Radish Salad for The Crunch
Ingredients :
Romaine Leaves : 1 cup loosely packed, washed, trimmed and cut. You may use lettuce as well
Cilantro or Coriander leaves : 1/4 cup, washed and chopped roughly.
Tomatoes : 1 medium or 1/2 cup chopped. May use cherry tomatoes.
Red Radish : 4 or 1/3 cup, sliced in circles
Scallions or green onions : 2, washed and cut
Method :
Just toss everything together I a bowl and keep aside.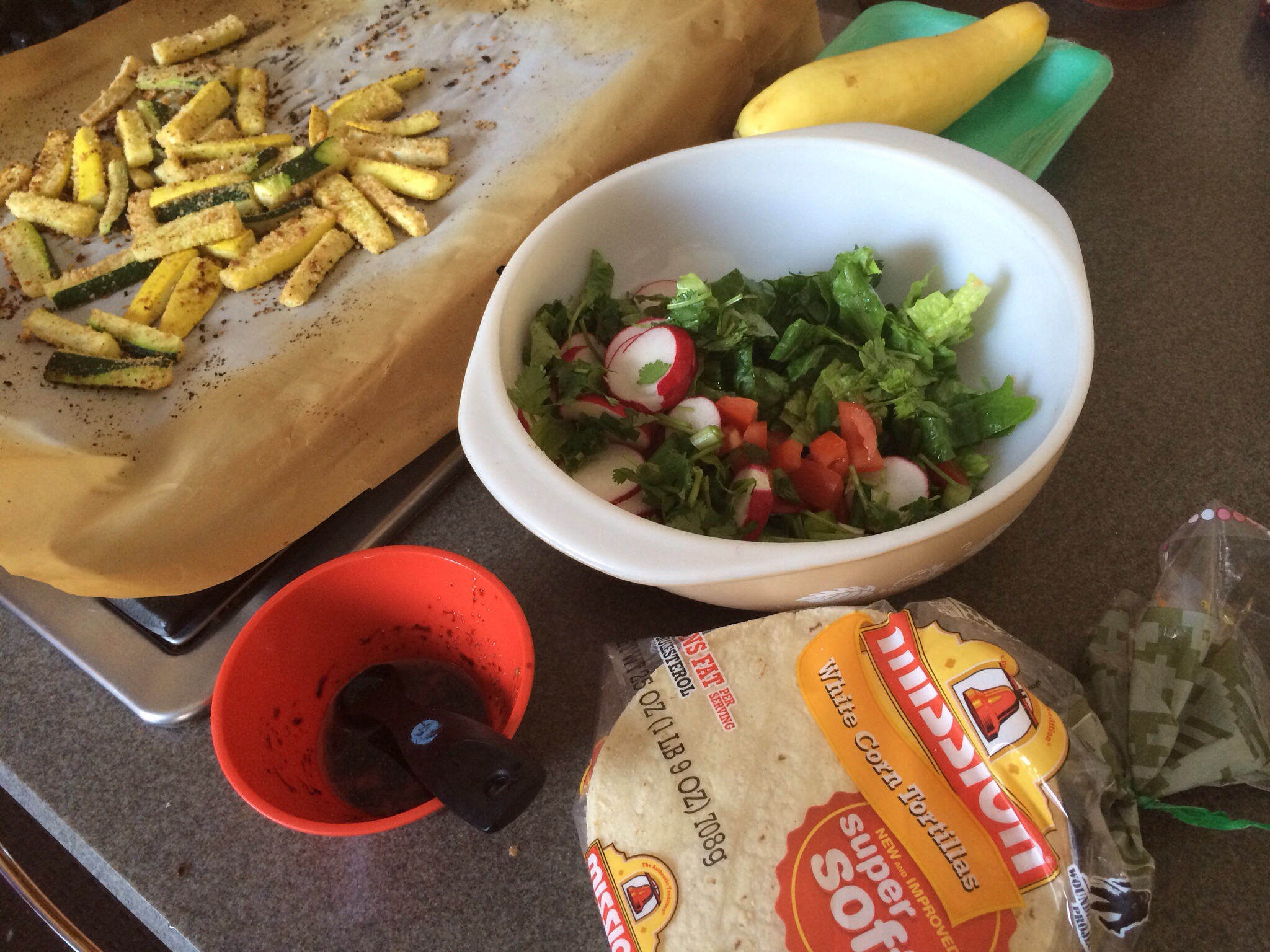 3. Easy Peasy Yummy dressing for the Oomph 🙂
Ingredients :
Olive oil : 1 tbsp
Balsamic Vinegar : 1 tsp
Salt and pepper to taste
Method :
Mix all the ingredients together and keep it in a bowl.
4. Mini White Corn Flour Tortillas . These are the Carriers :).
Require 6, probably the ones with 80-90 cals per piece and lard free.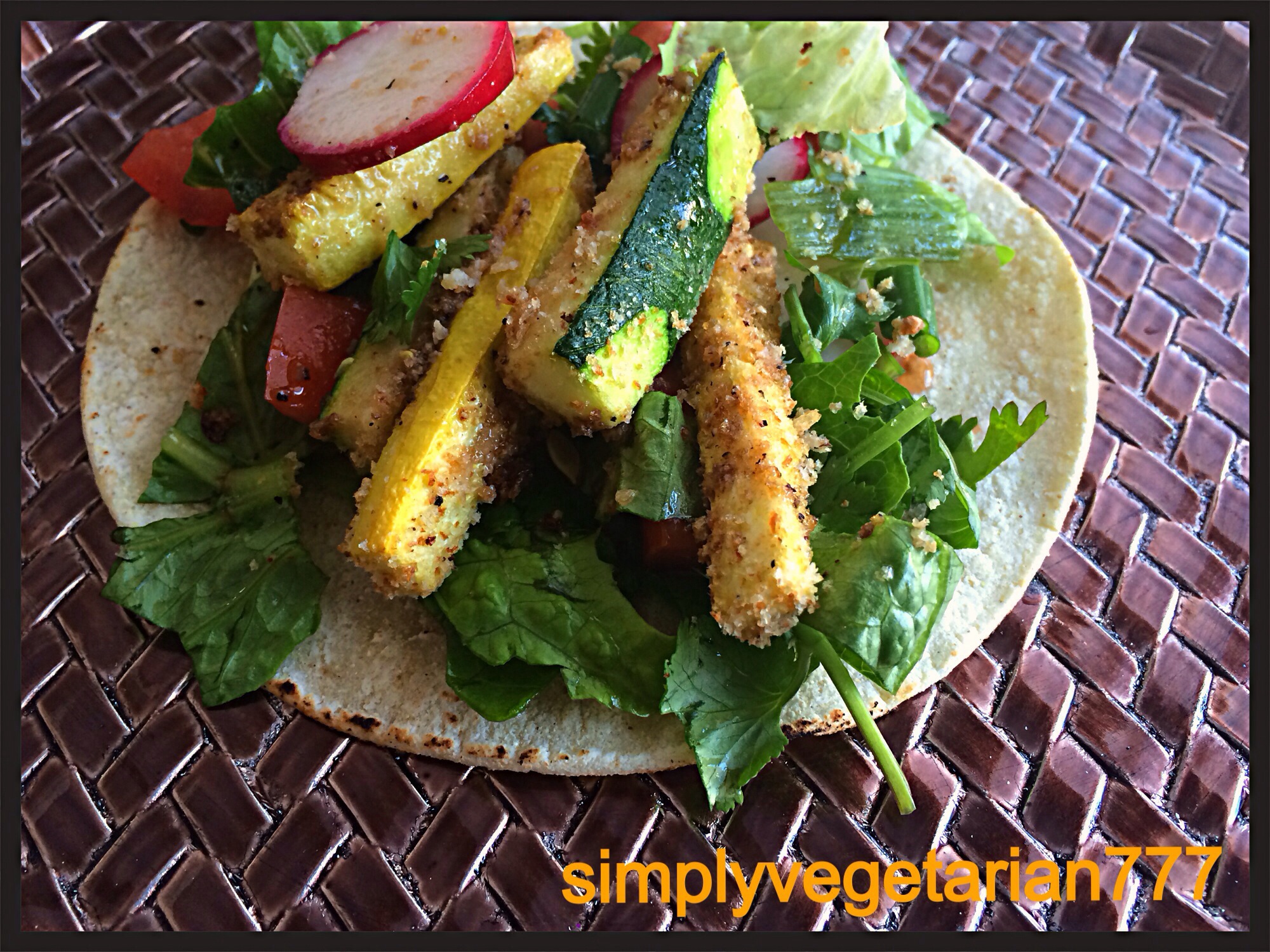 Layering :
Heat up the tortillas if you want. Spread them out on a working surface.
Add the Greens and Radish salad, approx 1/4 cup each.
Top with zucchini and squash sticks, approx 5-6 sticks per tortilla.
Top with 1/4 tsp of dressing. Believe me it's enough. If you want, you can add all the dressing to the greens and radish salad before.
Roll it and eat :).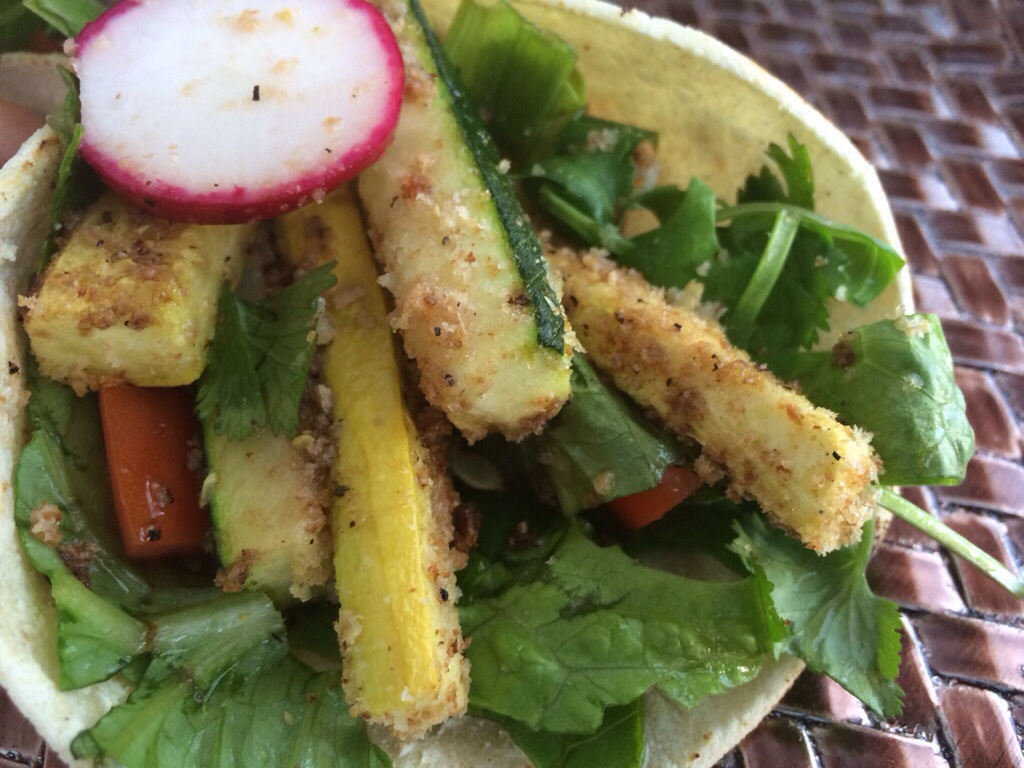 Nutrition Facts by www.eRecipe.com
Mini Tortilla Salad Rolls
Total Rolls : 6
Servings Per Recipe: 3
Amount Per Serving
Calories: 224
Total Fat: 8.1 g
Saturated Fat: 1.4 g
Trans Fat: 0 g
Cholesterol: 0 mg
Sodium: 554.9 mg
Total Carbs: 33.4 g
Dietary Fiber: 5.4 g
Sugars: 1.2 g
Protein: 9.2 g