Salad Series for Vegetarian and Vegan : Raw Salad with Chickpeas in Balsamic Dressing (under 250 calories per serving)
As an Amazon Associate and member of other affiliate programs, I earn from qualifying purchases.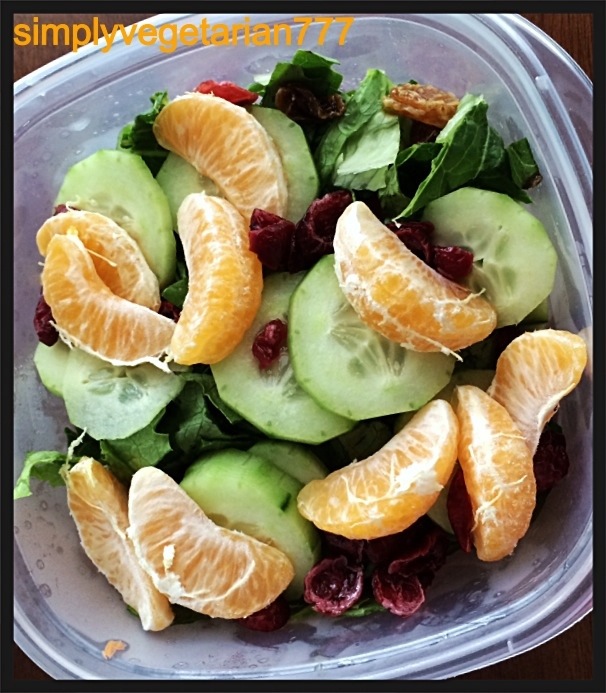 I have been thinking and thinking hard. Every year, on 1st of January most of us, make resolutions of eating better, healthier and staying fit. It works for a month or so and then it goes out of the window,.just tossed like that. No fun! Reasons are many. Few being….routine is boring..salads are blah…healthy eating means skipping on your favorite food…well moderation is the key…family commitments….etc etc etc..the list is long.
I have my own resolutions this year. Few of them being :
Walk 100 plus miles this year plus 50 classes at the gym at least including Zumba, hip hop, boot camp and yoga. I started challenging myself last year with boot camp and surprised myself..I did it..survived full 1 hour and kept repeating it.. I used to shy away from it and let go for so many years thinking it was not for me. But the main reason behind was that I found a buddy who motivated me to try one class and I got hooked.

Create healthier recipes including "not so boring" salads. Actually it's not the salad that's boring but the appeal and appearance that comes with it. I have been browsing lately and came across the Jar salads. Loved them…loved the concept of layering and the ease that comes with them and still thousand options to play around. Who'll I am going to use my Tupperware :).

Reducing the portion size of my food on my plate by eating in a salad plate and not dinner plate. Eating snack in small bowl instead of big one.

Find more constructive path for myself.

Spending Quality time with my family.

Not to forget to let that balloon go sometimes…..that is pig out over the weekends :)…..yes!
Last night, I made my first Salad in a jar and Tupperware. It was fun and filling. Easy to store and a complete make in advance, easy to take to work, textured and refreshing. There are few things to remember when making a Salad in a jar, when you want to last it for 2-4 days without spoiling the textures of the ingredients used. I packed it for Amit for lunch and enjoyed mine at home after a good workout at lunch time.
Few things to remember :
1. Dressing at the bottom.
2. If using beans of any kind, then add the beans. Or hardy grains like boiled whole wheat, bulgar etc.
3. Hardy root vegetables go on top like radish, parsnips, turnips etc.
4. You may layer your greens now from the wide variety available.
5. Pasta or any other delicate starch .
6. Nuts and seeds if you are using.
7. Top it with some fruit for interesting color, texture and bite.
Note : You don't have to have so many layers. The ingredients can be all raw or a mix of cooked and raw and from any cuisine.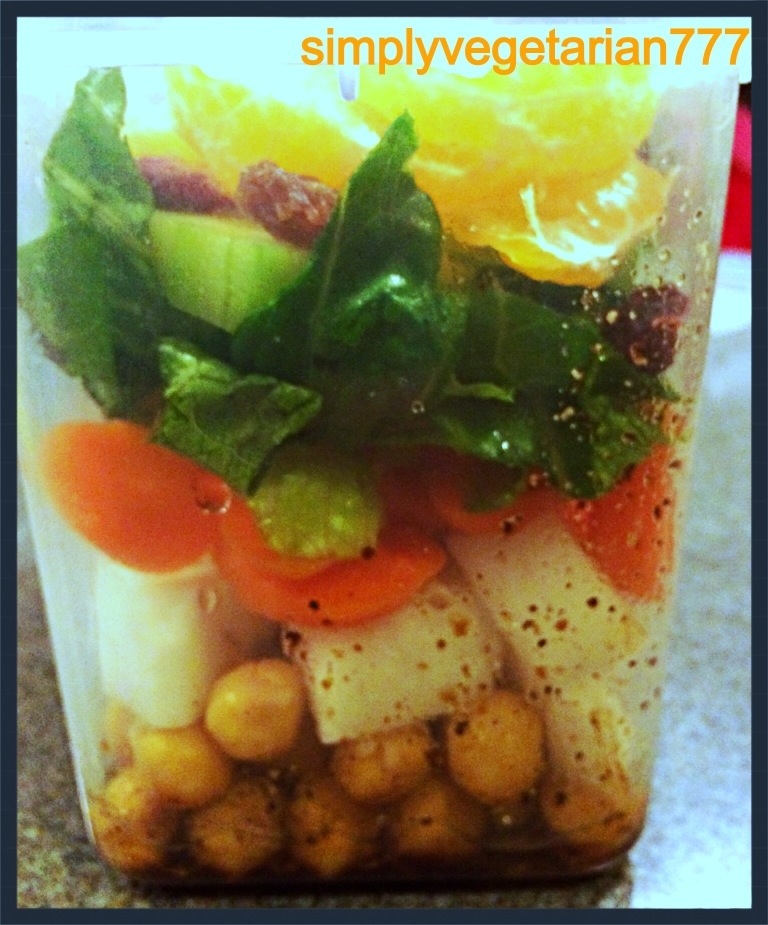 Here is my first salad for the series :
Ingredients for 2 :
Dressing : 1 tbsp olive oil + 1 tsp Balsamic vinegar + salt n pepper and little lemon juice. Can it get simpler than that. You may use regular vinegar in case you don't have balsamic vinegar.
Chickpeas : 2/3 cup boiled
Turnips : 1 cut in cubes
Carrots : 1/2 cup cut in thin slices
Romaine Leaves : 4-5. You may use lettuce
Cucumbers : 1/2 cup sliced
Mixed dry berries : 1 tbsp
Clementines or oranges : 2 small or your choice
Method :
Start layering.
Tale a deep bowl.
Prepare your depressing by mixing everything well. Distribute in 2 different bowls/jars.
Add chickpeas.
Now add turnips. Layer with carrots now.
Add your greens. Top with cucumbers and dried mixed berries.
Add orange slices.
Cover it up. Put it in fridge.
Next morning, get up for work..pack your jar/box and enjoy at lunch.
It is colorful. Full of texture and colors and not so boring and full of nutrition. Open. Shale a little. Toss a little. Fork and Eat!
More colors, the better it is :).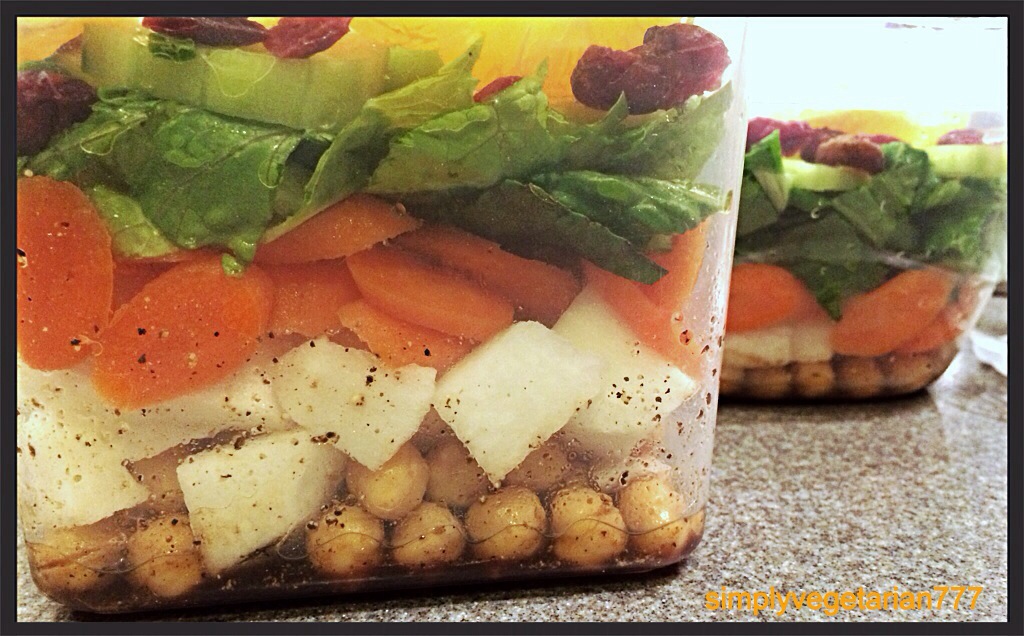 Nutrition Facts
Crunchy Salad layered in a jar or box
Servings Per Recipe: 2
Amount Per Serving
Calories: 247
Total Fat: 9.1 g
Saturated Fat: 1.9 g
Trans Fat: 0 g
Cholesterol: 0 mg
Sodium: 646.5 mg
Total Carbs: 36.2 g
Dietary Fiber: 7.3 g
Sugars: 17.3 g
Protein: 7.6 g