Skinny Kashmiri Dam Aloo or Potatoes in Yogurt Curry : A Light, Quick and FingerLicking Meal for The V-DAY!
As an Amazon Associate and member of other affiliate programs, I earn from qualifying purchases.

Potato Curry served with Indian Flat Bread and Mixed Salad on the side! Simple and Elegant!

Simple, Quick and oh so Gourmet!
When the blogosphere and facebook pages are painted with hearts and chocolates and reds and pinks today, my eyes have had enough of it through gorging itself. Naha! Nope…no chocolates or pink or red hearts for me. Though Amit is so sweet to "surprise" me with beautiful flowers every year on this day, it is not a surprise anymore :).lol! I love that man! We often show our love and respect towards each other through small little things, everyday. The V-Day just kills it for me, especially when I had my youngest one sick and up all last night. I think my Guardian Angel knew it and we had a Pre V-Day yesterday. Amit had come back home from his long journey and I wanted to make something special for him, but not time taking at the same time. So that was the calling for this dish called Skinny Kashmiri Dam Aloo.
Skinny comes from the fact that the Aloo or potatoes are not deep fried which is usually done this way. Kashmiri comes from the fact that this dish is native to the state of Beautiful Kashmir, where the curries use yogurt base and fennel seed powder to flavor. Dam is a technique where it is cooked on slow fire for longer periods and enclosed in a container. This is not the traditional preparation but very close to it and super simple and quick. So, if you are still struggling for the tonight's menu, consider it. It can be served with Cumin Rice, Naan, Roti or Parantha, which is a shallow fried version of Roti. You may buy Readymade Naan from the market which is so easily available these days in the stores. I am sure this will soon become your favorite curry in the house for the fact it is fast, convenient and non complicated. You can use this curry base for mixed vegetables, boiled eggs, tofu or anything that you may like. That's the fun part of the Indian curries that you can mix and match them innumerable varieties.

Sending this for Angie's Fiesta Fridays with some of my paintings as a conversation starter.
Serves : 4
Ingredients :

Oil : 4 tsp
Potatoes : 7-8 baby potatoes halved, golden Yukon, variety or naya Aloo in india.
Onion : 2 small
Green chili : 1
Ginger : 1 tsp fresh
Cilantro : 1/4 cup chopped
Yogurt : 1 cup at room temperature and stirred well.
Cream : 2 tbsp
Turmeric : 1/2 tsp
Coriander powder : 1 tsp
Red chilli powder : 1/8 to 1/4 tsp or per taste.
Garam masala : 1 tsp
Fennel seed powder : 1/2 tsp. If you don't have it then don't worry, the curry will still be very yummy.
Salt to taste
Water : 2 cups
Cashews and Raisins : 1 tbsp each, optional.
Method :
Process the onions in the food processor with chili and ginger. OR chop these 3 super fine or grate the onions and ginger.
Heat oil in pan. Add the onions ginger and chilli paste to it. Sauté on medium flame till onions get slightly red in color.

Add all the dry spice to it. Mix well and sauté for a minute in low flame.

Add the halved or quartered potatoes. That's the skinny part..no frying still tasty. Mix everything well.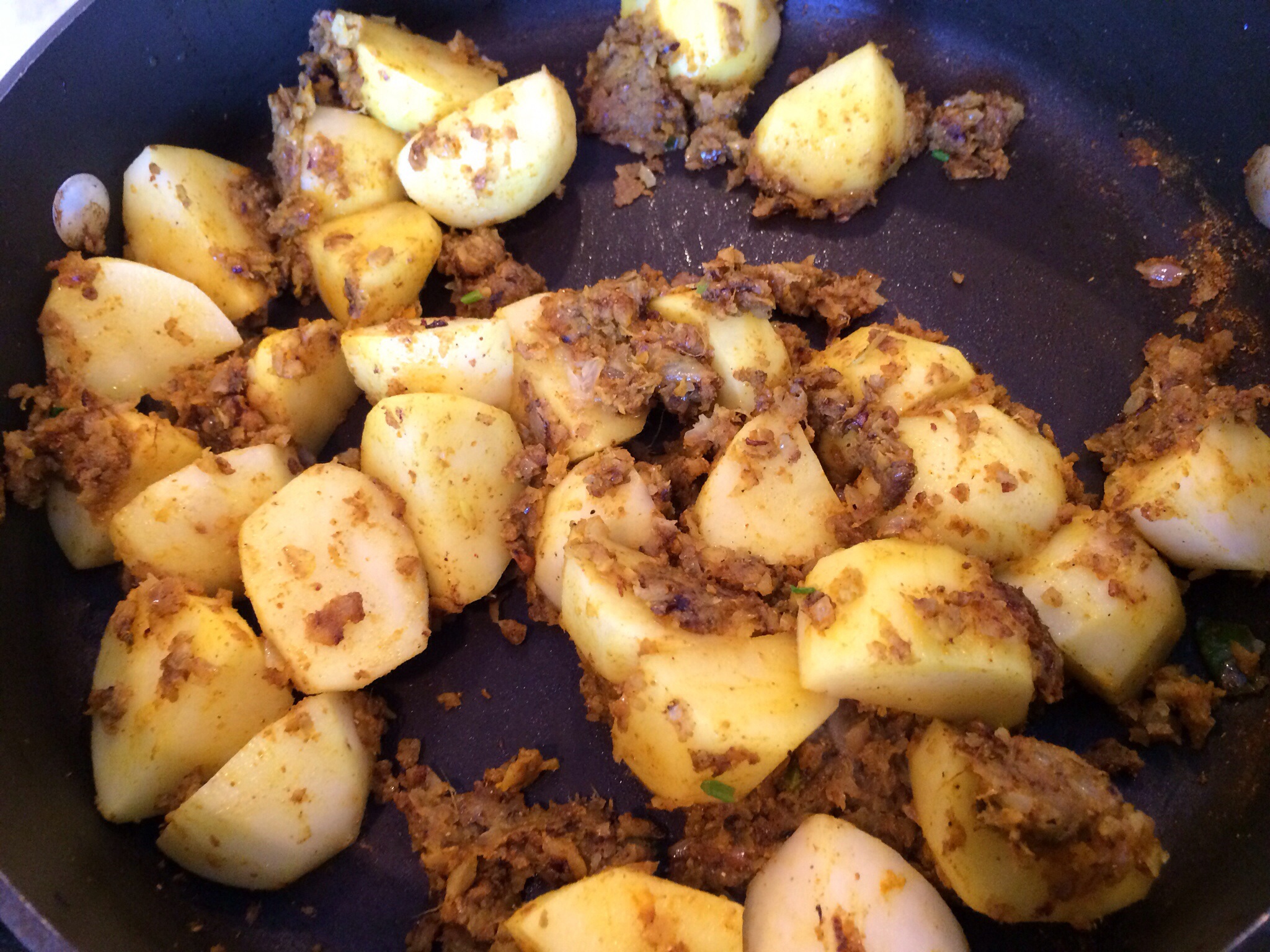 Add water and some chopped coriander leaves. Cover and cook till potatoes are tender. Takes about 10-12 minutes for the young potatoes.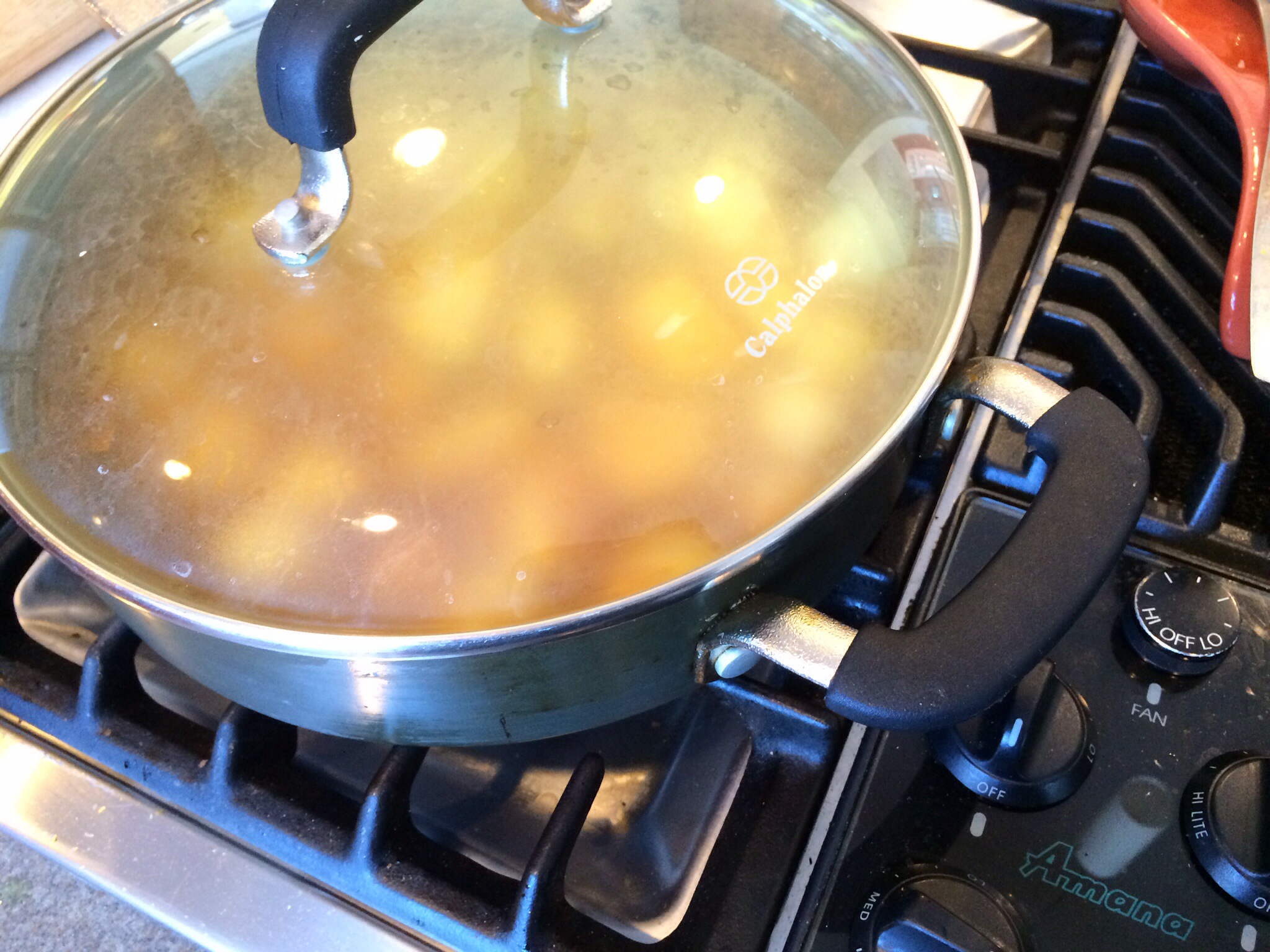 Add the stirred yogurt and cream. Mix well and heat for 3-5 minutes. All done.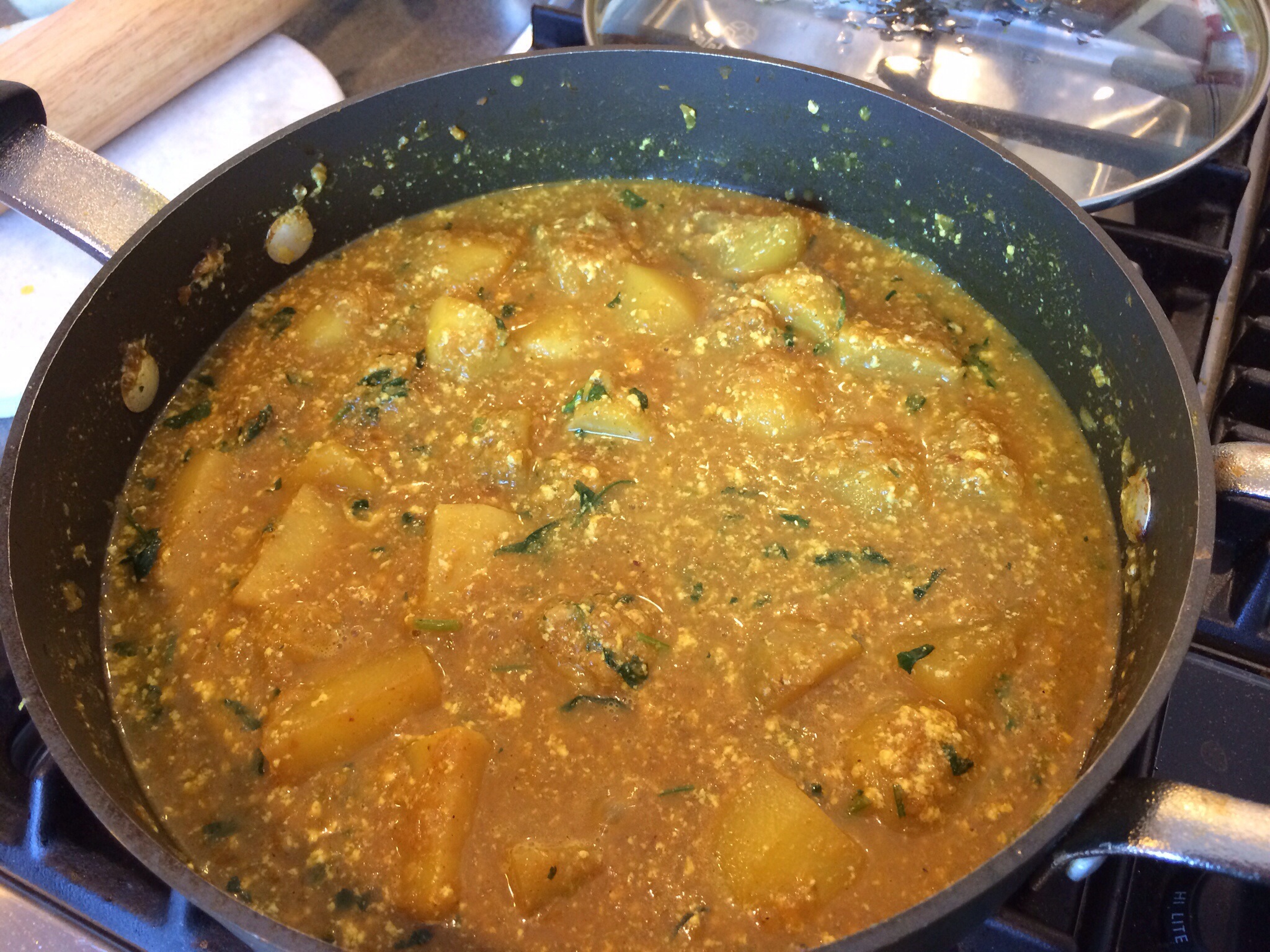 Note :Sometimes, when we use cold yogurt or home made slightly loose set yogurt, it tends to separate..like in the picture above. In that case. Separate the potatoes, take the curry, put it in the blender, blitz for 2-3 times..all done till it gets together.
Pour it back on potatoes and heat well. Serve it with some cashews and raisins which will enhance the taste of the dish.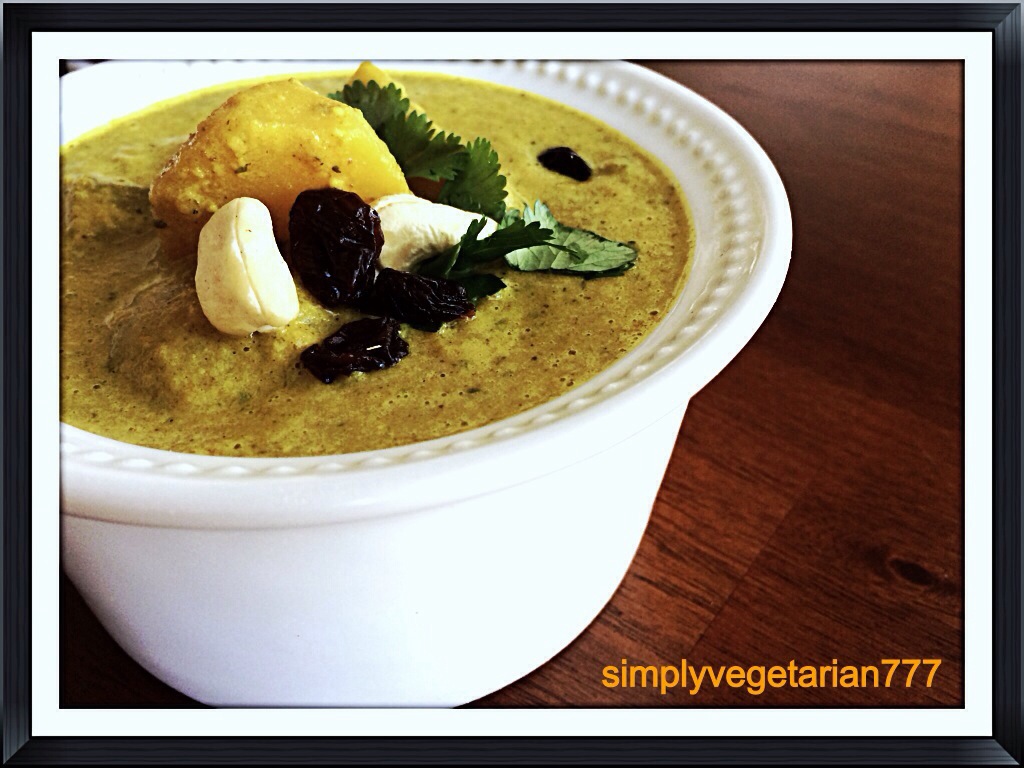 Now presenting some of the work that I did on hand made paper with 100% gold pen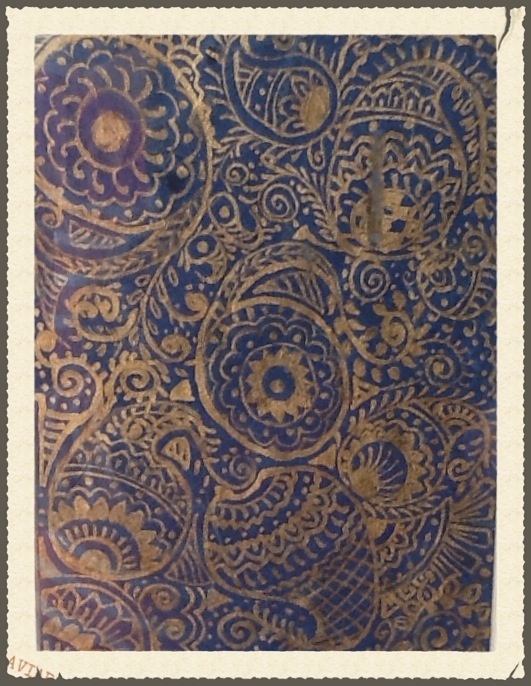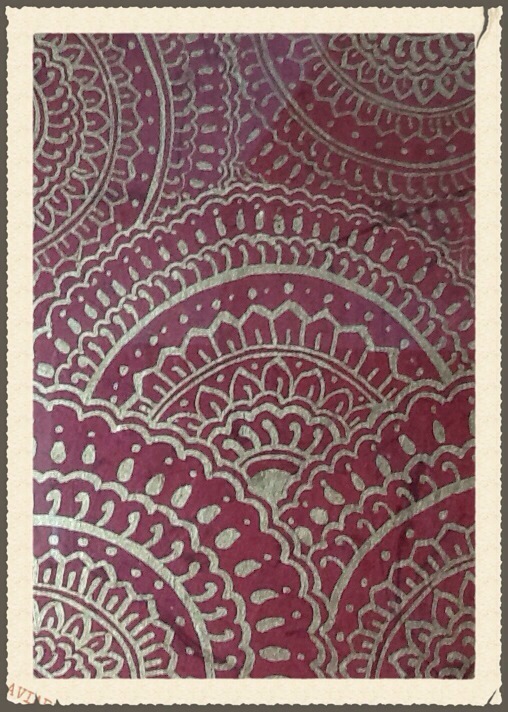 Few of my Water Colors