Sookhe Kaale Chane
As an Amazon Associate and member of other affiliate programs, I earn from qualifying purchases.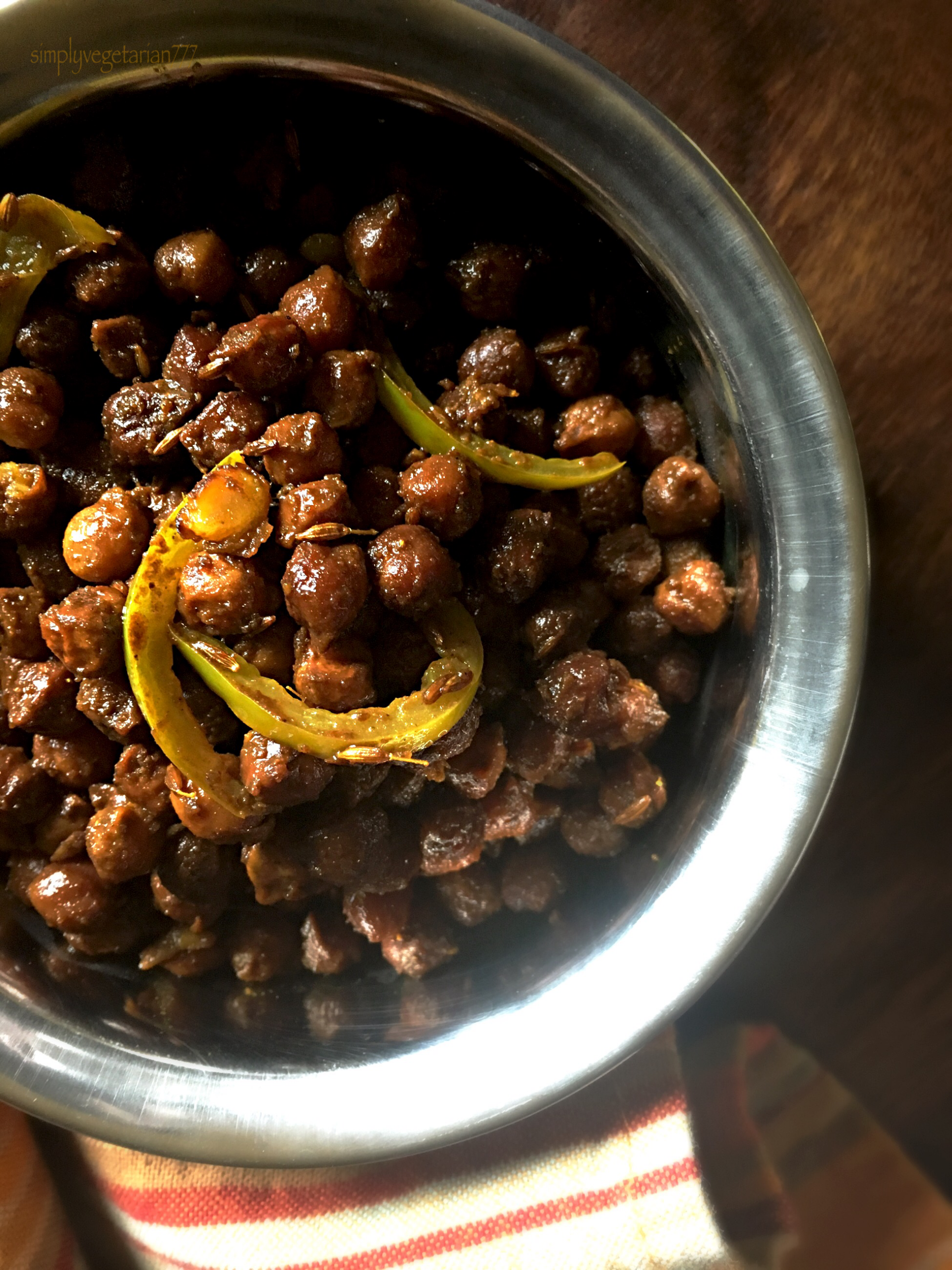 Sookhe Kaale Chane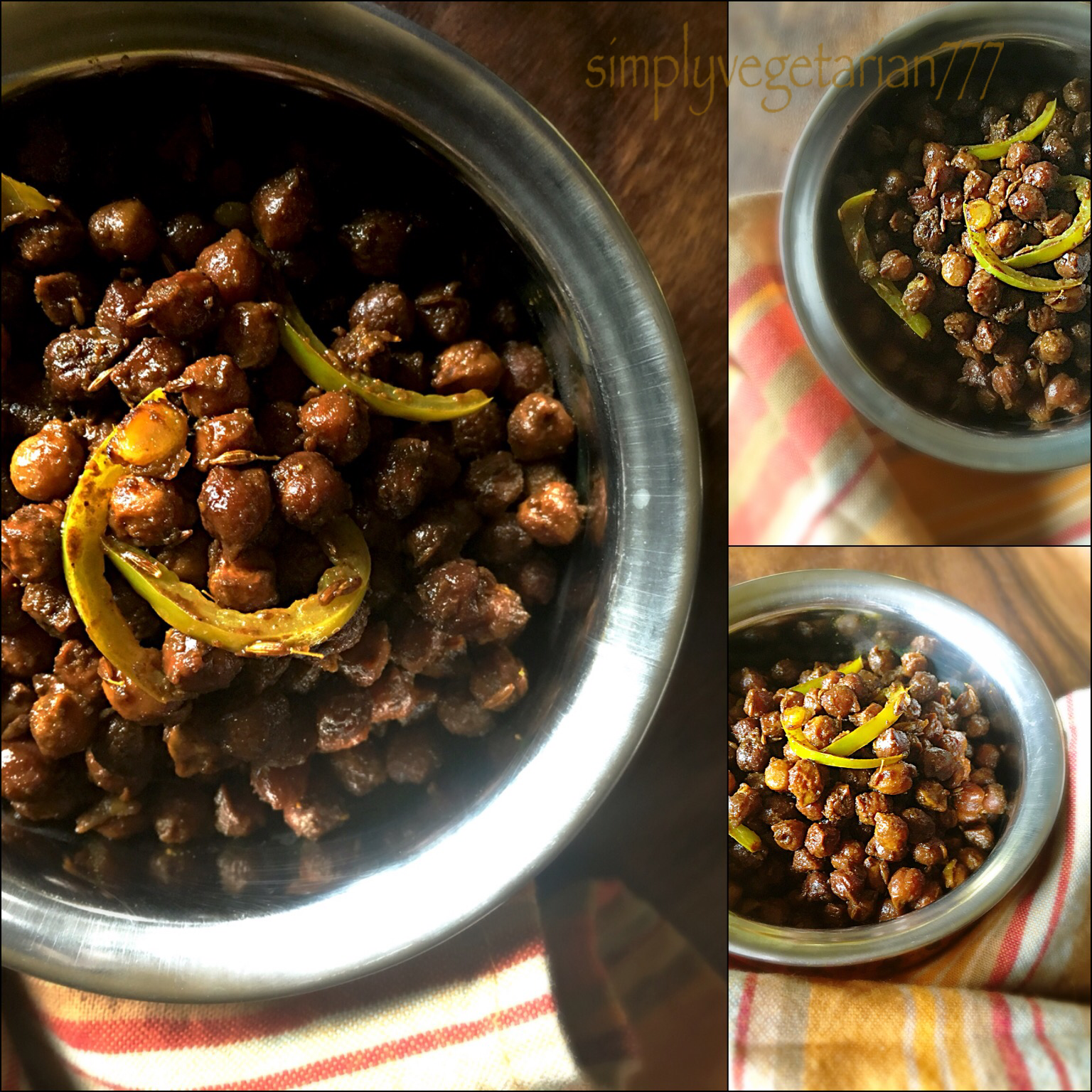 Sookhe Kaale Chane is a "must make" dish for Ashtami / Navami Kanjak Pooja. Along with it, Halwa and Poori are prepared for the Prasaad (food offering). This celebration is widely observed by the Hindu community of India.
Sookhe means Dry and Kaala Chana is Black gram which is a close cousin of chickpeas and is native of India. The grain is back and smaller.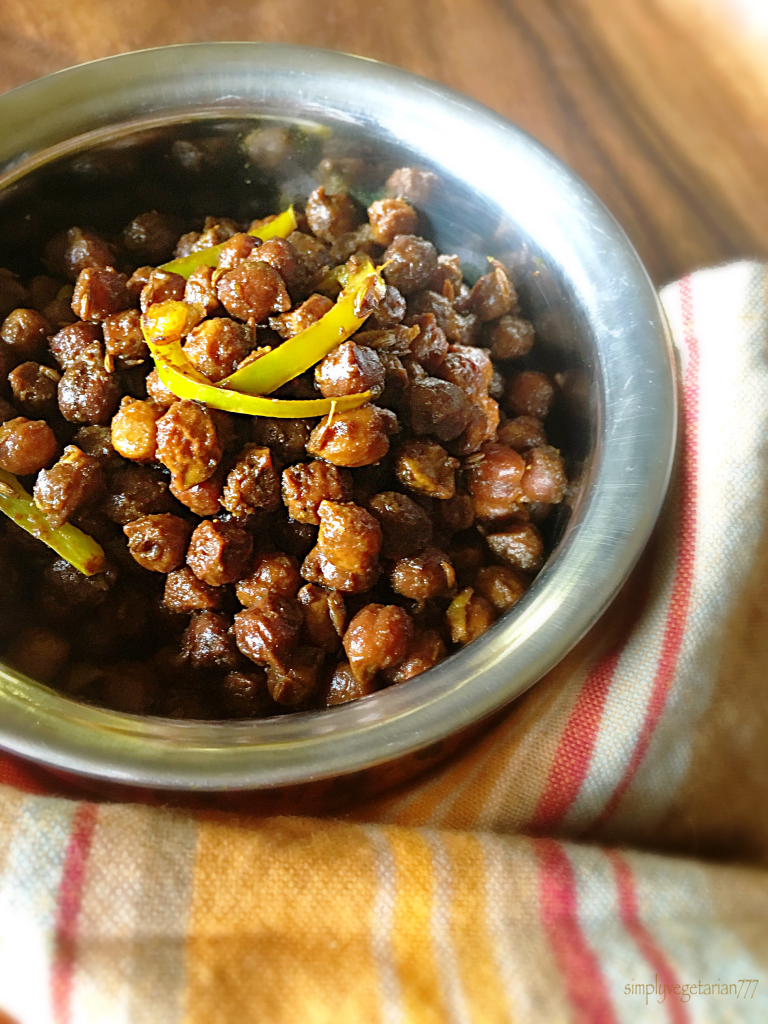 Today, I am sharing my mother's no fail recipe of preparing Sookhe Kaale Chane which is a very "pindi chana" style preparation. A family heirloom recipe from my Indian American Kitchen to yours. It is made with minimum ingredients and is delicious. I can't remember how much we used to eat this when we were children. Just bowls after bowls with Poori and Halwa. Such a delightful and hearty feast. Golden childhood memories etched like an ice stone. The laughter, the food, the festivities, a great combination of all is so nostalgic.
Most of the times, the Prasaad made for the offering to Gods, has some magical quality. It turns out so delicious and just perfect. A great dish to enjoy anytime besides the Festival time also.
This is how I made it!
Sookhe Kaale Chane - Prasaad recipe
Servings: 6 small or 4 adult
Difficulty: easy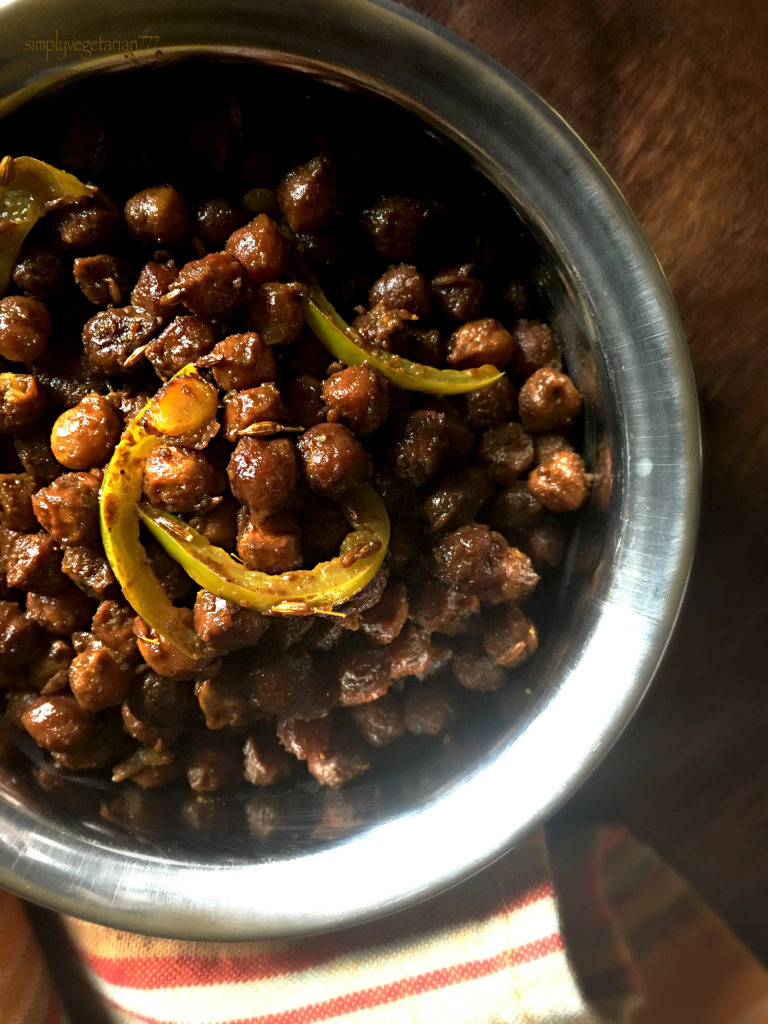 Kitchen Equipments Required
Pressure cooker or pan with lid, a big bowl for soaking, a heavy bottom pan with lid, stirring spoon, chopping board and knife.
Some other beans / dals recipes from my blog are – Dal Panchratni , Dal Maharani , Dal Palak Saag , Lauki Chana Dal and more.
Ingredients
Kala Chana / Black Gram – 1 cup
Baking Soda – a very small pinch
Water – 1 cup + 1 cup
Ginger – 1 small piece, julienned
Green Chili – 2, sliced thin, optional
Oil & Spices
Ghee – 1 tbsp
Cumin seeds – 1 tsp
Red chili powder – 1/4 tsp
Turmeric – 1/2 tsp
Dry Mango powder / Khatai / Amchur – 1&1/2 tsp
Garam Masala – 1/2 tsp
Salt – 3/4 tsp or to taste
Method
Preparing the Kala Chana
1. Wash and soak the Chana in 1 cup water for 3-4 hrs. It will double up in quantity, almost to 2 cups. Drain the water after soaking.
2. Sprinkle a pinch of Baking Soda and toss the dry Chana in it and keep aside for 10 minutes.
3. Take the pressure cooker and pressure cook them with 1 cup of water. After the first whistle, lower the flame. Cook for 10-12 minutes. Switch off the flame. Let the pressure release on its own. Open the cooker. The Kala Chana is boiled and ready to be tempered.
Tempering the Kala Chana
1. Heat Ghee in the pan. Add cumin seeds and when seeds crackle, reduce the flame to low and add ginger and green chillies. Sauté them for 10 seconds.
2. Now add all the spices as mentioned above. Sauté on the lowest flame for 10 seconds.
3. Add the boiled Kala Chana. Toss everything together. Cover and cook for 5 more minutes.
The Sookhe Prasad Wale Kaale Chane are ready.
I hope this recipe was helpful to all of you and you surely will make it for this Kanjak Pooja or Kumari Pooja.
Happy Kanjak to all of you!
Sonal