Stuffed Eggplant Poriyal – Ennai Kathirikkai
As an Amazon Associate and member of other affiliate programs, I earn from qualifying purchases.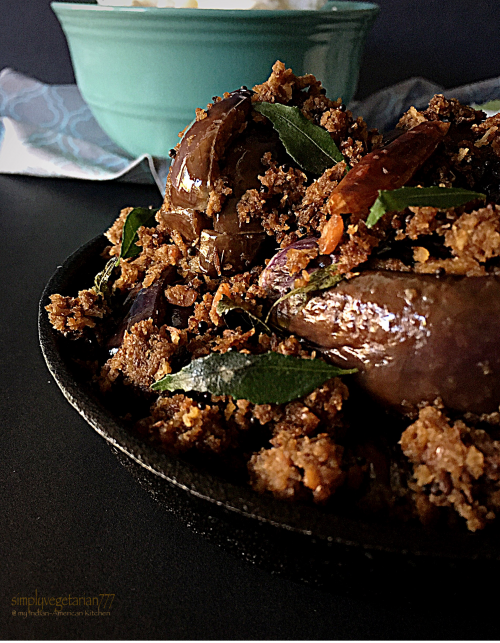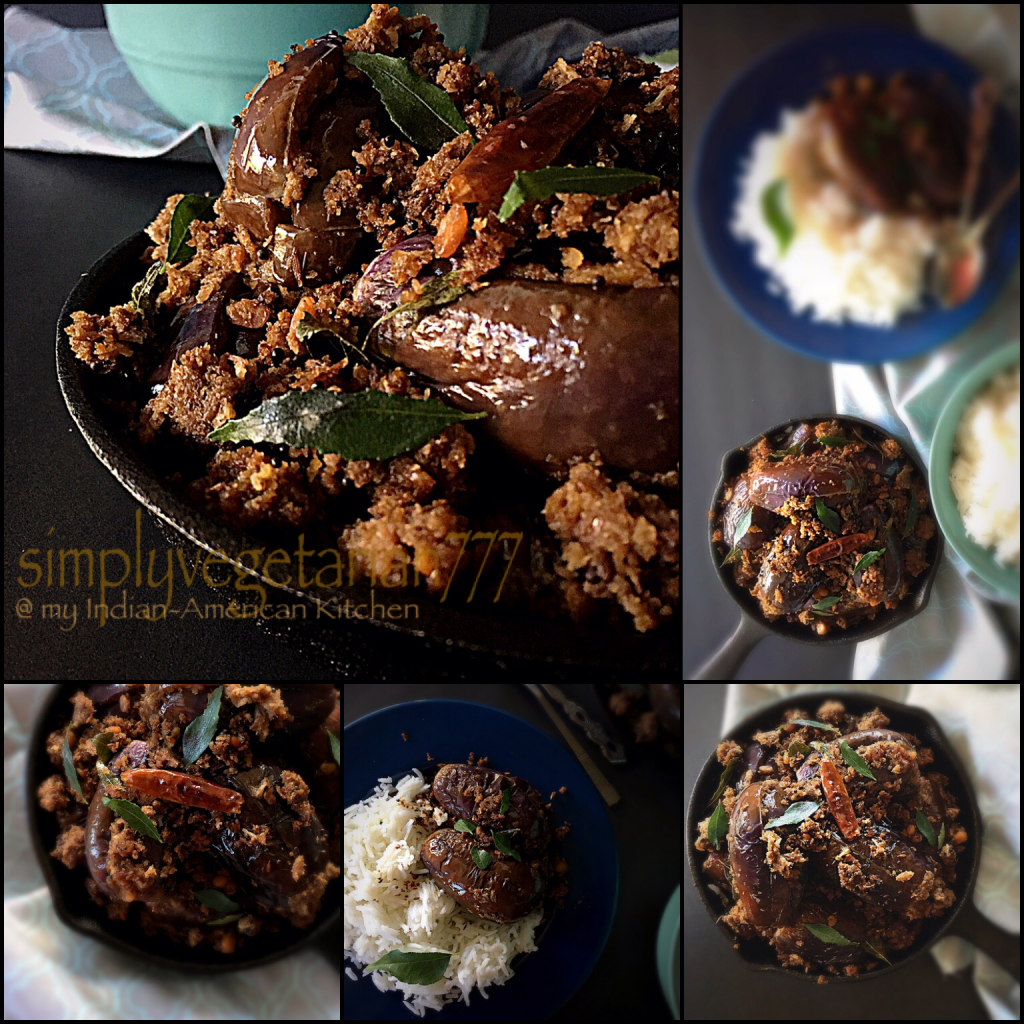 Almost 7-8 years ago, I was visiting my cousins in Minneapolis, Minnesota. My bhabhi knew my love for cooking so she gifted me this beautiful cook book called Dakshin meaning South, written by Chandra Padmanabhan. She has pended down some fabulous recipes in that book, in various categories of sambhar, spice mixes, poriyals, kuttus, rice and desserts.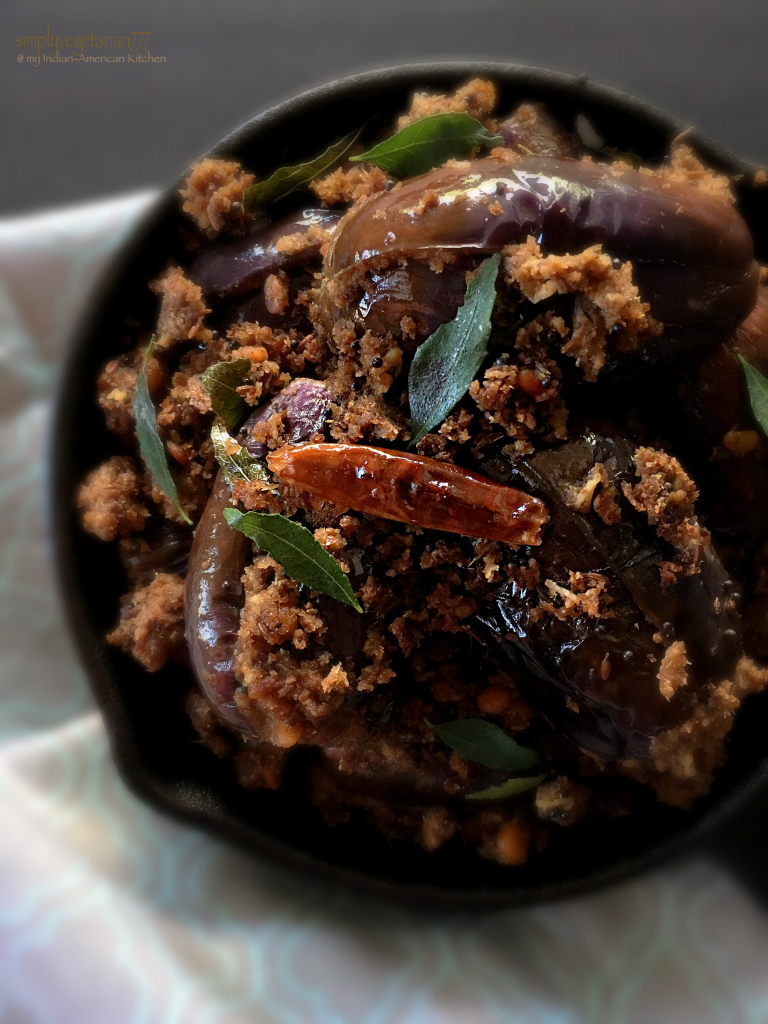 While sorting my books the other day, this cook book landed in my hands. For almost an hour, I kept flipping through the book, mersmerised by the photographs (dark and moody) and  the recipes. It was like finding a lost treasure.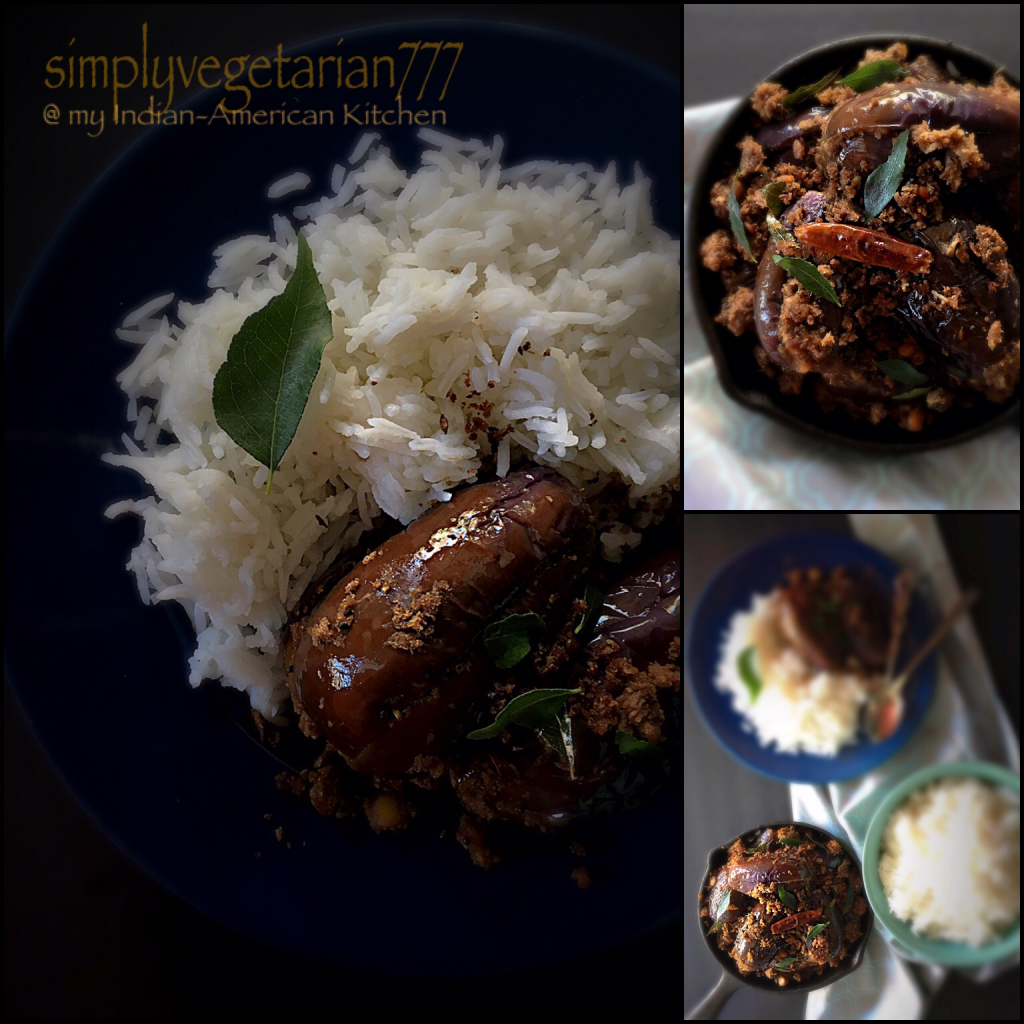 There is so much to learn about the cuisine from Dakshin / Southern India, that a lifetime will be short. Just like North Indian Cuisine, it varies from region to region and is very versatile.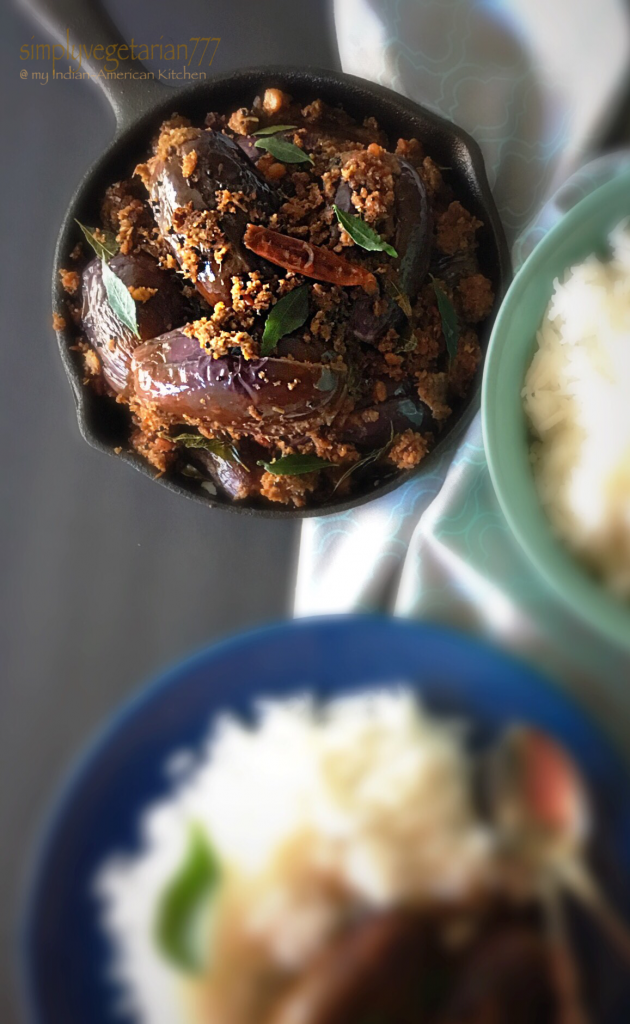 I will be making a humble attempt to try some recipes from this book with due credit to Chandra. The only hitch I had about these recipes is the amount of oil used in each dish. So I have adapted the recipe to make it healthier, without making it as oily and also without altering any ingredients used, to my best capacity.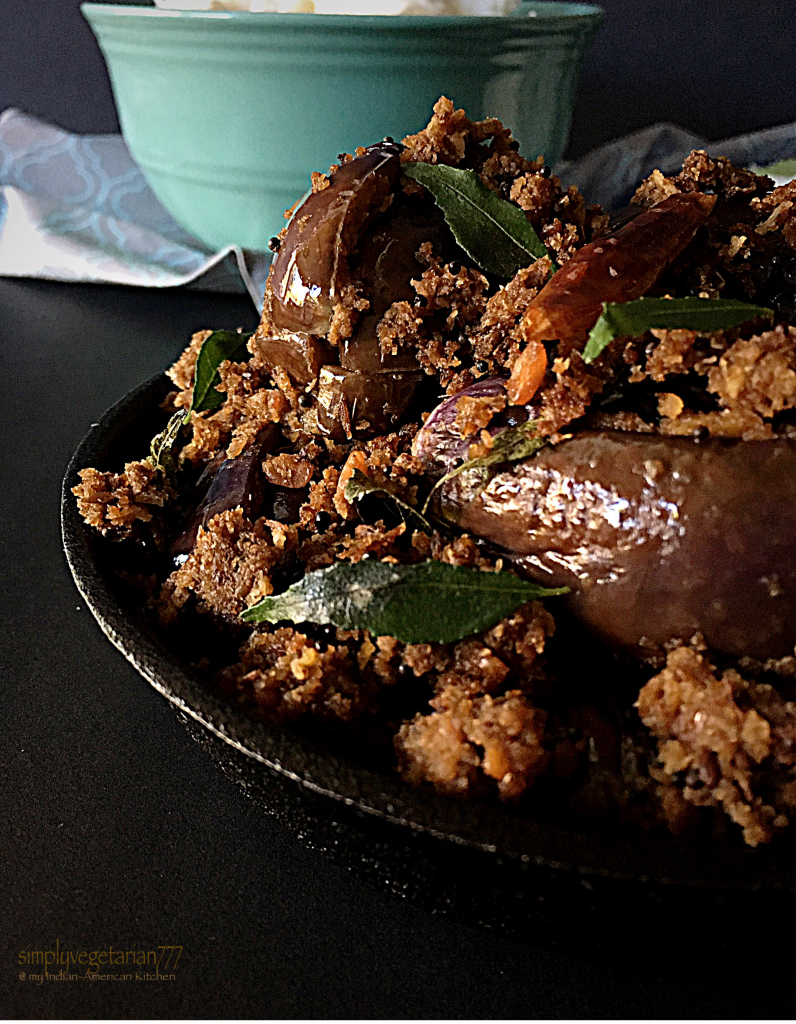 This recipe has various components including roasting coconut (refer picture 1 below), roasting other dry ingredients (refer picture 2), Grinding the roasted ingredients with tamarind and making a thick paste out of it (refer picture 3 & 4), making 4 slits into the baby eggplants without cutting it through (refer picture 5) and then stuffing the eggplants with the ground paste (refer picture 6) and finally cooking them till tender.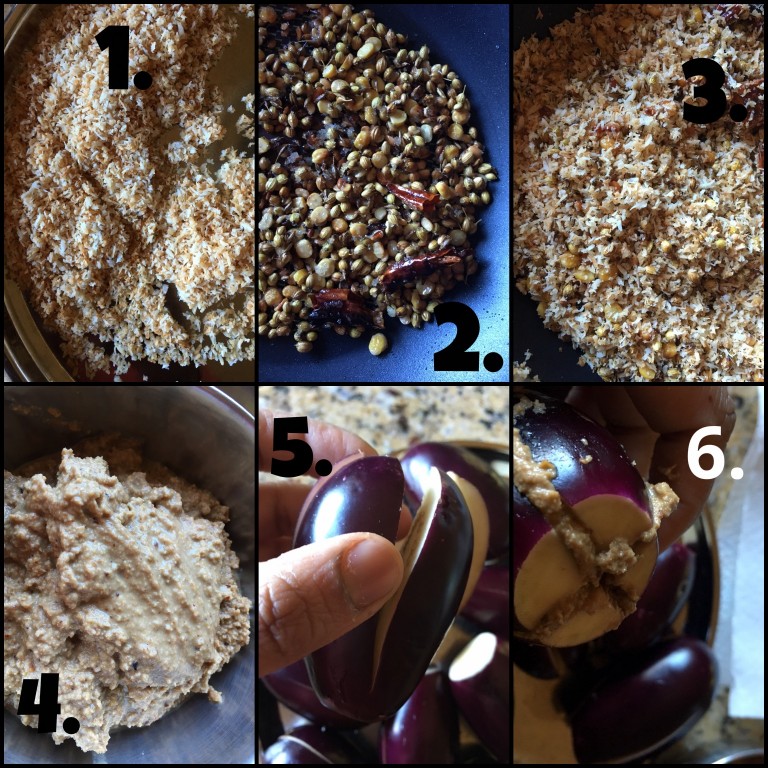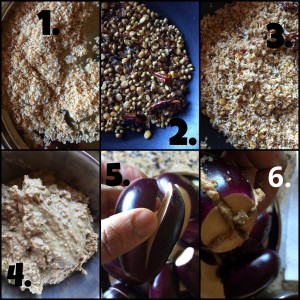 This is how it is made!
Stuffed Eggplant Poriyal
Servings: 4-6
Difficulty: medium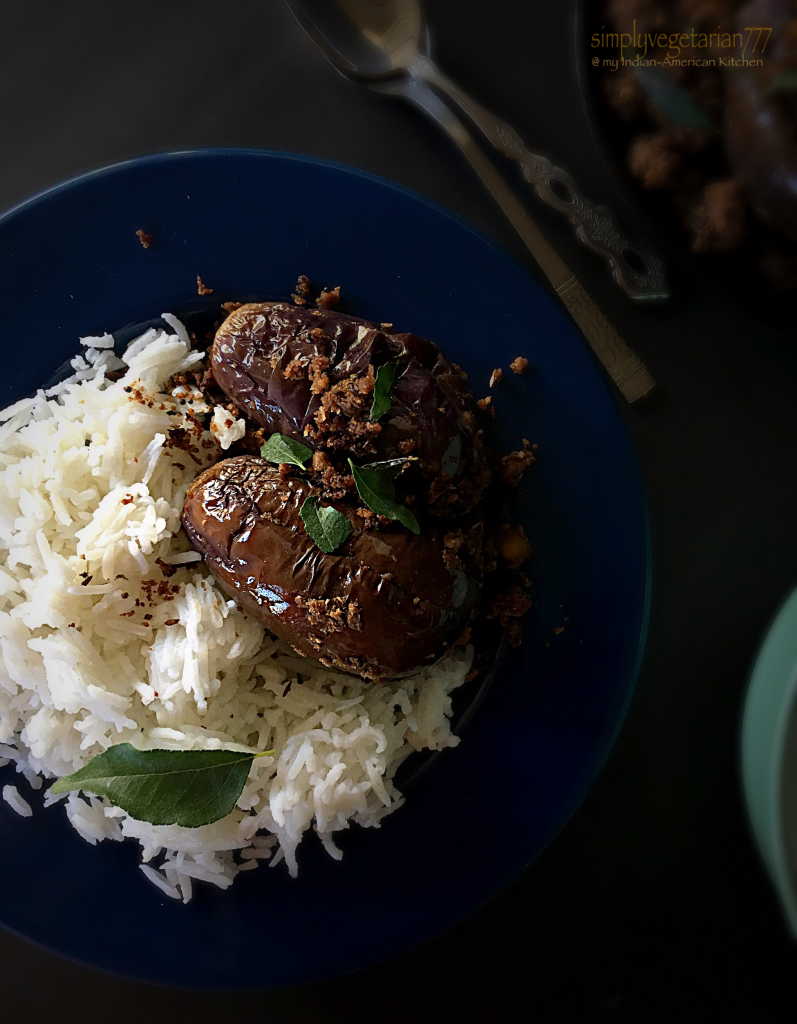 Kitchen Equipments Required
Chopping board, a bowl, a grinder, a big flat heavy bottom non stick or hard anodized pan with lid, flat spatula.
Ingredinets
Baby Eggplants – 500 gms or 10-12
Stuffing Ingredients
Coconut, grated – 3/4 cup. I used unsweetened dry flakes.
Corinader seeds – 1 tbsp
Urad dal – 3/4 tbsp
Chana dal – 3/4 tbsp
Cumin seeds – 1 tsp
Asafetida / Hing – a fat pinch
Red Chillies, dry whole – 5
Tamarind pulp – 2 tbsp
Salt to taste
Water – a little bit to grind
Tempering
Oil – 1&1/2 tbsp
Cumin seeds – 1 tsp
Mustard seeds, black – 1 tsp
Chana Dal – 1 tsp
Urad Dal – 1 tsp
Red chili, dry – 1 broken into half
Curry leaves – a small twig
Method
Preparing the Stuffing
Take the heavy bottom pan and dry roats the coconut flakes till golden brown on low flame. Set them aside.
Now in the same pan, add the ingredients of stuffing – urad dal, Chana dal, Corinader seeds, cumin seeds, red chillies and Asafetida. Dry roast these for 3-4 minutes on low flame till the dals become slightly golden and then remove the pan from the stove.
Take the grinder, add the roasted coconut flakes and other dry roasted spices to it along with tamarind pulp and salt. Add approximately 1-2 tbsp of water to make it a fine smooth paste. Set aside!
Cutting the Eggplants
Take the washed & dry baby eggplant. Remove the stem. Hold it straight up. Cut it into 4, while keeping the base intact. Leave atleast 3/4 inch at the base to hold the eggplant good.
Stuffing the Eggplant
Take the slit eggplant in one hand. With either spoon or fingers, fill the prepared stuffing paste in between the slits of the eggplant. Fill all the eggplants like wise and set aside. Save any leftover stuffing if any.
Make sure that you cut the eggplants only when ready to cook and after the stuffing is ready or else, the insides of the eggplants will turn brown.
Preparing the Poriyal
Heat 1&1/2 tbsp oil in the heavy bottom non stick or hard anodized pan.
Lower the flame and add cumin seeds, black mustard seeds, urad dal, Chana dal, dry red chillies and green curry leaves.
Saute on medium low flame till dals are golden. Now add the stuffed eggplants to the pan, making place for every baby eggplant to touch the base or side of the pan.
Pour any left over stuffing paste that you might have leftover. Sprinkle a dash of salt and a good sprinkle of water.
Cover with lid. Increase the flame to medium. Cook till eggplant is tender and slightly browned.
Do not flip or turn the eggplants too much or they might break when tender.
Serve with steaming hot rice or chapati or any bread.
It sure is a long recipe to read but totally worth it as it is rewarding in its flavors and textures. If you are an eggplant lover like me, you are gonna love it!
Yet another vegetarian dish from my Indian American kitchen to yours!
Enjoy!
Sonal!