Tandoori Veg Taco
As an Amazon Associate and member of other affiliate programs, I earn from qualifying purchases.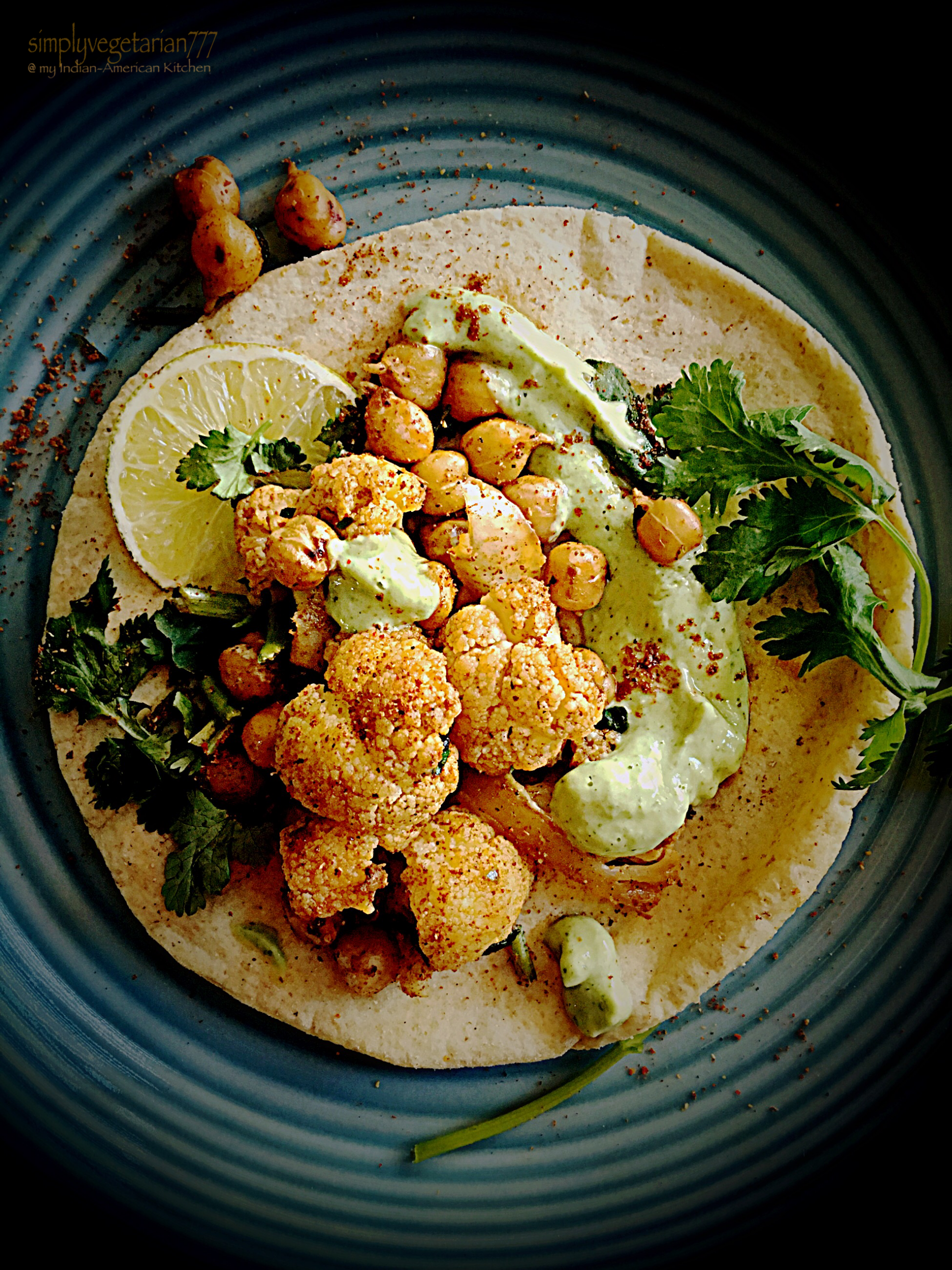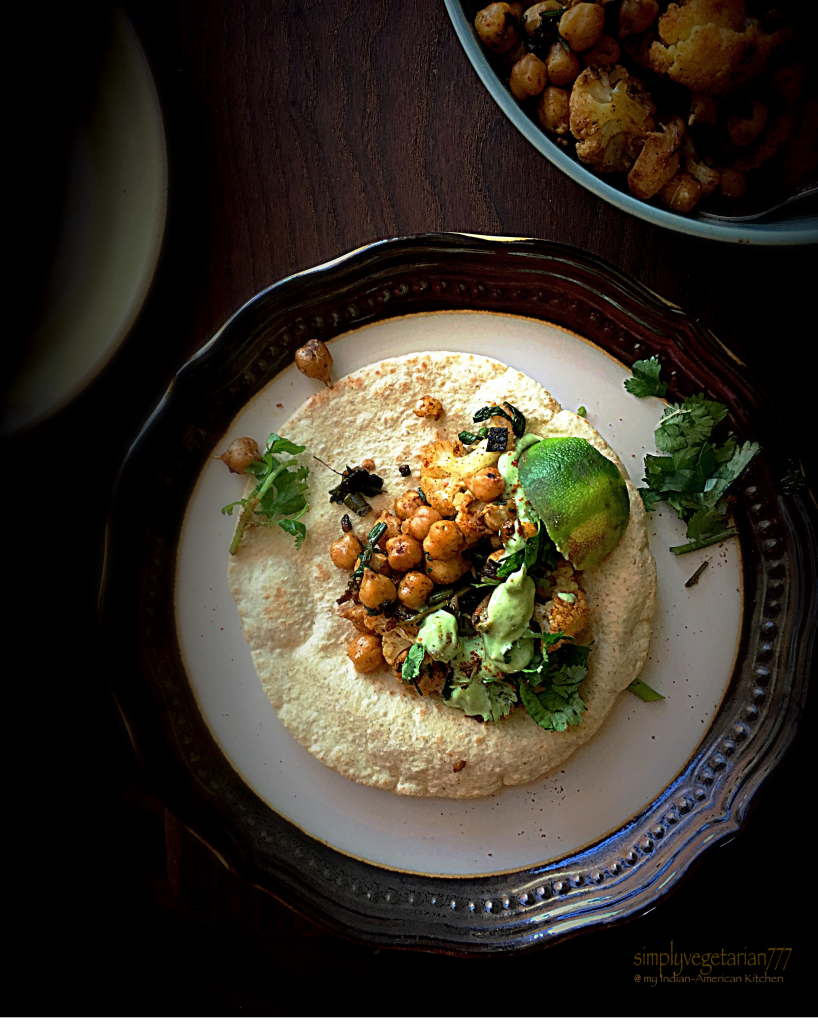 Tandoori Veg Taco is my take on fusion food, infusing tandoori flavors in vegetables and then eating them wrapped in the perfect home made flat bread (recipe coming soon), slathered with a lot of Avocado Yogurt Dip and more sprinkling of the instant tandoori masala.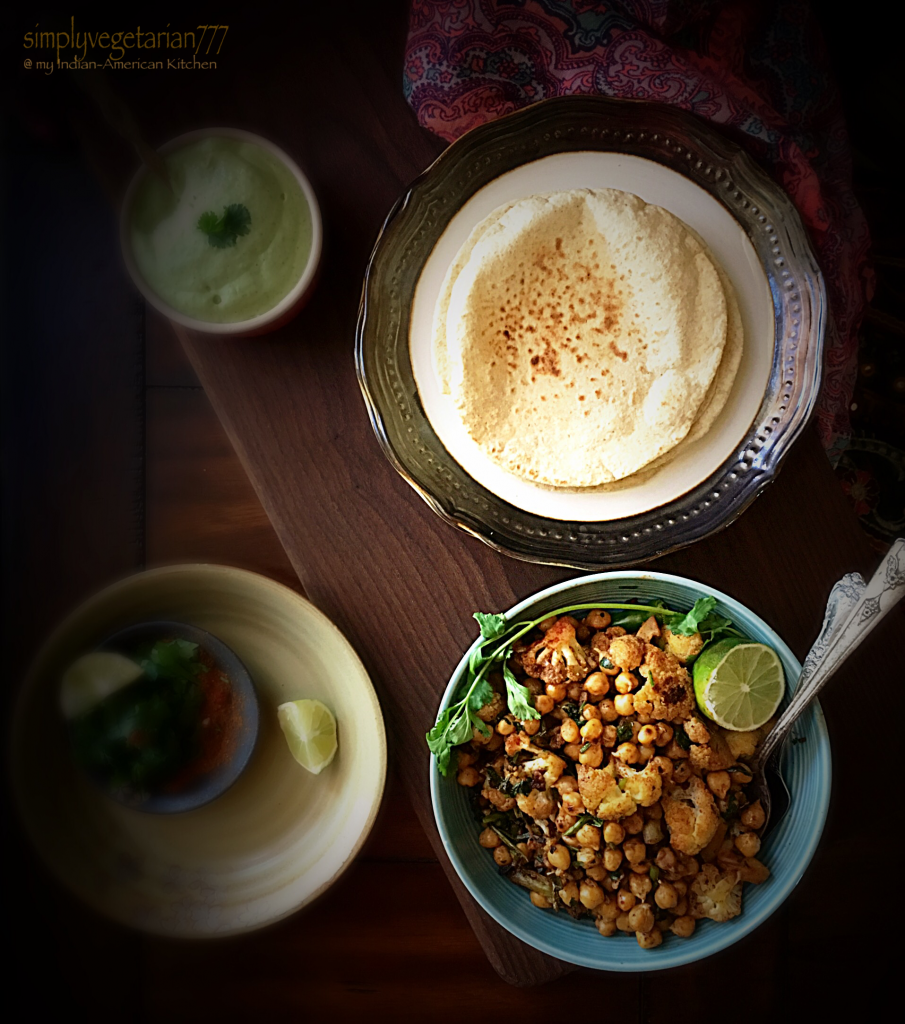 Yes, you are in luck today since you will not only find an easy and cool recipe for some fusion tacos, but a quick fix recipe for tandoori masala, at home. I have taken 2 most favorite ingredients in this recipe – Cauliflower and Chickpeas. I believe that you can never go wrong with these 2, no matter which cuisine you are hollering upon. And the "king" of all the masalas – Tandoori… it's like the spice blend yelling on the top of its lungs – bring it on whatever you have and I swear, you will leave from here, with nothing…but TANDOORI ! Did I make sense? Ah well….furrrr…..it is tandoori ;)…
Does anybody remember my Tandoori Egg Fry Tacos ? They were hot, smashing, dashing and crazy kinda good. That recipe gained a lot of popularity too. Do check out the link above. By the way, these mexican soft taco wraps are often known as kathi rolls in my side of the town. Just saying :).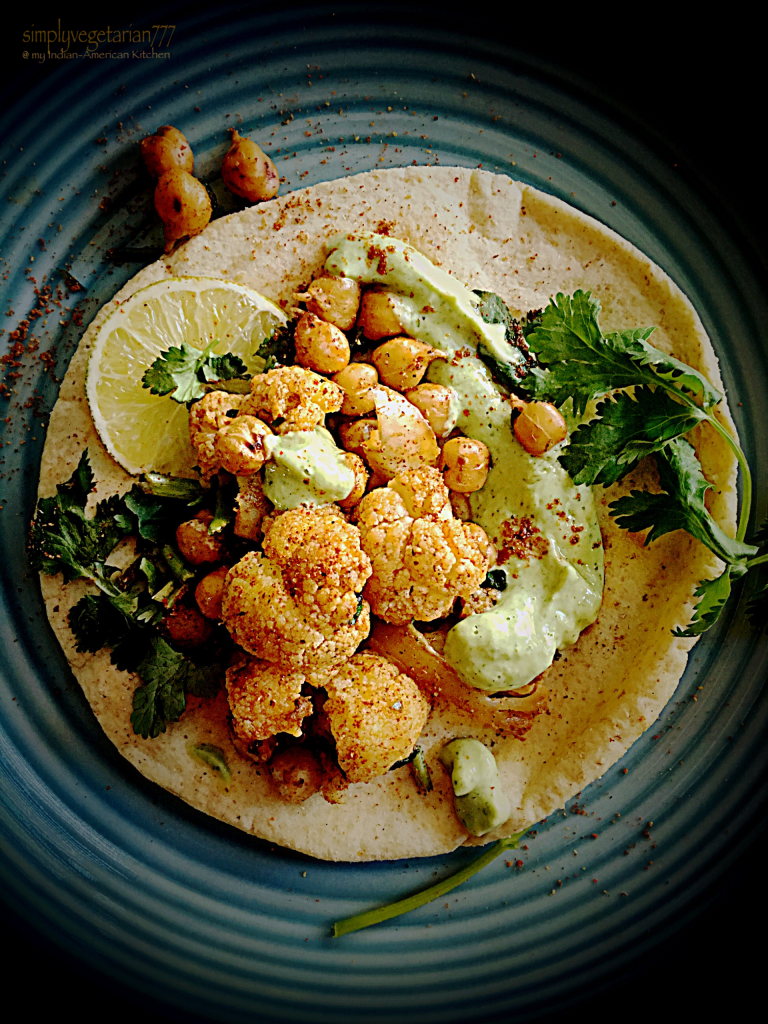 While, this crazy experiment was dancing in my head, I called upon a friend to become my guinea -pig and she agreed. I cooked, I shot the pictures quickly and then we sat down for the lunch and I looked at her face. She took the first bite and before she could say anything, the impatient me jumped and asked..is it any good? she chomped on her bite and exclaimed, that it has come out really good, though she was more focused on my avocado dip but that is what completed the dish. Tandoori flavors, subtly balanced by a avocado yogurt dip.
This dish is pretty bold and I thought I would not serve this to the kids. They came back hungry from school and all I had was some leftover Tandoori filling and 2 flat bread soft tacos. I made the wrap, handed both of them, 1 each and warned in advance…this is it…I do not have anything else for snacking right now. Finish this off. They listened and started eating…didn't utter a single word till the last bite. I kept my fingers crossed for one of them to say that they didn't like it and they wanted something else. To my pleasant surprise, they finished and asked for more. Sadly, I didn't have more but I promised to make it again for them.
I can, therefore, proudly say that these are fit not only for the adult taste buds but are pleasing for the miniature us, as well ;)..
Tandoori Veg Taco
Notes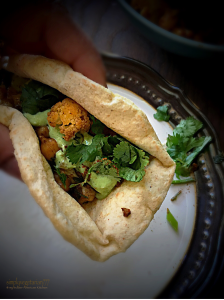 Kitchen Equipments Required
Heavy bottom pan with lid, stirring spoon, chopping board, knife.
Ingredients to put the Taco together
Soft Tortillas or Soft Flat bread - 6 medium size, you may use any wrap also.
Avocado Yogurt Dip - 3 to 4 tbsp. Click here for the recipe
Tandoori Veg Filling - 2 cups (find the recipe below)
Ingredients for Tandoori Veg Filling
Cauliflower - 2 cups, small florets washed
Chickpeas - 1 cup, soaked overnight and par boiled (not looking for mushy ones). use canned ones instead
Ginger - 1 small piece, chopped fine
Garlic - 1 pod, chopped fine
Green chili - 1 small, chopped fine
Coriander / Cilantro leaves - 2 tbsp, chopped fine
Lime or Lemon pieces
Oil & Spices
Oil - 2 tsp
Tandoori Masala - 1&1/2 tsp, as per taste. Use the store bought or make a quick one at home. (Refer to the recipe below).
Salt - to taste
Method to make the Quick/Instant Tandoori Masala
Take

1/2 tea-spoon each

of Fancy Paprika or Kashmiri Lal Mirch, Garam Masala and Coriander powder. Mix them together and your Instant Tandoori Masala is ready.
Method to make the Tandoori Veg Filling
Heat the oil in the pan and add ginger, garlic and chili to the oil. Saute for half a minute and then add the cauliflower florets to it. Cook the florets on medium high flame for about 4-5 minutes, till they crisp and char a little. Keep stirring in between.
Now add the parboiled chickpeas, Tandoori seasoning, salt and the coriander leaves to the pan.
Mix everything well. cover and cook for 3 to 5 minutes more till the flavors are nicely absorbed.
Squeeze the juice of one small lime or lemon. Sprinkle some more fresh cilantro leaves. Toss well. Filling is ready.
Serving the Tandoori Veg Taco
Take a Soft Taco and lay it out flat on the plate. Add 2-3 tbsp of Tandoori Veg Taco, top with 1 tbsp of Avocado Yogurt Dip, sprinkle some more tandoori seasoning, squeeze a bit of lime juice more. Roll and Eat.
Notes
You may use any vegetable of your choice here. Even Paneer or Tofu will work great.
You may adjust the seasoning to your taste.
It is an excellent dish for a nourishing healthy meal, either for lunch or dinner with no major prep required.
You may pack this for work lunch or kids' lunch also. Pack the tortillas separate and filling and dip separate. At the lunch, take out everything, assemble and eat.
It is great for entertaining. When you are doing a taco night, add this side as a filling for more options.
I had such a lovely time creating this taco or kathi roll or a wrap in my Indian American Kitchen. I bet you will love it too when your family and friends will appreciate the variety in your meals.
Sonal