Tomato Oats
As an Amazon Associate and member of other affiliate programs, I earn from qualifying purchases.

I often hear people complaining about oats. With the current trend of focusing on eating better and healthier, many people have started incorporating Oats in their diet. But come on, eating oats in just one style gets boring. Blah!! You get up in the morning and as a ritual, you eat oats but nothing clicks with the heart, I mean emotionally. Otherwise, oats are quite heart healthy.😉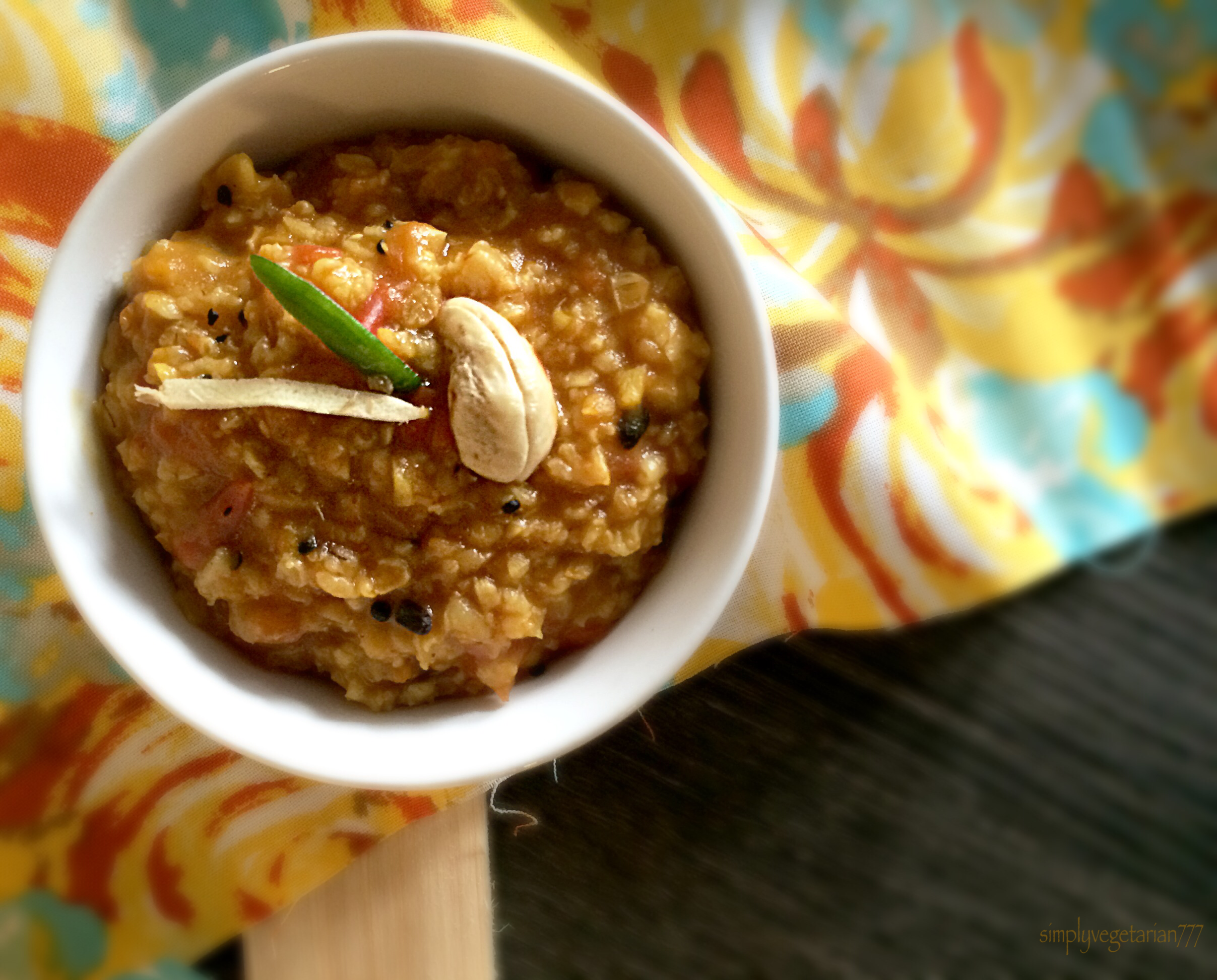 So much so that many Indian companies like Saffola have capitalized the idea of introducing Oats in different flavors in the market. Small packets! Already seasoned! Snip open! Throw in pan with milk or water! Voila! Done!
Nothing bad with the idea. But why not make it fresh with no additives or high salt or sugar what so ever? Clicks with you? Well, works very well with me. This recipe serves not only as a great breakfast option but a good snack or even a light meal. Beat that now! Ha! It's not only vegetarian, it's vegan as well! Tomatoes and Oats make agreat combination with their nutrition quotient.
This is how I made it!
Tomato Oats
Servings: 2
Difficulty: easy
Chopping board, knife, non stick heavy bottom pan, stirring spoon.
Ingredients
Tomato – 1 medium, chopped fine
Oats (quick cooking) – 3/4 cup
Ginger – 1/2 tsp, finely chopped
Garlic – 1/2 tsp, finely chopped
Green chilli – 1 small, slit fine
Oil – 1/2 tsp
Mustard seeds – 1/2 tsp
Urad dal – 1/4 tsp
Chana dal – 1/4 tsp
Turmeric – 1/8 tsp
Salt and red chili powder – to taste
Water – 2&1/2 cups
Cashews – 4 for garnish
Method
1. Take the pan and dry roast the cashews till slightly golden. Set aside.
2. In the same pan, heat oil and add mustard seeds, urad and chana dal and lower the heat. Sauté till mustard seeds splutter.
3. Add finely chopped ginger, garlic and tomatoes. Sauté for a minute. Add turmeric, salt and chili powder and 1 cup of water. Bring it to the boil. Lower the heat and cook till water is evaporated and you have thick tomato paste.
4. Now add quick cooking oats with 1&1/2 cups of water. Check for salt and pepper. Cook for another 3-4 minutes, till oats thicken.
5. The quick, delcious and nutritious Tomato Oats are ready!