Undhiyu, a traditional mix vegetable from the state of Gujarat! A recipe submitted by Rupal Ralph!
As an Amazon Associate and member of other affiliate programs, I earn from qualifying purchases.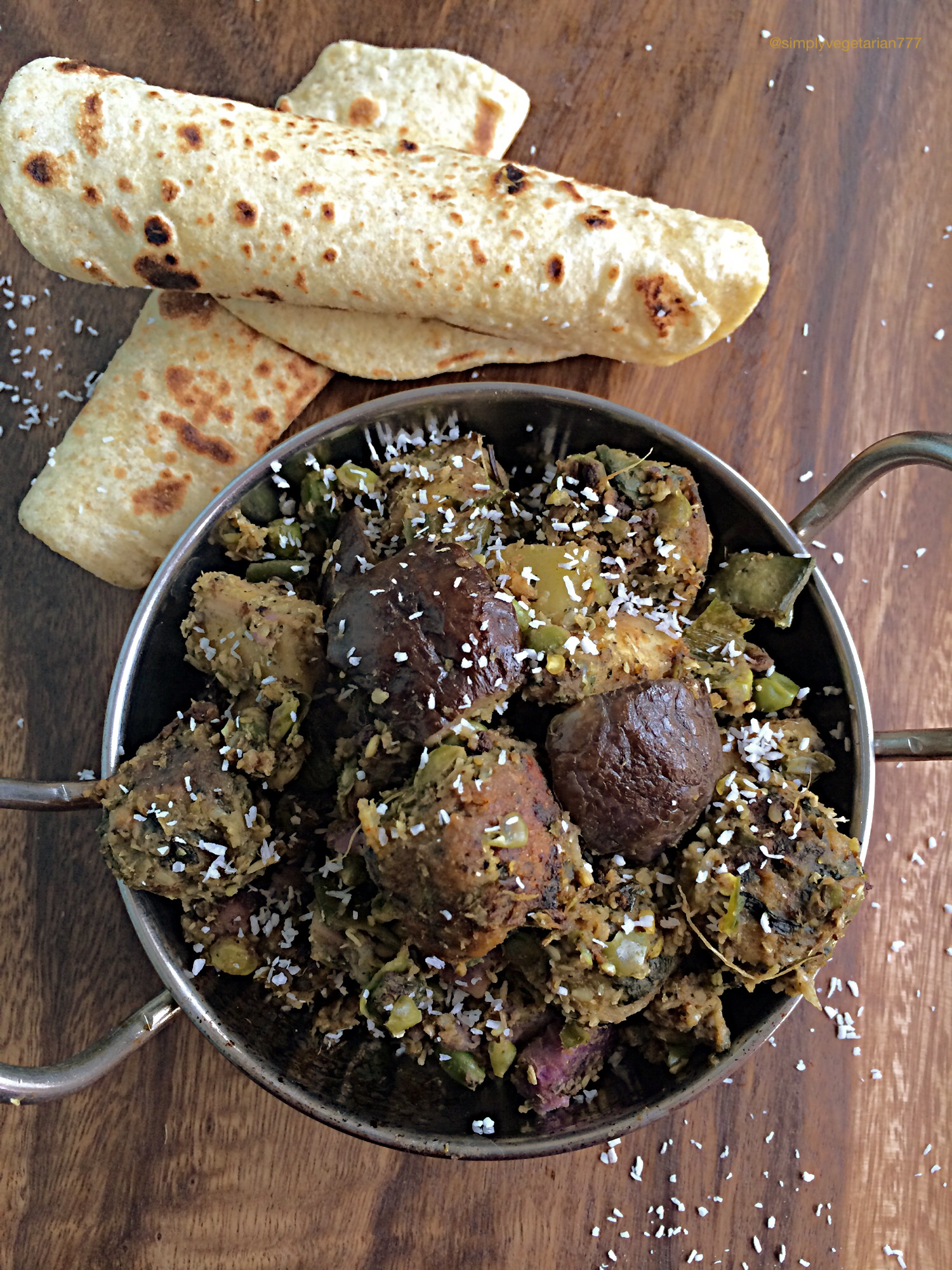 I feel blessed to have been showered by so much love from my Facebook followers. They are full of praise and appreciation all the time. Therefore, I asked them on my forum recently to send their favorite recipes to me. I will read them, edit them, recreate them and post the recipes under their credit on my blog! This recipe was submitted to me by Rupal Ralph, who sent it with all the minute details. Thanks so much Rupal! The dish was amazing and delicious. I kept eating it!!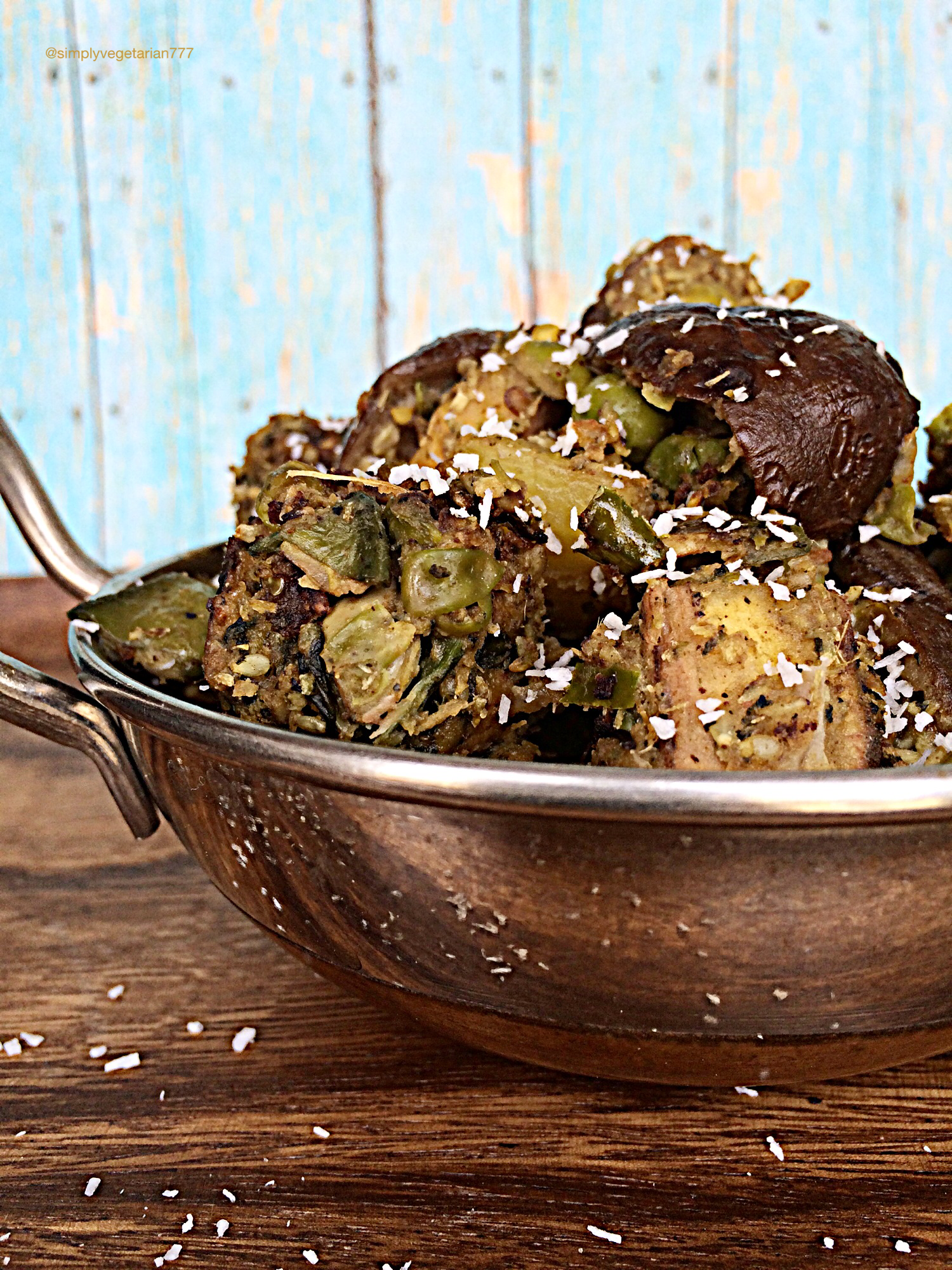 Wiki Quotes : Undhiyu is a Gujarati mixed vegetable dish that is a regional specialty of Gujarat, India. The name of this dish comes from the Gujarati words "matlu" meaning earthen pot and "undhu" meaning upside down since they have been traditionally cooked upside down underground in earthen pots fired from above.
The dish is a seasonal one, comprising the vegetables that are available on the South Gujarat coastline during the winter season, including (amongst others) green beans or new peas (typically used along with the tender pod), unripe banana, small eggplants, muthia (dumplings/fritters made with fenugreek leaves and spiced chickpea flour, and either steamed or fried), potatoes, and purple yam, and sometimes plantain. These are spiced with a dry curry paste that typically includes cilantro leaves, ginger, garlic, green chili pepper, sugar and sometimes includes freshly grated coconut. The mixture is slow cooked for a long time, with some vegetable oil and a very small amount of water sufficient to steam the root vegetables.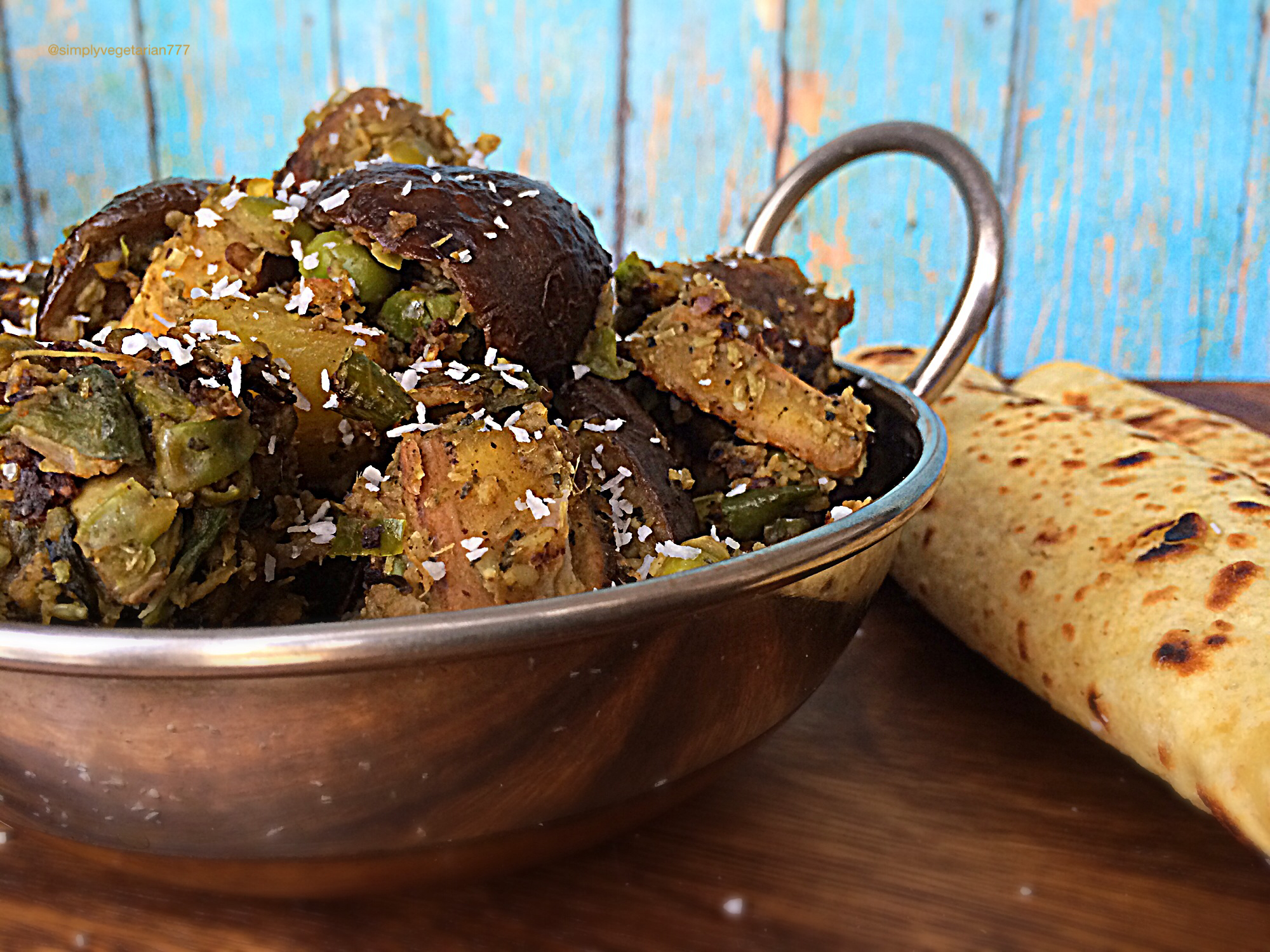 I have a very good friend from Gujarat, Isha. I have eaten this dish at her place couple of times but never tried making it earlier at home. I always thought that this dish is difficult and very complicated so never attempted. When Rupal sent it in well written format, I made it and was so glad that I did. Let's get started! I have tweaked the recipe a little to the availability of the ingredients.
Undhiyu
Servings: 4-6
Difficulty: intermediate
Kitchen Equipments Required :
Heavy bottom pan with lid, another small pan, a stirrer, a slotted spoon, a plate with kitchen towel, chopping board, knife, blender/food processor, bowl.
Ingredients
Vegetables
Raw Banana / plantain : 1 small, peeled and cut into 2 inch pieces.
Potato : 2 small, cut into 4 pieces
Purple Yam / Suran : 1/2 cup, washed, peeled and cut into 2 inch pieces. I used frozen ones.
Eggplants / Brinjal (baby) : 4, quartered
Sweet potato : 1/2 cup, chopped into 2 inch pieces.
Surti Papdi : 1/2 cup, chopped into large pieces.
Peas : 1/4 cup
Tuvar/Lilva pods : 1/4 cup
Muthiyas : 6-8 big or 10-12 small. See recipe below to make Muthiyas. They are excellent as snack too.
Curry Ingredients
Oil : 1 tbsp
Grated Coconut : 1/4 cup. Traditionally fresh used but I had to use the dry one. Worked fine.
Coriander leaves : 1/2 cup, washed
Peas : 2 tbsp, boiled. Not added traditionally but I added to bring out more of the green color.
Garlic pods : 1/4 cup. Green garlic is traditionally used.
Ginger : 1 tbsp
Green chili : 2
Sesame seeds : 1 tsp
Garam masala : 1 tsp
Sugar : 1 tsp
Salt : to taste
Muthiya Ingredients
Whole Wheat flour : 1/4 cup
Besan / Chickpea Flour : 1 tsp
Methi / Fenugreek leaves : 1/4 cup, washed and chopped.
Red chili powder : 1/2 tsp
Turmeric : a fat pinch
Coriander powder : 1/2 tsp
Cumin powder : 1/2 tsp
Baking soda : a pinch
Salt : to taste
Water : to make soft dough
Oil : 1 tbsp to shallow fry. Or use more to deep fry.
Making Muthiyas
1. Mix all the ingredients in a bowl as mentioned under muthiya ingredients. Add 1 tbsp of water at a time to make a pliable dough. Make sure it is not a tough or hard dough.
2. Make a log out of this dough. Cut small pieces out of it. Oil your hands slightly while doing it so that the dough doesn't stick to hands. Keep aside.
3. Heat oil in the pan. Shallow fry the muthiya balls on medium flame and keep them aside on the plate covered with kitchen towel.
Making Curry Paste
1. Take the food processor and add all the ingredients mentioned under the curry, except oil.
2. Make a paste with it by adding 1 tbsp of water, if required. Keep aside.
Making Undhiyu
1. Take the big heavy bottom pan. Heat 1 tbsp of oil in it. Traditionally, a good amount of oil is used but I cut it down and believe me, it didn't effect the taste at all. Might be texture since it was much less oily. But that's a good thing for me.
2. Add the peas, tuvar, surti papdi to it. Sauté for 2-3 minutes.
3. Now add all the other ingredients including potato, yam, eggplants, plantain, sweet potato to the pan. Toss everything well. Cook for another 2-3 minutes on medium flame. Add the prepared Muthiyas in the end.
4. Now pour the curry paste to the pan. Add 1/3 cup of water to it. Stir well.
5. Cover with lid and let cook for 18-20 minutes on low flame. Stir often. Adjust water if required. In the end, give a lick test and adjust salt n sugar to personal taste.
Serving Suggestion :
It is best eaten with Pooris. I served it with paranthas and my fussy husband loved it. It might be strong for kids.
Note :
1. You may skip the vegetable that is not available.
2. You may pressure cook it for 1 whistle and switch off.

It sounds like a work of labor but believe me, it didn't take me more than 1/2 hr to put it together. The trick is to read the recipe carefully and break it down in steps. I have penned the recipe steps in the order that I applied to cook it.
Enjoy with family and friends! I am surely making this again! Taking it to Angie's Fiesta Friday celebration, co-hosted by lovely ladies, Selma and Nancy. Hope people would like to sample this traditional dish!
Sonal