Veg Kebabs with Quinoa, Spinach & Chickpea Salad – Diabetes Friendly Thursdays
As an Amazon Associate and member of other affiliate programs, I earn from qualifying purchases.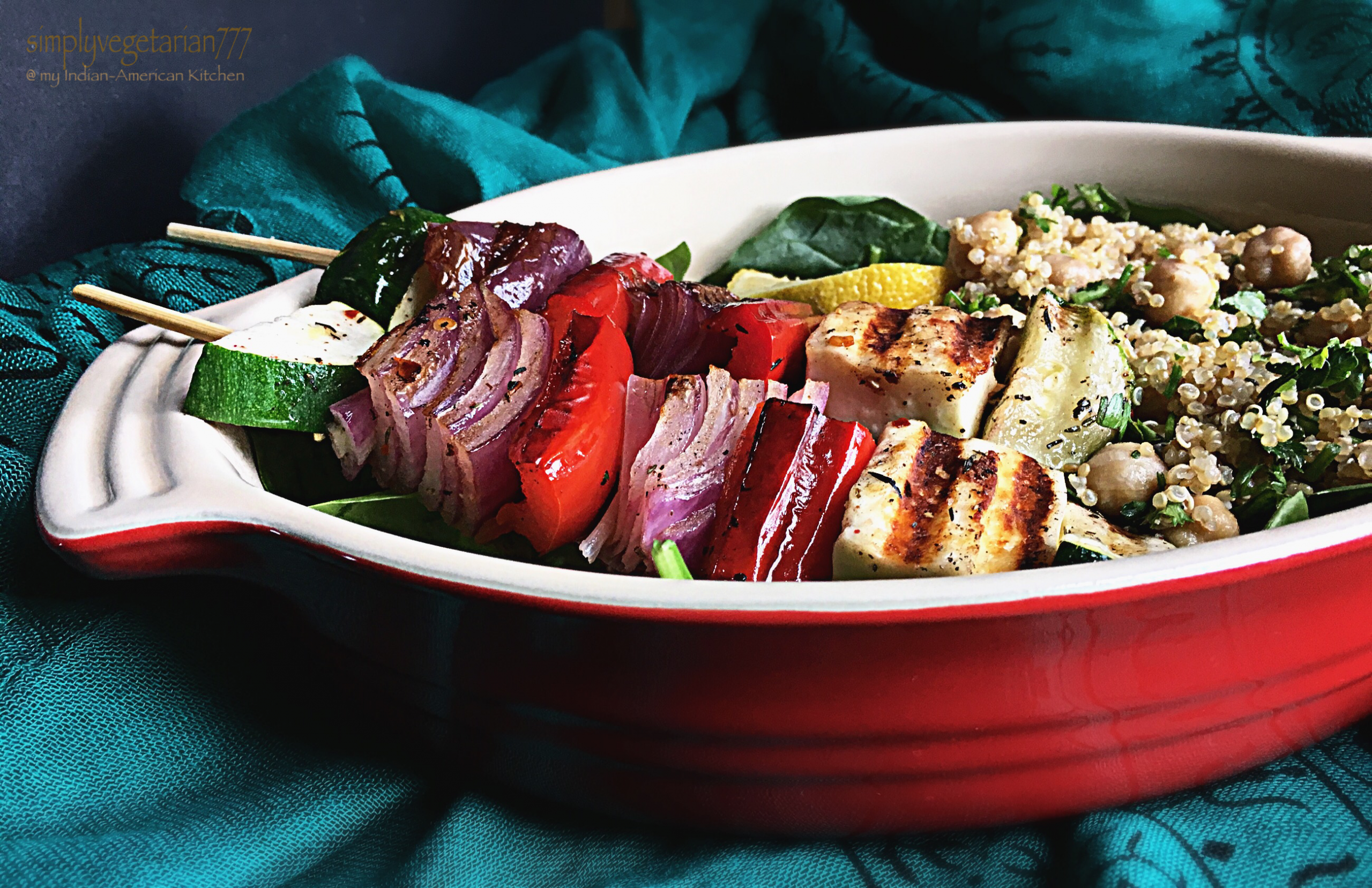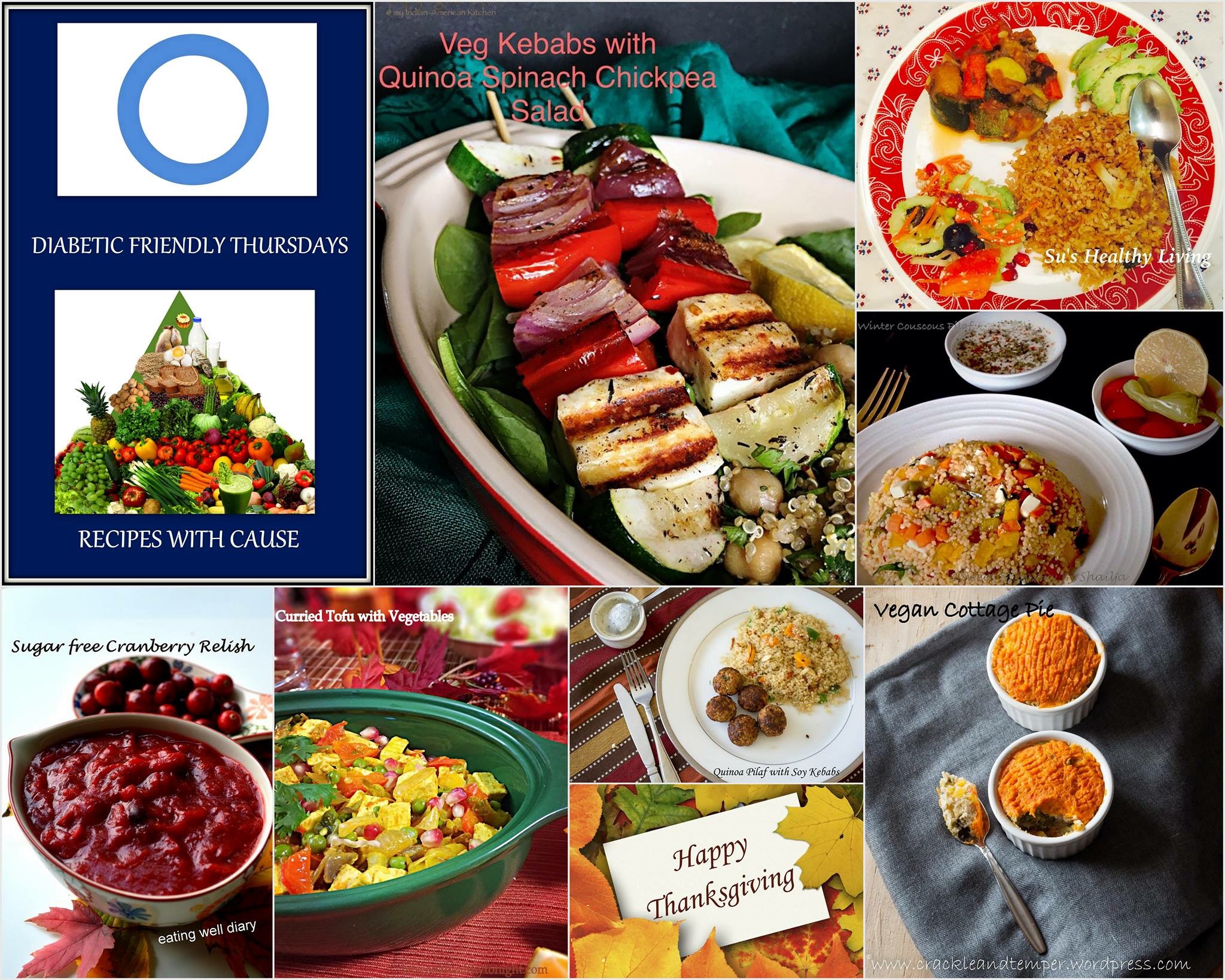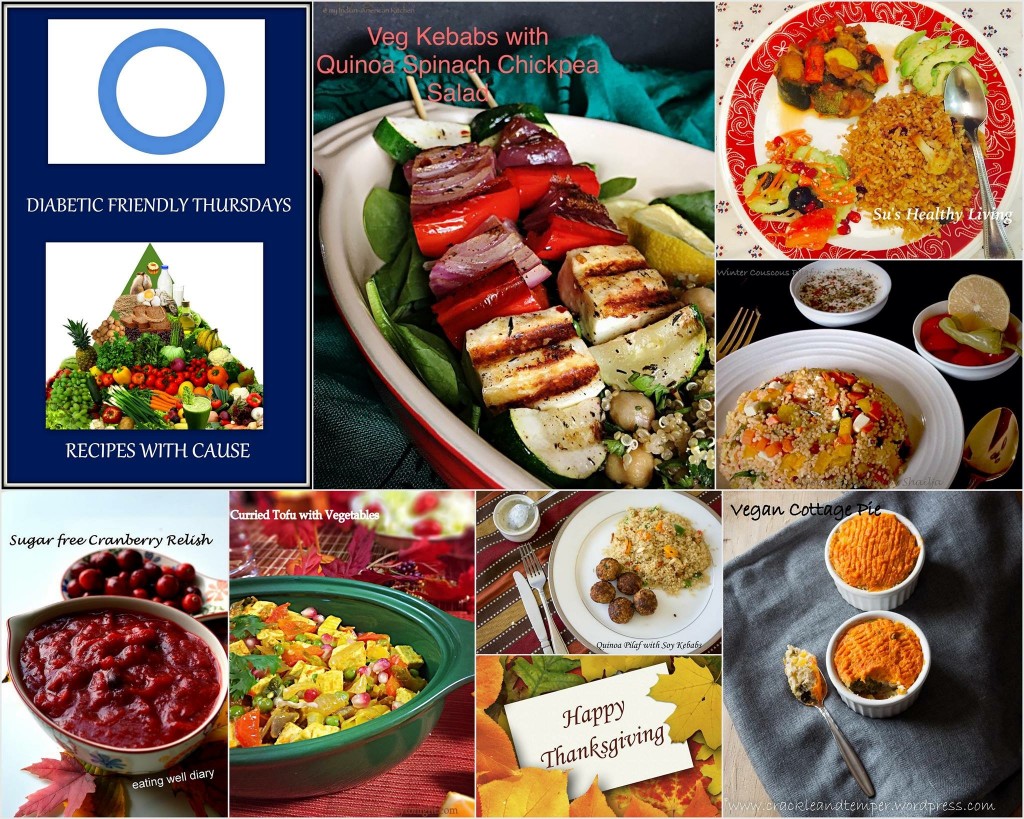 Creating Recipes with a Cause! I am a proud DFT blogger. To learn about DFT, Read this Link! view more DFT recipes, Click here!
Veg Kebabs with Quinoa Spinach & Chickpeas Salad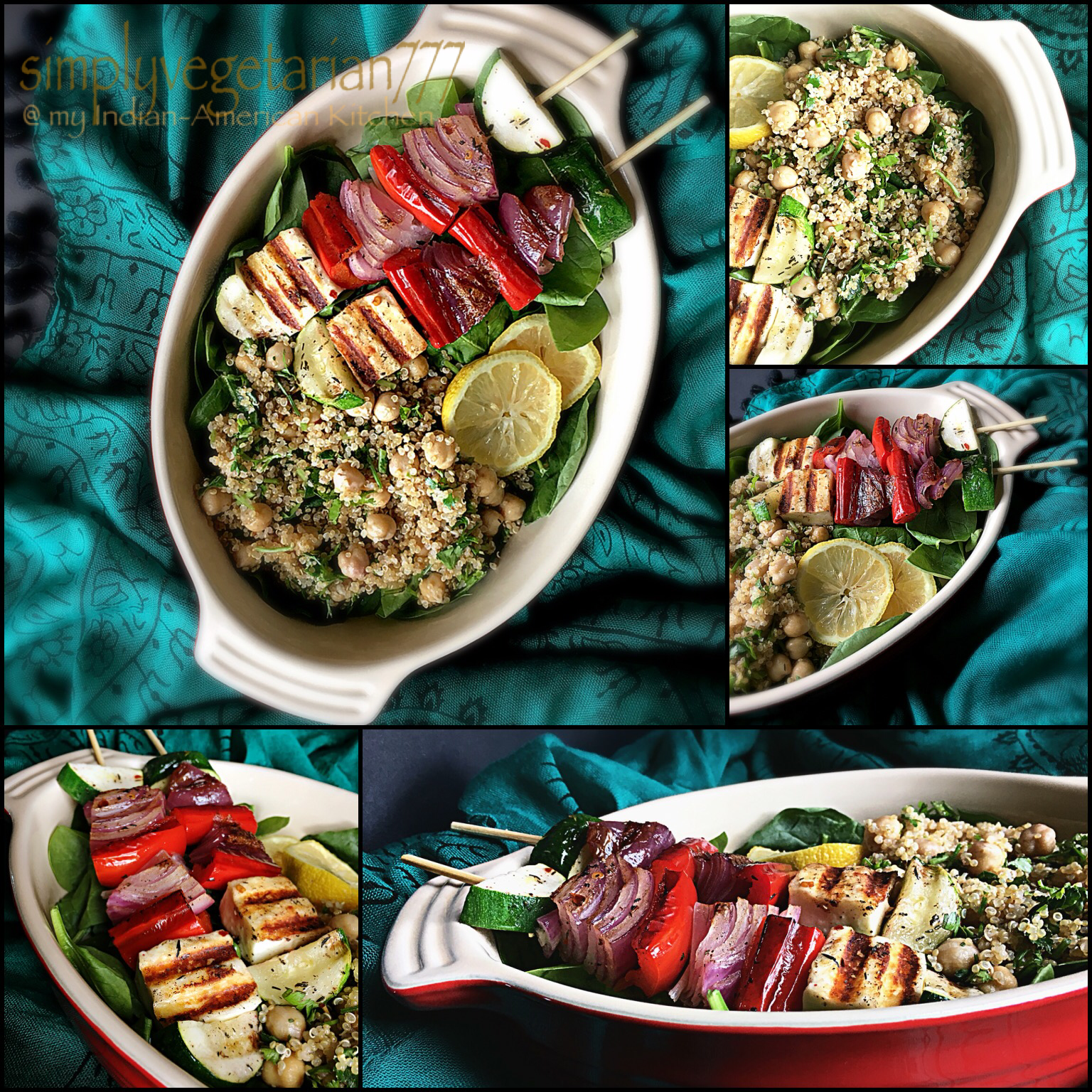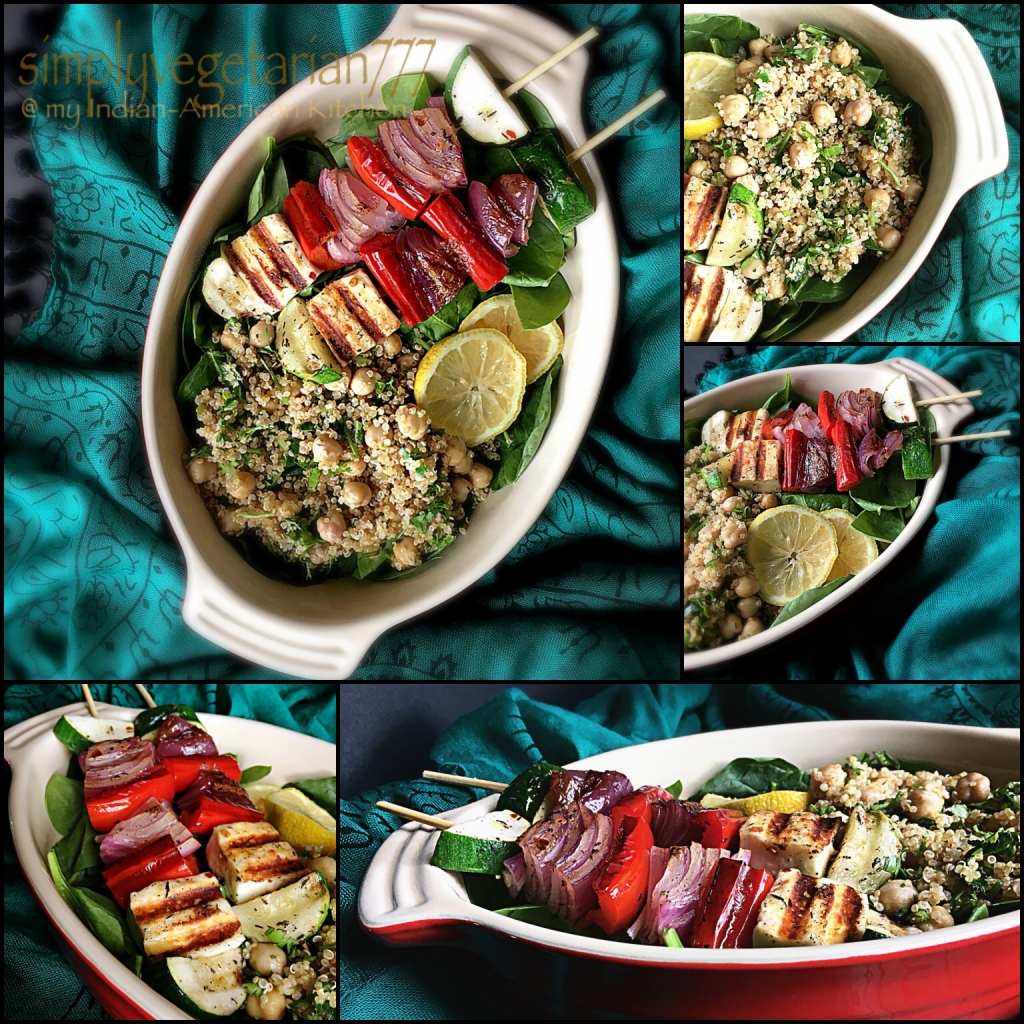 DFT is back just in time at the onset of winters, comfort food and celebrating Thanksgiving! Bringing a healthy yet delicious dish this month to celebrate the International Diabetes Month!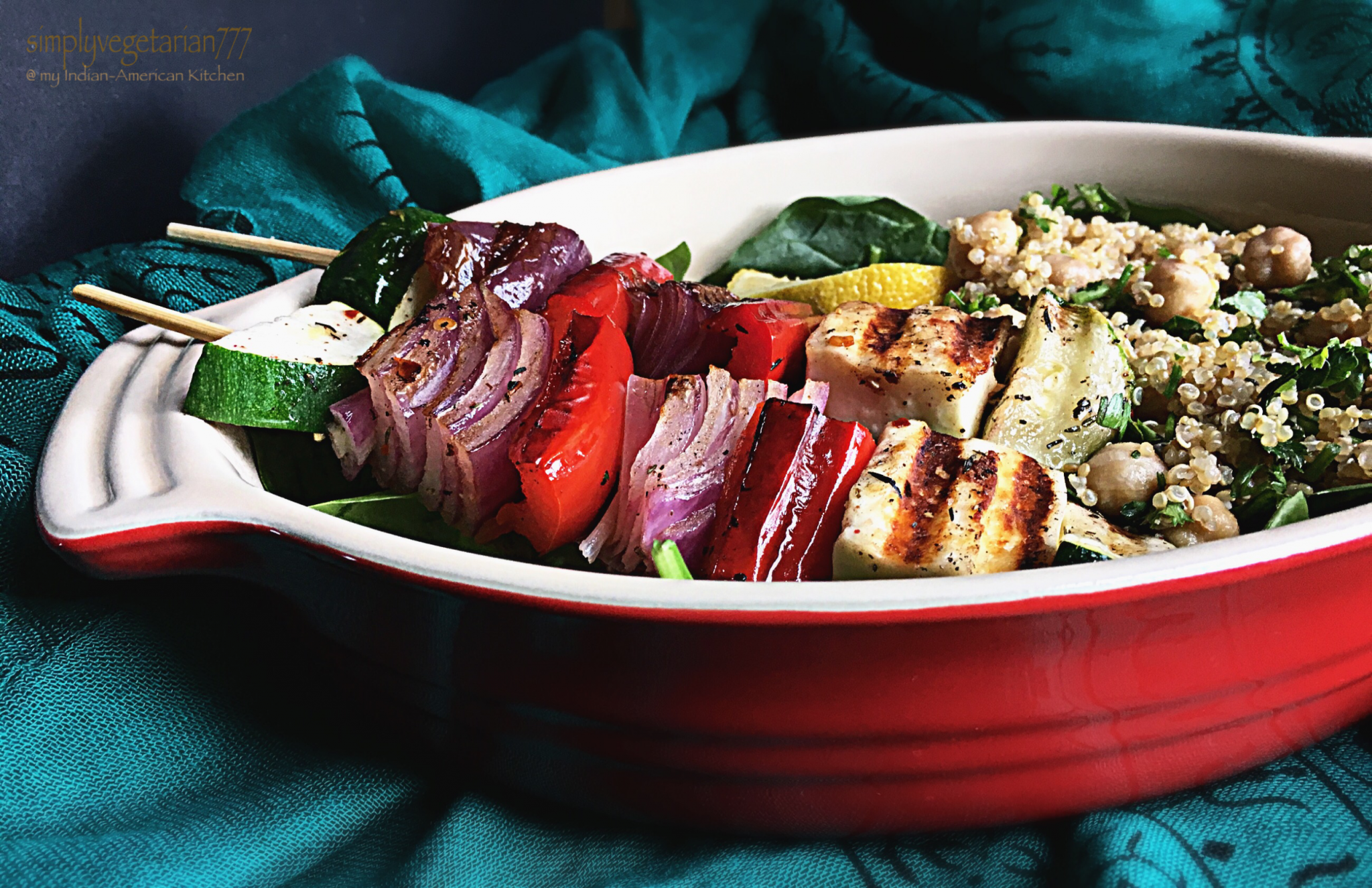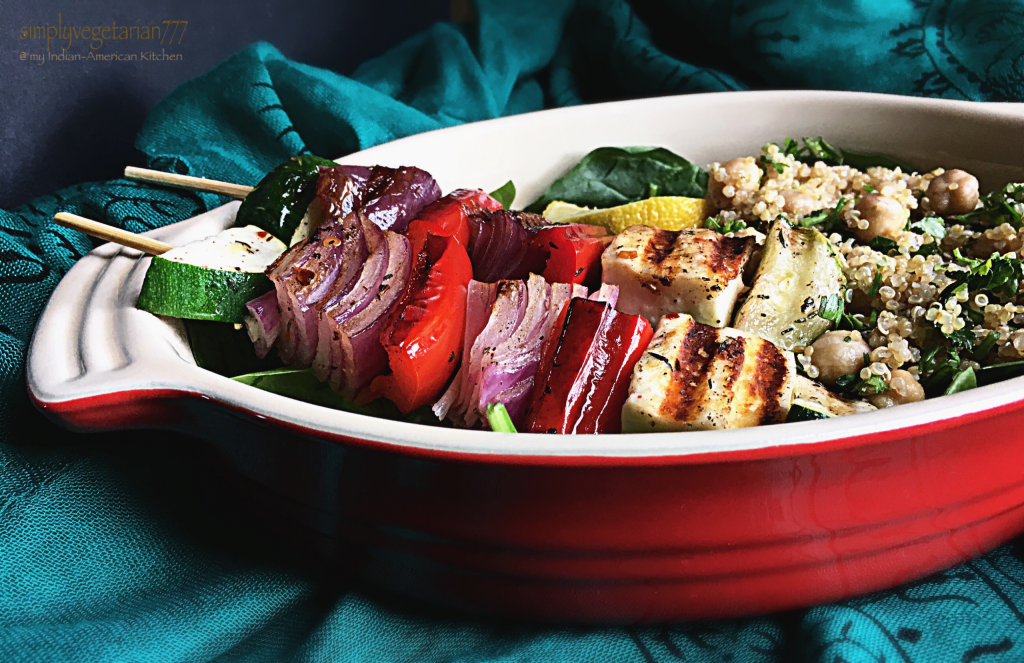 Recently I had a strong pull to create a diabetes friendly – high protein meal! Many a times, diabetics when fall sick at older age and with other complications, they are often advised for high protein diet. So, I created this meal  keeping in mind the similar condition.
I went to this local chain of casual restaurants here in Dallas called Zoe's Kitchen, which is a Mediterranean based American Kitchen. I had the similar meal there and then adapted it to make it more "cook-friendly" and palatable to everybody. I enjoyed it thoroughly and hope that you will enjoy it as well!
I have to mention that I used Hilda's (Along the Grapevine) home grown Sumac. she had been very kind in sending me a thick packet of sumac. Till now, I didn't know the real taste of sumac. It was so different from the market bought one which is flavorless and has no aroma. Hilda's sumac was bursting of flavors and such a great citrus smell. I am going to use it more often in my dals now.
For the benefits of main ingredients on diabetes, used in the dish, please refer to the Foot Notes!
This is how I made it!
Veg Kebabs with Quinoa Spinach & Chickpeas Salad
Servings: 1
Difficulty: easy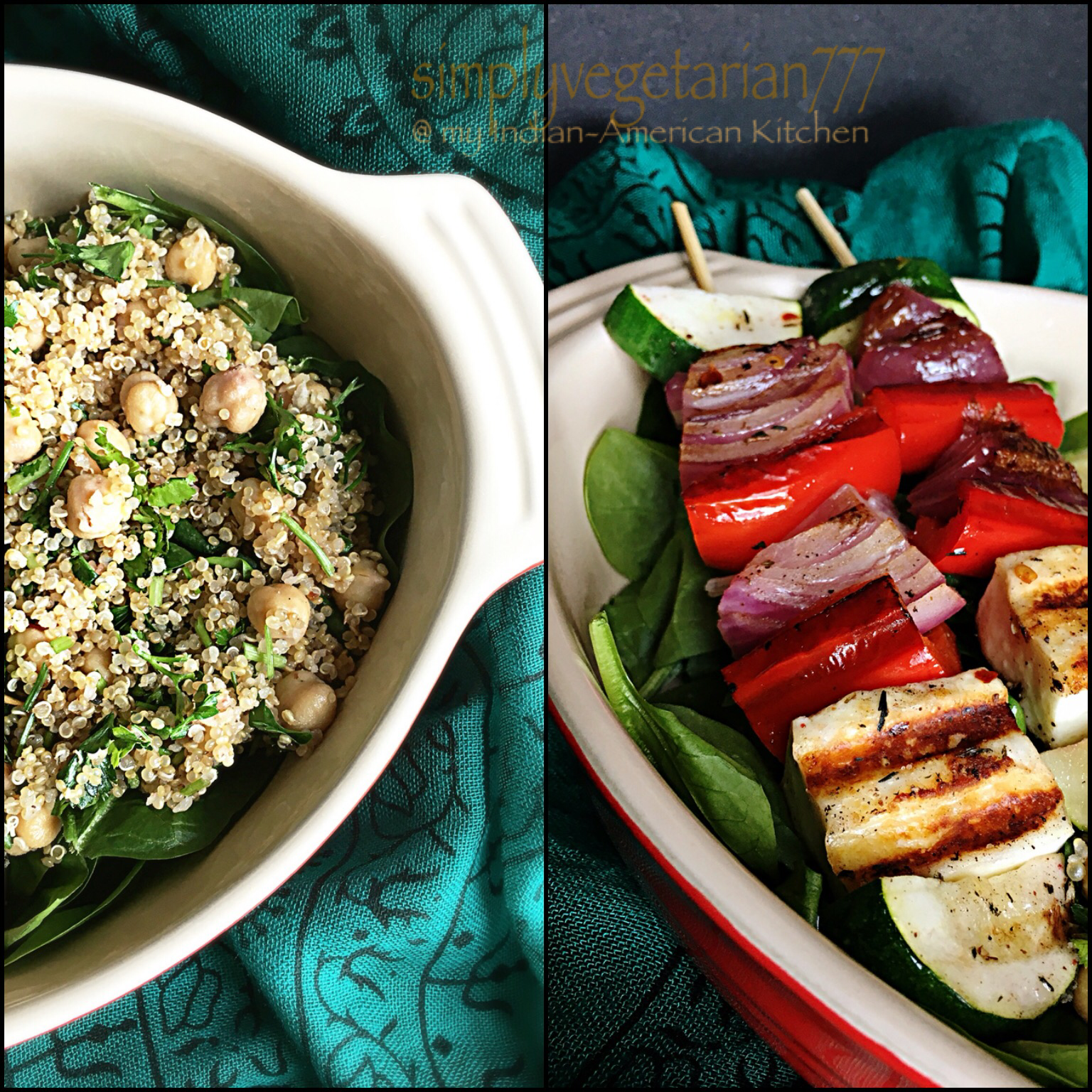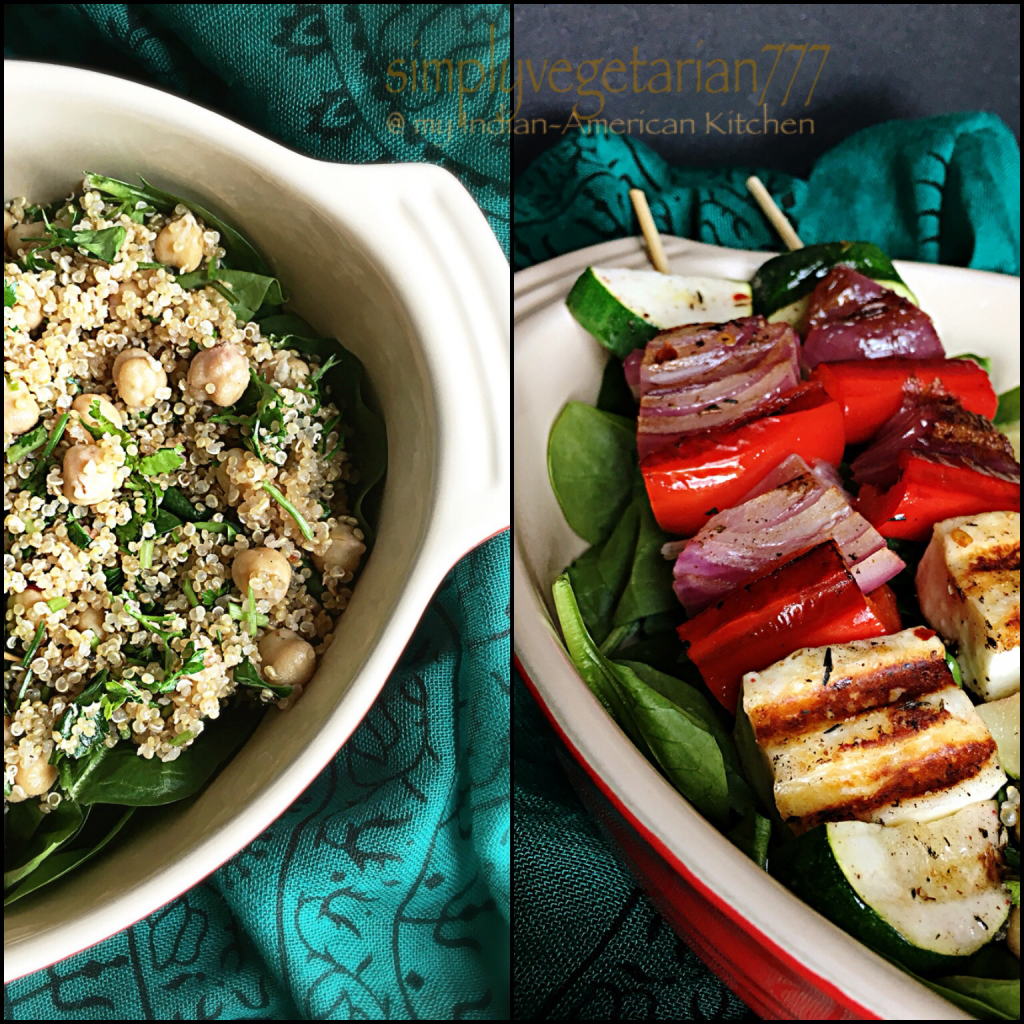 Kitchen Equiipments Required
chopping board, knife, electric grill or flat pan, medium bamboo skewers, mixing bowl, a fork, a spoon, extra bowl, pastry brush.
Ingredients
Kebabs Ingredients
Bell Peppers – 4 pieces of 1×1 inch
Onion – 4 pieces of 1×1 inch
Zucchini – 4 semi circle pieces
Paneer – 2 thick cubes of 1×1 inch
Oil & Spices
Olive oil – 1 tsp
Rosemary, dry – a fat pinch
Sumac – a fat pinch
Red chili flakes – a dash
Salt to taste
Lemon juice – 1 tbsp
Quinoa, Spinach and Chickpea Salad
Quinoa – 1/4 cup, cooked
Chickpea – 1/4 cup, cooked
Spinach – 1 cup, raw
Salt & Black pepper to taste
Rosemary – a small pinch
Lemon juice – 1 tsp
Cilantro / Coriander leaves – 1 tsp, finely chopped
Parsley – 1 tsp, finely chopped
Method
Making the Veg Kebabs
Take the small bowl and add all the ingredients mentioned under oil and spices. Mix well. This is our marinade or Grill mix.
Take the bamboo skewer. Skewer the zuchhini, onions, bell pepper and paneer cubes in a pattern. Prepare both the skewers likewise.
Heat the grill to high. Apply the grill mix evenly on both the prepared skewers. Dip a small side of paper napkin in little oil. Grease the grill gently with it.
Place these prepped skewers on the grill. Cook it on all the sides till they are nicely grilled with slight charred marks.
Preparing the Quinoa Spinach & Chickpeas Salad
Take the mixing bowl. Add all the mentioned ingredients under salad tougher. Toss and mix well.
I kept the spinach separate to use it as a serving bed.
Serving Suggestion
Serve it on a big platter with Spinach as the bottom layer. Topping it with Quinoa & Chickpea Salad on one side and the skewers on the other side with few wedges of lemon. It is a very filling meal. Please refer to the number of carbs already consumed for the day or plan the rest of the meals of the day, accordingly.

Enjoy this meal whether you are a diabetic or not! This is such a hearty and filling meal. I am sure you will make it again. I enjoyed it very much making in my Indian-American Kitchen!
Notes
You may use Tofu instead of Paneer for making it a lighter meal.
You may use any other squash available.
In case Quinoa is not available, use any kind of millet.
---
Foot Notes
Paneer – Low fat paneer is a high protein and very filling ingredient. Calcium in it is very helpful for the Type-2 Diabetes management. You may use extra firm Tofu as well.
Quinoa –  Quinoa is a nutritious choice for diabetics. Quinoa is an excellent addition to a diabetic diet. A whole-grain with a low glycemic index to support an even blood sugar, it is packed with protein, fiber, vitamins, minerals and phytochemicals.
Chickpeas – Chickpeas, also called garbanzo beans, are a healthy way to add more protein and other essential nutrients to your meals. They are good sources of fiber, iron, phosphorus, zinc, potassium, magnesium and vitamin B-6. These beans may also lower your risk for cancer, heart disease and diabetes, as well as limiting increases in blood sugar levels after meals.
Spinach – The American Diabetes Association calls spinach a diabetes superfood and recommends that you regularly include this dark green leafy non-starchy vegetable in your diet. Besides being rich in vitamins, minerals and phytochemicals, spinach possesses a low glycemic index, which means eating it will help support healthy and stable blood glucose levels. [Source – www.livestrong.com]
Non Starchy Vegetables
Zucchini for diabetes is very effective as the B complex in the presence of zinc and magnesium help in breaking down the sugars in your body. It has an abundance of fiber and pectin, which are vital in regulating your blood sugar levels.
Bell Peppers are packed with fiber and relatively low in calories and carbohydrates, they are an excellent choice on a diabetes diet. The peppers are considered a nonstarchy vegetable — which means that most of the carbohydrates found in peppers are in the form of fiber. MayoClinic.com explains that fiber not only helps regulate blood sugar levels, but also decreases the risk of heart disease.
Adding onions to your daily meal boosts your vegetable intake without adding a large number or calories or carbohydrates to your diet.
---
Disclaimer
I am not a nutritionist or dietician. My knowledge and information is based on my research and reading from different resources. Please consult your doctor or dietician before making any changes to your diet.
——————————————–
Other Dishes from Team DFT!
Sonal – Veg Kebabs with Quinoa Salad
Shailja – Veg Couscous Pilaf
Swati – Curried Tofu with Veges
Sarika – Quinoa Pilaf with Soy Kebabs
Parvathy – Vegan Cottage Pie
Suchitra – Ratatouille Roasted Cauliflower Quinoa
Apsara – Sugar free Cranberry Relish