Veg Manchurian : An Indo-Chinese Saga
As an Amazon Associate and member of other affiliate programs, I earn from qualifying purchases.
Warning : A Long Post with some good clicks and hear me mumble while I cook ! You can skip my rambling and go directly to the recipe.

I have introduced the Indo Chinese cuisine earlier on my blog with the dishes like Schezwan Paste and Noodles, Sweet Corn Soup, Hot and Sour Soup and Quick Chili Paneer. Now adding another dish to the collection that is much loved and often ordered at restaurant and whipped at home. It is called Manchurian. Manchurian is tangy, spicy and slightly sweet which is a typical Indo-Chinese flavor. There are 3 common varieties of manchurian : chicken manchurian, Gobhi/Cauliflower manchurian and this vegetable balls manchurian . This is such a fusion food of Indian kofta with no Indian spices and Cooked in a Chinese soy based sauce.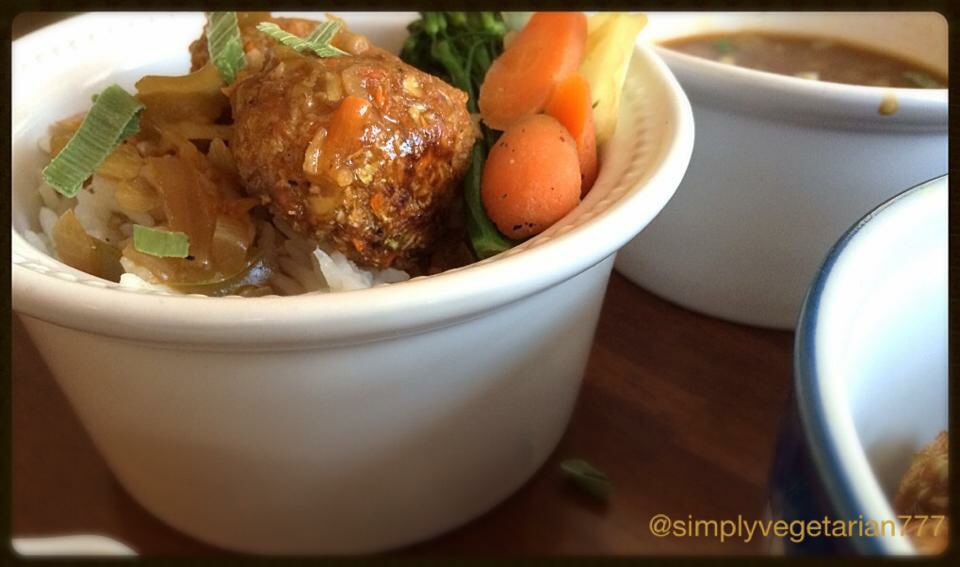 An excerpt from Wiki : Indian Chinese cuisine is the adaptation of Chinese seasoning and cooking techniques to Indian tastes. The Indian Chinese cuisine is said to have been developed by the small Chinese community that has lived in Kolkata (formerly Calcutta) for over a century. Today, the Chinese food has become an integral part of the Indian culinary scene. It is also enjoyed by Indian and Chinese communities in Malaysia, Singapore and North America. Manchurian is entirely a creation of Chinese restaurants in India, and bears little resemblance to traditional Chinese cuisine. It is said to have been invented in 1975 by Nelson Wang; Wang described his invention process as starting from the basic ingredients of an Indian dish, namely chopped garlic, ginger, and green chilis, but next, instead of adding garam masala, he put in soy sauce instead, followed by cornstarch and then he created chicken manchurian and the vegetarian version.
Veg Manchurian is such a versatile dish. Just like spaghetti meatballs, this can be enjoyed with noodles and as if bathed in thicker sauce, they are perfect as appetizers. They can mighty well be enjoyed with plain steamed rice or fried rice. Now beat that kind of versatility :).
Golden vegetable balls, deep fried and gobbled! Errr…did I say deep fried ? the first time ever in the history, they are baked :)))….. I am tooting my own horn :))… Well I would like to believe that! But then what is history and how you look at it, is one's opinion ! These beautiful flavorful golden veg balls dipped in a thick sauce of soy and finely shredded vegetables. It is simply heaven!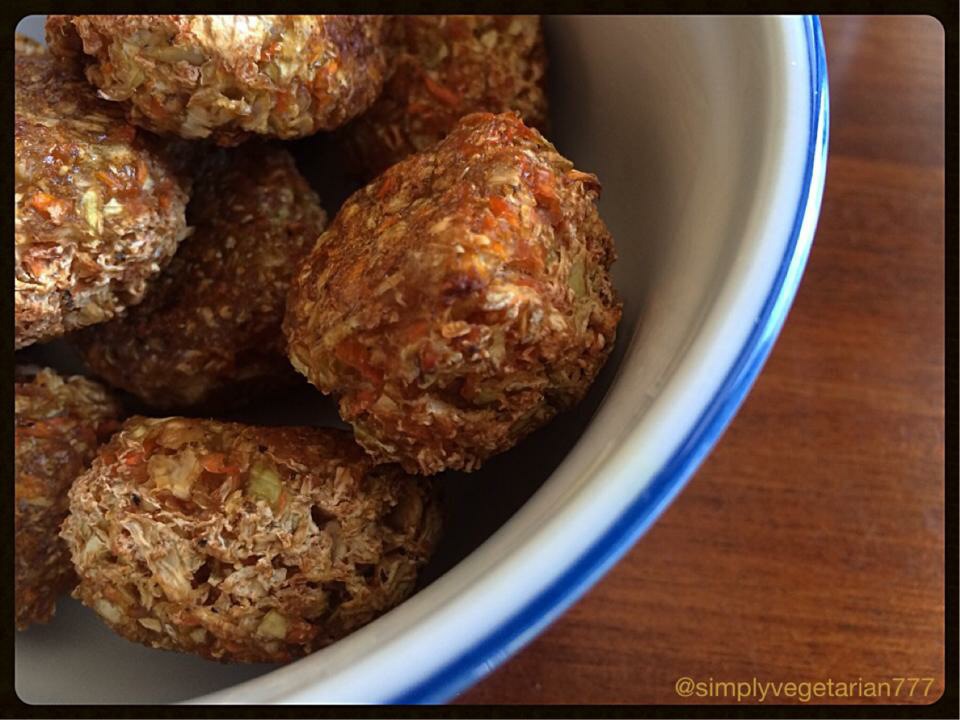 Served it on the demand of my 10 year old. She said, "mom, I feel
Like eating that sticky greasy Chinese from the mall". I thought well yes to Chinese but no to sticky and greasy. She loves a simple sauté of soy braised Veges. I cut some cabbage, broccoli, bell pepper, carrots and onions and sautéed them in little oil and braised with some soy sauce. Sprinkled some salt and pepper. Her favorite dish with steamed rice is done!

This whole spread is for me and Amit. We enjoyed and enjoyed to the fullest! Had seconds and may be a "little" thirds :D.
Veg Manchurian
Servings: 4
Difficulty: easy
Kitchen Equipments : oven, baking sheet, parchment or butter paper, a pan, a bowl, a ladle, grater, food processor(optional), bowl, fork.
Ingredients :
For Manchurian Veg Balls
Cabbage : 1/2 cup, shredded fine in either food processor or grater
Cauliflower : 1/2 cup, shredded fine in either food processor or grater
Carrots : 1/4 cup, shredded fine in either food processor or grater
Garlic : 1/2 tsp, grated fine
Ginger : 1/2 tsp, grated fine
Green Chili paste : 1/2 tsp, (optional)
Soy Sauce : 1/2 tsp if dark, 1 tsp if light
Corn flour : 3&1/2 to 4 tbsp
Salt and black pepper : to taste
For Manchurian Curry :
Oil : 1 tbsp
Cabbage : 2 tbsp, chopped or shredded fine
Carrots : 2 tbsp, chopped or shredded fine
Green Bell Pepper/capsicum : 2 tbsp, finely chopped
Onions : 2 tbsp, finely chopped
Ginger : 1/2 tsp, finely grated
Garlic : 1/2 tsp, finely grated
Green chili paste : 1/2 tsp, (optional)
Soy sauce : 1&1/2 tbsp
Chili paste : 1/2 tsp or to taste
Ketchup : 1 tbsp
Sugar : 1/2 tsp
Salt and black pepper : to taste. I didn't need to add any. But please adjust to your taste.
Refined Flour : 2 tbsp
Water : 1/4 cup + 2 cups
Method :
Manchurian Veg Balls :
1. Preheat the oven at 450*f. Line a baking sheet with parchment/butter paper. Grease it lightly.
2. Mix all the ingredients of veg balls in a bowl. It won't come together as a dough but will gather together, just enough.
3. Now take a tablespoon full of mix in your hands and shape together with both hands in a ball by pressing gently from all sides. Put it on the baking tray.
4. Finish the mix likewise. It will yield approximately 14-16 veg balls. Bake in the oven for 20-25 odd minutes. Here is a trick for even cooking. Flip them from all the sides every 5-7 minutes for even cooking. They will not be perfect rounds but not flat either, so
They can stand on any side. So all the four sides are done. Top, bottom, and surrounding spherical sides. I hope I made sense here.
5. For better color, broil for 10-15 seconds each side. All done! Don't leave the sight while broiling. It can burn any second.
Method for Gravy :
1. Heat oil in pan. Lower the flame, add ginger garlic and chili paste.
2. Once garlic is slightly golden, add all
the vegetables. Sauté for 2-3 minutes till partially cooked, on low flame.
3. Meanwhile, take 1/4 cup of water in a bowl. Add refined flour slowly to it. Mix with a fork so that no lumps are made. Now add soy sauce, chili paste and ketchup to it. Mix all the things together in the bowl. The mixture will be light brown in color. This will darken with cooking so don't be alarmed.
4. Now add this soy and flour mix to the vegetables. Add 2 cups of water.
Mix well. Boil and then heat for 5 minutes on low flame till the curry thickens. Take it off the flame and it is ready. Also, you may make it as thick or as light as you want. Do a lick test and adjust the seasoning as in soy sauce or chili paste, salt and pepper.
Note : Add the veg balls to the gravy just before serving.