Vegetable Manchurian Balls in Hot Garlic Sauce – Diabetes Friendly Thursdays
As an Amazon Associate and member of other affiliate programs, I earn from qualifying purchases.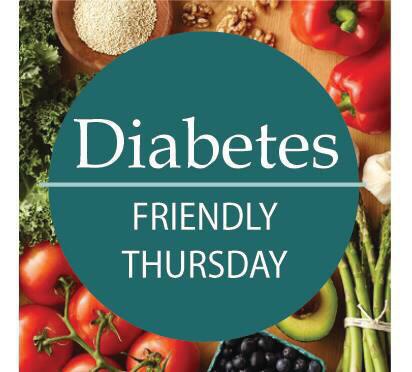 Creating Recipes with a Cause!
I am a proud DFT blogger. To learn about DFT, read this link! To view more DFT recipes, Click here!
The proud DFT team brings the indulging dishes made in Appe/Paniyaram/Abelskiever Pan! For more recipes, scroll till the end!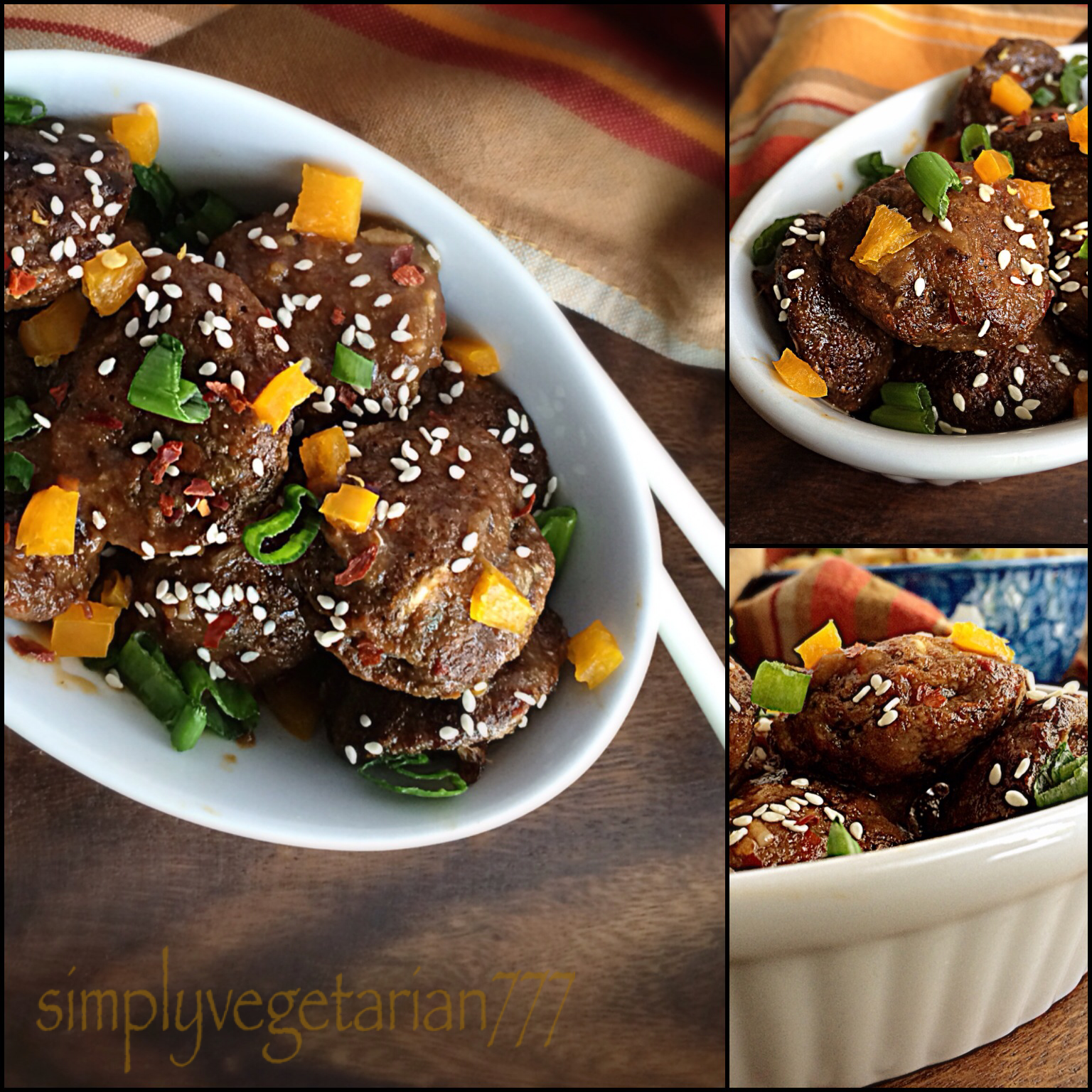 I have blogged Baked Version of Veg Manchurian earlier. It is one of the most popular Indo-Chinese dish, comparable to American Meatballs in popularity. Manchurian is of many kinds amongst which, Veg, Chicken, Mushrooms, Cauliflower are some of the common varieties. It is originally a deep fried dish.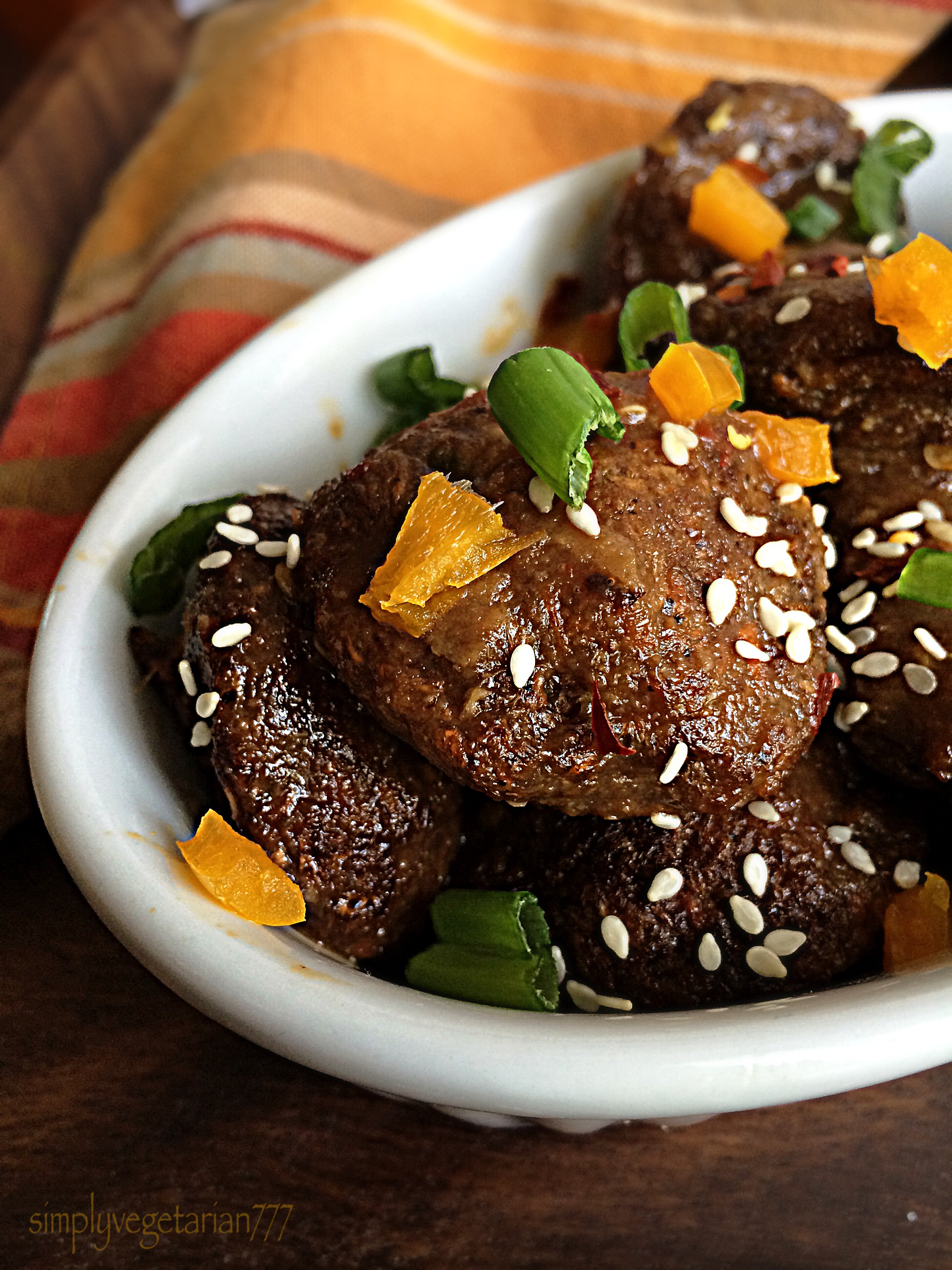 Veg Manchurian is made with grated vegetables which are bind together with some corn flour(starch), seasoned with ginger, garlic, chili and soy sauce and then deep fried in hot oil. It can be served as dry as an appetizer, coated in a thick, hot and spicy sauce or as a curry along with rice with more saucy base.
For the benefits of main ingredients on diabetes, used in the dish, please refer to the Foot Notes!
</i>Vegetable Manchurian Balls in Hot Garlic Sauce<i>
Servings: 4
Difficulty: easy
Yields – 12 Manchurians

Kitchen Equipments Required

Chopping board, knife, food processor or fine vegetable grater, mixing bowl, appe/paniyaram/abelskiever pan with lid, wooden spoon or sticks for turning, a sauce pan.

Ingredients for Veg Manchurian Balls

Cabbage, green – 1/2 cup, finely shredded in food processor or grater

Cauliflower – 1/2 cup, finely shredded in food processor or grater

Carrot – 1/4 cup, finely shredded in food processor or grater

Garlic – 1 tsp, finely shredded in food processor or grater

Ginger – 1 tsp, finely shredded in food processor or grater

Soy sauce – 1 tsp

Corn starch/flour – 3 tbsp

Baking soda – a pinch

Salt & black pepper – to taste

Oil – 1 tsp to coat the appe pan holes slightly.

Method to make Veg Manchurian Balls

1. Grease the appe/abelskiever pan with 1 tsp oil lightly and heat on medium flame.

2. Meanwhile take the mixing bowl. Add all the grated vegetables and other ingredients to it. Mix well. Bring it together.

3. Wet your hands slightly and pinch 1&1/2 tbsp mixture from the bowl. Roll it gently between your fingers to make a loose ball. Drop in one of the pan hole. Finish the mixture likewise. It will yield 10-12 balls, depending upon the size.

Note- You have to work quickly with the mixture since the Veges will keep leaving the water otherwise. The mixture is batter-ish consistency and not a dough.

4. Cover the pan with the lid and lower the temperature further down. Cook it covered for 3-4 minutes. This step is necessary to make sure that the veg balls are cooked well from the center.

5. Take the lid off and continue cooking for 2 more minutes on low flame to crisp the bottom side.

6. Now carefully turn the veg balls upside down with the help of wooden spoon or sticks (I used bamboo skewer sticks). This will ensure the even cooking and browning on the other side as well. Cook for another 4-5 minutes on slow flame. Do not cook on higher flame since it will give a burnt effect to the Manchurian.

Your Veg Manchurian Balls are ready.

Ingredients for Hot garlic Sauce

Oil – 1/4 tsp

Garlic – 1/2 tsp

Red chili flakes – 1/4 tsp

Soy sauce – 1/2 tsp

Honey – 1/2 tsp

Water – 3/4 cup

Whole wheat flour – 1 tsp. I have used a better alternative here in lieu of corn starch again.

Salt to taste

Sesame seeds – 1/4 tsp

Method to make Hot Garlic Sauce

1. Dissolve the flour in 1/2 cup water along with honey and soy sauce.

2. Heat oil in the sauce pan. Add garlic and crushed dry red chili to the pan. Lower the flame and stir for few seconds.

3. Add the flour mixture to the pan. Add salt to taste. Increase the heat to medium and bring it to boil. Lower the flame till it thickens a bit, for 1 minute approximately. Sauce is ready. Sprinkle with sesame seeds. Garnish with green scallions(onions) and bell pepper, if desired.

Serving the Veg Manchurian Balls

Toss the Manchurian balls gently in thick sauce. Serve warm!
—————————————————

Foot Notes

If you are thinking that how it is diabetes friendly, then here are few facts to study!
A quintessential Deep-Fried dish is created in Appe pan cutting down on the negatives of the fried food.

Though this dish uses corn starch/flour which is a refined form of a grain, but the quantity is so less as compared to the fiber rich vegetables that are used in the dish, like cabbage, cauliflower and carrots. So when the net carb exchange is considered, it can be easily adjusted. But do not exceed the recommended portion of 3 pieces only!

Cabbage, Cauliflower and Carrots belong to the non starchy vegetables. Non starchy Vegetables are full of vitamins, minerals, fiber, and phytochemicals—and with so few calories and carbohydrate, everyone can enjoy more! To know more about the non starchy Veges food facts, click here!
—————————————————–
Disclaimer
I am not a nutritionist or dietician. My knowledge and information is based on my research and reading from different resources. Please consult your doctor or dietician before making any changes to your diet.
—————————————————–
Other Appe Pan Dishes from this week DFT !