Vegetable Pulav , a basic recipe for basmati rice cooked with vegetables and whole spices
As an Amazon Associate and member of other affiliate programs, I earn from qualifying purchases.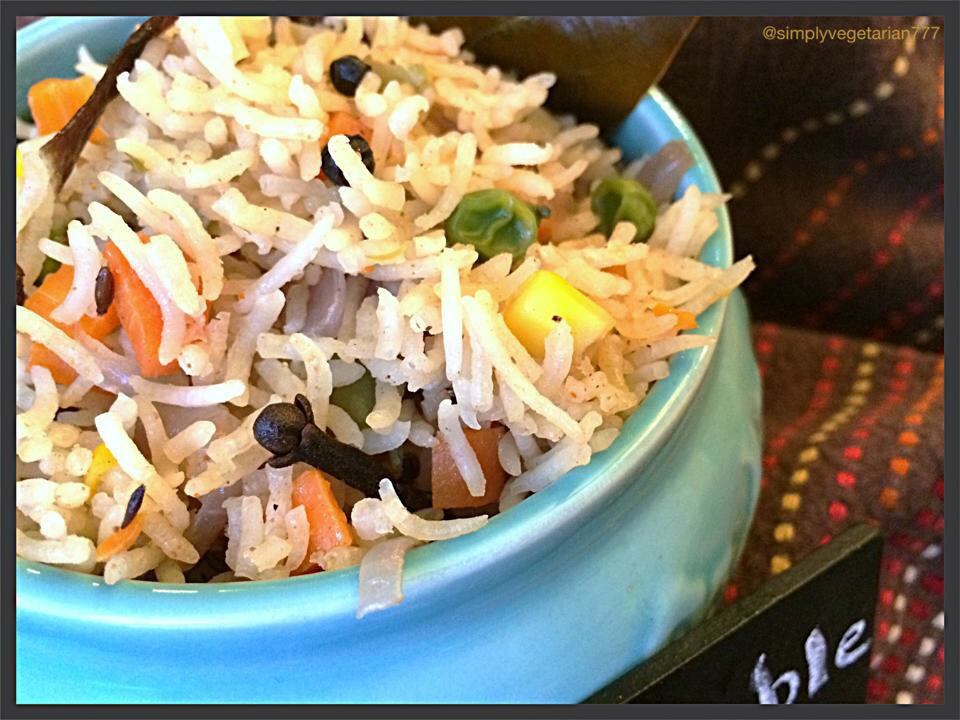 There is this status cooking attached with basmati rice. It's not the money I am talking about. I am talking about how well you can cook basmati rice, so that each grain of rice is still separated after cooking. Yes, it is not supposed to be cooked like porridge. The more the grains are separated of basmati, the better skilled you are :). Yes, believe it or not….that's the status attached to the basmati.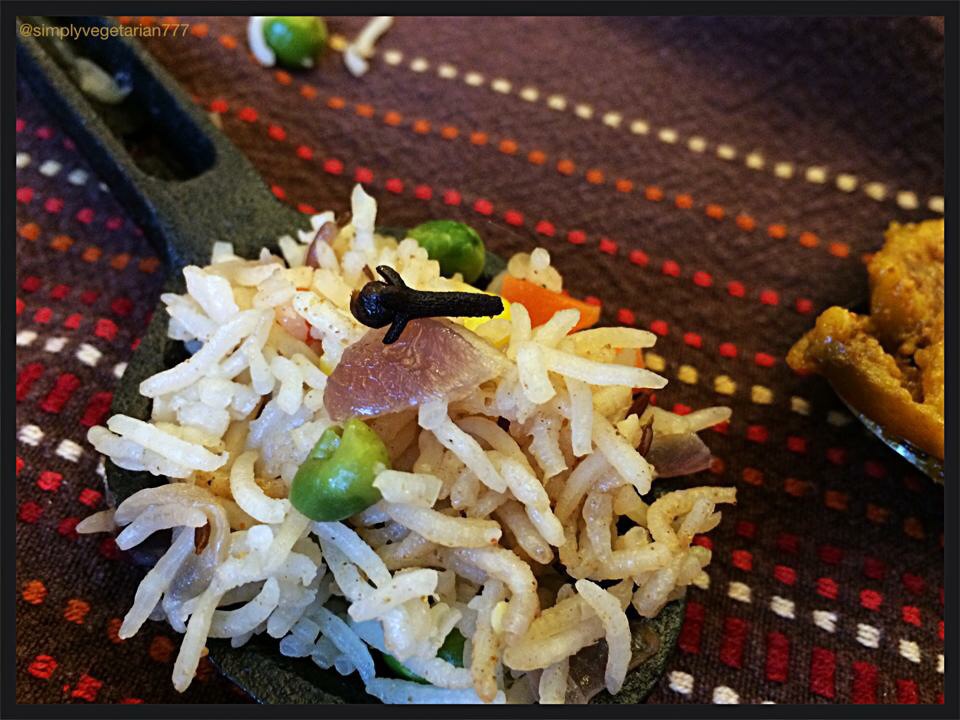 Some people attribute the particular characteristic to the amount of oil/ghee used and some people attach it to the amount of water used. I belong to the latter school and today I will share this basic recipe of vegetable pulav and a technique that I have mastered over a period of time. A technique called patience ;).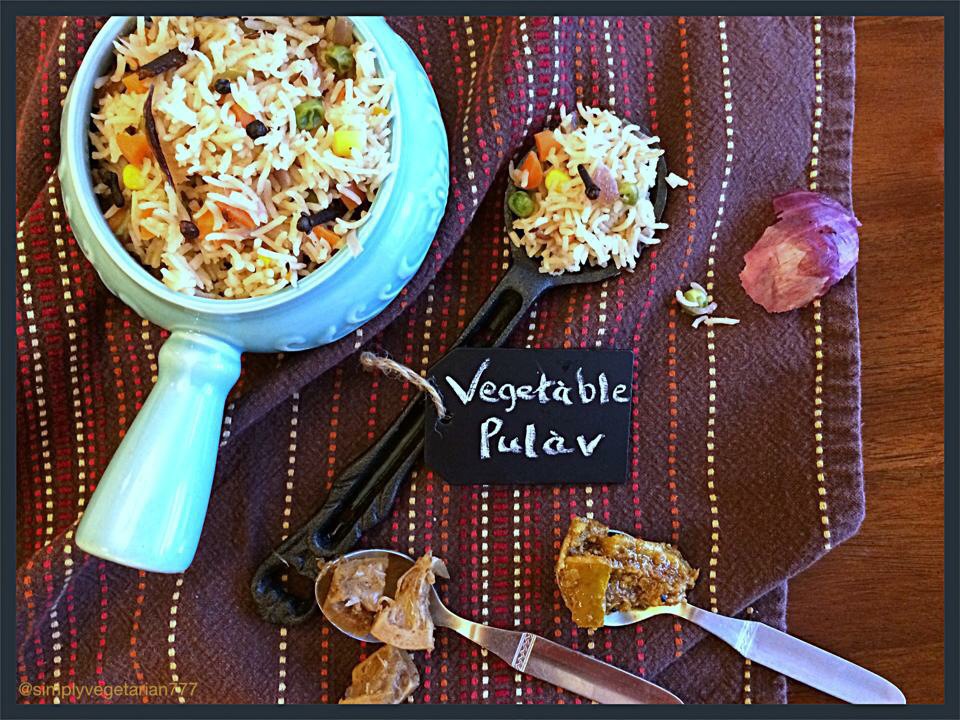 I forgot to mention that this is another complete and quick meal for busy week nights. It is often served with a yogurt dip, Cilantro chutney and couple of pickles on the side. I enjoyed mine with some home made lemon pickle and store bought mango pickle .
Let's get started now! I am sure this is going to be a keeper once you try it.
Vegetable Pulav
Servings: 4-6
Difficulty: easy
Kitchen Equipments :
heavy bottom broad and deep pan, fork, chopping board, knife
Ingredients :
Oil/Ghee : 1 tbsp
Basmati Rice : 1&1/2 cups
Onion : 1 medium, thinly sliced
Carrot : 1/2 cup, diced into small pieces
Peas : 1/2 cup, frozen or fresh
Green Beans : 1/2 cup, diced into small pieces
Corn kernels : 1/4 cup, optional
Ginger paste : 1/2 tsp
Garlic paste : 1/2 tsp, optional
Cumin seeds : 1 tsp
Cloves, whole : 4-5
Black pepper corns : 4-5
Bay leaf dry : 1 big
Cardamom, green : 2
Cinnamon stick : 1″ stick
Garam masala : 1-2 tsp, as per taste
Red chili powder : 1/4-1/2 tsp, as per taste
Salt : 3/4 to 1 tsp, as per taste
Water : 2&1/2 cups
Method :
1. Wash and soak the basmati rice in enough water for 10 minutes.Till basmati soaks, work on the chopping and cutting of the vegetables. After 10 minutes, drain the water off the rice carefully. Use a fine sieve to drain the water, if you want to avoid any wastage.
2. In a heavy pan, heat oil. When the oil is hot enough, lower the flame to lower medium. Add cumin seeds, cloves, black pepper corns, bay leaf, green cardamom, cinnamon stick. Sauté till cumin starts crackling and you get a nice aroma. Don't burn the whole spices.
3. Now add the onions. Sauté them in the oil on higher medium flame for about 3-4 minutes till they turn slightly pinkish golden. Then add ginger and garlic paste and sauté for further 1/2 minute.
4. Add all the chopped vegetables and soaked rice to the onions in the pan. Sauté on medium flame for 2 minutes.
5. Add garam masala, red chili powder and salt. Mix well. Add water. Do a spoon lick test for salt and adjust if required more. Cover and cook for about 10-12 minutes, on medium low flame, till all the water is gone. Don't open the cover or stir the rice at all while it is cooking. Switch off the flame.
6. After switching off the flame, let it stand covered and untouched for further 7-8 minutes. Now uncover and let stand uncovered for another 2-3 minutes.
7. Now the trick part! Take a fork. Start raking or forking the rice very gently while keeping the fork straight and not tilted. Do small portions at a time and finish forking. All the grains are separated and it's ready to eat :).