Very Savory Skillet Corn Bread with Chillies, Corn & Olives
As an Amazon Associate and member of other affiliate programs, I earn from qualifying purchases.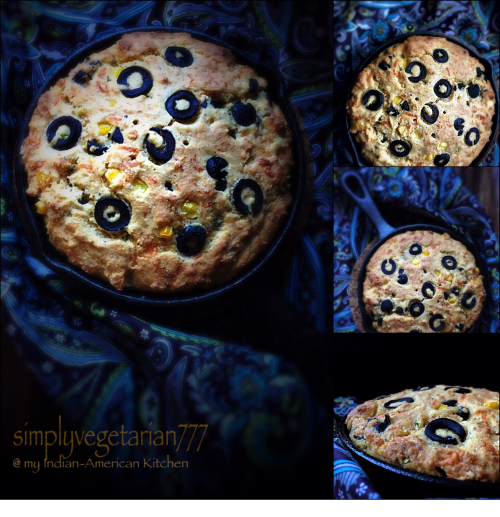 ---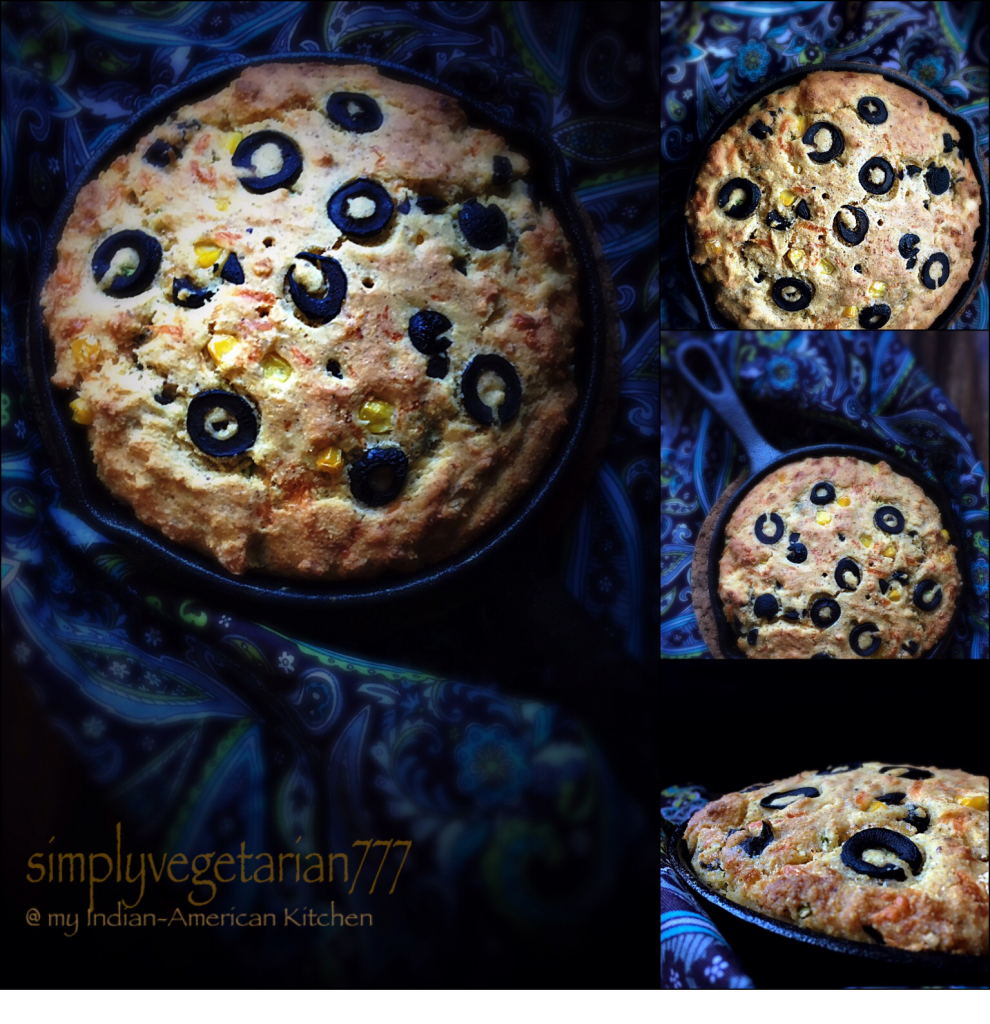 I am a part of this fabulous home bakers group called "Baking Partners" on Facebook! Facebook is like a magic wand for food bloggers, I tell you! If you are a food blogger and not on Facebook, you are missing out big time! No kidding!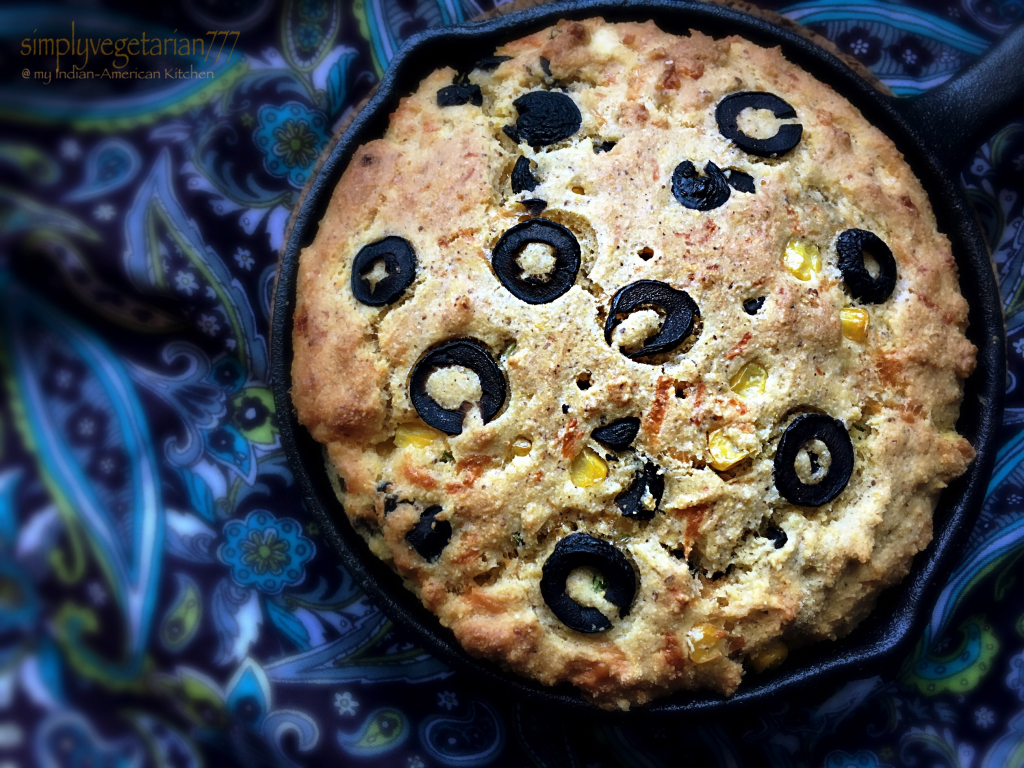 The creator and admin of this group Swathi of Zesty South Indian Kitchen is a seasoned baker! You probably can find the breads and bakes from every region of the world on her blog! Such inspiring and still very humble work! Swathi along with Suja of Kitchen Corner came up with the challenge of the month for November!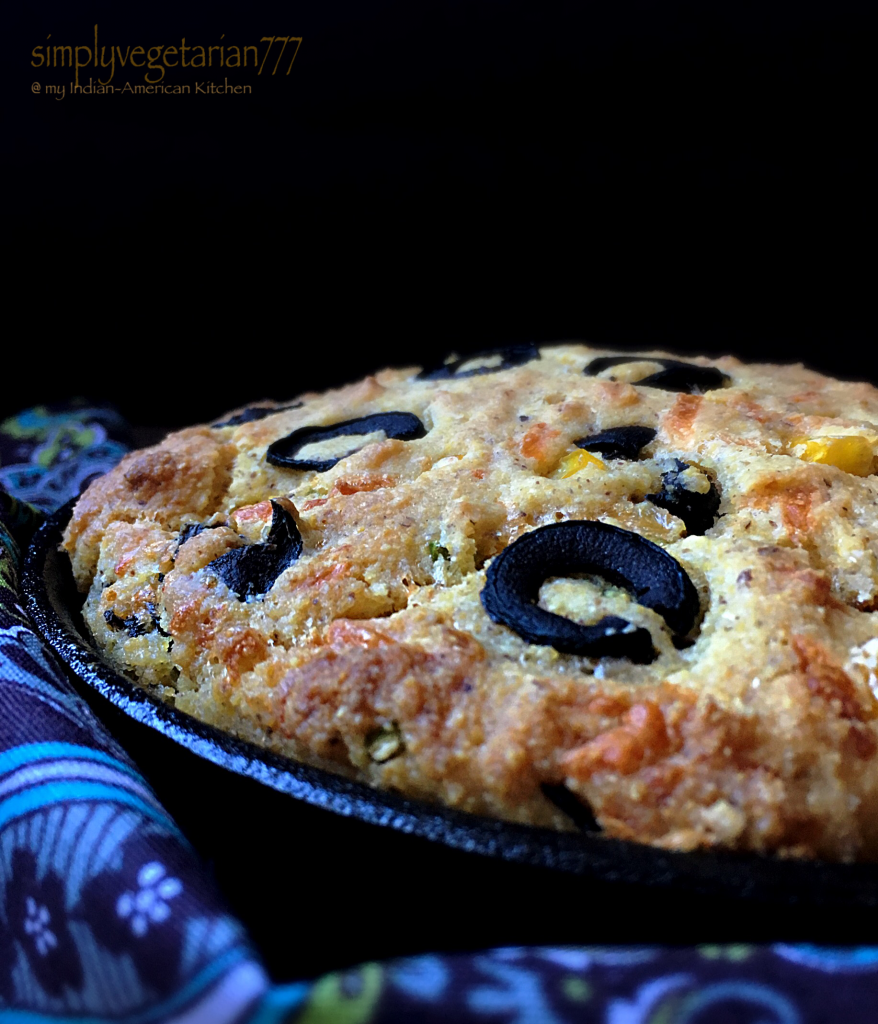 Though I had these corn muffins on the blog earlier and I thought that I would not blog this one, but the results are so outstanding  that I have to share it! It has just come out perfect! I have adapted their recipe to make it half portion and egg less and making it more savory than the regular. Somehow I don't like the corn bread any sweet!
When I dug my greedy teeth into this lush golden bread, I was in food heaven! It reminded me so much of Indian Makki ki Roti! Such a yahoo moment for me! 😀
Sharing this with the fellows at Angie's Fiesta Friday, co-hosted by Johanne and Liz ! 
This is how I baked it!
Very Savory Corn Skillet Bread, Egg-less
Servings: 6
Difficulty: easy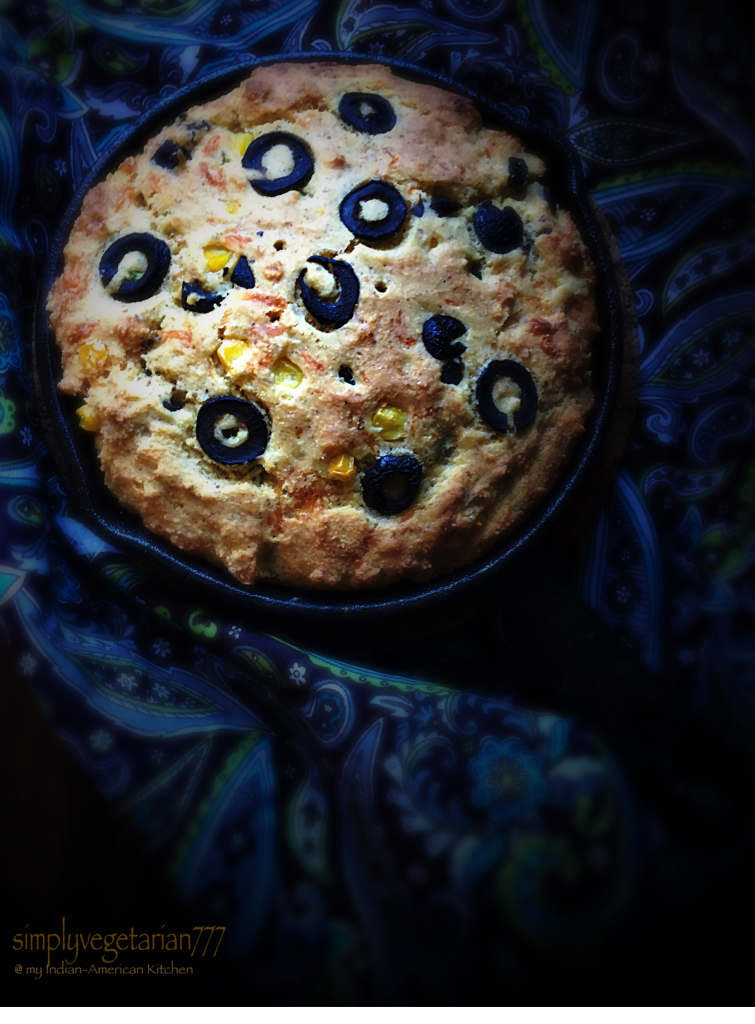 Kitchen Equipments Required
1 big mixing bowl, 1 small microwave safe bowl, a 6 inch iron skillet or a small cake mould, oven (of course), fork and spoon, chopping board and knife.
Ingredients
Yellow corn meal / makka ka atta (cosrsely ground) – 3/4 cup
All purpose flour – 1/2 cup
Baking Powder – 1 tsp
salt – 3/4 tsp
Sugar or Shakkar – 1 tsp
Flax meal – 1 tbsp ( Alsi ka atta)
Water – 3 tbsp
Vegetable Oil – 2 tbsp
Yogurt – 1/2 cup
Butter – 1 tbsp
Green Chilli, small – 1 finely chopped
Corn kernels – 2 tbsp, par boiled
Olives – 6, cosrsely chopped
Cheddar Cheese – 2 tbsp, shredded
Method
Preheat the oven at 400*F / 200*C.
Take the microwave safe bowl. Add 3 tbsp water and microwave for 30 seconds. Take it out and add Flax meal / Alsi ke Beej ka choora, to the warm water. Whisk it and set aside.
Take big bowl. Add corn flour, all purpose flour, salt, sugar and baking powder to it. Mix with fork and set aside.
Take the flax meal bowl and add oil and yogurt to it. Beat it well with a fork.
Add the wet ingredients and chopped vegetables and cheese to the dry ingredients and mix well with a fork.
Melt the 1 tbsp butter and coat the iron skillet properly with it.
Pour the prepared batter into the skillet or cake tin. Level it out with fork or spoon. If desired, add some sliced olives.
Bake it at 400*F for about 25-30 minutes until the wooden toothpick comes out clean.
Serve it warm! I assure you that you don't need any other side sauce or butter etc with it! It's just perfectly done and bit spicy and crispy!
Another gorgeousness from my Indian American Kitchen to yours!!
Bake it in the winter and eat for snack or as a side for a whole meal!  Delicious  and gorgeous food doesn't need complicated recipes and fancy ingredients for sure !
Sonal