Air Fryer Sweet Potato Fries with Heart Healthy Soybean Oil
As an Amazon Associate and member of other affiliate programs, I earn from qualifying purchases.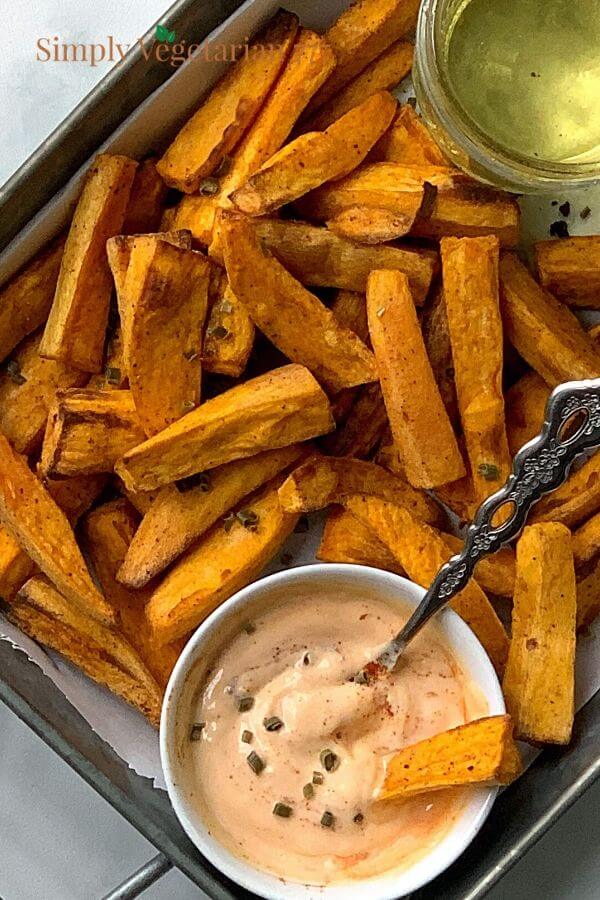 This post is compensated by Kitchen PLAY in partnership with United Soybean Board. #soybeanoil #vegetableoil #hearthealthy #usgrown #soy #USSoy
Air Fryer Sweet Potato Fries with Heart Healthy Soybean Oil
Did you know that Heart Healthy Soybean Oil is the medium of much of the delicious food in your kitchen and in restaurants as well? Well, that is a fact.
Do you use vegetable oil in your day to day cooking? I do it all the time. And to my surprise, when I decided to check the ingredient list of this "vegetable oil", it read 100% SOYBEAN OIL.
I would suggest you check your vegetable oil ingredient lists too and let me know in the comments section if you see "100% SOYBEAN OIL".
What is Soybean Oil?
Soybean oil is a vegetable oil extracted from the seeds of soybeans. It is the most widely used cooking oil in the USA.
Though people are using it every day, they are not aware of it. Most of the bottled vegetable oil at the grocery store is 100% soybean oil.
High oleic soybean oil is a new variety of soybean oil that has an improved fat profile compared to conventional oil and offers functional benefits for the food industry. It is currently being used in some restaurant meals and packaged products, which means you can enjoy the benefits of this soybean oil in some of your favorite packaged goods and your favorite restaurant meals.
U.S. Grown Soybean
The United States of America boasts a vast land (almost half of it) to farming. Would you believe that SOYBEANS are the second largest crop, with 80 million acres planted? And there are more than 515K soybean farmers in the U.S.
95% of U.S. soybean producers work with the USDA to implement conservation practices on their farms.
These soybean farmers employ sustainable farming practices, including crop rotation, reduced tillage, and water management. These practices lead to a reduction in soil erosion, greenhouse gas emissions, and energy use, as well as improved water use efficiency.
Proudly Consume "Grown in U.S.A"
Not only do soybean farmers use sustainable growing practices, but they are also located right here in the United States. This is more important now than ever, as more than 70% of American consumers believe in supporting domestic agriculture. They prefer to buy the foods produced with crops grown by our American farmers.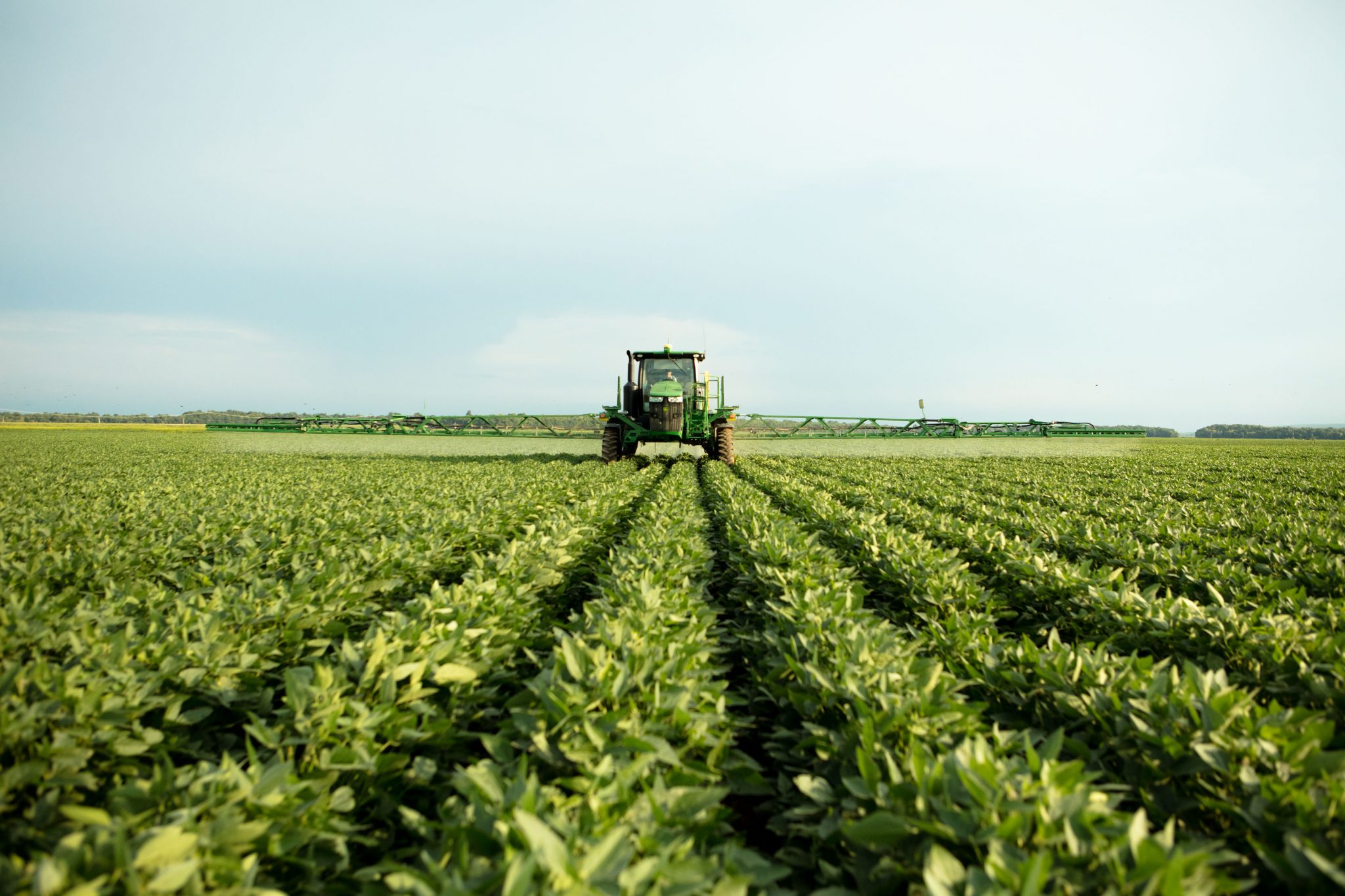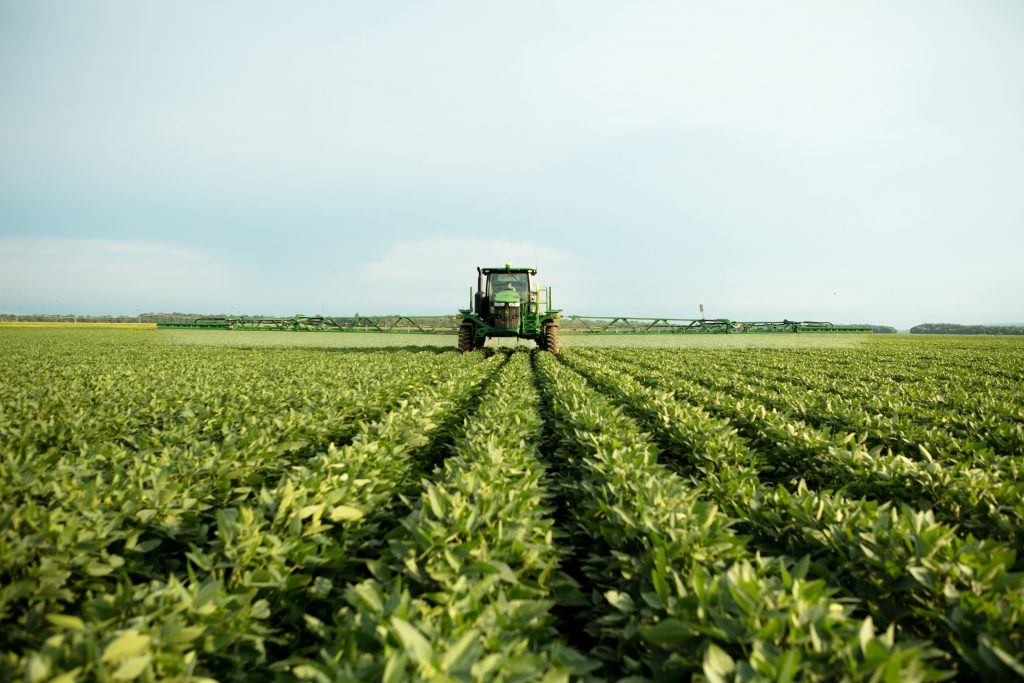 How is Soybean Oil Heart Healthy?
There are more health issues related to heart disease as compared to the other diseases. Our current lifestyle, including eating habits, sedentary lifestyle, and stress adds to the complications. And then there are other diseases that can affect your heart health like diabetes, etc.
Recently, the American Academy of Pediatrics has made cholesterol screening compulsory for 9-11 year old children. Isn't that a sign to take your heart more seriously? My point is not to scare you, but to encourage you and bring awareness.
We can take care of our HEART by making small changes and better choices.
One way you can bring that change is by choosing heart healthy soybean oil (vegetable oil) for your cooking needs.
It is an excellent source of alpha-linolenic OMEGA-3s, which affect cardiovascular health and may reduce blood pressure. Omega-3 fats are recognized as healthy fats.
Soybean oil is also the VEGAN source of Omega-3 fatty acid, one of the few non-fish sources.
This oil has 0 grams of trans-fat and just 2 grams of saturated fat per 1 tablespoon serving.
Scientific Research Supporting Facts
In the year 2017, the FDA authorized a qualified HEART HEALTH CLAIM confirming soybean oil may have the ability to reduce the risk of coronary heart disease when replacing oils higher in saturated fats and not increasing the total number of calories consumed in a day.
In 2018, the FDA authorized a qualified heart health claim for oils high in oleic acid, including high oleic soybean oil. It confirmed their relationship to a reduced risk of coronary heart disease when replacing oils higher in saturated fats. To achieve this possible benefit, oleic acid-containing oils should not increase the total number of calories you eat in a day.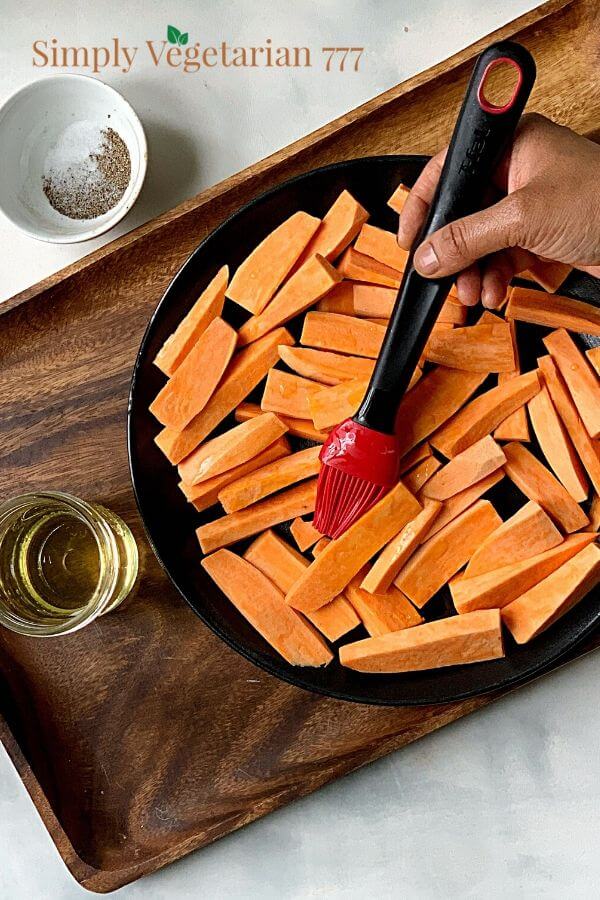 Other Benefits of Soybean Oil
High Smoke Point of about 450 °F makes it an excellent option for high-heat cooking methods like frying, roasting, baking, etc.
Since 1 tablespoon of this oil has 25 mcg of vitamin K (31% of recommended DV), it may support bone health and may protect from osteoporosis.
Soybean oil is an excellent source of Vitamin E. Therefore, it promotes skin health.
It is versatile and easy to use.
Clinical studies have shown that eating soy does not increase the risk of breast cancer.
GM crops are safe to consume. These are tested extensively before being added to the food chain.
Soy consumption in your diet does not feminize men.
Only 0.4% children are allergic to soy and most of them outgrow it by the age 10.
Soy does not impact thyroid function in healthy men or women.
It is not responsible for slow metabolism.
Interesting Trivia for You
Many packaged consumer food has vegetable oil in it as one of the ingredients. It is soybean oil unless it says otherwise.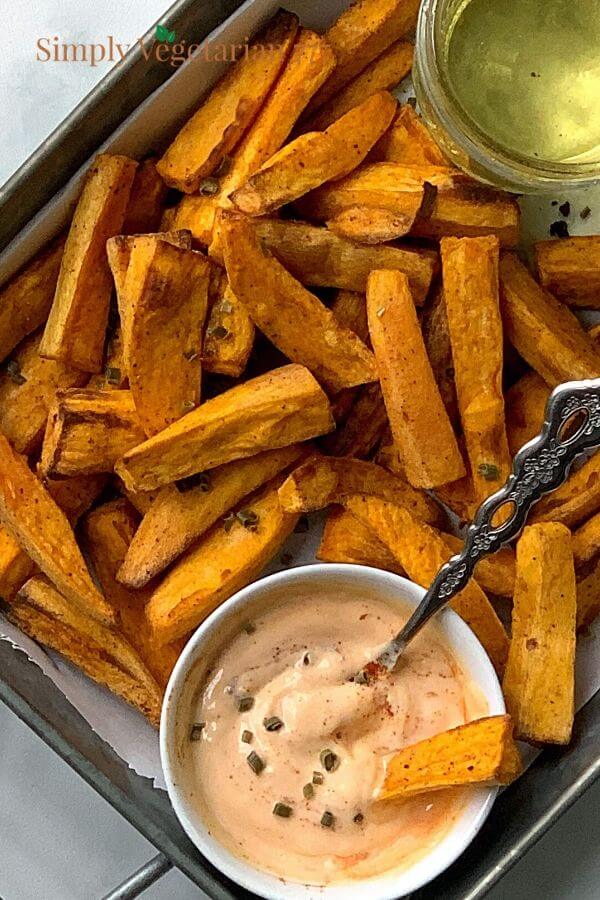 Other Recipes Made in the Air Fryer that use Vegetable/Soybean Oil
Air Fryer Nuts, Air Fryer Bread Rolls, Air Fryer Curry Eggplants, Air Fryer Chickpeas, and more.
Air Fryer Sweet Potato Fries with Heart Healthy Soybean Oil
Yield: 2 servings
Air Fryer Sweet Potato Fries with Heart Healthy Soybean Oil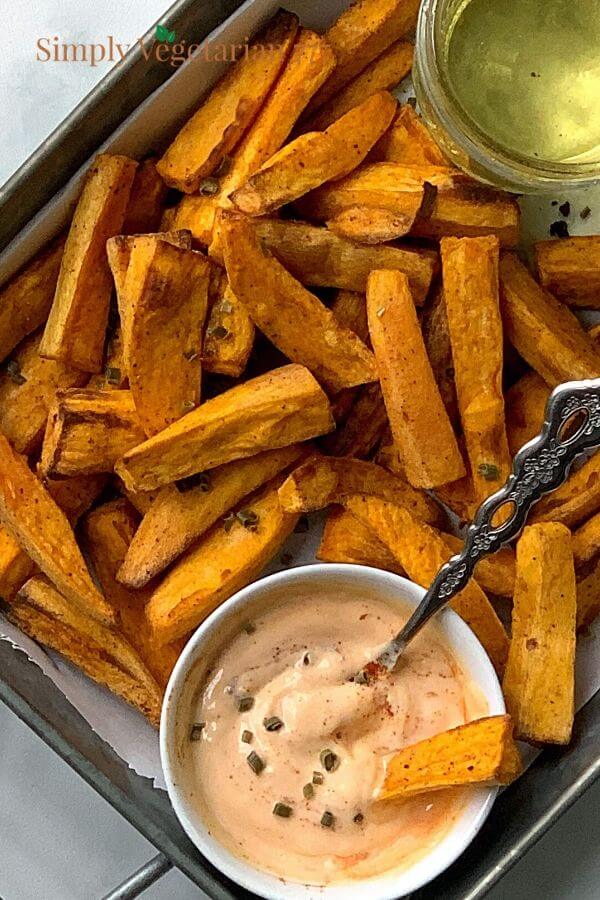 These Air Fryer Sweet Potato Fries are made with 100% soybean oil, proudly produced in U.S.A. Since it is such an easy recipe made with just few ingredients and heart-healthy soybean oil, you can make it often with ease.

It is perfect as a mini snack, after school snack for kids, entertaining your guests, or add as a side to your favorite salad.

Prep Time: 10 minutes

Cook Time: 15 minutes

Total Time: 25 minutes
Ingredients
2 - Medium Sweet Potatoes
1 tbsp - Soybean/Vegetable Oil
To Taste – Salt & Black Pepper
¼ tsp – Paprika
Spicy Mayonnaise Dip Ingredients
2 tbsp – Mayonnaise
¼ tsp – Hot Sauce
Instructions
Wash and peel the sweet potatoes. Cut thick wedges (about 1 inch wide) out of these sweet potatoes.

Take a bowl or plate. Toss the sweet potato wedges with soybean oil, salt & pepper, and
paprika.

Preheat Air Fryer at 390 °F/400 °F for 5 minutes.

Add sweet potato wedges to the air fryer in a single layer. Cook them for 10 minutes. Turn them over after 5 minutes for even cooking.

Cook these fries in 2 batches.

Heart Healthy & Delicious Sweet Potato Fries are ready.

To make Spicy Mayonnaise Dip, just mix the 2 ingredients and it is ready.

Serving Suggestion

1. Serve these hot. It is better to prepare them right before serving.

2. I served these with Spicy Mayonnaise. You can serve it with any dip of your choice.

Please leave your feedback under comments section.
Sonal
Sources:
https://aghires.com/soybean-oil-widely-used-edible-oil-u-s/
https://www.soyconnection.com/soy-for-the-food-industry/consumer-insights
https://www.qualisoy.com/food-industry-solutions/high-oleic-soybean-oil
https://www.soyconnection.com/the-story-of-us-soy
https://www.soyconnection.com/foodindustry/relabel-to-boost-oil-sales
https://thesustainabilityalliance.us/american-soy/
https://www.qualisoy.com/benefits-of-u.s.-grown-ingredients
https://www.soyconnection.com/healthprofessionals
https://www.qualisoy.com/news/industry-updates/details/FDA-Authorizes-Qualified-Health-Claim-for-Oils-High-In-Oleic-Acid?type=&topic=
https://ussoy.org/6-benefits-and-uses-of-soybean-oil/
https://www.soyconnection.com/healthprofessionals/mythbusting
https://www.aap.org/en-us/about-the-aap/aap-press-room/Pages/Physicians-Recommend-all-Children,-Ages-9-11,-Be-Screened-for-Cholesterol.aspx