Bharwaan Baingan Air Fryer Recipe
As an Amazon Associate and member of other affiliate programs, I earn from qualifying purchases.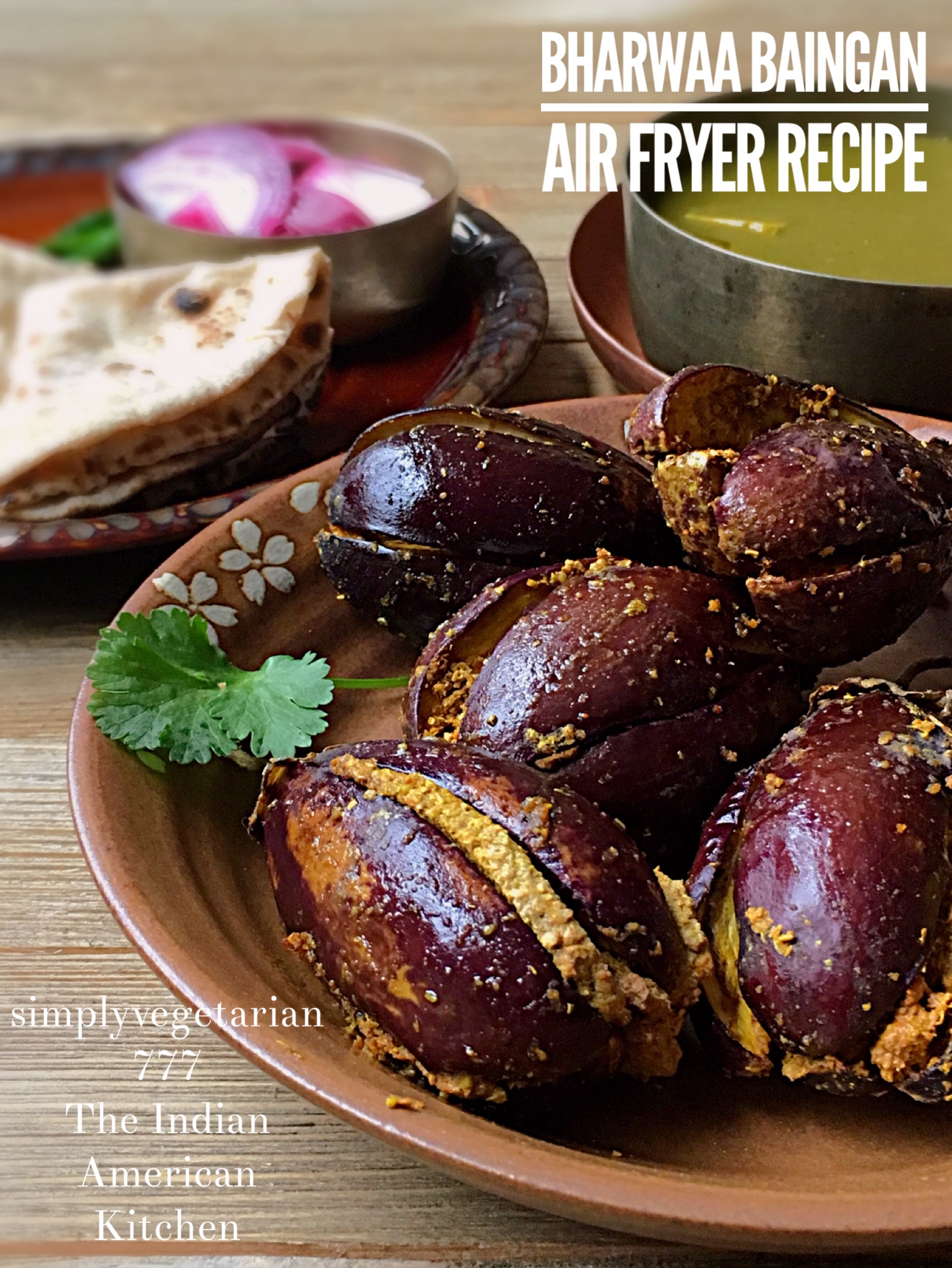 Bharwaan Baingan Air Fryer Recipe is an EASY, EFFICIENT & DELICIOUS Recipe for all the Eggplant lovers. This dish can be made in 15 minutes from start to finish and with VERY LESS OIL. Easy to Make and Yummy to Eat.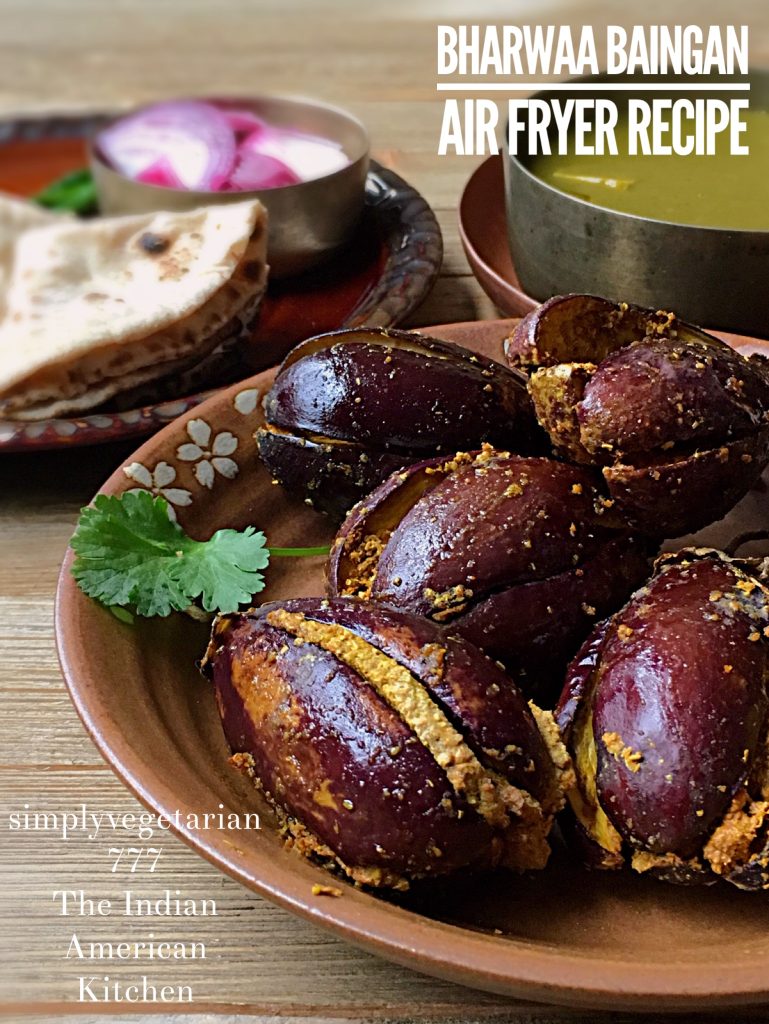 Bharwaan Baingan Air Fryer Recipe
If you have been following my blog, then you probably are well aware that I am a huge fan of Baingan aka Eggplants. Give me some eggplants with or without the bread, and I am a happy camper. My love for eggplants knows no boundary. That's for real. I can eat, sleep, talk and walk eggplants…LOL
For those who are not sure what I am talking about, then Bharwaan = Stuffed and Baingan = Eggplant or Brinjal or Aubergine. So Bharwaan Baingan = Stuffed Eggplants. These are stuffed with Indian Curry Spices.
Whenever I visit my mom back home, she knows that the first thing that tops my list of "mom made food" is Baingan ka Bharta and Urad ki sookhi daal.  Eggplants are roasted on slow fire and then mashed to cook with onion tomato base. Traditionally, the eggplants are roasted on mud earthen oven for long hours which lends it a smoky flavor. It is finger licking delicious.
And now my love for AIR FRYER knows no boundaries. It took me a long time in deciding to buy PHILIPS AIR FRYER. But I am glad that I bought it.
Here are some reasons to invest in an AIR FRYER
It is a very convenient gadget to use.
Air fryer is very easy to clean up.
Since the food is cooked in less fat/oil, it is healthier. It is perfect for the people who are trying to watch their weight.
Food cooks faster in it as compared to a conventional oven. You can make cakes, muffins etc., in it.
The Air Fryer is especially good for replacing deep fried food. You can make fritters, fries, pakodas, French fries, bread pakoda, kofta, falafel, cutlets, vegetable balls/kofta, kachoris, samosa and much more in an Air Fryer without actually deep frying the food.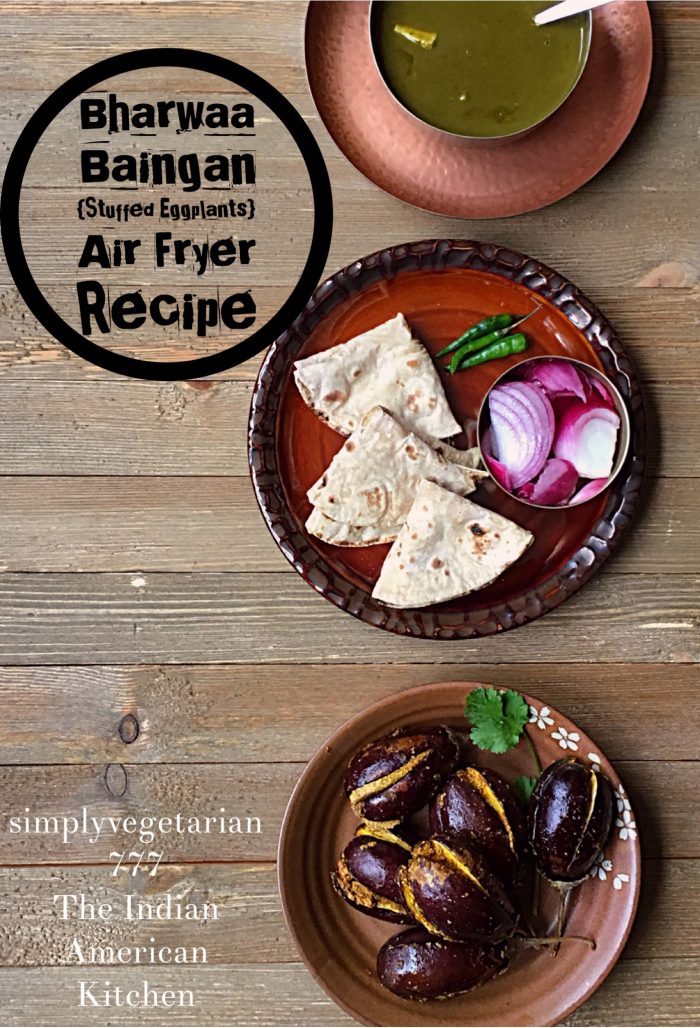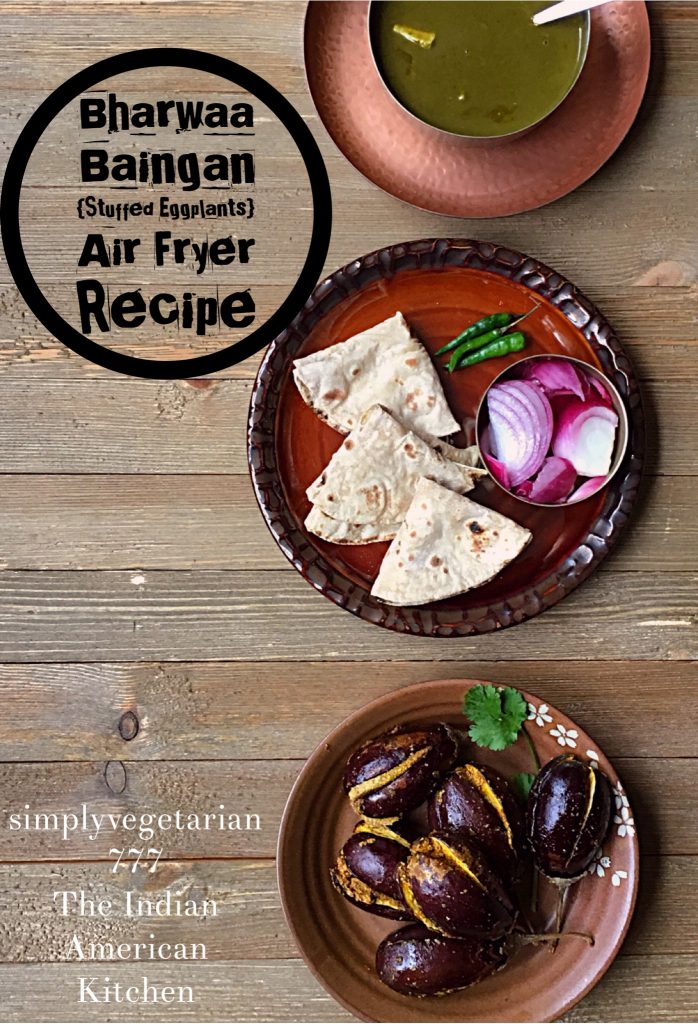 I am not the kind of person who spends a lot of money on Kitchen Gadgets unless I am convinced with it. Having said that, I do have a couple of Gadgets that are good and come pretty handy. These gadgets make your life efficient in the kitchen. As a result, you have more time to spend with your family.
I enjoy cooking in these every day and hopefully can inspire you to cook in these as well.
Some of these that I recommend are –
Instant Pot and that too Mini Instant Pot is  perfect for daily use
Electric Grill – I love this product for grilling burgers and making grilled sandwiches. Even the quesadillas and wraps turn out so good in this.
The Electric Griddle –  another product that i love when i a making pancakes, crepes, dosa, hosting parties and heating multiple breads or naans and much more.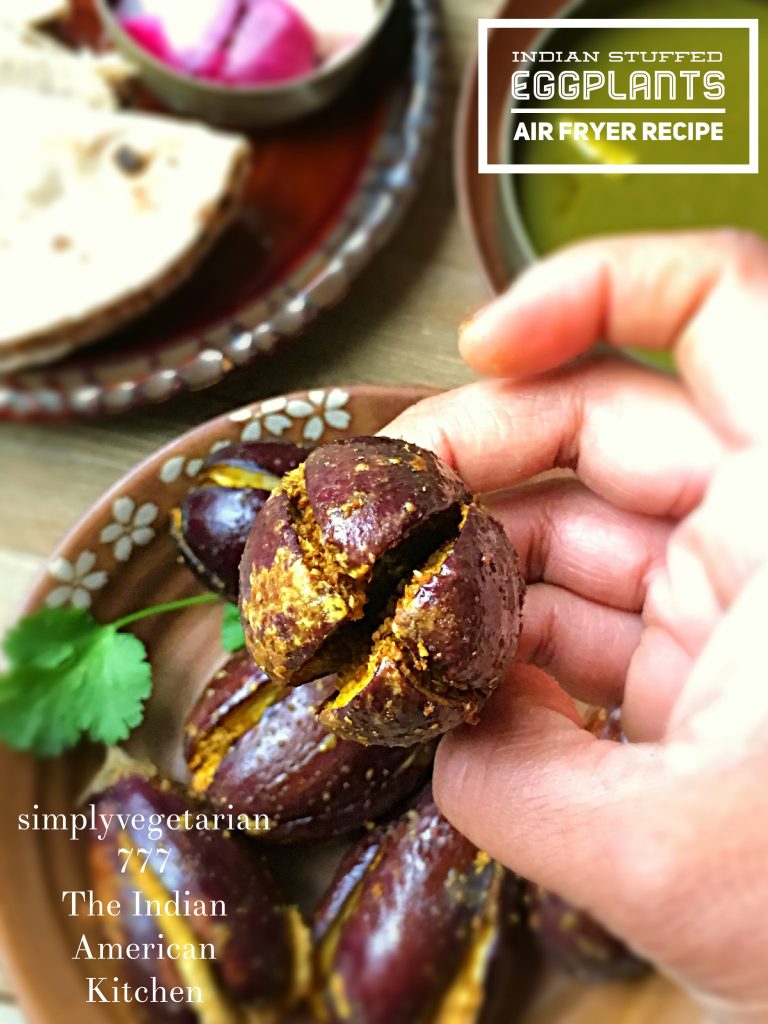 Why should you make this recipe in Air Fryer?
It uses less oil in this method, therefore it is healthier.
Bharwaan baingan turns out really nice and crispy in air fryer.
It uses lesser time and effort also this way. Stuff the baby eggplants, put it in air fryer at the set temperature and forget till the timer goes off. So, it is completely effortless and time efficient recipe.
Some AIr Fryer Recipes from my Blog
Kuttu Aloo Pakoda / Buckwheat Potato Fritters
Chaat Katori / Edible Salad Bowls in AIr Fryer
Here are some popular Eggplant Recipes from my Blog
Khatte Meethe Baingan – sweet & sour Indian Eggplant curry
This is how you make this recipe.
Bharwaan Baingan Air Fryer Recipe
Bharwaan Baingan Air Fryer Recipe is an EASY, EFFICIENT & DELICIOUS Recipe for all the Eggplant lovers. This dish can be made in 15 minutes from start to finish and with VERY LESS OIL. Easy to Make and Yummy to Eat.
Ingredients
6-8

Baby Eggplants

2

tsp

Coriander powder

1/4

tsp

Turmeric powder

1/2

tsp

Red Chili powder

1/4

tsp

Garam Masala

1/2

tsp

Fennel powder

1/2

tsp

Dry Mango powder/Amchur/Khatai

To taste

Salt

1&1/2

tbsp

Water

1

tsp

Cooking Oil

Mustard oil preferably
Alternatively - Use 1 tbsp of Curry Powder + 1 tsp Lemon Juice and mix in place of the spices mentioned above.
Instructions
Wash and Dry the eggplants. Cut the eggplants as shown in the picture. Make 2 slits creating a cross lengthwise, without getting at the base of the eggplant. Leave the base intact.

Take a small bowl. Add all the spices as mentioned above, to the bowl. Now mix water with the spices and make a thick paste. Now fill all the eggplants evenly with this spice paste. Make sure that the spice paste is filled in all the slits.

Now set the Air Fryer at 350*F / 180*C and 15 minutes. Preheat it for 2 minutes till the timer reaches at 13 minutes.

Take 1 tsp of oil and coat on stuffed eggplants with the help of kitchen pastry brush. Place these eggplants in the air fryer basket. Close the air fryer and cook for 12 minutes.

After 12 minutes when the timer goes off, open the air fryer and carefully take these out of the basket. These stuffed eggplants are ready.

Serving Suggestion - These go very well with roti, parantha and rice. Make a taco out of it with some chutney and cut salad.
Now, take that air fryer of yours out and enjoy cooking healthy and delicious food in it. If you try it, then do not forget to give me the feedback.
Can't make it now? PIN IT FOR LATER!

In my kitchen, you will always EAT HAPPY & STAY HAPPY!
Sonal