Baked Chaat Katori
As an Amazon Associate and member of other affiliate programs, I earn from qualifying purchases.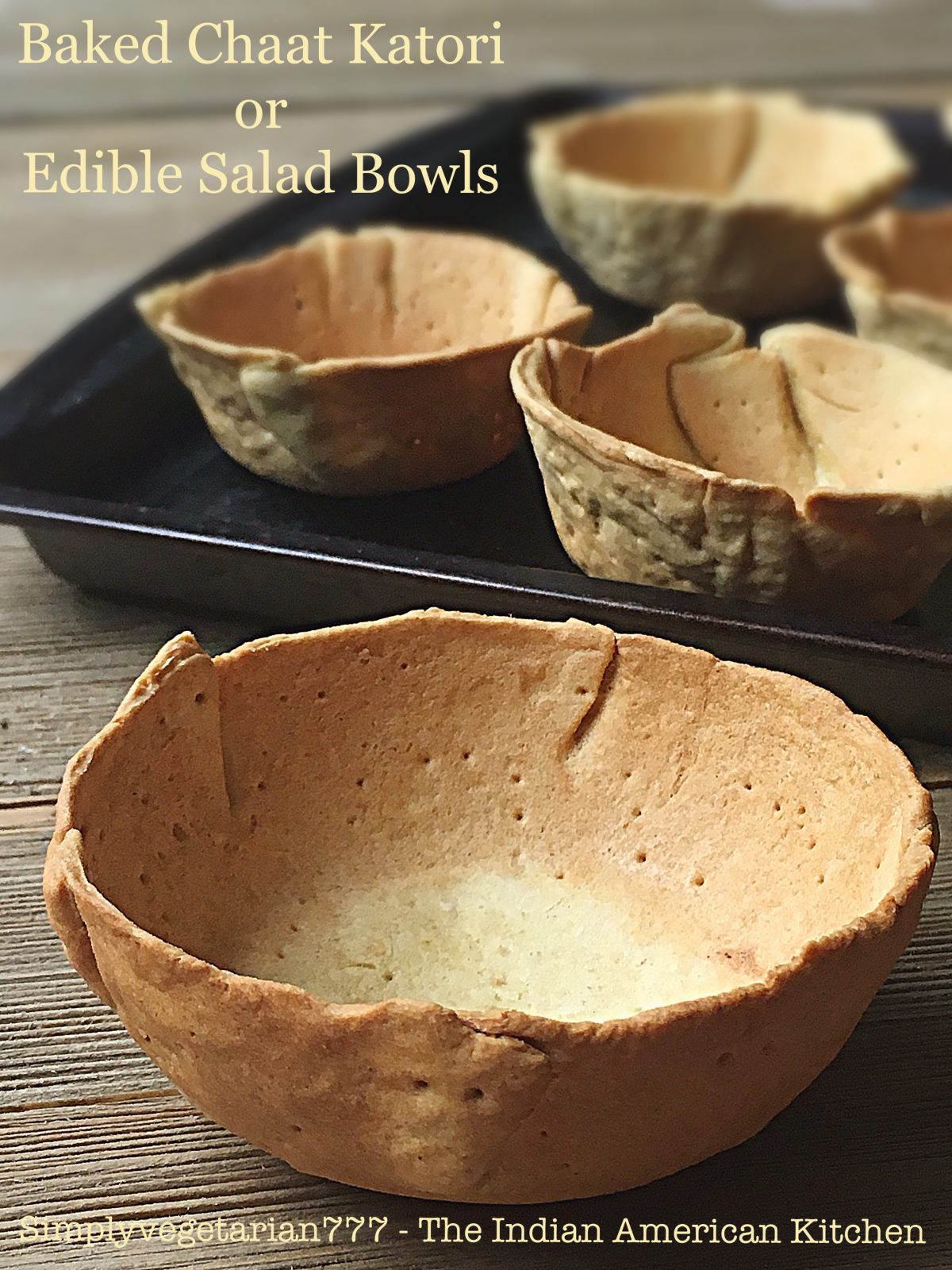 This is a detailed recipe on how to make the Baked Chaat Katori for the famous KATORI CHAAT from India. Katori means Small Bowl. Chaat means a savory street side snack sold by street vendors on push carts. These katori or small cups can be used as Edible Salad Bowls also.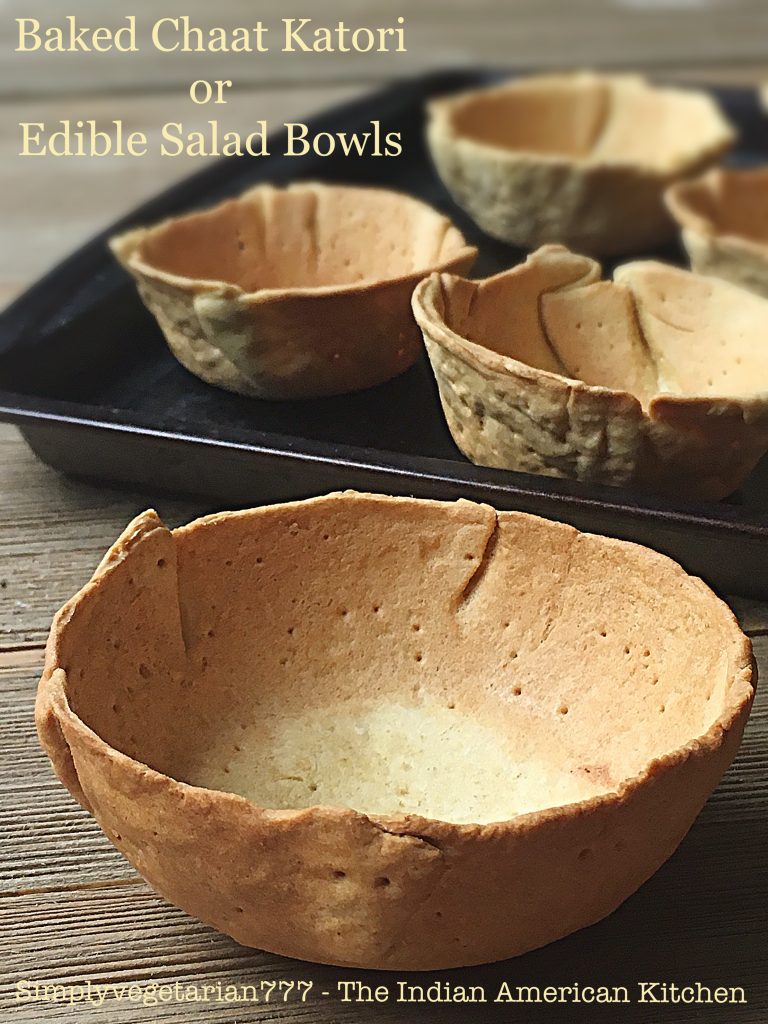 Baked Chaat Katori
Katori Chaat is a famous Chaat from Northern part of India. Since Holi, the festival of colors is right around the corner, mention of chaat becomes more important. Why? Because, as far as I remember, Holi is all about Gulal (Dry Colors), Kanji, Gujiya, Chaat, Fun and Laughter. I am from Uttar Pradesh and I can vouch strongly that no other state of India knows how to celebrate Holi as the people of Uttar Pradesh do.
You can see happy faces for no particular reason around Holi. People are generally in cheerful mood since winter is over and bright days of spring are here. Holi is my favorite festival and my heart yearns for more and more CHAAT around this time. Anymore CHATORA(s) in the house? Raise your hands please. 😀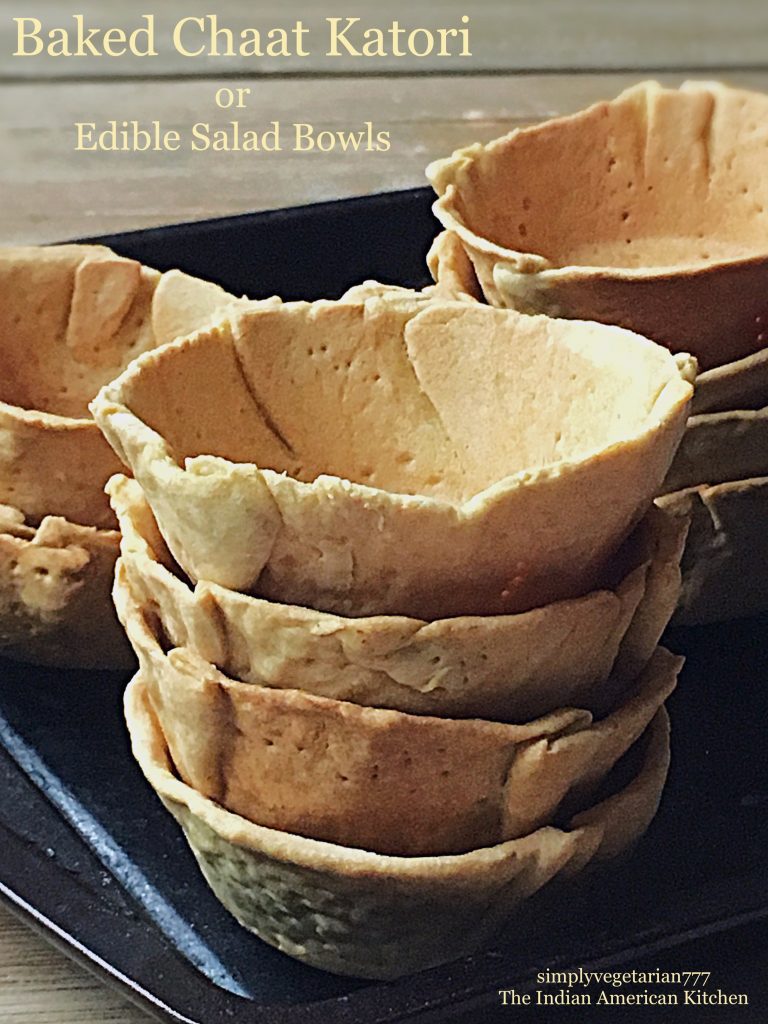 Tips for Perfect Baked Katori for Chaat
The dough matters. Make sure that the dough is not soft. Follow the instructions carefully as mentioned below in the recipe.
The Temperature matters. If you will bake these on lower or higher temperature than recommended, these will either get tough or burnt.
Cooling before using is recommended or these can get soggy.
Do not roll these out thick or they will not be crispy.
You may use all purpose flour for the complete recipe instead of a part of whole wheat flour. I like mixing whole wheat flour since it retains the shape of these bowls/katoris.
READ THE RECIPE COMPLETELY and FOLLOW AS IS.
This is how to make Baked Chaat Katori.
I have given the recipe for OVEN BAKED as well AIR-FRIED Method. Both are excellent ways to make these Katoris, other than the usual deep fried mehtod which uses loads of oil.
Click here👇 for the small Video on steps to make Baked Chaat Katori
Baked Katori Chaat
This is a detailed tutorial on making the Baked Chaat Katori to cater all the Chaat needs from the street food of India. Katori means Small Bowl. These can be used as Edible Salad Bowls also.
Ingredients
1

cup

All purpose flour / Maida

1/2

cup

Whole wheat flour

1

tbsp

Cooking oil

plus more for greasing

1/2

tsp

Baking Soda

1

fat pinch

Salt

1/2

cup

Warm Water
Instructions
Making the Dough
Gather all the ingredients and a large mixing bowl.

Add all the dry ingredients in the mixing bowl and mix well.

Now slowly add warm water to the mixing bowl, 1 tbsp at a time and start bringing the ingredients together in a dough. Make a tight dough. We do not want soft dough for this recipe. 1/2 cup water will not be used completely. Only few tablespoons of warm water will be used to make a tight dough. Knead for 2 minutes. Transfer the dough in an air tight container and let it rest for 10 minutes. Set aside.
OVEN BAKED METHOD
PREHEAT THE OVEN AT 375*F or 190*C.

To make Baked Chaat Katori, we will use medium size Muffin Tray with 12 holes. Also, we are going to invert this muffin tray and use the back side of the tray. Grease these mounds with oil or cooking spray and set aside. You may use small Katoris also in case you do not have muffin tray. Use good steel quality katoris.

After resting the dough for 10 minutes, divide it into 12 equal portions and transfer these back into the container. Keep them covered till ready to roll or they will dry out.

Take 1 portion and roll into a perfect round dough ball. Now grease your clean work counter or rolling board with little oil. Roll out the dough ball into thin circular disc (like Poori), about 3.5 to 4 inches in diameter. Fork it thoroughly all over, so that it does not puff up while baking.

Now place this forked disc on top of the inverted muffin mould. And pinch and fold the loose sides tightly, overlapping. Finish all the dough balls like that.

Place the muffin tray carefully inside the hot oven.

Bake it in the oven for 12-15 minutes till they are golden and crisp. Mine were done in 12 minutes. Time can vary from oven to oven.

Take out the muffin tray carefully. Let the katoris rest on muffin mould for 1 minute. Then carefully remove them from the muffin mould and keep on wire tray for cooling. Once cooled at room temperature, you can use these the same day or store in an air tight container for the future use.
STORAGE
These shall stay good and crisp for 2-3 days in an air tight container.
USES OF THESE KATORIS OR BOWLS
You can stuff these with sprout chaat/salad or chickpea salad.

Finely chopped vegetable sin dressing of your choice can be stuffed inside these.

Make Tex Mex salad and fill these cups with the salad.

Serve these with Dahi Wada Chaat.
AIR FRIED METHOD
All the steps for AIR FRIED method would remain same for making dough and rolling the discs. For this method we need steel bowls or good steel quality katoris.

Set the Air Fryer at 15 minutes Timer and at 375*F or 190*C. Meanwhile roll the discs and fork them. Cover the back of a greased katori neatly with rolled discs. Trim off any extra dough. When the Air fryer shows 10 minutes mark, place 3-4 katoris at a time, upside down, inside the bin of air fryer. AIR FRY for 8-10 minutes till golden and crisp. Take them out carefully. Remove katori from steel bowls after resting for 1 minute. Do not burn your hands. Your Air fried Katoris are ready for chaat.
I am sure you are already planning to make these Baked Chaat katori for your chatori… I man Katori needs. Now this is called Guilt-free indulgence. You can bake a cake and eat it too.. YAYYYY!! It is vegan as well.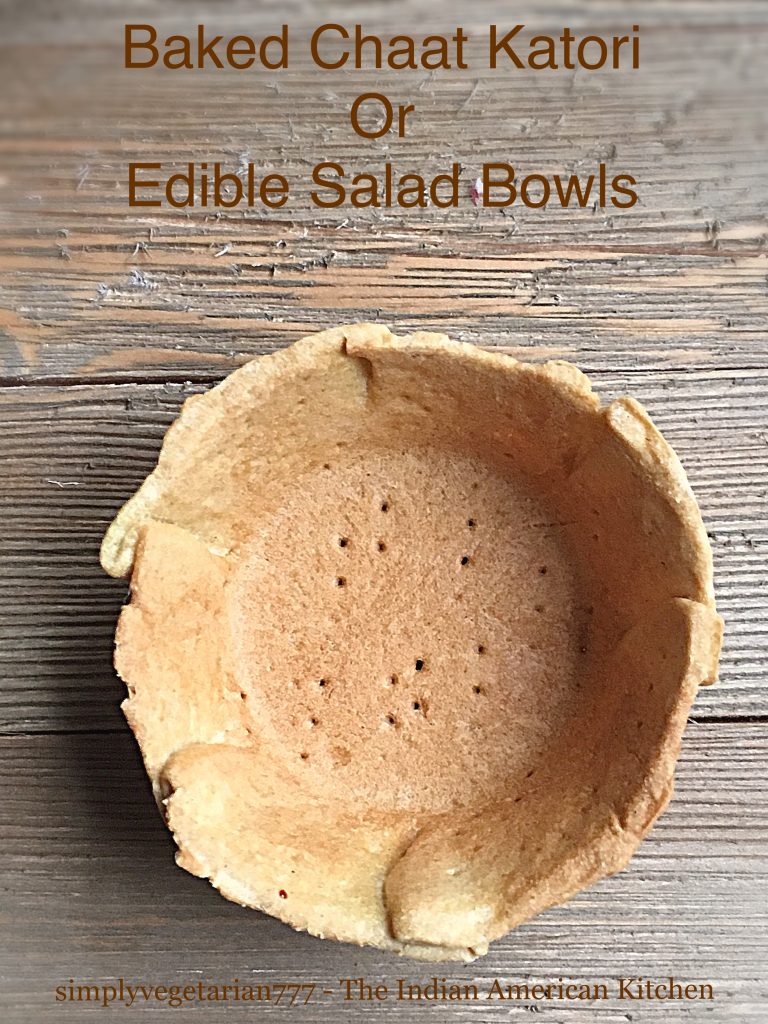 You can order following ingredients and supplies from amazon to make this RECIPE.
Can't bake it now? PIN IT FOR LATER!
In my kitchen, you will always EAT HAPPY & STAY HAPPY!
Sonal