Gujiya
As an Amazon Associate and member of other affiliate programs, I earn from qualifying purchases.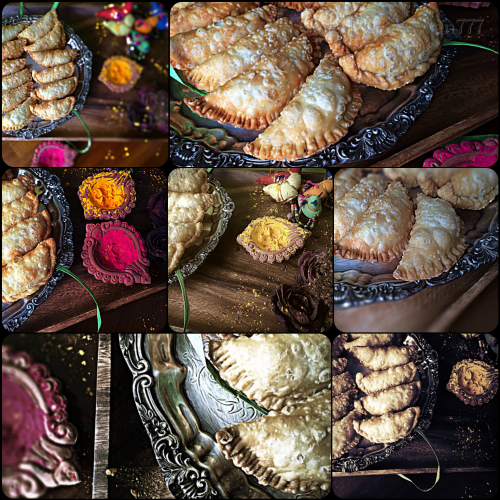 This is a detailed recipe to make Gujiya , also known as Karanji or Ghughra in some parts of India. It is a popular Dessert or Mithai, often made in Indian Homes for Holi and Diwali. It is filled with Mawa (milk solids) and Nuts and then Deep fried for crispy texture outside.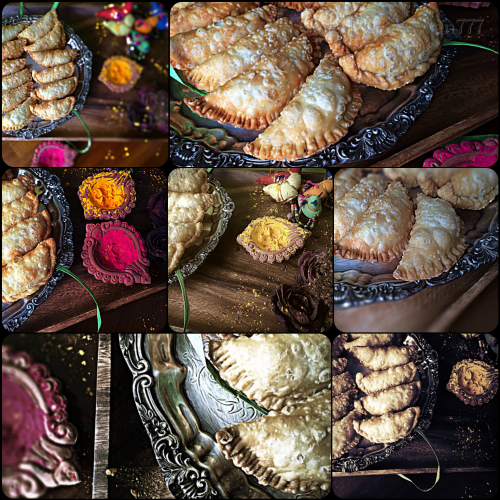 Gujiya
Last year I had made Baked Gujiyas which were a hit! This year I have made traditional ones that are deep fried. It has been a while that I made traditional Gujiyas so this year I decided to make these as my Mum and Daadi would make. Crispy from outside and Sweet soft melt in the mouth from inside. These came out so perfect.
I have fond memories of Gujiyas. Before Holi, my mum, aunt (chachi) and my dadi (grand mom) would sit together and make atleast 100 of Gujiyas together for a family of 13 people. All of the kids would sit around and help and eat ! Lot of stories and fun filled childhood memories.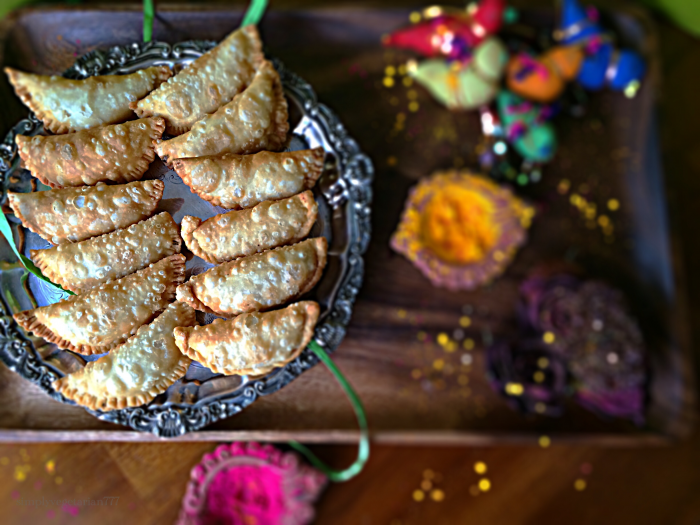 Some Gujiya Facts
It is a popular festival dessert made to celebrate Holi and Diwali, 2 important Hindu Festivals from India.
Traditional Gujiya is shaped in Crescent or Half Moon shaped.
These are filled inside with a mixture of Mawa or Khoya (Milk solids) and Nuts.
These are Deep fried on medium to low heat till golden and crisp.
The recipe of filling can vary from region to region. My recipe has a fail proof filling that does not stick to one side while frying.
2 variations of Gujia are – Sookhi Gujiya and Chashni wali Gujiya. This is a recipe for Uttar Pradesh Home Style Gujiya.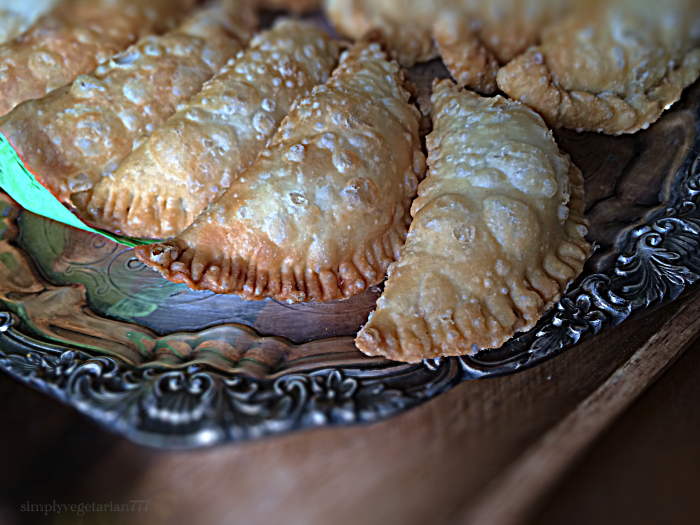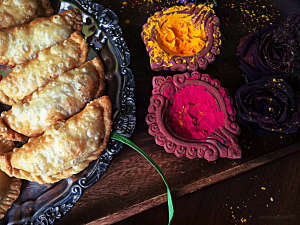 This is how I make it! These are also called karanji and ghughra. Very close cousin to Mexican Empanadas!
MORE HOLI RECIPES from Blog are – Kanji, Dahi Pakodi, Custard, Aloo Samosa, Aloo Kachori and more.
It requires 3 steps
1. Mawa, or Khoya – recipe given below.
2. Gujiya crust – recipe given below.
3. Gujiya filling.
Mawa and Filling recipe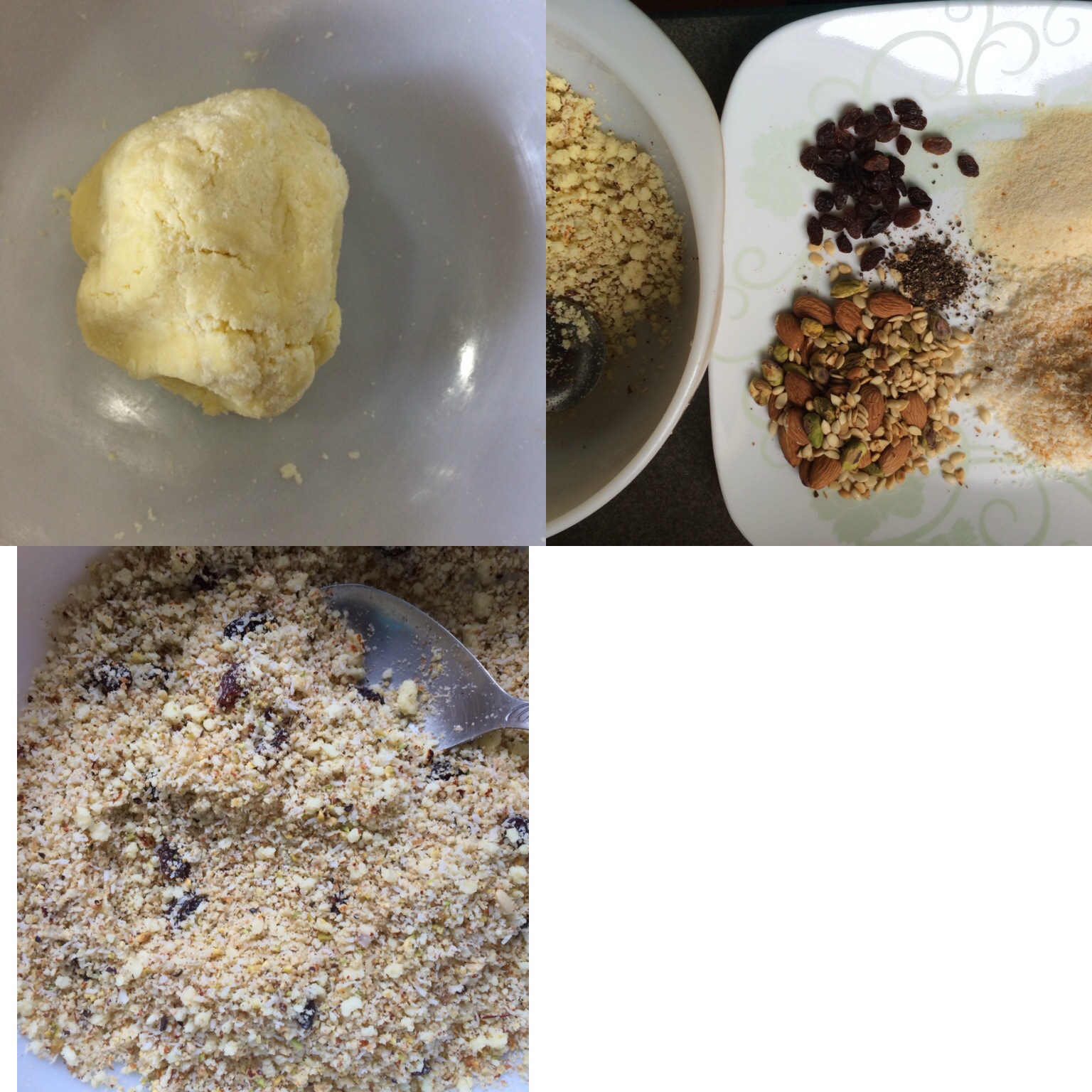 Refer to this picture for steps below!
Mawa Recipe
You may use fresh market bough mawa too.
Milk powder – 1/2 cup
Milk – 1 tbsp
Ghee – 1 tsp
Method – combine everything to make a dough! Your home made mawa is ready !
Filling Recipe
Mawa – 1/2 cup, roast it dry over low flame till slightly pink. Don't burn it.
Semolina/Sooji – 1 tbsp, roasted slightly pink.
Coconut dry / nariyal – 1/4 cup, unsweetened.
Pistachio – 1 tbsp, slightly roasted
Almonds – 2 tbsp, slightly roasted
Magaj / melon seeds – 1 tbsp
Sugar powdered – 1/2 cup
Elaichi/ Cardamom powder – 1/2 tsp
Saffron – a pinch
Method
Combine everything together. Note that add sugar, cardamom and saffron, after the roasted ingredients are cooled.
Gujiya Crust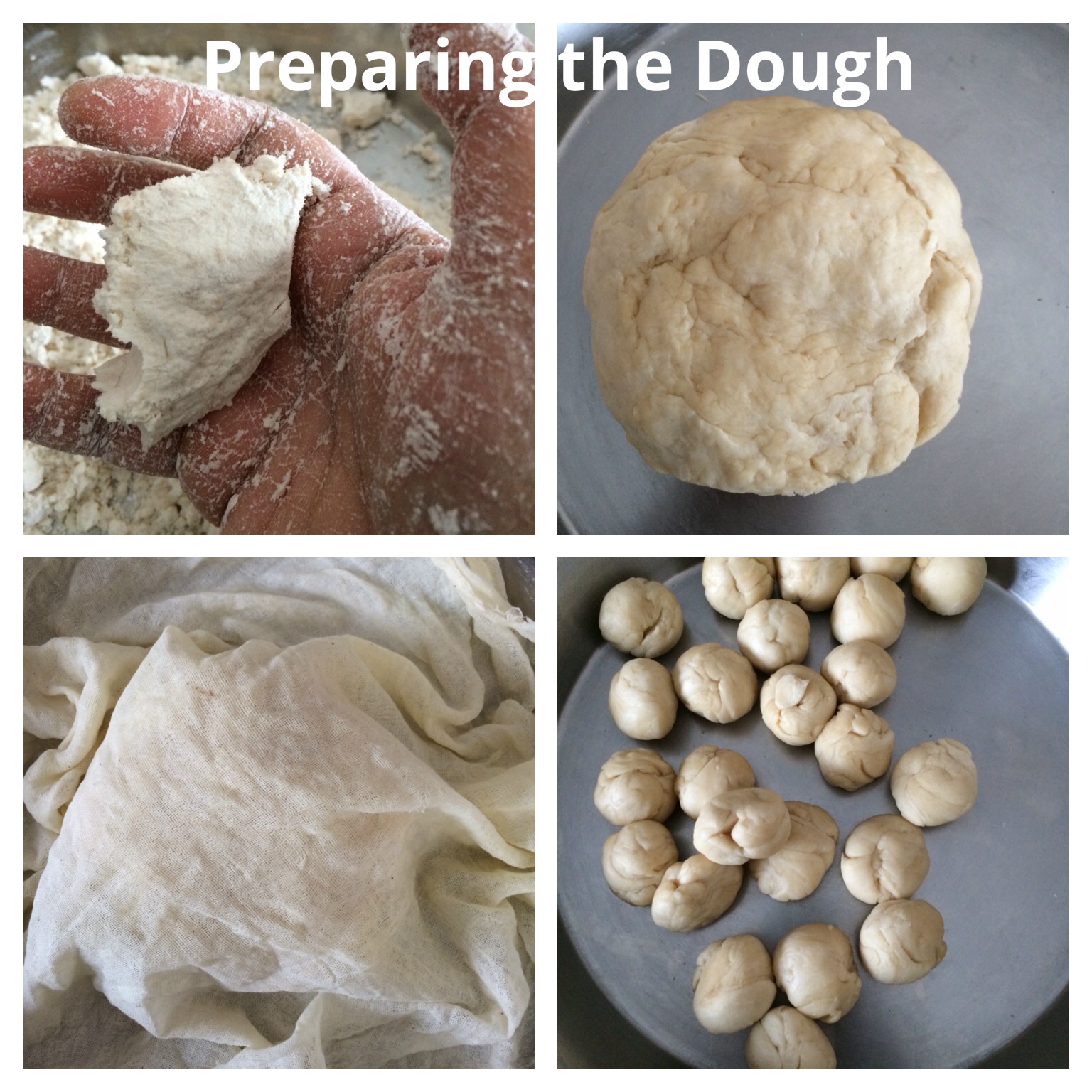 Refer to this picture for the steps below !
Ingredients
Refined flour – 2 cups
Oil – 3 tbsp. You may use ghee instead.
Luke warm water – 3/4 cup approximately.
Method
Add oil to the flour and mix well. The oil should be enough so that when you pinch the dough together in your palm, it stays together as Mutthi. Refer to the first picture in the pictogram. Add water slowly and make a tight dough but not tough dough. Knead for few minutes.
Cover with damp towel or cloth. Leave it for 1/2 hour.
Make 24 to 25 small balls. Keep them covered with damp cloth to avoid drying.
Gujiya assembling and Frying
Required
Gujiya dough and filling.
1 tbsp of refined flour dissolved in little water to make thick paste to seal the ends.
Rolling pin
Rolling board
Fork.
Wok for deep frying
Slotted spoon
A tray with damp cloth and damp kitchen towels.
Another tray with dry paper towels to keep fried gujiyas
Method
Take a dough ball from under the damp cloth. Cover the rest of the dough balls back under the damp towel.
Roll it out into circles, 3 to 3&1/2 inches in diameter.
Place 2 tsp of the filling on one side of the circle. Make sure that your edges are clear and there is no particle of filling there.
Dip your one finger in thick flour paste. Apply the paste on half of the edge of the circle. Refer to the first picture in the pictogram above.
Slowly, pick the other side of the rolled out dough and bring it together to close like a crescent or half moon. Refer to the picture on the top right.
Seal it tight with fingers. Now take a fork and make deep impressions on the edges of the Gujiya. Refer to the picture above. Make sure you don't pierce through it. I used pizza cutter to give it an even edge. You may use moulds too.
Note – I use the thick flour paste as a glue too. If there is any accidental tear while shaping and carving, I apply a bit of it on the top to seal the tear.
Now place these gujiyas on the damp (not wet) cloth on a tray. Cover with a damp cloth or paper towel. We have to give Gujiyas, a nap, to give them crisp texture and required bubbles on the surface.
Finish all the dough balls like that and make gujiyas out of it. Let all the gujiyas nap.
When you are finished with the last one, heat the oil in the wok over medium flame. Drop a small piece of dough and if it comes up gently, then the oil is ready.
Now add 5-7 gujiyas together in the wok over medium flame. Start with the ones, whih were rolled out first. This will give the last ones enough time to nap. We call it "Gujiya ko Sula do". (Put Gujiya to sleep).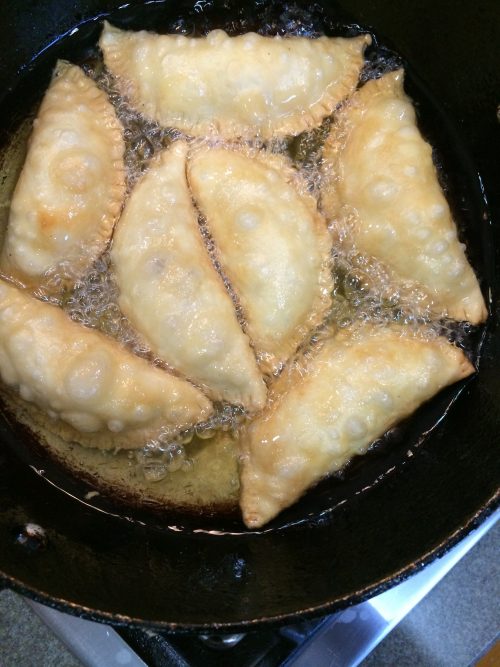 11. Fry the gujiyas over lower heat. Fry from both the sides. Flip them couple of times for even cooking. It takes approximately 7-8 minutes per Ghaan ( the group of gujiyas) to cook thoroughly. Once they are pinkish red or their thin edges are golden, take them out.
Cool them to the room temperature before storing them in an air right container. They stay well outside for couple of days in a closed container.
Enjoy this Holi with these home made Gujiyas and earn the love and praise of family and friends!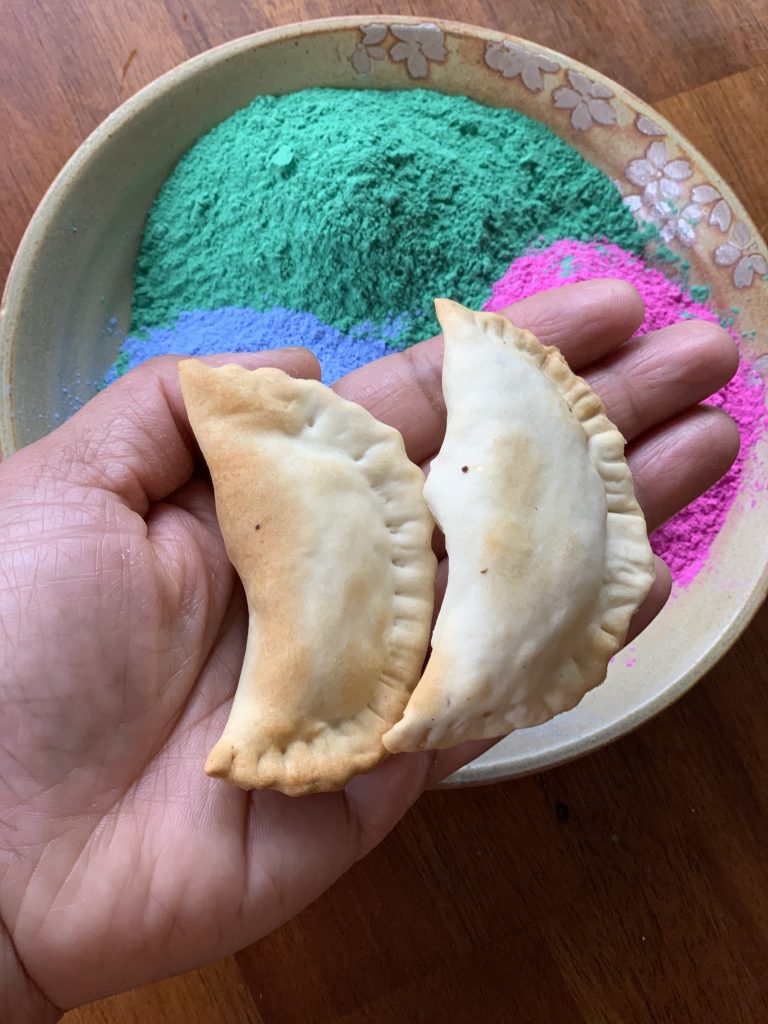 Can I AIR FRY Gujiya?
Yes you can. Here is how.
1. Preheat ai fryer at 350*F for about 2-3 minutes.
2. Brush Gujiya lightly with melted ghee (optional). 3. Air fry these at 350*F for about 8-12 minutes. It depends upon the size and thickness of your Gujiya.
Few Ingredients that you can buy to make this Recipe from Amazon.
Can't make it Now? PIN IT FOR LATER!

In my kitchen, you will always STAY HAPPY & EAT HAPPY!
Sonal