Gajar Kanji – A Probiotic Drink
As an Amazon Associate and member of other affiliate programs, I earn from qualifying purchases.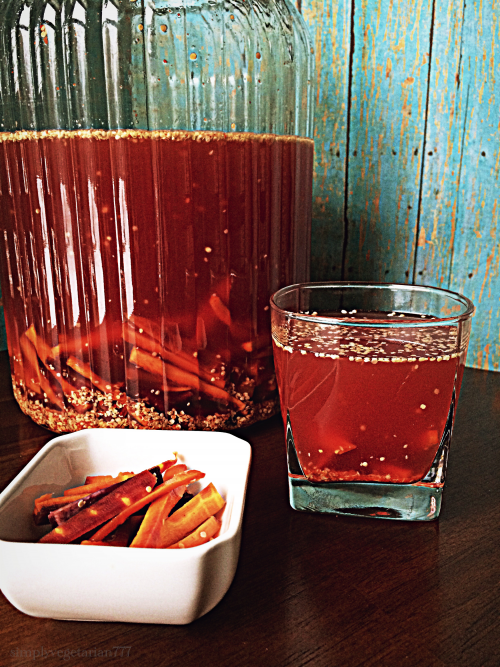 Gajar Kanji is the Naturally Fermented Drink from the Northern Part of India. It is made with few easily available Pickling Ingredients. Kanji is the true form of Probiotic and is as effective as kombucha.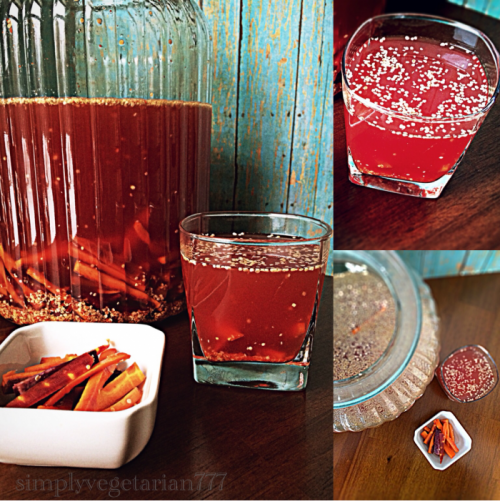 Gajar Kanji 
Holi is the festival that celebrates Spring. When Winter is closing down, spring brings a lot of sunlight, brightness, happy faces and a lot of allergies along with it. In times like such, Kanji is a must-make HOLI drink.
Kanji is a fermented drink and rich in Vitamin C, hence very good for digestion and stomach health.
3 kinds of kanji are prepared in my
town –
Plain Kanji which is yellowish in color.
Gajar Kanji, where Purple /dark pigmented carrots are used to dye the Kanji. I have to add beets here in America, along with Orange carrots in the absence of Dark Pigment Carrots.
Kanji Wada, where small urad dal pakodi (fried dumplings) are dunked in plain kanji ad enjoyed with some sharp spicy Green Chutney. This is my absolute favorite.
For Gajar Kanji, the flavors are obtained from the carrots and beets fermented in plain water along with coarsely ground Mustard, Red chili powder, and salt! Mostly dark pigmented carrots are used or deep red colored carrots are used. Since it is difficult to find dark color carrots in America, I add beets to Kanji to obtain rich color and flavor.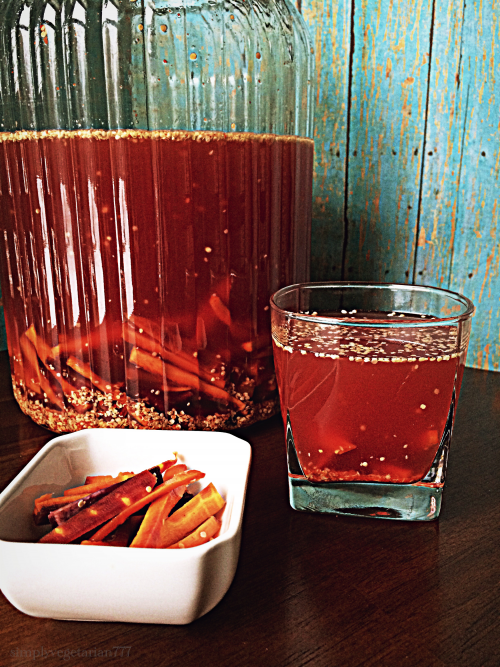 Few Important Facts to Know to Make Kanji
Kanji water has to be pickled in either traditional Martbaan or A Clean Sterilized Glass Jar.
It is fermented in sun for 2-3 days for best effective results.
The consumable parts of Kanji are both the Fermented Probiotic Water and the Pickled carrots and Beets as well.
The Taste of the drink is Pungent and Sour.
Please do not overindulge in the drink which is highly likely, since it can lead to loose motions or acidity as well.
If you see the formation of fungus on carrots and beets, discard the whole Kanji water.
Use clean and dry ladle every time, you pour out Kanji form the jar.
Some HOLI RECIPES from Blog are- Gujiya/Karanji , Dahi Wada (not deep fried), Chidwa Namkeen  and more.
This is how to make Gajar Kanji.
Yields – 12 cups or 3 liters 
Kitchen Equipment Required – A glass jar or clay jar with loose cover, chopping board and knife, a wooden spoon to stir.
Ingredients
Water – 12 cups or 3 liters. Filtered water preferred or boil and cool it to the room temperature before using.
Mustard powder / Rai Kuria / Coarsely ground yellow mustard – 6 tbsp
Red Chili powder – 3 tsp or less to taste
Salt – 3 tbsp or to taste
Carrots – 5 to 6
Beets – 3 to 4
Method
Take the clean jar. Add water, mustard, chili powder and salt to it. Use the wooden spoon to stir it.

Wash and peel the carrots and beets. Cut them into 1/2 inch thin and 3 inch long cuts.

Add the cut Vegetables to the water. Give it a stir and cover the top of the jar with a small plate or lid.

Put it at a place where you get sunlight atleast for 5-6 hrs a day. Keep it there for 2 days.

The Kanji should be ready by the 3rd day. Pour in a glass and enjoy!

You may store it in the refrigerator later for prolonged use. It sometimes gets spoiled outside if kept too long.

You may make smaller quantities like for 4 cups or 1 litre, reduce the measurements to 1/3 rd of the given above.
Have a Great HOLI this year and enjoy with Kanji.
Sonal