Badaam Anjeer ki Kheer / Almonds Figs Pudding – Diabetes Friendly Thursdays
As an Amazon Associate and member of other affiliate programs, I earn from qualifying purchases.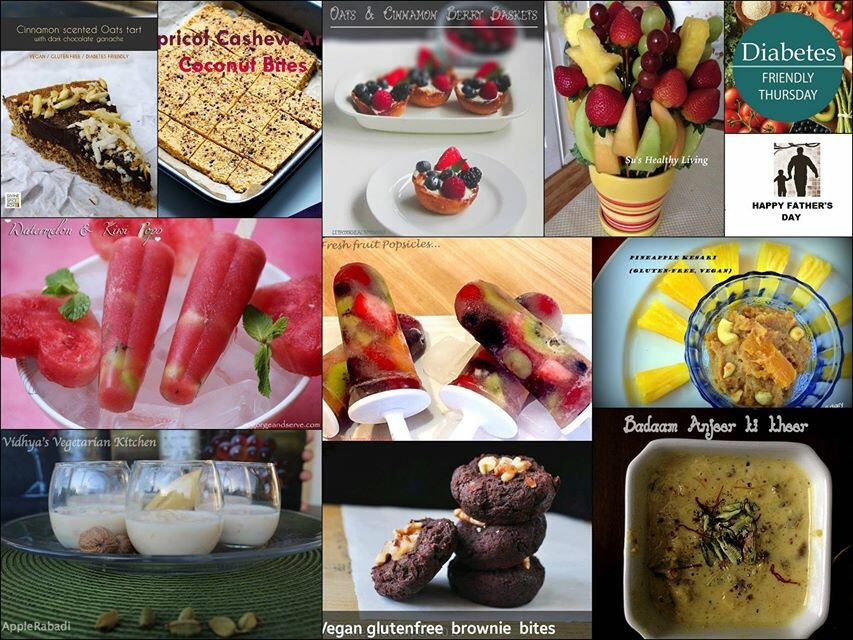 Creating Recipes with a Cause! I am a proud DFT blogger. To learn about DFT, read this link! To view more DFT recipes, click here!
Badaam Anjeer ki Kheer / Almonds Figs Pudding
Celebrate Father's Day with DFT Team with healthier and diabetes friendly desserts, this week.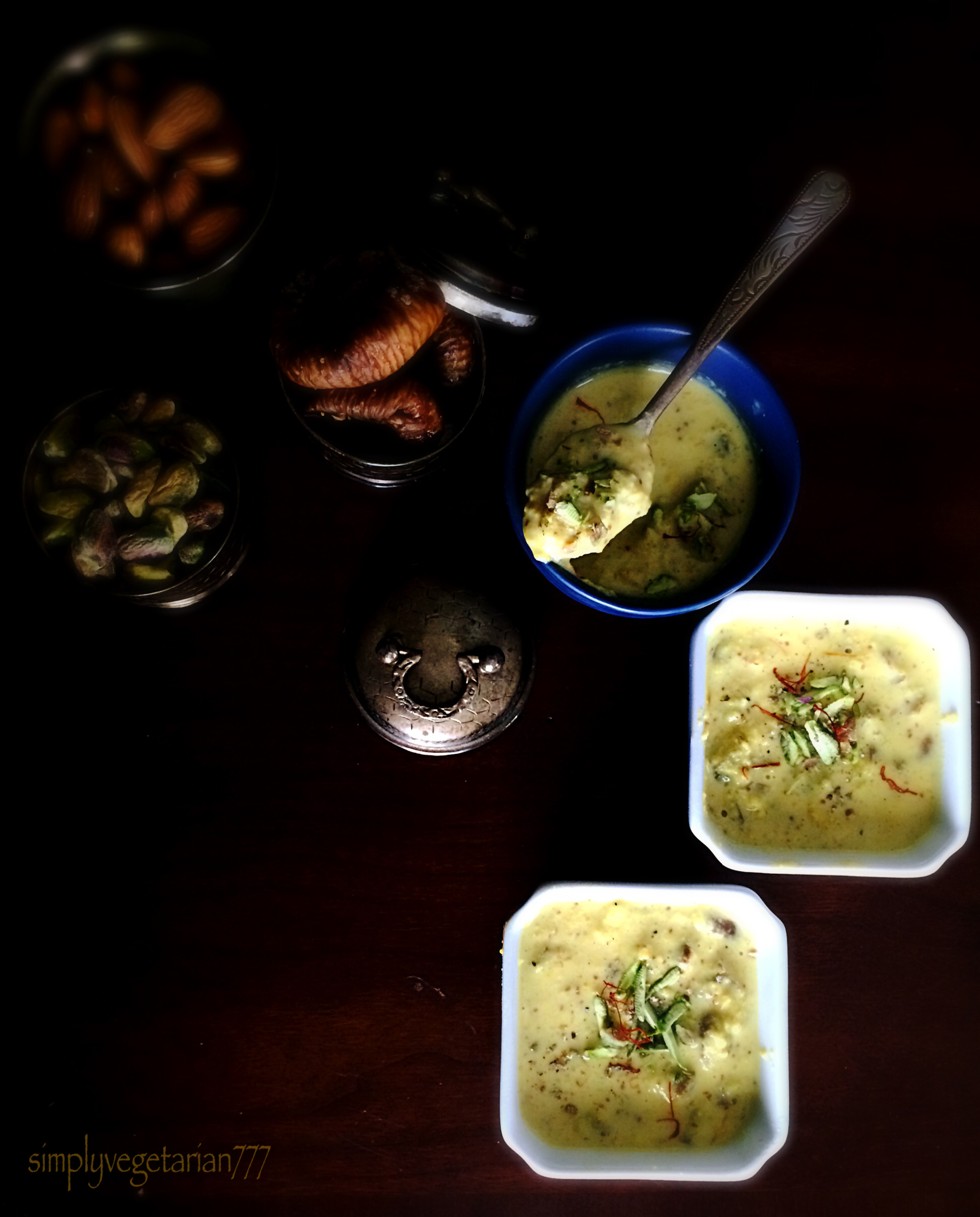 I enjoyed this week's theme particularly. This theme is dedicated to Father's Day approaching this weekend on July 21st. It was quite a challenge to make Diabetes appropriate desserts by the team without the use of artificial sweetners. Most of us have tried not to use the artificial sweetners but have used natural unprocessed sources of sugar, which may be higher GI but when consumed in controlled portions, these are Diabetic friendly.
For the benefits of main ingredients on diabetes, used in the dish, please refer to the Foot Notes!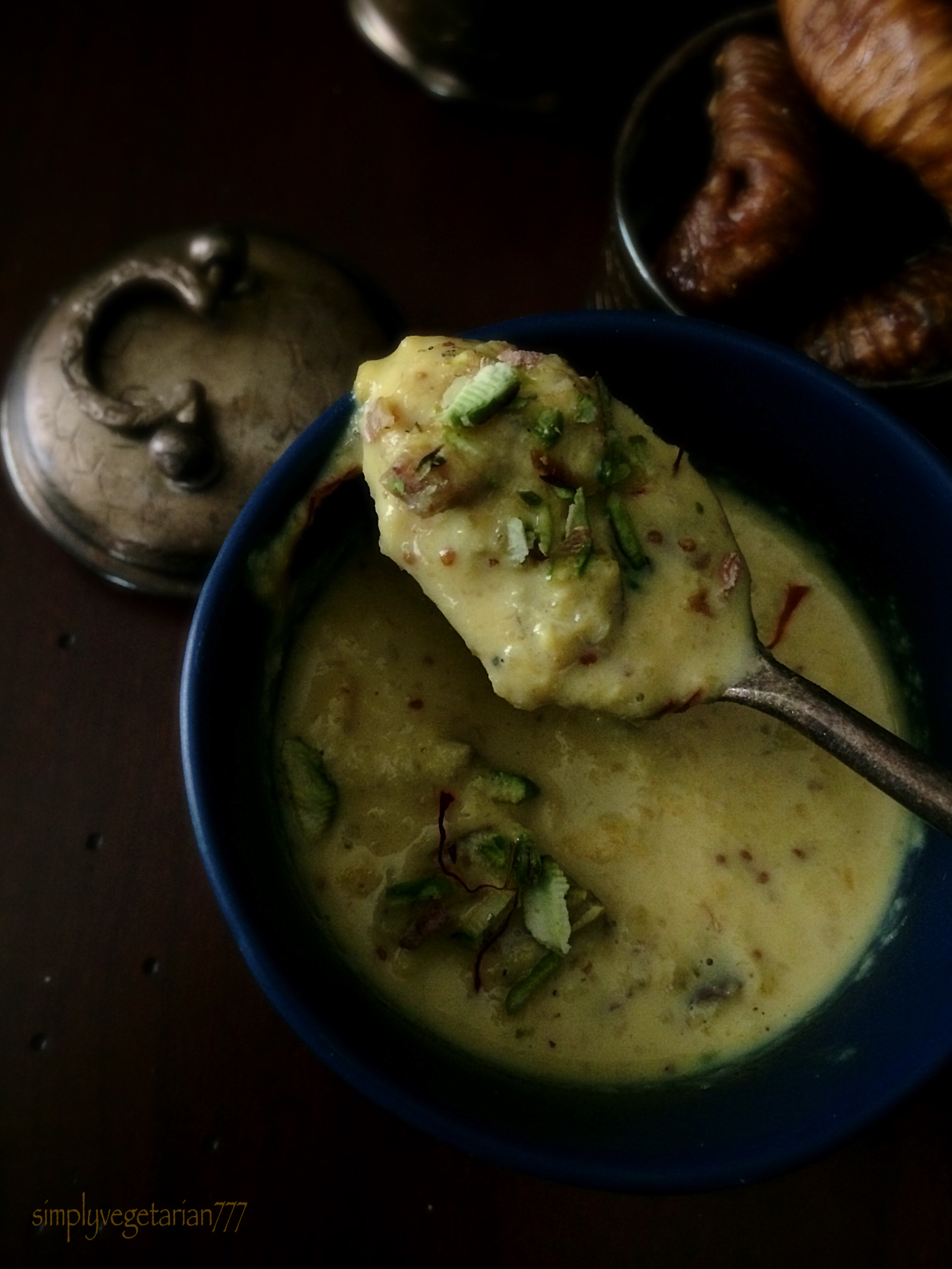 I would still recommend that Diabetic Patients should consume the dessert during day time. Avoid consuming Desserts during Night! Few tea spoons full, eaten slowly and savored indulgingly are enough to satisfy the sweet tooth cravings.
For a Yoga Mudra beneficial for Diabetics, scroll down!
Badaam Anjeer ki Kheer
Servings: 4
Difficulty: easy
Portion per Diabetic Person – 2&1/2 tbsp which is 7-8 tsps.
Kitchen Equipments Required
A heavy bottom deep pan or hard anodized deep pan, stirring spoon, chopping board, knife, a small bowl.
Ingredients
Non fat milk – 2 cup
Almond meal – 1/4 cup. You can make it at home by grinding almonds in grinder till fine powder. Don't overdo or else it will become butter.
Figs – 2, dried and finely chopped
Cardamom powder/elaichi – a fat pinch
Saffron / kesar – a fat pinch soaked in 1 tbsp of warm milk
Pistachio / Pista – 2 cut in thin slivers
Method
1. Take the heavy bottom hard anodized pan. Add milk and almond meal to it. Bring it to a boil and then simmer it on low flame for 10-12 minutes till it thickens a bit. Keep stirring often to avoid burning at the bottom.
2. Now add cardamom powder, saffron soaked in milk and finely chopped figs to the pan. Cook for another 3-4 minutes on lowest flame. Switch off.
3. Pour in small serving bowls. Garnish with thin slivered pistachios.
Notes
1. I haven't added any extra sugar to the kheer. The figs sweeten it enough. My kids couldn't tell the difference either.
2. You may soak the figs in warm water for few hours and grind to a paste and then add it later to the kheer.
3. Don't over cook with figs in milk. It might curdle.
4. Eat slowly and savor each bite.
————————————————
Yoga Mudra – Apaan Mudra
Touch the tip of the center 2 fingers at the tip of the thumb. Do it for half an hr in a day. Don't do it while eating. Do with both the hands.
Warning – More Urination.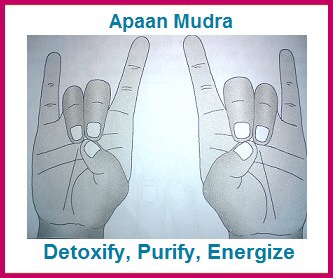 —————————————————–
Foot Notes
Almond Meal is a great way to cut carbs from any carb heavy dish and when it comes to desserts, it is of latest choice by the weight watchers and gluten free dieters. Using it for diabetics' dishes is an additional use. I used it in place of rice which otherwise would have made this dessert so heavy on carbs, leaving no room for other ingredients. Each 1/4 cup of almond meal contains 5.2 g of carbohydrates and 2.9 g of fiber, which leaves only 2.3 g of net carbs.
Dried Figs – A 1/2-cup serving of dried figs (7-8 figs) contains 7.3 g of fiber. Including more fiber in your diet can help lower your risk of chronic illness such as heart disease and diabetes. Dried figs contain both soluble and insoluble fiber. Soluble fiber slows digestion for appetite and blood sugar control and also helps lower blood cholesterol levels. Insoluble fiber adds bulk to stool, improving bowel function. For more health benefits of Figs, click here!
Non fat Milk – "The lactose, protein, and fat in milk all have the potential to improve blood sugar," says researcher Mark A. Pereira, PhD, of Harvard Medical School. "Milk sugar [lactose] is converted to blood sugar at a relatively slow rate, which is good for blood sugar control and reducing insulin levels. Protein helps fill you up. And fat may keep you feeling satisfied too."Nutrients in dairy products, including calcium, magnesium, and potassium, help too. Non fat milk is low GI food. For more information on Milk Benefits, click here!
—————————————————
Disclaimer
I am not a nutritionist or dietician. My knowledge and information is based on my research and reading from different resources. Please consult your doctor or dietician before making any changes to your diet.
—————————————————
Other Father's Day Desserts by DFT Team!